Annie Parkin W309495
April 15, 1922 - January 1, 1944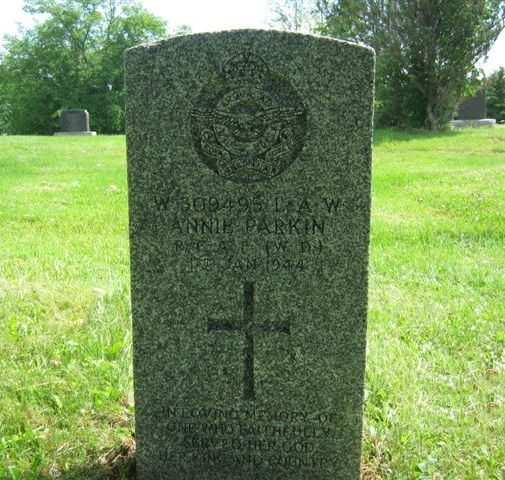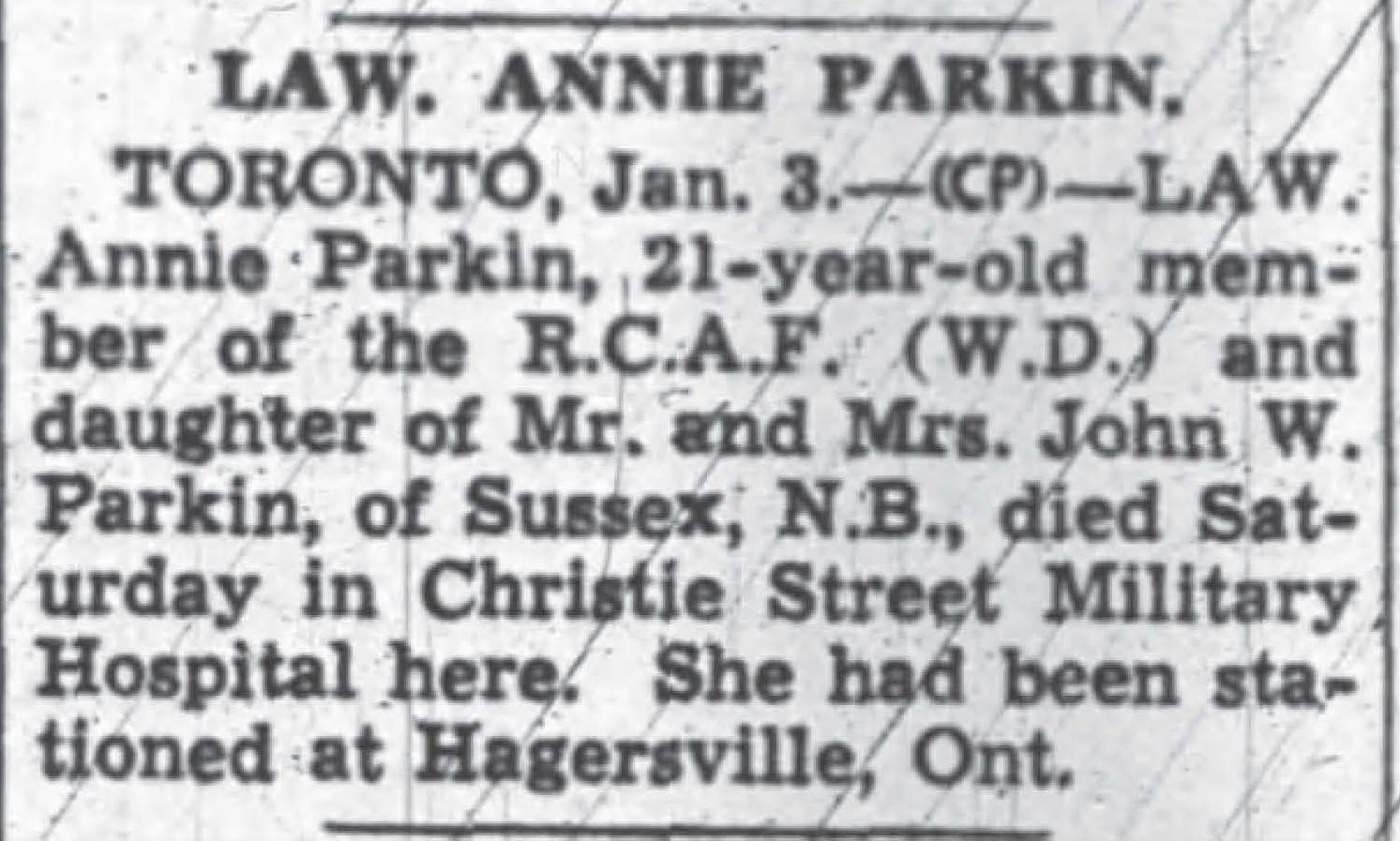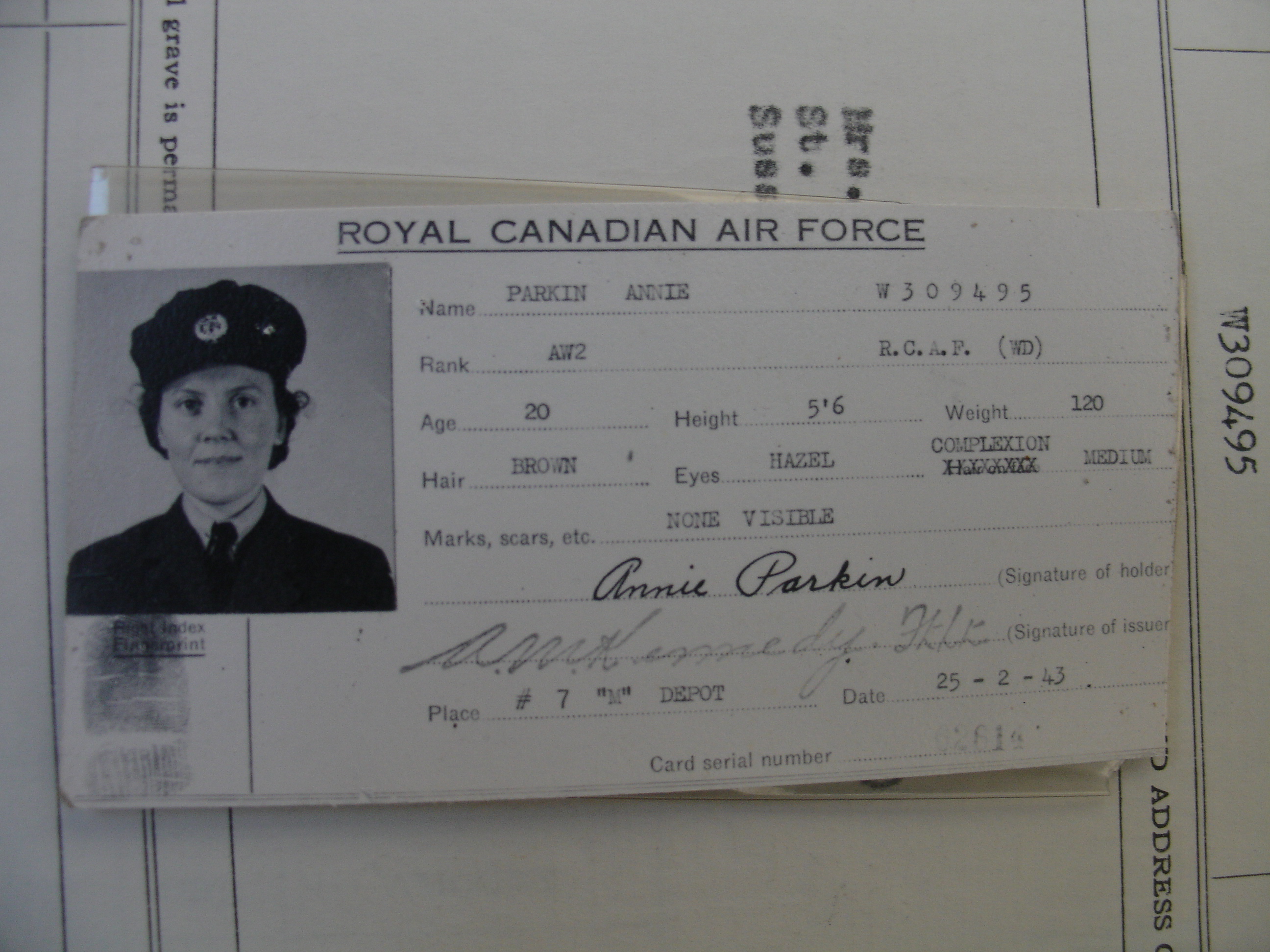 RCAF Women's Division
Annie Parkin was born in Escomb, Durham, England to John William and Edith Anne Parkin, later of Sussex, New Brunswick. Annie had two brothers, aged 23 and 13 when she enlisted in the RCAF (WD) in February 1943 at No. 15 Recruiting Centre, Moncton, New Brunswick. The family was Anglican.
Annie had a Grade VIII education finishing at Mt. Hebron, New Brunswick in 1936. She worked as a cook and housekeeper between 1936 and 1943. She left a position in April 1941 due to 'sickness' but started working again in May 1941 at the Sussex Manganese Mines at Jordan Mt, New Brunswick as a cook; in December 1941, the mine closed. She continued doing housework at home and for Mr. Jack Wilson of Sussex until she joined the RCAF (WD). After the war, she wanted to become a telephone operator.
She stood 5' 6" tall, weighing 120 pounds. She had hazel eyes and brown hair. Assessed by S/O M. F. Brown: "Applicant has low CT score but has experience in cooking and as a waitress. Wishes work as Stewardess. Should qualify for this. Appearance fairly good. Seems pleasant." In another assessment by F/O M. H. Sarty: "Slow mentally. Rather alert looking. Co-operative. Quick with answers." Annie Parkin liked skating, skiing, dancing, swimming and occasionally sports.
After her basic training at No. 7 Manning Depot, Rockcliffe, Ontario, LAW Parkin was taken on strength to No. 16 SFTS, Hagersville, Ontario for Standard (General Duties.)
On December 31, 1943, LAW Parkin was admitted to the Christie Street Hospital at 6 pm, as a transfer from Hagersville with a temperature of 103, pulse 92 and "apparently unconscious. The history obtained was that she had been ill with upper respiratory infection for a week at Hagersville, and symptoms of sinusitis for the past week and had been under treatment by sulphathiazole, etc. at Hagersville. She was suspected of developing meningitis, and was transferred to CHS. Examination showed an unconscious girl in her early twenties. She could be roused slightly with great difficulty, but was never coherent, and did not respond to questions or cooperate in the examination in any way. The next day, "No sign of improvement at any time in patients condition. Patient is very drowsy, non-cooperative and can only be roused when stimulated."
At 7:45 pm, on January 1, 1944, LAW Annie Parkin died at Christie Street Hospital, Toronto of acute meningitis, with generalized congestion and oedema, due to infection of upper respiratory tract. An autopsy was performed on January 2, 1944.
In the list of her personal belongings, she had clothing, toiletries, perfume (Helena Rubenstein and Yardleys), stationery, an autograph album, jigsaw puzzle, cribbage board, playing cards, a Bertmar watch and case, and $11.20 cash.
In a letter dated January 11, 1944, Annie's father wrote: "Mrs. Parkin and myself wish to express our thanks to your letter of sympathy in the loss of our only Dear Daughter LAW Annie Parkin. It was a severe blow to us, but she was loved by all, was of upright character, a hard worker. She died in the service she loved, as she was very proud to be in the Air Force. Messages have come in from all parts, and the many floral tributes and the largely attended funeral testified to the love and esteem in which she was held. However, it is so, Sir, that the finest of our children have to be taken. Yours sincerely, Sgt. John W. Parkin VF of C"
In a letter from Mrs. Parkin, she thanked the Estates Branch for the gratuity sent to her on behalf of her daughter. "I would like to say that in the last two letters I have had, she was called CONNIE Parkin, but her correct name is ANNIE. I would be much obliged if this would be put right as I want her proper name used."
LINKS: