Doris Helen Scott W301287
February 27, 1919 - October 22, 1942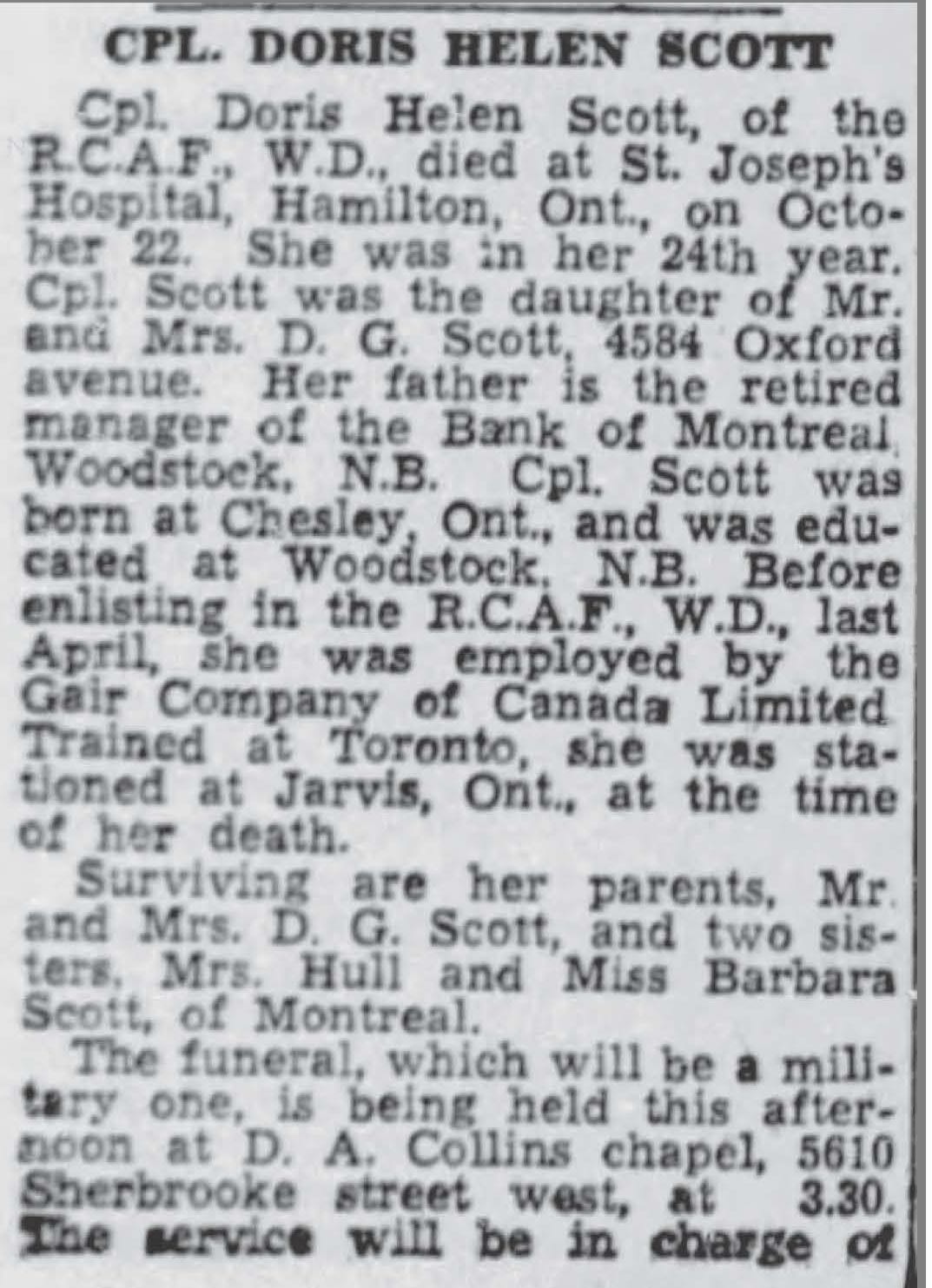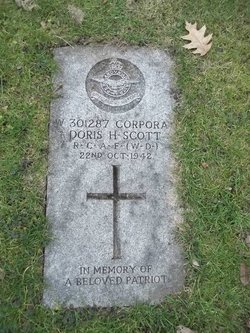 RCAF Women's Division
Doris Helen Scott was the daughter of David Gladstone Scott and Pearl W. Scott, of 4162 Old Orchard, Montreal. Doris was born in Chesley, Bruce County, Ontario, located about 200 km north west of Toronto. The family had lived in Ontario, New Brunswick and Quebec. Mr. Scott was a retired Bank of Montreal manager. He had been born in Montreal. Mrs. Scott was born in Toronto. Doris had two older sisters, Margaret and Barbara.
Doris attended school in Woodstock, New Brunswick from 1926 to 1934, finishing high school there. She took business courses at Chorlton Secretarial Bureau in Montreal from 1935 to 1936, taking stenography and typing. On January 26, 1942, Myrna Chorlton, for Mrs. Lightstone, wrote a letter of recommendation. "This is to certify that Miss Doris Scott took the shorthand and typewriting course under my direction in 1935 and I found her to be a very apt and conscientious student. I wish her every success."
From 1936, for one year, Doris worked at Schrier Bros, in Montreal as a stenographer, but the business closed in 1937. She found employment at McPatrick & Co. as a stenographer and switchboard operator until 1938. That business also shut down. In 1938, she worked at Gair Co. of Canada (paper board manufacturer) as a telephone operator and general clerk and continued to work there until her enlistment in Montreal on March 18, 1942. She felt best qualified to work as a telephone operator or a general clerk as a member of the RCAF (WD). After the war, she wanted to be involved in accounting or be an inspector on a large switchboard.
On the INTERVIEW REPORT, Doris was assessed: "Very neat, active, intelligent young woman. In good physical condition. Excellent type of applicant. Very good appearance. Especially well recommended." A/S/O Madeleine Fortin. (Fortin had been a university student prior to the war and had studied three years in Paris, France.)
Doris enjoyed skiing, tennis and swimming, moderately. She liked to knit and sew, plus enjoyed music and singing, as well as cooking. Doris stood 68" tall and weighed 134 pounds.
TRAINING AND POSTINGS:
Recruiting Centre, Montreal, Quebec: March 18, 1942
No. 6 Manning Depot, Toronto, Ontario: March 28, 1942
No. 14 SFTS, Aylmer, Ontario: April 25, 1942
No. 1 B & G School, Jarvis, Ontario: July 3, 1942
On September 30, 1942 until October 12, 1942, Corporal Scott was admitted to the hospital.
On October 22, 1942, she was admitted to the St. Joseph's Hospital in Hamilton, Ontario, where she died. Noted in her file: "died the result of poisoning, psychiatric." Her death certificate stated: "Toxemia -- arsenic poisoning, probably self administered."
In the list of personal belongings, Doris had a suitcase, clothing, pink towels, a blue money belt, a grey wool dress, a blue play-suit, a photo album, photographs, stamps, mirror, hair curlers, perfume, tooth powder and toothbrush, a flowered swim suit, shoes, a tennis racquet with press, a powder puff, lipstick, rouge, nail polish kit, a pair of scissors, a spoon and a knife, plus a string of wooden beads. On another list of 'sentimental and intrinsic value' possessions, she had a gold compact, a fountain pen and pencil set, a wrist watch, a pair of earrings, her RCAF enlistment pin No. 13276, a signet ring, a monogram gold brooch, a silver locket on a chain and a wallet, containing snaps, her identification card, disc, and three old railroad tickets.
Doris was cremated and buried with her maternal grandmother in the Mount Royal Cemetery, Montreal.
LINKS: