Edna Alice Sherman W303594
January 31, 1918 - November 2, 1944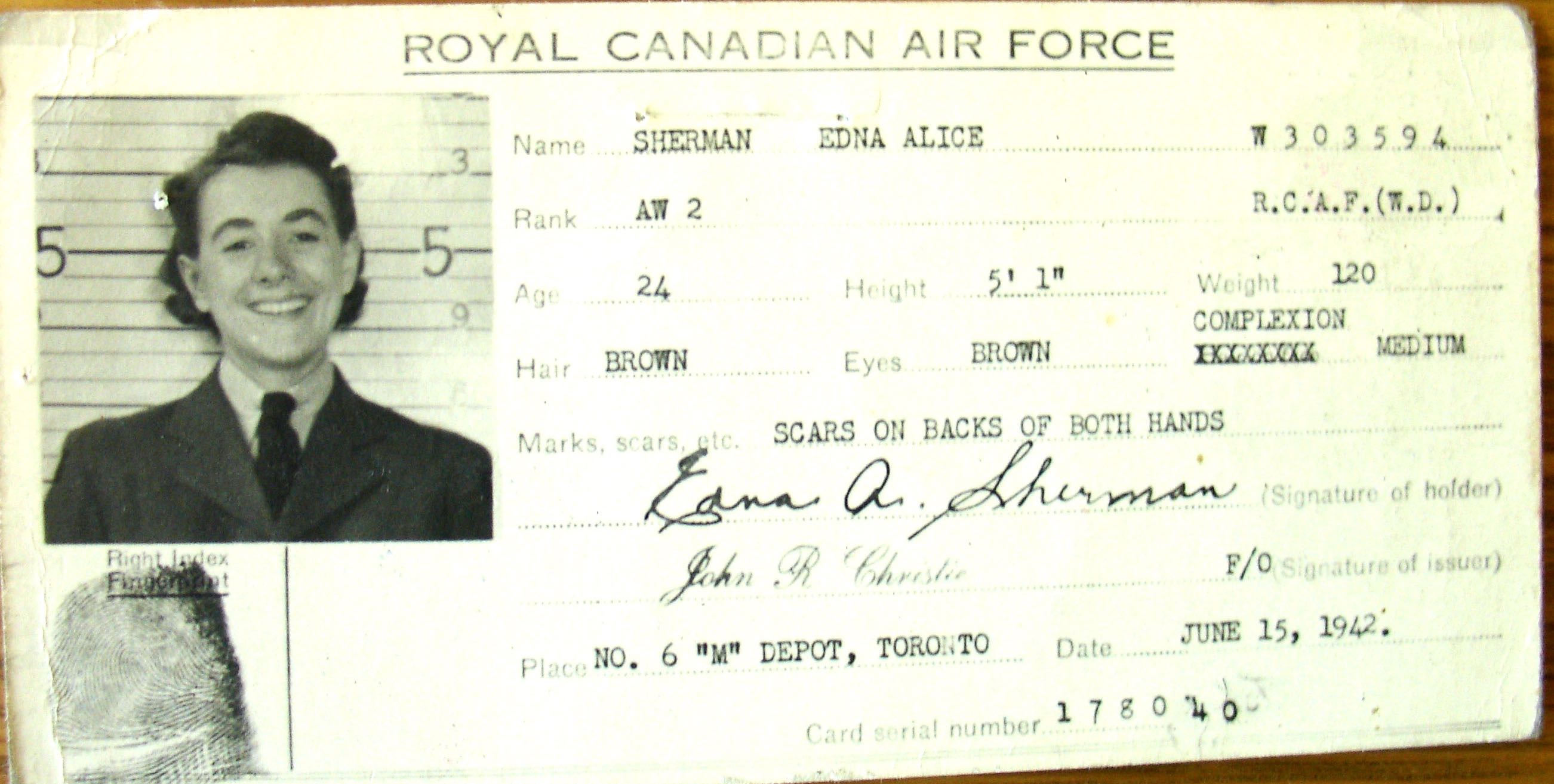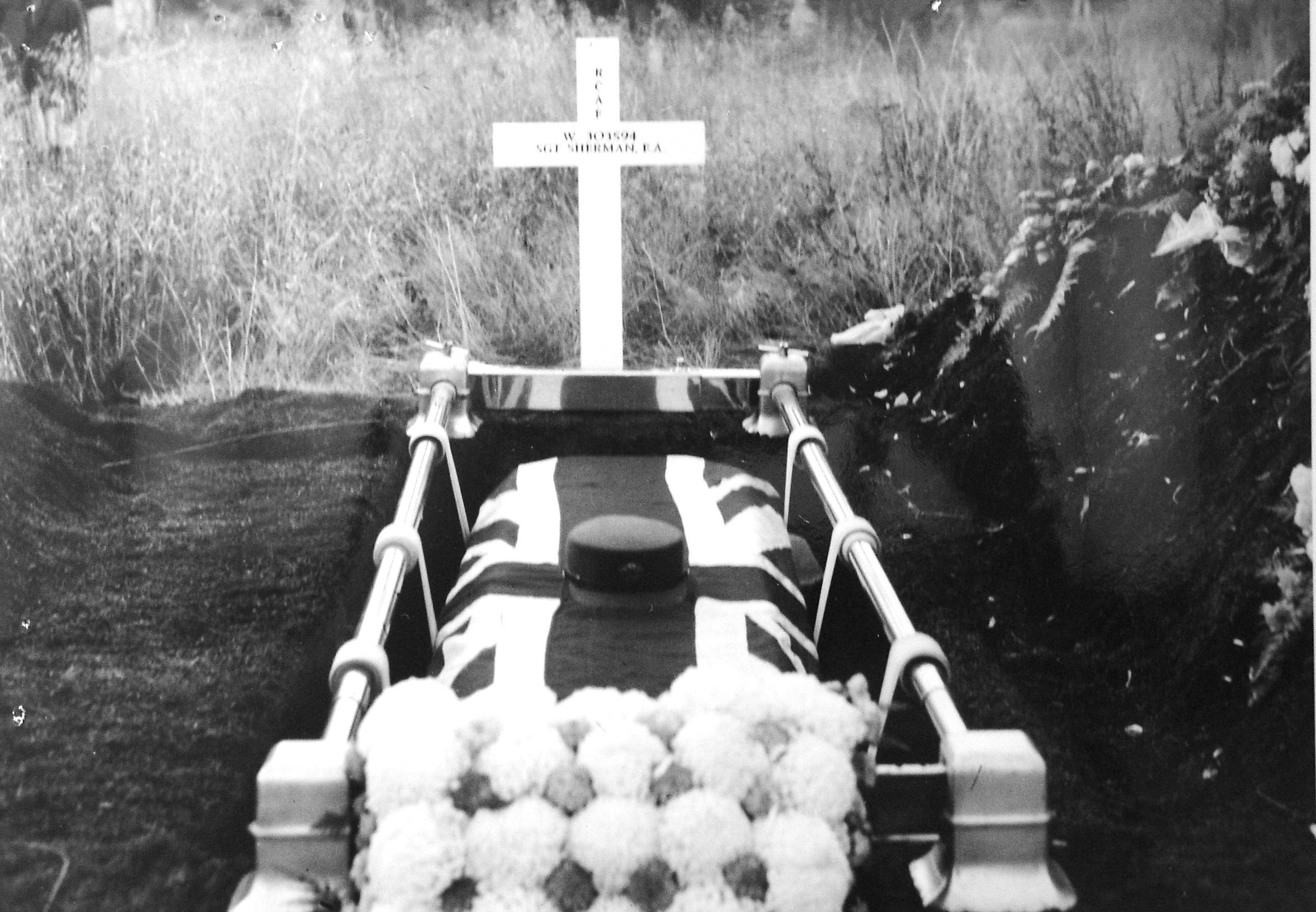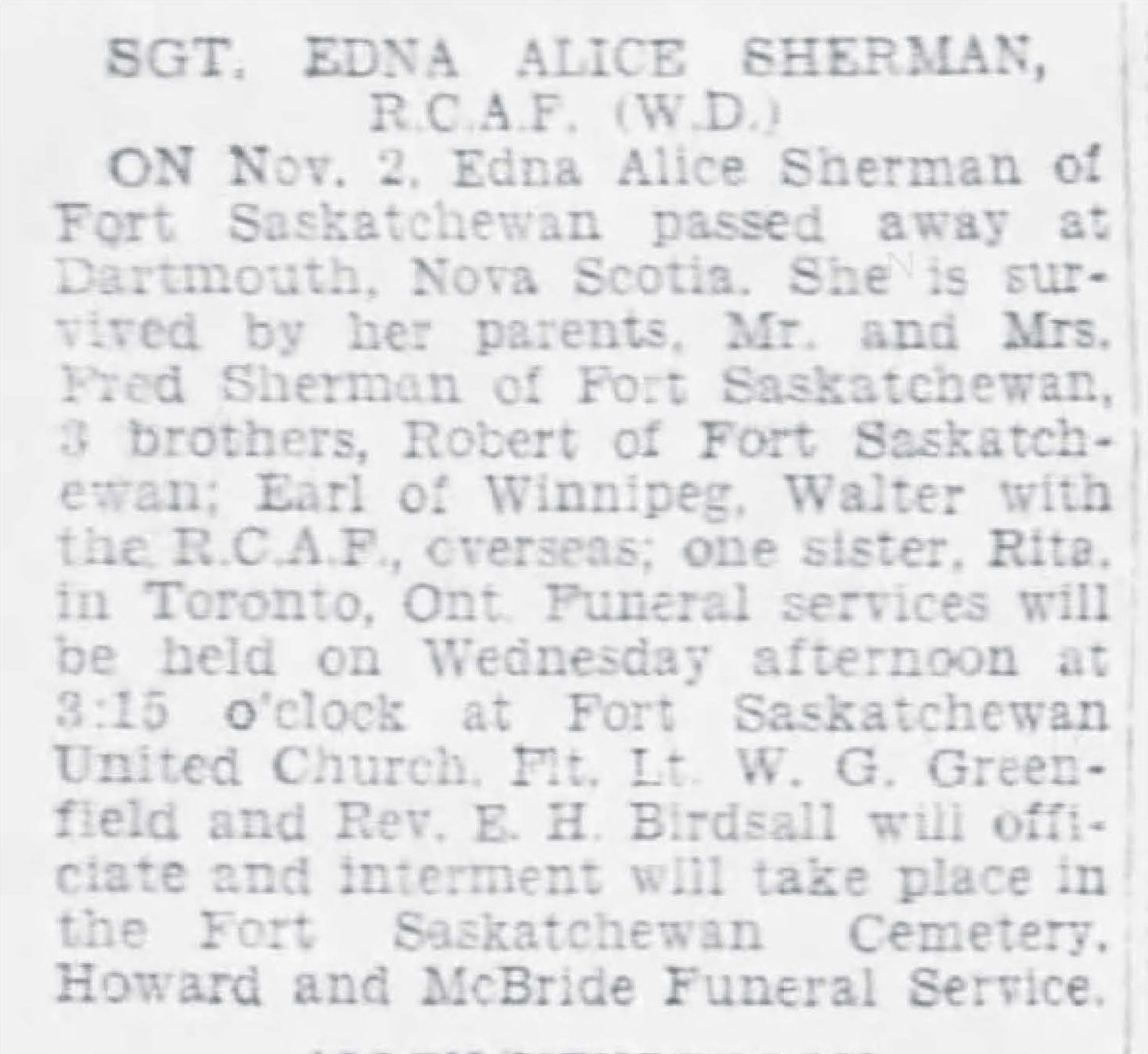 RCAF Women's Division
Edna Alice Sherman was born in Lashburn, Saskatchewan, daughter of Fred Arnot Sherman, a CPR station agent, and his wife Maud Lavinia (nee Adams) Sherman, later of Fort Saskatchewan, Alberta. The family moved to Alberta in 1924. Mr. Sherman was originally from Ontario and Mrs. Adams was born in Hull, England. Edna had five brothers, Earl Delmer, 28, Walter James, 24, Robert Henry, 19, Charles Arthur, 20, and Jack Arnot, plus one sister, Rita Maye, 30, who lived in Ajax, Ontario. Charles died in 1942 and Jack died in 1939.
Edna stood 5' 1" tall, weighing 120 pounds. She had brown hair, brown eyes and a medium complexion. She was the president of her United Church's CGIT group and a captain of a Girl Guide Company. She received her early education in Bruderheim, Alberta from 1924 until 1933 and then her high school (partial Grade 12) in Fort Saskatchewan from 1933 to 1937. She enjoyed curling, softball, skating, and tennis. She liked to sew.
She did general labour from 1937 until 1939, possibly domestic service. Edna was a telephone/switchboard operator for Alberta Government Telephones from 1939 until 1942 prior to enlisting. She provided the CWAAF/RCAF (WD) with three glowing reference letters.
At the RCAF Recruiting Centre in Edmonton on May 15, 1942, she was assessed: "Excellent type, excellent appearance; trade in which tested: operator, telephone; result: standard." The last time she had consulted with a physician was on December 19, 1941. She noted that she had a scalp wound requiring 20 stitches, details not given. She had her tonsils removed in childhood. Edna wrote, "I was hoping for advancement in our own telephone office," when asked about work after the war. "I went from 2nd relief then 1st relief, doing day and night work. Then to steady night work. I have three brothers, all Sgt PIlots and when I had the chance to join them, I took it." She felt she was a swimmer of high skill. She also enjoyed movies, cards, radio, reading, and fancy work -- most likely embroidery. "Good type of girl. Pleasing appearance. Keen. Alert." Edna was taken on as a telephone operator.
Training and Postings:
Recruiting Centre, Edmonton: May 15, 1942
No. 6 Manning Depot, Toronto: June 10, 1942
Eastern Air Command, Halifax: July 12, 1942
S. F. C., Rockcliffe: January 22, 1943
Eastern Air Command: February 16, 1943
No. 1 GH Rep. Transportation Station, Moncton: August 8, 1944
Other postings included Torbay, Newfoundland and Dartmouth, Nova Scotia
On July 11, 1942, in a class of 6, she was ranked 2nd. "Above average. This Airwoman received one day's practical brush-up instruction from Bell Telephone Co. Their report was as follows: 'This Airwoman has had three years experience at the Fort Saskatchewan Alberta Telephone Company. Her knowledge of equipment and telephone work in general is good. She grasped operation of PBX quickly and has initiative; understands long distance calls very well. She is conscientious and will be able to handle a busy board." In February 1943, she was in Rockcliffe, Ontario for a Filter Room Plotting course. She receive an 80.5%. "A consistently good worker. Very interested." In April 1943, at the Admin Unit, HQ Eastern Air Command, Halifax: "Trade proficiency: Satisfactory. Character assessment: Very good. An excellent worker." Her trade here was noted as a Clerk, Ops Filter. On August 13, 1943: "Certified that the airwoman recommended is carrying out the duties of the rank to which appointed, or higher, in the trade in which she is qualified and is filling an NCO vacancy of the rank to which appointed or higher, on the current Unit establishment within the trade. Appointed to the rank of Acting Sergeant effective September 1, 1943."
On September 11, 1942, Edna's brother, Sgt. Pilot Charles Arthur Sherman was killed while on active duty overseas. He was flying a Wellington.
On April 4, 1944, Sgt Edna Sherman injured her right knee playing hockey.
On September 13, 1944, she was admitted to hospital. "Patient began having pain in the right lower quarter September 8 which she describes as long, crampy in nature and radiating up to right and left upper quadrants. Pain has become much worse and has difficulty lying on her left side. Today pain is quite severe and crampy in nature, slightly nauseated but now vomiting -- loss of appetite since September 8, 1944. No history of previous epigastric distress. Duration four days. Marked muscular rigidity in right lower quadrant..cervix shows eroision which bleeds easily, smears taken. IMPRESSION: Acute appendicitis; appendiceal mass." September 14, 1944: "Taking fluids well by mouth, feeling better. Abdomen still very tender." September 15, 1944: "Feeling much better, hungry, slept continuously. Abdomen only slightly tender. Distension subsided. Slight resistance still in RLQ." September 17, 1944: "Temperature now normal. Eating and feeling well." Two days later: "Is up and feeling fine." Final Diagnosis: Appendiceal abcess. One week excused duty in Torbay hospital. To return early in December for surgery." J. Robertson, Surg. Lt, RCNVR
On November 2, 1944, Edna had an appendectomy at No. 5 RMB Hospital, Dartmouth, Nova Scotia. "Patient was referred here for interval appendectomy following appendicael abcess some two months prior to admission. Appendectomy was carried out on November 2, 1944. At the termination of the operation, the pulse slowed and respirations stopped. Artificial respiratioin was carried out. No pulse could be felt. Coramine was given intravenously and adrenalin was injected into the heart. The patient failed to respond and death occurred at 1145 hours." F/L C. G. McEachern, Medical Officer
Sgt Edna Alice Sherman's body was returned home to Fort Saskatchewan. Her funeral was very well attended. Please see articles above.
In her list of personal civilian effects, she had clothing, including an evening dress with jacket and hat, shoes, a box of Christmas ornaments, a box of mending materials, toiletries and make up, playing cards, a broken watch, a photo album with snaps, a leather writing case, and six books. A separate list was made of her valuables, including a Kodak camera, two pairs of glasses, a glass case, a Mondor watch, two rings, one an RCAF signet ring, and a wallet.
LINKS: