Elizabeth Audrey Curtis 313196
December 27, 1917 - November 8, 1945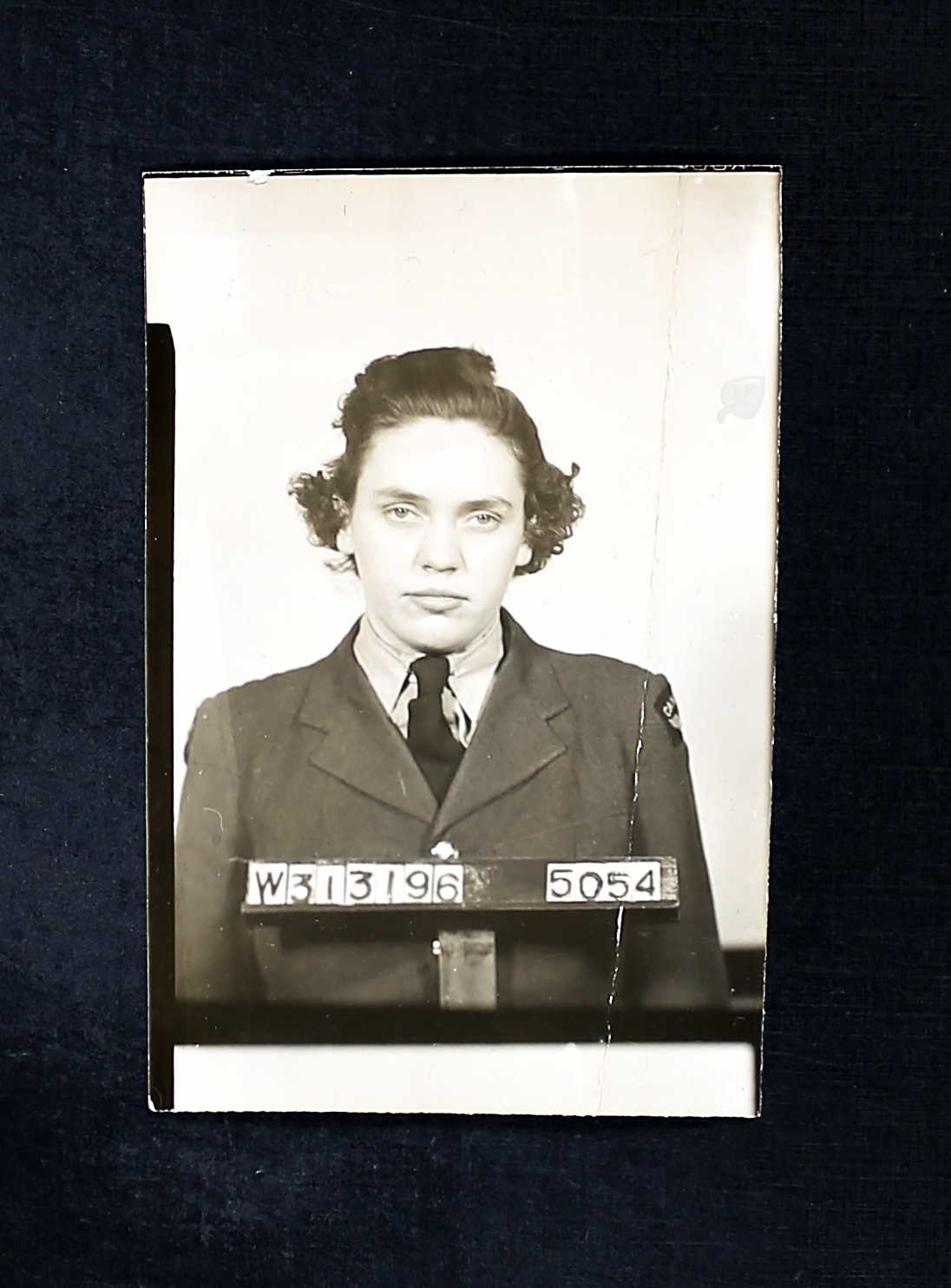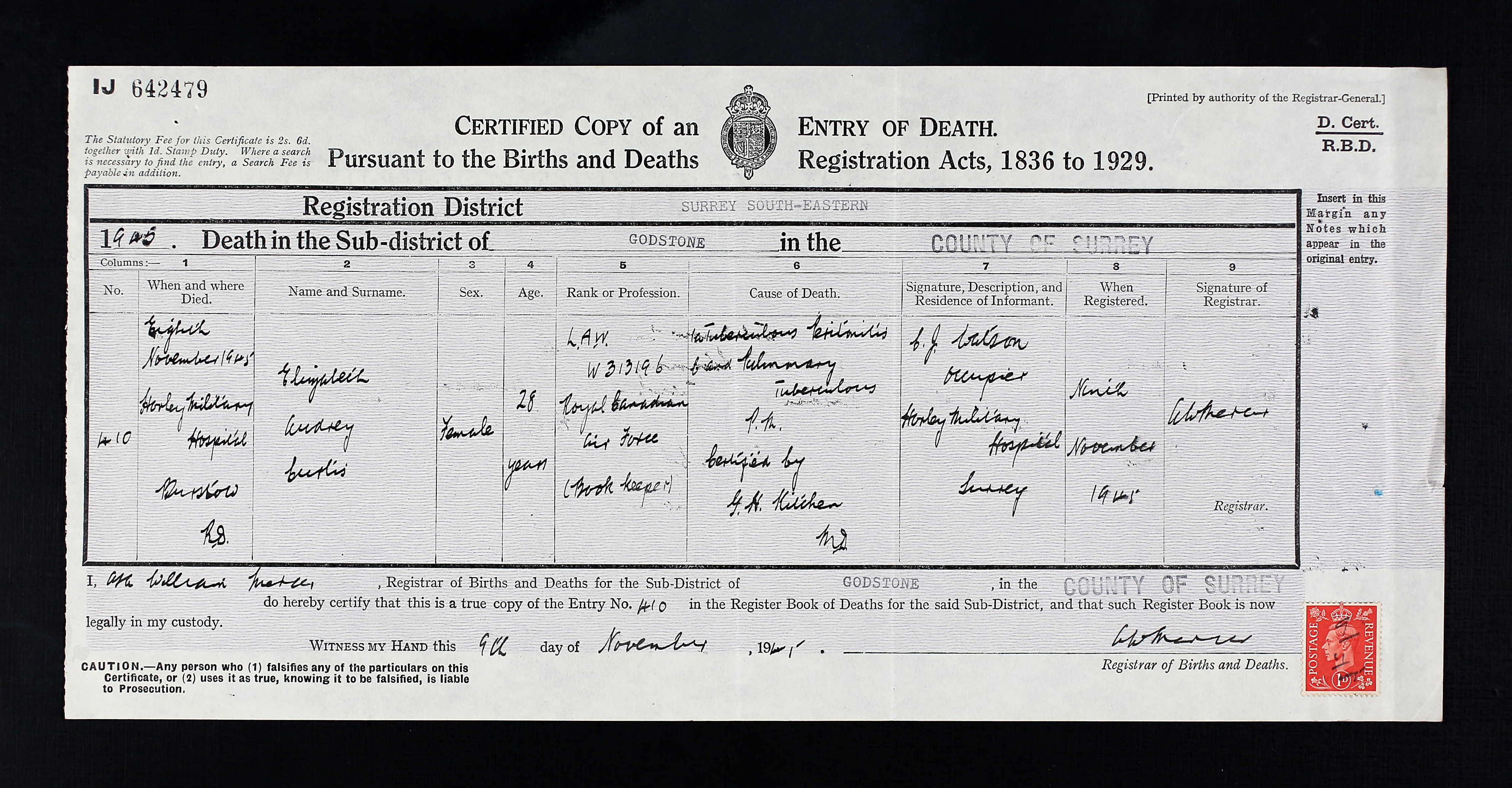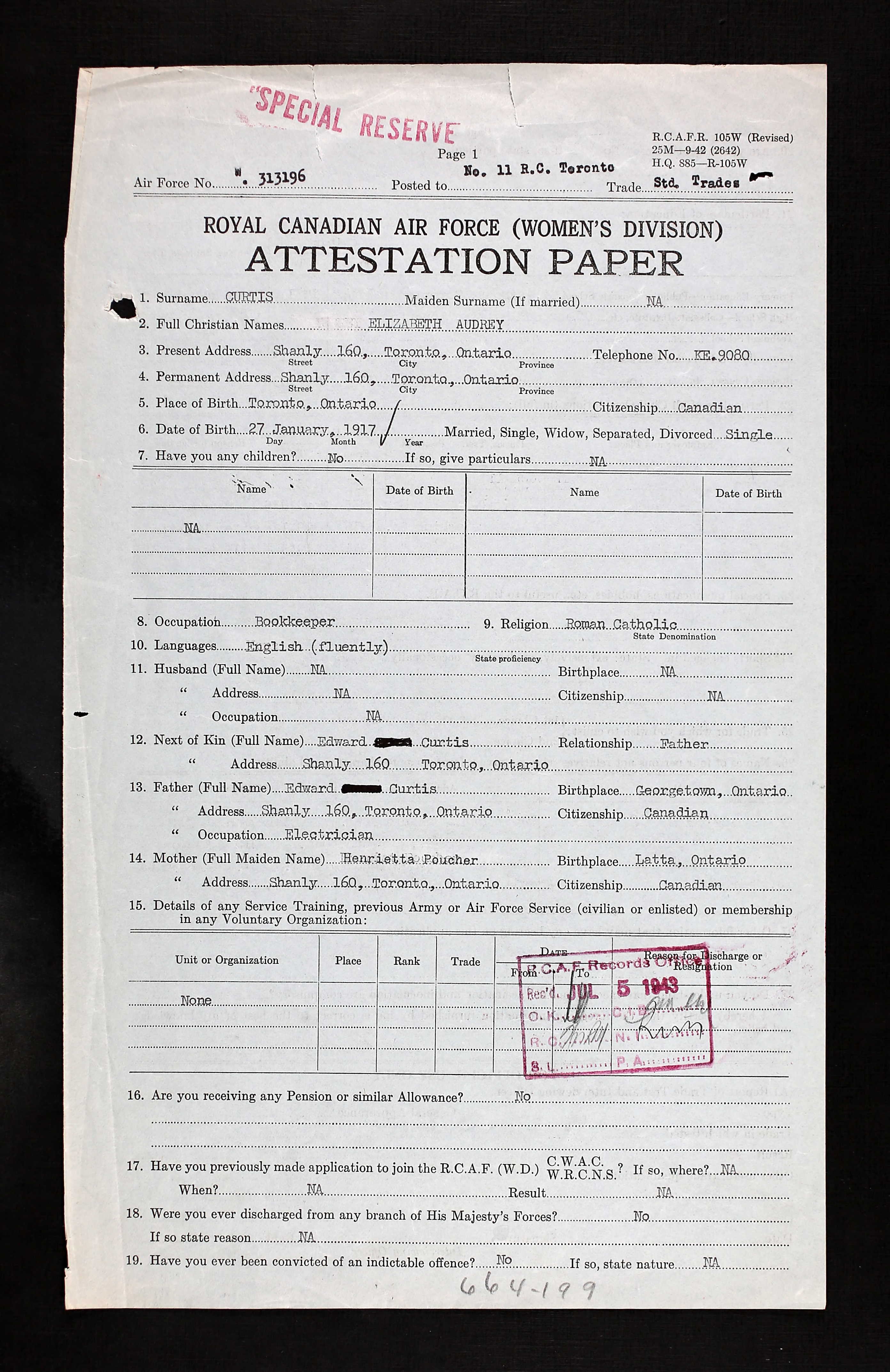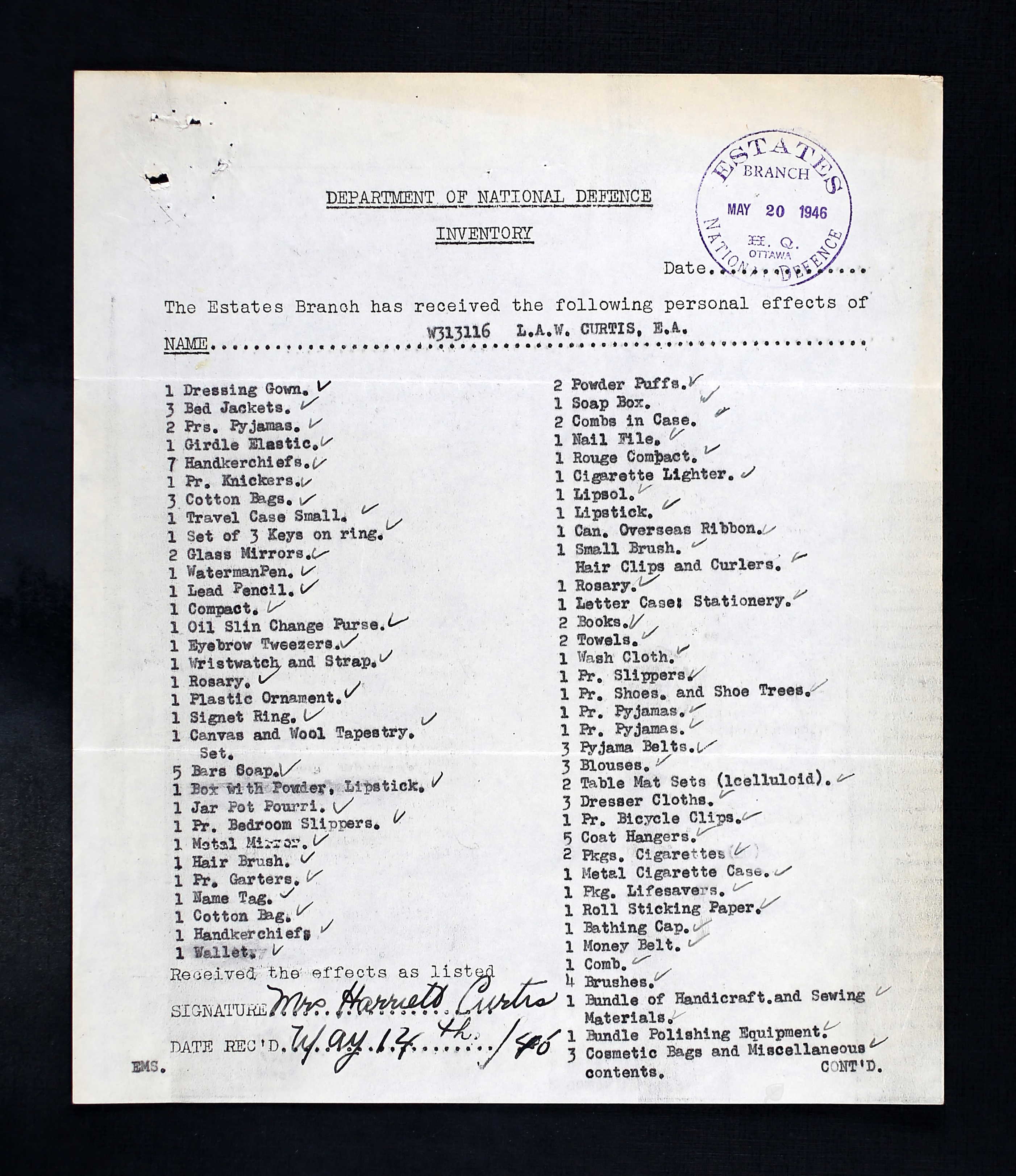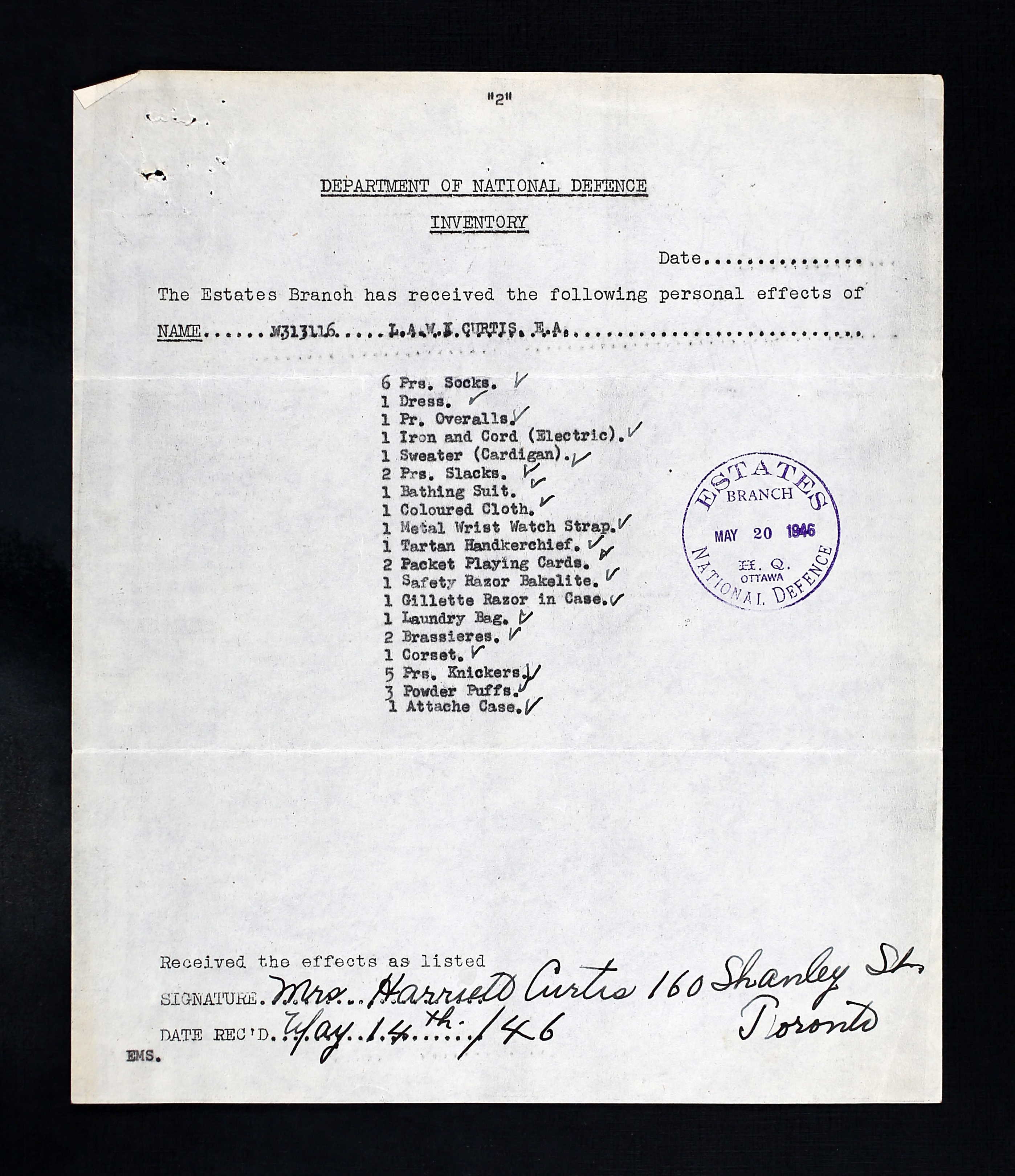 RCAF Women's Division
Elizabeth Audrey Curtis was the daughter of Edward and Henrietta (nee Poucher) Curtis of 160 Shanley Street, Toronto, Ontario. There were four children in the Roman Catholic family, two daughters and two sons. One brother, Melton, enlisted. Mr. Curtis was an electrician.
Audrey, as she was known, attended St. Anthony School and Bloor Collegiate. From December 1935 to May 1936, she went to Dominion Business in Toronto where she became a bookkeeper. She held a variety of positions, including as a temporary filing clerk at Crown Life Insurance, a Bookkeeper-Machine operator for Robert Simpson Co, then left for a better position at Direct-Winters Transportation from which she then applied to the RCAF in June 1943 at No. 11 Recruiting Centre.
She listed public speaking as one of her hobbies, but noted she did not participate in sports. A clergyman, doctor, manager and bookkeeper were her references.
Audrey was 26 when she enlisted. She said she had the flu in January 1943. She weighed 156 pounds, stood 66 ¼" tall, had dark brown hair and hazel eyes. She had some cavities, but they had been repaired. Her thyroid was enlarged. She was deemed an A4B category.
July 12, 1943, she was at No. 1 Y Unit as a standard tradeswoman. She was sent to the UK by December 1943 as a standard telephone operator, then promoted to "C" telephone operator and was Airwoman1. In January 1944, she remustered to become a teleprinter operator and started working in this position a month later at 62 RCAF Base. She continued in this capacity, becoming a Leading Airwoman, operator "B," until she was admitted to hospital in August 1945. In her evaluations: very good character and satisfactory work. She was "a good typist and teleprinter and bookkeeping machine operator." In a follow up progress report, "CT4- very slow on tests. 74% accuracy on questions completed. C1 aptitude: slow on maths, spelling and grammar." Career chosen by individual: stenographic work leading to a secretarial job.
On October 4, 1945, Mr. and Mrs. Curtis received a letter from the RCAF Casualty Officer. "Original advice reeived from the RCAF Casualties Officer Overseas, stated that your daughter was reported seriously ill on Active Service on September 27, 1945. She was admitted to the No. 24 Canadian General Hospital and although her illness had not yet been diagnosed, she was believed to be suffering from enteritis (inflammation of the intestines). A subsequent report received states that your daughter was transferred to the seriously ill list to the dangerously ill list at 3:30 pm on October 1, 1945. I hasten to relieve your anxiety in regard to her care and you may rest assured that she will receive the best of medical attention." October 22, another letter was written. "Your daughter's illness has now been diagnosed as tuberculosis peritonitis and bilateral plural effusion." A third letter, dated, November 1 1945: "....her condition is unchanged." On November 8, 1945, Elizabeth Audrey Curtis passed away of natural causes as a result of tuberculosis peritonitis.
Wing Leader K. Walker wrote a letter of condolence to Mr. and Mrs. Curtis. "I had been down to see her in hospital several times ever since she was first ill and we were all awfully pleased when we found that she seemed to be making a little progress. One day I saw her, she was very thrilled because she had just received cards from you and her sister wishing her a quick recovery. The other airwomen and Canadian women's Army Corps personnel in the hospital were awfully good to her, and popped in for a few minutes at a time to chat, and her room was always full of flowers, in fact so many she told me she had given a lot to girls who were sick in the nearby ward. I was down in hospital myself for several days and saw her a couple of times then and the matron used to take an amusing messages to her from me saying that she must hurry up and get well and come to see me. Before I left the hospital, I was very pleased to see a great improvement in her, but unfortunately on Thursday she had a setback, and the matron of the hospital called me herself to tell me the sad news. I know how sad it must be for you to lose a child so far away from home, but you can rest assured that the RCAF and the doctors at the hospital including several specialists did everything they could for her. The funeral will be taking place on Monday morning at 11 o'clock and I will be going myself and Mrs. McLenehan of the Canadian YWCA, who I believe has written to you several times for your daughter, will be going with me. There will also be a detachment of RCAF personnel, both airman and air women. Mrs. McClenahan told me that your daughter was so thrilled to receive the quilted bed jacket, and it is nice to think that your gift for her arrived in time."
On November 15, 1945, Group Captain A. A. G. Corbet, Director of Medical Services, RCAF Overseas wrote to Mr. and Mrs. Curtis. "I would like to extend my personal sympathy in your recent loss. On several occasions while your daughter was in hospital, we had visited her and we were impressed by her cheerfulness and cooperation. Following her operation, she improved considerably for sometime, but unfortunately the acuteness of her tuberculosis infection proved too much for her to combat. You may be reassured that everything that could be done was done for her and from the start of her illness, the senior consultants in the medicine and surgery from London hospital personally followed her case. I am sorry that this illness has such a sad ending for you."
Leading Airwoman Elizabeth Audrey Curtis was buried at the RAF Regional Cemetery, Brookwood, Woking, Surrey, England.
Mr. Curtis wrote about his daughter's financial circumstances on the Estate form, dated December 12 1945: "She had money in a bank overseas as she told me in a letter. She has a small bank account in Post Office Saving Bank of Canada, Ottawa...Also she has income tax money due here...her death was such a shock to us as a couple of doctors here says she was one of the strongest girls....Could you please look after all this at your earliest convenience. We had gone to quite an expense preparing for our darling to come home and need it. Our darling daughter also bought a bicycle that the previous owner had bought for 8 Pounds. It was a Canadian bicycle and she had sent it to Torquay when she got out from Linton. She had been to the depot at Torquay and could not get any trace of it."
Audrey had an extensive list of personal effects. (See photos.)
LINKS: