Ellen Jewel Twiss V30402
March 4, 1914 - February 7, 1947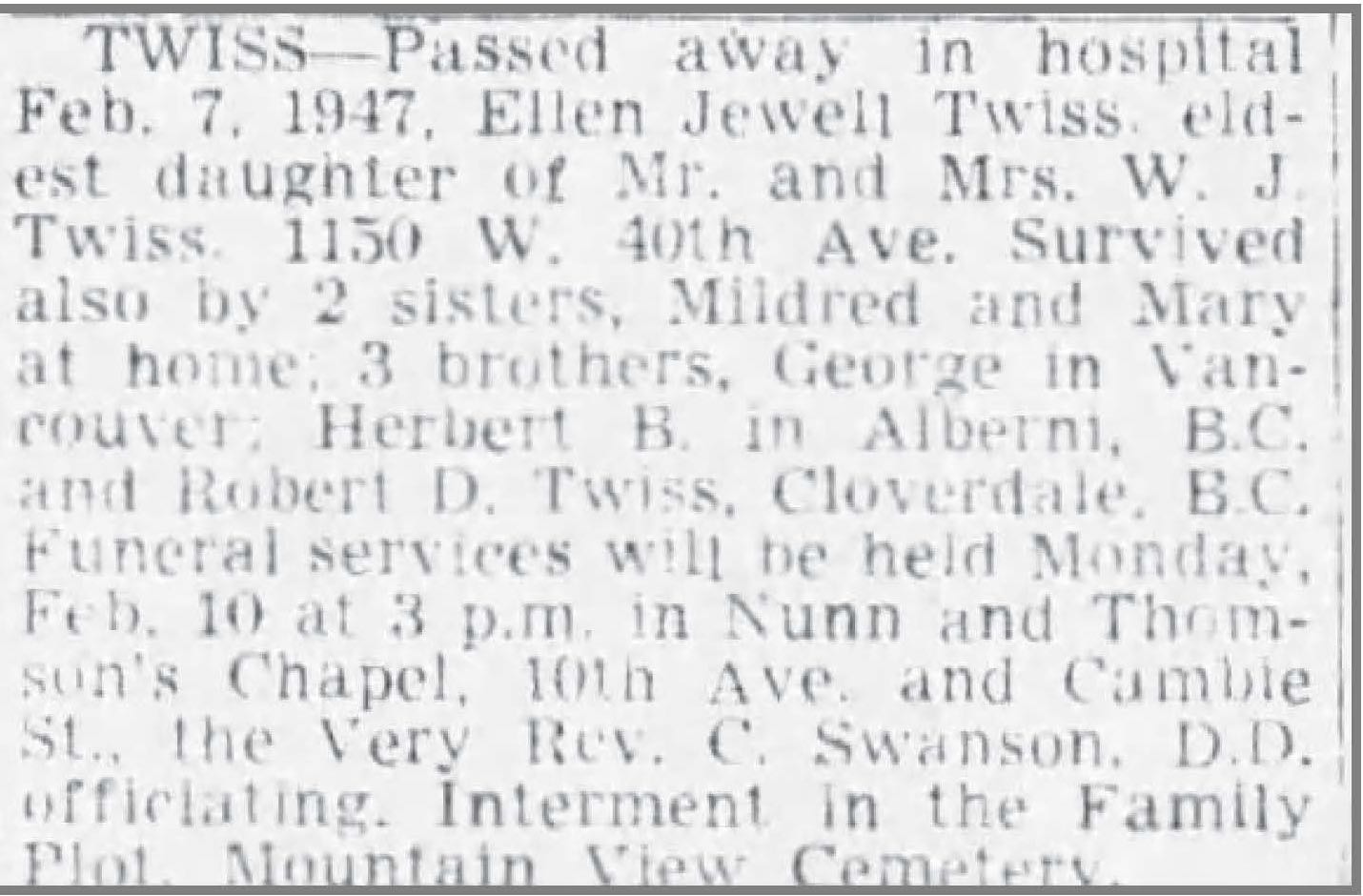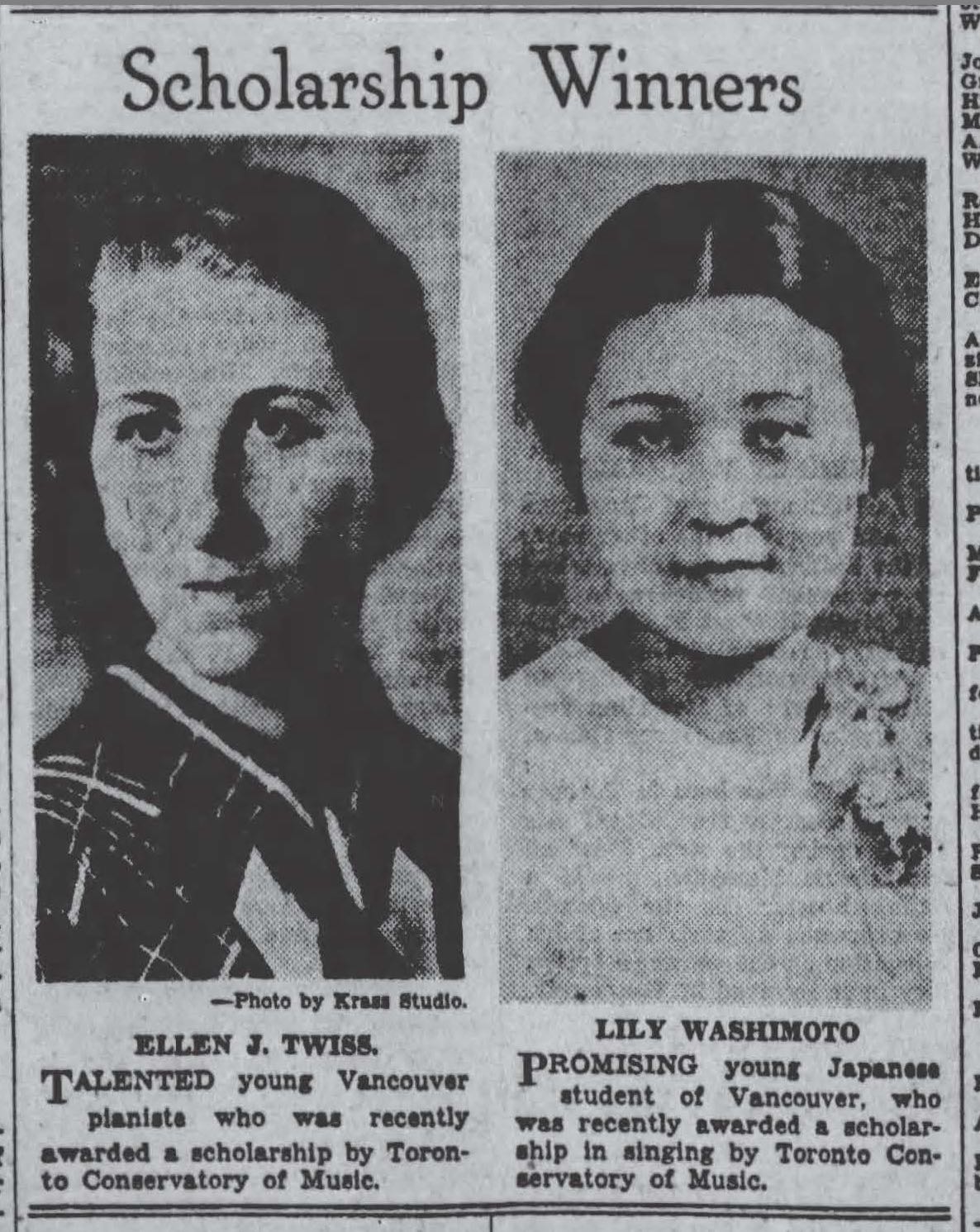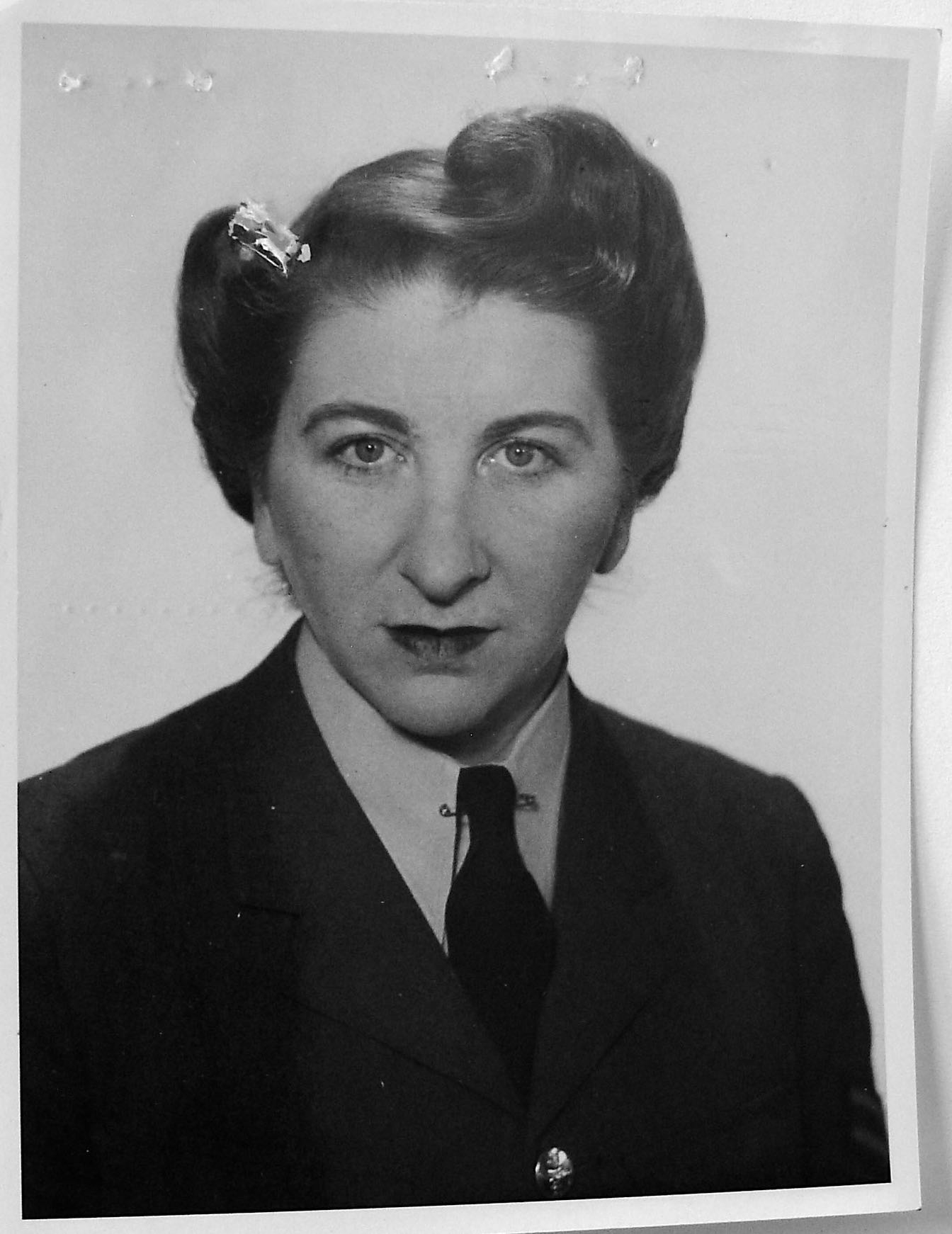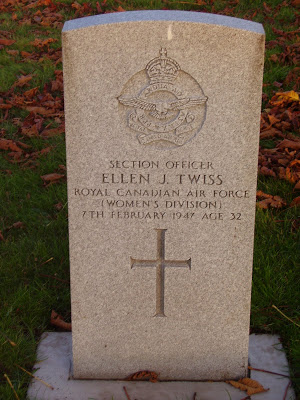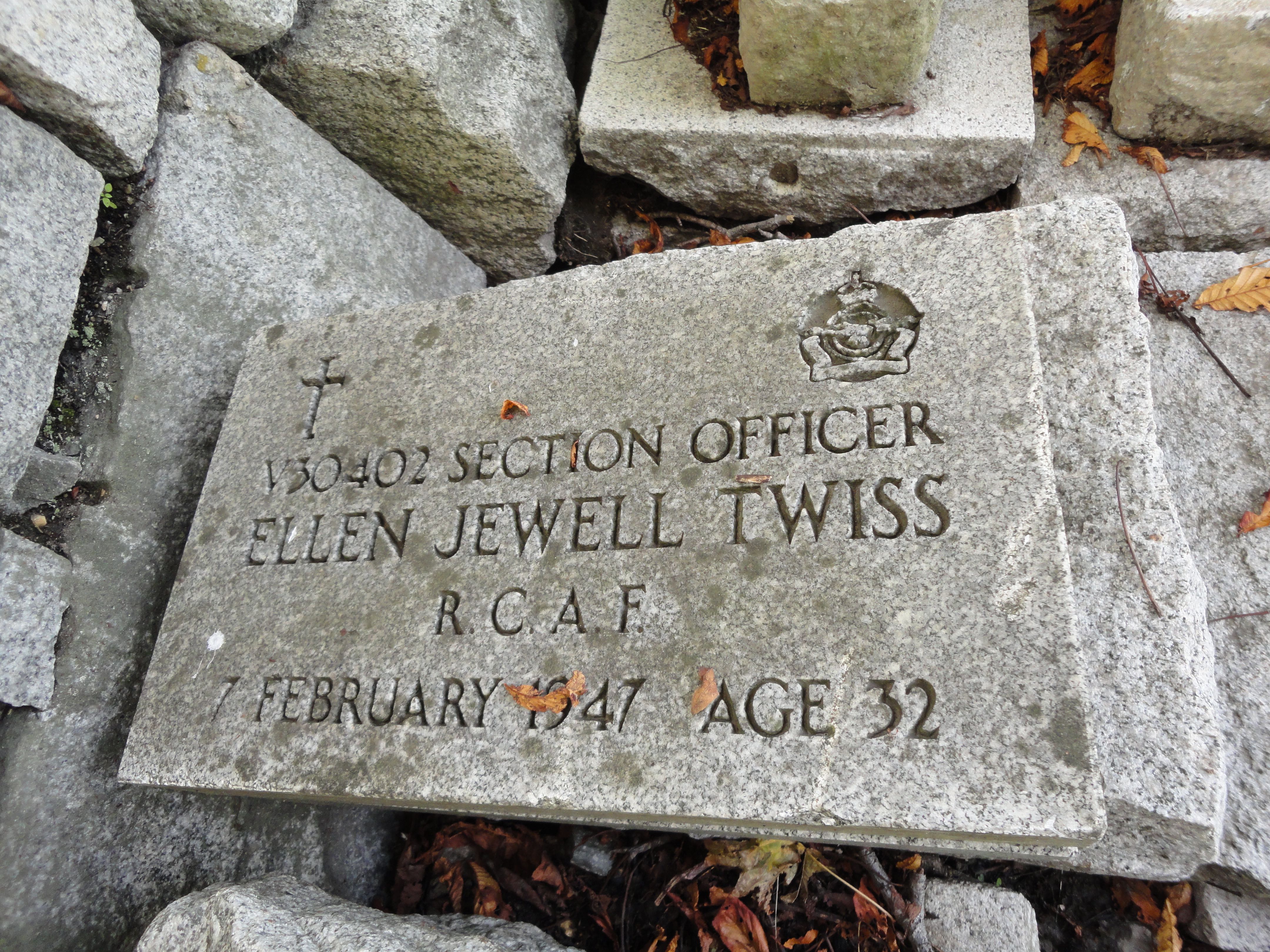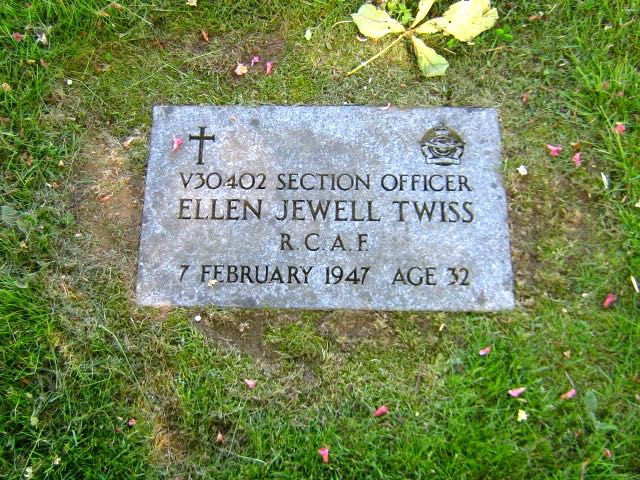 RCAF Women's Division
Ellen Jewel Twiss was the daughter of Captain William James Twiss (1869-1953) and his wife, Sadie Jewel (nee Brenton) Twiss (1880-1951) of Vancouver, British Columbia.
Mr. Twiss was originally from County Kerry, Ireland. He served with the forces from Victoria, BC in suppression of the coal riots near Nanaimo in 1890. Eight years later, he formed the Kaslo Rifle Company (Rocky Mountain Rangers). In 1899, Capt. Twiss became an agent for the Interior Mutual Life of Canada (Insurance) becoming manager. He also had the Greenback Jersey Farm, near Langley, BC after WWI. He later became an alderman in Vancouver. Mrs. Twiss, originally from England, was a renowned singer. They had four sons, George, Herbert, Robert and William, plus two more daughters, Mary and Mildred. William died in 1941, the pilot of a TCA airplane that crashed near Armstrong, Ontario, with eleven other people onboard. The family was Anglican.
Ellen enjoyed swimming, tennis (extensively), badminton, riding (moderately). She listed her hobbies as sewing, particularly tailoring, plus cards, reading and cooking. She could speak a little French. "Before enlistment, I taught tailoring to Red Cross Group." She was the member in both the Women's Musical Club and Women's Canadian Club at the Toronto Conservatory of Music.
Ellen had blue eyes and brown hair, stood 5'7" tall, weighing 160 pounds. She had a small brown mole on her left cheek. "Condition of mouth and teeth: healthy; Superior type of girl. Well adjusted to service life. Good commission material."
Ellen's public schooling started in 1920, finishing with a Junior Matriculation in 1931. She attended Commercial School for 2 months in 1940 where she studied typing and bookkeeping. She earned a scholarship with the Toronto Conservatory of Music. She was in Toronto from 1934 to 1937, taking courses in piano and voice. She received an ATCM certificate. From 1940-1941, she took the Women's Ambulance Corps OTC course in Vancouver, then Home Nursing at the Vancouver General Hospital.
Ellen Twiss enlisted with the RCAF (WD) on March 3, 1942. She made application for Officers' Training, passing her medical and all other tests by February 5, 1943. "This young woman is of exceptional ability, and I believe would make an excellent leader." W/C James A. Sharpe, Air Secretary
On her PERSONAL HISTORY REPORT for WAR INDUSTRIES: SCOPE OF INVESTIGATION: This investigation has been conducted thru personal and residential informants who have known Miss Twiss and her family for the past 5 to 20 years. IDENTITY and EDUCATION: Miss Twiss is the full known name of the above party. She is 28 years of age and of Anglo Saxon descent. Miss Twiss attended local schools in Vancouver and then attended the Toronto Conservatory of Music in 1934 to 1937....During her school years, she was considered an excellent student and a capable young woman. EMPLOYMENT: RCAF: Miss Twiss has been enlisted in the RCAF (WD) since March 1942. Her exact rank and income in connection to the present time is not known to the informants. However, she is understood to have done quite well. FORMER EMPLOYERS: From the time that Miss Twiss received her degree from the Toronto Conservatory of Music until she enlisted in the RCAF, she was self-employed as a music teacher. She did quite well in this connection and was well regarded as a musician in this city. She was a member of the Choir of Christ Church Cathedral and was highly thought of in these quarters. Informants are of the opinion that should she care to return to teaching music again in this city, she would have no trouble in building up a good class of students. CITIZENSHIP AND LOYALTY: Miss Twiss was born in Vancouver of Anglo Saxon parentage. Her family background is good and she is not known to have any relatives in a foreign country, nor is she known to have committed any acts of disloyalty against our Government. CRIMINAL RECORD: To the best knowledge of informants, Miss Twiss has no criminal record. However, police files are not open to our investigation. PERSONAL CHARACTER: Ellen Twiss was a single girl living with her parents in a respectable middle class area of this city. Home life was well ordered and her associates drawn from a desirable class of Anglo Saxon people. She is considered honest and dependable and enjoyed good health and there is no criticism of her habits. Her father, W. J. Twiss, is an old timer in Vancouver and has for many years, been a life underwriter with the Mutual Life Insurance Co. He was also a former alderman of this city. There are two sisters still at home and there are two brothers in the RCAF and one brother who was a pilot with the TranCanada Airlines who was killed when the plane which he was piloting crashed at Armstrong, Ontario, some time ago. Miss Twiss's worth is estimated in the neighbourhood of $500 or so, consisting of her personal savings and effects. Her income at present time is not known, altho when she was teaching music here, she had a comfortable living. She met her obligations in a prompt and satisfactory manner." Another evaluation: "Is a very capable girl and should measure up well in anything she undertakes. Has a very good family background."
TRAINING AND POSTINGS:
No. 6 M Depot: Basic Training and M Transport Course, Toronto: March 3 - April 3, 1942, graduating April 8, 1942. She received a 73%, was first in her class of 6. "Very good student. This girl has taken a business course in typing and bookkeeping. Has show real interest throughout entire course. Possible NCO material as she is an excellent leader and organizer. Very good driver. Taught piano for six years."
No. 10 SFTS, Dauphin, Manitoba
No. 6 M Depot: No. 5 Admin Course, Toronto: May 3 - June 3, 1942, where she graduated first in her class.
No. 3 Squadron, No. 6 Manning Depot: training recruits during the period of basic training, giving lectures and physical training. In September 1942: "Energetic, trustworthy, and popular. With more experience should make a good Officer." "Reliable and very willing."
No. 2 KTS, Toronto: March 26, 1943: Officer's Training Course: 16 out of 35 in class. Average: 71%. "Should make an energetic, capable, and responsible officer. Her previous service experience as an NCO has given her self-confidence."
No. 4 TC, Calgary: April 15, 1943
No. 9 SFTS, Centralia, Ontario: March 26, 1943, where she was placed in charge of Canteen cash and supplies, head of Messing Committee, with rank of Corporal. January 13, 1943: "This NCO has worked in an insurance office as a stenographer and bookkeeper and served in the RCAF as a motor transport driver. This is an outstanding airwoman. She is intelligent, well educated, has a pleasing personality, and is well fitted for appointment to commissioned rank." S/O E. Macdonald
No. 7 SFTS, Macleod, April 20, 1943: Evaluations: September 7, 1943: "A thoroughly reliable officer who is doing very good work." September 11, 1943: "A capable and enthusiastic officer, doing satisfactory work as adjutant of the flying wing and still takes an interest in the airwomen as a whole."October 11, 1943: "An above average Officer who is doing an excellent job and is highly recommended for immediate promotion."
On November 3, 1943, S/O Twiss was seen by the Medical Officer at No. 7 SFTS, Macleod, Alberta. "An electrocardiograph was taken....some left ventricular prepondence....simple essential hypertension, renal in origin...placed on modified work regime and hypertension was kept under observation, but no change noted.
November 11, 1943: "She has felt a little more nervous and 'on edge' in the past 2-3 weeks. Eye feels better when not exposed to light...Colour: fair. Tends to be obese...patient states that her menstrual periods have always been irregular, sometimes missing as long as a year at a time. Received injections for this about three years ago, following which she put on much weight which she has never been able to reduce.'"
On December 17, 1943, S/O Twiss reported with acute bartholinitis (infection from STIs or from shaving or waxing the pubic area). With treatment, it cleared up promptly. "After this upset, she was given two weeks Sick Leave and returned to her home in Vancouver. While there, her BP was checked by her family doctor and was told it was 210/130. [Optimal: 120/80 mmHg] On return from Sick Leave, she tells us that she has noticed a lack of energy and on several occasions, experienced a severe headache on arising in the morning...this officer holds the position of Flying Wing Adjutant. She is an extremely efficient worker and tends to put too much of herself into her job and it is almost impossible to get her to slow up at all. Her superiors here think very highly of her and would like to retain her services, however, it is our impression that the strains and stresses of her present job are aggravating her condition." S/L D. M. Bruser, Medical Officer, No. 7 SFTS
At the Colonel Belcher Hospital, Calgary, Section Officer Twiss was admitted for a medical exam investigating 'essential hypertension' on January 17, 1944 from No. 7 SFTS, Macleod, Alberta. She was discharged on January 21, 1944 with no change in her condition. "CHIEF COMPLAINTS: Fatigue for three months; headaches. PRESENT ILLNESS: Admitted to station hospital on November 3, 1943 with what was diagnosed as retrobulbar neuritis (inflamed optic nerve); had blurring of vision and pain in the right eye. This has been intermittent for about two weeks; it was made worse by pressure and by looking to the right. It subsided graudally over the next week. Apparently while in hospital, it was discovered for the first time that her blood pressure was elevated. For about three months, she had noticed gradually increasing fatigue particularly at night. She has been working very hard as an adjutant and has had much responsibility and worry. She has not slept so well as before and often feels tired upon awakening. About the same time, she began to have headaches, usually started in the nape of the neck and passing up to the temples, sharp and rather throbbing in character. They often being in the morning and last all day, partly relived by 217s and are not associated with nausea or vomiting. She has had no headaches previously, but they have occurred about a dozen times in the last three months. Because of the hypertension which was evidently persistent, as her BP was checked while in hospital, she was referred for re-categorization. PAST ILLNESSES: Tonsillectomy in childhood; scarlet fever and mumps. Injuries: many years ago fell and broke several small bones in left foot; ever since, she has had aching pain and swelling of foot and ankle by the end of the day if she was on it a great deal. "Approximately six years ago, I fell off a step ladder and broke three bones in my left ankle. This ankle swells, particularly at the end of the day. In fact, both ankles swell quite often at this time of the day." Right foot normal. Plantar wart, right foot. "On January 15, 1943, I was admitted to hospital to have a Planter's wart removed from the base of right heel. After arriving at this Station at the end of April, it was recommended that I have x-ray treatments. Four treatments were given, but the wart has not yet vanished." [Continued to trouble her.] Operated on January 1943. No relief. Has been having radiation to it lately. Gained considerable weight several years ago, but has not changed recently. Teeth good. CHEST: Slight persistent angle with scanty white sputum and has been a fairly heavy smoker. No chest pain; is somewhat dysponeic on exertion, but can play badminton for about an hour before she becomes tired. Has gotten little physical exercise lately. ABDOMEN: Appetite never very good. Has always been a light eater. No indigestion or abdominal pain; constipated for years, takes laxative. Periods are regular after amenorrhea some years ago, treated with injections. PHYSICAL EXAM: Well developed, well nourished, but not obese; no definite peculiarities of shape. No abnormalities of hair distribution. FAMILY AND PERSONAL HISTORY: Father alive and healthy; had recent check up and no known hypertension. Mother alive and well -- may have high BP. Family healthy. Music teacher; at present, adjutant of flying wing; efficient and hard woking.
January 19, 1944: "This appears to be a case of essential hypertension of relatively recent and probably sudden onset. I do not feel there is much evidence for an endocrine hypertensive changes. Kidney function is under investigation....the aorta is fairly wide...the x-ray shows no definite cardiac disease but the aortic shadow is inside and this fits in with her hypertensive...it would be very interesting to see what the next six months brings." S/L A. J. Kerwin
February 16, 1944: "The termination of this Officer's appointment on medical grounds is being considered by the Retirement Board of Officers." March 1, 1944: "Ministerial approval has been given to the termination of this Officer's appointment on medical grounds." She was struck off stength on March 2, 1944.
On June 6, 1945, Ellen Twiss wrote to the Records Officer, Department of National Defense for Air: "Would you please forward to the above address, my Canada Service Badge. I was not given same, as I was discharged to the Department of Pensions and National Health where I was continued as an out-patient for the ensuing twelve months. I was discharged on March 3, 1944." She was living with her parents at 6825 West Boulevard, Kerrisdale area of Vancouver.
On February 7, 1947, Ellen Jewel Twiss died in Vancouver at the age of 32 years of congestive heart failure due to malignant hypertension.
LINKS: