Irene Watson V30285
December 20, 1916 - November 8, 1943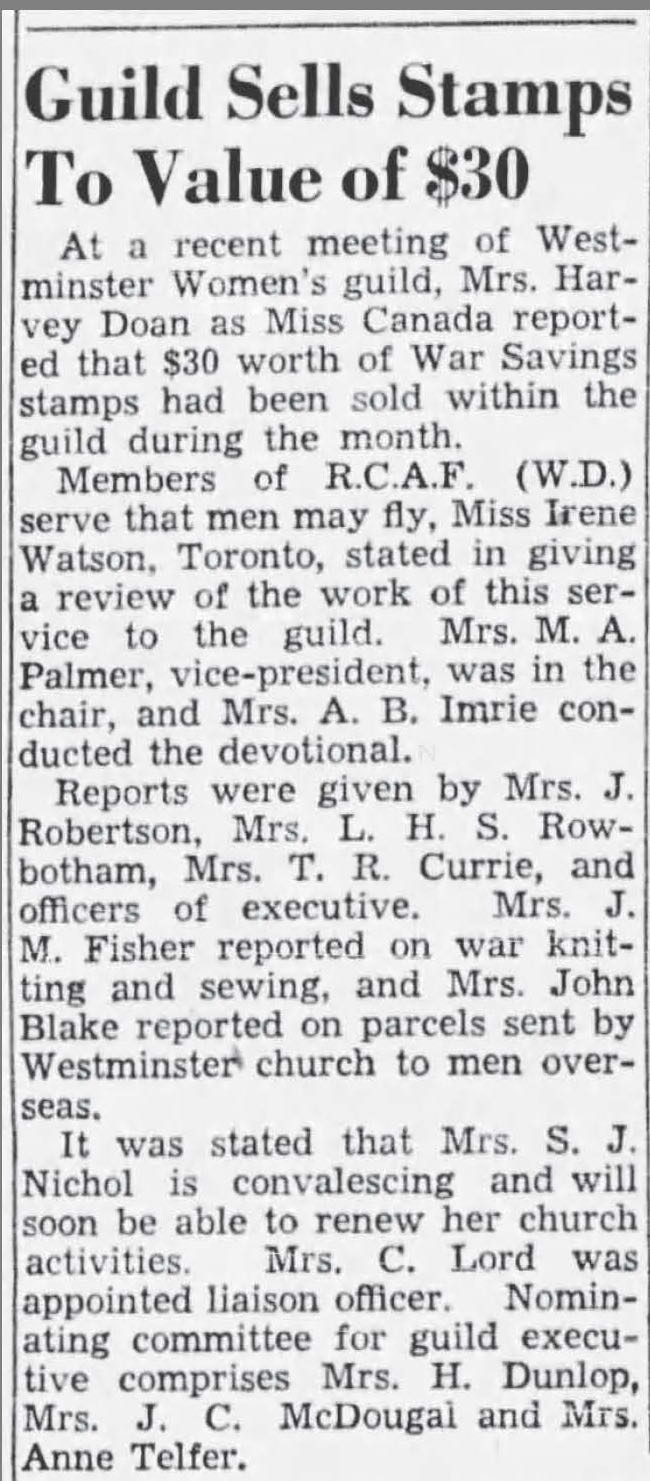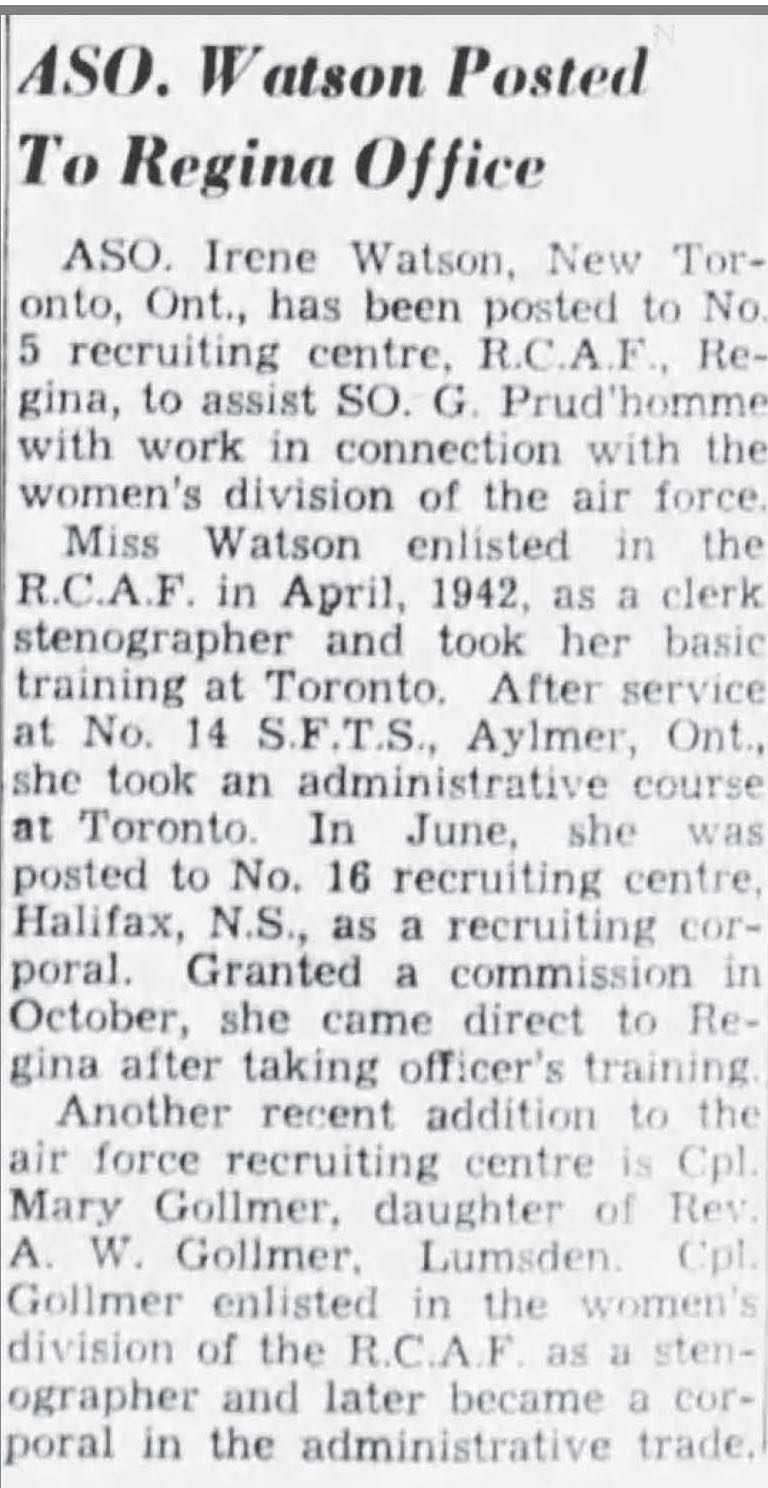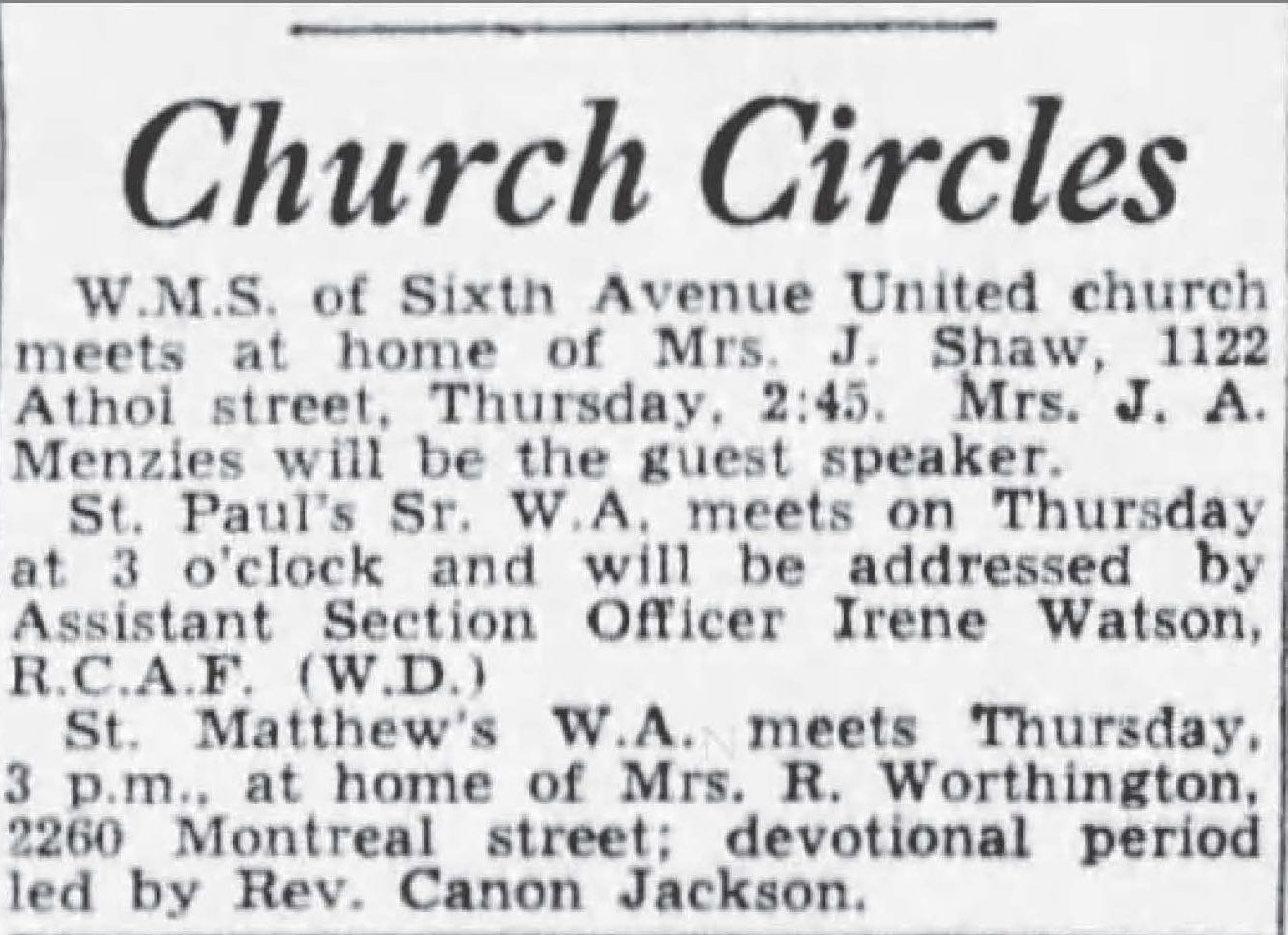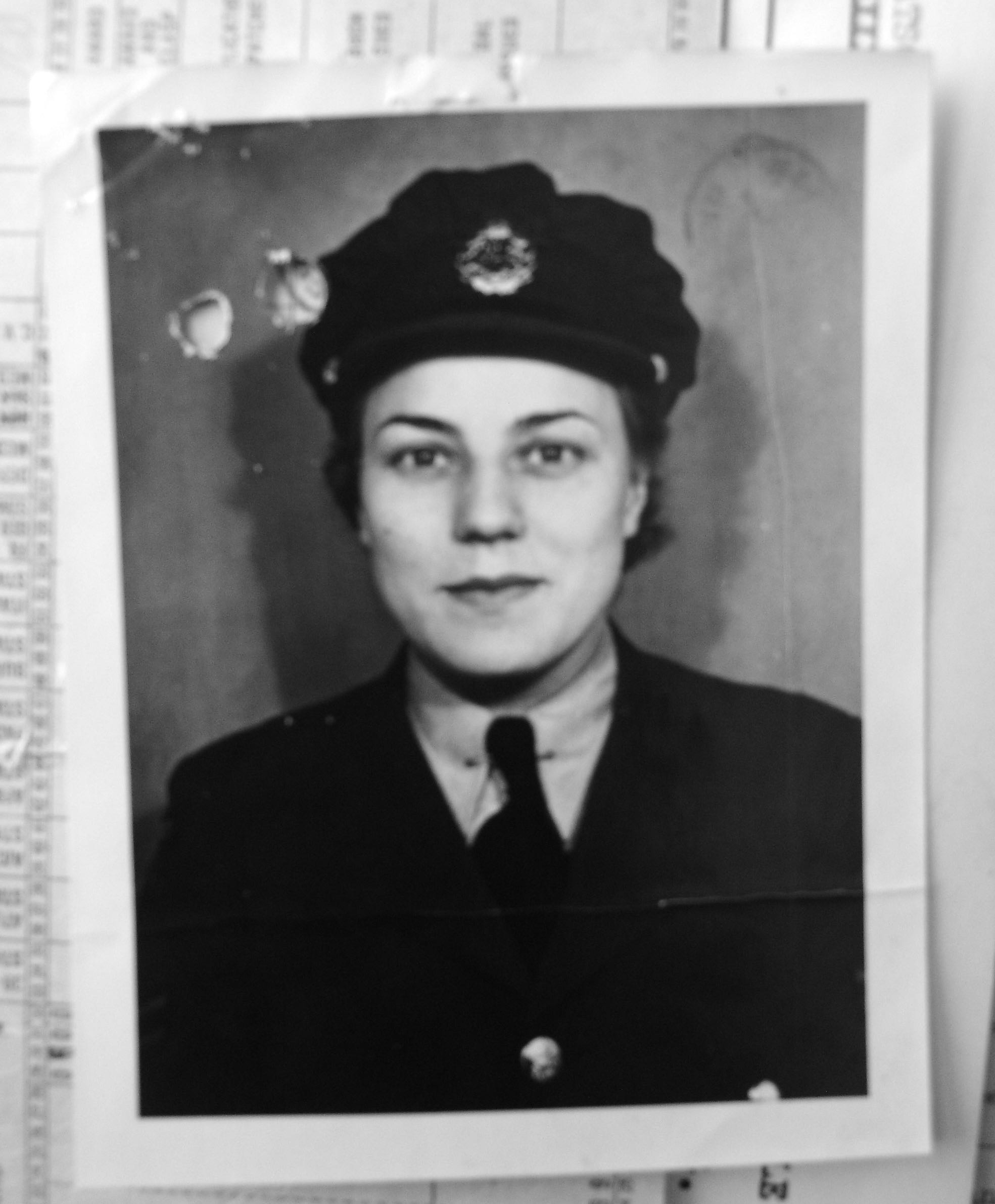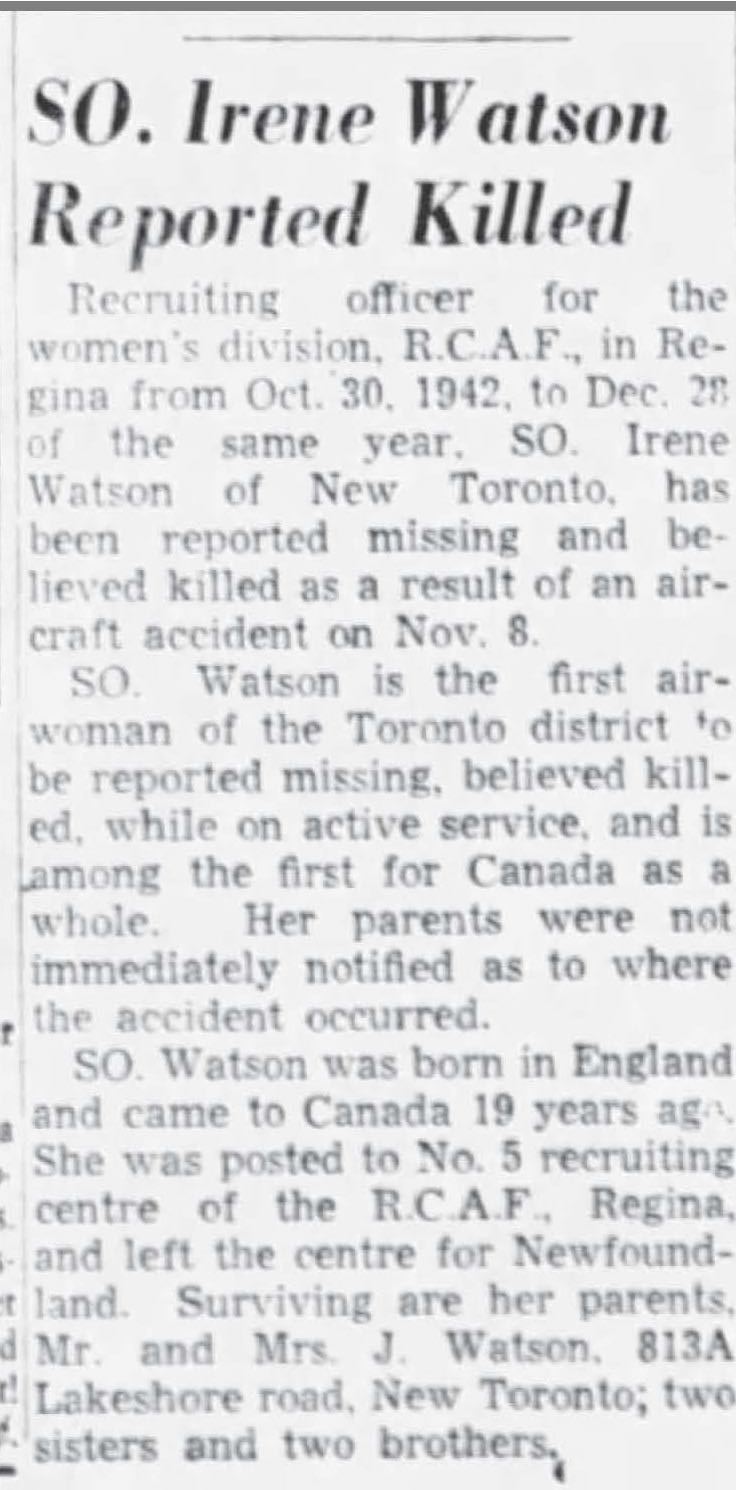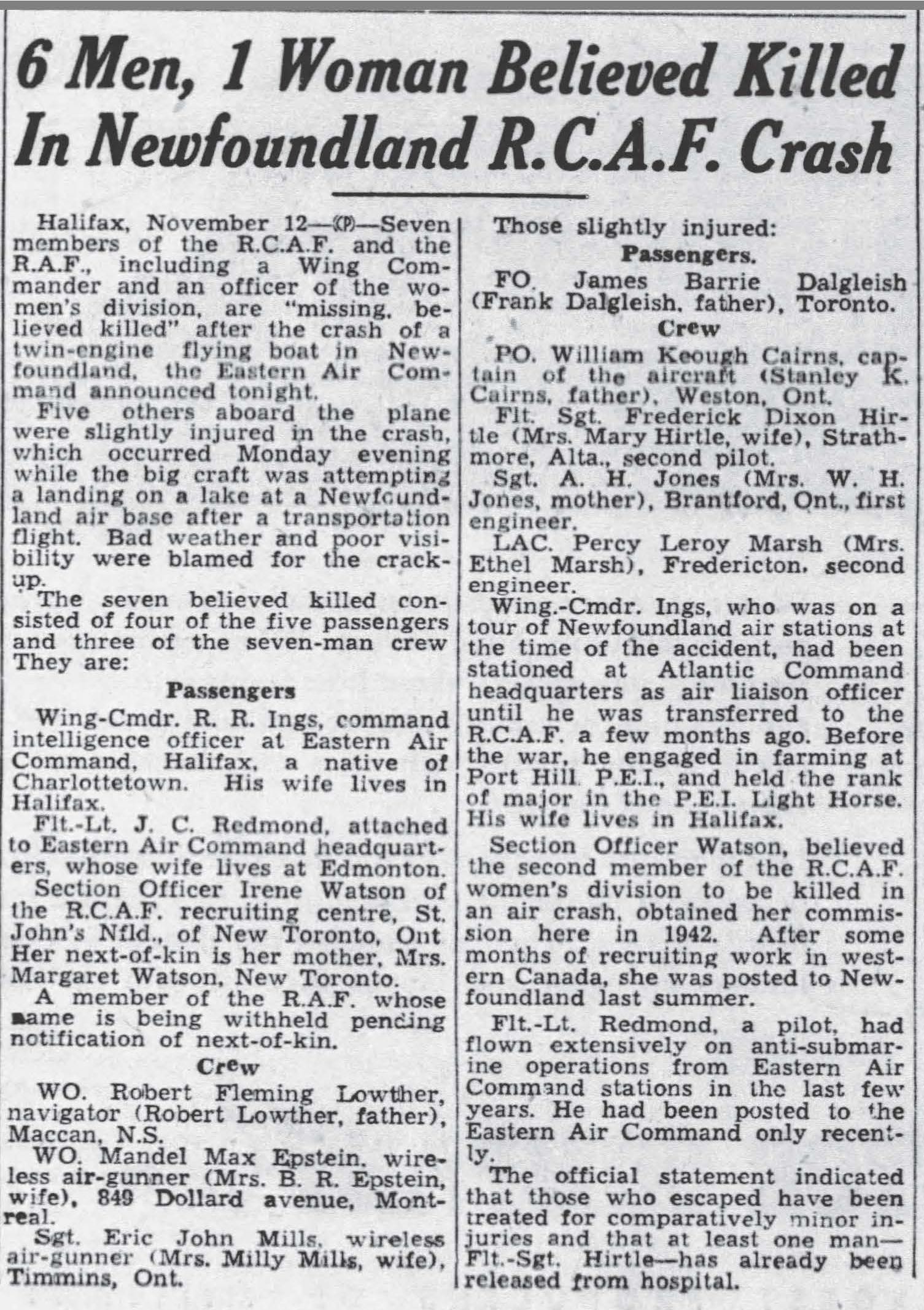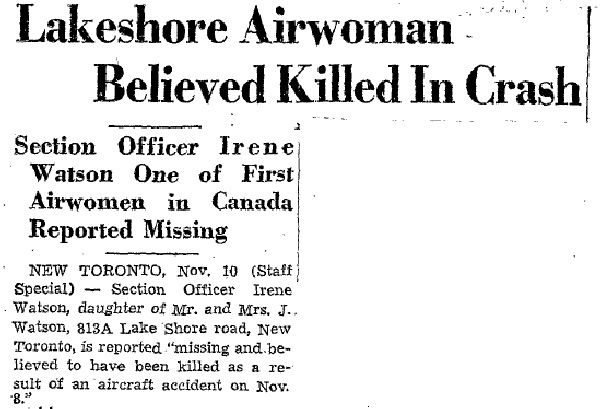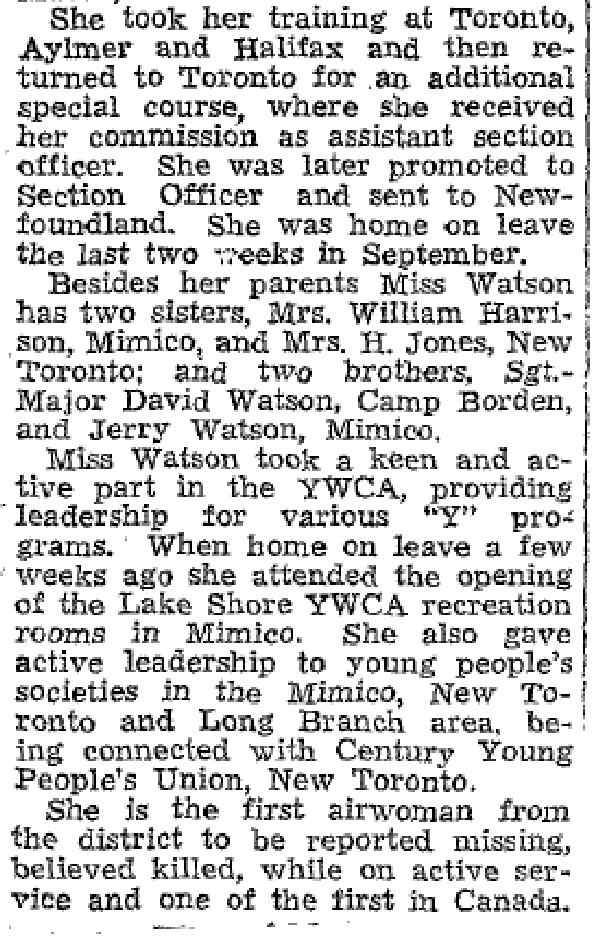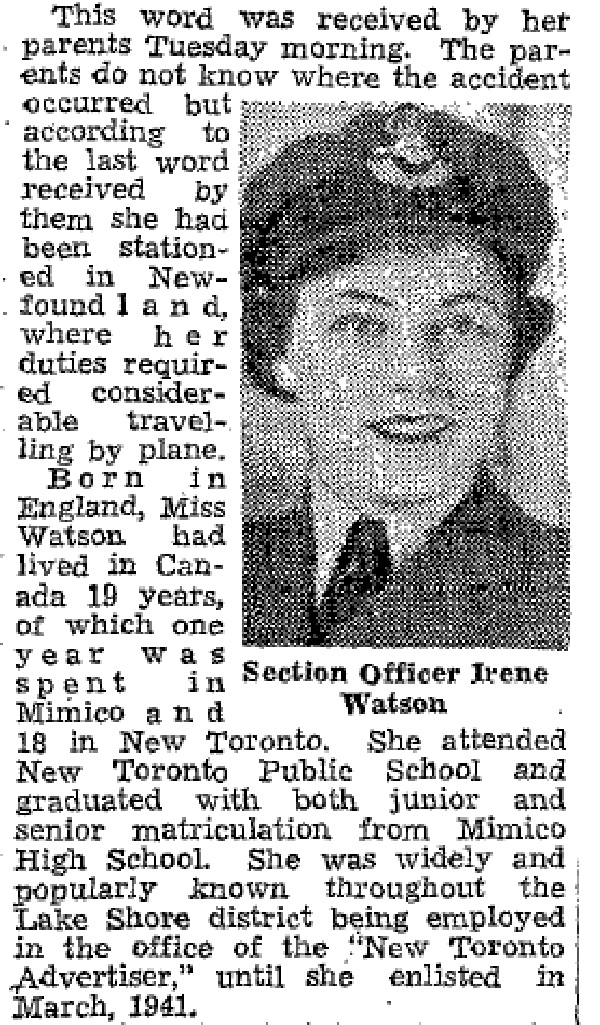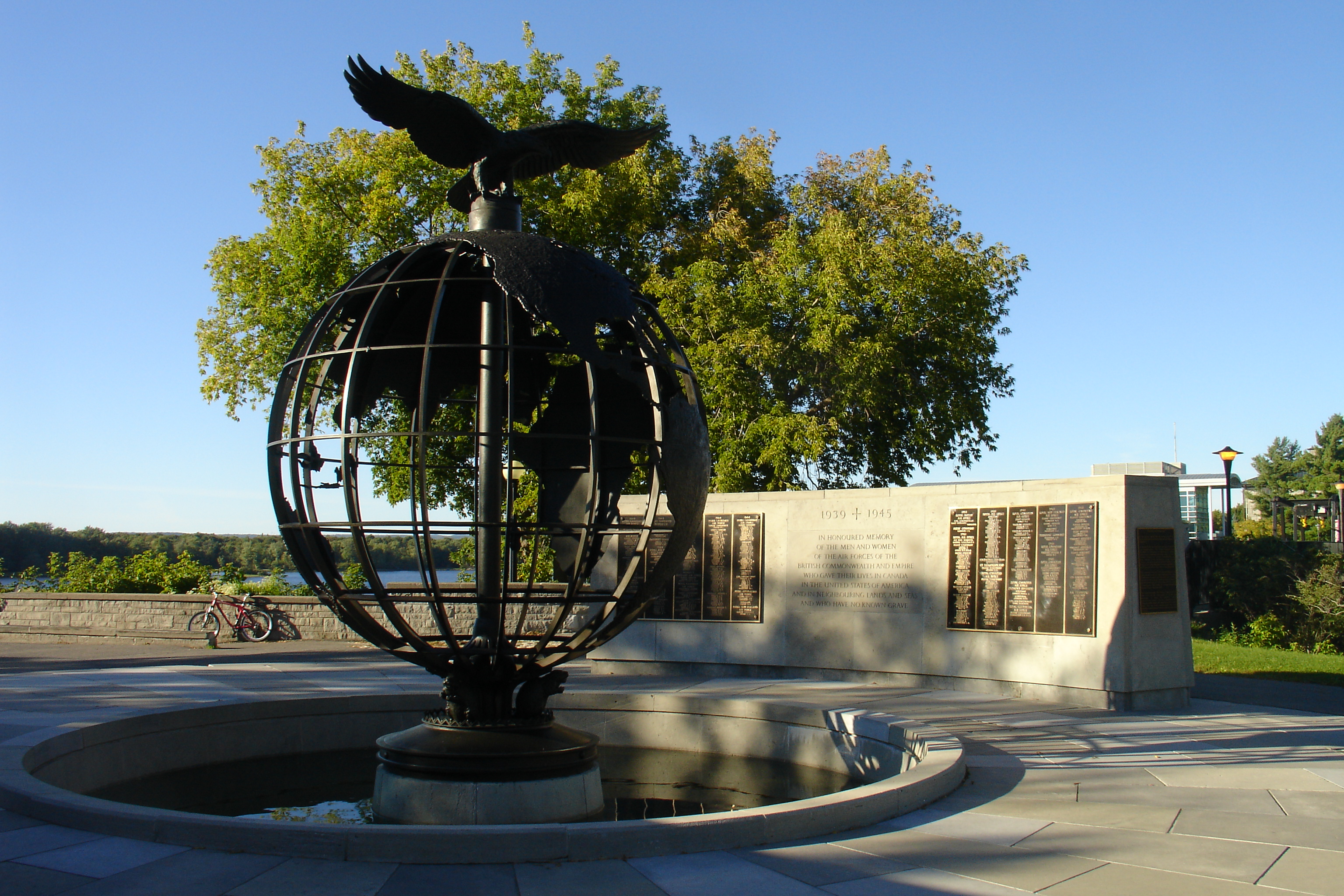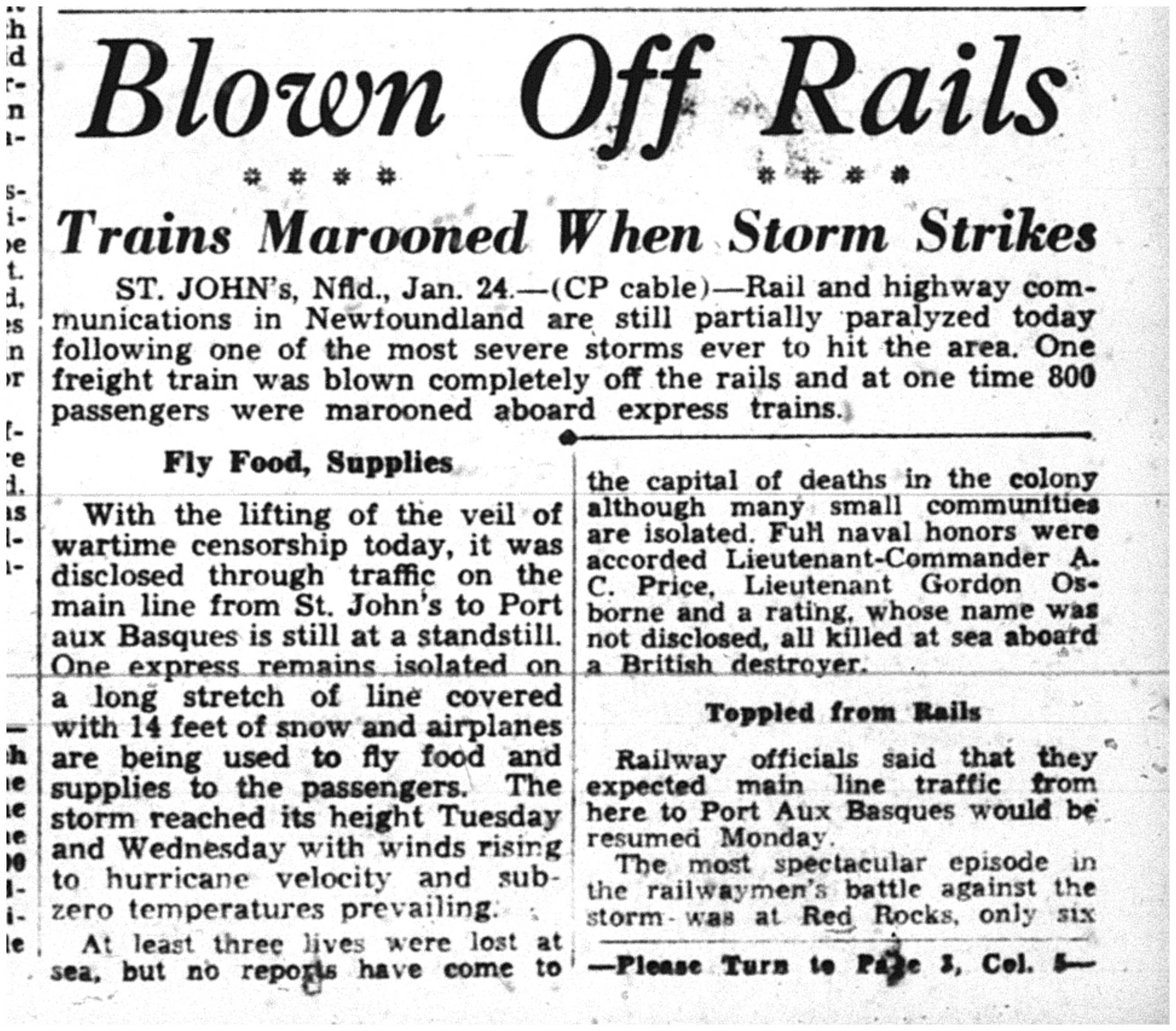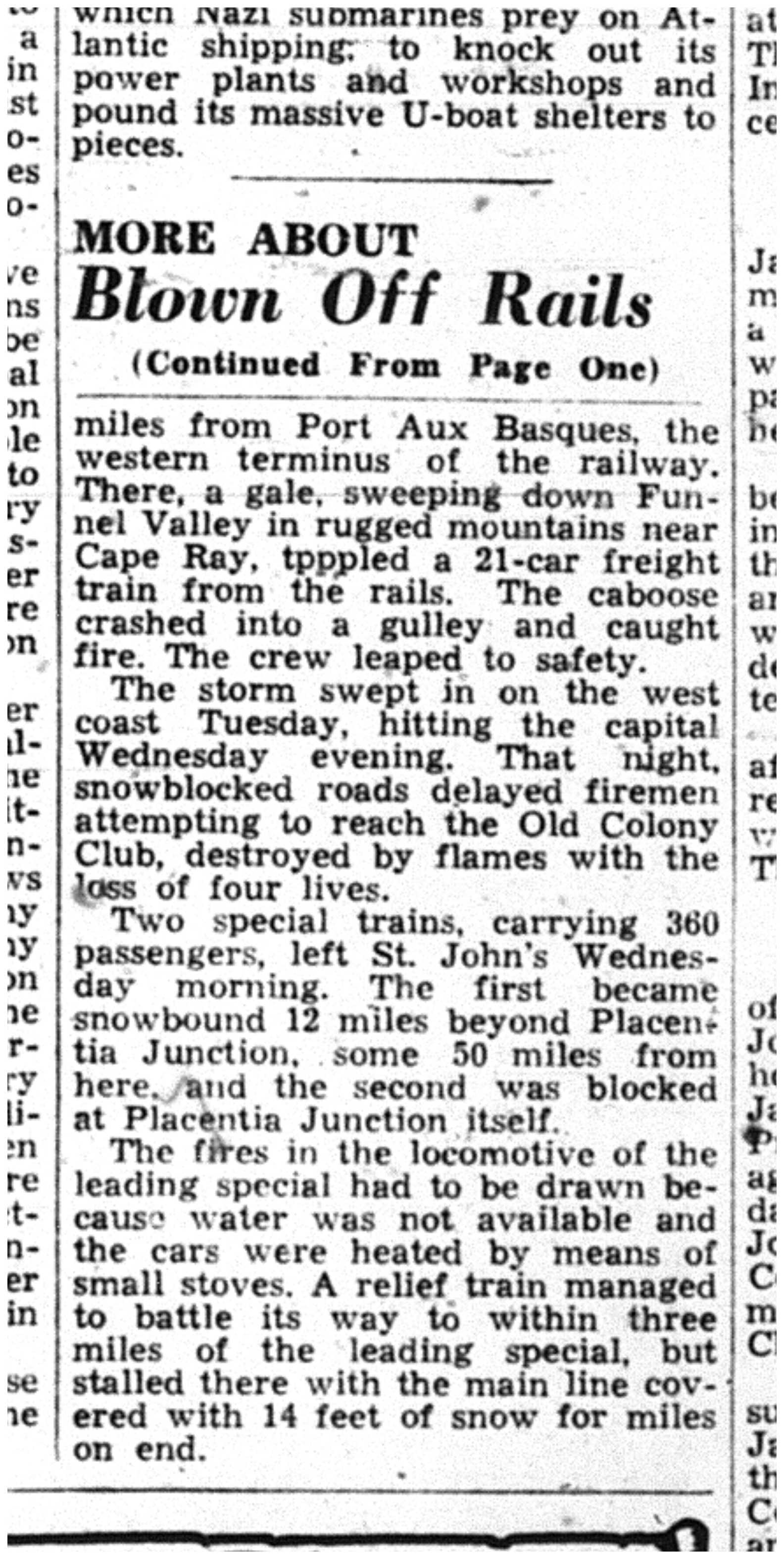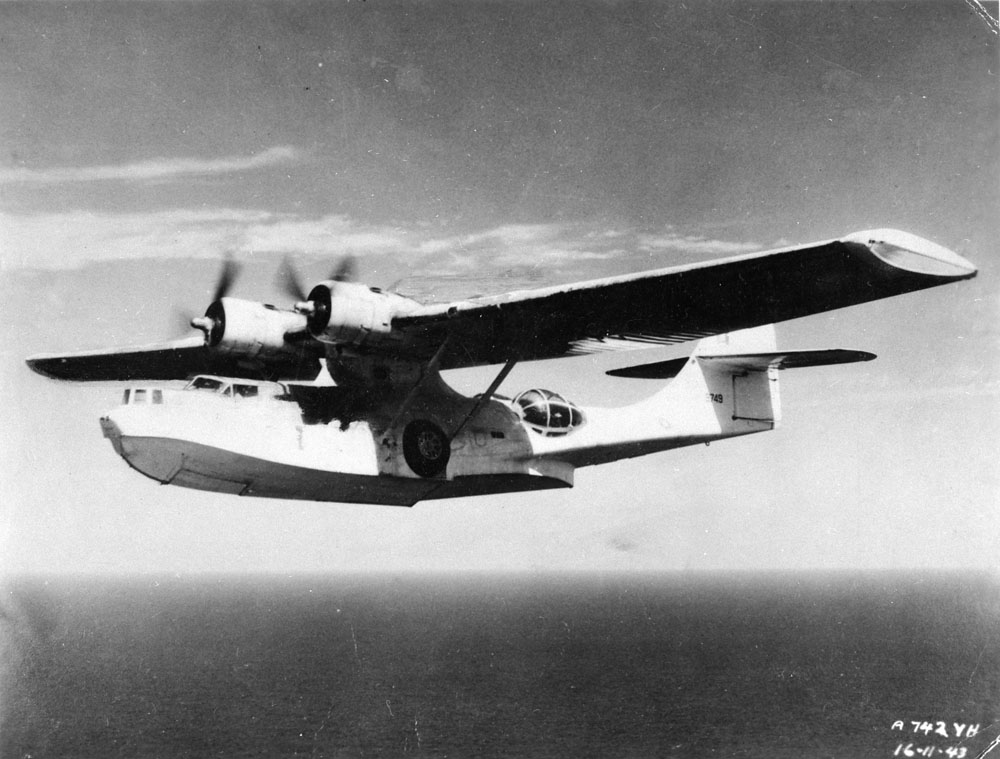 RCAF Women's Division
Irene Watson was youngest child of Margaret (nee Findley) Watson and Jeremiah Watson. Irene was born in Wallsend-on-Tyne, England. Mr. Watson had been a miner in England; when the family moved to Canada, during the war years, he had been a munitions plant worker. Irene had two brothers: David (who enlisted in the Canadian Army) and Jerry, and two sisters: Mary Harrison and Ethel Jones. Mr. and Mrs. Watson's address was 33 Eighth Street and later 813A Lakeshore Road, both New Toronto, Ontario. The family attended the United Church.
Irene went to kindergarten in England. When the family immigrated to Canada, she attended Seventh Public School from 1925 to 1929, then Mimico High School from 1929 to 1936, with senior matriculation (Grade XIII) and took special commercial classes for another year. The principal of Mimico High School said that Irene had a high standing in all of her subjects, then she took a night course at the University of Toronto studying psychology. Irene was the president of the Members' Council, YWCA in Toronto from 1941-1942.
Irene stood 5' 3 1/2" tall and weighed 140 pounds, She had grey eyes and medium blonde hair. She had a linear scar on the right side of her nose. She had her appendix removed in 1926, injured her ankle in 1937, broke her tailbone either the same year or in 1938. When she was a child, she fractured her little finger on her right hand. She also had diptheria, measles and the mumps when she was younger.
Irene worked as a clerk at a clothing department store, Silvert's Shop, New Toronto, from 1936 to 1939 and left that position to better herself, finding a job as a steno-reporter at Charters Publishing Co. New Toronto until 1942 when she enlisted with the RCAF (WD) at the age of 25. She was a secretary and newsreporter for them. Then she moved to the Globe and Mail, Toronto, as a correspondent. After the war, she wanted to continue being a reporter for a newspaper.
She listed her minister, editor, barrister and a fire chief as her references. Irene noted that her public speaking skills would be useful to the RCAF. She liked skiing, swimming, tennis, badminton and dancing. Her hobbies included reading and 'trying to write stories.' She felt best qualified as an administrator or a stenographer on her forms dated February 20, 1942. "Pleasant, active, efficient type of girl. Should make good officer material....Very good appearance. Clean and neat. Shows good background and leadership ability. She has a good education, nice manner."
Irene Watson was taken on strength at first as a clerk/steno, then went into administration by June 1942. She was commissioned October 9, 1942. On her Officer's Training course, October 1942, she passed 4th out of the class of 21 with a 74.8% average.
TRAINING AND POSTINGS
Toronto Recruiting Centre, February 20, 1942
No. 6 Manning Depot, Toronto: March 28, 1942
No. 14 SFTS, Aylmer, Ontario: April 25, 1942. "2nd out of 14. Average. Intelligent and reliable type of airwoman. Showed ability to absorb theory and is satisfactory practical student. Has initiative."
No. 6 Manning Depot, Toronto: May 24, 1942. "Sincere and reliable and should make a very sound NCO." Character: Very good. She was 9th out of 48 in her class, rated "Above Average."
Recruiting Centre, Halifax, Nova Scotia: June 2, 1942
No. 6 Manning Depot, Toronto: October 9, 1942. "A good officer. Has taken a great interest in the course and has developed considerably during it. Is conscientious and will do a good job at anything, but is particularly interested in recruiting."
No. 5 Recruiting Centre, Regina, Saskatchewan: October 30, 1942
No. 1 Group HQ, Newfoundland: December 30, 1942
No. 1 GH, 22, Gander, Newfoundland
RMC, 144 Proc and No. 16 Recruiting Centre
Grand Falls, Newfoundland in May 1943
Placentia, Newfoundland, August 18, 1943
Section Officer Watson was hospitalized in February 1942 and again in August 1942. No details found in her files.
She had leaves from February 21 to March 27, 1942. On February 3, 1943: "Cannot be spared from duties during present leave period. Suggest leave to accumulate in accordance with AFAO A 24/5 dated June 30, 1943." Irene had requested a leave from March 1 to 15, 1943, which would have been her annual leave. She was going to return home to Toronto. She was granted a leave again from September 13 to September 26, 1943.
December 30, 1942: "On posting from No. 5 Recruiting Centre, Regina to No. 1 Group HQ, Newfoundland. Score 84. Has done a good job in the short time she has been stationed at this Unit. Her previous newspaper experience made her especially useful and she handled the advertising emanating from this Recruiting Centre in a very capable manner. A conscientious, keen and progressive officer." An RCAF Message noted from No. 5 Recruiting Centre, Regina: "Watson has special qualifications training and aptitude for recruiting and doing valuable missionary work. In interests of WD recruiting, strongly recommend reconsideration of posting."
January 1, 1943: "This officer has only been here three days at this unit. Score: 73. The foregoing assessment is therefore based on very slight knowledge of the subject. It is, however, definitely recommended that her services be retained...Appears to be an excellent type."
On February 1, 1943, A/S/O Irene Watson was given commendation from Brigadier General John B. Brooks, US Army, Commanding. "It gives me great pleasure to bring favorably to your attention the names of certain members of your command who contributed materially to the morale of both troops and civilians aboard the two trains snowbound in the vicinity of Arnold's Cove Station, Newfoundland, January 20-24, 1943, by organizing and presenting a show, songs and stories for all passengers. In addition, these ladies, by their conspicuous example of morale and cheerfulness, at this, and all other times, served to dispel tendencies in the contrary direction on the part of other passengers. They furthermore contributed to the spirit of friendliness, which I feel sure it is our mutual desire shall exist between the allied services. I desire to express to you and to them, my appreciation of their efforts, so far as the members of my own command are concerned." The other women were Sgt Mary Robertson, RCAF (WD), Cpl I. O. Frost, RCAF (WD), LAW A. I. Hickson, RCAF (WD), LAW A. I. Wilson, RCAD (WD), LAW M.A. MacDougall, RCAF (WD), and AW1 D. I. Wakefield, RCAF (WD). The RCAF placed a copy of the letter in each of the women's files.
May 5, 1943: "This officer has shown perseverence in the face of many serious obstacles which has enabled her to do a first rate job as a recruiting officer WD in St. John's. She is strongly recommended for appointment to the Acting Rank of Section Officer (probationary paid)."
August 8, 1943: "Score 69. Has done exceptionally good work as WD recruiting in Newfoundland in spite of unusual difficulties. Definitely recommended for retention in the service....a good worker, but somewhat 'scruffy' in appearance." It is unknown what difficulties S/O Watson encountered.
On August 17, 1943, T/SO Irene Watson was recommended that she proceed on temporary duty from No. 1 Group HQ in St. John's, Newfoundland, to RCAF Station, Rockcliffe, Ontario for the purpose of acquiring first-hand knowledge as to the workings of the Trade Selection Board at No. 7 Manning Depot, Rockcliffe. "This information should prove useful in the WD's Recruiting, especially the facts dealing with the selection of standard tradeswomen."
On November 4, 1943, S/O Watson received a bill from Pine Room, Eaton's-College Street, Toronto for relining and repairing her tunic, at a cost of $6.50. The statement of account was addressed to her in St. John's, Newfoundland.
On November 8, 1943, Section Officer Irene Watson was a passenger aboard Canso 'A' 9834 on a transportation flight from Torbay to Botwood, Newfoundland. The Daily Diary of Unit 116 Squadron reported: "Canso 9834 departed on a transportation flight to Torbay. On its return at 2155, while landing, it crashed and sank immediately. From the 12 occupants of the aircraft, five survived, having been only slightly injured. All the others are missing and presumed to have been killed." Aboard were: two pilots, five crewmen and five passengers, including P/O Cairns, F/O Dalgleish, W/C Ings, Major Morton, F/L Redmond, S/O Watson, WO2 Lowther, WO2 Epstein, Sgt. Mills, F/S Hirtle, Sgt. Jones, and LAC Marsh. The accident made headlines in newspapers across Canada. A Court of Inquiry was struck to investigate.
In the Daily Diary of Unit 116 Squadron Botwood, Newfoundland: November 10, 1943: "Easterly wind with fog and rain during the day. Poor visbility. A committee of adjustment assembled this day to draw up the Service Estates of R999097 WO2 Lowther, R104789 WO2 Epstein, and R184018 Sgt Mills who are believed to have been killed in the crash which occurred at this station November 8, 1943. No operations were carried out on this date. The marine section of this Station together with the Navy Divers from St. John's searched all day for sunken a/c 9834, but without success. The a/c is believed to be lying approximately in 150 feet of water." November 11, 1943: "Easterly wind with fog and rain and zero visibility. No flying carried out on this date...searched during the day for a/c 9834, but all efforts to locate it proved to be unsuccessful." November 12, 1943: "Easterly winds with rain and fog. Zero visibility. No operation or flying carried out on this date. A further search was made for sunken aircraft 9834, but all efforts to locate the aircraft proved futile." November 15, 1943: "Variable winds with fair visibility...No operations were ordered for this date. The whole Squadron SOS to RCAF Station Gander; off this date. A further search was conducted all day for sunken aircraft 9834. All efforts to locate same proved unsuccessful." November 17, 1943: "Changeable winds with poor visibility. All flying washed out for the day....A relentless, but futile search still continues for sunken aircraft 9834."
Squadron Leader Brickenden, Command Investigating Officer arrived on November 12, 1943 to investigate missing Canso 'A' 9834.
The first witness, Pilot Officer W. K. Cairns, J35956 stated: "I am a pilot at 116 Squadron RCAF Station, Botwood, Newfoundland. I was the First Pilot of Canso 'A' 9834 that crashed on the bay 400 yards east of Botwood, 2155 hours on 8th November, 1943. In addition to a broken tibia in the right knee and other injuries to my leg, I received several broken ribs on my left side, several cuts in my head requiring stitches, cuts in my right leg, strains and bruises." When asked about the circumstances surrounding the accident, he stated: "We had been at Torbay on a transportation flight from Botwood and we were returning to Botwood. We were given permission to land by the control boat who had been authorized by the tower to give this permission. On our approach, we were given the red light, we went around again and later learned that we were sent around because the flare path was broken. We circled overhead until we were once again given permission to land and then made a normal night approach and touched the water. My impression on feeling the step touch water was that it was going to be a good landing. Almost instantaneously, I was hurled into the port front corner of the cockpit and the next thing I knew, I was completely under water and was trying to smash my way out." He was asked about his speed as he made the approach. "82 knots." He did not recall the speed as he touched down. "After lining up on the flare path at about 150 feet in the air, I was coming on normal procedure. Adjusting throttles to keep constant rate of descent...keeping the wings level with the artificial horizon. I did not look at the water until after we reached 100 feet...if we touched down with a little excess speed, this might have caused the wheel doors to collapse inwards. If the wheel doors were smashed in, the water would rush in with such force that it would sink the aircraft almost immediately. We did not bounce when we touched the water with the aircraft. We stayed on the water." Asked how he got out of the aircraft, Cairns stated: "As far as I know, because it was pitch black and we were completely submerged, I just smashed my way out with no recollection of opening the hatch. When I came to the surface of the water, I was several feet to the starboard side of the starboard engine but everything was confused in my mind and I have no recollection of the exact time." P/O Cairns admitted he was not wearing his Mae West, but that it had been available behind his seat. He also admitted he was not wearing his safety straps. He stated that his second pilot, F/O Dalgleish was not wearing the Mae West, parachute harness or safety harness. Cairns described where each of the crew and passengers were seated in the aircraft. The microfiche was difficult to read his full statement. "F/S Hirtle was in a bunk in the bunk compartment. W/O2 Epstein was standing immediately behind the pilot's bulkhead at the R/T set. W/O2 Lowther and S/O Watson were at the navigation table where she was receiving some navigation 'gen'. F/L Redmond, the last time I saw him, was sitting at the rear corner of the navigation table...Sgt Jones was in the bunk compartment." P/O Cairns said that Mae Wests were available or being worn by all the crew and by F/O Dalgleish and S/O Watson, but no other passengers. All five who escaped were not wearing Mae Wests. "Parachutes were available for all members of the crew, but I do not know know whether they were available for F/O Dalgleish and S/O Watson, but they were not available for the other passengers." When asked about the marine rescue craft, P/O Cairns said, "Due to my physical condition at the time, I cannot say how long it took the crash crew to get to the aircraft but I was impressed with the rapidity with which they did get there. I would like to say, that in my opinion, the marine section operated most efficiently....I cannot suggest anything in regards to the aircraft for a more speedy extrication, but I would like to make a suggestion regarding the new type of flying suit. Due to the wristlet band inside the sleeve, it is very difficult to get out of one of those suits in the water or out of the water. I would suggest a 6 inch zipper at the bottom of each sleeve to give the wearer access to the woolen wristlet band. This, in my opinion, would greatly speed up the removal of these suits."
The second witness was F/Sgt F. D. Hirtle, R131516, pilot with 116 Squadron, Botwood, Newfoundland. "I was the co-piolot of Canso 'A' 9834 when it crashed on the bay, 400 yards south east of Botwood at 2155 hours on the 8th of November 1943. I was not sitting in the co-pilot's seat at the time of the accident. At the actual time of the accident, I was on the lower starboard bunk. Just before landing, I went forward to see if the captain wanted me to come up to the co-pilot's seat and he said ,'No.' The navigator's compartment being crowded, I went back to the bunk compartment. It, being my first night landing on the sea, I just didn't like it, so I laid down on the bunk with two sleeping bags between me and the bulkhead. We made an approach and when I thought we were just about down, the pilot put on the throttles to go round again. We came in for the second approach and made the landing. Just after we touched down on the water, the ship seemed to lurch and then the nose went down bringing us to a stand-still. The water started coming in very rapidly from somewhere forward and the attitude of the plane indicated that the front was completely under water. I got off the bunk and went into the blister compartment. Sgt Jones was just disappearing into the tail. I tried the port blister and found it locked. I felt for the locking handle in the dark, finally found it and unlocked the blister. I opened the blister and climbed out. By this time, the blister compartment had about two feet of water in it. I climbed up onto the aircraft and then onto the wing. The captain of the aircraft, P/O Cairns, was already on the wing. We heard a yell for help and we called out and asked who it was. It was F/O Dalgleish on the starboard wing float. P/O Cairns asked if the girl had got out and I said, 'No.' He wanted to go back down in to try to get her and it was only by physical force that I was able to stop him. Then I saw LAC Marsh standing on the hull behind the wing. I went back to speak to him and we saw something under the starboard blister. A flat crashed through the glass and Sgt Jones crawled out. We all climbed down onto the wing and watied for the crash boat to come out. A dinghy arrived first in a matter of two or three minutes and we sent it around to pick up F/O Dalgleish on the float. The crash boat came up about a minute later. We all climbed into it. F/O Orr, who was duty pilot, attempted to go down through the blister to see if anything could be done for those inside to see if there were any other survivors. I climbed over into another dinghy. After a few minutes, we decided there were no more coming out and the crash boat headed for shore before I could get into it. The dinghy I was in was very slow and the other survivors were taken to the hospital before I got to shore. I was taken to the medical inspection room where my cuts were treated. They put me to bed for a little while to warm me up and then sent me down to the Military Hospital to spend the night." F/Sgt Hirtle felt that it was a heavy landing, but not heavy enough to wreck the aircraft. He added that the aircraft did not bounce. F/Sgt Hirtle stated the locations of the various members of the crew and the passengers. "The captain P/O Cairns was in the 1st pilot's seat, myself in the lower starboard bunk. The first WAG, WO2 Epstein, was standing behing the pilots bunkhead operating the R/T set. The second WAG, Sgt Mills, was sitting at the Wireless Operator's seat. The second engineer, LAC Marsh, was in the Engineer's seat and the first Engineer, Sgt. Jones, was sitting on the bulkhead in the doorway between the the bunk compartment and the blister compartment. F/O Dalgleish was in the co-pilot's seat. WO2 Lowther, W/C Ings, F/L Redmond and S/O Watson were standing in the passage way of the navigation compartment. Major Morton was standing in the navigator's compartment with his back in the doorway to the engineer's compartment." F/Sgt Hirtle said that they only had luggage, no freight. "Mae Wests were available for all crew members, but not for the passengers. Parachutes were not available for all the occupants of the aircraft. Six were missing, sir. I do not know what caused the accident." It was posed, "If you had seven occupants of the aircraft confined to the navigator's compartment, would it not be very difficult for them to escape from the aircraft in an emergency?" He answered, "The only escape hatch is through the port side of the ceiling which is very small. But there are two small doors, one landng through the engineer's compartment and the other into the Pilot's compartment. Through either, much difficulty would be experienced in this case in escaping."
The third witness, Sgt A. H. Jones, R89435, Flight Engineer, 116 Squadron, Botwood stated: "I was not actually sitting in the engineer's seat although I was first engineer. I was standing in the blister during the approach. On our first approach, we were given the red light to go up again, although I do not know why. The captain went around again. We were given a green light and started on our second approach. We came in and touched down perfectly. The aircraft swerved and nosed in. The water was glassy smooth and I did not see any haze. The aircraft nose seemed to go in port wing first. The engines were working perfectly, from the sound, apparently." Sgt Jones confirmed that there were only enough Mae West life preservers for the crew only. "I went into the rear tunnel and opened the tail hatch, but as the aircraft shifted, I went back in the blister and smashed my way through the glass of the starboard blister to get out of the aircraft." Sgt Jones also commented on how quickly the rescue craft arrived and operated. He stated how the water was very cold.
The fourth witness, LAC P. L. Marsh, Flight Engineer, 116 Squadron, Botwood stated: "As we approached the station at 1000 feet in a left hand circuit, the flare path was not ready for us and we circled two or three times. Then my captain gave me the signal for auto-rich which I proceeded to do. Then he gave me 'floats down' which I also carried out. Then they gave us the green light to come in. We were between 100-200 feet off the water when they gave us the red light. I had no idea what it was for, so the pilot throttled and we went around for another circuit. We were given the green light to come in. We came in and made a perfect landing on the water. Then there was a terrific lurch to the port side and the water came in on top of me. Something was pinning me over the right shoulder and held me there. I was taking in a lot of water and the next thing I knew, I was outside the aircraft in the water on the starboard side just under the wing. So I swam from there to the starboard blister. I met F/S Hirtle standing there and heard a holler for help from F/O Dalgleish who was hanging on to the port starboard float. Then the starboard blister broke and Sgt. Jones came out and we all climbed onto the wing where we met P/O Cairns. He wanted to know if the girl had got out and someone said, 'No.' So he tried to go back in after her. He was held back by someone. The crash boat came alongside and F/O Orr jumped off onto the plane and went in the starboard blister to go inside. He found it was no use and came out again. We were put on the crash boat and put inside the cabin. Sgt Jones, P/O Cairns and myself. They took us to shore and to the hospital in the ambulance." He was asked if the plane might have hit a log. "I do not know, sir. It did not seem an undue bump, but the aircraft lurched to the port side immediately after touching down. I cannot give any reason for this accident."
The sixth witness, F/O D. J. Orr, J6668, Pilot, 116 Squadron stated: "I witnessed the accident. At 2045, November 8th, 1943, an ETA of 2127 was received by Botwood Operations Room from the aircraft. The aircraft arrived over base at approximately 2120. The flare-path was in position as shown in the sketch....At approximately 2030, the aircraft was given permission to land. As the aircraft was turning into the wind on its final approach, roughly four minutes later, the flare-path buoy line parted between numbers 4 and 5 flares and the aircraft was given a denial of landing permission by red aldis. Denial acknowledged and further circuits were carried out by the aircraft until the buoy line had been repaired and straightened. Approximately 15 minutes later, the aircraft was again given permission to land and commenced normal landing procedure. As far as could be observed, a perfectly normal approach was carried out and the aircraft was in line with the flare path at approximately 500 feet altitude. The aircraft appeared to touch down approximately 1/4 of a mile before reaching No. 1 flare. On touching down, a turn to starboard was seen to develop and a severe water-loop in the same direction followed. "CRASH ACTION" was initiated by the control launch and both flare path dinghies. On arrival at the scene, the aircraft was found at rest almost completely submerged with about 6 inches of the starboard blister perspex still above the surface of the water and the starboard wing in the air at an angle of approximately 45 degrees to the horizontal. The nose of the aircraft was completely under water with the empennage surfaces still resting on the water. Four members of the crew were clinging to the upper surface of the mainplane with the fifth member being supported by the SE aerials. These five were taken aboard the crash launch and attempts made to enter the living compartment or bunk compartment of the aircraft from the blister. Owing, however, to the run of the tide, together with the rapid sinking of the hull and the impeding action of such floating equipment as parachute bags, flying jackets, etc, these attempts had to be abandoned. A hawser was latched across the elevator surfaces in an attempt to provide further buoyancy for the hull section, but when it became evident that there was a danger of the launches capsizing under the hull's drag, this line was cut away. The crew members already picked up were put ashore as the craft launch put into the dock to pick up more line and more men from the marine section. On arriving back at the aircraft, a further attempt was made to secure a line to the aircraft tail surface. This was done but again had to be cut away and, within roughly 4 minutes, the aircraft had become completely submerged. A marker spar was laid at anchor to mark the spot and the marine condition ordered to initiate a continuance search light set up of the area surrounding the marker during the hours of darkness." P/O Orr said more, but the microfiche was difficult to to read. He was asked about his opinion to the cause of the crash. "On considering that glassy water conditions were prevailing at this time, and that an apparently perfect approach had been carried out, it is my conjecture that either one of two causes might have caused the accident. Firstly, that the aircraft made its final touch down in a slighly nose-down attitude tending to give a greatly exaggerated nosing-in effect under these glassy water condition, control being subsequently lost. Or secondly, a slight opening of the nose wheel doors or dropping of the main wheels might have brought out a similar effect upon touch-down." P/O Orr had over 1800 hours experience flying on all aircraft, with over 800 on the Canso. He stated that "I have flown with P/O Cairns and would consider him definitely an above average pilot on the type of aircraft. I cannot say that he did not encounter a log, since laying the flare-path and sweeping the area to be used for landing only approximately an area of 400 yards down-wind of number one flare was covered in the sweep although a further 200 yards approximately was covered by search light for surface objects. In my opinion, inasmuch as conditions of glassy water were prevailing, the touch-down was made short of a position in which an accurate perspective of height could be gained by visual reference to the flare-path lights. It was recommended that night landing touch down for flying boats be between No. 1 and No. 2 flares."
The sixth witness, F/O M. B. E. Dalgleish, Operations Controller at RCAF Station, Botwood, Newfoundland stated: "On the captain's final approach, all parts of the aircraft were functioning properly, and in my opinion, the approach was normal, and everything was in order. The aircraft did not appear to be slightly nose-heavy at the time of the touch down, no more so than in any other water landing that I have been in. (I have flown over 850 hours in all types of aircraft.) Approximately 1/4 of a mile, the first flare light was from the aircraft's touch down, with the approach made at an airspeed of between 85 and 90 knots. In my recollection, the aircraft made a normal touch-down and there was no appreciative bump. In my opinion, the accident was caused by too many occupants in the naviator's compartment or by failure of the nose-wheel door in the sense that it sagged open or upon hitting some submerged object. After being thrown down between the pilot and the co-pilot's seat by the force of the impact, I was pinned down by what was in my belief, the trimming tabs and throttle arrangement and after having thrown them aside, I immediately began to force my way upwards. My head struck something solid, which I was able to push aside with my hands, and I began to move in what I believed to be an upward direction. After a few seconds, I was able to break surface of the water without encountering any further hinderance. I was not wearing a Mae West. If I had been, I would have had been unable to get out from the aircraft." He commented that the rescue craft operated efficiently.
The seventh witness was Mr. B. S. V. Cudbird, meteorologist at RCAF Station, Botwood, Newfoundland. "At 2155, there was no cloud, 15 mile visibility, the mean sea-level pressure was 1029.5 millibars. The temperature was 31 F and the dew point 25 degrees. The surface wind was calm but indicatous from surface water, a tendency towards a light south-westerly drift. The tide was coming in at the time with an approximate velocity of 4 knots. There was no haze recorded at the time of the accident. The water was glassy smooth. I cannot state definitely the exact orientation of the moon at the time of the accident, but it was approximately in the SSE sector of the sky. Since the aircraft apparently landed on an NW heading, the moon would be over the pilot's back. The weather had nothing to do with the accident, in my opinion."
The eighth witness, F/O H. S. Wilson, C13533, Technical Officer, RCAF Station, Botwood produced logs and documents pertaining to Canso 'A' 9834. He said they were all in order. "There was no Jack and Heintz Artificial Horizons still in use on Cansos at this station. The compass log was sent to Gander as the Squadron is moving, but the compass has been swung during the past 30 or 35 days. The cause of the accident will remain obscure as the aircraft has not yet been brought up by divers. It is possible that a leak developed in the hydraulic system which may have resulted in either the nose wheel doors opening slightly or a side wheel coming out of its well and dragging enough to produce a water loop. The nose of the Canso float was pushed in, but bore no marks as of hitting any object. It is felt that the force of the water could have caused this. No fog or water haze appeared until after the aircraft had sunk. In regard to the lag in the Sperry artificial horizon, one of the instruments in Canso 9834, after performing a rote one turn, it takes from 4 to 6 minutes for the horizon to return to level indication. It is my opinion that while this is within the limits authorized by the RCAF, these limits are not rigid enough for operational flying in Flying Boats where precision is required."
The ninth witness, F/O A. W. E. Ross, Flying Control Officer, RCAF Station, Botwood stated: "On aircraft making its initial approach in a south to north direction, it seemed to me that the flare-path was stretching apart and I knew that the connecting rope had broken. The aircraft was instructed to pull up and rejoin the circuit which it did. On repair of the flare-path, aircraft was again instructed to approach for a landing. As I watched Canso 9834 making its approach, it appeared normal. On touching the water at approximately 2155, 1/4 of a mile before the first flare light, I saw the water shear up from the starboard wingtip float. The aircraft making a quick turn to starboard and water looping, appearing to strike very heavily and bounce. From then on, I could see no more of the aircraft as the navigation lights were instantly extinguished." He commented on the rescue. "Fearing that the aircraft was sinking, I immediately called the marine section to procure extra boats and assistance but was not able to contact them. I next called the doctor and requested him to come to the slip-way with the ambulance immediately. The Commanding Officer and Wing Commander Pate were then notified and I was able to contact the marine Officer who proceeded to the scene with all available boats to lend any assistance necessary to the flare-path crew who were already at the aircraft. I was surprised at the speed with which the flare path crew arrived at the aircraft. I am sure that no more than three minutes was taken in giving help to any who were able to accept it. The military hospital was contacted and they loaned us an ambulance to stand by in case of necessity. They also prepared beds for those who needed them. Two of our aircraft returning from patrol were diverted to Gander, while one aircraft already at Gander on practice was instructed to remain there until further notice, as all marine craft were fully occupied in rescue work." He was asked again to discuss the Canso entering the circuit. "After entering the circuit, Canso 9834 requested a Kollaman setting. I gave the desired information in Alametco (code) whereupon the aircraft requested the same information in plain language as they did not have an Alametco card. I repeated all necessary data in plain language several times to make sure that it was received correctly, making aircraft verify information given, which was as follows: QFF - 1029.5 mhs. Wind - calm." He was asked who was in charge of the rescue work. "Flare path Officer, Flying Officer Orr, who is in charge of flare-path crew (Marine Section). There were instructions laid down regarding rescue work."
The tenth witness was F/L J. D. Charlton, C23177, Medical Officer, RCAF Station, Botwood. He stated: "P/O Cairns was examined on the 23rd of March 1943 at Shelburne and was categorized A1B. On the 31st of May, 1943, at Shelburne, he was declared medically fit for overseas service." (Newfoundland was considered to be overseas, as Newfoundland did not become a province of Canada until 1949.) "He has never reported to my office on sick parade since I came on the station and he would not be unduly fatigued prior to the flight. F/Sgt Hirtle was examined on the 27th of January, 1943 at Dartmouth and categorized A1B - A3B (T) and was re-examined on the 31st of May, 1943 and declared fir for overseas. Hirtle would not be unduly fatigued. Sgt Jones was examined on the 25th of March, 1943 at Shelburne and categorized as A3B (T), re-examined on the 31st of May and declared fit for overseas. Jones has not been on sick parade since I came on the station on the 30th of April 1943. LAC Marsh was examined at the previous station on the 31st of May 1943. On the 3rd of November, 1943, he was examined at Botwood and categorized at A1B- A3B (T). On the 4th of November, 1943, he was categorized as A1hBh-A3bBh (T). On the same day, leutic treatement was begun (for treatment of syphillis). F/O Dalgleish was examined on the 17th of March, 1943 at Torbay and categorized A1B-A3B (T). He has not been on sick parade since I came on the station." He then stated the condition in which he found the five above mentioned men after the accident. "The captain, P/O Cairn, was suffering from shock and exposure. He has a bumper fracture of the right knee with bloody effusion in the knee joint. He has a contusion of the right elbow and left knee. There is tenderness over the left anterior fourth, fifth and sixth ribs. He has a laceration one inch long in the left frontal region. The injuries are such that they might be the exciting cause of disability later. F/S Hirtle, 2nd pilot, was suffering from shock and exposure and had minor lacerations about the face. The injuries are of such a nature that they will not be the exciting of disability later. First Engineer, Sgt Jones, was suffering from shock and exposure. He had cuts around the nose, especially over the bridge. He had a small laceration on the right side of the chin, brush burns on the lateral side of the right thigh and general soreness and a mild headache. It is impossible to say whether these injuries may or may not be the exciting cause of disability later. LAC Marsh, second Engineer, was suffering from shock and exposure and had a contusion left frontal region, tenderness in the right navicular bone, right wrist, abrasions and bruises over left knee and leg. It is impossible to say if these injuries may or may not be the exciting cause of disability later. F/O Dalgleish, passenger, was suffering from shock and exposure. He had a laceration one inch long on the left frontal area. A few minor abrasions about the face, bruises and contusion left knee and right ankle and left iliac region. Tenderness over the 1st, 2nd, 3rd lumbar vertibrae. It is impossible to say if these injuries may or may not be the exciting cause of of disabilities later."
The eleventh witness was Cpl A. E. Bourque, Instrument Mechanic, No. 116 Squadron, Botwood. He stated: "I checked all instruments, engine instruments, navigation instruments and automatic pilot instruments. I checked the altimeters and they checked with the barometric pressure of the day, which I obtained from the Met. Section. There was a lag of minus 10 for the 1st Pilot's altimeter and minus 15 for the 2nd pilot's altimeter. I checked the airspeed for security and found that the pointer was reading zero and connections tight. I uncaged the Artificial Horizon and found it satisfactory. I also checked the vacuum lines for security. I checked all follow-up pulleys and found all them working freely."
The twelfth witness, W/C Pate, C1680, read into the record, the crash of Canso 'A' 9834. "Pilots: P/O Cairns, F/S Hirtle; Crew: WO2 Lowther, WO2 Epstein, Sgt Mills, Sgt Jones, LAC Marsh, F/O Dalgleish. Passengers: Wing Commander Ings, F/O Dalgleish, F/L Redmond, S/O Watson, Major Morton. Duty or practice ordered -- Torbay, Gander, Botwood, transportation night flight. Initials of Flight Commander ordering flight. Initials of pilot that he understands the order. WKC Action after flight, time of take off 1545 down 1735 in air 150 (return) time of take off 1930 time down 2100 hours. In air 130. Duty carried out or reason for not doing so: crashed on landing. On November 8, 1943, Canso 'A' 9834 was flown by F/O Jackson and F/S West for test and bombing. They were the last to fly Canso 'A' 9834 prior to its last flight. In air for 2 hours, 30 minutes, taking off at 1230 hours." W/C Pate was asked about P/O Cairns's ability. "I consider him a good average flying boat captain, having been on flying boats since May 5 1943 with this Squadron. From reports submitted to me by my flight commanders, I understand Cairns is a capable night flying and instrument pilot. We have had one case of doors being slightly sprung during a landing and one case of doors being bent or distorted beyond repair by an aircraft taxiing out in rough water to take-off position. No take-off was attempted due to the rough water and indication that the doors had been bent." He was asked if these could be cases of pilot error. He said, "No." He was asked about Cansos versus Catalinas. "Both machines are fundamentally the same only a greater run is required for the Canso 'A' during which time the nose wheel compartment is draining water making it more hazardous for night take-off but landings at night are the same. I believe the nose-doors cause a weakness as even taxiing in rough water will distort the doors and if a ground-loop were to develop on landing, I cannot see how the doors would withstand the side thrust created and if torn off, would expose large flat area at the back of the compartment to the full force of the water. I would recommend that if these machines are to be used as flying boats only, I strongly recommend the nose doors be removed and replaced by a one piece rigidly braced section to conform with the contour of the hull." He was asked for his opinion on the cause of the crash. "The definite cause is obscure but the evidence indicates that it might have been caused by the aircraft touching down at a slightly excess speed for the load conditions, thereby permitting a water-loop to develop with the possibility of wrenching the nose-wheel doors and permitting a sudden surge of water into the nose-wheel tank which could bust that tank both into the pilot's compartment and the Navigation compartment thereby causing a very sudden flooding of the whole forward portion of the aircraft. As indicated by the evidence of F/O Dalgleish, he stated that he was thrown on the floor between the pilot's seat and the co-pilot's seat and was pinned down by what he thought were the trimming tabs and throttle...or as I believe the floor waas forced up..." The microfiche was difficult to read in this section. W/C Pate indicated that he had 2100 hours experience on all types of airplanes, with 1500 on flying boats. He was asked, "You will notice in this accident the seven that are missing and believed killed were all in the navigator's compartment and those that escaped where all crew except F/O Dalgleish and he was actually sitting in the co-pilot's seat. Do you consider that the passengers did not know how to escape through the lack of experience or could it have been that the escape hatch was not adequate?" W/C Pate replied, "I believe the rush of water into that compartment was so sudden that the personnel in that compartment would have little or no chance of making a way through the door or escape hatch had they not been injured or knocked unconscious, even had they known all the passages or means of escape. It may be indicated that LAC Marsh's evidence in which he states that there was a terrific lurch and water came in on top of him. This airman was in the engineer's seat which is at the level of the ceiling of the navigator's compartment so indicating that the navigator's compartment was flooded almost instantly." He stated that "If the occupants of the navigator's compartment had Mae Wests or life belts on, they would immediately have been floated to the ceiling and not be able to go through the regular exit door of the aircraft and have greater difficulty in using the hatch in the roof." W/C Pate complimented the rescue work carried out. He also stated, "Aircraft quite frequently touch down before they get to the flare-path when landing at this base due to the great lack of lights anywhere on the horizon, but if the aircraft does not touch down before the second flare, they put on engine and make another circuit as they would be past the flare-path before stopping and so have no indication of horizon or direction." He was asked for suggestions. "Early this year, I requested flood lighting to be placed on the top of Killick Island to be used in conjunction with the flare-path for night landings to assist the pilots by illuminating a greater area and so giving them a horizon when landing and taking off. As yet, no lights have been obtained."
The thirteen witness, Sgt. F. D. Finck, R11631, Marine Section, RCAF Station Botwood stated: "I was on the control boat but it was 2155 hours at night, therefore quite dark, but I saw the navigation lights approach and then the aircraft water-looped going to the starboard side. Our marine craft immediately proceeded to the scene of the accident, the hull was completely under water, the tail and the starboard wing were above the water. We went alongside the aircraft between the tail and the wing and picked up four men who were clinging to the wing. The fifth man was in the water and was picked up by the dinghy from our own section. We then hurried to the dock where we put ashore the four from our marine craft and the dinghy put ashore the other airman. Then we rushed back to the aircraft and attempted to put a rope around the tail which we succeeded in doing. We then attempted to tow the aircraft, but the aircraft sank too rapidly. We realized we only had a hundred feet of rope on our tow line and the depth of the water was 200 feet. To prevent being pulled under by the weight of the aircraft as it sank, we were obliged to cut the tow line as the aircraft sank. We did not mark the location of the sinking with a buoy, but estimated the point of the sinking as approximately 400 yards south east of Botwood. In the confusion, we were asked to pick up floating life preservers and to exchange certain passengers. There was also another plane above who was trying to get in and we directed him to Gander. In the confusion, we forgot to put down a buoy to mark the location of the Canso." He was asked about the other seven people in the aircraft. "It would have been utterly impossible to enter the aircraft considering the distance the hull of the aircraft was under the water. F/O Orr went in the water and tried to reach down in the blister. He grabbed a couple of flying suit jackets and pulled them up, but there were no bodies there as they would be obliged to pass all the way from the navigator's compartment through the bunk compartment back into the blister. It would be impossible for anyone to go through the bunk compartment down into the navigator's compartment as the position of the nose was so far down in the water. The captain, P/O Cairns, although somewhat in a dazed condition, was prevented by brute force from diving off the wing and making an attempt to rescue S/O Watson and those trapped in the navigator's compartment which would have been impossible."
The fourteenth witness, AC1 H. F. McArthur, R78233, Marine Section, Botwood was standing by his dinghy M314 off the point of Killick Island, just off No. 1 Hangar, witnessed the crash. "The moon was shining over the back of the incoming Canson 9834. The night was clear and cold. There was no breeze. The aircraft approached in what appeared to be a normal approach and touched down without a bounce. I would be about 1000 yards from the point of touch down and I could not see very distinctly but the aircraft seemed to waterloop to starboard. My dinghy was the first at the scene of the crash, followed immediately by that of Sgt. Finck. We pulled the dinghy alongside of Sgt Jones and pulled him out of the water. As I was the only one in the dinghy to see if any other survivors were available or could be assisted. (I circled the aircraft.) I then went to the dock with Sgt Jones where an ambulance was waiting. As my dinghy was unserviceable and I knew that the crash tender was returning to the aircraft, I tied my dinghy to the dock." He explained why he was alone in the dinghy. "All hands were taken up on the flare-path and left no crewmen for the standby dinghy except myself. To the best of my knowledge, there was no way we could have saved the seven occupants in the navigator's compartment as the nose of the aircraft was under water and the tail was up."
The fifteen witness, F/O H. A. Little, C28364, Marine Officer, RCAF Station, Botwood stated: "As the Officer in charge of the Marine Section, I went to the rescue of Canso 9834 when it crashed in Exploit Bay. When I arrived at the scene of the crash, the starboard wing was sticking out of the water approximately 10 feet. There was nothing we could do to rescue the seven occupants of the aircraft that were in the navigator's compartment because the aircraft was under too much water." He was asked about the efforts to rescue the aircraft after it had sunk. "The crash boat patrolled the area where the aircraft sank all that night with flood lights both fore and after of the boat to make sure that if any bodies floated to the surface that we could have picked them up immediately. The following morning, all marine craft proceeded to the area and dragging operations started, but with no success. The Navy divers arrived from Torbay with their equipment at about 4:30 in the afternoon of the 9th. Diving operations started on the morning of the 10th, the divers having gone down to a depat of 130 feet. Then it was found that another pump was needed due to the water being so deep, approximately 200 feet. This pump was sent for, but diving operations were carried on in the shallower water. During this time, dragging operations had not ceased whatever. During dragging operations, objects had been hooked on the bottom of the bay. The divers had gone down on all these markers but with no success. So therefore, the Navy was approached to send down an officer and crew with astic gear which arrived on the afternoon of the 15th and went into operation on the afternoon of the 16th." He was asked, "If the Canso sank in the bay about 1000 yards off Killick Point to the south in 200 feet of water, could not the tide by this time which would be eight days later, have drifted down into deeper water towards the ocean?" F/O Little replied, "There is that possibility if the aircraft had not caught on any rocks, which the divers claim there were many." He concurred with the investigator that the only way to have prevented the loss of the aircraft after it sank was to have placed a rope securely around the Canso, with the length of at least 200 feet if not longer. He added, "The rope of 100 feet could have sunk the marine craft. It is only a medium crash tender of fairly light construction and the weight of the aircraft would have torn the towing bit out of the marine craft itself and as the line was only approximately 100 feet long, it would have disappeared with the aircraft, therefore, it was thought best to cut the rope. At the present time, there is not much hope to find the aircraft, but dragging operations are continuing and will continue for some time."
FINDINGS OF THE INVESTIGATION: The circumstances of the accident were briefly, as follows. Upon a duly authorized transportation flight, Canso 'A' 9834, water looped on landing and sank in 200 feet of water, trapping seven occupants in the Navigator's compartment. On a calm evening at 2155, November 8, 1943, the aircraft approached from the south to the north with a flare path properly laid in Exploit Bay. A moon was shining from the stern of the aircraft along the flaps...which had been laid at the end of the ebb-tide with a surface current of 2 1/2 to 3 knots per hour also from the south, on glassy smooth water. CAUSE: Although the cause must remain obscure, it is indicated by the evidence that the aircraft may have touched down at a slightly excessive speed for the load condition therefore permitting a water-loop to develop with the possibility of wrenching the nosewheel door thus permitting a sudden surge of water into the nosewheel tank which in turn could burst through into the pilot's compartment and the navigator's compartment, thereby causing a very sudden flooding of the whole forward portion of the aircraft. RECOMMENDATIONS: Search lights should be provided for such accidents. If the amphibious features of Canso 'A's are intended to be removed for an operation as a boat only, then it is suggested that nosewheel doors be replaced with a one piece rigid section conforming to the contours of the hull. REMARKS OF THE AOC: Concur. This was an unnecessary night flight, the delay in take-off being due to a telephone call from C.O. Botwood instruction pilot to add additional passenger to list, whom he waited two hours. This accident is most probably attributed to improper landing which caused the centre of gravity to be too far forward, rendering the aircraft unstable when it landed." The microfiche was challenging to read, but F/S Hirtle was commented about and a mention that all personnel to wear life belts at all times when on the airplane, but had those who escaped been wearing their Mae Wests, they might not have succeeded." It is unknown who Canso 'A' 9832 was waiting upon for two hours, delaying them..
On November 18, 1943, Investigating Officer S/L G. A. Brickenden summed up the circumstances of the crash, indicating that the cause of the crash was obscure. He offered suggestions, which were reiterated in memos later written by Air Commodore Guthrie and G/C Wilkins, Accident Investigation Branch (AIB). He also stated that Ings, Morton, Redmond, Lowther, Epstein, Mills and Watson may now be presumed dead. It wasn't until May 1944 that the RCAF 'officially' presumed them dead.
In 116 Squadron's Daily Diary, dated November 19, 1943: "Variable wind with some fog and fair visibility. Three Canso a/c employed during the day in practice flights. No operations ordered for this date. After searching all day for Canso 'A' 9834, all hope of locating it was given up. It was considered that because of strong tides and very deep water, the aircraft had drifted a considerable distance from where it had sunk."
In a memo dated December 7, 1943, Group Captain F. S. Wilkins, AIB noted that there were not sufficient life belts (Mae Wests) for all the passengers. In another memo dated December 24, 1943, Air Commodore K. M. Guthrie concurred. "The question of wearing life belts in Canso, Catalinas and Stranraers requires consideration. From time to time, evidence is presented in investigations which tends to show that if life belts are worn, they obstruct escape from the aircraft. If they are not worn, escape is easier but the man may be left unsupported in the water in an exhausted condition. In this accident, all the missing personnel were located in the navigator's compartment from which escape would have been very difficult under any circumstaces after the accident. As far as calculations can be made from the evidence of the position of the various personnel carried, the state of gas tanks, baggage, etc, it has been found that C.G. (centre of gravity) was at or beyond the forward limit...it is inadvisable to land with full forward C.G. and flying with fully forward C.G. should be avoided as much as possible. The lateral stability becomes poor in landing conditions and is impaired by lowering the wing tip floats...there is no evidence in this investigation that the disposition of the load was seriously considered. In view of the risk entailed in operating large aircraft with the load incorrectly distributed, it is suggested that some form such as used in transport companies be introduced. In every airline, before the flight is commenced, the load sheet must be filled in detail and the calculated position of the centre of gravity entered, signed by the captain as evidence he is satisfied. The water conditions at the time of landing were glass calm. On the aircraft's first arrival over the landing area, the pilot was given a red signal because the flare path was temporarily unservicable. He, therefore, flew circuits until given permission to land. During this period, assistance could have been given to the pilot if one of the marine craft had run up the landing area to break up the surface of the water. The pilot apparently realizing the surface conditions, states that he did not look at the water after he reached 100 feet. He landed 400 feet short of the flare path which suggests he was deceived as to the surface of the water. The second pilot was not in his seat. He had asked the captain whether he should take his proper seat before landing, but was told it was not necessary. His own statement is that 'being my first night landing on the sea, I just didn't like it so I lay down on the bunk with two sleeping bags between me and the bulkhead.' It is not considered that sufficient notice was taken of this statement in the investigation and the Investigating Officer should have gone further to find out whether this NCO was scared of night landings in general or this night landing in particular. The Officer occupying the second pilot's seat was General List, but not a flying boat pilot. When landing a Canso at night, it is desirable, if not necessary, for two pilots experienced in the type to be in the cockpit. Neither the captain of the aircraft nor the Officer in the second pilot's seat were strapped into their seats. CAP 100 Section 15, paragraph 6 states, 'All personnel are to be securely strapped or braced in the aircraft when taking off or alighting on water.' At the moment of impact, both Officers in the cockpit were thrown forward into the control so that any action to attempt to control the aircraft was impossible. Several of the passengers were not even sitting down. In spite of the fact that witnesses state it was a normal landing, the captain sustained a fracture just below the right knee. The evidence states that the marine section worked sufficiently. There was a control launch and two dinghies on the flare path. One dinghy only had one man aboard. The control launch and this dinghy went alongside the wreck and picked up survivors and took them ashore. The wreck was apparently left unattended until they returned so that had any of the occupants escaped, chances are that they would have drowned before the boats returned. When the control launch returned to the wreck, the hull was submerged. The marine section admits that in the confusion, they forgot to attach a buoy to the wreck and it has not since been found....there are obvious errors of judgment and it is requested that disciplinary action be taken against the captain for a) permitting an unqualified pilot to occupy second pilot's seat during a night landing b) for not checking the load of the aircraft c) for contravention of CAP 100 Section 15, paragraph 6. It is also requested that disciplinaary action be taken against the second pilot for behaviour unworthy of a qualified pilot of the RCAF and for failure to warn passengers either to sit down and/or brace themselves in preparation for the landing."
THOSE ABOARD CANSO 'A' 9832 with S/O Irene Watson:
P/O William Keough Cairns (1921-1992), Weston, Ontario, J35956 -- survived. He married Rene Irene Fairbridge (1920-1984) in 1945. They had a daughter, Barbara (1946 - 2004) and a son, Douglas (1947-1947). In 1948, an article explained that a postman, named William Cairns, 28 years old, rescued a housewife in Toronto from her gas-filled home. He was celebrated and became a hero, winning the DOW Award for his act of outstanding bravery, earning a $100 Canada Savings Bond. He enjoyed genealogy, researching his family tree. William Cairns died in Toronto.
F/S Frederick Dixon Hirtle, Strathmore, Alberta, R131516 -- survived. In February 1939, according the Calgary Herald, Fred Hirtle, along with the winners of an amateur radio contest held at his father's movie theatre in Strathmore, were part of a radio broadcast. Fred was a member of a music club, playing the cornet, trumpet, and organ. He continued to play music throughout his life. In December 1967, he became the new Chief Flying Instructor with the Chilliwack Flying Club. A newspaper article reported: "He was with the RCAF's coastal command flying Cansos in Newfoundland and Sunderlands overseas. He was discharged from the services in 1945. He took an instructor's course with Waneta Airways, Trail, BC in 1956 and has been an instructor at Trail and Castlegar since that time. He moved to the coast in September. Married, he has one daughter, Elaine, who is teaching school in the district." He was a member of the Rotary Club in Salmon Arm, BC in 1983. He passed away in 1997, buried in Sorrento, BC. He was married twice, his second wife passing away in 1999.
F/O James Barrie Dalgleish, Toronto, Ontario, J10579 -- survived. He married Margaret Louise Patton in June 1944.
WO2 Robert Flemming Lowther, Maccan, Nova Scotia, J41907 -- killed. Lowther enlisted in the RCAF in Moncton, New Brunswick at the age of 21. April 14, 1941: "Modest, intelligent, deliberate. Should make satisfactory progress in training." He was recommended for Pilot or Observer. He had Grade XI, and was good in Mathematics. "Two years farming experience and six months in Robb Engineering Works." He liked to play hockey and softball. He stood 5' 9" tall, weighing 135 pounds. On November 14, 1941, at No. 5 ITS, Belleville: "Not very impressive, but may do well if he applies himself." He was 72 out of 150 and received an 83% average. He was sent to No. 7 EFTS, Windsor, Ontario from November 24, 1941 to January 16, 1942. "Ability as a Pilot: Poor. Fail. Very slow progress. Nervous while in air and very tense on the controls. Does not like to fly solo. Reactions to spinning very poor. He has requested to be remustered to Air Observer." His instructor concurred with Lowther's choice and also noted, "This trainee is definitely not of pilot material. He lacks self confidence and does not enjoy flying." His ground work though, progressed exceptionally well and his class conduct was good. He was sent to the Composite Training School in Trenton, Ontario at the end of December 1941. More evaluations in early May 1942 at No. 1 Air Observers School: "Both ground work and air work satisfactory. A steady navigator and will improve with more practice. A very good all-round man, works hard and takes an interest in his work. Quiet type but works and studies hard and gets work done. Reliable in all respects." By June 20, 1942, he was at No. 1 Bomb and Gunnery School. "Avoids responsibility. Indifferent. Learns slowly. Gunnery: Poor. Could do more work. Slow to understand theory, but practical work better." On August 4, 1942, he was 152 out of 163 in his class at No. 1 CNS, where he was awarded his Air Observer's Badge. "Quiet type. Rather indifferent to work. Reliable and honest man. Very popular with class." He had a 64.4% overall average. At 116 Squadron, Botwood, Newfoundland, in August 1943, he was evaluated as "an experienced navigator, deserving of promotion." Robert Lowther was married to Marion.
Wing Commander Ralph Royden Ings, Port Hill, Prince Edward Island, C27599 -- killed. He was born in 1900, in Charlottetown, PEI, educated in Lausanne, Switzerland (1910-1913), then at St. Nazaire, France (1913-1914), then at RCS, Rothesay, New Brunswick, a boarding school outside Saint John (1915-1918). He started at the Ontario Agricultural College, Guelph, Ontario (1918-1920), but did not complete his education due to illness. He was farming in PEI when the war broke out. He had been an Army Officer until the spring of 1943 when he transferred to the RCAF. (In February 1942, Major Ings was Air Liaison Officer for the Canadian Army. Air Vice Marshall Anderson wrote, "As the scope of our operations is rapidly being increased, and in view of the proposed additional fighter squadrons, the introduction of RDF equipment and a possible unified control of fighter and A-A gun protection within the Fortress areas, many new problems will be introduced to our liaison with the Army Units." He suggested that Major Ings be sent to the UK for a tour to observe liaison arrangements between RAF Fighter Command and Coastal Command and the respective Army formations with which these cooperate, "and that on completion of this, be returned for duty" to Halifax. A letter, written by Major Ings on July 22, 1942 to Group Captain M. Costello, EAC, Halifax: "Returned to London last night from Edinburgh. Everywhere I've been, I've had the best reception from all concerned and all sorts of facilities given to me. I feel that I am learning a lot, but what is more important, I've watched these things carried out in a practical way. To be quite honest, everywhere I go, I try to pick up more information on what will be the most useful for us at EAC. I've finished at 19, 15, and 18 Groups and they all have different problems, then tomorrow, I leave for 16 Group. Afterwards, I get in touch with the Fighter people and observe some of their work in regard to Control of A.A. and search lights. Then finally, I will spend some time observing some of their CAC work. I should be pretty well cleaned up by September, so if there is a chance of my being flown back it will be most appreciated. I understand that some of the EAC pilots are coming over on Ferry flights. I intend to get in touch with RCAF HQ and find out who is coming. I wish I knew of the RAF starting up an operational HQ as I sure would like to be attached there. AWM Durston told me that Gordie Truscoth is coming over to take an RCAF Squadron. I've been on the station where he is going and it is very pleasant there. Please excuse this scrawl, with best regards to your family and yourself. PS I will cable you when I've finished at Coastal Command, will you please see that a signal of appreciation to them for their splendid co-operation." Major Ings sent an abbreviated, formal letter to Major General E. H. P. Elkins, G.O.C. in Atlantic Command the same day. In October 1942, there was another memo written by Air Vice Marshal N. R. Anderson. He requested that Ings remain on full time liaison duties in Halifax; he had been performing these duties since the beginning of the war until he was sent to the UK for attachment to Coastal Command, RAF to obtain an up-to-date knowledge of Coastal Command organization, administration and operations, particularly in regard to the duties performed by Army Liaison officers. Anderson stated that the RCAF felt deprived of Ings's assistance and advice. The response he received was that there had been no indication prior that RCAF Liaison was required.) Ings had been employed for at least two years at Eastern Air Command as Liaison Officer from Headquarters Atlantic Command; despite the feeling of no need for this position from Colonel G. A. Ferguson, Director of Administration for National Defence and by Major General W. M. P. Elkins, GOC in Charge, Atlantic Command, Ings resigned from the Canadian Army and was appointed as the Command Intelligence Officer, with the RCAF, at the end of May 1943. Major Ings wrote a letter on May 28, 1943. "I am applying for a commissioned rank in the RCAF. It is not because of any preference for any one Service, but rather as to where I can now be most usefully employed. Giving my past service, my work has enabled me to obtain a fair knowledge of the RCAF, particularly in the expansion of Eastern Coastal Command. With this in mind, I request that my application receive early and favourable consideration." He was evaluated. "A capable and well-trained officer who has been closely associated with combined operations. Has also had special tour in British Isles. Is known to be highly regarded by his superiors and well-liked by Junior officers. A highly desirable candidate, recommended for Intelligence Officer." He stood 5' 11", weighing 195 pounds. He had blue eyes and grey hair. "Overweight, but fit. Correction of visual acuity not quite sufficient without glasses, but can be improved. Character: exemplary." He was awarded the Canadian Efficiency Decoration on June 24, 1943. In August 1943: "Excellent background of Army experience. Conscientious, capable Intelligence Officer. Shows keen interest in his work. Possesses sound, mature judgment. Strongly recommended for rank of A/W/C." He was promoted to that rank effective October 1, 1943. By October 25, 1943, he was Wing Commander, living at 10 Elmwood Apartments in Halifax. He ordered one RCAF Officers Greatcoat, costing $65.00 from Colwell Brothers, Limited, Halifax. After his death, he was recommended to be 'mentioned in Despatches.' "Throughout his associatoin and service in EAC, W/C Ings displayed initiative, energy and devotion far beyond the normal course of duty. He made himself so valuable to EAC that his loss was a tragedy." In 1938, Ralph Royden Ings was married to Mary Elizabeth (Betty) (nee Salmon), a Registered Nurse. They did not have children.
F/L Joseph Coates Redmond, Edmonton, Alberta, J5072 -- killed. Joseph Coates attended McKay Avenue School from 1923 to 1930, then Garntaw High 1930-1933, then Victoria High, 1934-1935. He attended the University of Alberta from 1935 to 1939. He was employed at Kenn's Service Garage Limited, Edmonton, at various times between 1936 and 1940. "We have always found him industrious, honest and aggressive, and we are quite sure he would apply himself to any work which he may be given," stated the managing director at Kenn's on January 12, 1940. He was assessed in August 1940 ("Fair material for commisssion; fair type. Good education and useful experience"). At No. 2 ITS, Regina, November 27, 1940: "Nothing particularly outstanding" yet he was 4th out of a class of 192. He received an 89% in his classes. He was then sent to No. 5 EFTS, High River, Alberta. P/O J. C. Redmond was at No. 13 OT Squadron at Patricia Bay, British Columbia from May 10 to July 28, 1941, attending a course. "A good capable twin engine pilot. With more experience, should make a good operational pilot. Possesses initiative and confidence." He received a 100% grade on Signals, a 95% on Patrol and Search and a 92% on Practical Coding. He received 78% in Coding Theory, Ship Recognition and Seasmanship. Meteorology: 75%. D. R. Navigation: 88% and Reconnaissance: 84%. He was sent to Nova Scotia in August 1941 to EAC HQ. He flew out of Halifax for a few weeks before being posted overseas to Gander. October 1942, Gander, Newfoundland: "This officer has proven his ability as a pilot on several occasions with this Unit, has over 1000 hours in Newfoundland in the last 12 months. Would be capable of holding a mere responsible position as a flight commander and recommended for promotion to acting F/L." On July 2, 1943, the Officer Commanding No. 10 (BR) Squadron, Gander, stated: "A fine young officer with a pleasing personality and a splendid record of devotion to duty Would make an excellent operations room assistant controller...Like most pilots of his rank, he needs administrative experience to round him out. Immediate promotion to temporary rank of F/L is recommended please, effective August 1, 1943." On September 13, 1943, the officer in charge of the Officers Administrative Course wrote: "An intelligent, capable general list officer of average appearance and deportment who made good progress on the course. Has good knowledge of drill but should try to develop word of command." Out of 41 students Joseph Redmond was 19th, receiving a 75%. At the time of the accident, it appears that F/L Redmond was making his way from Gander returning to Halifax. Dr. and Mrs. Redmond were very upset with the RCAF because of the time it took for them to receive their son's personal belongings including a valuable radio. They never did get their son's radio, its whereabouts unknown.
WO1 Mandel (Max) Epstein, Montreal, Quebec, R104789 -- killed. He was the son of Mr. and Mrs. Morris Baron Epstein. He attended St. John's High School in 1932-1933 and later had one year of accounting at McGill University. He had been on the football team at his high school. Max was an accountant for five years at the Canadian General Transit Company Limited in Montreal (Canadian Car & Foundry Company) in December 1940 prior to enlisting with the RCAF in 1941 where he became a Wireless Air Gunner. He was very good at Morse Code, getting 100% on his exam. He was 71 out of 146 in his class, getting his Wireless Operator's Badge on February 13, 1942, with a mark of 81.7%. In March 1942, "his air firing results are considered satisfactory and he should be a keen and reliable Air Gunner." He was 29th out of 37 in this class. In another class, at No. 6 Bomb and Gunnery School, he was 16th out of 30. "His work in class was above average and he appears to be reliable and conscientious." In September 1942: "This man has just recovered from enteritis at Labrador. He is fatigued generally and has had nearly 400 flying hours and seven months since his last leave. Please arrange for two weeks' leave. To be grounded until leave arranged." Max was married; his widow, Belle, remarried, becoming Mrs. E. J. Cosman on December 25, 1945. She had been notified that Max received a promotion effective September 16, 1943 to WO1. Mr. Epstein wrote in November 1948 that he and his wife had been under medical care ever since the accident. They were hoping to learn of the 'exact' burial place of their son. They were sent a reply telling them that their son had no known grave and at some time in the future, a memorial would be erected to the memory of the 'great numbers of RCAF personnel who do not have "known" graves.'
Sgt A. H. Jones, Brantford, Ontario -- injured.
LAC Percy Leroy Marsh, Fredericton, New Brunswick -- injured.
Major Kenneth Storey Morton, RAF, Doddington, Northumberland, UK -- killed. He was the son of John and Hilda Susie Morton. He was serving on the HQ Staff of Coastal Command, RAF. He is commemorated in St. Aidan's Churchyard and on the Brookwood 1939-1945 Memorial, Brookwood, Surrey. In the church, there is a stained glass window in his memory, depicting a Halifax bomber towing a glider. The inscription reads, "To the Glory of God and in loving memory of Kenneth Storey Morthon, Major Royal Artillery (T.A.) of Hetton Law who gave his life on Active Service Overseas on 8th November 1943, aged 23. Erected by his parents." Some discrepencies in the information as he died in a Canso, and another source shows he was 28.
On November 13, 1943, the Robert Simpson Company Limited, Toronto, wrote a letter to the Estates Officer, RCAF, in Ottawa. "On November 1, 1943, we received a letter from S/O Irene Watson from CAPO No. 1 Newfoundland, enclosing a cheque for $200.00. It seems that her fiance, who is serving with the RAF in England, was unable to purchase a suitable engagement ring there and sent her money with which to buy a ring. We filled this order and forwarded the ring to her by registered mail on November 10, 1943. It was priced at $177.50, with a $0.74 charge for mailing. We therefore have to her credit the sum of $21.76. By the morning paper, we see that she is listed as 'missing, believed killed.' Under the circumstances, we would be glad to accept the return of the ring and refund the money for it. We presume that it will be among her personal effects in Newfoundland. In any event, we thought that we should bring the matter to your attention in order that you may take such action as is proper."
In the list of Irene's personal belongings, she had one negligee, four pairs of gloves, one teddy bear, a bathing suit, a black evening dress, a variety of other clothing including blouses and dresses, jackets, coats, shoes, slippers, a travelling iron, a pair of ski goggles, a package of mixed peel, a package of raisins, one set of curtains, notebooks, a toothbrush, toiletries, make up, purses, a snap shot album, books, including Tales Told Under the Old Town Clock, Suez to Singapore, The Democratic Spirit, and Generals and Generalship. In a third listing of belongings: four brooches, two bracelets, three pairs of earrings, two gold identity bracelets, one silver bracelet, a compact, a cigarette case and one gold Bulova wristwatch set in diamonds. No mention of an engagement ring.
In January 1944, Ethel, one of Irene's sisters wrote the Administrator of Estates, inquiring about War Bonds that Irene had purchased, plus Irene's bank account. The family did not know the details. She receieved a reply that until Irene was declared officially dead, they could not help.
The Royal Bank of Canada, April 6, 1944, wrote a letter to the Records Officer in Ottawa, letting them know that they had two $100 bonds. They were undeliverable due 'the subscriber being deceased', thus they were letting the Secretary at the Departmet of National Defence for Air know.
The bill from T. Eaton Co. Limited (Pine Room) in the amount of $6.50 was still outstanding for the alterations to Irene's tunic and the RCAF was asked to place the account in line for payment as of August 15, 1944.
By August 1944, Irene's estate was starting to be settled, over six months after her death. Mrs. Watson wrote a letter stating that in Irene's diary, she had purchased $550 in bonds, but that the numbers of the bonds were not listed by Irene. She was waiting for jewellery, including the gold Bulova watch. She also asked about the two Christmas presents Irene had written to them about but were not in the articles returned to Mr. or Mrs. Watson.
On October 24, 1955, Mrs. Watson received a letter from the RCAF Casualties Officer for Chief of the Air Staff. "I am very sorry indeed that after so long an interval, I must refer to the loss of your daughter, S/O Irene Watson, who has been officially recorded as not having a 'known' grave. Due to the extreme hazards attending air, land and sea operations, many RCAF personnel do not have a 'known' grave. All are being commemorated by name on Memorials erected at a number of locations, each Memorial representative of a theatre of operations....the name of your daughter will appear on the Memorial in Ottawa, Ontario....erected during 1956...May I take this opportunity to express to you and the members of your faimly, my deepest sympathy in the loss of your daughter."
For more information, plus photos of the men, please visit the links below.
LINKS: