June Catherine Davies W313740
March 12, 1925 - August 9, 1945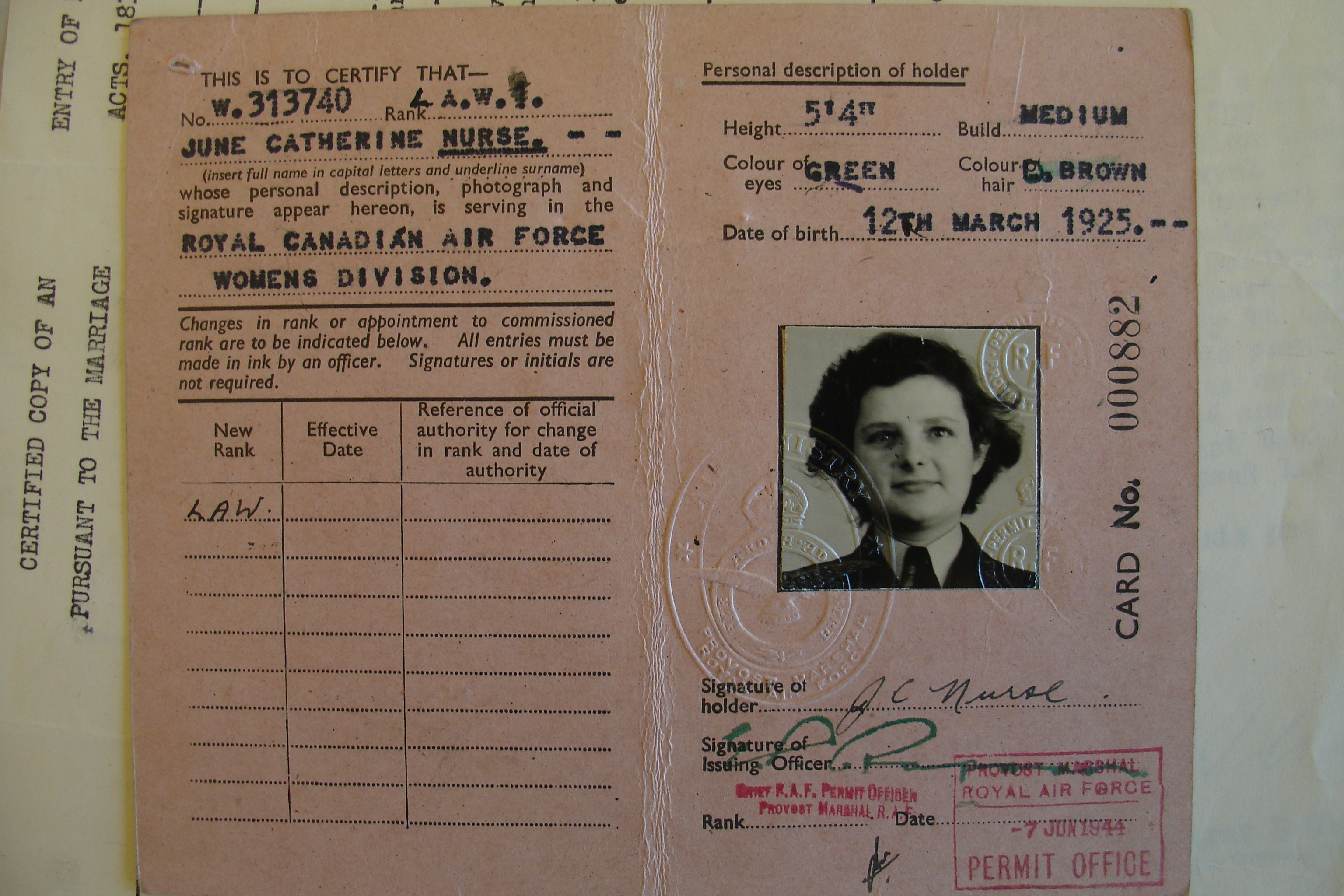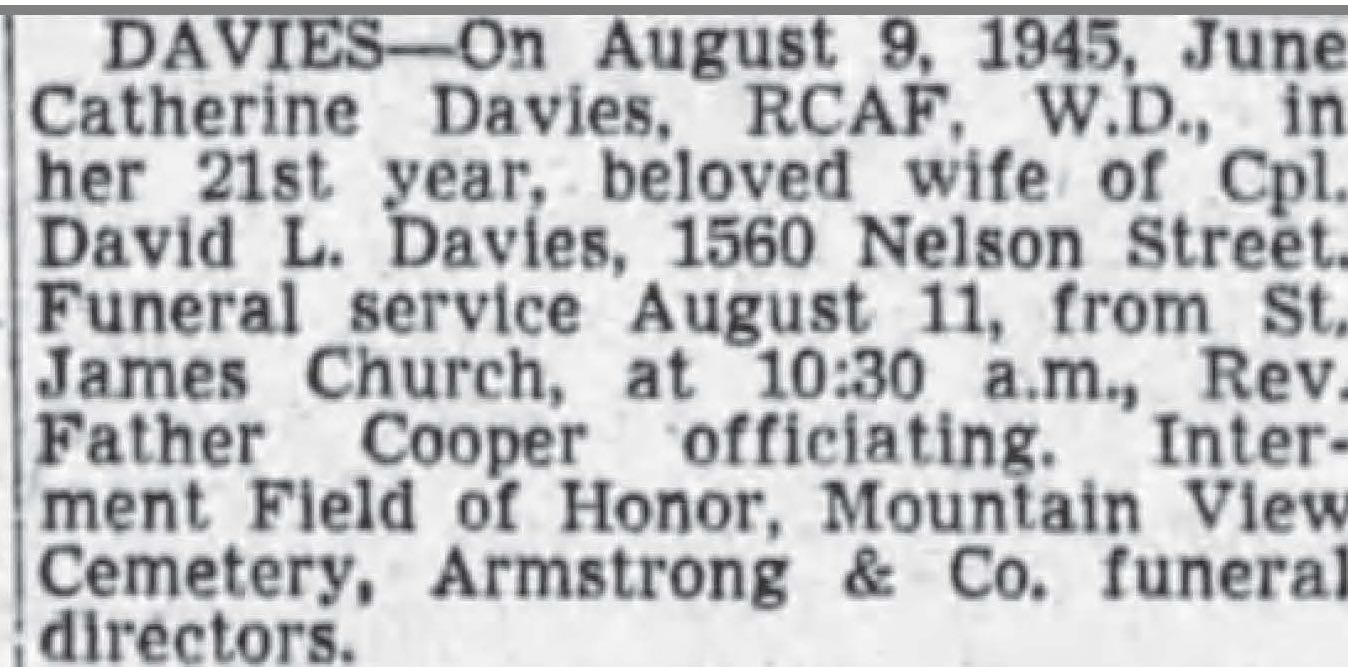 RCAF Women's Division
June Catherine Nurse was born on March 12, 1925 in Vegreville, Alberta. She was the daughter of William and Queenie (nee Colson) Nurse of Radcliffe, Lancashire, England. Her father was a mechanical engineer, an inspector for the Ministry of Supply. She had three brothers and one sister. When June was 13 years old, she and her family moved to England. The family was Anglican.
She stood 5' 4 1/2" tall, weighed 121 pounds, had green eyes and dark brown hair. Her oral hygience: "neglected" and with prophylaxis (teeth cleaning) required. She had been a Hollerith operator at Royal Ordinances Factory, Radcliffe, Lancashire, England from 1940-1943 before she joined the RCAF (WD) as a Clerk Administrator, "B" Group. She was accepted as a WD on June 22, 1943 at the age of 18 with the rank of AW2. She was a LAW October 1, 1944.
In November 1943, AW1 Nurse suffered from influenza and was at No. 10 Can General Hospital for five days.
On July 4, 1944, LAW Nurse was confined to barracks for seven days, as she had failed to phone in after an air raid, contrary to Section Detail Serial No. 57, para. 9.
On January 4, 1945 until the 17th, she was in the hospital, then again in March 1945. LAW Nurse said, "I feel fine." "Admitted December 4, 1944 with a history of a chest cold for one month with pain in right shoulder and chest for two days. No loss of energy, weight, or appetite. On examination, there was a dullness of percussion...chest x-ray showed a patch of pneumonia in right lower lobe posteriarly Tb test...for transfer to Taplow Tuberculosis pro forma has been completed."
She lost her identity discs some time in or about December 1944.
On January 26, 1945, LAW Nurse married LAC David Lloyd Davies (R87445) of Vancouver in the Registrar's Office, Eton, Buckingham. He had been an invoice clerk of school supplies in Vancouver, BC.
She was sent to Canada due to her diagnosis of Tuberculosis. On February 13, 1945, she embarked on a hospital ship from Liverpool, England, arriving in Halifax on February 22, 1945. She would have then taken a hospital train across the country to Vancouver, BC. LAW Davies was repatriated in Vancouver, BC, remaining in service until March 29, 1945, her date of discharge on medical grounds. She was sent to Shaughnessy Hospital with pulmonary tuberculosis. She had "lost 15 pounds in the past three months, but her sense of lassitude and weakness had improved in recent weeks." She was granted a $100 clothing allowance and a rehabilitation grant.
LAW June Davies died on August 9, 1945. She served 1 year, 281 days. She is buried at the Mountain View Cemetery in Vancouver, BC.
In the spring of 1945, Cpl David Davies wrote to the Department of Veterans Affairs referencing a cheque in the amount of $75.25 made out to his wife, wondering about a second cheque. He also queried to find out if he was entitled to a war gratuity. David Lloyd Davies remarried in 1951 and moved to Seattle.
LINKS: