Lucelle Margaret Sparks W313739
November 22, 1924 - July 8, 1946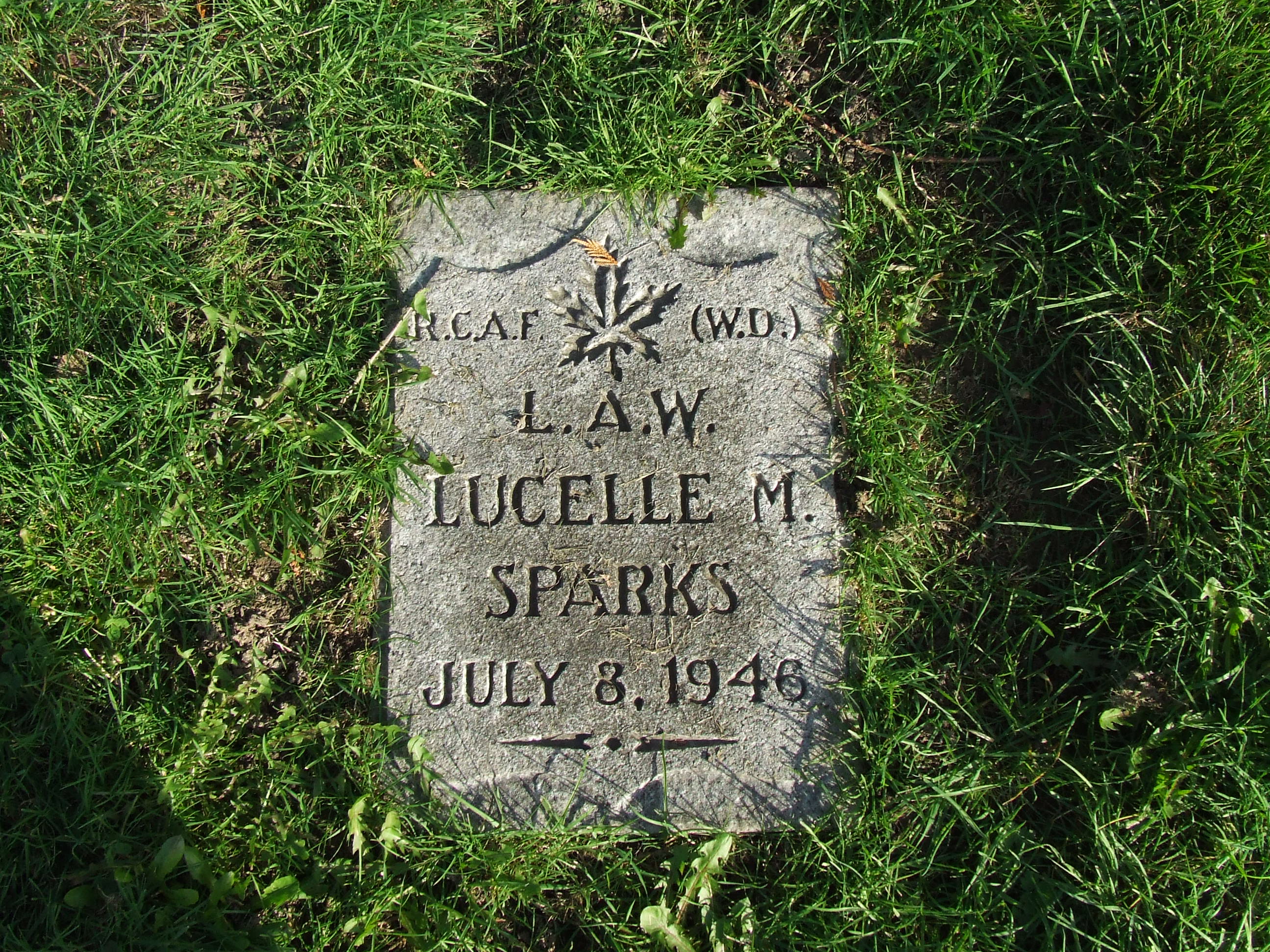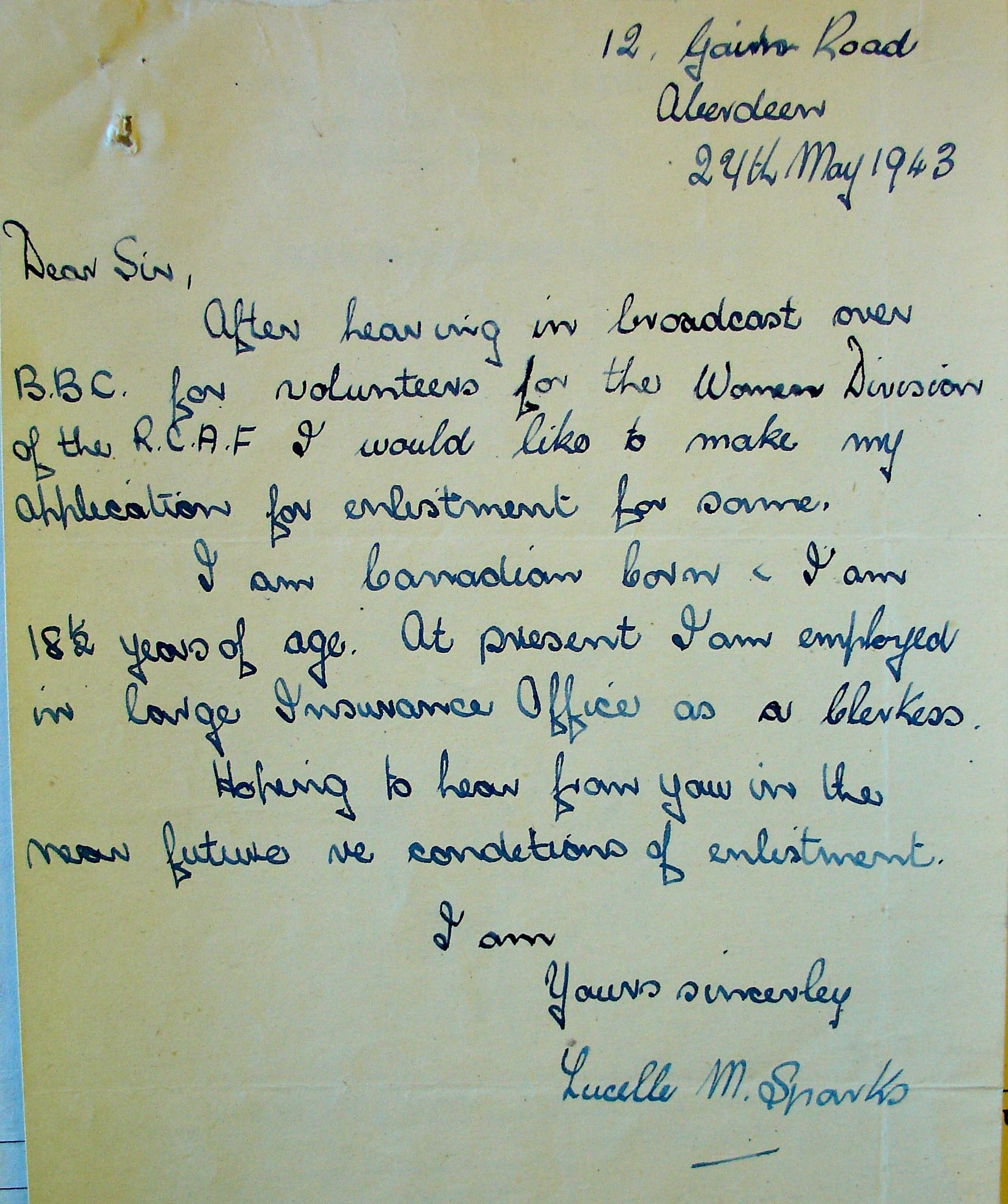 RCAF Women's Division
Lucelle Margaret Sparks was born in Coaticook, Quebec to Alexander John Sparks (WWI vet, born in Oldington, Kent) and his wife Elizabeth Ross (nee Thompson) Sparks (born in Aberdeen, Scotland), later of 3276 School Road, Vancouver, British Columbia. Lucelle lived in Coaticook for 4 years, then Vancouver for 6 months, moved to St. Catharines, Ontario for 1 1/2 years, then moved to Aberdeen, Scotland for 14 1/2 years. After the war, Lucelle had planned to move to back to Vancouver. The family was Anglican.
Lucelle attended Woodside Public School in Aberdeen from 1931 to 1933, Broomhill Public School from 1933 to 1936, then Ruthrieston Secondary School from 1936 to 1939. She worked as a Junior Clerkess at Walker and Duncan, Civil Engineers and Architects from 1939 to 1942, then for a better position, worked for North British & Mercantile Assurance Co. Ltd. as a Clerkess from 1942 until she enlisted. "Three and a half years clerkess, some typing experience. North British and Mercantile Service Co. Ltd. Canadian Government paid pension allowance for me. I would like to join Canadian Service."
Lucelle wrote a letter on May 24, 1943. "Dear Sir, After hearing in broadcast over BBC for volunteers for the Womens Division of the RCAF, I would like to make my application for enlistment for same. I am Canadian born and I am 18 1/2 years of age. At present, I am employed in a large insurance office as a clerkess. Hoping to hear from you in the near future re: conditions of enlistment." At the beginning of June, Lucelle heard back and the RCAF (WD) requested she come to their offices in London for an interview, with pertinent paperwork.
Lucelle enlisted with the RCAF (WD) in London, England on June 22, 1943, requesting a clerical postion. She listed her address as 12 Gairn, Aberdeen, Scotland. She stood 5' 1 1/2" tall, weighing 100 pounds. She had dark brown hair, dark brown eyes, and a medium complexion. She liked tennis and netball. "Mother received pension allowance from Canadian Government, so would like to enlist in the Royal Canadian Air Force."
She noted that she had come to Canada on a holiday. "Owing to ill health and subsequent death of father, stayed in Canada."
On March 1, 1944, Miss Lucelle Sparks had hoped to take jointly, with two others, a furnished flat for three months at the rental rate of 3 guineas per week. Lucelle received a good recommendation that she would make a desirable tenant.
June 1, 1944, AW1 Sparks was absent from the 0830 parade and was confined two days to barracks.
On June 22, 1945, LAW Sparks was medically boarded at No. 11 Canadian General Hospital, Taplow, UK, and it was recommended that she be repatriated to Canada, posted to RCAF "R" Depot, Torquay. She was considered a 'stretcher case' and was transported back to Canada aboard a hospital ship, then transported by hospital train to Vancouver.
August 1, 1945, on the Case History Sheet filled out at Shaughnessy Hospital, Vancouver: "Chief Complaint: loss of weight, slight unproductive cough, fatigue. Family history: Mother alive and well; father died ten years ago from wounds of World War One. There is no family history of tuberculosis. Personal history: While in the capacity of clerk, she worked in rather overcrowded office in London, England, but she has no knowledge of exposure to TB. PRESENT ILLNESS: Beginning in early May 1945, this girl began to complain of loss of weight, increasing fatigue and non-productive cough. By June 22, 1945, at which time she was hospitalized in No. 11 CGH, her weight had fallen from the normal 112 pounds to 90 pounds. An x-ray at the time showed marked infiltration of the whole left lung field with two large cavities present and definite involvement of the right upper lobe...no chest pain...she was repatriated to Canada as a stretcher case and admitted to hospital train to No. 3 Repatriation Depot, Vancouver, August 1, 1945. She states she feels rather tired and worn, but otherwise, has no specific complaints, no night sweats, no hemoptysis. PHYSICAL EXAM: A fairly well developed, but poorly nourished, pale, white adult female who appears in no apparent distress."
On August 2, 1945, Lucelle was seen by a specialist. "This airwoman has advanced pulmonary tuberculosis, bilateral with cavitations present in both left lobes. June 28, 1945, hospitalized in England, gastic washings were positive for kocki bacilli. Artificial penumothorax, induced July 6, 1945 in England. It is recommended that she be categorized ApBp and passed to jurisdiction of DVA for sanitorium care."
Lucelle Margaret Sparks was discharged from the RCAF (WD) on September 17, 1945 on medical grounds. "Chest condition. Cannot work for indefinite period. Has good ability to learn."
On July 8, 1946, Lucelle Sparks died of pulmonary tuberculosis and was buried at the Mountain View Cemetery in Vancouver, British Columbia.
In a letter dated July 25, 1946 from the Canadian Legion of the British Empire Service League on behalf of Mrs. Sparks: "It may be stated that the mother has been taking care of her daughter, who was a bedridden case of Tuberculosis from the time of discharge from the service until her death. This mother came out from Scotland, especially to nurse her daughter; and now wishes to return to her former home as soon as possible. It may be added that her son was killed in action in World War 2 and she, herself, is a pensioned widow, having lost her husband in World War 1. These Headquarters, therefore, would appreciate it very much if you would treat this case as SPECIALLY URGENT, and expedite the payment of the War Service Gratuity to this mother." Lucelle was born in 1924 and Mrs. Sparks had been living in Vancouver for some years. Some information in the letter seems suspect. There was no mention of having a brother in the documents at the LAC, Ottawa. Further investigation has uncovered Lucelle had a brother, John Adam Sparks, 25. He was killed on August 20, 1942 while flying with 218 Squadron when Stirling BF319 on a mine laying flight in Kiel Harbour.
Mrs. Sparks moved from Vancouver to Coaticook, Quebec August 31, 1946. She resided with her brother, Mr. S. Thompson. In a letter dated September 12, 1946: "Mrs. Sparks has now gone to the Province of Quebec to stay with her brother until she can finally sail for Scotland which will be after all the business in connection to her deceased daughter's estate has been settled."
In a letter dated October 20, 1951, Mrs. Sparks, still residing in Coaticook, read: "In reply to your letter of the 11th instant, you are advised that the Honourable, The Minister of Veterans Affairs, wishes to extend his sincere sympathy on learning of the death of your daughter. As the death of your daughter was related to service, a Silver Memorial Cross given by the Canadian Government as a slight token of appreciation of the sacrifice you have made, will be prepared and sent to you as soon as possible."
Mrs. Elizabeth Ross Thompson Sparks died in 1988 and is buried at the Mount Forest Cemetery, Coaticook, Quebec. She is buried in the Barron family plot. More research is needed, as Find A Grave indicates that Mrs. Sparks had another daughter, Dorothy E. Sparks Barron.
LINKS: