Marie Elizabeth Rita Lamothe W309845
May 14, 1920 - September 15, 1944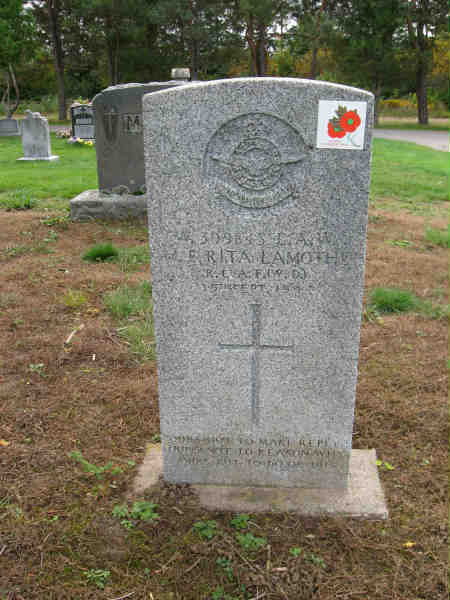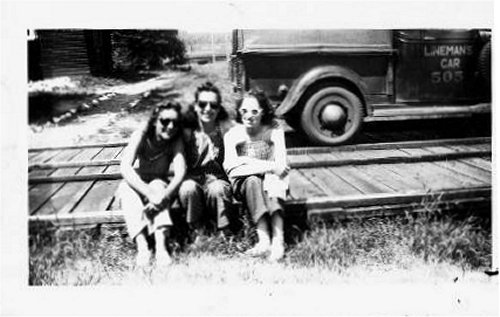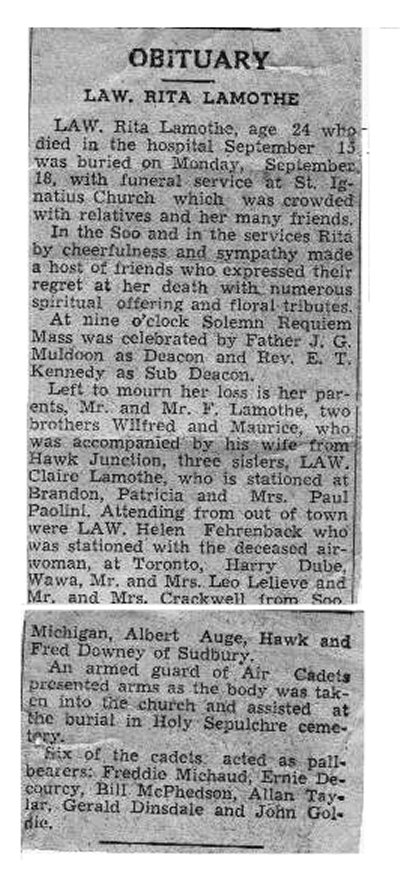 RCAF Women's Division
Marie Elizabeth Rita Lamothe, known as Rita, was born in Thessalon, Ontario to Ephreme and Elizabeth (nee Lalievre) Lamothe, of 63 Walnut Street, Sault Ste Marie, Ontario. Her father was a telephone and telegraph lineman. Rita had two brothers, Maurice and Wilfrid, plus three sisters: Adrienne, Clair and Patricia. The family was Roman Catholic.
Rita said she was proficient in both English and French. She had completed two years and four months training as a nurse at St. Justine Hospital in Montreal. "Is very interested in this type of work. Has a St. John's Ambulance certificate, course of six weeks. When at the hospital, she took a course at the University of Montreal in chemistry and hygiene. Suitable type of applicant for rank and grouping as a hospital assistance. Good appearance; clean and neat." She noted that she was a student nurse at time of enlistment (from 1940-1942). She hoped to be a hospital assistant or a Clerk, General Medical. "Good type." Other comments: "Smart appearance, vivacious, good conversationalist...sincere desire to serve. Appears to be very capable, responsible and intelligent..should make an excellent hospital assistant."
She liked knitting, had a collection of pictures and poems, and a scrapbook. She enjoyed dancing, fishing, swimming, and hiking, all moderately. Her parish priest, the head of the convent, her principal and a doctor were her references. She had had her appendix removed in 1938 and had had Scarlet Fever, chicken pox, measles, mumps and whooping cough as a child. She had a full upper dental plate. She stood 63" tall, weighed 114 pounds, had black hair and hazel eyes.
She enlisted in North Bay, Ontario, on February 1943. Rita was sent to No. 7 Manning Depot at Rockcliffe, Ontario February 1943 until April 8, 1943. She was sent to St. Thomas from April to May 1943 and then sent to Brandon, Manitoba until January 15, 1944. In May 1943, she was assessed: "An average type of airwoman. Found practical work less difficult due to some language difficulty, but likes her work." She received at 67% average and was 26th out of 54 at St. Thomas. She was taken on strength as a hospital assistant "B", attached to No 1 TC HQ, Toronto from January 16 to September 15, 1944.
In early July, 1944, LAW Lamothe attended a party and had consumed some beer, which had affected her to a point of intoxication, stated Dr. Cain. "That while in this condition, a man employed with Toronto Daily Star had sexual intercourse with her. Her menses which were due about the middle of July did not appear and she presumed she was pregnant. In the company of Rita Schneider, she visited some woman in Kitchener, Ontario...to relieve her of her pregancy and advised her that she must not go to bed and rest, but should remain active." On July 31, 1944, Rita fainted while combing her hair...a medical officer advised she return home for two weeks. Her mother was summoned to Toronto to bring her home.
On August 5, 1944, LAW Lamothe was admitted to the Plummer Memorial Hospital in Sault Ste Marie. "Missed menstrual period about middle of July and suspected she was pregnant. Went on 27 or 28 of July 1944 to an abortionist at Kitchener who inserted an instrument into the vagina to terminate the pregnancy. On 31 July 1944 while dressing herself, she fainted and was seen by an MO who recommended two weeks leave. Patient went to her home in Sault Ste Marie, developed lower abdominal pain and feverishness on 5 August 1944. Dr. R. F. Cain was called to see the patient when she was admitted to Plummer Memorial Hospital. "Well developed and well nourished young female appearing seriously ill. Examination negative for abdominal and pelvic exam." On August 7, 1944: Dr. A Sinclair: "Suspicious of early peritonitis and advise carrying on as at present. Complaining of lower abdmominal pain and running high fever." Dr. Sinclair, by September 4, wrote: "Condition much more serious." LAW Lamothe had had an incision with drainage on August 15. She was given fluids intravenously and her incision and abcess drained, plus given a blood transfusion on September 8. Penicillin was started on September 9. Her condition continued to worsen through September 14 and 15, when she died at 9:50 pm. Diagnosis: General Peritonitis due to infected criminal abortion.
On September 16, 1944, it was noted: "Whilst on sick leave, died as a result of pelvic inflammation and periotonitis arising out of previous illness."
In her list of personal belongings, LAW Lamothe had clothing, three rag dolls, photographs, a radio, four theatre tickets, a glass ornamnt, perfume, personal letters, ten amateur drawings, and an alarm clock.
LINKS: