Muriel Almyra North W310206
January 11, 1923 - September 8, 1944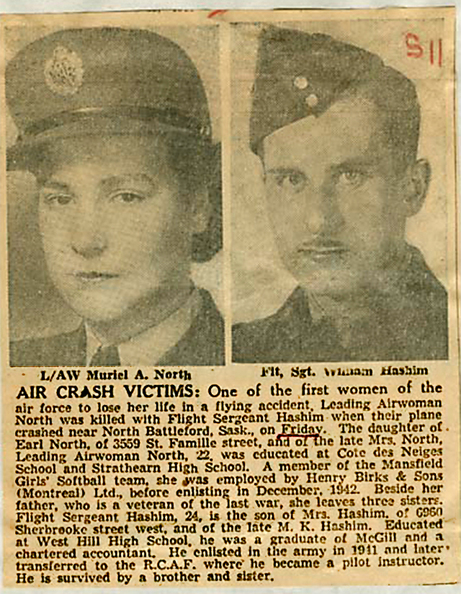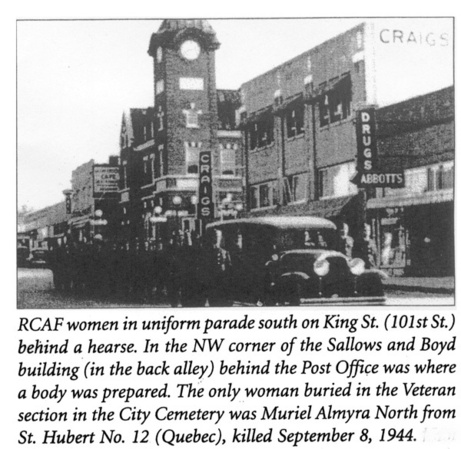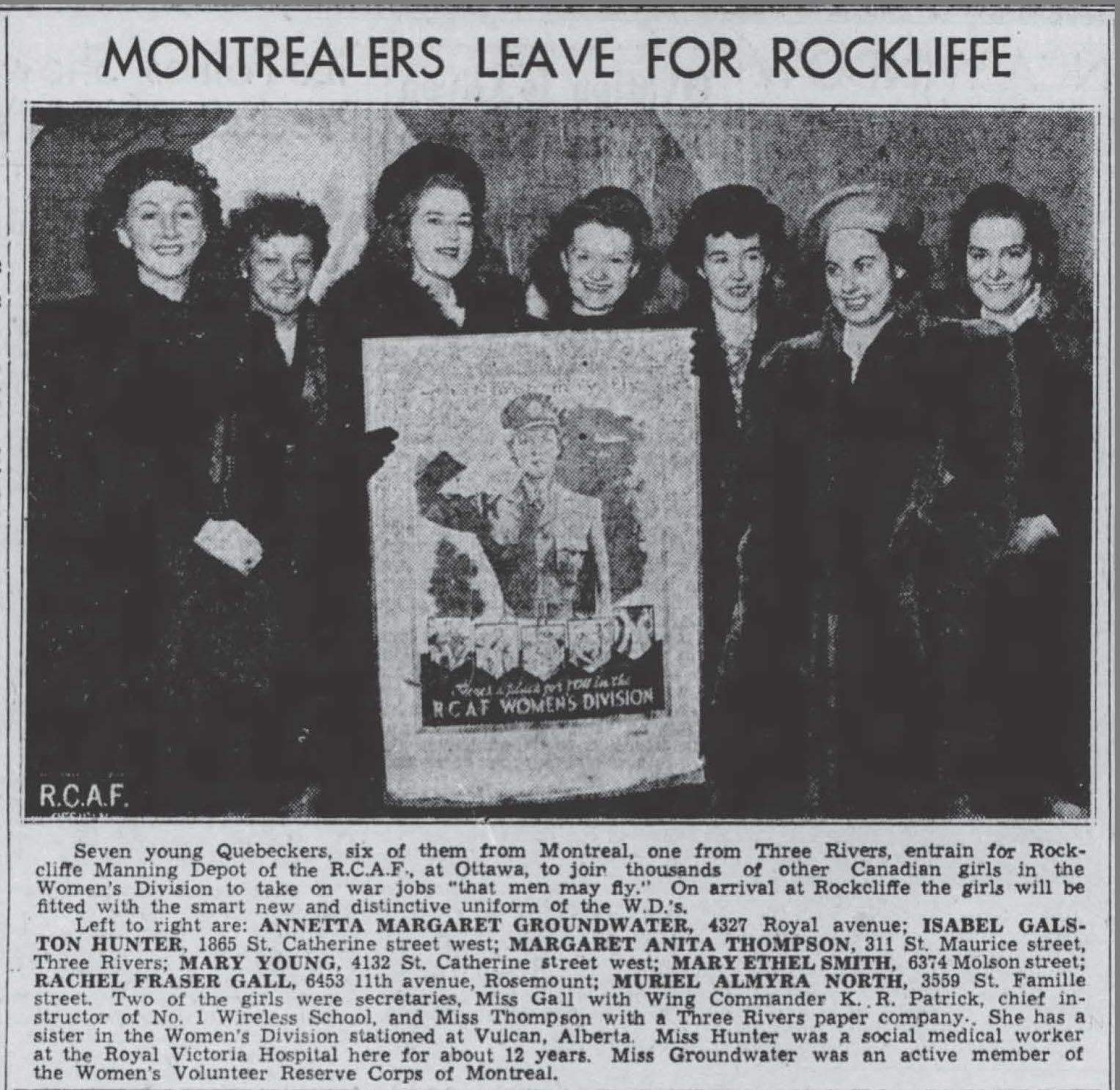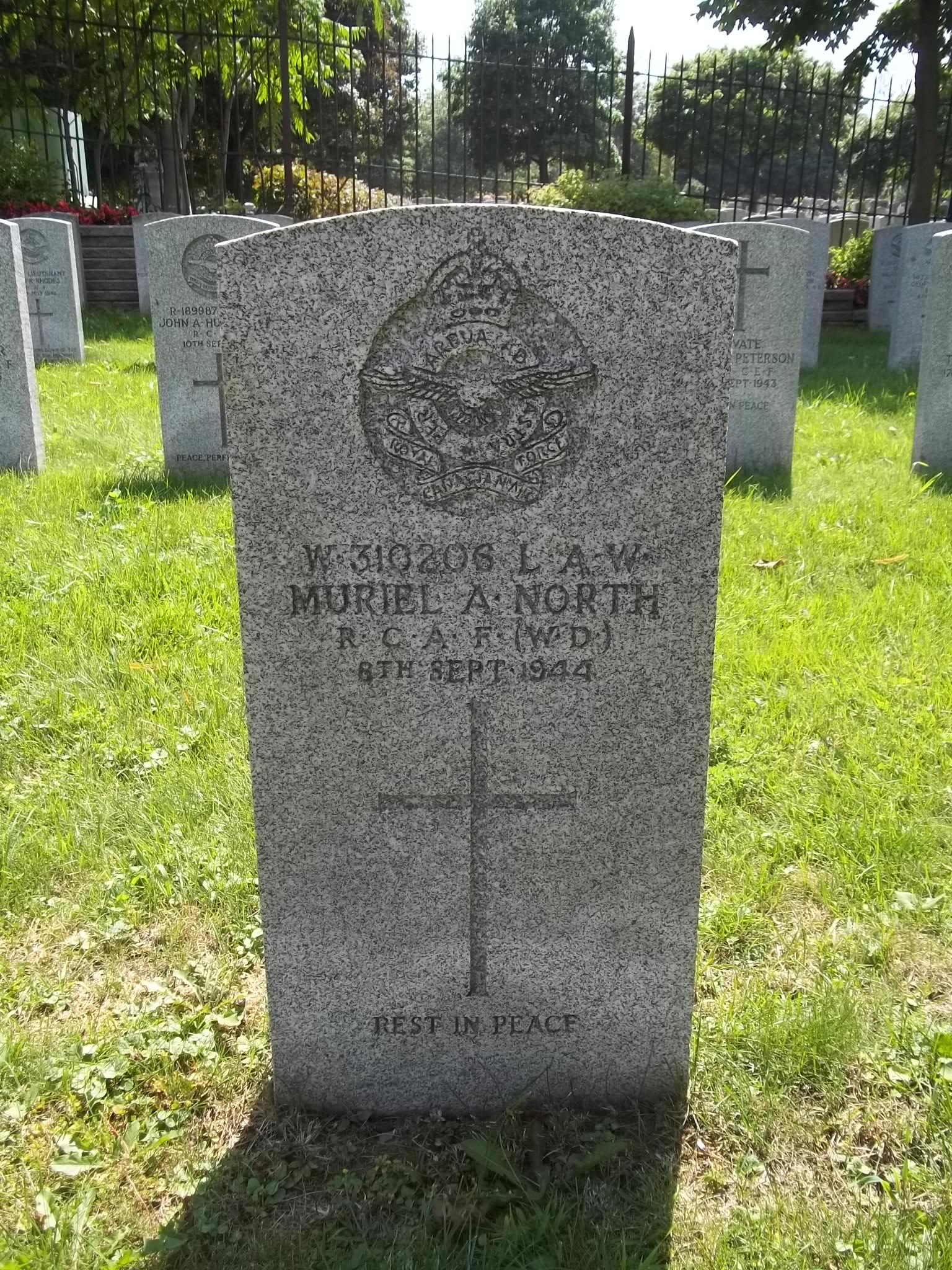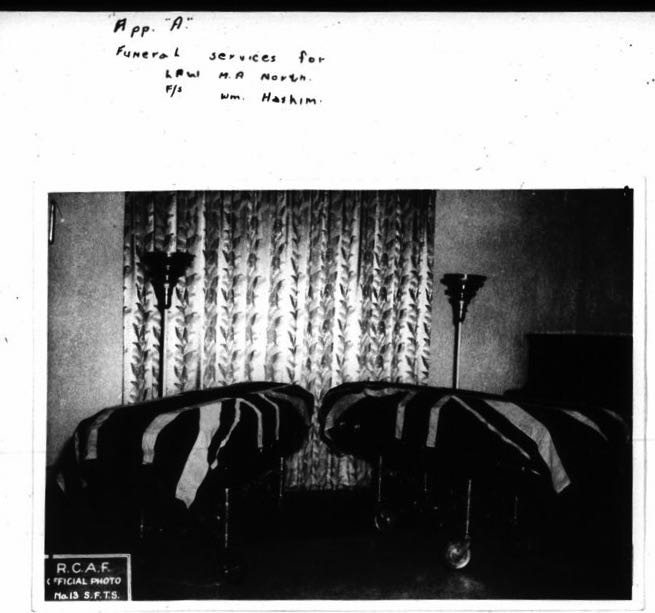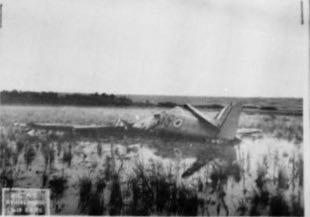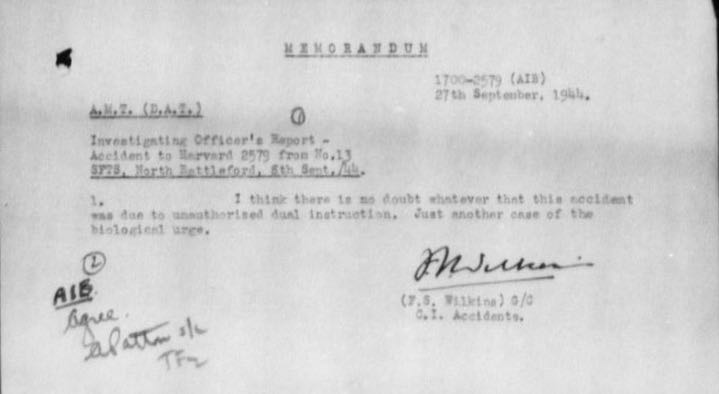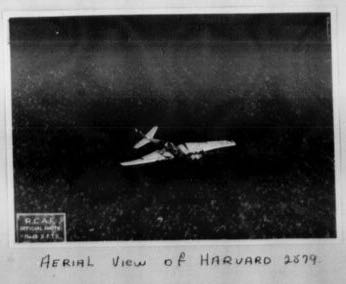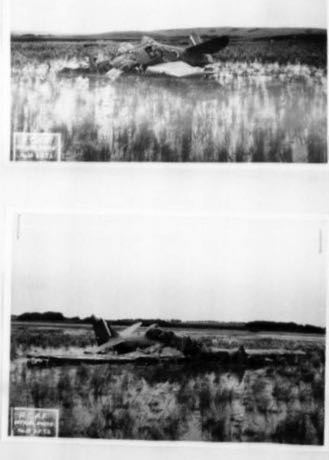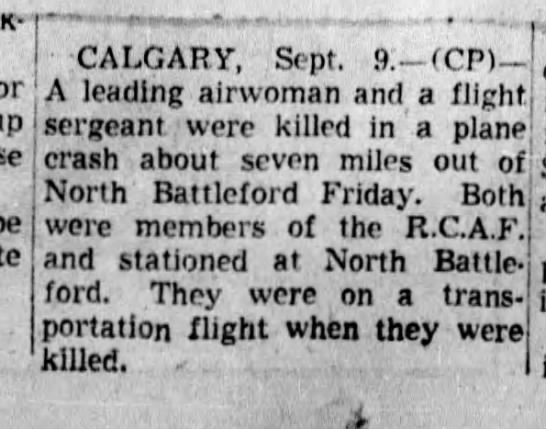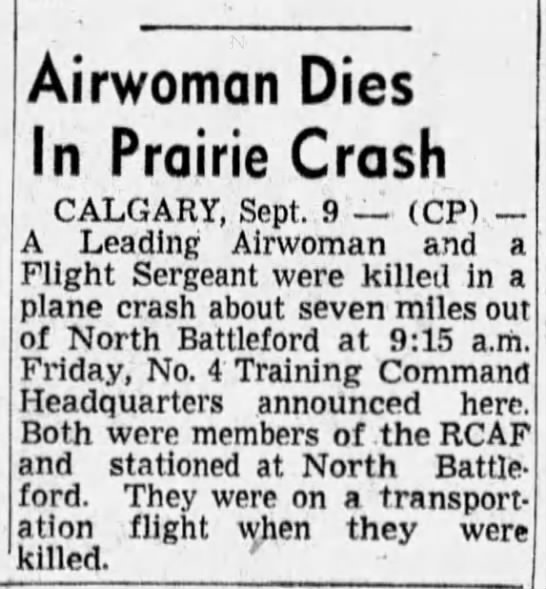 RCAF Women's Division
Muriel Almyra North was the daughter of Earl R. and Jennie North, of Montreal. Muriel had three sisters, one of whom died in 1942, plus one half sister and two half brothers.
Muriel had completed Grade XIII education. From 1940 until January 1943, she was a photographic printer at Henry Birks Co. and wanted to return to this line of work after the war.
She had light brown hair, brown eyes, stood 64" tall and weighed 152 pounds. She liked basketball (playing as a guard), softball, hockey (where she played forward) plus dancing, reading, and knitting.
Muriel enlisted in the RCAF (WD) in Montreal on January 14, 1943. She listed her mother, Jennie North, as her beneficiary to all of her estate. But she passed away in March 1943. Mr. North remarried and Hilda La Rue became Muriel's stepmother.
"This candidate appears to be of average intelligence and in quite good physical condition. Fairly good material." F/O J. N. Fownes "Average type of applicant with a quiet and not particularly ingratiating personality. Has had experience as photographic printer, but doesn't know other phases of photography. Is only keen about photography as a trade. Should be alright in this trade." A/S/O P. A. Freeman
Muriel listed her special qualifications that would benefit a women's auxiliary service as "Patrol leader for the Girl Guides. Captain of our school team for basketball, softball and volleyball. Secretary for our Girl Guide Co."
From April 12, 1943 to July 2, 1943, LAW North trained at RCAF Rockcliffe, Ontario at the School of Photography. Her mark was 61.9%. She flew 1 hour and 50 minutes aboard an Anson MKII as part of her training. "Deportment good. Technical ability fair. Will need some supervision."
LAW North was posted from Rockcliffe, Ontario to St. Hubert, Quebec, then to North Battleford, Saskatchewan.
September 8, 1944 at No. 13 SFTS was huge day at North Battleford, Saskatchewan as Course 101 graduated including Prince Albert Edouard de Ligne, cousin of King Leopold of the Belgians.
In the Daily Diary, a fatal aircraft accident was also noted. "F/L Blahey and Sgt. Hemstreet proceeded to scene of fatal aircraft accident. After walking a quarter of a mile through water and swamp, they removed the bodies of the crash victims from the aircraft." On September 9, "F/L B. Moore (J4535) A/B reported on Temporary Duty from No. 4 TC RE: Investigation." At the end of the month, No. 13 SFTS noted on September 8, 1944 as part of the list of accidents, forced landings, etc: Harvard II 2379: Obscure, pending investigation. Aircraft crashed in swamp. R164569 F/S Wm Hashim, Killed. W310206, LAW M. A. North, passenger, Killed." The accident occurred seven miles south of aerodrome at No. 13 SFTS North Battleford, Saskatchewan.
The Court of Inquiry used the statements from eye witnesses as well as ground crew to determine the cause of the accident. They determined that F/S Hashim was authorized to fly LAW North from base to the relief field at Hamlin. There were no facilities for WDs at the relief field for them to stay overnight, so the RCAF WDs were flown in to the relief field early in the morning and then picked up later in the afternoon or evening. They needed a photographer for the Bomb and Gunnery exercises. Hashim was to take off at 0630 hours and the estimated duration of the flight was fifteen minutes. He took off at the time ordered. The aircraft crashed around 0900 hours killing him and his passenger. One eye witnesses, Mary Webb, described it as follows: "I was outside the house. I just heard a plane. I looked and saw it coming through the clouds. It was spinning. The nose was practically straight down. I watched the plane as far as I could see it. The turns seemed to be slow. When it got close to the ground the turns stopped and the plane tried to straighten out and head east. In the turns it seemed to be slightly coming north. When it started to straighten out I would think it would almost be 20 feet above the ground. I did not see it hit the water. I heard the noise of the crash. I went down to where the plane crashed. The crash was in the middle of a slough. Up until that time the plane hit the ground the motor was running. I think if the plane had been a little higher when it started to straighten out it would not have crashed." It was also determined that "on this flight, F/Sgt Hashim would have no occasion to be several miles south of the aerodrome. Neither would he need to go through the overcast." There was evidence that when the aircraft took off the control column of the rear cockpit was in the stowed position and that after the crash it was found broken off with the lever part in position in the central column socket. The crash occurred 7 miles south of the base and Hamlin is located the same distance north of the base. So far as what is known, there was no reason what ever for the aircraft being north of the trip for which it was authorized. No evidence of airplane structure failure was revealed by examination of the wreckage. The medical officer stated, "I arrived at the crash of Harvard 2579 out about 0950 hours and found both occupants dead and identified them as Hashim and North. They both have been killed on impact. Hashim's safety harness was intact and locked. The harness on North was loose but the locking pin was in position. Both have suffered from extreme multiple injuries. [multiple head, internal and external injuries]." CONCLUSION: "The fact that the rear control stick was put into its socket after the aircraft left the ground and that the aircraft crashed well off its course is almost conclusive proof the pilot was giving unauthorized dual instruction to his LAW passenger." -- Group Captain F. S. WILKINS. G/C Wilkins was the head of investigation of RCAF aviation accidents in Canada. He also added, "Just another case of biological urge."
Often the clothing of a deceased member of the RCAF might have been passed along to others to use. However, a memo dated September 11, 1944, F/L J. W. Wilson, Medical Officer stated to the Commanding Officer, "The clothing of the above mentioned have been soiled by body fluid and are unfit for further use. They have been destroyed in my presence: 1 pr trousers - Service, 1 cap, 1 badge cap, 1 shirt - Service, 1 jacket - blue."
In her lengthy list of personal belongings, Muriel had many clothes, a jigsaw puzzle, a checker game, a clothes line, five boxes of letters and sundries, make-up, a gold ring, her wallet, and an identification bracelet.
On September 9, 1944, The Vancouver Province, The Vancouver Sun, The Ottawa Citizen, The Edmonton Journal, and the Leader-Post reported, "They were on a transportation flight when they were killed." The Montreal Gazette, in an article dated September 15, 1944 stated that "she was training for reconnaissance work when she crashed to her death." The Court of Inquiry is on microfiche at the Library and Archives Canada, Ottawa, but no pages from it were in either North's nor Hashim's files and shall be looked into the next time I return to Ottawa.
Mr. North wrote a letter to the Department of National Defence Air Service on September 4th, 1945: "In reply to your letter, I am the father of deceased LAW North, though I was not in receipt of an assignment of pay, I was partially dependent on my daughter for my keep as I am not able to work on account of poor health. I have not worked since June 1939 and have spent four years in hospital. My daughter had her estate made out to her mother who was expected to outlive me, but died in March 1943. I am inflicted with a bad ailment but am gradually recovering but I will not be able to work again as the operations have left me in a state of incapacity. If it should be necessary, I could get you a doctor certificate to prove to you that all are facts."
In the distribution of her estate, her father received $80.76, her two full sisters, Jennie and Margaret: $13.26, her half sister, Theresa and two half brothers: $4.82 and her two nephews' guardian: $13.26.
LINKS: