Olive Goddard Walsh W301792
June 26, 1898 - January 7, 1943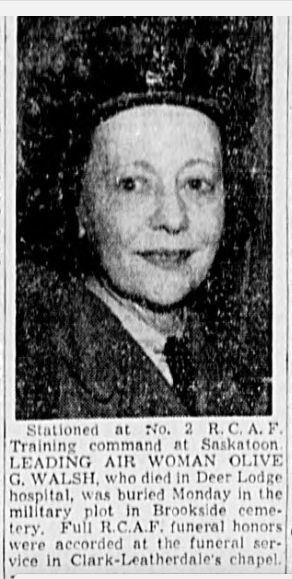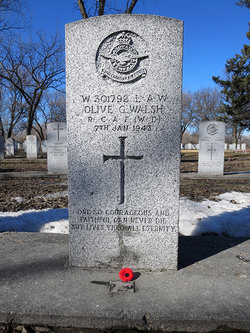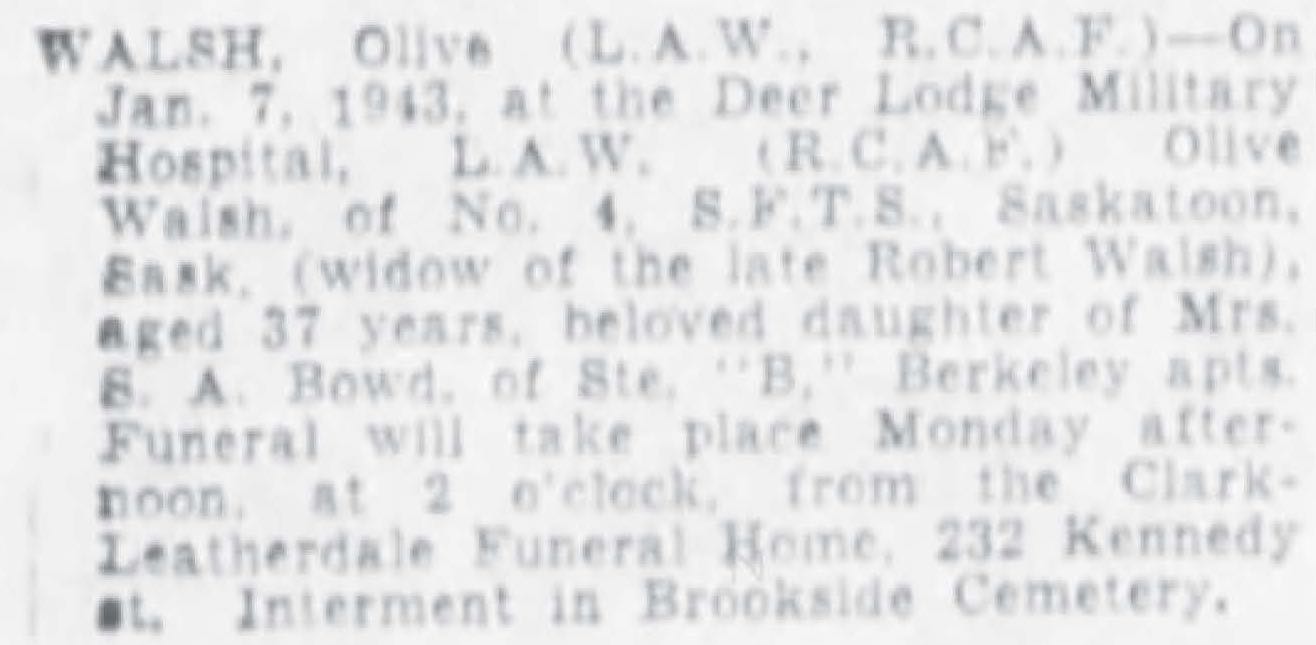 RCAF Women's Division
Olive Goddard Bowd was the daughter of Charles (1873-1949) and Sarah Ann (nee Goddard) Bowd (1876-1981) of Winnipeg. She had five brothers, Cecil Bowd, Alex Bowd, William Bowd, RCMP Reserve, Pte Charles Herbert Bowd, and Bobby Bowd, along with five sisters, Lillian Youell, Mrs. M. Campbell, Ruth Bowd, Mrs Eunice Highet and Mrs. Muriel English. Two of her brothers were deceased: Charles died in August 1930 (enlisted with the CEF in 1915 at 15 and was discharged at 17), and Bobby died at 14 months in 1908. Muriel died in childbirth in 1936, with her son living with an aunt in Alsask, Saskatchewan. The whereabouts of her father, a retired contractor/bricklayer, were unknown for 20 years, according to Mrs. Bowd. (Mr. Charles Bowd, too, served with the Canadian Expeditionary Forces in WWI, being discharged as physically unfit after being in France.) It is unsure when Olive and her family arrived in Canada, as her brother and father served for Canada during WWI (1914-1918). In 1936, according to a ship's records, Sarah Ann returned to Canada. The Bowd family lived first in Ontario, then Saskatchewan, Manitoba, and Alberta. The family was Anglican.
Olive's education included two years in England, 1908-1910, then at Ailsa Craig, Ontario from 1912- 1916, then at Lucan, Ontario from 1916-1918, finishing a partial Grade X. For the next two years, she was taught by a sister at home. She went to Garbutt Business College in Calgary from 1920-1921, earning a Gold Medal for general proficiency in 1920. She indicated that "I am unable to furnish evidence of my education owing to the fact that it was destroyed by fire in Winnipeg in May 1931...I have taken private tutoring and have attained the equivalent of Grade XII. The general proficiency medal was awarded for general secretarial work, including typing, shorthand, bookkeeping, business english and penmanship."
In 1921, at the age of 23, Olive married Robert Walsh. He died in 1924. He was American and a professional football player.
After her husband's death, she moved to Winnipeg and worked as a telephone operator with T. Eaton & Co. until 1932. She then worked at Nubone Corset Co., Winnipeg, as a manager until 1936. Then she moved to Saskatoon and worked at Saskatchewan Vacuum Cleaner's Shop Work, doing electrical work and becoming manager until 1940. She returned to Nubone Corset Co., this time in Saskatoon where she was manager until 1941 to enlist in the CWAAF in December.
She liked to swim, knit, play softball, and was interested in electric motors. She wanted to study bacteriology after the war. She stood 5' 3" tall, weighted 105 pounds and had blue eyes and reddish brown hair. She had an appendectomy scar.
Olive Walsh was taken on strength as an accounting clerk with the RCAF (WD). Olive, according to her mother, hoped to be transferred to a fighting unit overseas. Olive was supprting her mother financially. "My dear daughter was helping with my support...I am nearly 70 years old and unable to earn money myself."
TRAINING AND POSTINGS:
No. 4 Recruiting Centre, Saskatoon, December 30, 1941
CWAAF Training Depot, Toronto: December 31, 1941
No. 4 SFTS, Saskatoon: January 31, 1942
Accounting School, St. Thomas, Ontario: March 19, 1942
No. 4 SFTS, Saskatoon, then No. 2 Training Command: May 2, 1942
On May 4, 1942, at TTS St. Thomas, Ontario, Olive was "a very good student. Average type of airwoman. Is a willing worker. Smart on parade. 4th in class of 39." She was taking courses in Equipment Accounting and Financial Services, No. 1 Clerk Accountants' Course. She scored an overall average of 85%. "Very good character."
On May 21, 1942, LAW Walsh was in hospital until June 18, 1942. She was admitted again on June 20, 1942 until July 22, 1942. She was demustered from B Group August 1 and discharged from Station Hospital August 10, 1942. "Acute pharyngitis -- sore throat and cold...stiffness in back and left hip, and in left subcostal region malaise and loss of appetite. Just returned from two weeks' sick leave - repeated stays in hospital. Was in bed for about three days at home while away from the station. Felt well yesterday, but today feels sick again...temperature 100...very little to be found in throat." She was sent again to hospital on September 6, 1942, then sent on Temporary Duty to the Deer Lodge Hospital in Winnipeg on November 19, 1942 until she was admitted on November 20. She was discharged from duty on November 25, 1942.
On November 24, 1942, LAW Walsh was at the Deer Lodge Hospital, Winnipeg. In the x-ray: "Marked destruction of the mid-portion of the 11th rib on the left side, also the mid-portion of the 10th rib on the right side. Marked compression of the bodies of the 11th dorsal vertebra. There is a slight mottling of the bodies of the lumbar vertebra. Market osteoperosis is present in the left ilium (pelvis) and the head of the left femur, with a pathological fracture through the neck. Conclusion: Probably metastatic C. A."
On January 7, 1943, LAW Olive Walsh died of metastatic malignancy, spine, ribs, secondary to primary growth (breast cancer), originating probably since 1938. She was buried in the Brookside Cemetery, Winnipeg.
"The disease resulting in the death was incurred during service Canada, but is not pensionable, as it did not arise out of, nor was it directly connected with military service." Canadian Pension Commission
On March 17, 1943, the Administrator of Estates quoted a note from Mrs. Walsh, hoping the Commanding Officer of No. 4 SFTS could assist. "My dear daughter, LAW Olive G. Walsh, according to report from No. 4 Saskatoon, was the most valuable girl at the Station. April 1942, at St. Thomas, Ontario, when AW1, she tried for first place for the Gold Medal award in her class, receiving 89%. During the six weeks there, she spend 8 days in hospital, through getting a bad chill after a long route march. They could not make up their minds who to award the medal to. About a few hours before the girls left St. Thomas, they awarded the other girl the medal, an Eastern girl. They should have taken into account my daughter's lost time in the hospital or given one more test. There was time, or given out two medals. This medal meant everything to my girl. She said she wanted it especially for me. I grieve about this very much now she is gone. She was so patriotic, so happy to serve her country, so brave during her terrible suffering during her last illness. I have nothing but her cap badge. Oh please, could you get me the medal she won? The girl that got it did not want to take it, and had she not have got sick, my daughter, I mean, the other one would never have caught up with her. I did think of writing to Princess Alice. I met her when she visited my daughter in the hospital at No. 4. I will be so grateful if you will help me."
For more information about the Bowd family, please visit the links below.
LINKS: