Shirley Isabel Wells W312402
December 9, 1923 - July 29, 1945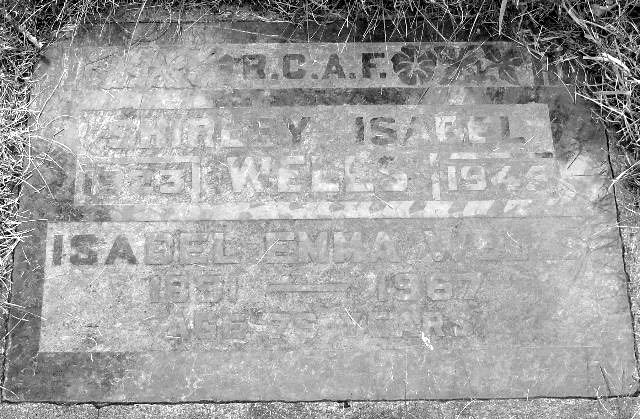 RCAF Women's Division
Shirley Isabel Wells was the daughter of lawyer, Thomas Hunter Wells and his wife, Isabel Emma (nee Fuller) Wells, of Edmonton, Alberta. Mr. Wells was born in Huron, Ontario and Mrs. Wells was born in Stamford, Vermont, USA. Shirley had one brother, Alfred Fuller Wells, a member of the RCEME, and one sister, Elizabeth 'Betty' Marion (nee Wells) McFall. The family attended the United Church. Shirley noted her Irish heritage.
She had her public education at Westmount and Garneau Schools, then Strathcona Composite in Edmonton, earning her junior matriculation in 1942. She indicated she had part of her senior matriculation.
Shirley worked as an office clerk for the Department of Agriculture from June to September 1941, returning to school. She then worked as a clerk for the Unemployment Insurance Company, prior to her enlistment in the RCAF (WD) in Edmonton, as a standard tradeswoman, on April 1, 1943. She noted she would like to be considered to be a meteorological observer or a wireless operator. She took her oath on April 16, 1943, noting she did not have plans for after the war.
Shirley enjoyed music (piano and vocal), indoor bowling, cycling, hiking. She took a two year course with the Edmonton CGIT in leadership. She stood 62 1/2" tall and weighed 137 pounds, a brunette with hazel eyes. On her evaluations: "Very slightly obese, but quite fit physically; excellent type girl; attractive young looking girl; well developed." On her medical history inquiry: "pneumonia and pleurisy at the age of five, but no recurrance or after-effects."
TRAINING AND POSTINGS:
Edmonton Recruiting Centre: April 16, 1943
No. 7 Manning Depot, Rockcliffe, Ontario: April 27, 1943
Station Rockcliffe: July 12, 1943
WAC, Vancouver, July 13, 1943
Station Patricia Bay, BC: December 8, 1943
No. 4 Training Centre, Calgary, August 3, 1944
On a course for Fighter Operations Room Duties, at No. 1 School of Fighter Control, RCAF Station, Rockcliffe, Ontario, July 16, 1943: "A keen and interested pupil who should be found to be most useful for some routine position in the Operations Room." Her average was 82.6%. She was taken on strength as a Clerk in Fighter Operations.
On May 16, 1944, LAW Wells was admitted to No. 2 AOS Station Hospital, discharged on May 31, 1944 where she was transferred to the University of Alberta Hospital until June 20, 1944.
On May 31, 1944: "Painless swelling left side of neck for six weeks. This girl noticed some swelling in her cervical lymph nodes on the left side six weeks ago. These became progressively larger and some nodes on the right side became enlarged. She has had a very poor appetite for the past month and has lost about ten pounds weight in that time. A biopsy of a cervical node was done by an RCAF medical officer before her admission and the pathological report was Hodgkin's Disease. FAMILY HISTORY: Mother, father, siblings all alive and well. No history of tuberculosis, cancer, nephritis or disease...well built attractive young girl, not thin; colouring somewhat pale." On June 3, 1944, Dr. R. Procter, radiologist stated: "I think this patient should have a full course of x-ray therapy." Shirley was discharged on June 20. "To continue treatment as out-patient. When this treatment is complete, she will be fit to transfer to Calgary."
However, by August 17 1944, she was deemed medically until for any form of air force service. Shirley returned to her parents' residence at 11151 - 83 Avenue, Edmonton. Her statement of her future plans noted on the Pre-Discharge Service Interview: "Rest up at home." The interviewer, stated, "Has a very good service record as Clerk Operations. Should fit her for any type of Office Clerk position after she has rested up at home...duration of service: 16 months. Returning to her former occupation with the UIC in Edmonton. No rehabilitation problem."
On July 29, 1945, Shirley Isabel Wells passed away. She was buried in the Wells family plot in the Edmonton Cemetery.
LINKS: