Triffie Pearl Rowsell W314385
May 8, 1922 - August 10, 1945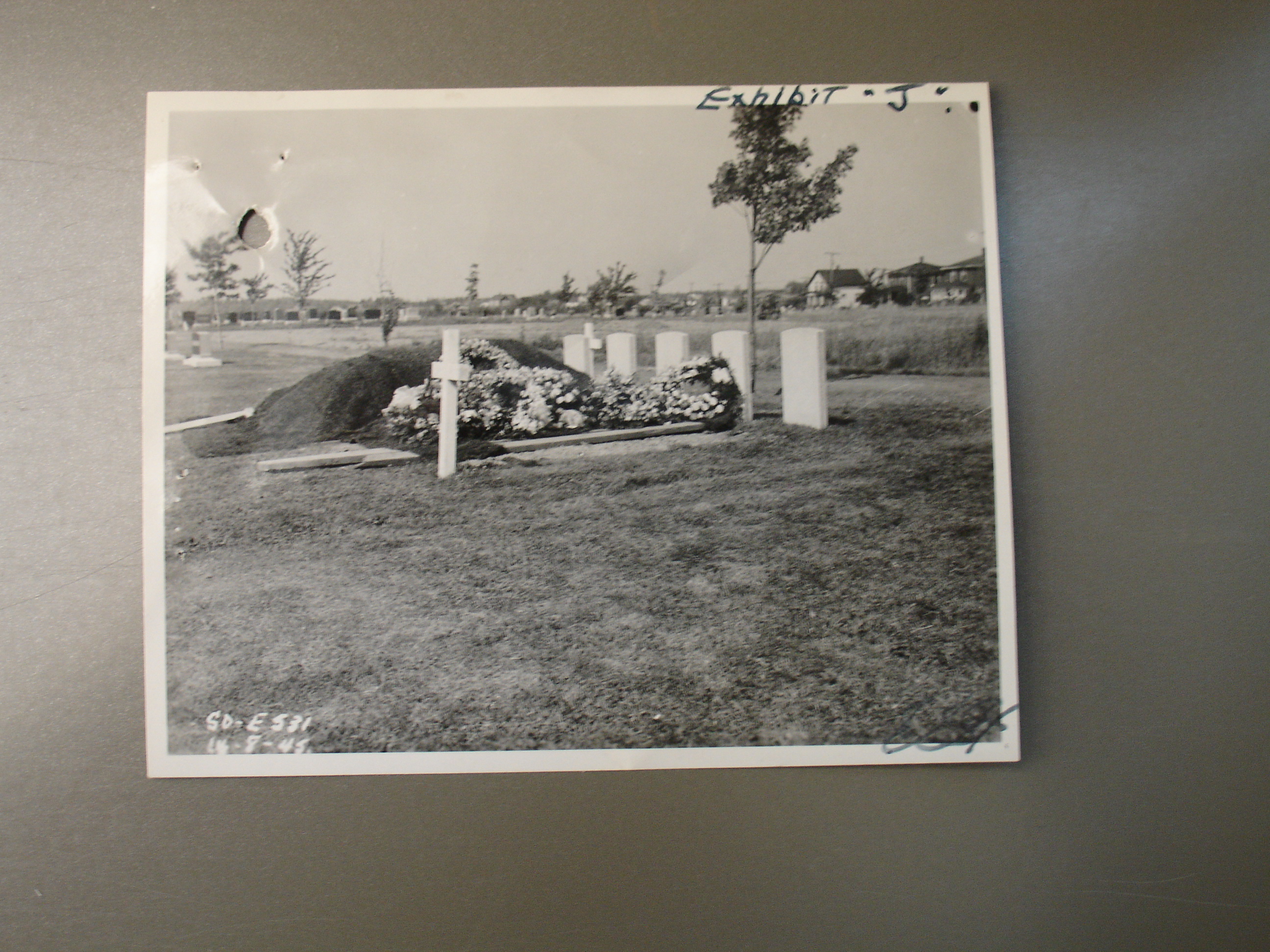 RCAF Women's Division
Triffie Pearl Rowsell was born on May 8, 1922 in Point Leamington, Newfoundland. Citizenship: "Nfld'er" Religion: Salvation Army. She had been living at Norris Arm, Newfound land before she attested in the RCAF (WD) at No. 16 Recruiting Centre, Halifax, Nova Scotia.
Her parents were Rose, known as Rosie, (nee Hart) and William Rowsell. Her father, a sawer, was born at Leading Tickles, Nfld and her mother was born at Seldom, Nfld. Pearl had six brothers, Avert, Reginald, Frederick, Hedley, Lloyd and Eric, between the ages of 34 and 16, plus two sisters, Nellie Bert and Emma Janes, aged 26 and 21. She also had twin sisters (named Nellie and Pearl) who died on October 30, 1913. All lived in Norris Arm which is located about 60 kilometres north west of Gander.
Triffie had a Grade 8 education. She worked as a salesgirl and clerk for the Salvation Army prior to enlistment. She stood 5' tall and weighed 105 pounds. She had brown hair and brown eyes.
Triffie felt she was best qualified as a chef. She was assessed. "A good type, neat, well-mannered. Has done some cooking at home. Seems very interested in the trade of Chef. Very anxious to join the RCAF. Should do well in the Service."
Training and Postings:
No. 16. Recruiting Centre, Halifax, Nova Scotia: November 15 - 28, 1943
No. 7 Manning Depot, Rockcliffe, Ontario: November 29, 1943 to January 12, 1944
No. 4 Wireless School, School of Cookery, Guelph, Ontario: January 13 to March 9, 1943
RCAF Station, Moncton, New Brunswick: March 10, 1944 - August 10, 1945
At the School of Cookery, Triffie had her challenges. She failed the basic subjects of vegetable cooking, meat, fish and egg, soups, cereals, beverages, miscellaneous (menu planning, kitchen equipment, sanitation, food service, rations and indents), but passed flour mixtures (pastry, puddings). 210/500 Of the practical subjects, she passed them all. This was the actual food preparation. 304/500 Her total mark was 514/1000. This was a failing grade. She was ranked 20th out of a class of 21. They gave her an average class assignment, but still, the RCAF (WD) took her on strength.
On July 28, 1945, Triffie was admitted to the Station Hospital, No. 1 Y Depot, Moncton, New Brunswick. "After getting up in the morning of July 27, patient developed sudden par-umbilical pain. The pain has become more severe and has settled in the lower abdomen, especially the right side. Loss of appetite and some vomiting since onset. Also some diarrhoea. No menstrual irregularities. Digestion normally good. Bowels regular. She reported sick this morning and immediately sent here by ambulance from RCAF Station Moncton...Lies in bed with thighs flexed and is obviously in pain. Abdomen flat and does not move freely with respirations. The whole abdomen is rigid and tender...there is marked rebound pain and hyperaesthesis..." On July 29, the doctors felt she was "still a sick girl." She was given sulphathiazole and solutheiazole, plus blood transfusions and dextrose saline. On July 31, her abdomen was slightly distended and Pearl was complaining of occasional crampy pain across her mid-section. By August 1, her abdomen was further distended and the pain continued. They moved her to a single room. By August 2, her temperature was rising. Triffie was put on the SERIOUSLY ILL LIST. On August 3, she received another blood transfusion, with a third transfusion on August 4. Pulse was very rapid, but of fairly good quality. August 5, her condition deteriorated. Her circulation was failing and the oedema of her back increased, her colouring was poor. She was placed on the DANGEROUSLY ILL LIST. August 6: Little or no improvement, but better colour. Another blood transfusion was given; the oedema on her back had subsided. On August 7, a small improvement was seen. Another blood transfusion was given. August 8: a slight improvement in her general condition. August 9: less distension of abdomen. Morphine was discontinued. August 10: frequent watery bowel movements persisted. Respiration and pulse rose and Pearl became cyanose (a bluish coloration of the skin resulting from poor circulation or inadequate oxygenation of the blood). Circulation was poor and the doctors stated she was GRAVELY ILL. Condition much worse at 2130 hours. Respirations stopped at 2220 hours, August 10, 1945.
Triffie developed peritonitis, an inflammation of the peritoneum, the tissue that lines the inner wall of the abdomen, covering and supporting most of the abdominal organs usuall caused by infection from bacteria or fungi.
In a letter dated August 17, 1945, G/C Baskerville, Commanding Officer of RCAF Station, Moncton, NB wrote to Mrs. Rowsell. She was 56 years old, and Mr. Rowsell was 69. "Words cannot express how the entire Station felt over the death of your daughter. So many had anxiously inquired, day after day, about her condition, while she was in hospital, hoping all the time she would recover. It is unfortunate that she did not report to the hospital when she first felt pain but she did not realize how serious it was. The doctors rushed her to "Y" Depot immediately to be operated on. Please be assured that absolutely everything that could possibly be done to help her was done but despite all effort, she passed away. Regulations would not permit her body being sent home but it is hoped that this may be done at a future date. The photos you requested are enclosed with this letter. We extend our deepest sympathy and please do not hesitate to let us know if there is anything more we can do."
Leading Airwoman Triffie Pearl Rowsell was buried in the Moncton (Elmwood) cemetery in New Brunswick.
In an extensive list of personal belongings, Triffie had three suits: one knitted, one brown suit and one brown cotton suit, other clothing, a watch, a thimble, three plastic hearts, a cigar box of cosmetics, cooking pamphlets, two New Testaments, an autograph album, another for photos, a bundle of correspondence, four Victory Loan receipts totalling $400, toiletries, an electric iron, a cigarette case, one set of dentures, a pair of sunglasses, six knitting needles, four knitting and crocket books, one quilt, a mirror, a purse and wallet and one pair of ear muffs.
On September 18, 1945, Mrs. Rowsell wrote to Robert Leckie, Chief of the Air Staff. "Please accept our thanks to you on receiving your kind and sympathysing letter. It helped to keep our spirits up in the lonely hours of sadness which came to us as a shock. Yes, it certainly was a severe shock not only to the family but to the whole town, as it was only recently she was home with us and appeared to be so well. It will certainly take some time for me to kindle up my spirits as dear Triffie meant so much to me. I was just looking forward for the day to come to see her back home with me. While she sleeps, I will pray that some day I shall meet her again, never to part no more. Again, I say thanks."
Mrs. Rowsell received small parcels of her daughter's belongings by February 1946, but was waiting for the cartons and suitcase. On February 13, 1947, Mrs. Roswell wrote to the Estates Branch in Ottawa. "...Since January 28, 1946, I have received the sum of $100 which was Triffie's allowance for buying civilian clothes. I understand from the girls who have been discharged from the RCAF (WD) that for their services, they were given $7.50 a month for every month served. Would like to know if my late daughter was entitled to this and would I receive the same? Would appreciate a reply from you at your earliest convenience. Thanking you."
The letters were written in one person's handwriting, signed in a different person's handwriting. Mrs. Rowsell wrote a letter in her own hand (matching the text) in early June 1946 from Thwart Island, via Lewisporte which is 28 kilometres from Norris Arm. Mrs. Rowsell had been in the hospital, possibly at Thwart Island, about 60 kilometres north of Norris Arm, during 1946. She could not cash a cheque at Lewisporte until T. Pearl Rowsell's name was removed from the bond.
Mr. and Mrs. Rowsell received a memo from the Minister of National Defence for Air (Colin Gibson). "This commemorates the gratitude of the Government and people of Canada for the life of a patriotic woman freely given in the service of her Country. LAW TRIFFIE PEARL ROWSELL, RCAF. Her name will ever be held in proud remembrance."
LINKS: