Annie Kathleen Gyles W110356
April 6, 1898 - November 4, 1945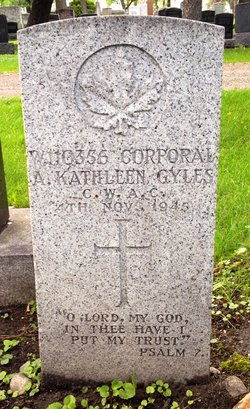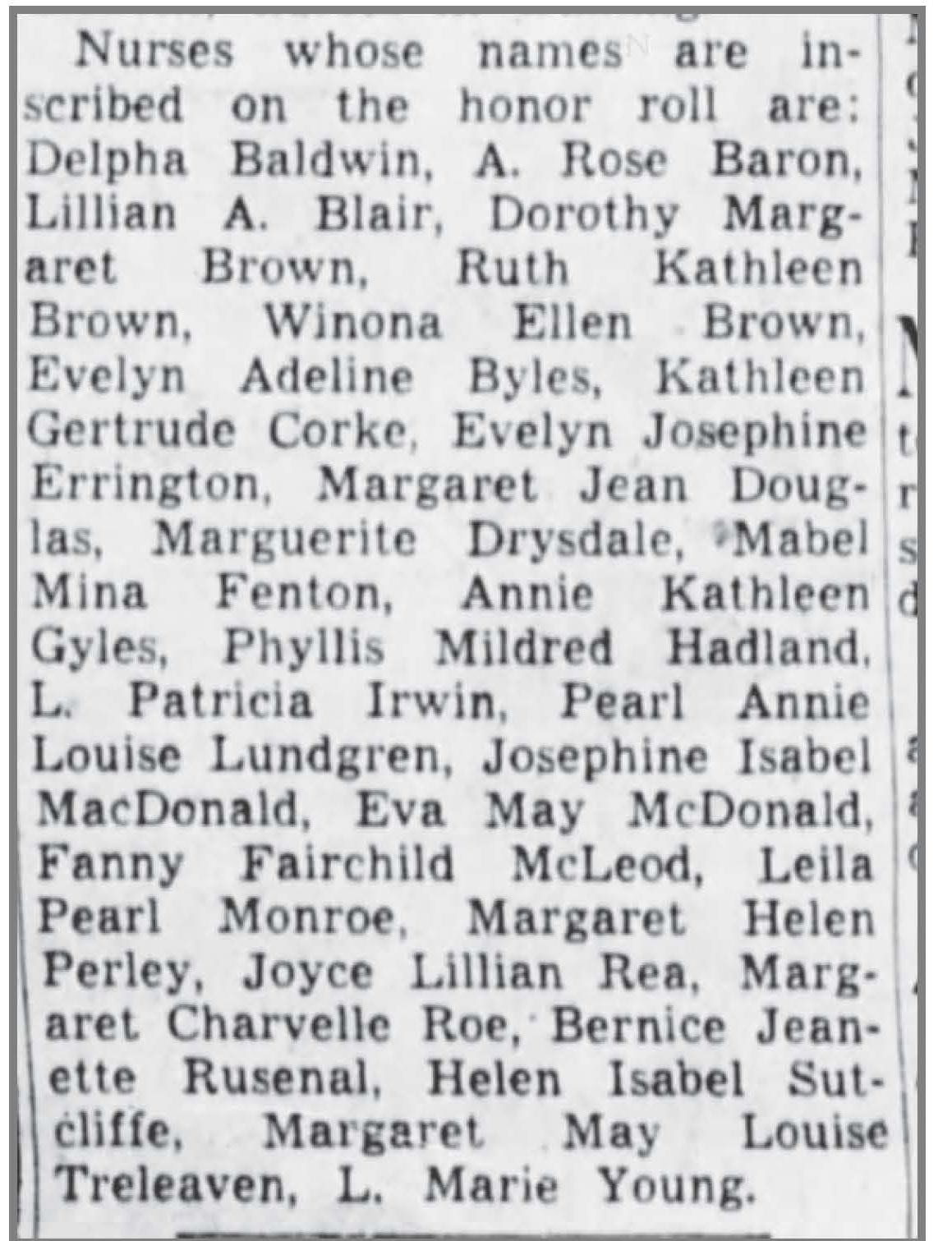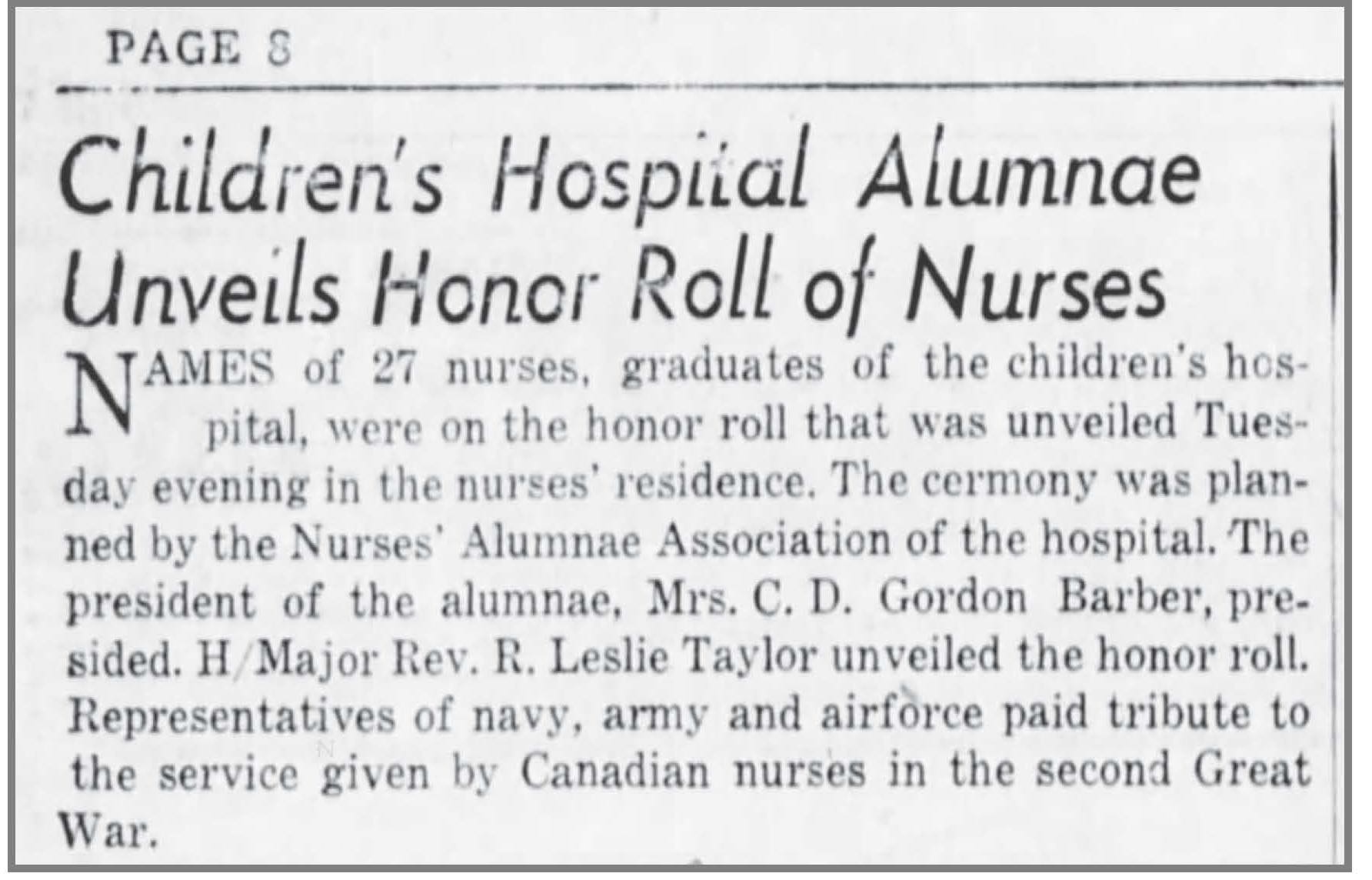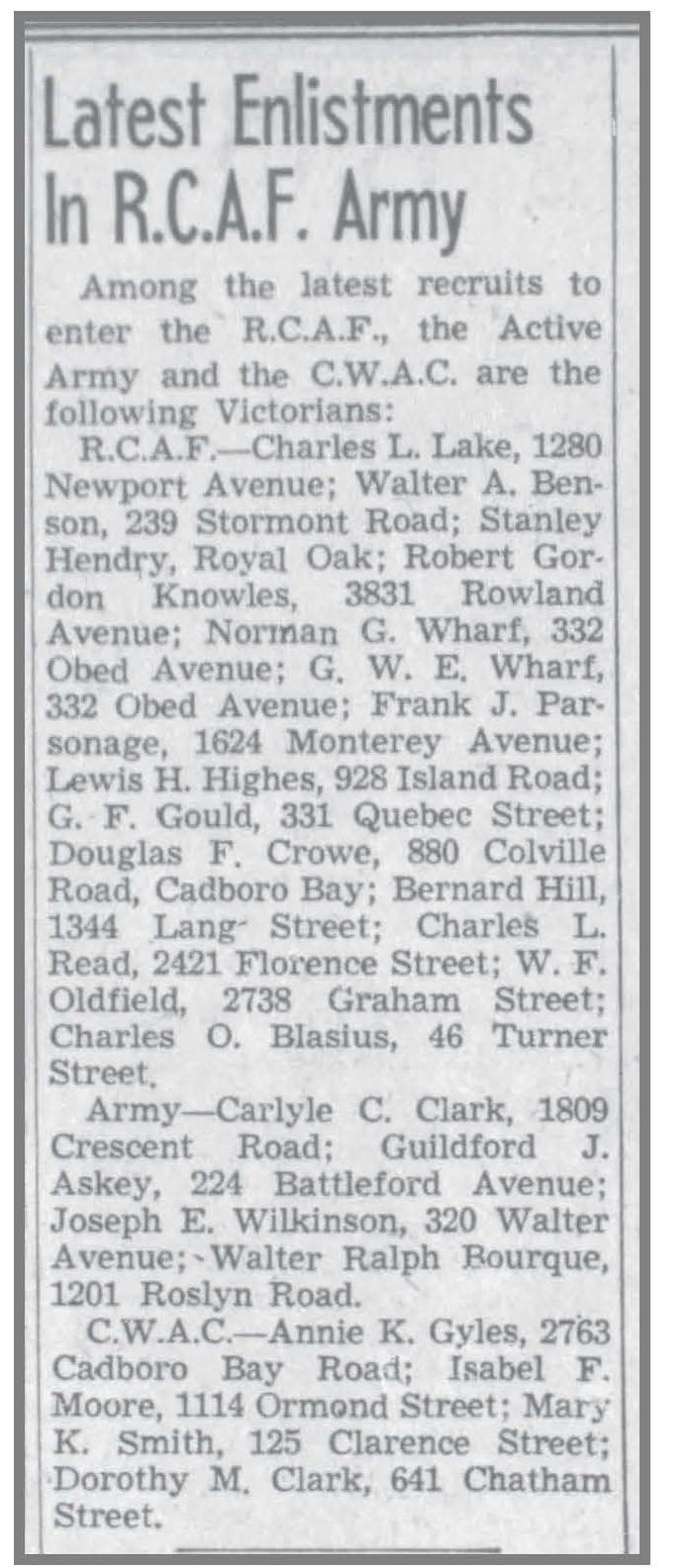 Canadian Women's Army Corps
Annie "Kathleen" Gyles was born on April 6, 1898 in Virden, Manitoba. She was the daughter of William John and Lavinia Hamilton Gyles. She had eight brothers (Gerald, Walter, Patrick, Reginald, William, Henry, Richard, and Edward) and two sisters Ellen and Laura. Mr. Gyles passed away in March 1944 and Mrs. Gyles died in September 1945.
Kathleen stood 5' 3 1/2" tall and weighed 158 pounds. She had grey hair, grey/blue eyes, with a fair complexion. She had an upper denture with some teeth missing in the lowers. She also had superficial vericose veins in both legs, but it was noted they had not gotten worse in years. She had some callouses on both feet, but they did not give her trouble. She was given the category of B1.
She had had one year of Agricultural College, Winnipeg, Manitoba. She was a trained nurse, registered in Ontario and British Columbia.
She enlisted with the CWAC in December 1942 at the age of 44 in Victoria, BC. Medical History: "Measles before school age; whooping cough at 11; In hospital three weeks -- one month to recover -- had antitoxin - no complications. Radical removal of left breast August 1941 - has been examined twice since operation. Good result. Very small mass -- border line malignancy. No other operations or illnesses of import."
Kathleen was attached to St. Mary's Priory Barracks for R&Q on January 4, 1943 in Vancouver, with the rank of Private. She then was with No. 111 Unit in Vancouver from March 15 until July 8, 1943, then moved to No. 13 Coy, Vancouver. By this time, she had the rank of A/Cpl. By March 27, 1943, she was a Corporal. She traveled to Vermilion, Alberta in April 1943 and returned to Vancouver at the beginning of May.
On her PERSONNEL SELECTION RECORD dated August 30, 1943 at 111 Coy, Vancouver: EDUCATIONAL BACKGROUND: Completed Grade 8 in Vernon, BC. Left school at age 16. Spelling was poorest subject. Had course at Winnipeg Agricultural College, specialized in Home Economics, a four month course. Has written off Grade 10 for BC. Had nurse's training in Children's Hospital in Toronto. OCCUPATIONAL BACKGROUND: Was at home for two years. Looked after two boys for three years, then home again for two years. Worked at Merchant's Bank, running multigraph for two years. In Birk's jewellery department registering jewellery for three years. Then entered training. Specialized for two years. Night supervisor at Shriner's Hospital (for crippled children) for two years. Practical nursing for one winter in nursing home. Nurse-companion for 9 years. OTHER PERSONAL HISTORY AN APPRAISAL: Both her parents are living but only her mother was in favour of her enlisting. Has eight brothers and two sisters. Has one brother, a Squadron Leader, in the RCAF and one a Sergeant in the army. Enjoys movies. Reads mostly light fiction. Knits, sews, and draws. Plays piano a little. Was member of lawn bowling and tennis clubs, also plays badminton. This is an older woman with attractive greying hair and high colouring. She has good social poise and speaks freely. She likes to be with people and believes that she is neither quick tempered nor nervous. Although she did not make the most of her opportunities when she was young, she has certainly showed perseverence and considerable achievement since. 'M' score indicates average ability, slightly above in tests for mental alertness and slightly below in educational achievements. RECOMMENDATION: Continue in charge of Medical Inspection Room (MIR)." Lt. Jean A. Hood
On November 10, 1943, a small fibroadenoma was removed from her right breast. On one medical report, it states, "Worried because of lump in right." The x-rays also showed she had arthritis in her left hip and leg. She was given six days sick leave. She was living at St. Mary's Priory, at 27th and Oak, in Vancouver. On December 4, 1943, "There is no evidence of secondary malignancy at present, but pain sympoms are suggestive. This patient should be examined at monthly intervals."
On December 3, 1943, Corporal Annie Kathleen Gyles was discharged from the Canadian Army, declared medically unfit. In her interview prior to discharge by Lt. Margaret Stanford, Vancouver, "She is a willing worker capable of accepting responsibility. Is pleasant, well poised and attractive. At the time of interview, she was somewhat upset over the doctor's verdict and had not had time to make definite plans. If physically able to work, she should have no difficulty in finding employment in the field of nursing. She prefers working with children. She has given good and faithful service while in the CWAC."
On December 6, 1943: "Now has pain in left hip and right side. Her pain is most marked at right costal margin...accentuated by sneezing and coughing. No radiation of pain and no band-like pain...a questionable strip of hypoesthesia...which may or may not be the early onset of root involvement. High Vitamin B1 therapy might give some relief." Captain P. O. Lehmann, Neurosurgeon, Shaughnessy Hospital.
Annie Kathleen Gyles died on November 4, 1945 at the Deer Lodge Hospital in Winnipeg of widespread secondary cancer, original in breast, secondary cancer of vertebrae and lungs. Her funeral was held on November 6, 1943, conducted in St. George's Anglican Church, Winnipeg, at 2:45 pm by Reverend F. R. Gartrell. Kathleen is buried in the family plot at the Elmwood Cemetery in Winnipeg.
On March 14, 1950, Kathleen's sister, Laura Evelyn Harris filled out a form connected to Medals and Memorials related to service for Canada during WWII.
LINKS: