Barbara Sarah Rennie W13822
November 1, 1924 - June 8, 1943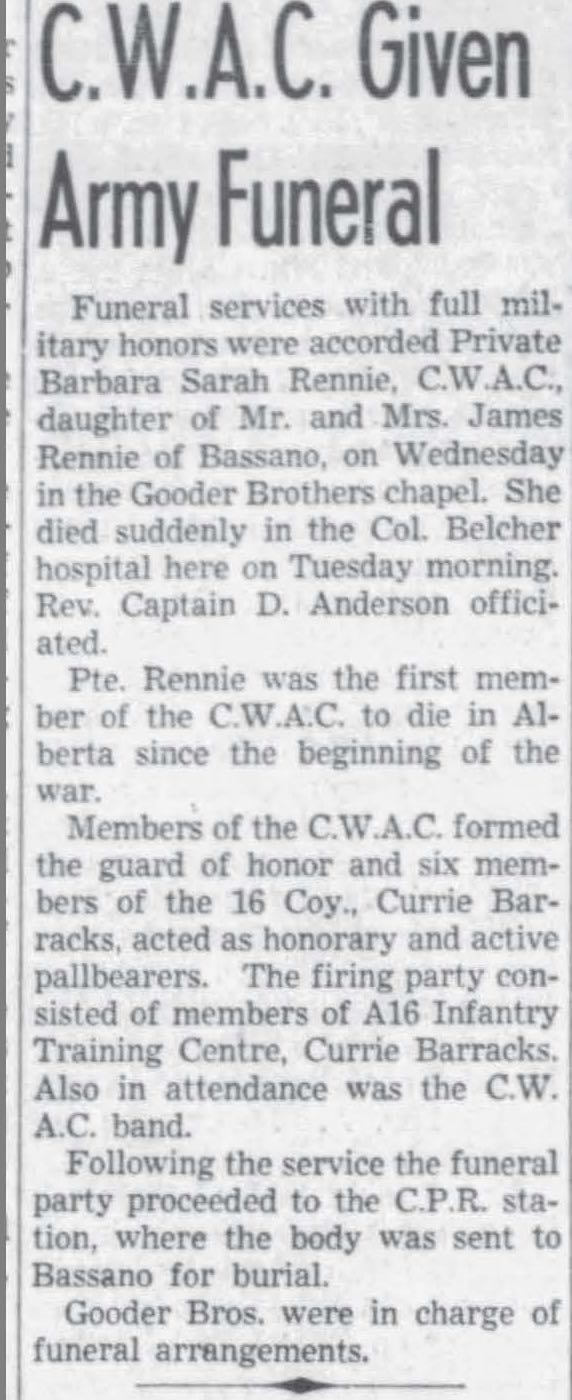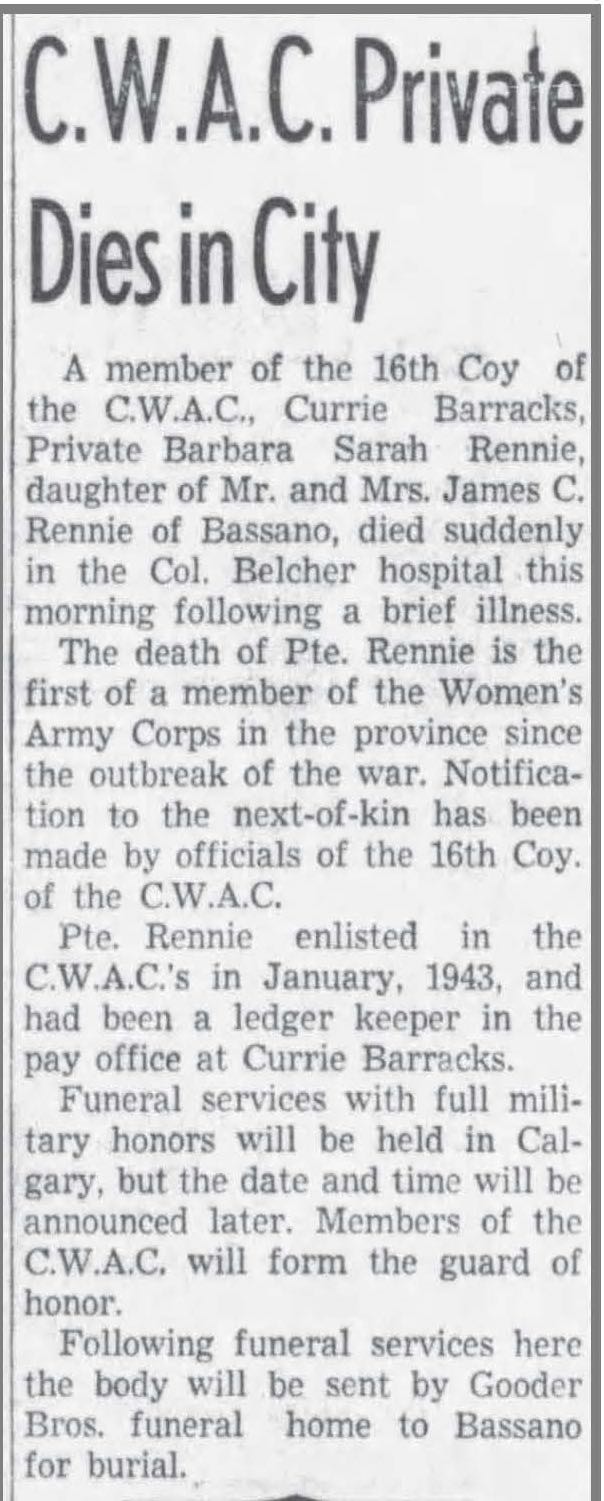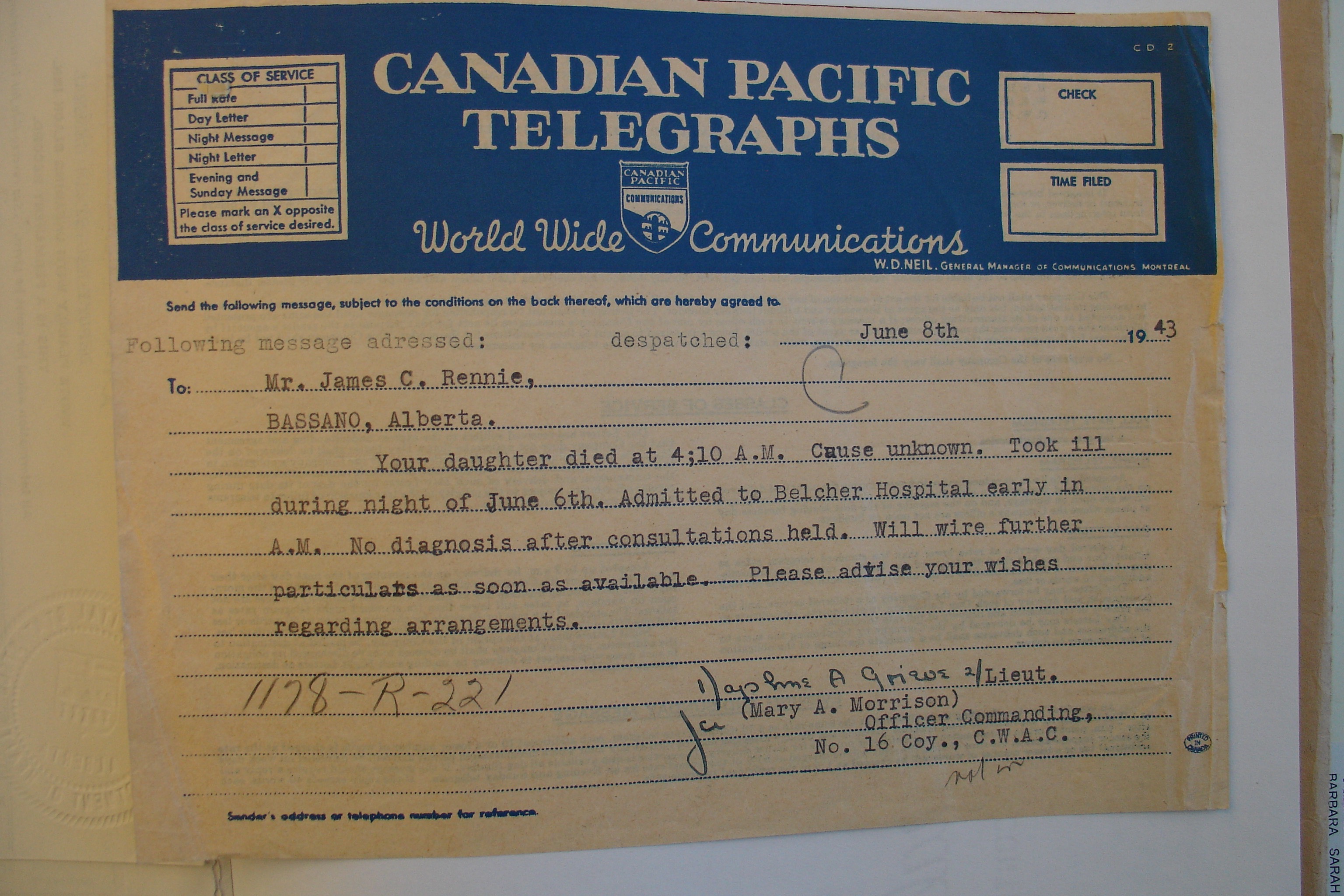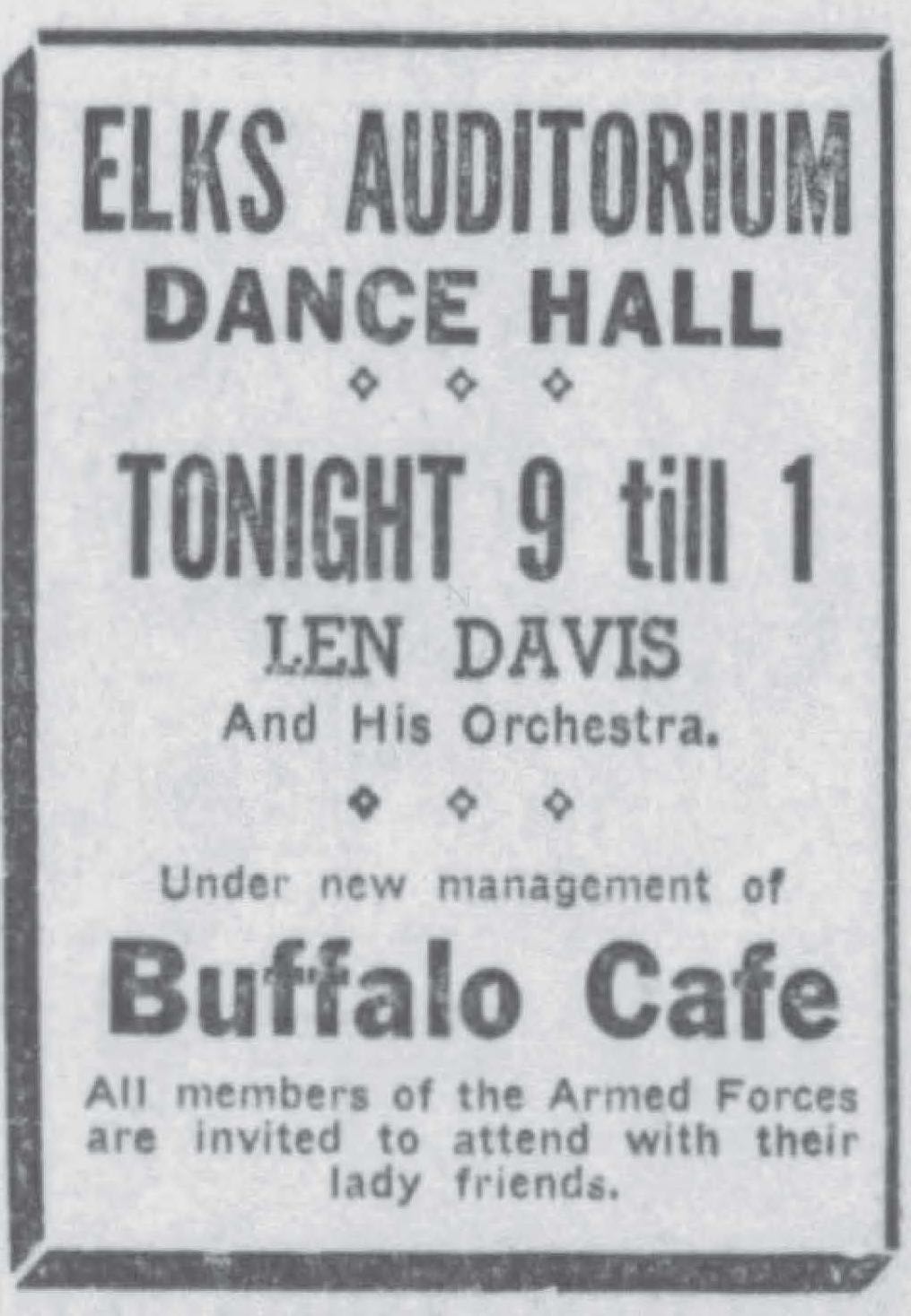 Canadian Women's Army Corps
Barbara Sarah Rennie was the daughter of Sarah and James Campbell Rennie of Bassano, Alberta. Mr. and Mrs. Rennie were originally from Scotland. Barbara was born in Stavely, Alberta on November 1, 1924. She had two brothers, James John and Robert Alexander, and two sisters, Mrs. R. W. Dunn, and Margaret Wilson Rennie. Her brother, James, enlisted in the Canadian Army and was a member of the Calgary Highlanders. The family attended the United Church.
Barbara was a ledger keeper in a branch of the Royal Bank of Canada for six months prior to enlistment and wanted to return to this job after the war. She earned $58/month.
She stood 5' 2 1/2" tall, weighed 138 pounds and wore glasses, plus she met the dental requirements. At the Colonel Belcher Hospital, she had her medical examination. She had two pox marks to the left of her left eye and a large black mole with a smaller lighter one on her right shoulder. Barbara noted on her attestation papers that she was available "immediately" for the CWAC when she signed up in Calgary in January 1943. She had glowing reference letters. One indicated she was the president of the students' literary society when in high school.
On her PERSONNEL SELECTION RECORD, at Vermilion, Lt. Betty Lough, Army Examiner, wrote: "Lacks two subjects of having a complete Alberta Grade 12 standing. Took most of her schooling in Bassano. Stopped when 17. Rennie expressed a liking for English and History. Has no further courses. Learned to type by herself. OTHER PERSONAL HISTORY AND APPRAISAL: Rennie was brought up in a small Alberta town. One of her two sisters is married. The other is a registered nurse. One of her brothers is a Corporal in the Calgary Highlanders, overseas. Rennie's description of her childhood reveals no serious abnormalities. This short, heavily built girl wears glasses constantly. Her light brown hair grows well back on her forehead. She has brown eyes. Rennie sings in a choir and plays the piano by note. Her favourite hobby is music. She knits and sews and collects match box covers. She does not enjoy outdoor sports particularly. This very young girl was poised during the interview. She appears to be socially well adjusted and to be emotionally stable. She expresses herself well. Rennie's present typing speed is 35 wpm. In civilian life, she was a ledgerkeeper/typist in a bank. She would like similar work in the Army. Therefore, such a position in a pay office is recommended."
TRAINING AND POSTINGS
No. 2 CWAC, Calgary: January 7, 1943
No. 2 CWAC (B) TC, Vermilion: January 13, 1943
No. 2 CWAC, Calgary: February 15, 1943
No. 16 Coy, CWAC, Calgary: February 23, 1943 until June 6, 1943
On June 14, 1943, Pte J. H. Stevens made a sworn statement at Currie Barracks, Calgary, relating to the lost wallet of Pte Rennie. "On Sunday, June 6, 1943, at about 1830 hours, I arrived in Calgary from the Edmonton train and proceeded directly to the CWAC Club Rooms. While there, I saw Pte Rennie and Pte Kostynuk and I asked them if they were going to the Army Show Broadcast. Pte Rennie told me that she and Pte Kostynuk had been on their way to the Army Show when Pte Rennie had discovered she had lost her wallet containing her ticket, money, pass, etc. I asked Pte Rennie if the wallet contained much money and she answered, 'It is the wallet that's important, as it was a present from the kids back home.' Pte Rennie and Pte Kostynuk left the Club Rooms shortly after my arrival there." Pte Mary Kostynuk, originally from Nordegg, Alberta, also made a sworn statement. "When we were ready to leave, Pte Rennie took her wallet out, paid the bill, and returned the wallet to her pocket of her trench coat. We left the cafe, walked down First Street West to Eighth Avenue and to the CWAC Club Rooms. We were there for a time and then left to go to the Army Show Broadcast. While passing the Hudson's Bay, Pte Rennie missed her wallet. We returned to the Buffalo Cafe. It hadn't been found and we were told to return later as it may be turned in. We then went back to the Club Rooms; it wasn't there either. The wallet, not being there, we could do no more about it; the people at the Buffalo Cafe (112 Seventh Avenue West, Calgary) told us to phone the next morning. After we left the Buffalo Cafe the second time, we went to church, then returned to barracks. We could not phone next morning because Pte Rennie was taken to hospital sick."
Pte Barbara Sarah Rennie died of meningococcic septicaemia at the Colonel Belcher Hospital.
On June 8, 1943, Mr. Rennie received a Canadian Pacific Telegram from Mary A. Morrison, Officer Commanding, No. 16 Coy, CWAC. "Your daughter died at 4:10 am. Cause unknown. Took ill during the night of June 6th. Admitted to Belcher Hospital early in A.M. No diagnosis after consultations held. Will wire further particulars as soon as available. Please advise your wishes regarding arrangements."
Funeral expenses were incurred at Calgary in the amount of $70.00. In Bassano, another $25 was expensed. Barbara was buried in Bassano at the Bassano Union Cemetery.
In a minimal list of personal belongings, Barbara had an electric iron, clothing, towels, cosmetics, a mirror, a pair of spectacles with case, a black thermos, and one doll. She did not leave a will.
On August 11, 1943, Mr. Rennie wrote to Lt. Phelan at the Department National Defence, Army, Estates Branch in Ottawa. "Dear Sir, We received your kind letter of July 20the and since then we received a carton of my daughter, Barbara Sarah Rennie's personal effects for which we thank you. I am returning receipt, signed and also on $5.00 War Saving Certificate. We thought there were more than one certificate, but have been unable to locate them. Barbara had a billfold containing her identification card, national registration card, some photos and some money. This wallet is not in the carton which we received. Her birth certificate is also missing. Would you please have the savings certificate transferred to Mrs. Sarah Rennie, Bassano, Alberta and oblige."
LINKS: