Doris Elizabeth Burney W10290
December 31, 1918 - December 23, 1943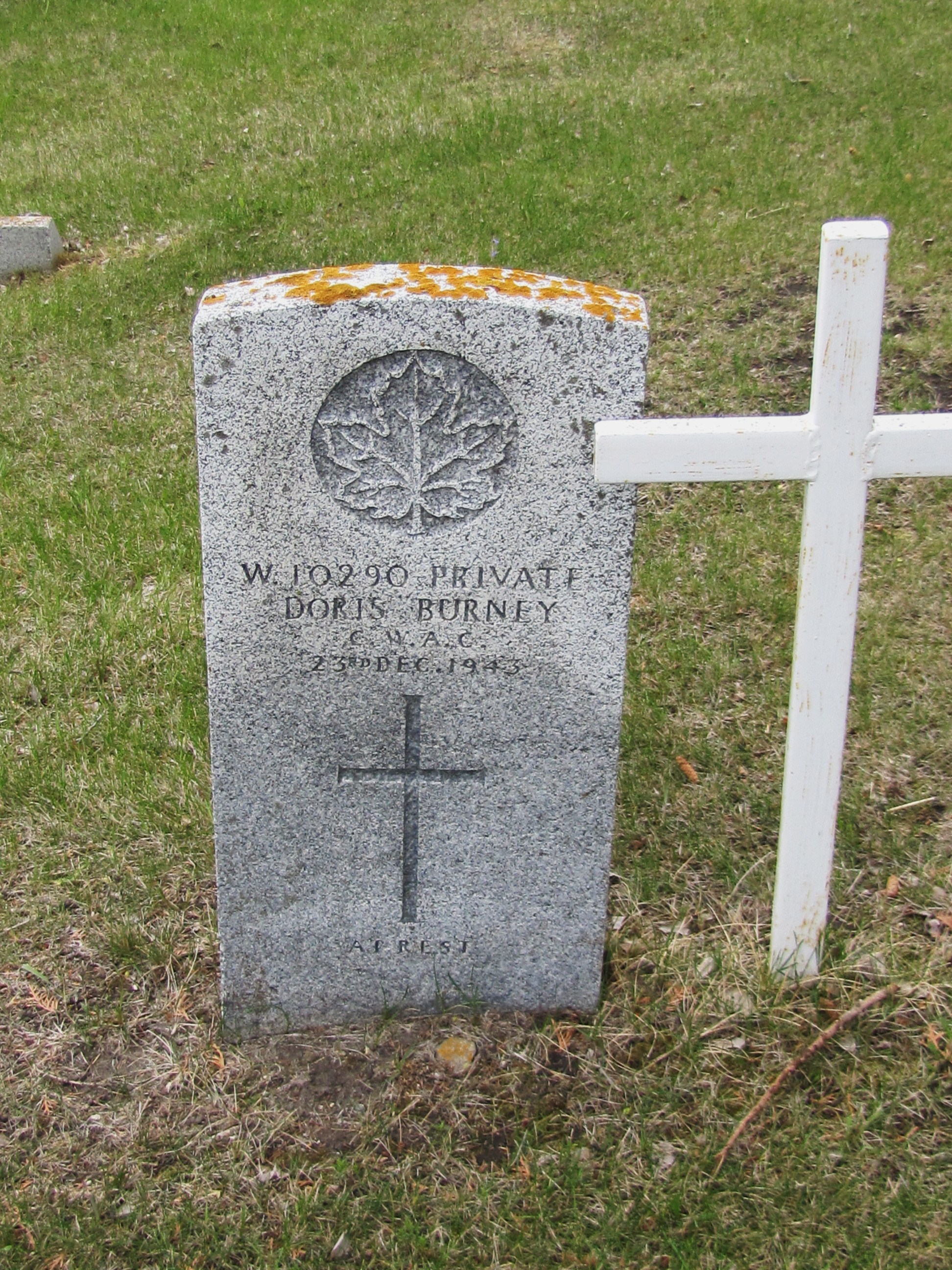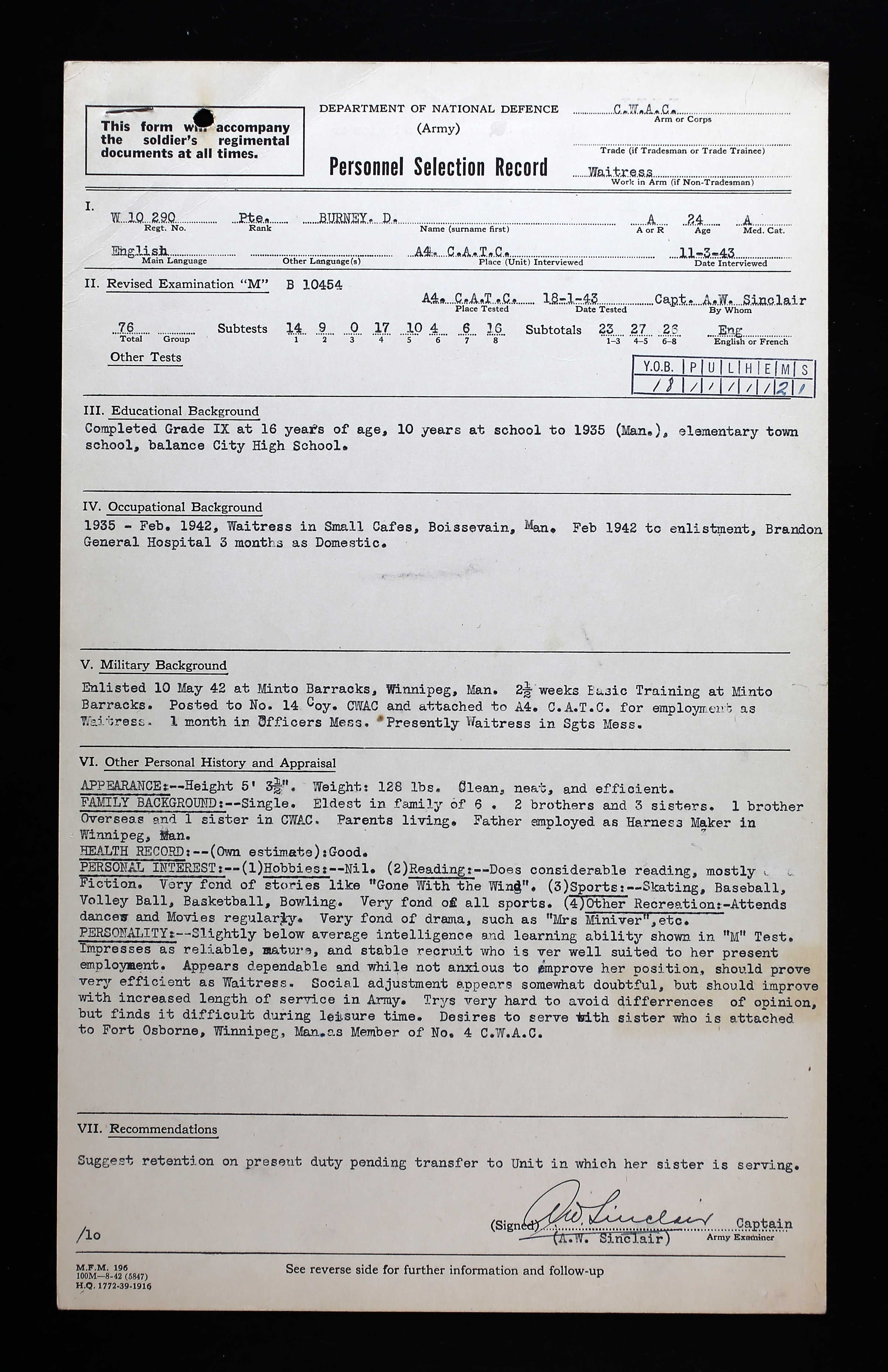 Canadian Women's Army Corps
Doris Elizabeth Burney was born on December 31, either in 1921 or 1918, depending upon the source. She was the daughter of Gerald and Mildred Burney of Boissevain, Manitoba. Mr. Burney was a harness maker, employed in Winnipeg. Doris was the eldest of eight children, having three brothers (Leslie, Ray, and James) and four sisters (Margaret, Geraldine, Edith, Stella). Leslie, 21, served overseas and Margaret, 18, had enlisted with the CWAC.
Doris stood 5' 3 1/2" tall, weighing 128 pounds. She completed Grade IX at 16 years of age. She had ten years at school to 1935: elementary in the town school and the balance at a city high school. Doris was working as a waitress in small cafes in Boissevain, then worked as a hospital maid at the Brandon General Hospital two months prior to enlistment. She did not know what she wanted to do after the war.
Doris was assessed upon applying to the CWAC in May 1942 in Winnipeg. "Neat, clean, efficient, dependable; slightly below average intelligence and learning ability." She had an appendectomy scar, from 1940.
She stated she did not have any hobbies, but did considerable reading, mostly fiction. She enjoyed "Gone With the Wind." She enjoyed sports, including skating, baseball, volleyball, basketball and bowling. She atttended dances and movies regularly. She liked "Mrs Miniver."
On her PERSONNEL SELECTION RECORD, dated March 11, 1943: Enlisted May 10, 1942 at Minto Barracks, Winnipeg. 2 1/2 weeks Basic Training at Minto Barracks. "Appears dependable and while not anxious to improve her position, should prove very efficient as waitress. Social adjustment appears somewhat doubtful, but should improve with increased length of service in Army. Tries very hard to avoid differences of opinion, but finds it difficult during leisure time." Doris was posted to No. 14 Coy CWAC and attached to A4 CATC for employment as waitress. She worked one month in the Officers' Mess and as of March 1943, she was a waitress in the Sergeants' Mess. She requested to serve with her sister, Margaret, in Fort Osborne, in Winnipeg as a member of No. 4 CWAC.
Private Burney was AWL March 15, 1943, returning March 18, 1943, forfeiting four days' pay.
On October 24, 1943, Pte Burney was admitted to hospital where she was diagnosed with influenzal pneumonia and pleurisy with effusion. She was given penicillin and oxygen at times. She had an acute epidemic infection and was in great distress by December 4, 1943: restlessness, headaches, coughing, anxiousness, and panicky. Doris was given codeine often. Pte Doris Burney died on December 23, 1943. Her parents refused a post-mortem to determine the cause of death.
Doris Burney is buried in the Boissevain Cemetery.
LINKS: