Evelyn Cecelia Connor W11688
May 17, 1920 - September 24, 1944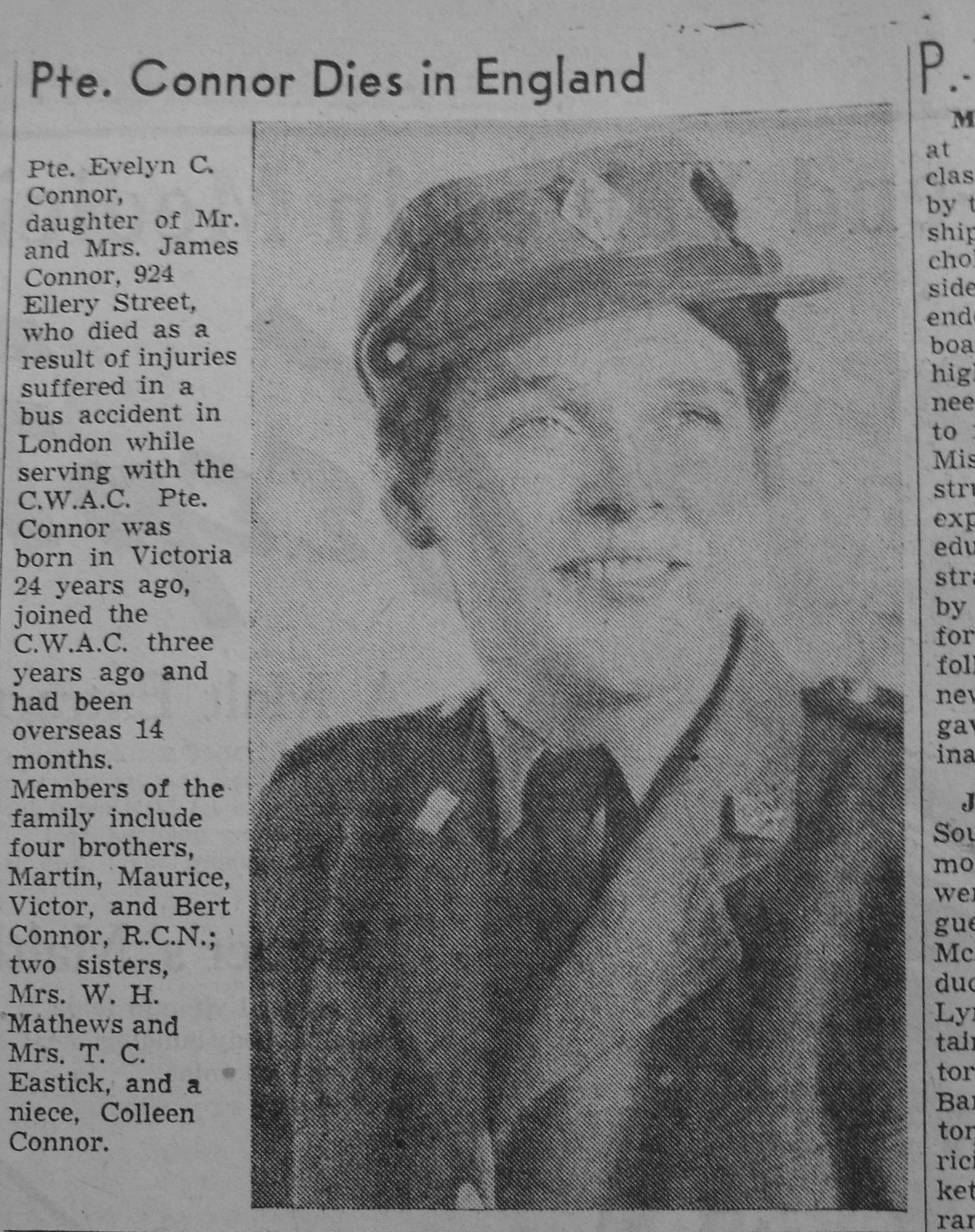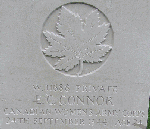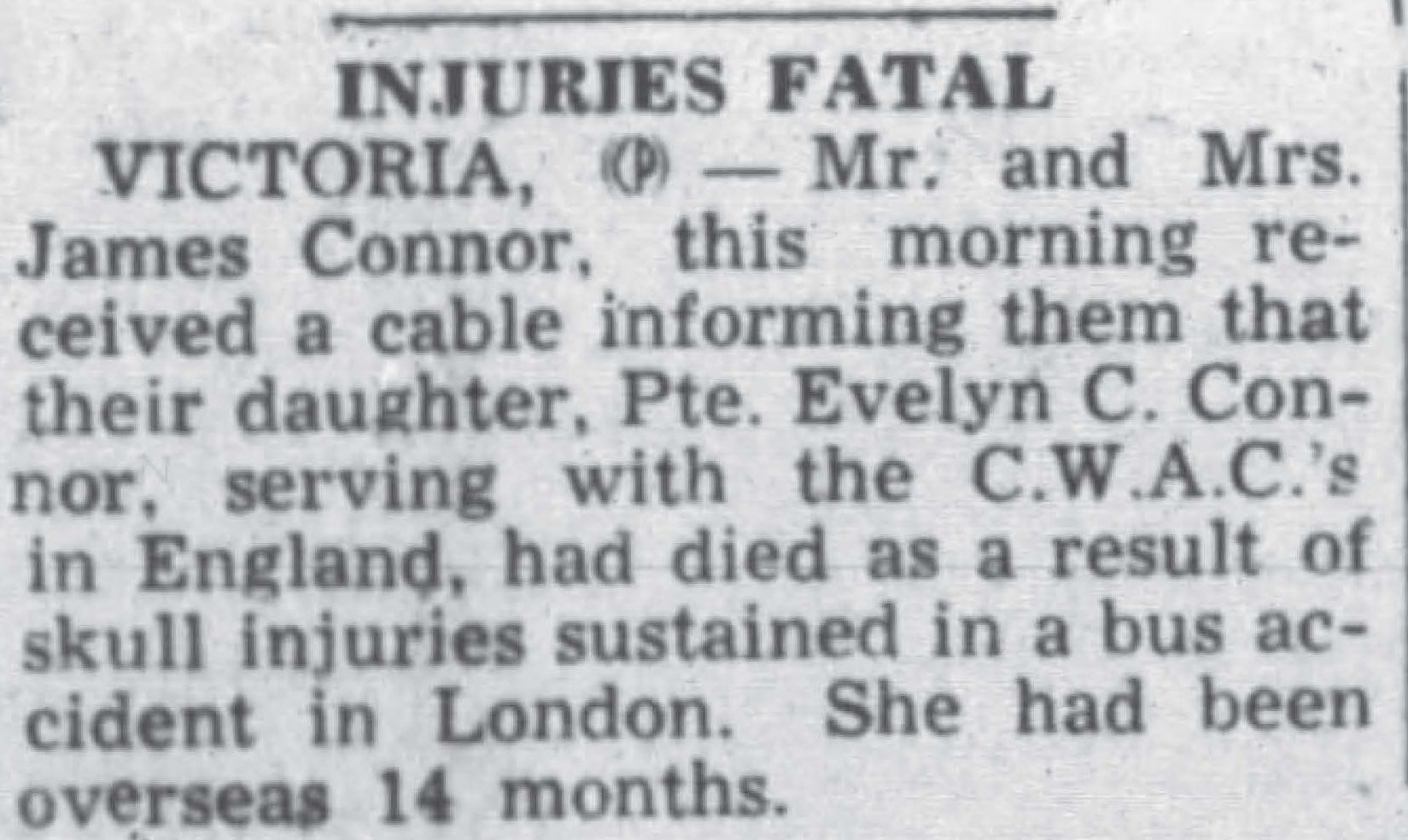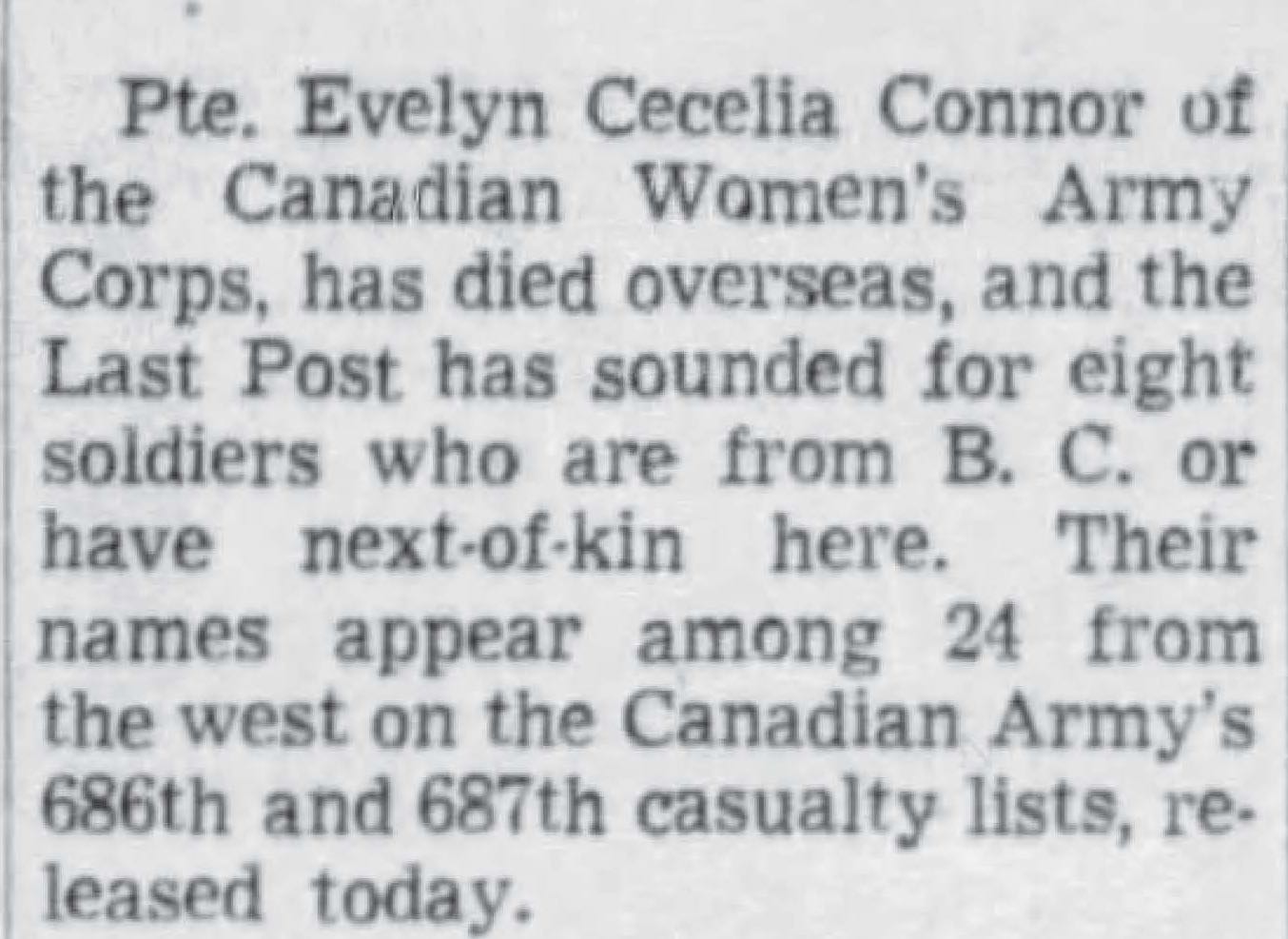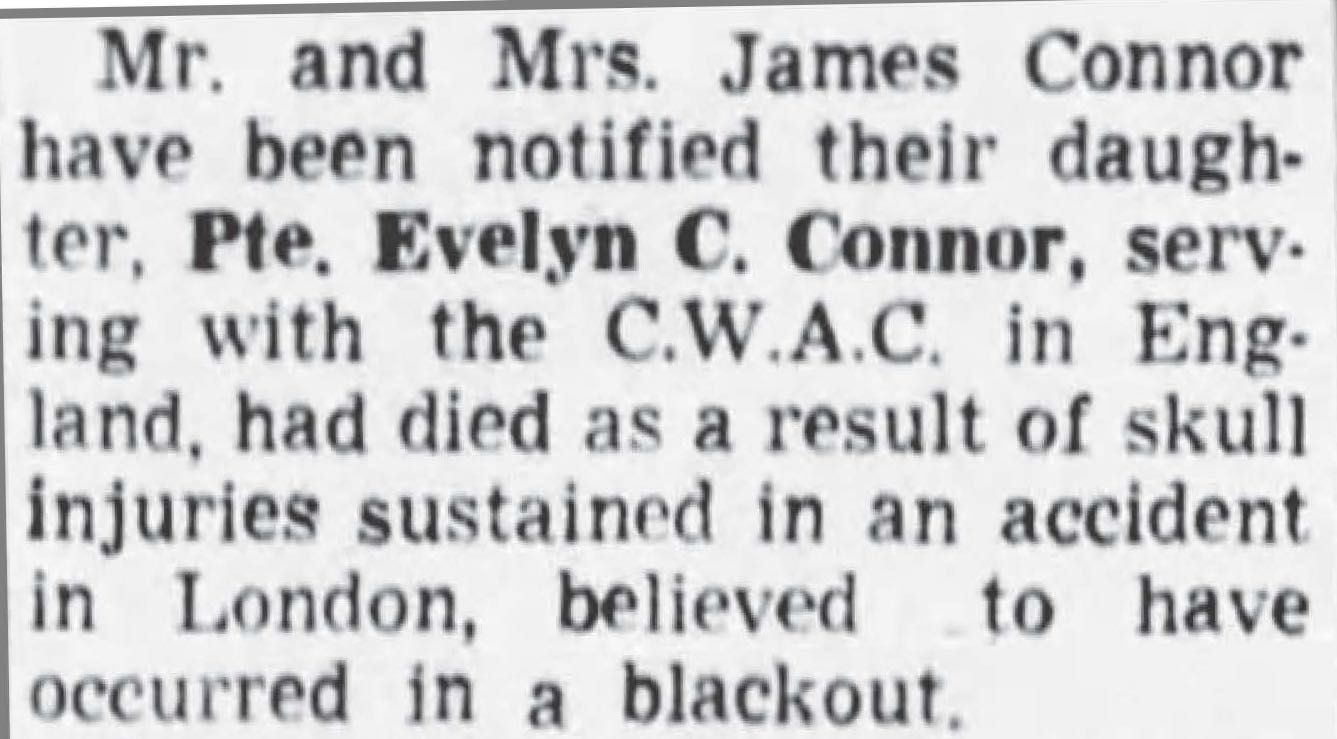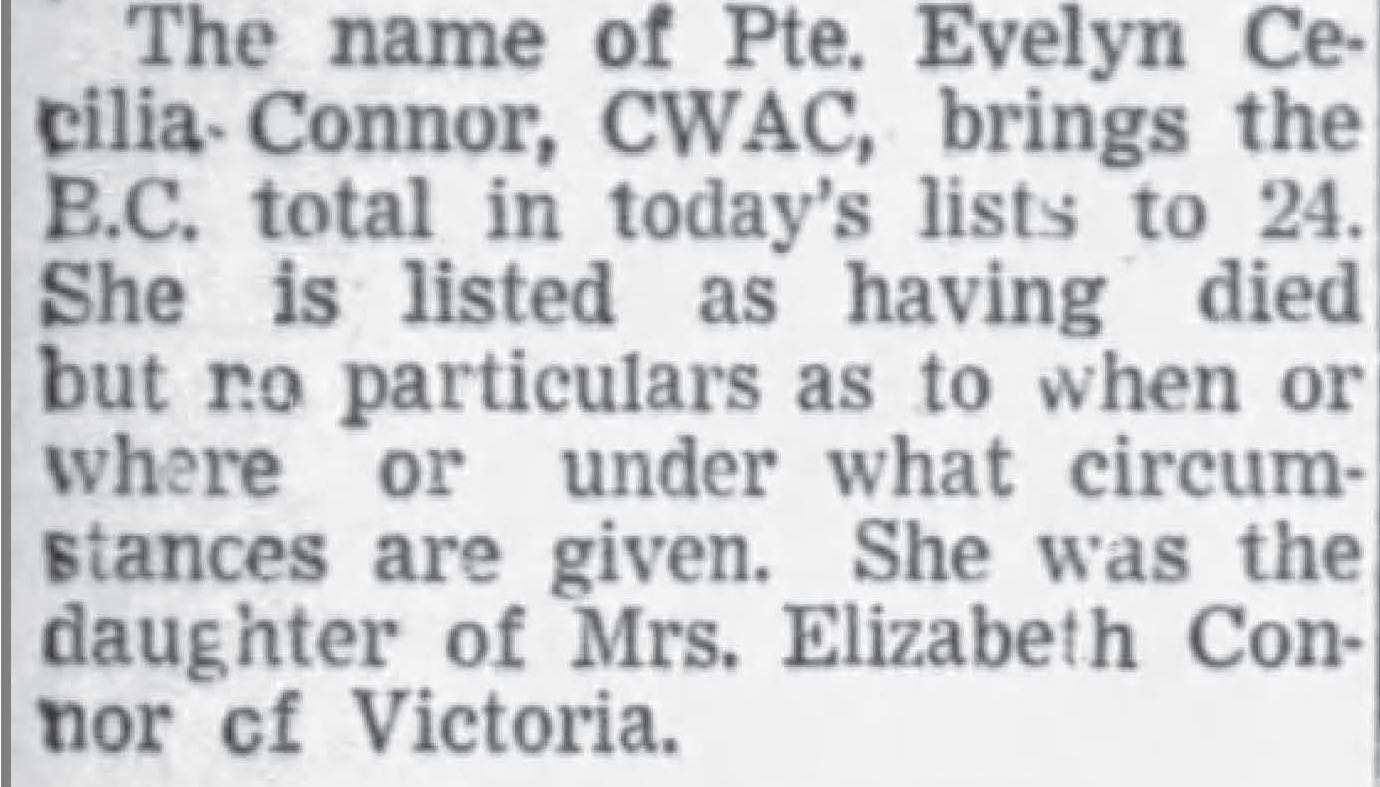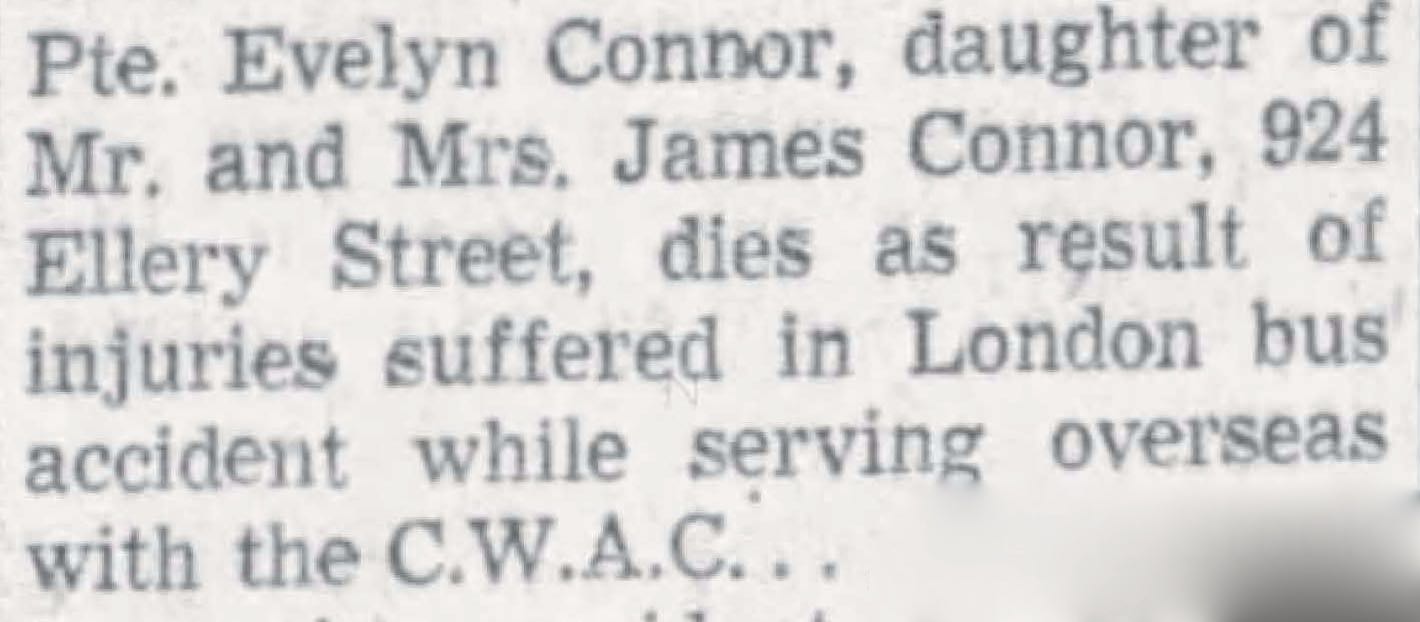 Canadian Women's Army Corps
Evelyn Cecelia Connor was the daughter of James and Elizabeth Connor of 924 Ellery Street, Esquimalt, British Columbia. Her father was Irish and her mother: English. There were seven children in the family: two more daughters, Mary June "Jenny" and Elizabeth and four sons, Martin, Victor, Maurice, and James. Evelyn was the youngest. The family was Roman Catholic. James, 28 years old, enlisted in the Royal Canadian Navy.
She stood 5' 5 1/2" tall, had blue eyes, brown hair and a medium complexion. She had a Grade 8 education. At some point, she had an eye injury, with an irregular scar over her right eyebrow. She wore glasses and a partial upper denture, with some lower teeth missing. She had had measles.
She had been working as a lathe worker in a furniture factory, plus did some domestic work. Her ambition was to be married.
Evelyn enlisted with the CWAC in Victoria on June 15, 1942.
She was accepted by June 24, 1942 as a Private. In July 1942, she was sent to Vermilion, Alberta for training, returning to Victoria through to October 26, 1942, and then across the country to Ste. Anne de Bellevue, near Montreal. She returned to Victoria to 28 Coy by December 1, 1942, where she remained until March 12, 1943, when she was sent to Vancouver to No. 13 Coy, then No 111 Coy. She went back to Macdonald College at Ste Anne de Bellevue by March 25, 1943. She was a dishwasher in June and July 1942, then a hut orderly from September to December 1942.
On May 4, 1943, Ste Anne de Bellevue: "This private is a cheery individual and does things on the spur of the moment without thinking, thus is very often in trouble. Not purposely difficult to handle." Marjorie E. Savage, Lt. Pte Connor was rated average in all categories, with good marching.
Private Connor was posted overseas on July 1943 and posted to No. 1 Static Base Laundry. She was AWL on July 1, 1943, August 18, 1943, October 30, 1943, December 1943, March 14, 1944, June 28, 1944, July 4, 1944, August 3, 1944. She was confined to barracks for 4 or 7 days for conduct to prejudice of goood order and military discipline. In some of the cases, she forfeited pay. She earned $1.20/day.
Private Evelyn Connor died at 2220 hours on September 24, 1944 in Farnham, England, about an hour southwest of London, England. A Court of Inquiry was struck on September 26, 1944, at the Court House, Farnham, to investigate.
Captain Eileen Scott, No. 1 Static Base Laundrey, RCOC stated, "At Farnham County Hospital Mortuary on 25.9.44 I saw and identified the body of...Evelyn Cecelia Connor...I knew her in life. She was out on pass. She was about 8 miles from her billet. Her sight was good, also her hearing. She had no disablement. She was due at 23.59 hours."
Edna Martin stated, "At about 9:45 on 24.9.44, I was in West Street, Farnham walking on the pavement on the post office side and near the post office when I saw a woman walking halfway across the road to the opposite side of the road and she was waving to attract someone's attention. I could not say whose attention it was and then she walked four steps backwards into the path of an omnibus travelling towards Aldershot way. The bus pulled up quickly and she was dragged towards the gutter almost at my feet. She was alone. I saw a car going to Borden way about the same time as the impact or it may be a little bit earlier. I did not see that car again. The deceased woman may have been attempting to attract the attention of the driver of that car. She seemed in a dazed condition. I could see the omnibus coming and she could, had she looked. The car had got past the bus before the impact. She could have continued walking across the road in safety. There was not much wind...The omnibus did not run over her. There was nothing the driver of the omnibus could have done to avoid hitting her. The deceased was dressed in military uniform."
Alice Florence Maud Blanch stated: "I was in the omnibus involved, sitting on the front seat on the left hand side. We were traveling from Bordon to Aldershot. When passing through Farnham, I saw a woman standing in the centre of the road, looking to the other side of the road. She was waving her hand. She appeared to hesitate what to do and the next thing I saw was the bus had hit her. The bus was not going fast. The bus stopped very quickly. I saw the shadow of the car pass the bus after the impact. I thought probably she was signalling to that car."
Sybill Violet Walker stated, "I was travelling in the omnibus and was sitting beside the last witness on the front seat. When passing through Farnham, I saw a woman standing in front of the bus waving. The driver put his brakes on and pulled up, but he had no chance to miss her as she appeared to hesitate and then start to walk back a bit. She did not look towards the omnibus."
Percival Hugh Stanley Heath stated he had been an omnibus driver for 13 months and previously a coach driver with 8 years' experience in bus and coach driving, employed by the Aldershot and District Traction Company as a bus driver. "At 9.45 pm 24.9.44 I was driving a single-decker bus from White Hill to Aldershot. At the time of the accident, I was proceeding through West Street, Farnham, in the Aldershot direction at a speed of about 18 mph. I was about to pass the post office when I saw a vehicle approaching me from the opposite direction. It had both its headlights on and they were fairly bright. Immediatly after this vehicle passed me, I saw a person standing in the middle of the road, this would be about 7 yards ahead of me. The person was standing sideways to me looking towards my offside of the road. The person was standing sideways practically in a dead line with my offside wheel. Instead of going forward, she stepped back in line with my radiator. I applied both brakes and pulled up dead in about 8 yards. It was impossible for me to miss her and she was struck by the offside front of the radiator and thrown to the ground. I had two side lights on and a head lamp alight on the nearside and I also had indication lights. The sky was overcast. The weather was dry with a fairly high wind. I did not run over her. Had she gone forward, she would have been safe. The length of my bus is 27' 6"."
Frederick Charles Willis stated, "I arrived on the scene at 9.50 pm. I saw a single decker bus stationary on the nearside of West Street facing Aldershop way. The nearside wheels were 2 feet from the nearside curb. Three feet ahead of the front nearside wing I saw a woman lying face downwards in the road, her head hard up against the nearside kerb and the remainder of her body almost at right angles to the road. There was a pool of blood under her head. She was conveyed to the Farnham County Hospital by ambulance....no skid marks on the road. Road surface dry, sky overcast and it was blowing half a gale."
Report from Dr. E. A. Hirsch, Medical Officer of the Surry County Hospital, Farnham: "The patient was admitted at 10.50 pom 24.9.44 and died 20 minutes after admission."
Eric Gardner, medical practitioner, performed the autopsy. "The deceased was a heavily built healthy girl 5' 5 1/2" in height. She had been struck a heavy blow on the left side of her body. There was a bruise on the outer side of the left arm between the shoulder and the elbow and on the point of the shoulder running towards the back. There was also a particularly heavy impact behind the left ear, extensively fracturing the skull and causing fatal bruising of the brain with wide-spread haemorrhage. Her other injuries consisted of a laceration and abrasion from contact with the roadway over her right eyebrown and trivial grazing of the front of her left leg. The cause of her death was contusion of the brain due to violence."
"The driver did all he could to avoid the accident and the verdict was that Pte. Connor, 24 years of age, diedof a contusion of the brain due to an impact with a motor omnibus when a pedestrian on the roadways...an accidental death." W. Gills Taylor, Coroner
"Pte Connor was NOT on duty at the time of the accident and was NOT guilty of any improper conduct with the meanings of Overseas RO 2022. The victim has always been a good soldier, cheerful and willing in all her duties. I believe failure to see the approaching vehicle or an error in judgement responsible for her behaviour." Major-General J. H. Roberts, Commander Canadian Reinforcement Units and Major J. A. Kennedy. Pte Connor had been on an after-duty pass to 2359 September 24, 1944.
She is buried at the Brookwood Military Cemetery in Surrey, United Kingdom. There had been an error on the breast-plate of the casket. Her surname had been spelled O'Connor. Newspapers in Canada noted she died in London and during a blackout.
In the inventory of her personal effects, her glasses were noted, as were two cigarette lighters, a mouth organ, a sterling silver ring and a rosary.
LINKS: