Jean Grant W4781
March 16, 1921 - November 10, 1944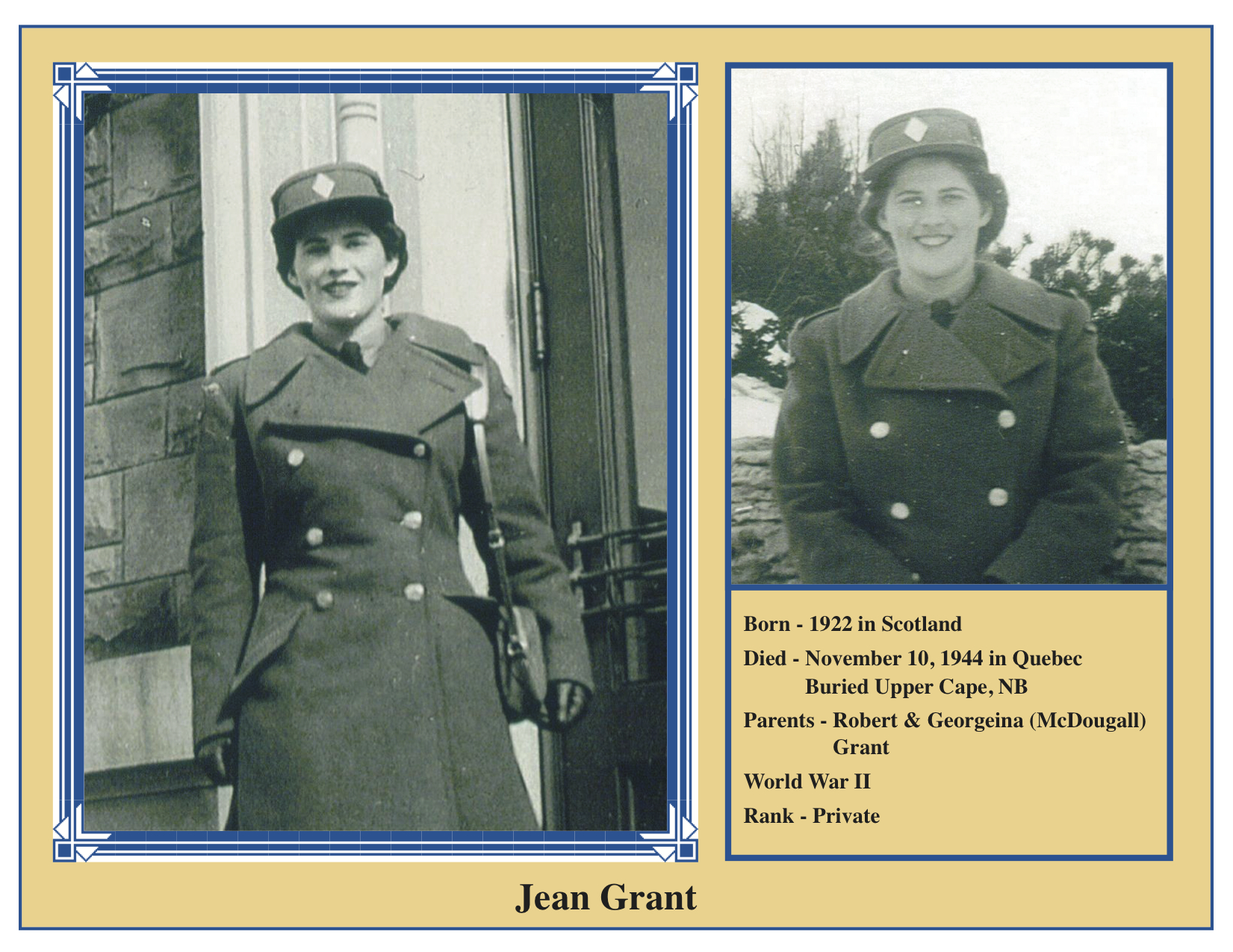 Canadian Women's Army Corps
Jean Grant was born in Glasgow City, Scotland to Robert and Georgina D. (nee McDougall) Grant, later of Upper Cape Melrose, New Brunswick. Jean was the 8th of twelve children: John, Robert, Alexander, Edward, William, Francis, Duncan, James, Agnes, Margaret, and Elizabeth. Her brother, Edward, was a P/O with the RAF, two brothers, Edward and William, joined the army. Agnes, was a member of the WRCNs, posted overseas. On one form from 1944, the siblings ranged in age from 12 to 35. Mr. Grant was 54 and Mrs. Grant was 53.
Jean stood 5' 5 1/4" tall, weighed 134 pounds, had light brown hair, and blue eyes. She left school at 16 years of age with a Grade 8 education from Cape Spear School, in New Brunswick, later working as a domestic servant and as a nurse maid. Jean said she spoke "Scotch Gaelic and English."
She enlisted in Montreal, Quebec on January 22, 1943.
TRAINING AND POSTINGS:
No. 3 CWAC BTC, Kitchener, Ontario: February 1943
No. 33 Coy. CWAC, Westmount, Quebec: April 1943
On her PERSONNEL SELECTION RECORD, written up by Lt F. Marguerite Hill: "Completed two years' schooling in Scotland, followed by 8 years schooling in New Brunswick. Liked history and spelling but says that she is no good at arithmetic....Domestic in hotel for 2 1/2 years. Did not like to leave, but wanted to be with her brother. Housework in one private home for nine months and in another, five months. Enlisted and attested in Montreal, 21 Jan 1943. Now on basic training in Kitchener, Ontario. Both parents are living. Family came from Scotland in 1928 and have a farm at Cape Spear, NB...One brother is Pilot Officer in the RAF overseas, and two others are in the RCA. One sister is in the WRCNs Family relationships have been very happy. Interests: Says that she very rarely went out and spent most of her spare time 'doing odd jobs at home.' Likes the movies, does not dance, rarely reads and has not belonged to any clubs. Health is 'perfect'. This is a girl of medium build...clean and neat appearance. Responsive manner, appears cheerful, loyal, quite stable and reliable. Her performance on the M test indicates that she is of good learning ability. She enlisted as a driver, has had only three months' practical experience, but if this is sufficient, it could appear suitable to give her a trial. If not, she would like training as a Cook."
April 8, 1943, Captain Hill wrote: "Referred to the Army Examiner by the Officer in charge D & M School because she refused to write examinations. Appreared nervous when driving and was in a very depressed mood. There were some signs of instability and she was very worried about her brother and fiance who are overseas and who have been transferred to Commando units. The Army Examiner referred the girl to the Padre for help in getting in touch with her brother and fiance and offered the girl a reassurance and a second chance on the Driver's Course. Is to be re-interviewed in one week."
April 15, 1943, Captain Hill wrote: "Refused to write examinations and has been rejected from the Driver's Course. Complains of a headache which she has had constantly for three years. Stated that she was no good for anything and would be better out of the Army. Was rather resentful and tended to daydream. Has been worried and irritable in the last few days. Army Examiner discussed her problems with her and referred her to the R.S.M. to be given duties under sympathetic supervision until she could be reallocated."
April 20, 1943, Captain Hill wrote: "Is still very discouraged, but her attitude is improving. It would appear advisable to return her to her district, possibly for duties in the QM stores of a non-involved nature. Should be kept busy. Has no interest in cooking now and says that she will do anything except kitchen work. Should be reinterviewed by an Army Examiner if there is any difficulty in readjustment."
February 1944: "The m/n was referred to u/s with a view to determine her suitability for service overseas in the capacity of Driver I/C. In April 1943, she was taken on strength No. 33 Coy, and detailed for duties in the Tool Room at RCOC Westmount. She remained in this position until the middle of September 1943 when she qualified for her Standing Orders. Since then, she has functioned as a Driver I/C at RCOC, Westmount. Her M test score is average. Educational background is fair and occupational history satisfactory. She seems to have a pleasant, cheerful manner, seems of equable temperament, is reasonably well-poised and emotionally stable."
On November 10, 1944, Private Jean Grant was killed as the result of a jeep accident at Roxton Falls, Quebec, 110 kilometres east of Montreal.
Jean was buried at Upper Cape United Church Cemetery in Melrose, Westmoreland County, New Brunswick.
LINKS: