Laura Mae Baker W22914
February 14, 1918 - July 22, 1945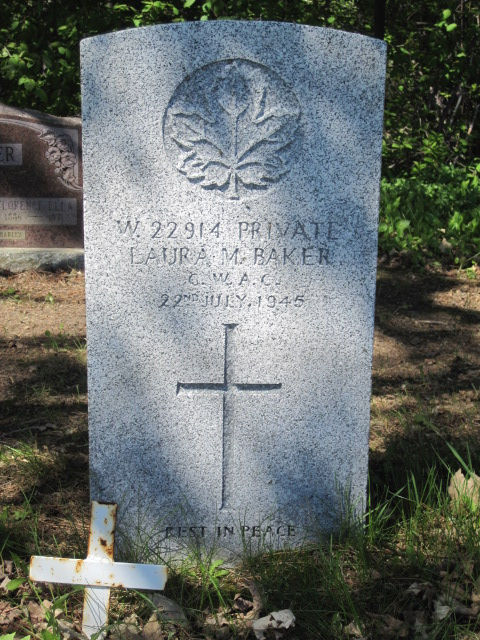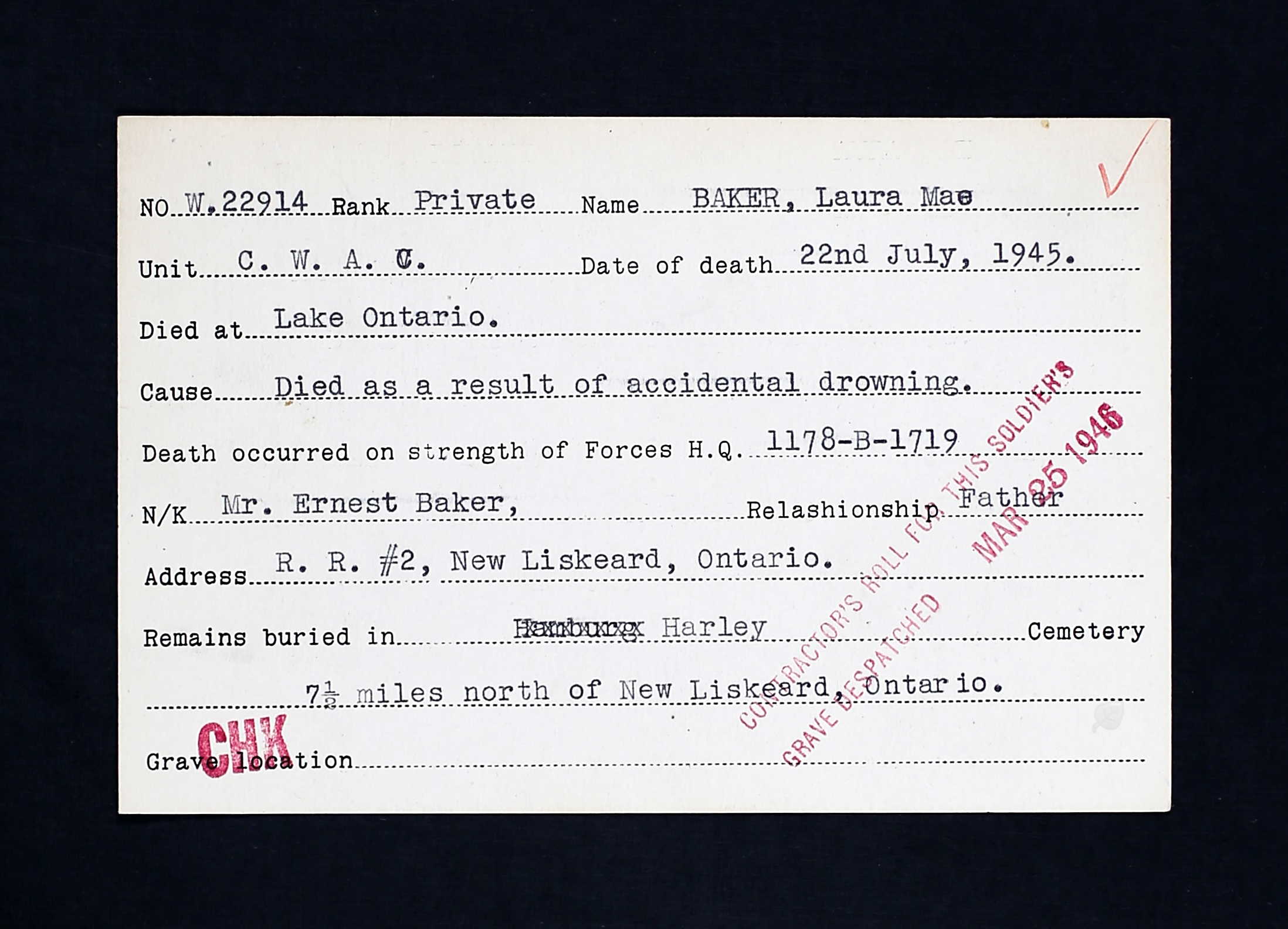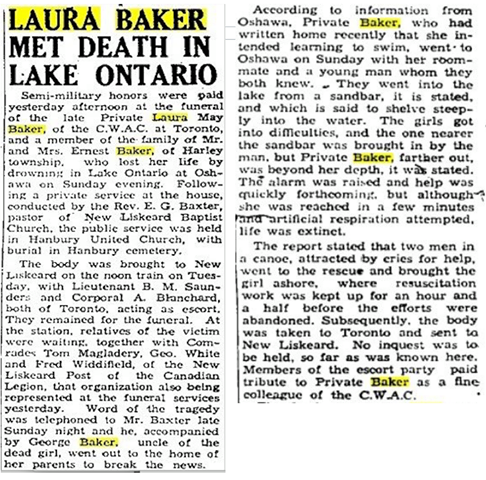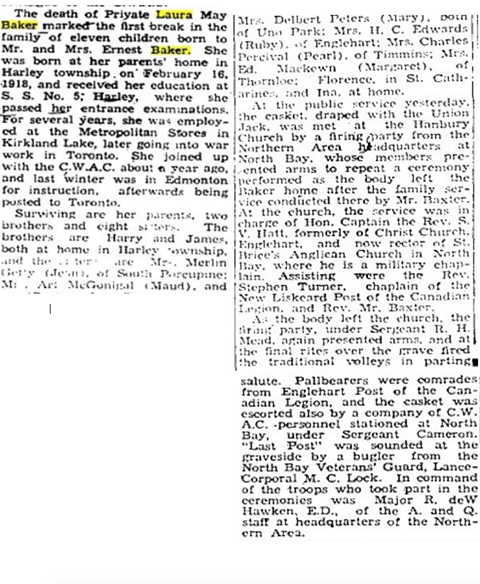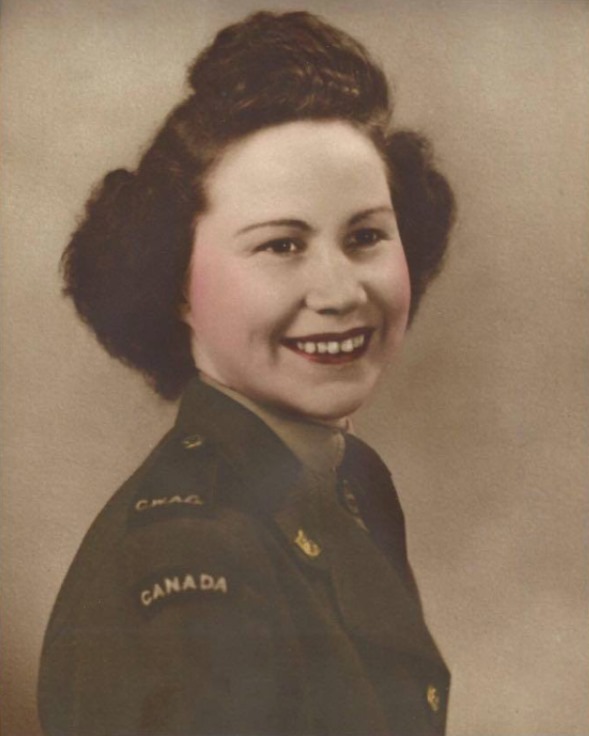 Canadian Women's Army Corps
Laura Mae Baker was born on February 14th or 15th, 1918, the sixth child of eleven born to Ernest and Florence Baker, New Liskeard, Ontario. Ernest had Scottish heritage and Florence: Irish. Six of her sisters were married: Georgina, Maud, Mary, Ruby, Pearl and Margaret. Florence was in St. Catherines, Ontario and Ina was still at home on the farm. Harry, her eldest brother was on the farm, and the youngest, James, was attending school. The family attended the United Church.
Laura Baker completed Grade 8 at Thornloe, Ontario and left school for "economic reasons" at the age of 15. She did some farm work and also domestic service for two families, contributing financially to her family. She was a sales clerk for three years, did some clerical work, then became a machine operator for two years.
According to the PERSONNEL SELECTION RECORD, Laura was fond of dancing and the movies, not a great reader, but enjoyed Reader's Digest. She knitted, tatted, and embroidered. She postponed her enlistment until she discussed the idea with her family. She stated that her parents had no objections. She was anxious to work in a clerical type of position. "She appears to have been an extremely satisfactory and dependable worker...she has been studying typing by herself during the past few months and might be encouraged to take a typing course at night school and this would improve her qualifications."
Laura Baker enlisted in Toronto on September 18, 1944. She stood 5' 5 1/2" tall, weighing 121 pounds. Her distinguishing marks included a scar 1/2" centre of forehead and 1/4" scar on her shin. She had hazel eyes and dark brown hair. She wore glasses for eye strain. She was evaluated as "wholesome, pleasant personality, and good average ability." Laura was recommended as an office orderly and sent for clerical training. She attended No. 3 CWAC (Kitchener, Ontario) for basic training where she made "excellent progress. She appears to be an excellent type of girl and is mature in appearance and judgment. She lacks the educational qualifications for clerical training and it is therefore felt that she should be place as an office orderly. If no such vacancy occurs, it would appear to be in oder to recommend her for clerical training."
Pte Baker was posted to No. 13 Vocational Training School in November 1944 for a course and passed with 76%, with a typing speed of 20 wpm. She then travelled to No. 13 VTS in Edmonton, then to No. 15 Admin Unit November 1944. She was reposted to No. 102 Depot Coy in February 1945 as a clerk. She was then sent to No. 2 Medical Research Centre, Toronto area. At one point she was assessed as having difficulty grasping how to read maps, but she was very good at her first aide training. "Baker is a small serious girl who has apparently adjusted well in the Army."
On July 22, 1945, she and others at No. 2 MRC were relaxing, playing some baseball in the evening. It has been a hot day at 26.7C or 80F. Some of the group decided to go into the lake to bathe, according to the Court of Inquiry, "at approximately 2130 hours...Pte Baker went out about 40 feet, got into difficulty, and was in the water 15 minutes before her body was recovered." The first witness, Major A. J. Bushell, CO of No. 2 MRC said that three men worked on Pte. Baker's body to try to resuscitate her until the arrival of the Medical Officer, Major Millman, who administered an injection and shortly after that, the Pulmotor was used by officials of the local fire department for about 30 minutes without success. The investigator, Major H. V. Stephens asked where the area in the camp was which was typically used for recreational bathing. "Typically, it is approximately 100 yards east of the spot where the accident occured. In this particular instance, this group of three persons, Ptes Baker, Phillips and Mr. Strickland had chosen to bathe by the creek...it was not ascertained whether there were any known hazards for the use of bathing," over the past four years. The second witness, Pte Phillips said, "After a game of ball in which Pte Baker and I were playing, we decided that we would go to the lake to bathe. So in company with Mr. Strickland who is a member of the staff, we proceeded to the beach. We had previously bathed in the same spot. Pte Baker and I were just learning how to swim. After bathing for about five minutes, Pte Baker called, 'Phil! I am drowning!' I thought first of all she was fooling but I went to her assistance. She clutched at me and started to pull me under. We both shouted for help then. Mr. Strickland attempted to help us but shen he found he was unable to do so, he shouted for help and two men came. I am not sure who they were. I became separated from Pte Baker and I was taken from the water by these two men." The third witness, Major Millman, stated that he immediately proceeded in company with three members of the fire department with a Pulmotor when he received a phone call at his office in Oshawa advising him that a drowning accident had taken place at No. 2 MRC. "We arrived at the beach at approximately 2215 hours and proceeded to attempt resuscitation. I injected 1 cc adrenalin directly into the heart, following the Pulmotor was put into operation for a period of about half an hour. During that time, no sign of life was evident...Pte Baker has never reported sick and according to her documents, was in good health." Mr. V. B. Strickland, a civilian member of the staff at No. 2 RMC stated that he was ont a good swimmer, so when the women called for help, he attempted to assist, but was unsuccessful. "The girls clutched me and I was in difficulty. I was finally able to reach shallow water and I shouted for help." He did not feel it was a safe area to be swimming. The fifth witness, Pte Hardie, heard cries for help from the beach. "I ran immediately to the beach and saw a girl in the water who was evidently in difficulty. I removed some of my clothing as quickly as possible and in company with Pte Baxter, I went to her assistance. I did not see Pte Baker at the time. When I got to Pte Phillips to shore, she told me that Pte Baker was still in the water Mr. Strickland also gave us this information. Baxter and I attempted to look for Pte Baker but each time we went into the water, Pte Phillips would follow us and we had some difficulty keeping her on shore. Later a number of us formed a line and waded out to see if we could locate the body of Pte Baker but we were not successful." The sixth witness, Sgt. Hardcastle, explained that he was in the Sergeant's Mess when a telephone call came in, requesting help on the beach. "I immediately ran to the beach in company of Sgt. McDonald and there was no one in the water at that time although there were a number of people on the shore. We formed a chain to search for the body of Pte Baker who I was told was still in the water, but without success. I then swam out beyond the shoal and endeavoured to locate the body there. I dove for about three or four minutes. A canoe appeared on the scene and was shining flashlights on the surface of the water when I discovered the body. I dove down with Pte Taylor and the two of us recovered the body of Pte Baker and brought it to shore." He explained the distance from shore was about 25-35 feet and the depth was 10 feet. He was asked, "Would you say that it was safe or unsafe for swimmers at this particular point?" He replied, "It is very tricky due to the sand formations caused by the creek. There is no point beyond the deep water where there is a sand bar where a swimmer would be safe as it drops off too sharp. Medical attention did not come for about twenty five minutes. We started artificial respiration immediately." The seventh witness, Pte Baxter, told the Court, "When I got to the beach, I could see someone was in the water and this person was calling for help. Pte. Hardy and I removed our shoes and socks and went to her rescue. We succeeded in dragging Pte Phillips to the shore from seven or eight feet of water, fifty to sixty feet from shore, and she informed us that Pte Baker was still in the water. We endeavoured to locate Pte Baker but was unable to do so. I had my wrist watch on when I entered the water. The watch is not waterproof and I noticed it later in the evening that it had stopped at twelve minutes to ten. This watch is an accurate time keeper.The findings of the Court: "The Court finds that...Pte Baker died by accidental drowning in Lake Ontario within the boundaries of No. 2 MRC at approximately 2145 hours on 22 July 1945. While it cannot be said that Pte Baker was officially on duty at the time of her death nor did the accident occur during a period of officially organized recreation, consideration must be given that this is not an ordinary military camp and that the staff are on 24 hours daily working basis. The Court recommends that the particular area where the accident occorued be place out of bounds to non-swimmers and that definite safety bathing areas be defined in Camp Standing Orders."
In Private Laura Mae Baker's list of personal effects, she had clothes, shoes, toiletries, make-up, a Laura Secord box filled with miscellaneous items, a black china ash tray containing pins, five pennants from New York, Buffalo, Sudbury, Kitchener and Edmonton, a small souvenir wooden doll, photos, a tea cup and saucer, a sewing box, a map of New York, and a wallet.
Her parents, on one form, indicated the their daughter had a cedar chest, sewing machine and a radio stored at Tippet Richardson, in Toronto.
No newspaper articles could be found through newspapers.com about the accident. I hope to find some when I visit Ottawa and the archives.
LINKS: