Margaret Ada Young W12235
June 2, 1921 - August 20, 1943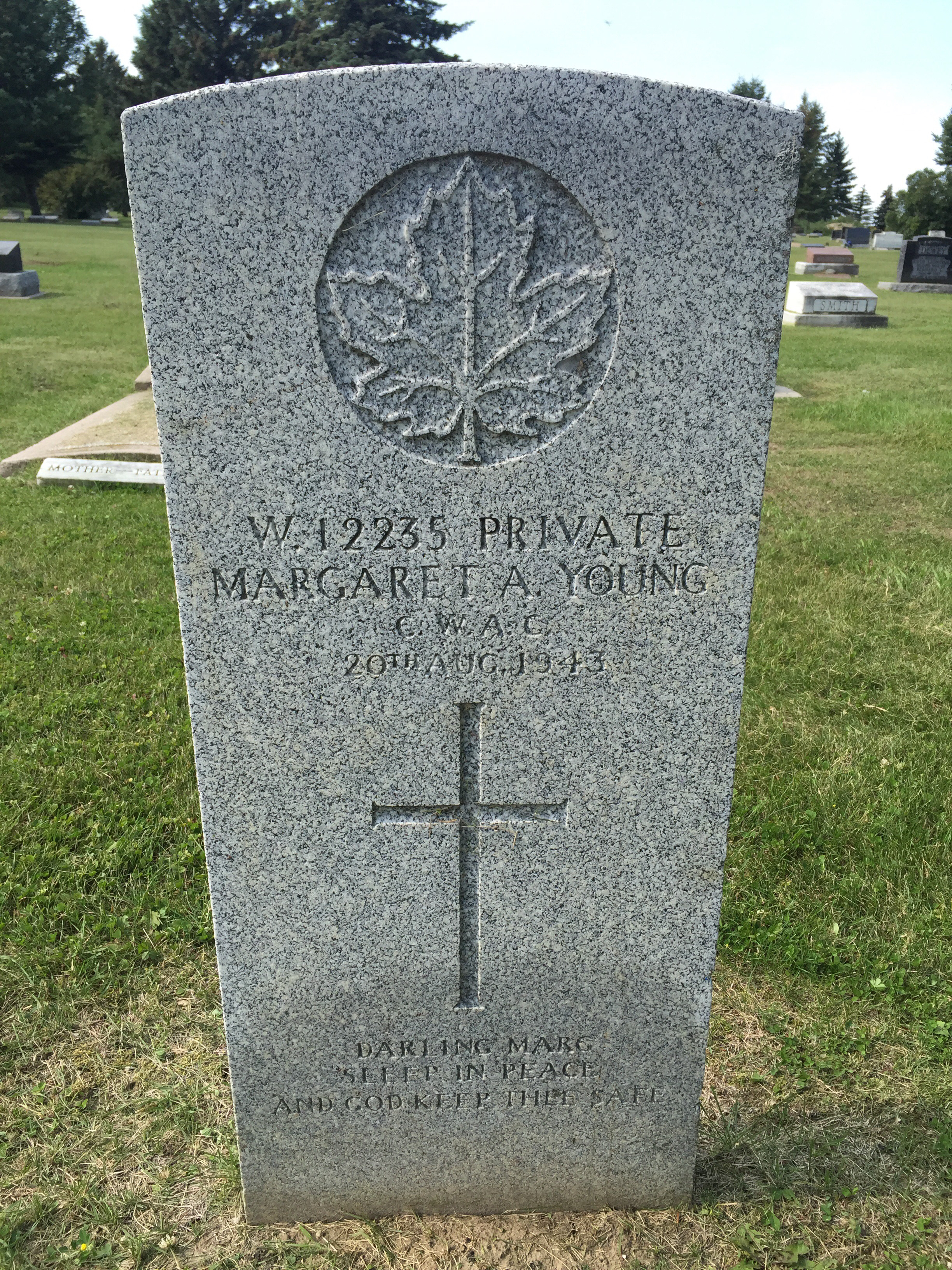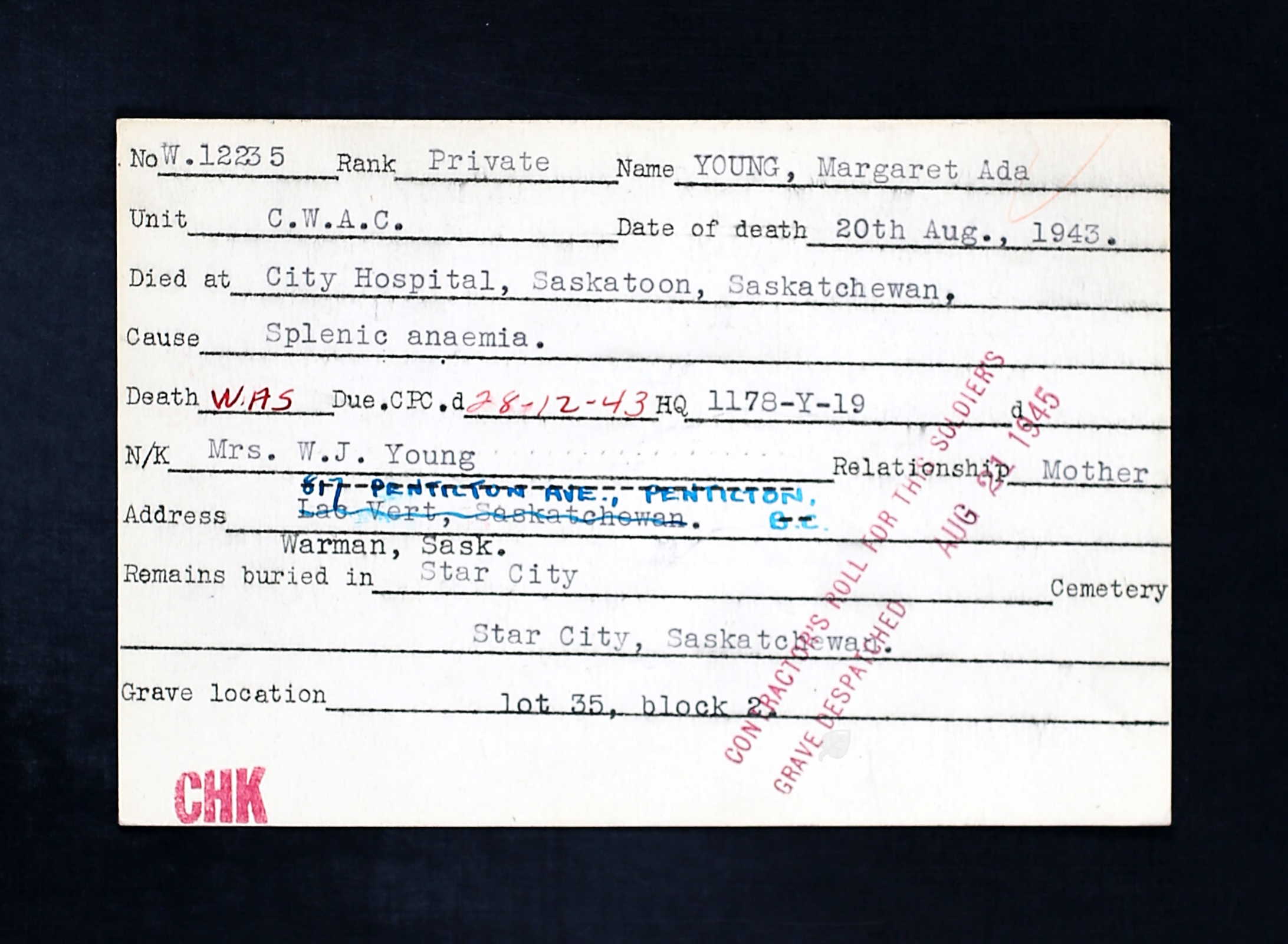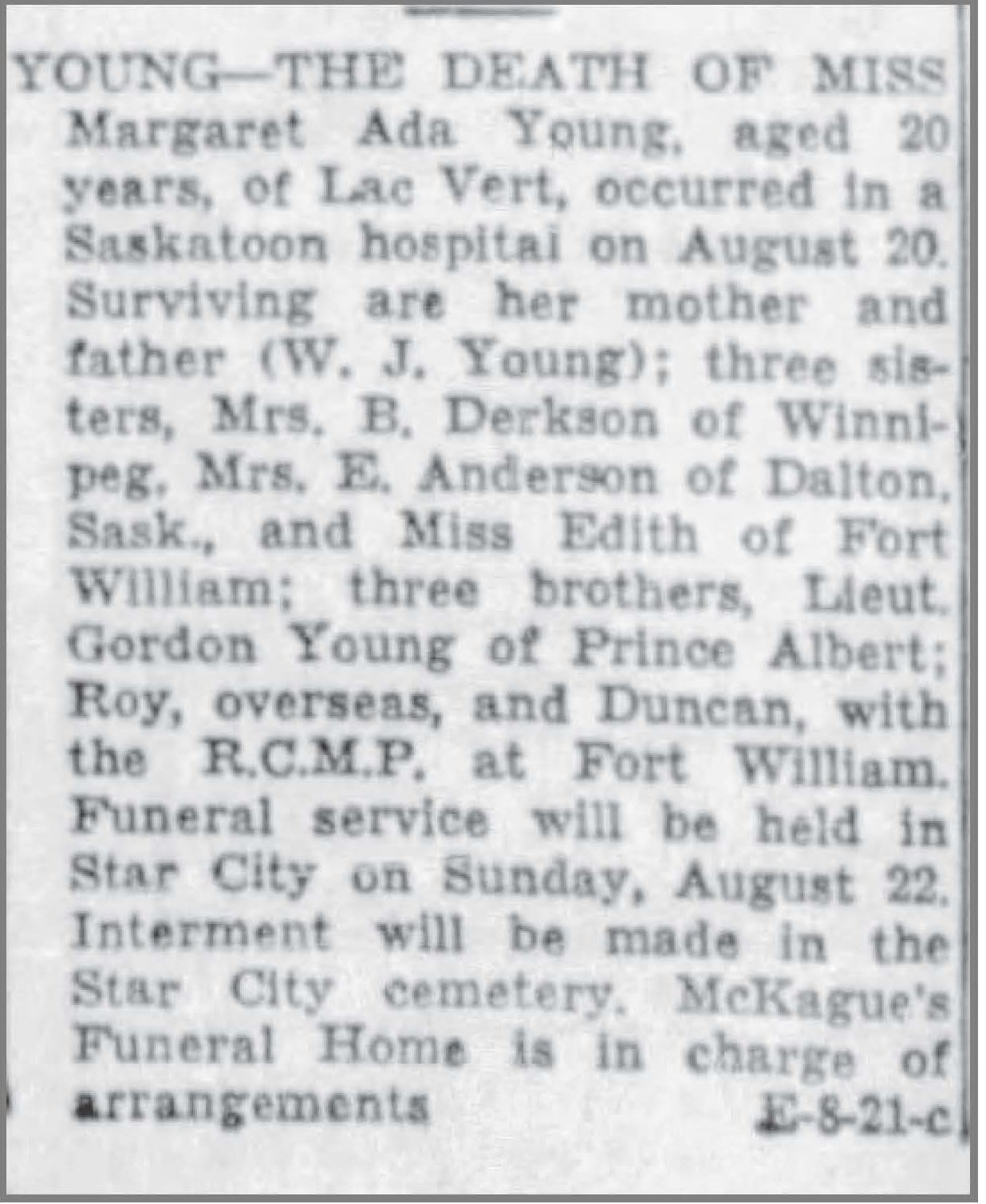 Canadian Women's Army Corps
Margaret Ada Young was the youngest daughter of William Jepson Young (1883-1946) and Edith Gertrude Young, of Scottish and Irish backgrounds. Margaret had been born in Macrorie, Saskatchewan. She had four brothers (Duncan, Roy and Gordon, plus Donald who died on February 26, 1943, about 16 years old) and three sisters (Audrey Derkson, Grace Anderson, and Edith Last). The family was Presbyterian.
Margaret had the equivalent of a Grade XI education from Kew Gardens Public School at Lac Vert, Saskatchewan, with her last year done by correspondence.
Prior to Margaret enlisting with the CWAC, she was living at Lac Vert, Saskatchewan, 64 kilometres south of Star City, where one of her brothers lived, almost four hours north of Regina. She enlisted in Kingston, Ontario on April 27, 1942. During her medical examination, it was noted she had one decayed tooth and trouble with one tooth's root.
TRAINING AND POSTINGS:
Recruit: April 23, 1942: Regina, Saskatchewan
No. 1 CWAC Training Centre: April 24, 1942: Ste. Anne de Bellevue, Quebec
O Coy: April 27, 1942
E Coy, Kingston, Ontario: May 23, 1942
No. 2 Platoon, E Coy, Barriefield, Ontario: May 24, 1942
No. 7 Coy, September 20, 1942
At the CWAC Training Centre No. 1: General Standard attained: Good. Military Efficiency: Good. Leadership: Fair. Conduct: Fair Other remarks: Nil. Number of weeks training completed: 4. Rank: Volunter. "O" Coy, CWAC. In drill, physical training, marching, PAG Gas chamber test, map reading and fundamental training: Q. She received an A in First Aide -- possibly adequate, versus Q meaning qualified.
On January 1, 1943, Private Margaret A. Young was assessed by Captain Blair at 3A DD Kingston, Ontario. "Completed Grade 11. Rural school in Ontario. Regular attendance. Housework for two years in father's home. Enlisted April 23, 1942. Completed Basic Training at Ste. Anne's, Quebec. OTHER PERSONAL HISTORY AND APPRAISAL: Height: 5'2", weight: 124 pounds. Single. Parents live in Saskatchewan. Father is a farmer. Has four brothers and three sisters. Two brothers are in the army. One overseas. One brother is in the police force and one works on the farm. Two sisters are married and one is a munitions worker. Family health is good except that father has rheumatism and cmother has kidney disease. Family education is about Grade 11 leve. Joined CWAC April 1942. Basic training completed at Ste. Anne's, Quebec. Was employed as a waitress -- officers' mess at Vimy. Was taken ill and is now employed at light duties. Dissatisfied with employment as a waitress. Would like to take trades training course. Lacks confidence and aggressiveness. Pleasant and agreeable in manner. Good sense of humour. Interviewer would suggest that she be given an opportunity for trades training. M Score would appear to indicate superior learning ability. RECOMMENDATIONS: CWAC Waitress. Consider for trades training."
On January 23, 1943, Pte Young went on compassionate leave. At some point, she was sent to Saskatoon and was hospitalized.
On August 20, 1943, Private Margaret Young died at the City Hospital in Saskatoon, Saskatchewan of splenic anaemia. She was buried in Star City, Saskatchewan. Her headstone took some time to be installed.
On January 11, 1945, Mrs. Young was living in Fort William, Ontario when she received a letter from Colonel R. T. E. Hicks-Lyne, acting Director of Records for Adjutant-General. "In reply (to your letter about your daughter's headstone), I much regret to inform you that the order for this memorial has not yet been placed. War conditions generally have made it impossible for our contractors to carry out their work on schedule and shortages in material and skilled workmen are making it increasingly difficult to complete the manufacture of these headstones promptly. Everything possible is being done to catch up with the unfilled orders and at the first opportunity that for your daughter's stone will go forward with instructions to carry out its engraving and shipment as soon as conditions permit. I am very sorry that this matter has not been completed before now, but I feel sure you will appreciate that the delay has been due entirely to circumstances beyond our control."
On August 10, 1945, wrote to the Department of National Defence, Ottawa, from Penticton: "Dear Sirs, in December 1944, I wrote the Department of Pensions and National Health, Regina, Sask. concerning a headstone for my daughter, Pte M. A. Young, No. W12235 who died in the City Hospital, Saskatoon, Saskatchewan on August 20, 1943. The letter was sent to you and I have your reply saying the order had not then been placed. Would you kindly let me know if anything further has been done regarding this. I wrote from 319 Archibald Street, Fort William, Ontario. Last spring, we moved to Pentictor, BC. I owuld like very much to know if a stone will be supplied. It seems it has been a long time and now I am not in a position to buy one muself and yet I do not want to leave the grave unmarked. I would appreciate it very much if you will let me know if one is being supplied."
In December 1945, Mrs. Young wrote again. "I have received a letter from you regarding my application my daughter's gratuity, but I tink you have made a istake as you refer to my 'son' and I have lost no son. I wrote to you about the first of November regarding this matter and if it is possible I would like an answer to that letter. My son, Lt. G. M. Young in Regina tells me that my daughter's will would be in her paybook. If she had a paybook, I knew nothing about it. All the papers I have is her discharge certificate. She had no paybook when she came home, but she was so sick, we never thought anything about what she should have. I would like to have this matter cleared up as soon as possible so please let me have an answer to my former letter."
In February 1946, Mrs Young wrote another letter. "I am enclosing herewith the form completed when I received today. I notice in question 17, it asks about a will. My daughter left no will that I know of. And I have not found a service will in any of her belongings. Trusting this will be satisfactory." Mrs. Young noted that Margaret's birthday was July 2, 1921, note June 2. She also indicated, that after the war, Margaret's plan was to move to Penticton, BC.
In January 1947, from Warman, 24 kilometres north Saskatoon, Saskatchewan, Margaret's mother wrote another letter. "I hope you will pardon my writing you so often, but I would like very much to know if anything is being done about a marker for my daughter's grave. Almost a year ago, I received a letter from the caretaker of the cemetery at Star City saying a form had een asent to him and that he had completed it and returned it. Since then, I have heard nothing about the stone. My husband passed away in the fall and now when we are fixing up his grave, we would like to have Margaret's done, too. I trust I am not causing too much trouble."
On Margaret's headstone it reads: "Darling Marg, Sleep in Peace, and God Keep Thee Safe."
LINKS: