Margaret Victoria Hart W15063
May 24, 1923 - February 6, 1944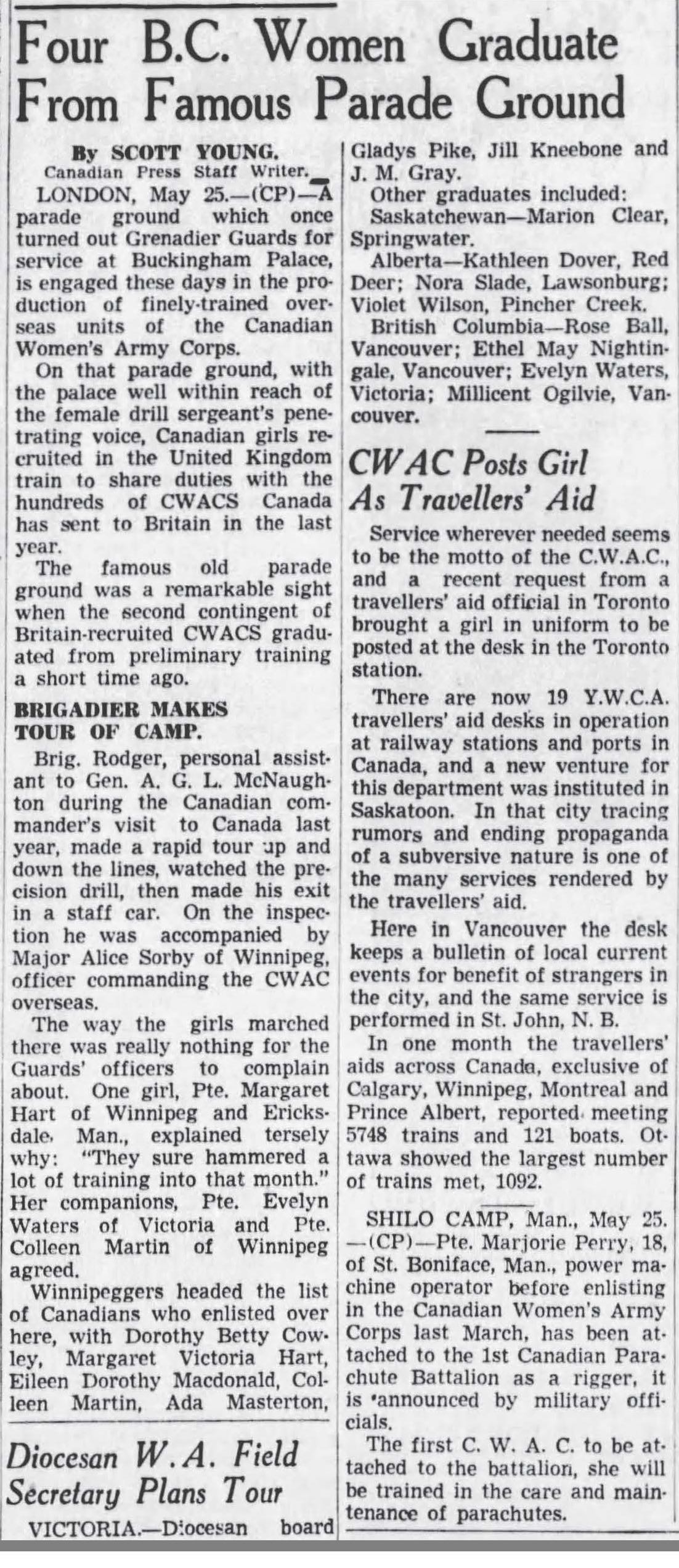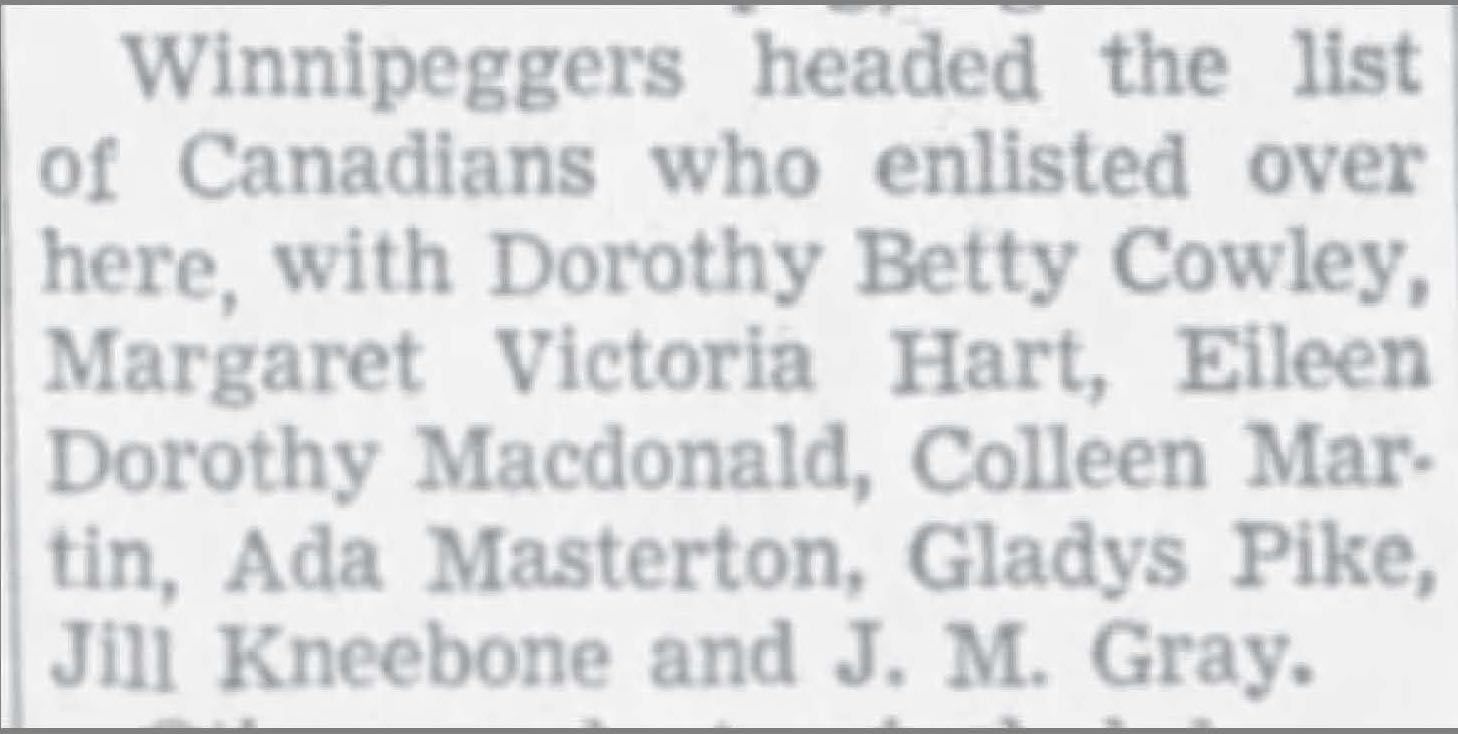 Canadian Women's Army Corps
Margaret Victoria Hart was born in Winnipeg, Manitoba on May 24, 1923. She was the daughter of William and Margaret Ann (nee Hunter) Hart. There were fourteen children in the family, including Margaret, Christina, Bertha, Charles, Kenneth, James, Norman, Donald, Thomas, Milton, Harold, Joseph, John and Sheila. At some point, some of the family moved to England. Her mother lived at Sutton Green, Guildford, Surrey. The family was Anglican.
Margaret had two years of high school.
On April 7, 1943, Margaret enlisted in London, England. She had been W/61415 (ATS) prior. She stood 5' 9 1/2" tall and weighed 149 pounds. She was a driver.
Pte Hart was attached for duty R&Q to HQ CW May 17, 1943. She was attached then to 76 QCRU, MTS for RQD, 47 Coy effective May 18, 1943. She was awarded certificate for First Aid. In July 1943, she was with 200 Coy and at this time she had a rate of pay of $1.05. It was increased to $1.20/day as of October 1943.
From October 20 to 28, 1943, she was sick in her quarters. On November 24, 1943, she was admitted to No. 8 Cdn General Hospital, Aldershot, discharged on December 8, 1943.
On February 5, 1944, Sgt Mowbray of Unit 7 Provost Coy, Cdn Provost Corps visited Pte Hart at her home near Woking. Mowbray stated, "Miss Hart, a member of the CWAC, stationed at HQ CEU was on pass until 2359 hrs and as she had no means of transportation, I offered to take her back to camp on the back of my bike. We left Miss Hart's home at about 2240 hours and proceeded to our return to Farnborough via Ash and Ash Vale."
Mrs. Mowbray stated, "Pte Hart and Sgt Mowbray arrived at my home at approximately 1930 hours on February 5, 1944 and set out for Farnborough again a few minutes before 2300 hours." They were continuously at Mrs. Hart's home during those hours.
On February 6, 1944, at 0040 hours, Pte Hart was admitted to hospital where she was pronounced dead on arrival from a road accident. She died from a contusion to the brain from heavy impact on top of her head. She was carried into the dance hall and placed on a bench until the ambulance arrived. She was evaluated by Mr. H. J. Hall, ambulance attendant. "I concluded that there were severe head injuries and also evidence of bladder injuries. We looked for further injuries, finding none. Considering the very serious condition of the patient, I very carefully removed her to the stretcher, loaded it into the ambulance. We then turned our attention to the man, rendering first aid consistent with his injuries, helped him into the ambulance and proceeded to Connaught Hospital." During this time, "there was a copious flow of white fluid from the woman's nose, which I kept clear. I tried the temporal pulse, but it had weakened almost to nothing. On arrival at the hospital, the man was assisted inside. The stretcher was unloaded and carried to the casualty room when the woman patient sighed. No further breathing was noticed. The Nursing Sister then arrived and could find no sign of life." The motorcycle driver, Sgt. C. G. Mowbray was admitted to hospital on 6 February 1944 suffering from mild degree of shock, dislocation of right shoulder, abrasion and contusion of right elbow, dislocation of shoulder reduced under intravenous and aesthesia. He was expected to need 6-8 weeks to recover.
A ROAD ACCIDENT REPORT was filed. "Place of accident" Vale Road, Ash Vale, Surrey. Driver: Sgt C. G. Mowbray, A3296, Unit 7 Provost COY, Cdn Provost Corps. Harley Davidson motorcycle (solo). Nature of Duty: checking patrols. Pte Hart was riding pillion, as a passenger, behind the driver of the motorcycle. The motorcycle was going between 20 and 30 mph on a clear moonlight night, with light traffic. They hit a truck being driven by E. Jackson, a Guardsman from Training BN, Coldstream Guards, Pirbright Camp. "At approximately 2240 hours on February 5, 1944," stated Mowbray, "I was proceeding towards Farnborough via Ash and Ash Vale. At a point on Vale Road near the Victoria Hall, I suddenly noticed an army vehicle that appeared to be parked across the road in front of me. At this time, I was travelling approximately 20 mph on the left hand side of the road. There were no lights discernable on the vehicle that appeared to be parked in the a/m position. I swerved to the right hand side of the road in an endeavour to pass around the front of this vehicle, and at the same time, I noticed that it was moving out further towards the right hand curb. At a point which I judged to be about 3 feet from the right hand curb, I struck the right hand front fender of this car with the front left side of my mudguard. The impact threw me clear of my machine. I picked myself up and switched the lights of my bike off. I managed to walk to the Dance Hall across the street where I received medical treatment. Soon after this, Miss Hart and I were removed by ambulance to No. 8 Cdn General Hospital. I would like to point out that there was no one present to direct traffic on the road at the time the army vehicle pulled out across it. Further, that had this army vehicle remained stationary, I would have been able to pass in front of it with plenty of clearance."
Further in the inquiry: "At approximately 2330 hours, 5 Feb 44, a dance given at the Victoria Hall by the local Home Guard, had been concluded. Among the guests were a party from the Training Bn of the Coldstream Guard i/c of Sgt. Prince. This NCO had instructed his driver, Guardsman Jackson to bring their transport from the parking lot, to the front entrance of the building. In accordance with these instructions, Jackson had proceeded to the vehicle, a Hillman utility, and had brought it through the entrance of the lot, on the east side of the hall, onto the main road running east and west in front of the building. At the time the accident occurred, he was endeavouring to complete a left turn, to bring the vehicle to the south curb of this road, in front of the Hall, as requested. In making this turn he had been obliged to pull well out on the main road in order to clear the narrow entrance from which he was emerging. The motorcycle driven by Sgt Mowbray, approaching from the east, along the south side of the road attempted to pass around the front end of the Guard's vehicle and in so doing, struck the right hand front fender of the latter with the result that Mowbray and Hart were thrown to the north curb."
Sgt Palmer of the local Home Guard was on the point of leaving the hall at the time of the accident and had been one of the first to render assistance to the injured parties. He stated that at the time, he saw Pte Hart lying a short distance west of the motorcycle on the paved foot path. The machine was lying on its left side on the footpath facing the opposite way to its original direction.
Guardsman Jackson stated, "At about 2330 hours on the night of February 5, 1944, I was driving out of the drive way at Victoria Dance Hall near Ash. I saw no one coming, traffic either way, and when I had half completed my left turn onto the road, I felt a bump which shook the truck. I stopped in the position I was in and got out. Sgt Mowbray was being helped up from in front of his motorcycle by somebody and I assisted in getting him into the dance hall...all my lights were on at the time. I do not think my vehicle was over the centre line..."
Sgt Prince stated, "I told my driver [Jackson] to bring my car to the front of the hall. I stood on the steps of the hall just inside the door. I looked out and saw my driver bring his car out of the driveway. I noticed his headlights were on. I had just turned to go into the hall to get my coat when I heard a thud, and looking across the road, I saw a motorcycle on the road. I went across the road immediately and saw the driver of the cycle lying beside it. With assistance, I helped him into the hall. Whilst this was going on, some other people carried another injured person into the hall. The ambulance and police were sent for by the Home Guard."
Capt R. C. Fenn, OC No. 7 Cdn Provost Coy: "At approximately 1800 hours, Sgt Mowbray left unit lines to check patrols in 7 Cdn Provost Coy area. This area includes Farnborough, Caberley, Woking, Ash, and Aldershot. Sgt Mowbray's duties were to check patrols at all these places, on their beats and at the local police stations. These checks take at least half an hour each at each place if they were carried out in accordance with instructions. Sgt Mowbray was not authorized to stop off at any other place other than for duty reasons, except for a half hour break which he might take for late supper. Sgt Mowbray is a qualified driver of motorcyles, cars, and trucks. He was not authorized to take passengers on the back of his motorcycle."
RSM (WO I) E. McNamara stated, "I have been at 7 Provost Coy since 27 May 1944 and have known Sgt Mowbray from that time. He has always been a good soldier, carried out his duties in a soldierly manner. He has been a Section Sergeant for over a year and has carried out all his orders to the satisfaction of his superiors."
It was determined that Sgt Mowbray at the time of the accident was proceeding on an unauthorized journey and improperly permitted Pte Hart to ride pillion. The accident occurred during Sgt Mowbray's tour of duty, although he was not performing any duty at the time of the accident. He earned $2.00/day, with his wife receiving $35/month from the Government and his two children were in receipt of $12/month from the Government. He also assigned $35/month to his wife from his pay, $4/month to an official in Ontario, and $8.40/month as of November 1, 1944, towards the purchase of a $50 Victory Bond.
The Coroner's Inquest results: "accidental death due to failure on the part of the driver of the motor vehicle to see the approaching motorcycle and due to the inability of the rider of the motorcycle to swerve sufficiently to avoid contact with the vehicle." No evidence of improper conduct by either Pte Hart or Sgt Mowbray. However, disciplinary action was taken against Sgt. Mowbray.
Pte Margaret Victoria Hart was buried on February 10, 1944 at the Brookwood Cemetery, Woking, Surrey, UK.
In her list of belongings, clothing, toiletries, make up, toothpaste, letters, a Canadian penny, and a book MT Drivers regulations, highway code book, plus her driver's license.
LINKS: