Marie Monique "Andree" Dumoulin W3342
February 14, 1919 - May 13, 1943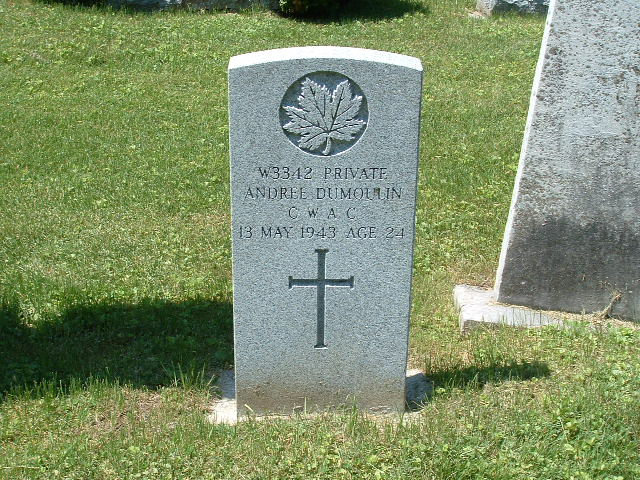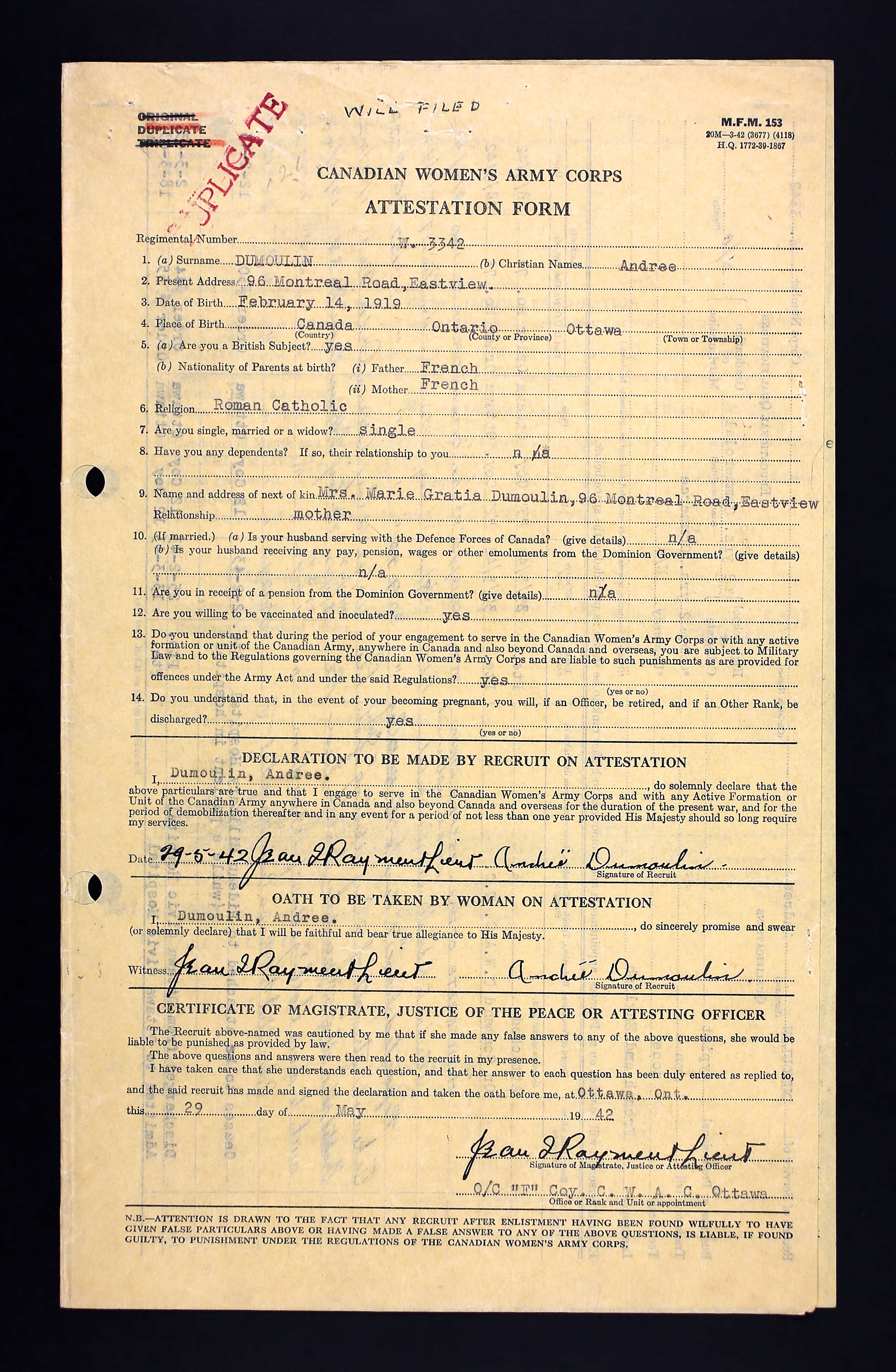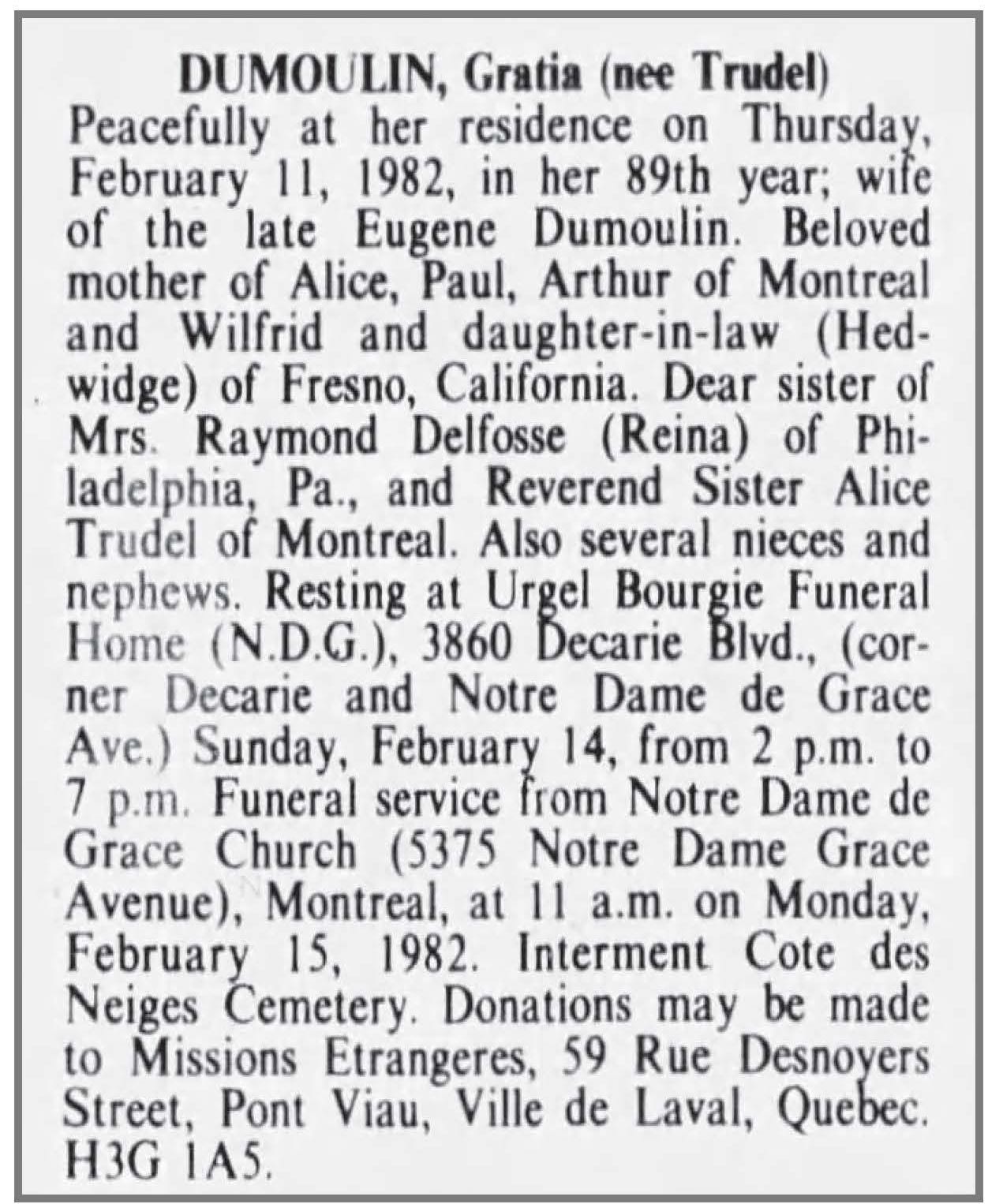 Canadian Women's Army Corps
Marie Monique "Andree" Dumoulin was born in Ottawa, Ontario to Marie Gratia (nee Trudel) Dumoulin and her husband, Eugene, whose whereabouts were unknown since 1936. He had signed up for service during WWI from July 22, 1918 to March 20, 1919, but he had deserted, according to his WWI records while training in Montreal, never going overseas. Andree had three brothers, Wilfrid and twins Arthur and Paul, and two sisters, Renee and Alice. They were Roman Catholic.
Andree's maternal grandfather, Napoleon Trudel, started Trudel Hardware in Ottawa, which later has become a Home Hardware store.
Andree stood 5' 2 1/2" tall, had a pale complexion, brown eyes and dark hair. She had a birth mark on her right upper arm and over the sacrum (bottom of spine). She sprained her ankle in 1940. Her dental rating was 'fair' as she had many cavities and a partial upper plate with eight teeth. Andree was bilingual, speaking both French and English.
She had two years of commercial school and two years studying commerce in college. She was an office clerk/typist prior to enlistment in May 1942.
TRAINING AND POSTINGS:
CWAC Training Centre, Ottawa: May 30, 1942
Attached to Rideau Military Hospital, Ottawa: September 29, 1942
Reposted to No. 12 Coy, Ottawa: October 1, 1942
Pte Dumoulin's conduct was good. "Very reserved. A very quiet type. Tries hard and is a willing worker." She received a exemplary conduct rating while at No. 12 Coy.
Pte Dumoulin was admitted to the Rideau Military Hospital on February 2, 1943, discharged from the Ottawa Civic Hospital on February 25, 1943. On March 13, 1943, she was readmitted to the Ottawa Civic Hospital.
Pte Dumoulin was discharged from the CWAC on March 23, 1943 in Ottawa.
On May 13, 1943, Private Andree Dumoulin died at her mother's home in Eastview, Ontario, of lung cancer. She was buried in the Notre Dame Cemetery, Ottawa, Ontario. Mrs. Dumoulin wrote on March 4, 1946: "...Letter dated March 19, 1945 has been received, regarding erection of a permanent headstone on the grave of the above noted deceased member of the CWAC. As burial took place in my family's plot "TRUDEL", where a memorial stone has been in erection, no other headstone is permitted to be erected. Your kind interest in this matter is greatly appreciated, and I deeply regret the long delay in forwarding a reply to your department." Andree has a military headstone.
LINKS: