Marta Eugene Sybelle Moore W3510
January 8, 1892 - October 3, 1944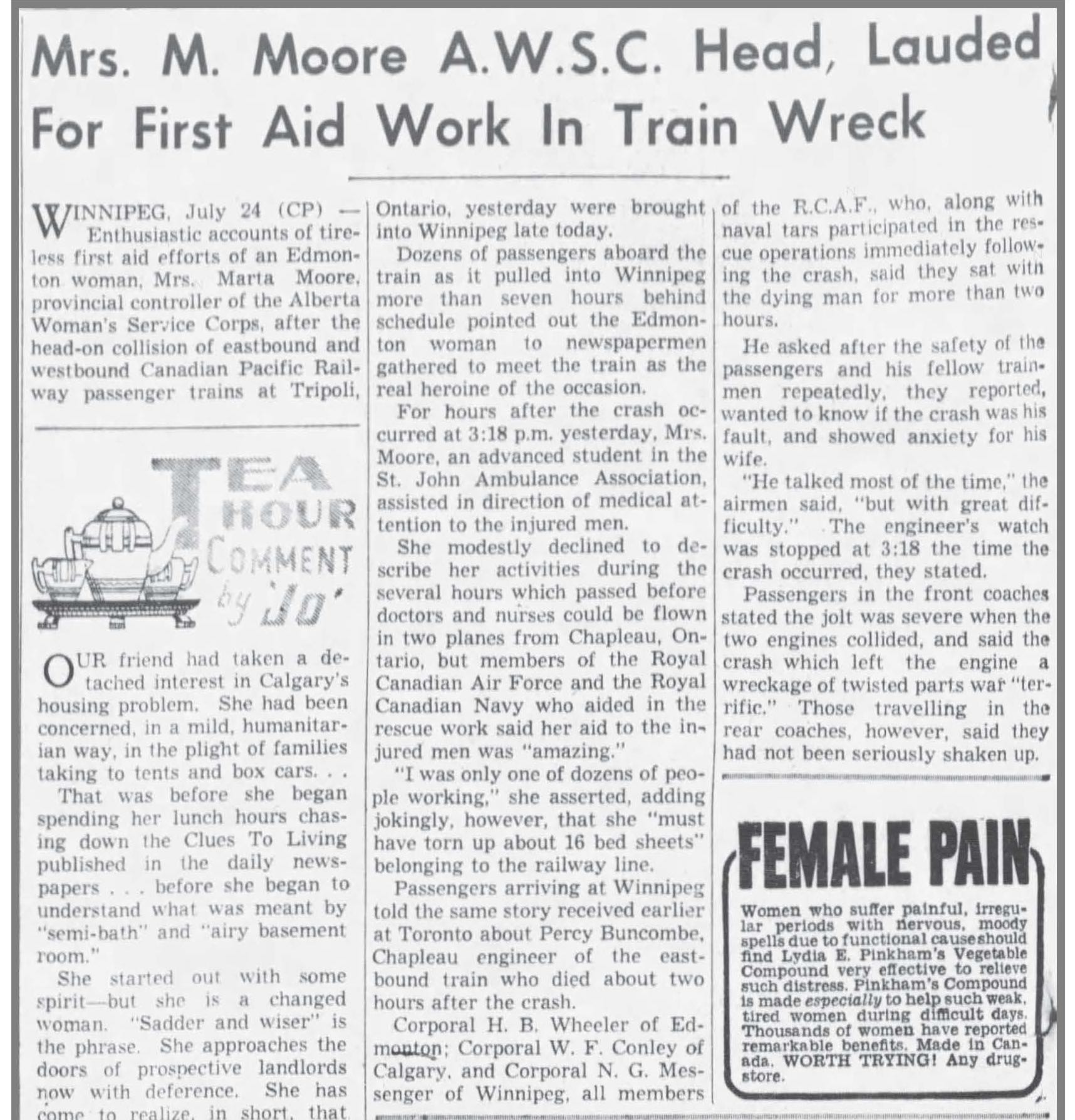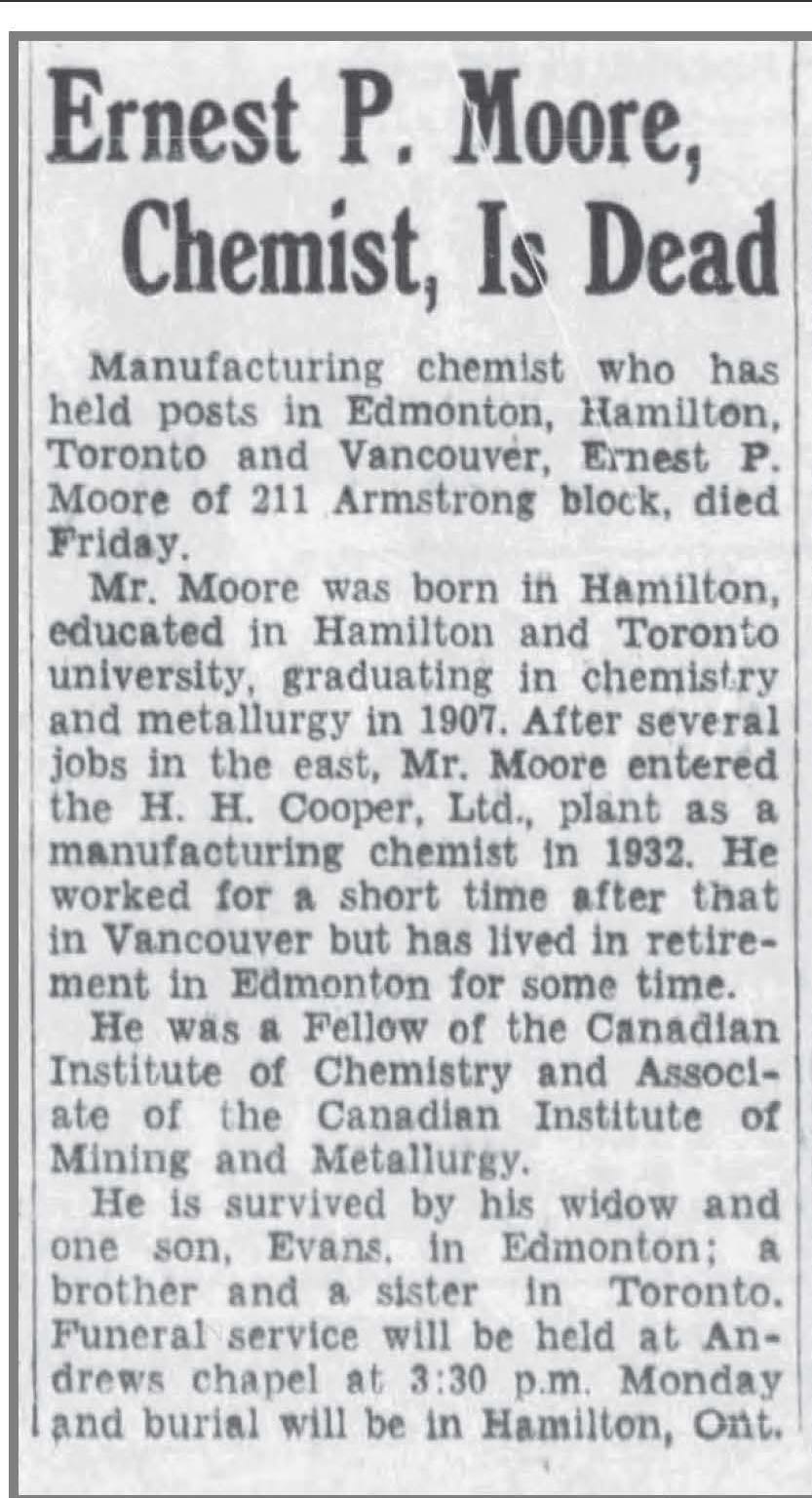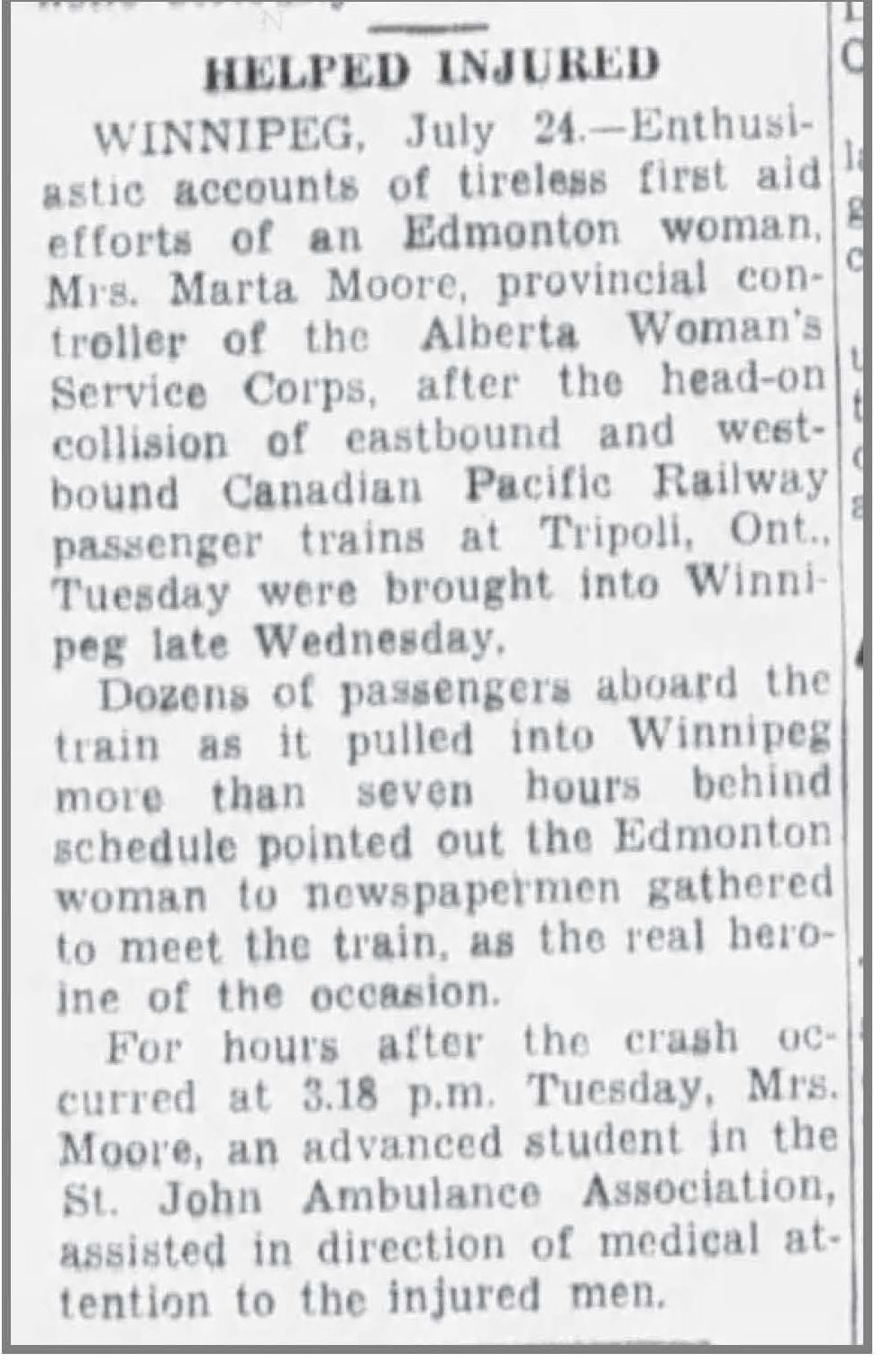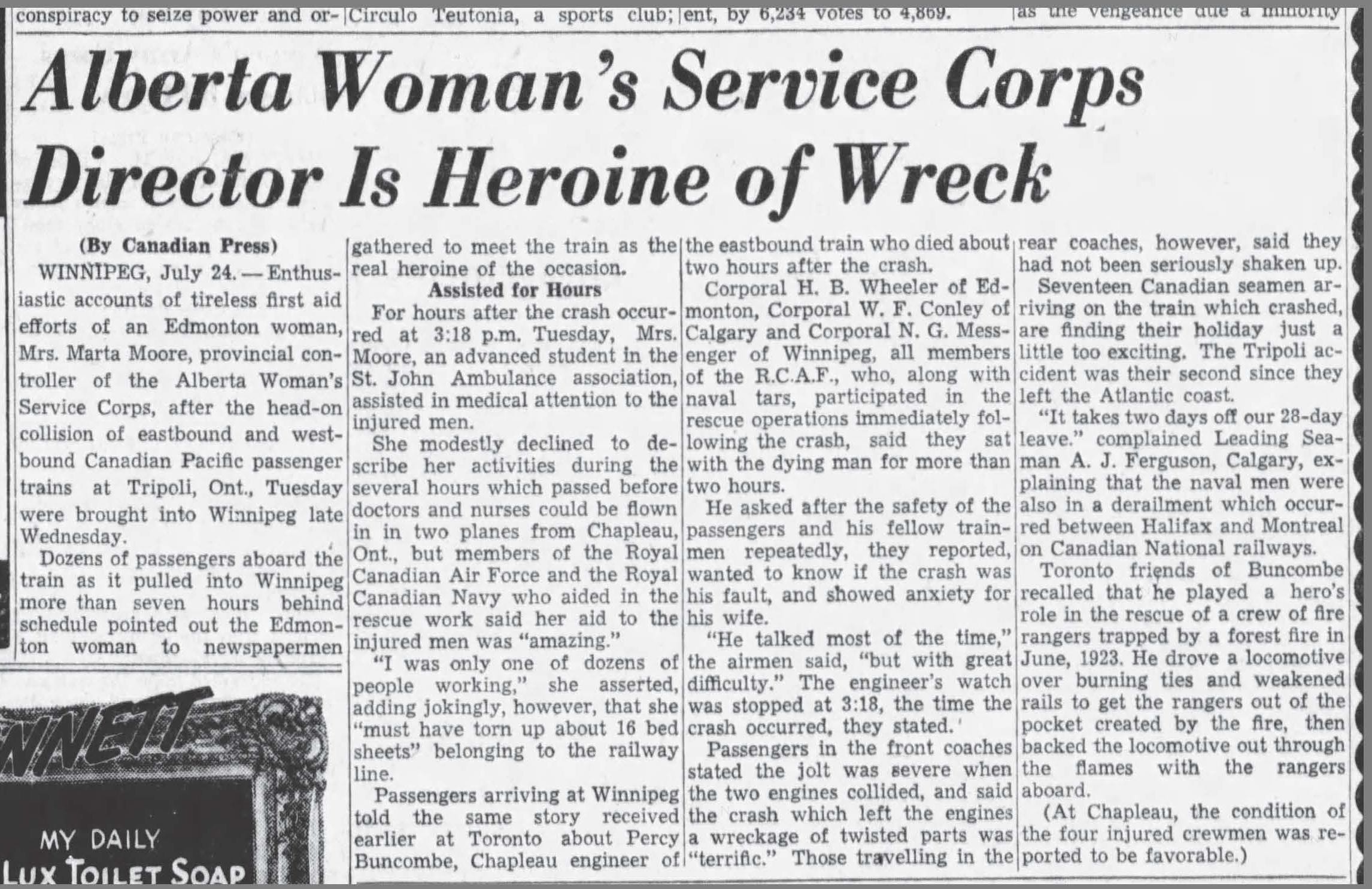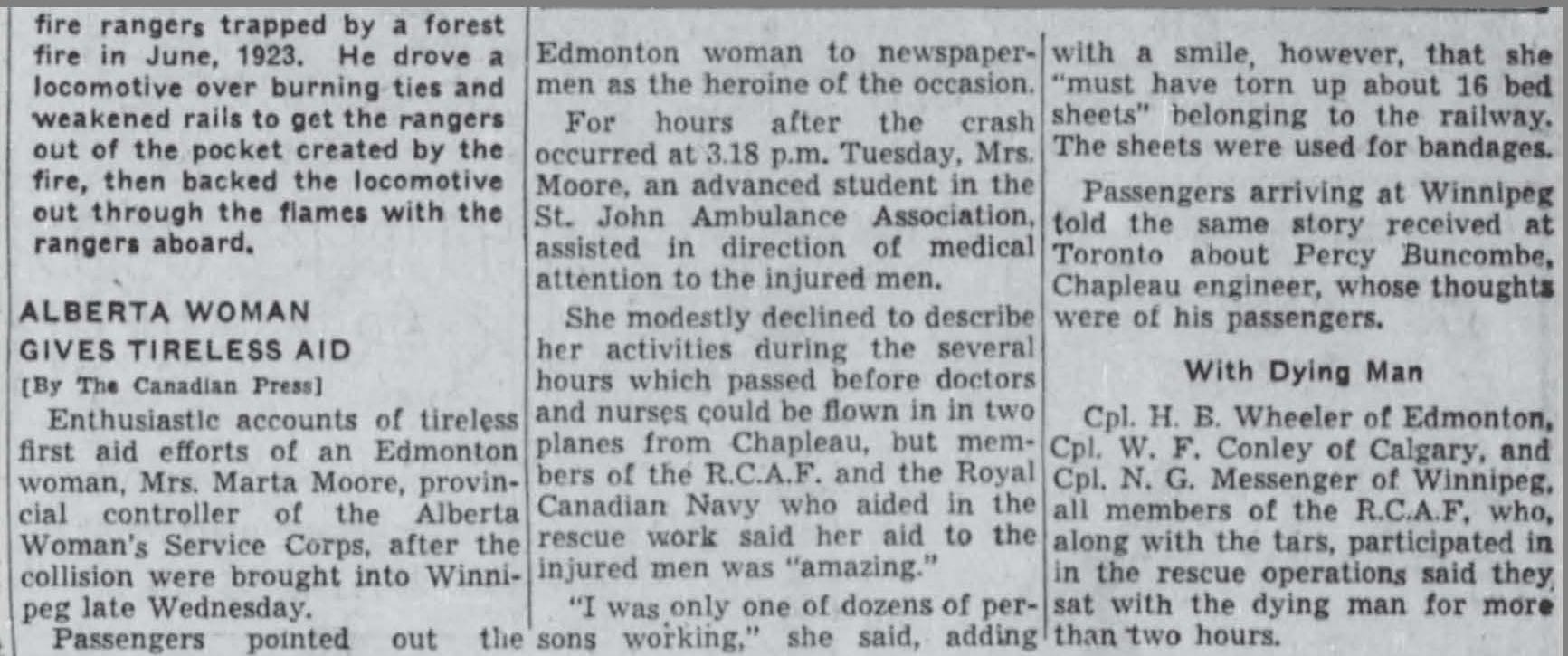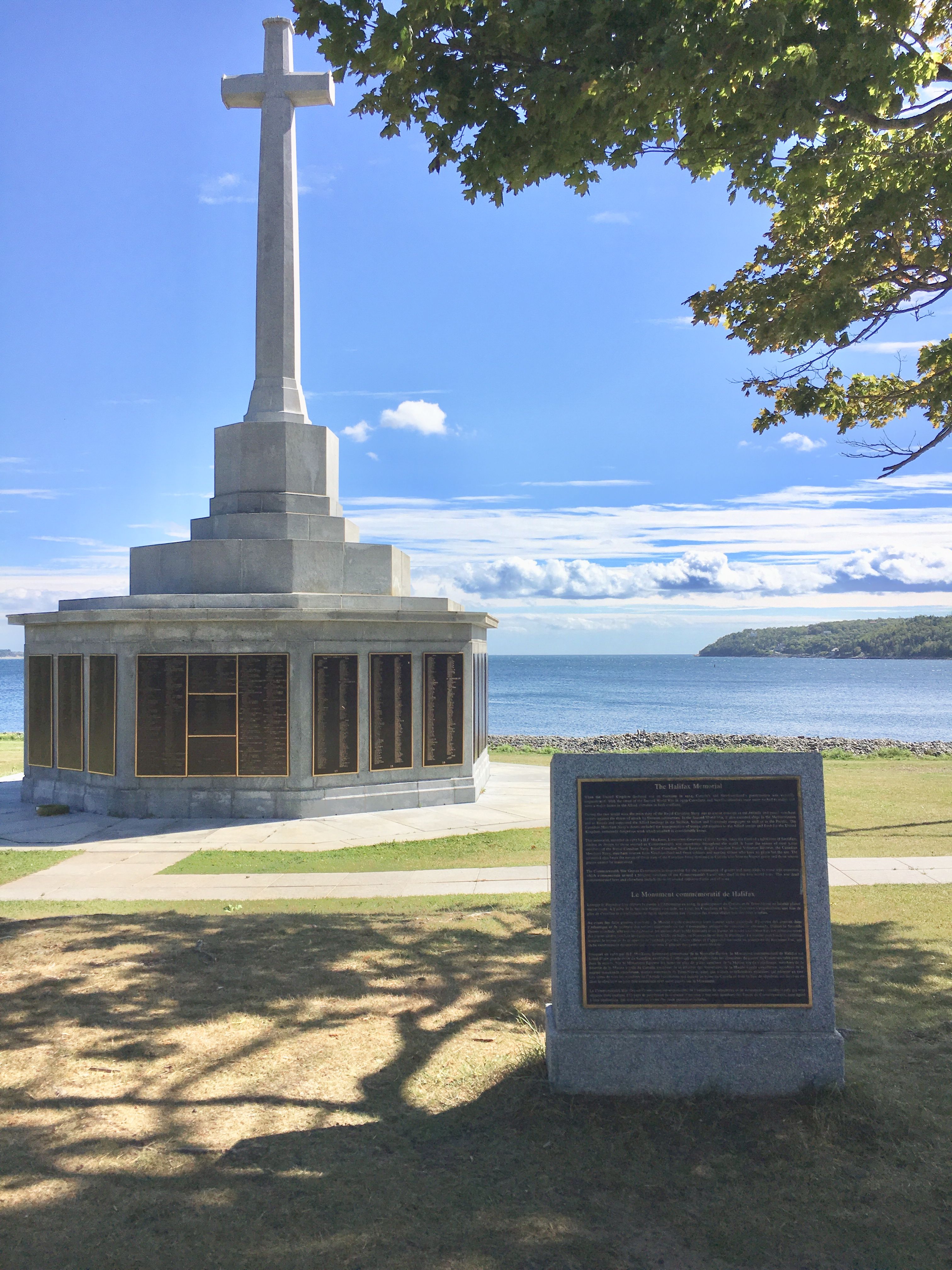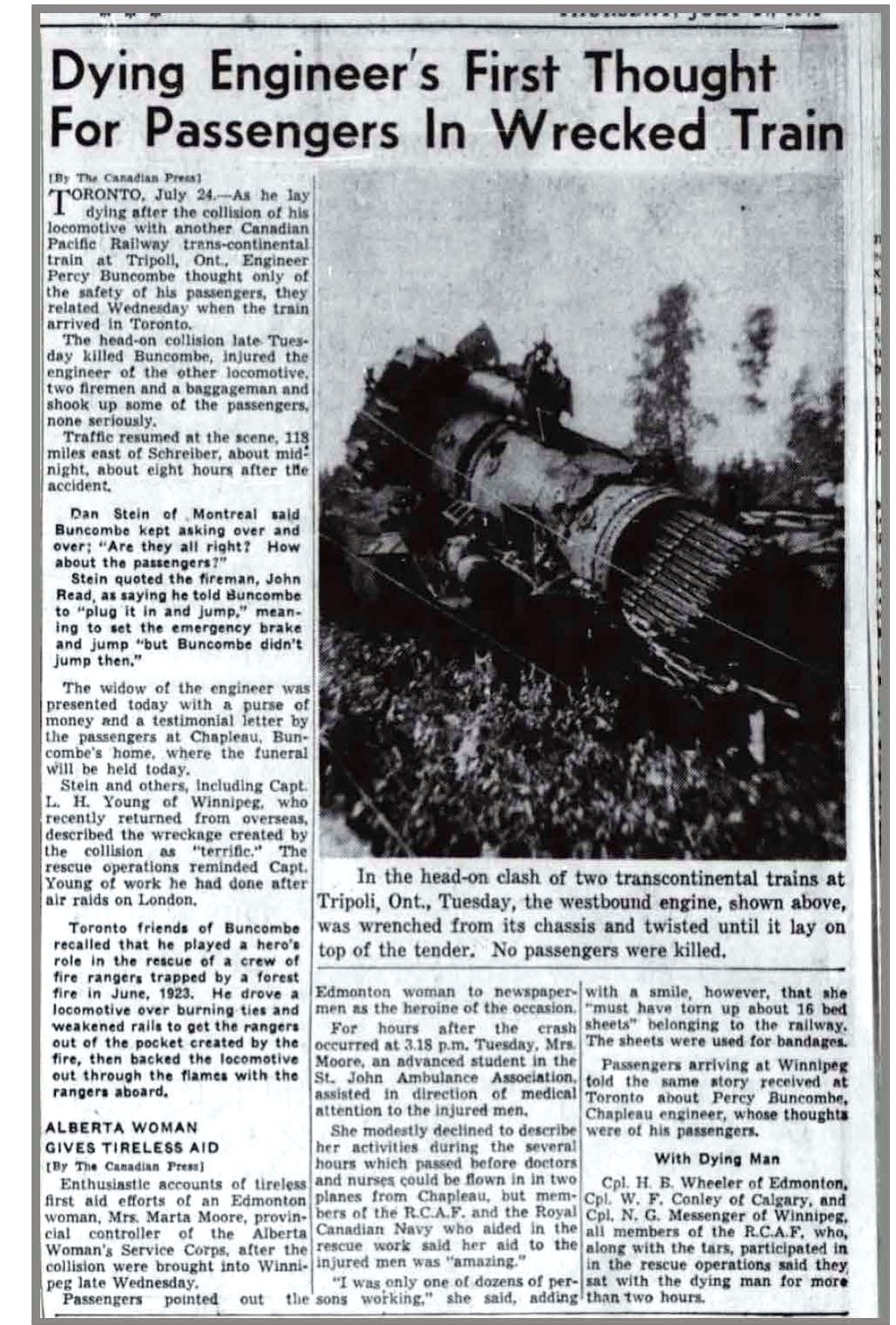 Canadian Women's Army Corps
Marta Eugene Sybelle Moore was born in 1892 in Owen Sound, Ontario. Her parents, John Evans Moore, clergyman, and Eliza Anne (nee Brown) Moore were both English. She graduated from Moulton College, Toronto with Senior Matriculation and one year specialized in English at McMaster University in Hamilton, Ontario. She also took a dramatic course from Margaret Eaton. Additional courses: advertising, publicity. She went to Hartford, Connecticut and took a short course in social services. From her PERSONNEL SELECTION RECORD: "Has done editorial publicity and promotion work for Hamilton Spectator. Wrote for papers and magazines, had a play produced. Did radio continuity and publicity, then went to Edmonton Grain Co. as promoter. Was registrar and personnel advisor for Youth T S Alberta."
Marta married Ernest Pierce Moore on April 25, 1909 in Burlington, Ontario. She was Baptist and Ernest was Anglican.She was 21 and he was 24. He attended the University of Toronto, graduating in chemistry and metallurgy in 1907. (He wrote a six page booklet:Loss of Carbon During Solution of Steel in Potassium Cupric Chloride, published in 1908.) Ernest had tried to enlist in the Canadian Expeditionary Forces, but was not accepted. Marta, on one of her CWAC forms indicated Ernest was often ill. He died in Edmonton in 1940 and was buried in Hamilton, Ontario.
Because of Ernest's job as a manufacturing chemist, they lived in Hamilton, Toronto, Vancouver and Edmonton.
Marta and Ernest had one son, Edward Evans, born in 1910. On October 11, 1941, Evans married Una Elizabeth Oxford of Edmonton, in Peterborough, Ontario residing there. On March 17, 1950, Evans married for a second time. He married Mrs. Hilda May Beck, a widow since 1948, in Edmonton. She and her first husband had one daughter and three sons. Edward Evans Moore died at the age of 55 in Edmonton on March 5, 1966.
On June 20, 1941, Marta Moore made the newspapers. "We have worked for the organization of women's auxiliaries," Mrs. Moore stated. "We are glad that it has come about. Throughout the province, we have some girls who are ready to respond to the request for volunteers, when the government signifies its readiness to accept applications." The Minister of War Services, Hon. J. Thorson, announced that the women volunteers will form a pool from which Women's Auxiliary Corps for the army, navy, and air force would be supplied as personnel was required. At the time of this article, 250 women were training in Calgary and another 400 training in Edmonton, ready to answer the call. The women were being trained in army, clerical, commissariat, first aid and motor transport. This would later become the CWAC.
On July 24, 1941, Marta made the newspapers once more. At the time she was provincial contoller of the Alberta Women's Service Corps. She was a passenger aboard one of the two trains that collided head-on near Tripoli, Ontario, about an hour northeast of Sioux Lookout. "Dozens of passengers were aboard the train as it pulled into Winnipeg more than seven hours behind schedule, pointed out the Edmonton woman to newspapermen gathered to meet the train as the real heroine of the occasion. For hours after the crash that occurred at 3:18 pm yesterday, Mrs. Moore, an advanced student in the St. John Ambulance Association, assisted in direction of medical attention to the injured men. She modestly declined to describe her activities during the several hours which passed before doctors and nurses could be flown in two planes from Chapleau, Ontario, but members of the RCAF and the RCN who aided in the rescue work said her aid to the injured men was 'amazing.' 'I was only one of dozens of people working,' she asserted adding jokingly, however, that she 'must have torn up about 16 bedsheets' belonging to the railway line." She was heralded as the "Heroine of the Wreck" in newpapers. Please see articles above for more information.
Marta stood 5' 6" tall, weighed 132 pounds, had brown eyes and brown hair and would experience hay fever around dogs. She had a birth mark at the nape of her neck. She attended the United Church. .
She joined the CWAC on September 29, 1942. On her attestation papers, her birth date was noted as January 8, 1898, six years later than what her discharge age shows. Had she been born in 1898, she would have been 12 when her son was born in 1910. Being born in 1892, she would have been 18 at the time of her son's birth.
She was attached to the Kildare Barracks "F" Coy in Ottawa on September 30, 1942 for rations and quarters. She drew a clothing allowance of $15.00 on September 29, 1942. She was sent to Kitchener on October 20, 1942 and returned to Ottawa on January 1, 1943. On February 11, 1943, she was in London, Ontario with No. 6 Coy, then transferred to No. 101 Coy until April 30, 1943.
2nd Lt. Margaret G. Lebas evaluated Pte Moore on October 28, 1942: "This woman looks considerably older than the stated age. Is thin, non-robust in physical appearance, and seemed tired and worn out when interviewed. It was difficult to elicit much satisfactory information from her as she was vague and disinterested at first, and sat with head averted. Became more co-operative as interview progressed and talked more freely. No family background was given. She married during the last war and has one son, now 24 years of age. She worked on and off during her married life, as her husband was frequently ill. Husband died in 1940 of coronary thrombosis. According to her story, she has held many responsible positions and has had a wide and varied experience in advertising and publicity fields. Taught first aid and home nursing in Youth Training School and workd with Women's Service Corps, Alberta, for 1 1/2 years. She enlisted to do personnel work, but now is dubious as to her future position. Wonders if perhaps she has not as much to offer as she thought, and finds the physical strain of training pretty difficult. Has not felt well since coming to the Training Centre and is not certain that she can continue to carry on. Is somewhat complaintive, and does not appear to possess much endurance. This woman undoubtedly possesses high ability, but her lack of physical stamina suggests that she will not be able to undergo the usual course of training. It is doubtful whether she can forget herself sufficiently to adapt herself successfully to Army life and her qualifications do not equip her for work other than in an administrative field. Referred for medical consultation in view of inability to adjust to Army conditions.
Pte Marta Moore was discharged from CWAC on April 30, 1943 at the age of 52 years and 3 months.
On October 3, 1944, Marta died in Victoria, British Columbia of myocarditis and mitral stenosis. Her death made some newspapers, with incorrect information.
"In spite of repeated efforts, it has not been possible to get in touch with her son, Mr. E. Evans Moore, 119 Hopewell Avenue, Ottawa, with a view to ascertaining the place of his mother's burial." The Director of Records requested advice as to where Marta's cremated remains would be interred so that her grave may be marked.
It was decided that Pte Marta Eugene Sybelle Moore's name would be inscribed on the Halifax Memorial, in Point Pleasant Park. From Veterans Affairs Canada: "The Halifax Memorial was built by the Commonwealth War Graves Commission and the Government of Canada. It commemorates 3,267 Canadian and Newfoundland sailors and soldiers who lost their lives in the First and Second World Wars, and who were formerly commemorated by a memorial standing on Citadel Hill, Halifax. Inscription found on memorial 1914 1939 1918 1945 IN THE HONOUR OF THE MEN AND WOMEN OF THE NAVY, ARMY AND MERCHANT NAVY OF CANADA WHOSE NAMES ARE INSCRIBED HERE THEIR GRAVES ARE UNKNOWN BUT THEIR MEMORY SHALL ENDURE"
LINKS: