Mary Evelyn Harkans W4844
September 16, 1917 - April 26, 1944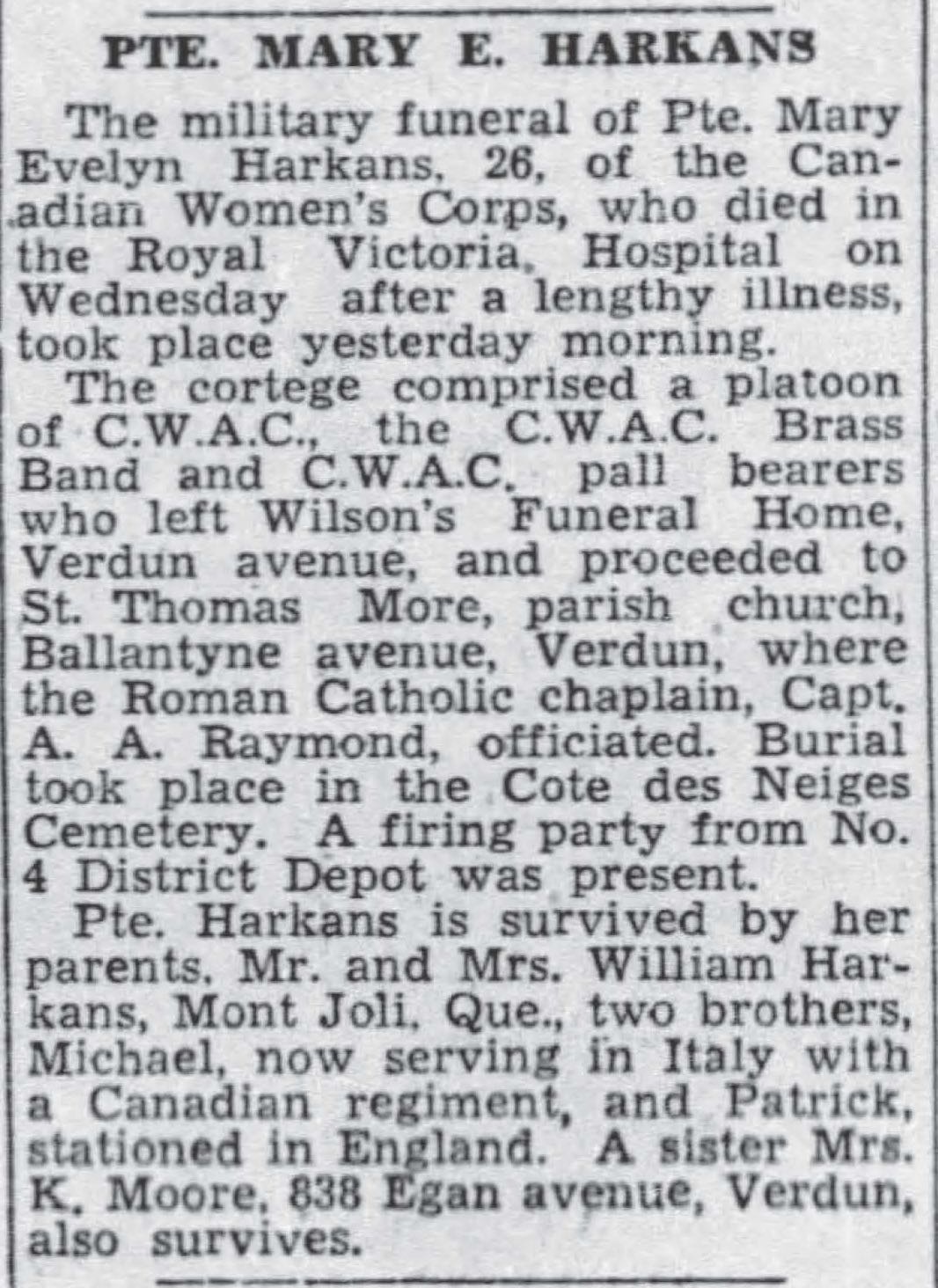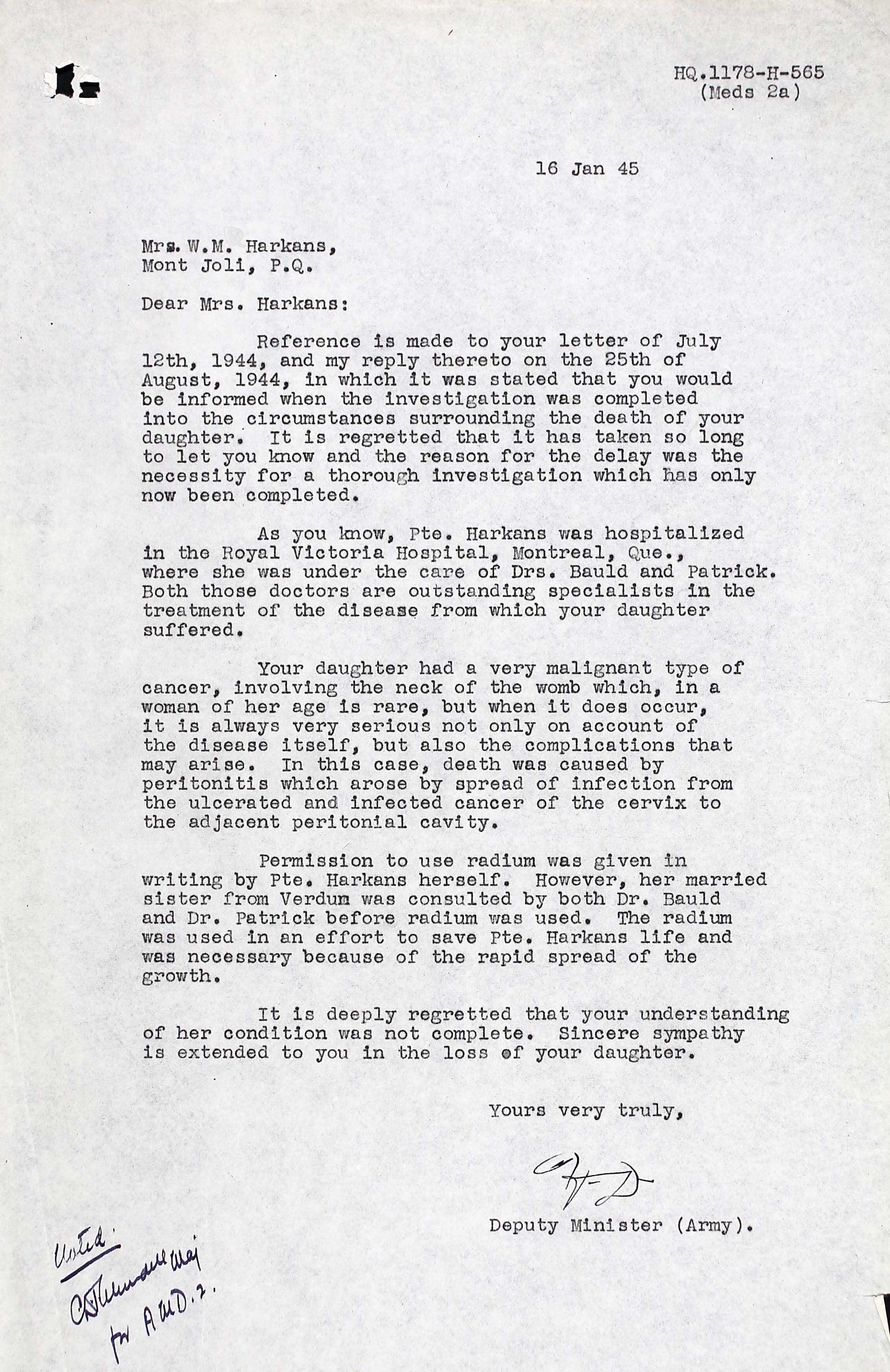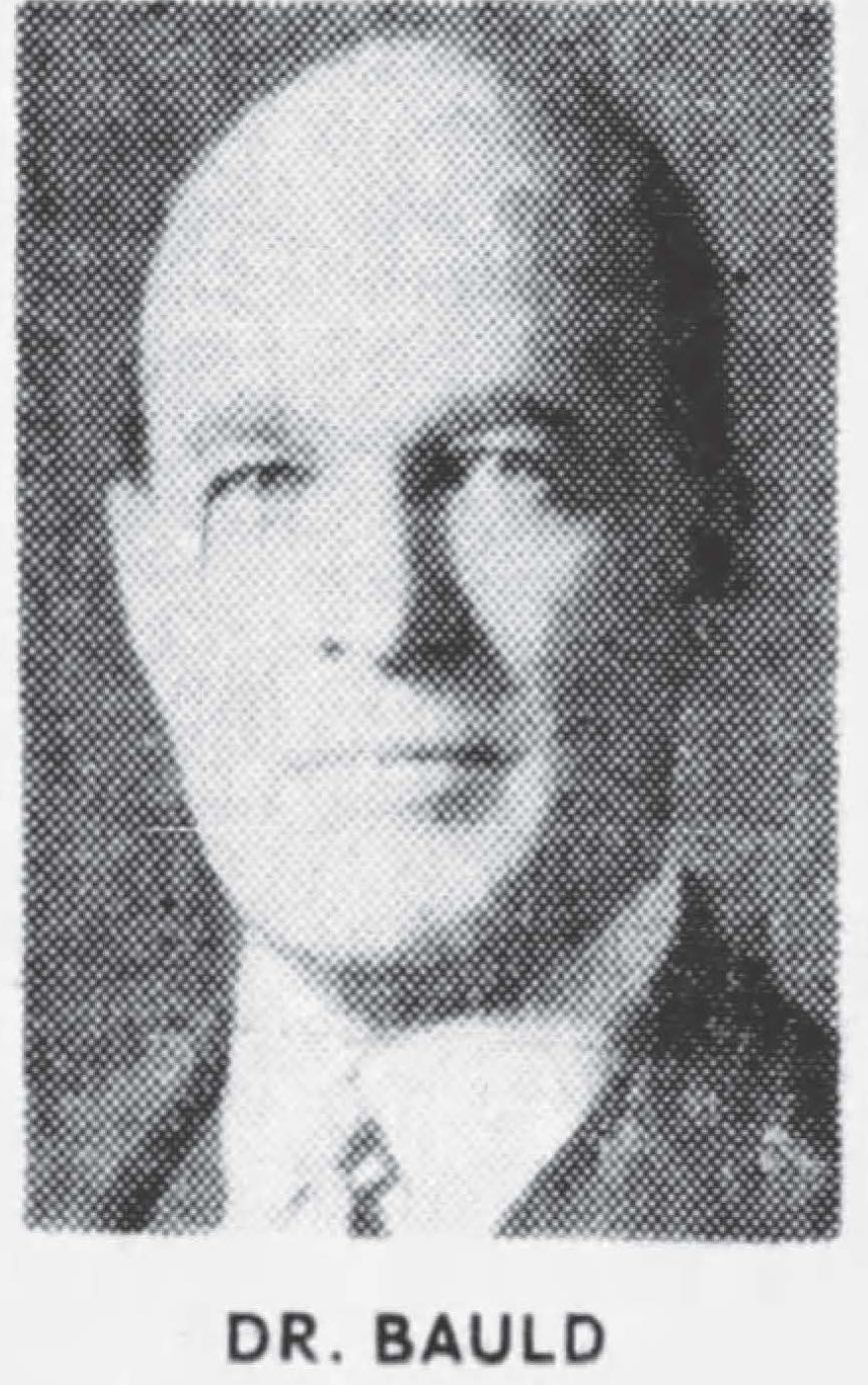 Canadian Women's Army Corps
Mary Evelyn Harkans was born on September 16, 1917 in Campbellton, New Brunswick, to William and Evlyn (nee Doucet) Harkans, later of Mont Joli, Quebec. Mr. Harkans was a CNR engineer. She had four brothers: Richard, Michael, George and Harry, plus three sisters: Katheleen, Teresa, and Jauqueline. Michael and George both served overseas. George was injured in 1944. Their parents were of Irish Canadian heritage and Roman Catholic.
Mary enlisted with the CWAC in Montreal on February 13, 1942. She had been an ammunition worker at D.I. L. (Defence Industry Ltd) as an inspector of munitions and petrol gauges. On February 3, 1943, she was assessed medically: "Does not recall any illnesses other than removal of tonsils and adenoids in 1923 or thereabouts. Appendectomy 1933." She had an upper and lower denture, plus a hallux valgus (foot deformity) and corns on toes. She was graded Category B1 because of her feet.
She was fluently bilingual. Mary had a Grade 7 education, at the Convent Mont Joli. She stood 5'6 1/2" tall, weighing 129 pounds. She had dark hair and brown eyes.
On her PERSONNEL SELECTION RECORD, dated February 12, 1943 by Lt. Margaret G. Le Bas, psychologist at the Ontario Hospital in Brockville, Ontario, prior to her enlistment: "Started school at 5 1/2 years, completing Grade VII at 12 years, Campbellton, NB. Family moved to Mont Joli, PQ at this time and girl repeated her whole public education in French, finishing at 19 years. OCCUPATIONAL BACKGROUND: Remained at home until June 1942 when she came to Montreal to look for work. Obtained job as inspector of petrol gauges, DIL, Verdun, PQ one month later and has been steadily employed since that time. OTHER PERSONAL HISTORY AND APPRAISAL: Born in Campbellton, NB as 3rd member of family...home standards are satisfactory...Health 'very good'. She is a brown-eyed, dark haired girl with well-marked brows. Seems poised and self-confident. States that she goes out very seldom except to shows. Likes to read and write poetry. Attempts 'nature' poems. Has wanted to try writing stories but has never felt that her efforts were good enough to publish. Fond of photography, watercolours and handwork. Has no clubs or social groups. Started a First Aid class at DIL and is still attending. She is a quiet, somewhat reserved girl who does not find it too easy to talk to strangers. She was very precise in giving information. States that she is sensitive to criticism and seems submissive to a slight degree. Is ambitious and will plod to get ahead. Has had responsibility in her work and would prefer it in Army duties as she feels she can do her best work when something depends on her. Her ability is average. She is slightly interested in cooking, but it might be well to reinterview her at the end of basic training as a prospect for this course. RECOMMENDATIONS: 1. Textile refitter 2. Storewoman 3. Trade Training: Cooking."
She was taken on strength on February 13, 1943 with No. 33 Coy in Montreal. She was sent to No. 3 CWAC (B) Training Centre in Kitchener, Ontario on March 12, 1943. By April 19, 1943, she was back in Montreal. By May 13, 1943, she was in Farnham, Quebec.
On April 26, 1944, Pte Mary Evelyn Harkans died at the Royal Victoria Hospital, Montreal, of peritonitis. She is buried at the Notre Dame des Neiges Cemetery, in Montreal.
In her personal effects, she had an empty jewel box, clothes, toiletries, one pair of ski boots, photos, a prayer book, her wallet and a pack of playing cards.
On July 12, 1944, Mrs. Harkans wrote a letter unhappy with the treatment her daughter received. "Dear Sirs, Well for sometime, I wanted to write you concerning the death of Pte Mary Evelyn Harkans CWAC W4844. She had been ill in hospital for three months. I understand the Army sent her there and was paying the cost, but why did the Army not know of her condition and see how things was [sic] going after been there for three months and was to leave hospital in a few days. All of a sudden, she takes very ill and dies from peritonitis (poison) from Radium and when we notified the Army on the 26th of April 1944 that she had suddenly passed away, the Army knew nothing whatever of her condition. Do you mean to say the Army was taking care of her all this time when we told the commanding officer on that day she was surprised and said she wondered for some time where she was. Has the Army no more protection than that as far as I can see she was used to experiment on. I think I should know before anyone else. She was our daughter and I don't think we got a fair deal. I think this matter should be looked into more that it has been. Who gave permission to use Radium when it was not needed. If she had taken better care of, she would be well today. I received a letter from her on Saturday saying she was very well and was coming home on Wednesday. On Monday, they gave her another treatment which was fatal. I hope I hear from you in the near future."
On January 16, 1945, Mrs. Harkans received a letter from the Deputy Minister (Army). "Reference is made to your letter of July 12, 1944 and my reply thereto on the 25th of August 1944, in which it was stated that you would be informed when the investigation was completed into the circumstances surrounding the death of your daughter. It is regretted that it has taken so long to let you know and the reason for the delay was the necessity for a thorough investigation which has only now been completed. As you know, Pte. Harkans was hospitalized in the Royal Victoria Hospital, Montreal, Que., where she was under the care of Drs. Bauld and Patrick. Both those doctors are outstanding specialists in the treatment of the disease from which your daughter suffered. Your daughter had a very malignant type of cancer, involving the neck of the womb which, in a woman of her age is rare, but when it does occur, it is always very serious not only on account of the disease itself, but also the complications that may arise. In this case, death was caused by peritonitis which arose by spread of infection from the ulcerated and infected cancer of the cervix to the adjacent peritonial cavity. Permission to use radium was given in writing by Pte. Harkans herself. However, her married sister from Verdun was consulted by both Dr. Bauld and Dr. Patrick before radium was used. The radium was used in an effort to save Pte. Harkans' life and was necessary because of the rapid spread of the growth. It is deeply regretted that your understanding of her condition was not complete. Sincere sympathy is extended to you in the loss of your daughter."
LINKS: