Mary Isabel Millar W10965
December 22, 1923 - May 16, 1943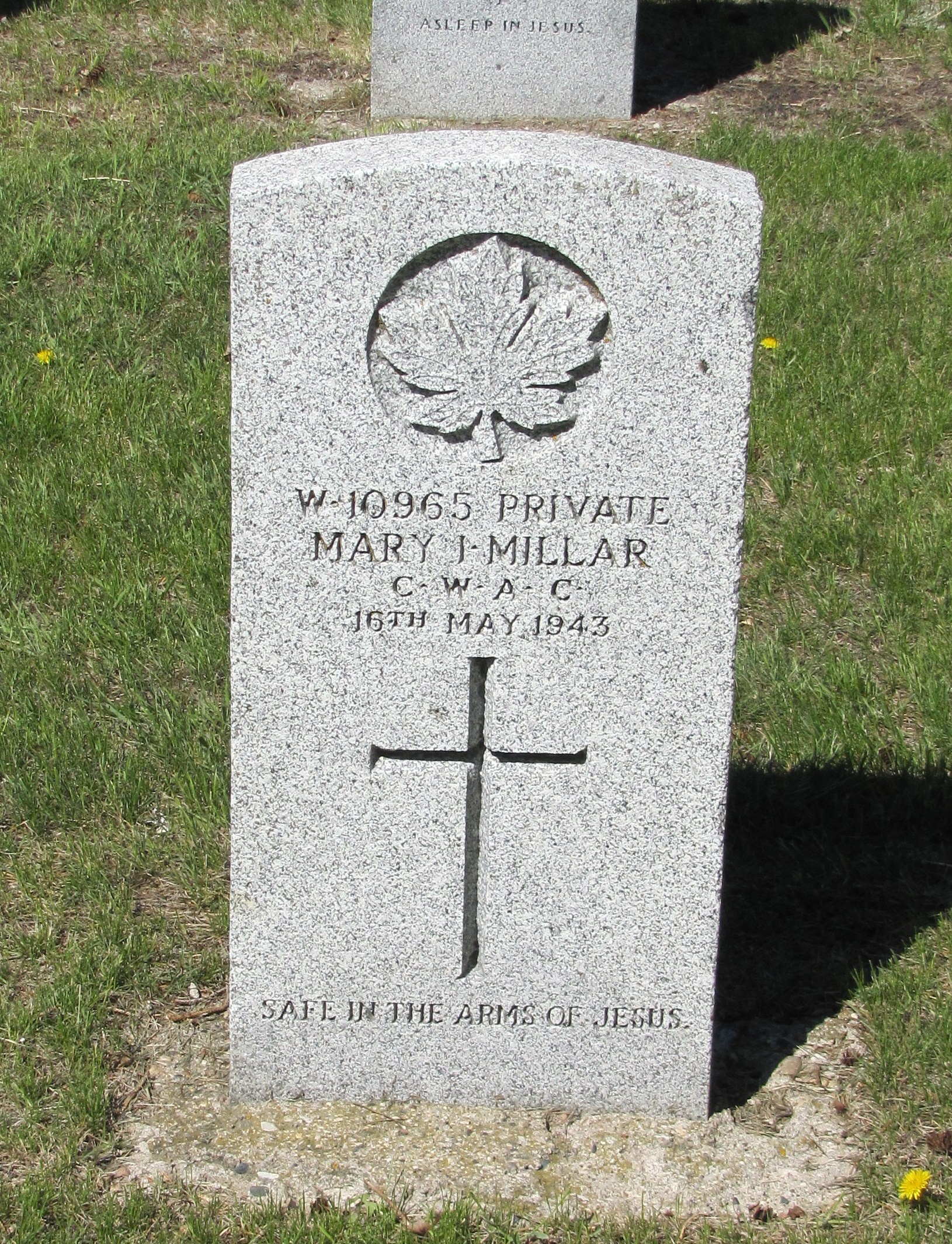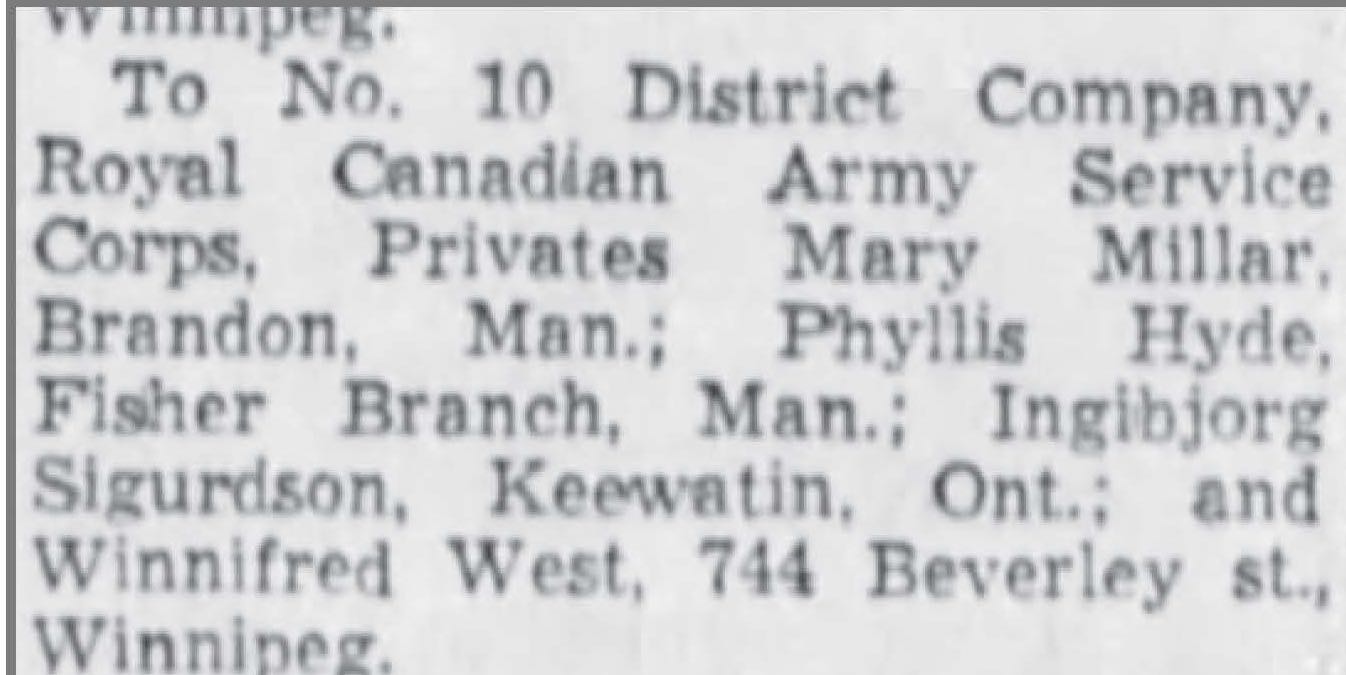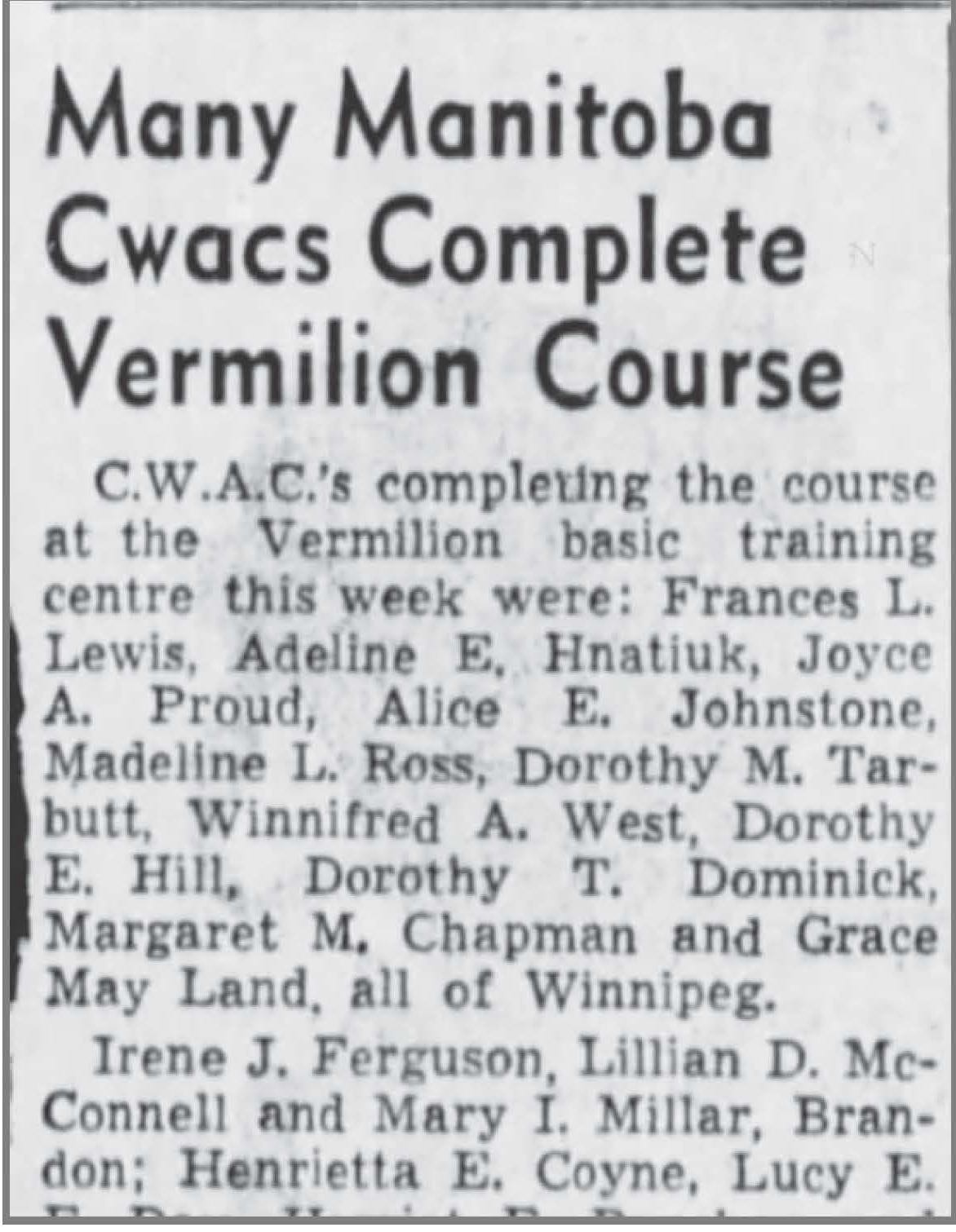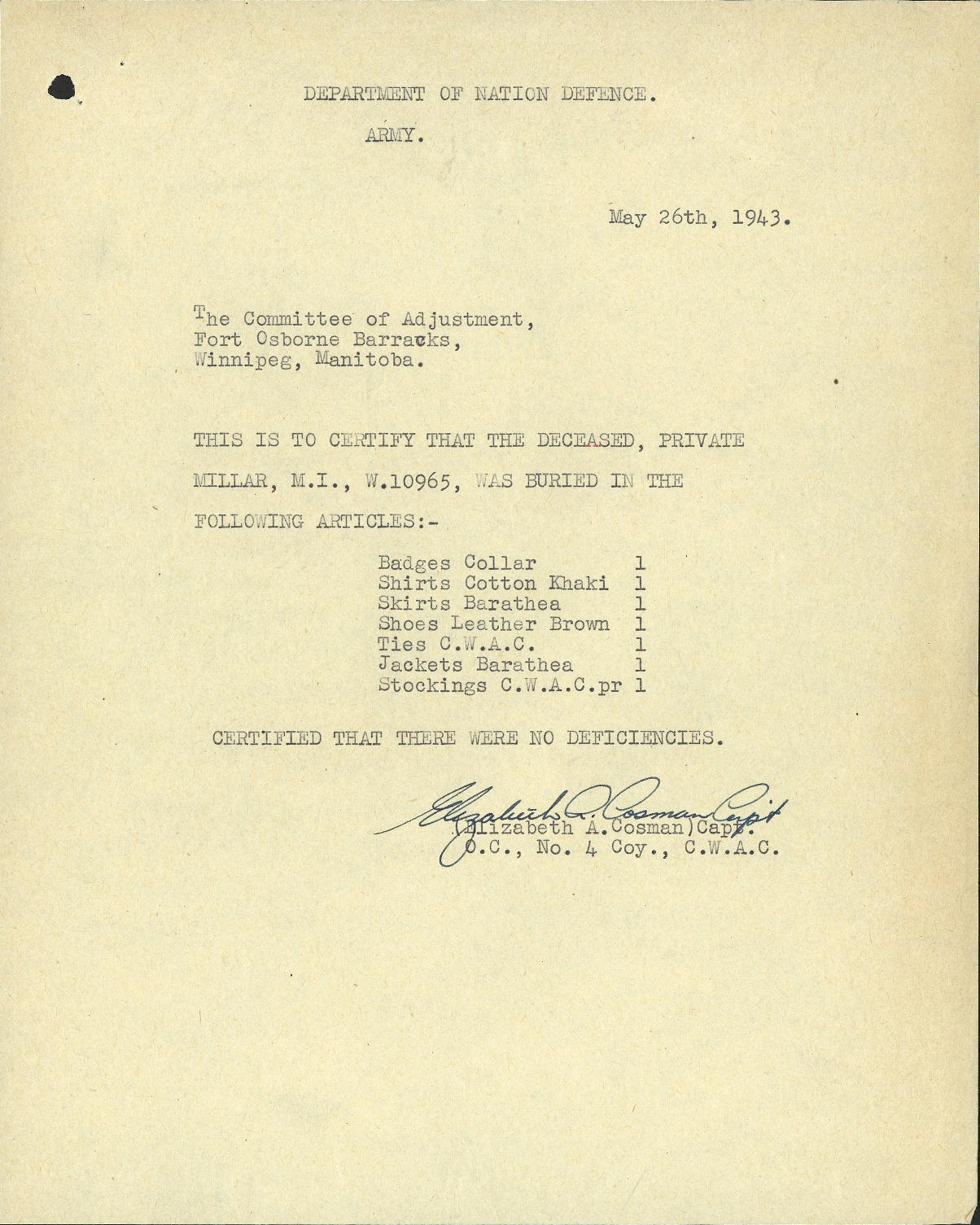 Canadian Women's Army Corps
Mary Isabel Millar was born on May 16, 1943 to John Sym Millar and Elizabeth (nee Clement) Millar of Brandon, Manitoba. Her mother died on January 4, 1934. There were eight children in the family, including Mary; three brothers: John, Oliver and A. Millar, four sisters: Barbara, Jessie, Annabelle and Elizabeth. Two other siblings, twins, died in infancy. The family was Presbyterian and attended the United Church.
On her PERSONNEL SELECTION RECORD, dated March 3, 1943, Vermillion, Alberta at the CWAC Training Centre: "Passed Grade 11 at Brandon, Manitoba when 17. Millar preferred Algebra in high school. Had two months business course at Brandon Business College. Domestic at home for 6 months. Salesclerk at Zinc's Grocery in Brandon for three months. Attested February 5, 1943 at Winnipeg, Manitoba." PERSONAL HISTORY AND APPRAISAL: "Millar's home is in Brandon, Manitoba. Her father was a storekeeper in the CNR, but is now retired. She has three brothers -- two are overseas -- one is an Ordinary Seaman in the RCN. Millar speaks highly of her home and says that during her childhood, she attended school regularly and was very healthy. Is 5' tall and weighs 108 pounds. Has a round face with very deep dimples in her cheeks. Millar is an amateur tumbler. She did several performances at the Manning Depot in Brandon before enlisting. She appears to be athletic: swims, skates, plays basketball and baseball. Her score on #6 her 'M' examination suggests that Millar has a Mathematical aptitude. It is therefore considered that she be placed in a position involving figures. This very young girl radiates energy. Work that is sedentary would probably not be suitable. Some active work is suggested. Anxious to go overseas. RECOMMENDATION: Store - Accountant." Lt. Betty L. Lough
Mary had been unemployed at the time of her enlistment and felt qualified as a typist. She indicated she had never been to a doctor. She remembers having measles and pneumonia at 7 years of age, lasting one month. She had a large mottled patch, extending from her left shoulder axilla and left side of chest with a scar on the surface of her left knee.
She attested at the Fort Osborne Barracks in Winnipeg. Pte. Mary Isabel Millar did her training at No. 4 Coy CWAC, Winnipeg. She earned $0.95/day as a clerk.
In March 1943, she was sent to an ear specialist for otitis, which required treatment. On April 19, she was complaining of pain her right ear for two days. On the 20th, she was admitted to the Deer Lodge Hospital in Winnipeg. She had a severe frontal headache with a loss of appetite with vomiting. She could not sleep at night due to the pain and her being sick. The doctor said that Pte Millar had definite signs of meningeal irritation. They took some spinal fluid for analysis. On April 21, "This girl seems definitely better, but strikes me as being euphoric. However, her relatives say she is quite natural. She is not drowsy today and talks intelligently. She should be punctured again today." They took another spinal puncture on the 21st. On the 23rd, she was drowsy, confused and irritable. They operated on Mary that day. They made an opening behind her right ear and a large amount of foul pus was evacuated. Her condition after the operation was noted as good. On the 24th, she was still drowsy but was rational and well orientated. Another sample of her spinal fluid was removed for analysis. On the 27th, the doctor felt Pte Millar was slightly better. "Is more rational." Pte Millar remained drowsy and slept most of the time. "The diagnosis in this case is still very much in doubt." On May 6: "Must brighter mentally. Almost euphoric...diagnosis still in doubt. I still think hemorrhagic encephalitis the most likely. Can suggest no active treatment." Dr. O. W. Waugh. On May 15: "Condition generally statis although well orientated and alert. She is noisy, irritable, and difficult to manage. There is a continuous and monotonous repetition of phrases throughout the flow of speech....definite left external 6th nerve palsy and left 7th nerve parasis...I think there is a good deal of intellectual degeneration and her condition is generally not improved." On May 15: "Pupils dilated, lips cyanose, pulse irregular...shortly afterwards became very rapid and ceased at 2:47 am." An autopsy was requested and permission was granted.
Pte. Mary Isabel Millar died in Winnipeg of furniculosis of the right ear and suspected meningitis.
In her personal effects: clothing, a bathing suit and cap, a rouge puff, toiletries, a pair of dark glasses, a cribbage board and a deck of cards, a box containing 18 letters, a box of writing paper and envelopes, plus a diary.
Pte Mary Isabel Millar's file is available through the Library and Archives Canada. See link below.
LINKS: