Mary Maimie Muise W6453
January 24, 1920 - November 30, 1943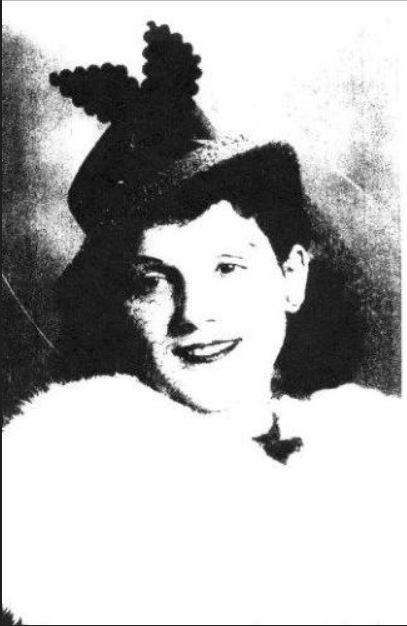 Canadian Women's Army Corps
Mary Maimie 'Mamie' Muise was the daughter of John Felix and Mary Helen Muise, of Springhaven, Yarmouth County, Nova Scotia. She was the second of thirteen children: Peter, Jarvis, George, Donald, Adele, Sadie, Rosie, Delcie, Agnes, Marie, and Margaret, including one half-sister, Mrs. Rose Gidney and one half-brother, Frank Muise. One brother and one sister died in infancy. Her father was twenty seven years older than her mother. The family was Roman Catholic.
Mamie had a Grade 8 education and was bilingual. She stood 5'4" tall, and weighed 134 pounds upon attestation. She had an appendix scar. On her attestation form, she noted she was Protestant.
TRAINING AND POSTINGS:
No. 24 Coy, Halifax, Nova Scotia: January 8, 1943
No. 3 CWAC (B) Training Centre, Kitchener, Ontario: February 2, 1943, where she earned $0.95 per diem
No. 106 Depot, Haifax, Nova Scotia: April 28, 1943
No. 17 Coy, CWAC, Sydney, Nova Scotia: August 3, 1943
On her PERSONNEL SELECTION RECORD, dated February 16, 1943, Lt. F. Marguerite Hill wrote: "Completed Grade VIII at 13 years of age. Attended schools in Yarmouth and Digby, NS. Reading was her best subject, did not do well in arithmetic. Had to leave school to go to work. Waitress in hotel for one year. Tired of the work and obtained employment as a domestic. Had the responsibility for four children and the housework, and became tired of this work after two years. Was domestic and waitress in several positions, never staying long in one place because she 'liked variety.' Enlisted in Kentville, NS, attested January 8, 1943. Now on basic training, Kitchener, Ontario. Both parents are living. Father has been ill and unable to work -- had been a 'jack-of-all-trades'. This is the 2nd of 13 children. One brother in the Army and the others help on the farm or at school. Sisters are married, doing domestic work or attending school. There is some indication that her family life and her relationship wiht her father has not been too happy. Interests: enjoys swimming, but few other sports. Has spent much time by herself, reading True Detective stories, sewing, knitting, etc. Likes to dance. Height: 5'4", weight: 140 pounds. This is a heavily built girl with short dark hair, brown eyes, pleasant appearance. Friendly, rather effusive manner, gives the impression that she could take some responsibility but would be apt to be domineering. Her performance on the M test indicates that she is of low average ability, and her educational standing is only fair. She enlisted as a driver, but has had only three months' experience, feels sure that she could succeed because she is so interested in the work, but in view of her ability, it would appear undesirable to recommend her. She definitely does not want to cook, and would appear most suitable for routine duties. RECOMMENDATION: 1. Routine duties in Stores. 2. Could be given trial in Trade Training, Driver IC because her motivation is so great, but she does not appear to be a good prospect."
On March 4, 1943, she was awarded three days' confined to barracks and admonished for being absent without leave from 2200 hours - 2350 hours that night.
On July 12 1943, at No. 17 Coy, CWAC, Sydney, Nova Scotia, Capt. Olive R. Russell wrote: "After Basic Training, she took course for Driver at Kitchener and got her Standing Orders. Was posted to Sydney as Driver MT at Area Headquarters. She seems very happy in her work and is gradually becoming more content with being in Sydney, though at first, she didn't like it. She seems a happy looking person with a pleasing voice and quiet manner. RECOMMENDATION: Continue with work as driver as long as satisfactory."
On September 16, 1943, Private Muise was granted a special leave, returning October 3, 1943. Her pay was increased to $1.10/diem.
On October 9, 1943, she was admitted to the Naval Hospital, Sydney until October 19, 1943.
On November 30, 1943, Pte Muise was involved in a vehicular accident in North Sydney. The car went into the water and she drowned.
She was buried just outside the Roman Catholic Cemetery at Quinan, Shelburne County, Nova Scotia.
In the list of Mary Maimie Muise's personal effects: one New Testament, one doll (dressed), a Brownie camera, batteries, a pink satin nightgown and a pair of flannelette pyjamas, clothing, toiletries, make-up, cigarette holder, a 14" link chain in a watch case, a writing tablet, envelopes, an empty perfume bottle, a cardboard box with letters, photos and notebooks, plus one 'gent's ring with US crest'.
For another version of Mamie's story, please visit the Yarmouth link below.
LINKS: