Mary Margaret Gallant W6565
July 22, 1925 - February 4, 1947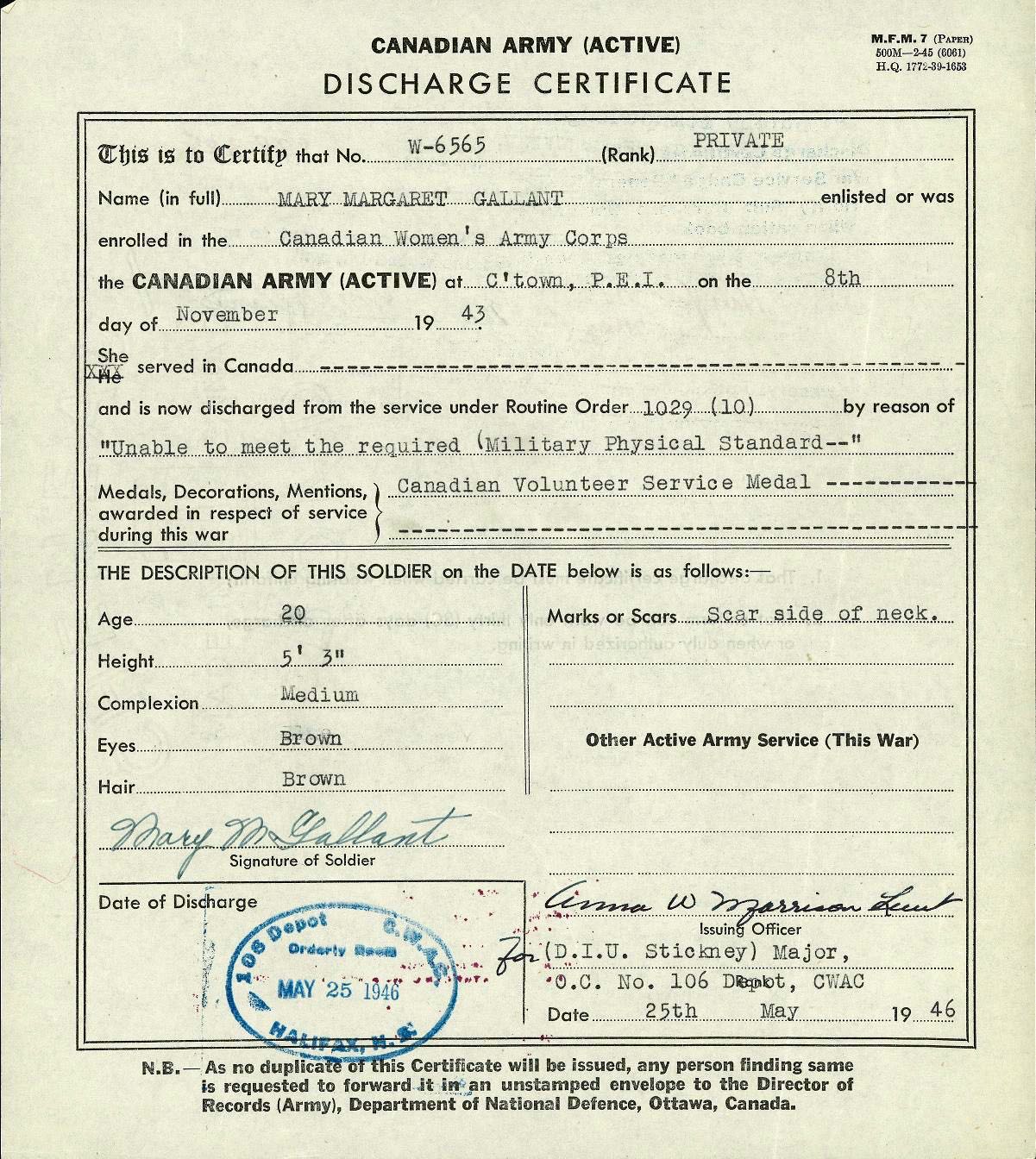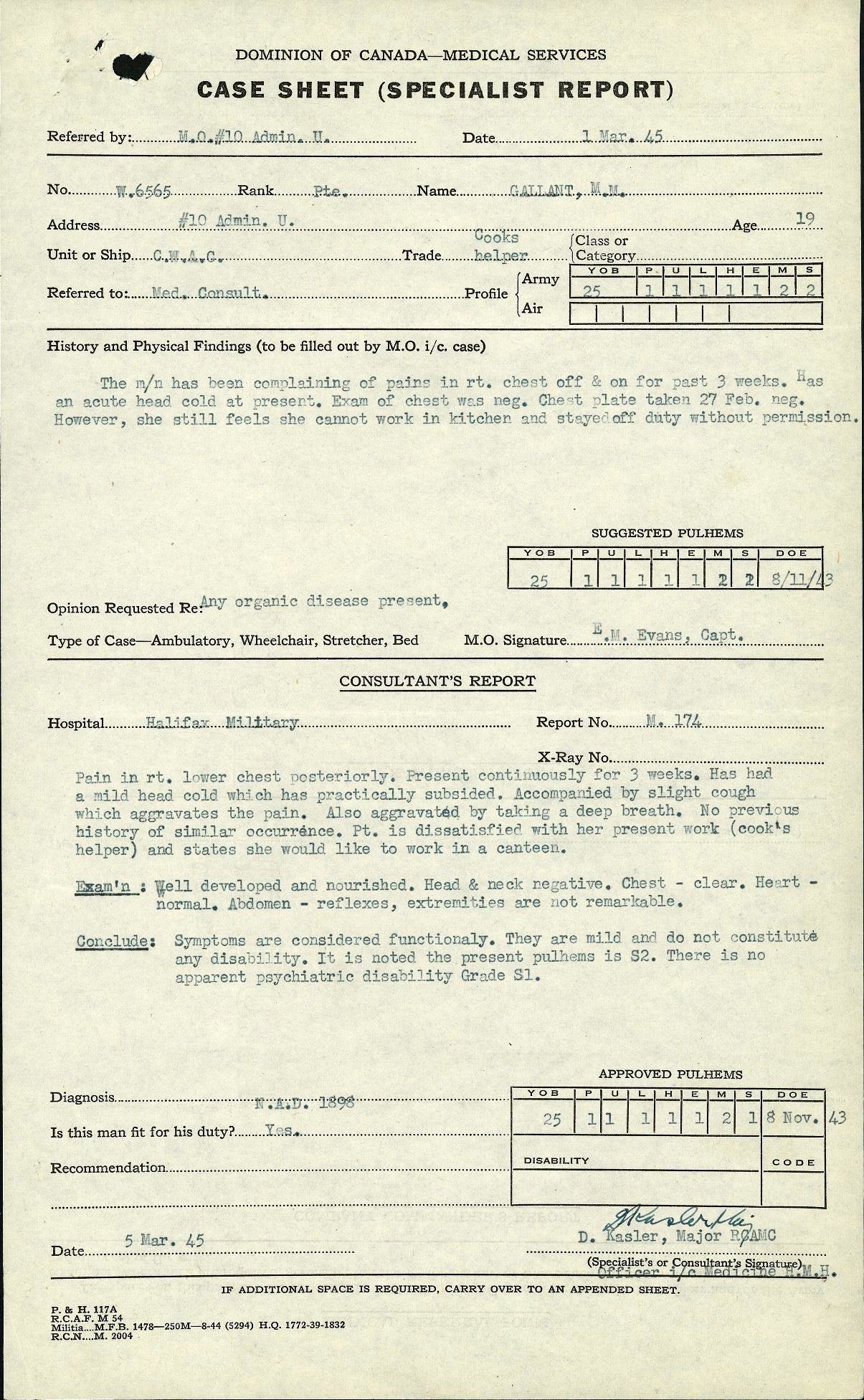 Canadian Women's Army Corps
Mary Margaret Gallant was the daughter of Reginald Joseph and Mary Mildred Gallant of Charlottetown, Prince Edward Island, who were married on February 22, 1925, aged 17 and 16. Mary had a younger brother, Frederick Joseph, aged 10 by 1947. Her parents noted that their daughter's birthdate was July 14, 1926, not July 22, 1925, as Mary indicated on her enlistment form.
Her education was at St. Joseph's Convent in Charlottetown; she finished her schooling in Dartmouth, Nova Scotia, Grade IX, in 1940. She worked as a laundress, with experience with pressing machines, folding and checking, attending driers, plus a sales clerk with the Metropolitan Store in Charlottetown for four months. She had no definite plans for after the war, but thought about taking a clerk's course.
Mary had brown hair and brown eyes, with a medium complexion. She stood 5'3" tall and weighed 125 pounds. She had had a tonsillectomy and pneumonia as a child, plus an abscess on her neck, right side. She had a one inch long scar on lateral side of neck, due to this abscess.
Mary enlisted in the CWAC on November 8, 1943 in Charlottetown, PEI. On her PERSONNEL SELECTION RECORD: "Single. Parents live in Charlottetown, PEI. Her father is in Canadian Army. Has an adopted brother. Says her health is good. Is used to hard work in laundry. Worked two nights a week. Goes to dances a good deal, also movies. Reads a bit on Sundays. Chords on the piano. A pleasant hardworking sort of girl, rather immature and of limited mental horizon. Appearance and manner are satisfactory. She has worked in the laundry for the past seven months and seems to know a great deal about the routine, and can describe the various processes at length. She likes this work and would like to continue it it if enlisted in CWAC. In view of need of laundresses, she is being accepted for service." Edna P. Jamieson, for Lt. H. B. Chandler
TRAINING AND POSTINGS:
No. 3 CWAC BTC, Kitchener, Ontario, December 1943
C & A A (A) TC, Halifax, NS: August 1944
No. 10 Admin Unit, Halifax, NS: May 1945
On December 9, 1943: "Is completing basic training No. 3 CWAC, Kitchener, Ontario, November 25 - December 22, 1943. Is making fair adjustment to army life, enjoys the training, and appears fairly willing and co-operative. She is now very anxious to take a course and says that she would not be content with general duties or laundry work. Her qualifications are not high, however, and in view of the fact that she was accepted only because of her experience as a laundress, it appears advisable to recommend her for this type of work." Capt. Marguerite Hill
On August 3, 1944: "Posted to A. 23 TC and employed in the laundry as a presser. Gallant appears to be well placed in her present work, and to be doing a satisfactory job. She is a happy person who is not too careful of her grooming; seems to be somewhat unstable and of a 'nervous' temperament. Present S rating of 2 is an error. Suggest she be referred to the psychiatrist for confirmation of this rating, to determine correct medical category. Recommended to continue as laundress." Lt. Edna P. Jamieson, CWAC Army Examiner
On August 14, 1944, Pte Gallant was confined to barracks for seven days and given extra duties when she did not report to barracks on time at 106 Depot Coy. That same day, she brought beer into the barracks and was docked seven days' pay. On December 1, 1944, she was absent without leave from 0100 December 1 to 0600 hours December 2, 1944. She was given another seven days extra duties and confined to barracks for that amount of time. On December 31, 1944, she was AWL again for ten hours and 30 minutes. Pte Gallant was confined to barracks for another seven days.
On or about November 1944, in Halifax, Nova Scotia, she lost her wallet, including her identification card. She was unable to locate it as of January 1945.
On February 13, 1945, Mary Gallant came down with the German measles.
On February 28, 1945, Pte Gallant was again AWL from 0800 hours that day until 1400 hours the same day. She was docked three days' pay.
On March 1, 1945, at No. 10 Admin Unit, Private Gallant had "been complaining of pains in her right chest off and on for the past three weeks. Has an acute head cold at present. Exam of chest was negative. Chest plate taken 27 February negative. However, she still feels she cannot work in kitchen and stayed off duty without permission." Further in the report: "Accompanied by a slight cough which aggravates the pain. Also aggravated by taking a deep breath. No previous history of similar occurrence. Patient is dissatisfied with her present work (cook's helper) and states she would like to work in a canteen." She was assessed as "well developed and nourished...symptoms are considered functionally. They are mild and do not consititute any disability...There is no apparent psychiatric diability Grade S1." D. Kasler, Major, RCAMC, Officer in charge Medicine HMH
On April 30, 1945, she was remanded to the station, as at 1700 hours, she was drunk at Cathedral Barracks.
On April 30, 1945, at No. 10 Admin Unit, she reported to the MO. "Doubtful fracture navicular left wrist. Pte Gallant explained, "I was walking across the parade square and I fell. I had been drinking and I went to hit the girl who was with me and I hit the flag pole instead." She had a fracture of the scaphoid on her left wrist. On May 3, 1945, she complained that the cast on her arm was too tight. "Fingers swollen and painful." Her cast was reapplied and was to be left on for two months. This injury continued to bother her by October 1945.
On May 14, 1945: "Interviewed during a survey of the HWE of No. 10 Admin Unit, CWAC: The volunteer continued to serve as a laundress at A-23 TC until 1 December 1944. At that time, due to revision of establishment, she was reposted to No. 10 Admin Unit CWAC and detailed duty as a kitchen orderly. Gallant states that she dislikes her present job and has been quite unhappy since coming to this camp. She complains of many aches and pains and appears to have little interest in anything worthwhile or otherwise. A fractured wrist at present limits this girl to light duties and she has been put on temporary fire piquet duty. If she does a satisfactory job in this latter capacity, she might be considered for permanent duty as such. However, if she continues to complain continuously and to break regulations, it is suggested that she be returned to a psychiatrist for consultation." Capt. Edna P. Jamieson, Army Examiner
On June 26, 1945, again she was docked pay, this time for 14 days. "First charge: conduct to the prejudice of good order and Military discipline, drinking of alcoholic beverage while on duty. Second charge: conduct of the prejudice of good order and Military discipline, AA SEC 40."
On May 21, 1946, Pte Gallant saw the doctor about a cough and pain in her right chest and back. She was examined and it was noted that her cough and expectoration occasionally blood tinged since April 20, 1946. "Episodes of wheezing and dyspnoia during last three weeks especially at right. Aching pain right lower chest." The x-ray showed three ring shaped shadows in the region of the apex of the right lower lobe, suggesting caviation. "The findings are compatible with an active tuberculosis lesion."
Pte. Mary Margaret Gallant was struck off stength on May 25, 1946 "while a patient in the Halifax Military Hospital, and transferred to the DVA for further treatment and is now a patient in the Provincial Sanatorium at Charlottetown, PEI...This 20 year old woman...is rather immature but friendly, has been a hard worker both in civilian life and in the army in unskilled duties under supervision. Gallant had planned to be married in a few months after her discharge but realizes since learning of her condition, that she can make no definite future plans at present. She had hoped to use her credits for furniture but will decide this matter later....any plans for the future will hinge on her response to treatment for TB. Subject to recovery, suitable for employment in light, unskilled work in a kitchen or laundry." Lt. Edna P. Jamieson, Army Counsellor
On February 4, 1947, Mary Margaret Gallant died at the Provincial Sanatorium. "No personal effects, articles of clothing or cash came into the possession of The Department of Veterans Affairs and the deceased had no personal monies deposited with the DTO." The expenses incurred for her funeral, in account with the Frank Hennessey Funeral Home amounted to $191.50. The DVA paid $100 of the bill.
Her parents were granted half of her estate each.
Mary Margaret Gallant is buried at the St. Dunstan's Roman Catholic Cemetery in Charlottetown, PEI.
LINKS: