Maude Alexandria Marks W23141
March 6, 1903 - September 3, 1947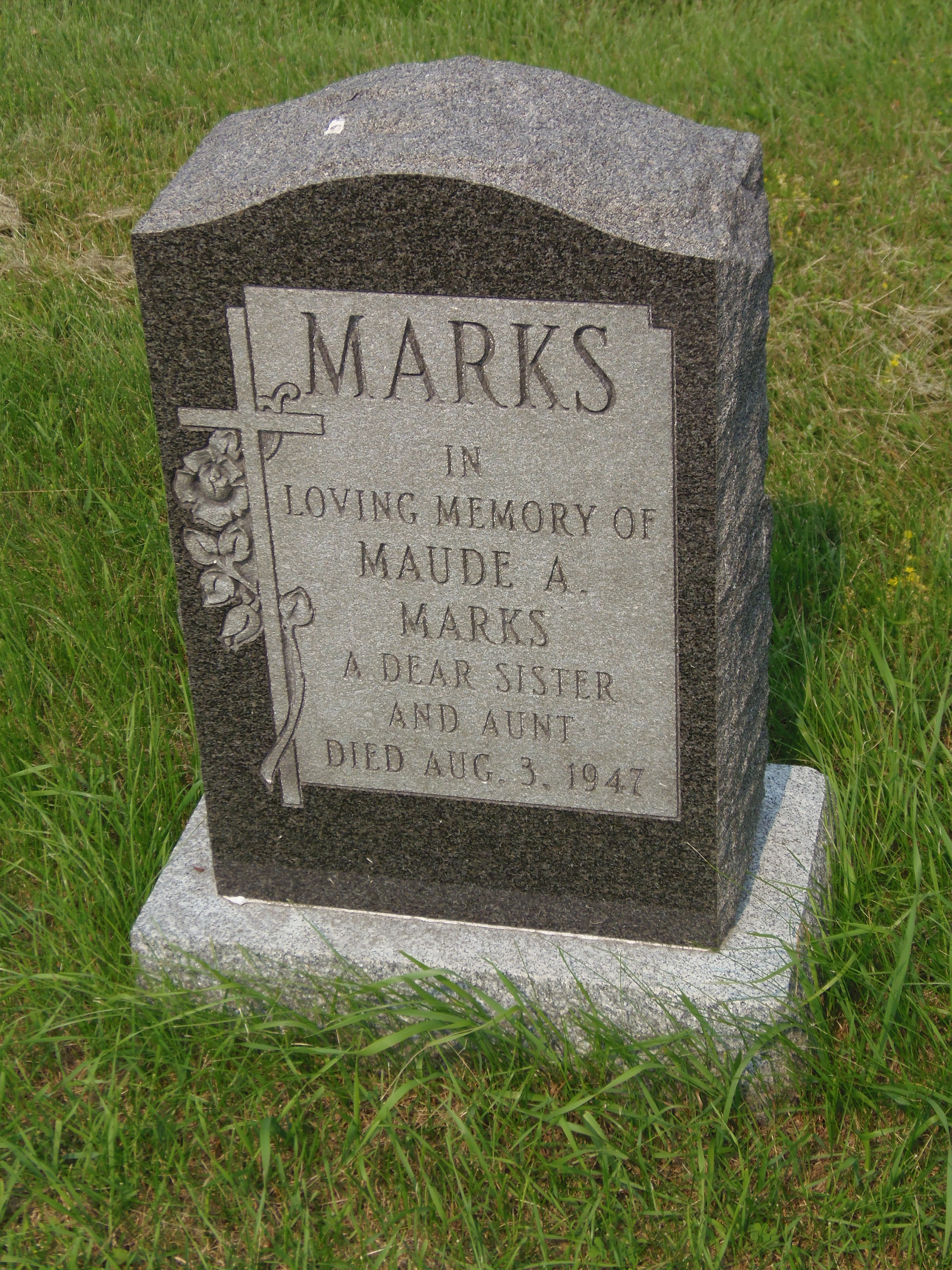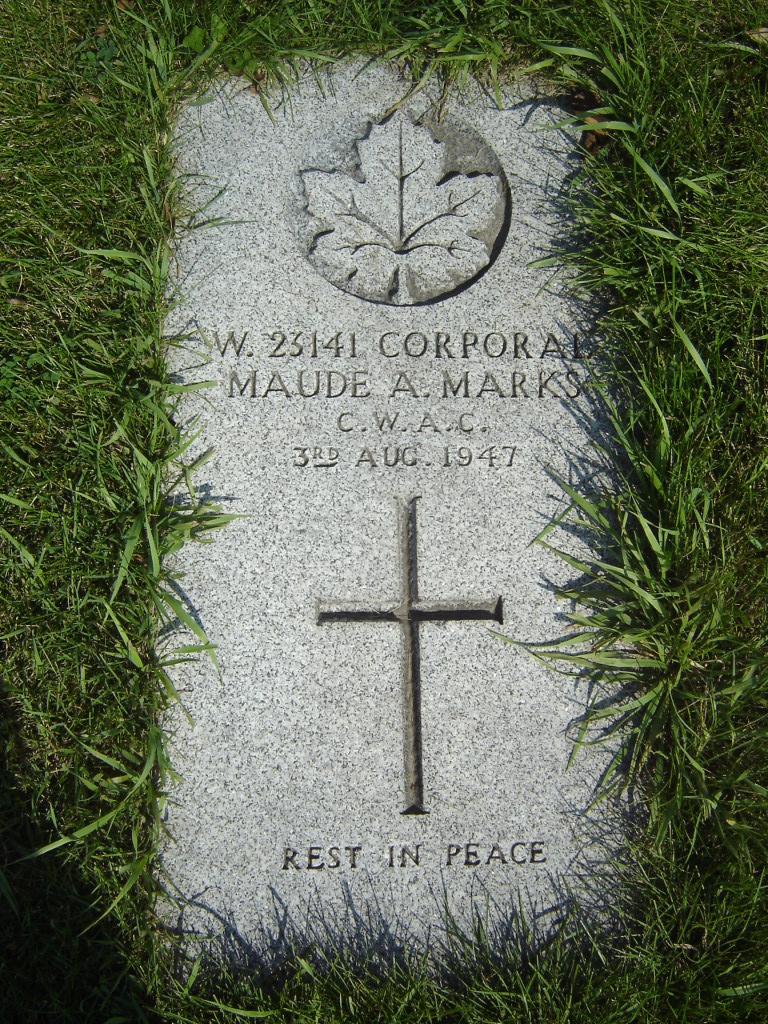 Canadian Women's Army Corps
Maude Alexandria Marks was born in Kingston, Jamaica, on March 6, 1903. She was the daughter of Solomon and Mary Marks. Her father was born in London, England and her mother, Montego Bay, Jamaica. Maude had a sister, Lily Veronica Murray, later of Toronto and a niece. The family was Roman Catholic.
Maude had brown eyes, dark brown hair, stood 5' 3 1/2" tall, weighed 127 pounds and wore glasses for reading. She spoke English and Spanish. She had completed the 6th form (Jr. Matriculation) in Kingston at 17 years of age. She enjoyed school. She took a business course in Kingston for 1 1/2 years, then had been a stenographer for B&G Machado Co., a tobacco firm, in Kingston for one year. She left Jamaica to visit friends in New York. She then worked for Samuel Harman Co., a lace firm in New York City for one year, then went to Havana, Cuba to visit friends and obtain employment. She was then a private secretary to the manager of Frank L. Getman Co., in Havana for five years. She had a salary of $175/month which was increased to $275. Maude left the company after the owner died and the business liquidated. She then was the secretary to the chief sales manager of Colgate Palmolive Co., in Havana for one year. She returned to Jamaica because of her mother's illness. She worked as a bookkeeper and stenographer for T. Geddes Grant Ltd., in Kingston for 11 years, leaving that position to enlist with the understanding that she might return after the war.
Maude enlisted in Toronto on January 15, 1945 and taken on strength as a Clerk Stenographer "C".
Capt. Mabel L. G. Brown filled in Maude's PERSONNEL SELECTION RECORD. "Her parents are both deceased. She has an older sister employed as a stenographer and bookkeeper in Kingston, Jamaica and she can to canada with her niece who is enlisting also at this time. Marks is a mature woman of pleasing personality. Her manner is somewhat retiring but she impresses one as being an industrious, steady person. Civil status: single. Her interests are average. She enjoys participating in all outdoor games, is fond of swimming and bridge. Reads a great deal, chiefly novels of both the serious and lighter type. She studied pianoforte as a child but has not kept up her music. Enjoys the theatre and symphonic concerts. Her "M" score is average for CWAC and her educational standing appears to be the equivalent of Junior Matriculation. She has had a great deal of experience as a secretary and held positions of responsibility. She acted as secretary and office manager while with the Colgate Co. and states that in two positions she had full power of attorney. She is an efficient stenographer with a good speed in both shorthand and typing. She is anxious to do a worthwhile job in the Army and is recommended as a stenographer in a position which will enable her to assume some responsibility."
On March 2, 1945, Capt. Doreen R. Wilcox wrote, "Is completing basic training No. 3 CWAC (B) TC, Kitchener, March 9, 1945. This is a mature person of neat appearance. She converses easily with a good choice of vocabulary. She has enjoyed her training and has co-operated well in all Platoon activities. Her work has been good. Her reason for joining was for purely patriotic motives and she is willing to serve anywhere but hopes to be posted with her niece, Pte. Murray." She was posted to No. 101 Depot, London, Ontario.
Lt. Dorothy Cosstick, Army Examiner, on August 21, 1945 wrote: "Stenographer employed at L.M.H. Crumlin, Ontario. This is a mature woman with an easy, poised manner. Is acting as stenographer to the Colonel and Adjutant. Enjoys her work and apparently is doing satisfactory work. Has no complaints or suggestions to make. Considers her Army life a great experience. Marks wrote her trades test soon after completion of basic training but failed in the admin part. Is still interested in passing trades test and it is suggested that she be given an opportunity to take the local Admin Course if another one is sponsored. It is felt that is very suitably placed."
On March 5, 1946, Pte Marks was still working at L.M.H. Crumlin. "Marks has continued as a stenographer...where her work is apparently highly satisfactory. She is quite content with her placement and will probably continue in the same kind of work when discharged. She would appear suitable for employment later as a private secretary." Lt. Ada C. Smith Maude had commenced a course in German but the course was discontinued.
On her discharge documents dated August 13, 1946: "This NCO intends to make her home in Canada and will be seeking secretarial work probably in Toronto. In view of her long experience in her trade and good ability, she is considered exceedingly well suited for this type of work...Cpl Marks has no immediate plans for using her re-establishment credits, but at a later date may buy furniture for her quarters."
On August 3, 1947, Corporal Marks died at the Christie Street Hospital in Toronto, Ontario of carcinoma of the cervix, bladder, and bowel, 44 years old. She was buried in the Mount Hope Cemetery, Toronto.
She had served for 20 months.
LINKS: