Mona Ethelyn McBride W3440
August 27, 1917 - June 3, 1944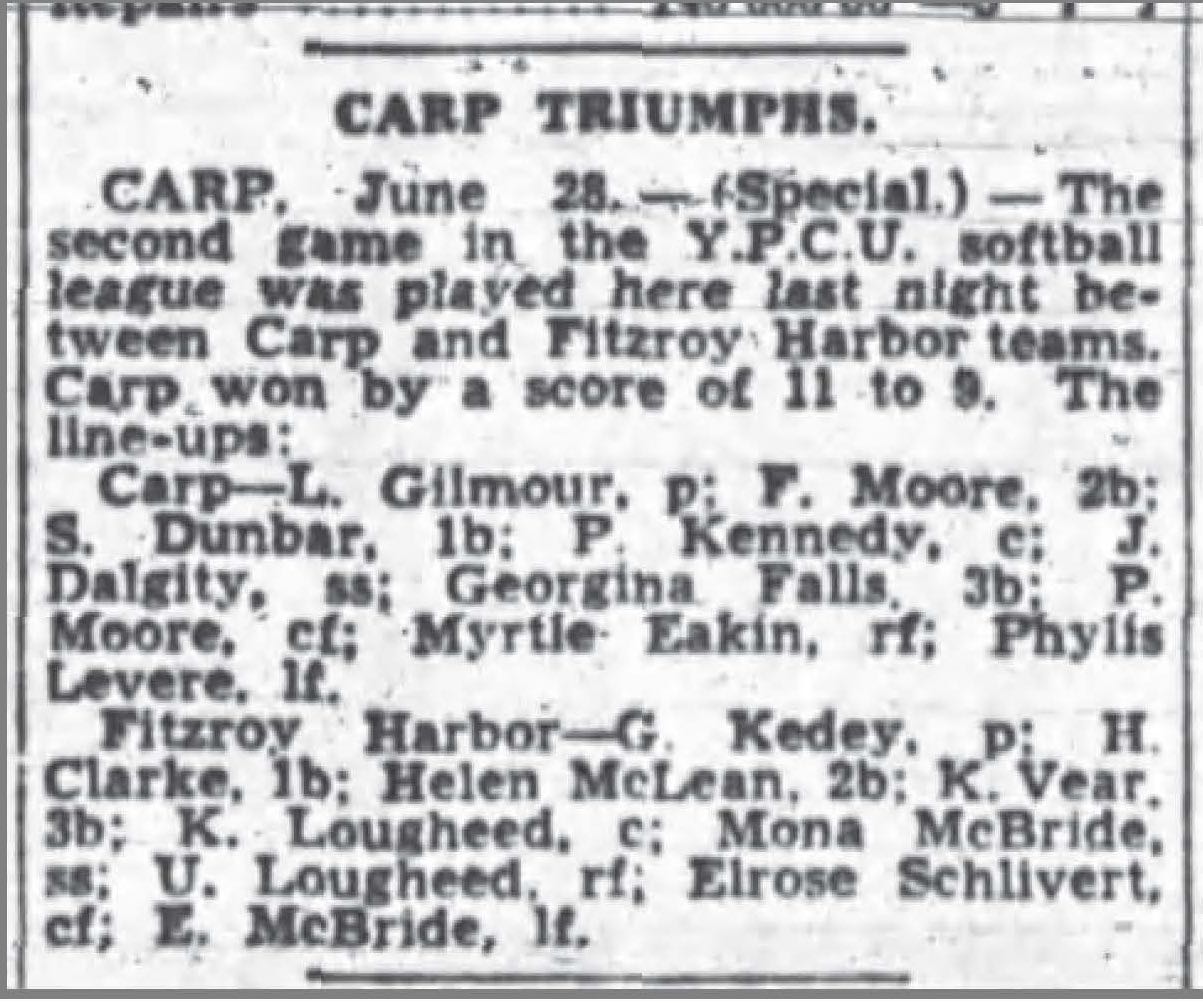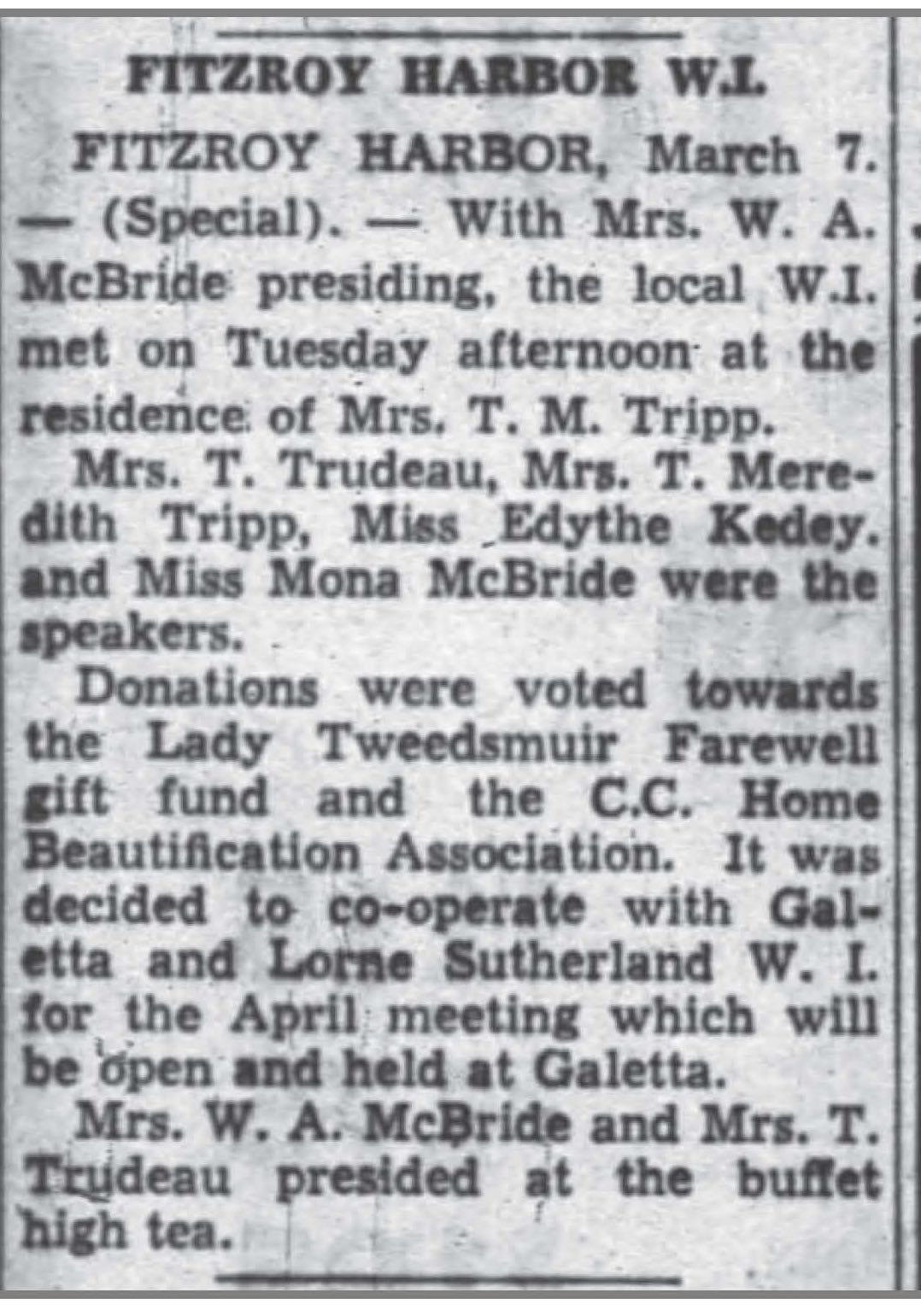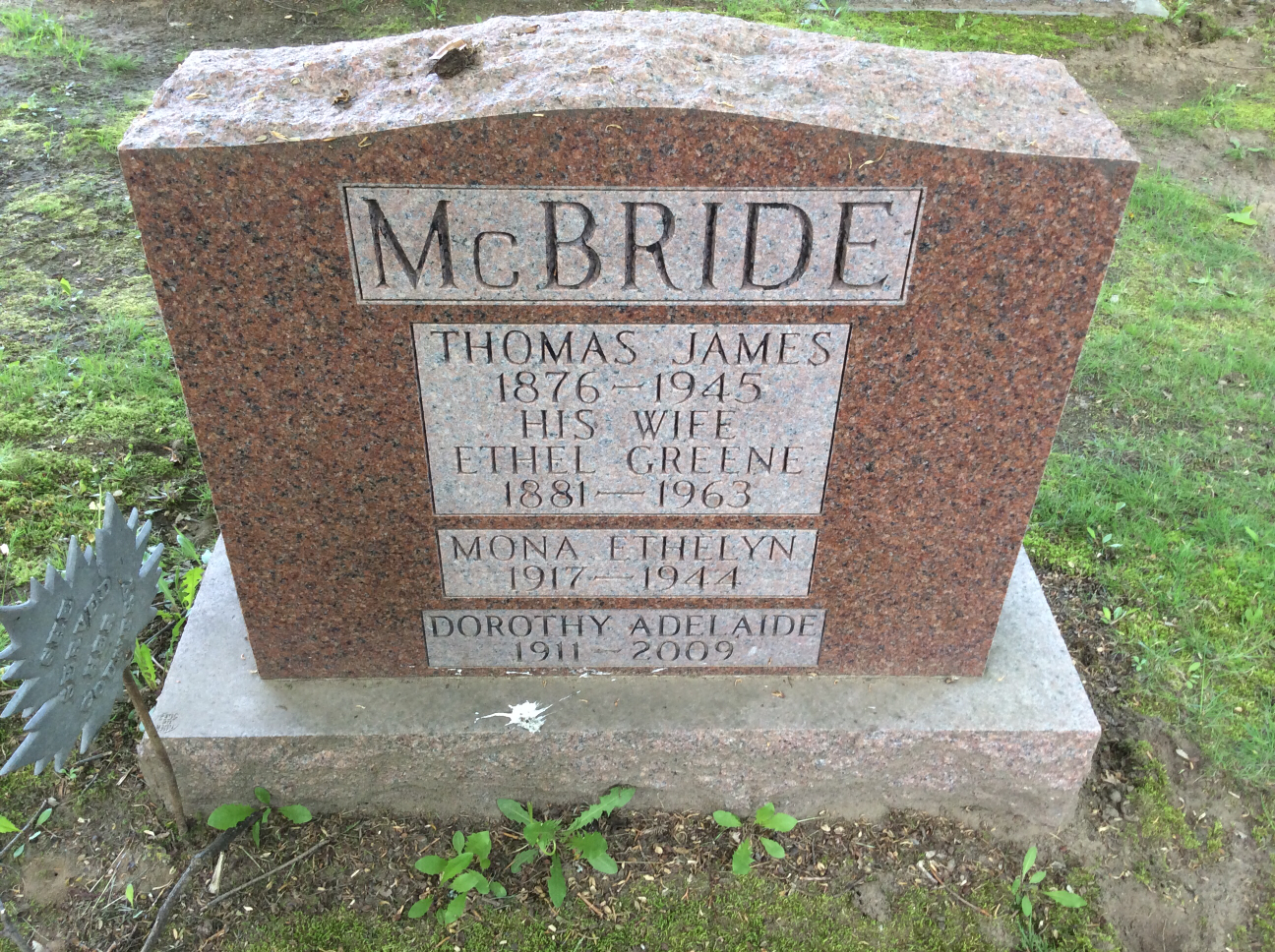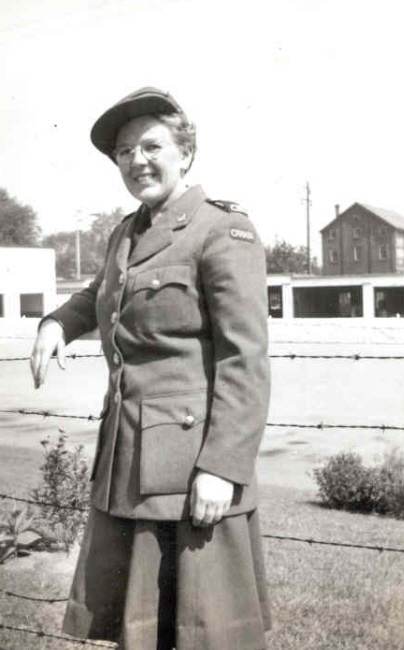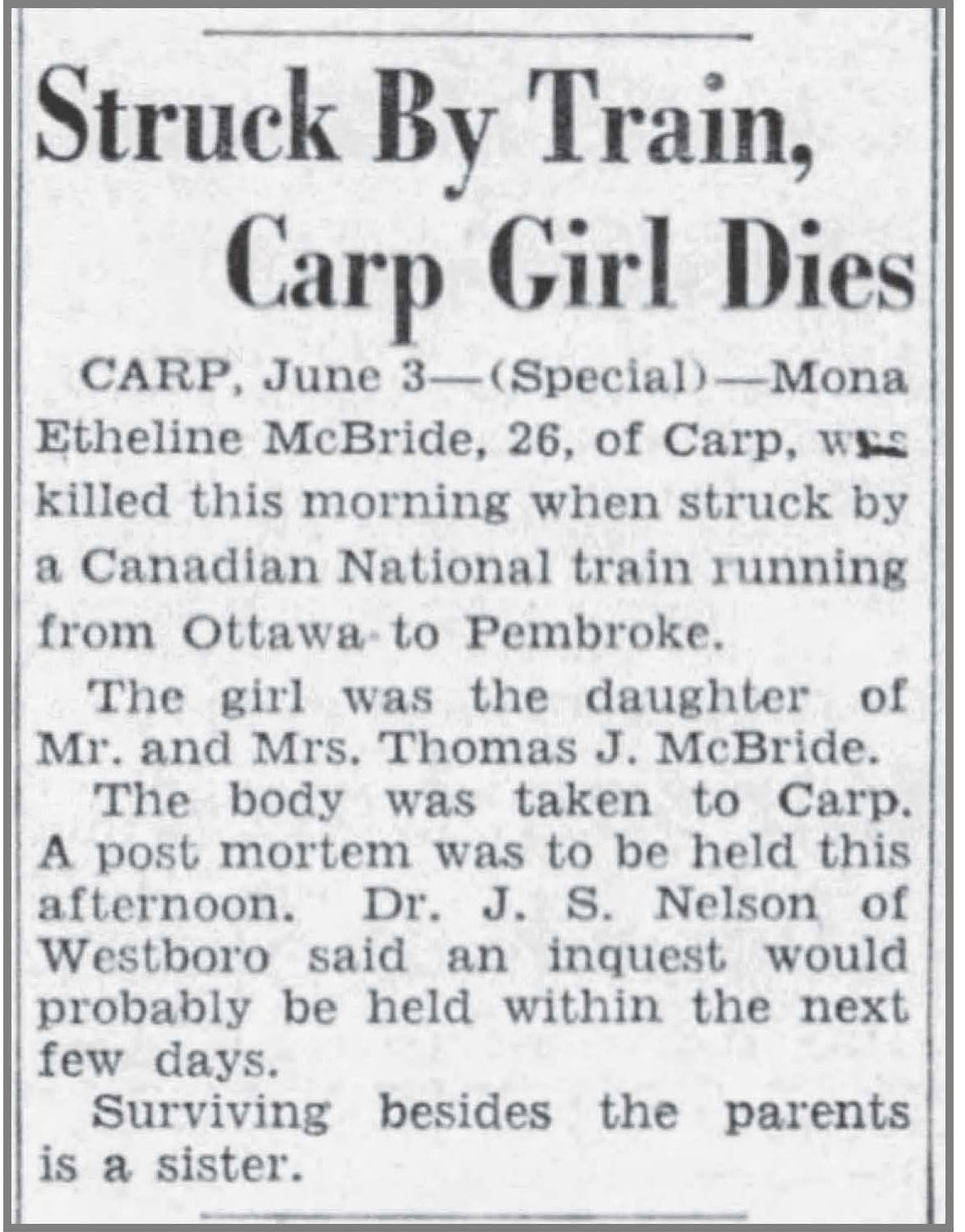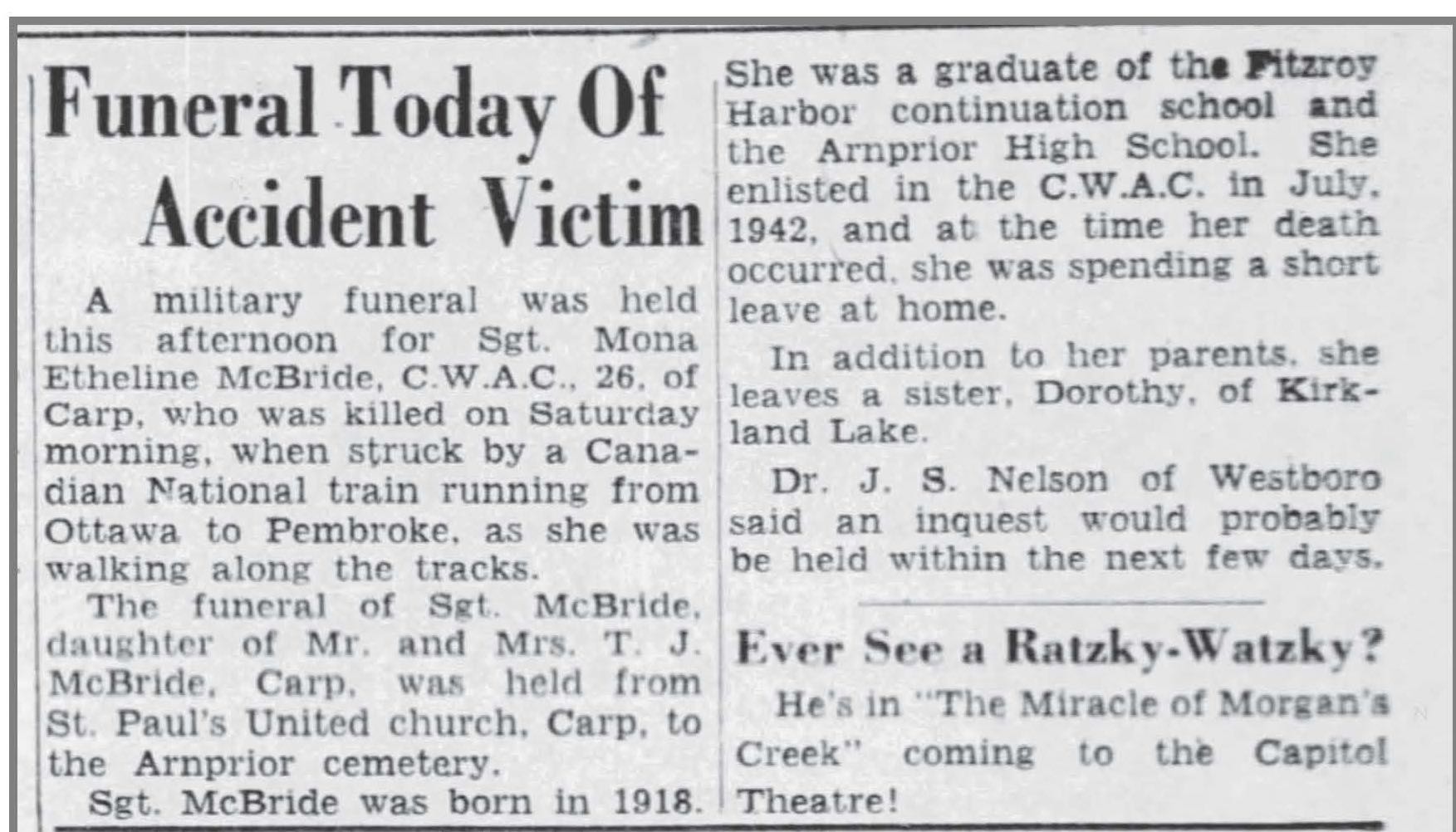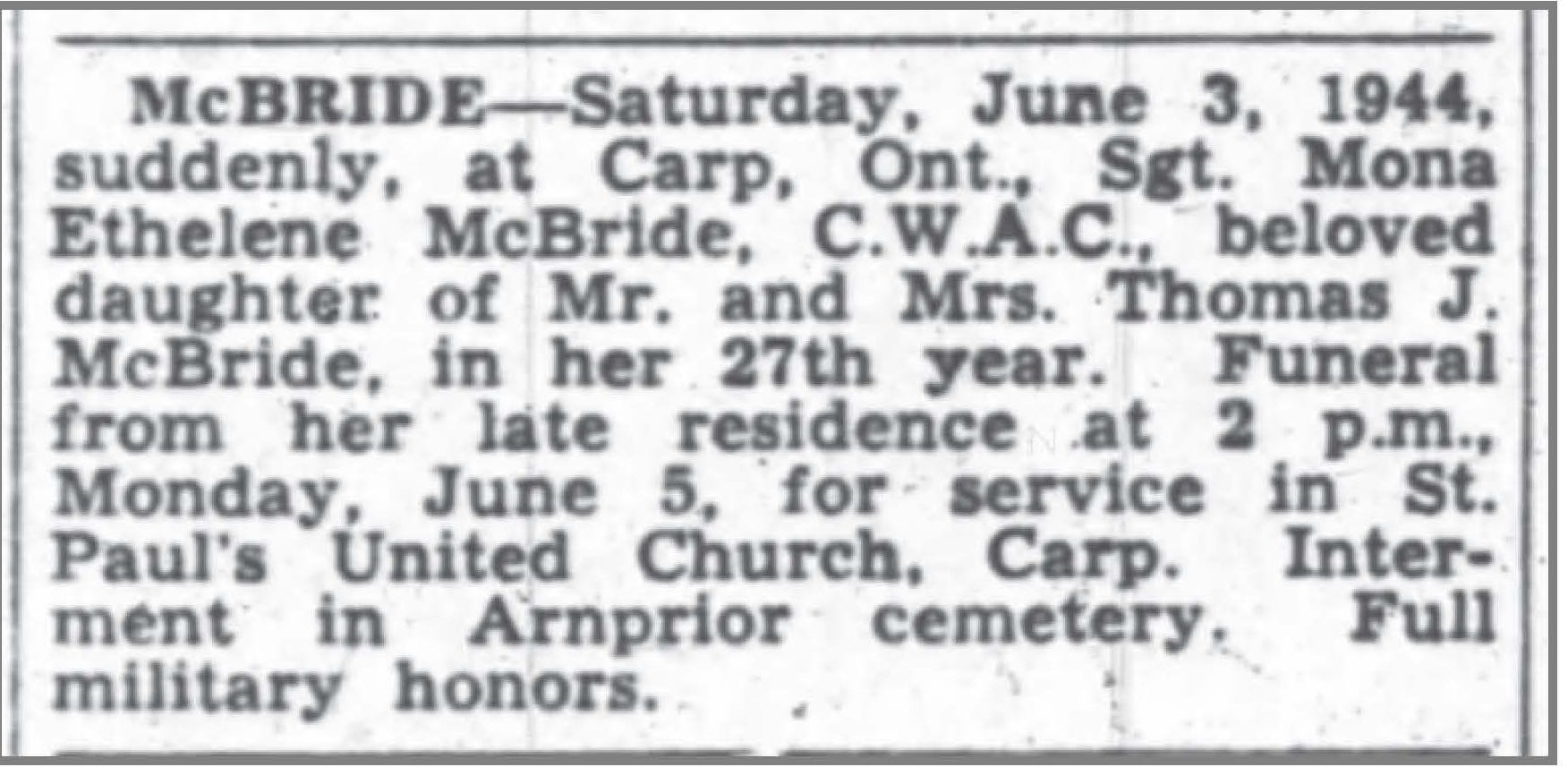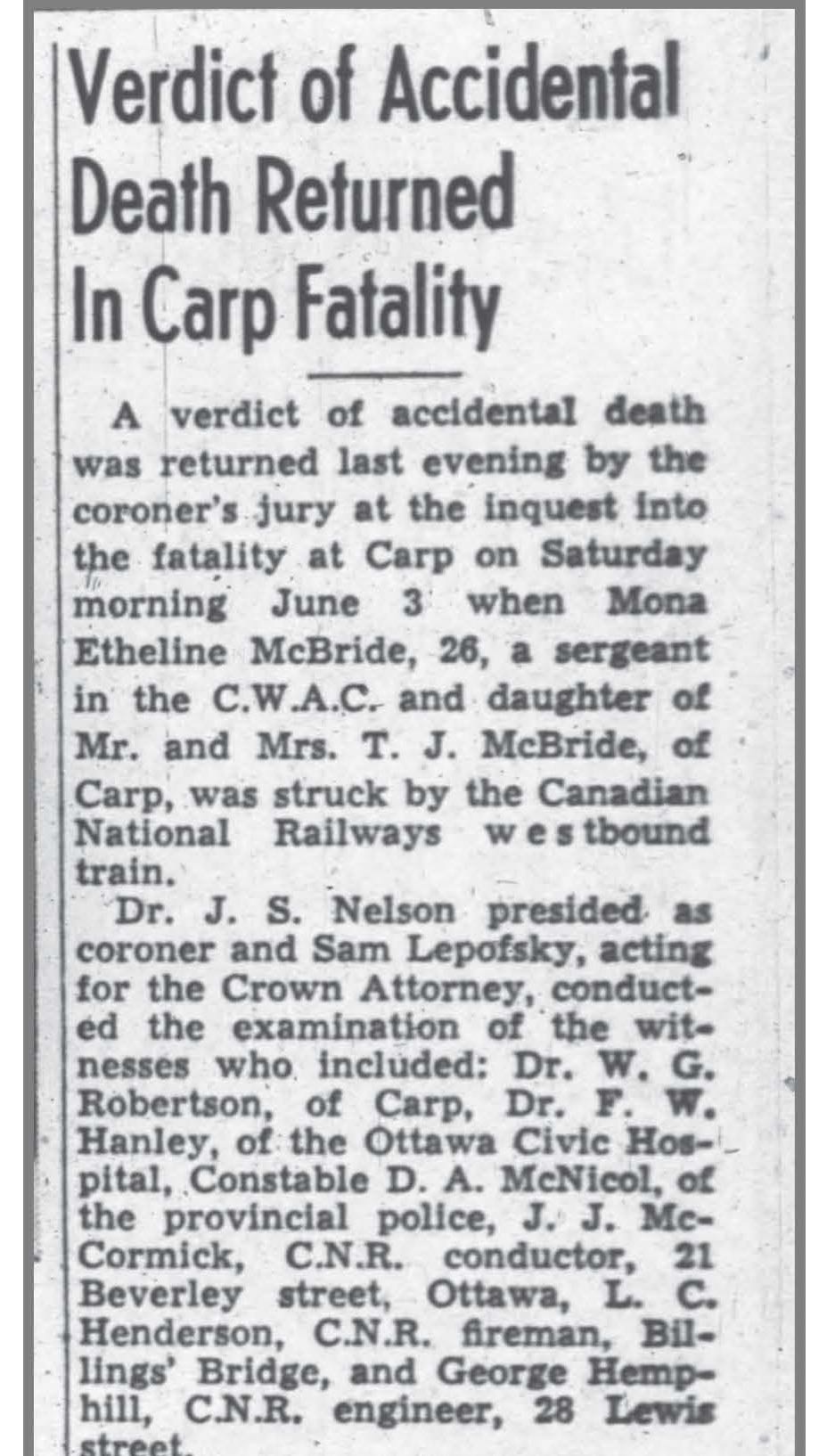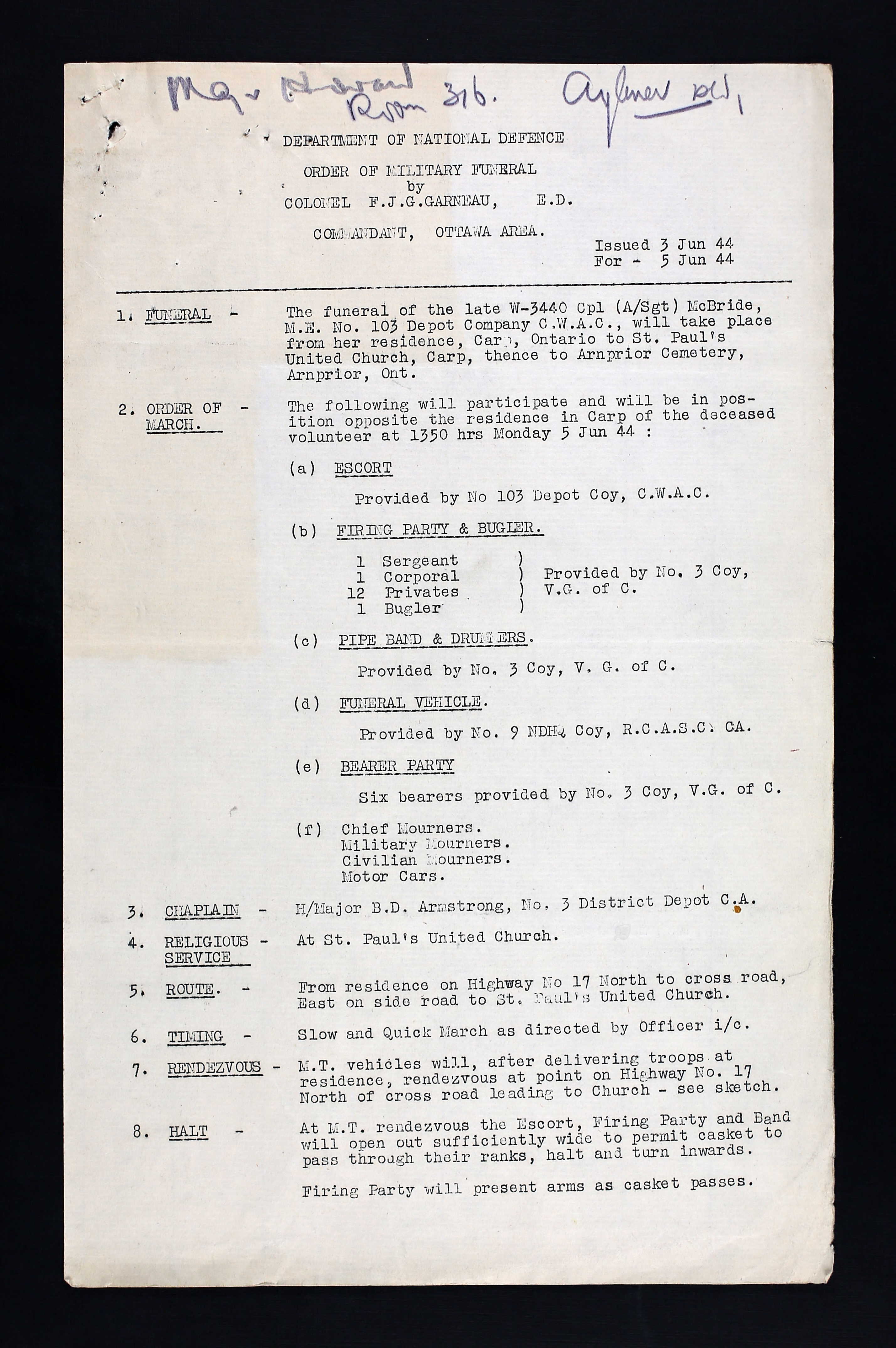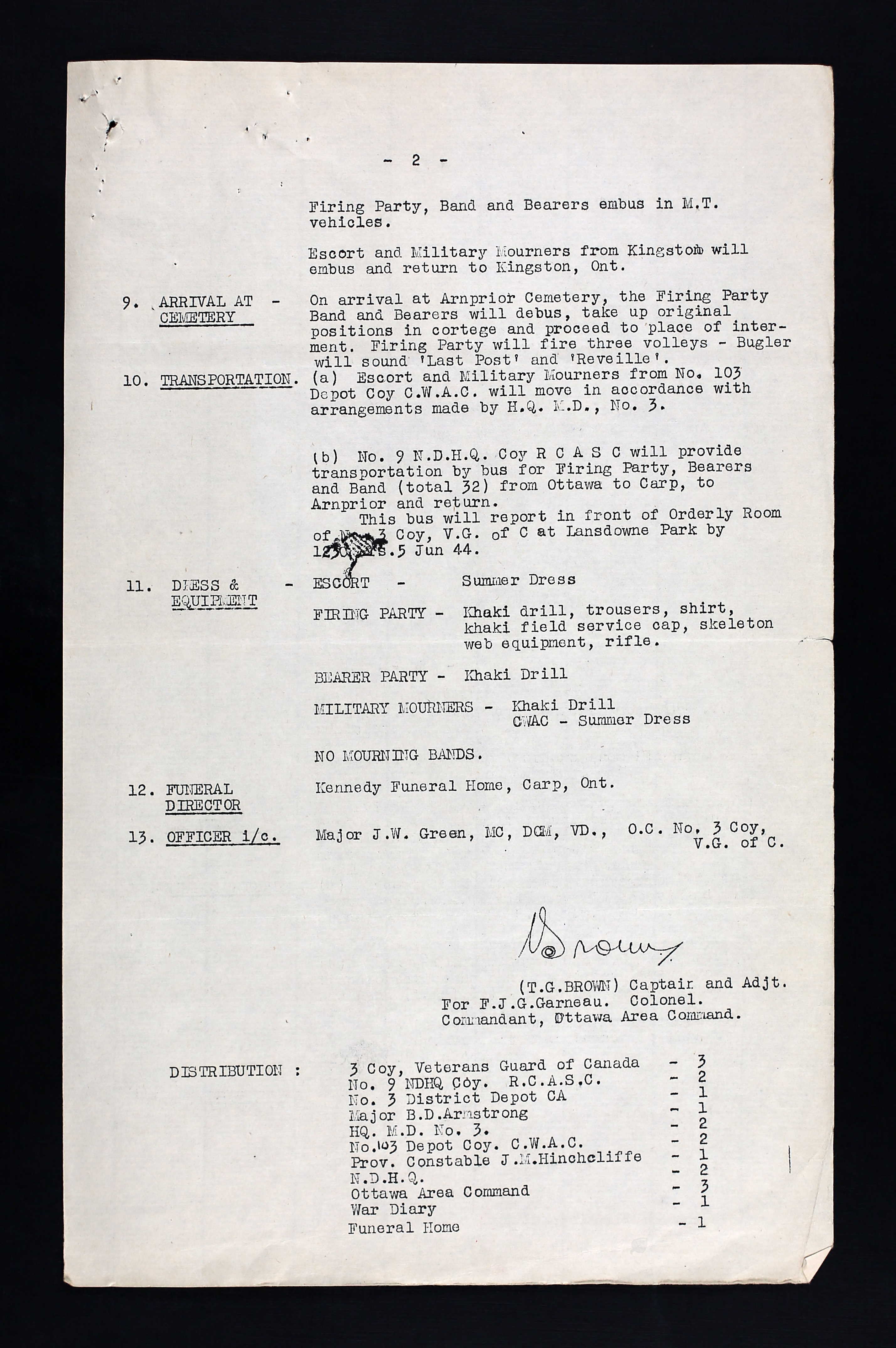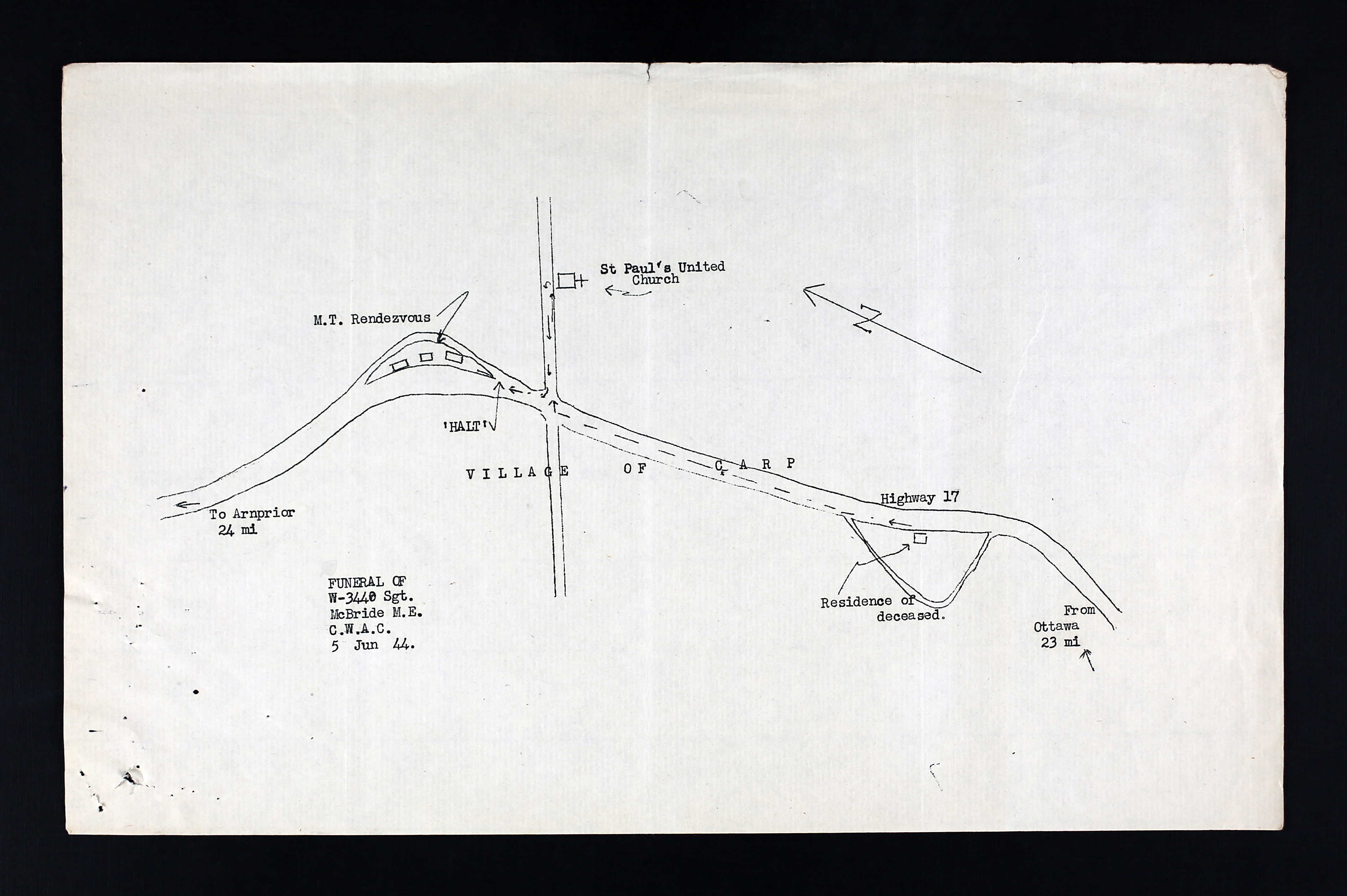 Canadian Women's Army Corps
Mona Ethelyn McBride was the daughter of Thomas James and Ethel Mildred McBride, of Carp, Ontario, near Ottawa. She had been born in Fitzroy Harbour, Ontario. Mona had an older sister, Dorothy Adelaide McBride. The family attended the United Church and were Irish-Canadian.
Mona had her senior matriculation with a high school diploma from December 1934. She took typing and bookkeeping at a business college for one year. Mona stood 5' 1", weighing 110 pounds. She had a birth mark on her right shoulder. "Healthy mouth."
At the time of her enlistment in Barriefield, Ontario on July 21 1942, she was living in Kirkland Lake, Ontario. Mona had been working as an office clerk at the T. Eaton Co. Ltd. for six months prior. She did not indicate any plans for what she wanted to do after the war. "Until January of this year (1942), I have been on a farm and feel best suited for the trade of driver." She stated that she would be available anytime after July 1, 1942 for service.
TRAINING AND POSTINGS:
No. 2 Platoon, E Coy, Barriefield, Ontario: July 14, 1942
No. 3 District Coy, RCASC: August 16, 1942
No. 7 Coy, CWAC: August 30, 1942, authorized to draw pay of $0.95/diem
No. 39 Coy, Kemptville, Ontario: April 27, 1944
No. 103 Coy, Kingston, Ontario: May 3, 1944
On her PERSONNEL SELECTION RECORD filled out by Capt. W. R. N. Blair, dated January 11, 1943: "Completed Basic Training. Parents still living in Kinburn, Ontario. Father is a retired farmer. She has one unmarried sister, 1st Class Teacher. Family health is good. She takes part in most sports -- swimming, skating, tennis. Hobby is knitting. Enjoys dancing and parties. Reads current fiction and Book-of-the-Month Club. Can drive a car. She has kept up with typing -- liked her work as a clerk, particularly bookkeeping, prior to her enlistment. Likes present work, but would prefer to be doing office work of some kind. M test socre appears to indicate high learning ability. Would probably be of more value, and do more efficient work if placed in some type of clerical work. Seems alert, reliable, amiable. Good background as clerk. Observe for promotion. Reccomendations: CWAC - Clerk -- Trades Test." At this time, Private McBride was a Driver in the M. T. Section at Kingston, Ontario.
The follow up, done by 2nd Lt. E. Lawson on August 3, 1943 at CAAS Kemptville, Otario: "Completed Basic Training at Barriefield, August 1942. Attached for instruction as driver RCASC, Kingston, Ontario, September 1942. Attached as driver RCASC, Barriefield Hospital October 1942 to January 1943. Clerk in DS and TO at DHQ, Kingston: freight and transport section: January to March 1943. Clerk in DS and TO, Kemptville since March 1943. Promoted to A/Sgt. GENERAL REMARKS: McBride appears to be handling her present job, which involves issuing transport warrants for candidates, issuing gasoline, etc for CAAS vehicles, capably. She considers that she ought to be receiving pay of rank in view of the responsible nature of her work, but has little hope of this. She enjoys her work and says she prefers it to work involving the handling of personnel. She appears to be stable, cheerful and well adjusted to Army life. She might become excellent officer replacement material in the transport field, and this interviewer suggests that efforts be made to DS & TO consider her in this light and give her an opportunity for other work in transport field which might fit her for this. Recommendation: Consider as possible officer replacement in transport field."
By the spring of 1944, she had the rank of Sergeant. She purchased Victory Bonds (Sixth Victory Loan) in April/May 1944.
On June 3, 1944, while on a short leave home to Carp, Ontario, while walking along the railway track, Sgt. McBride was killed by a train. A Court of Inquiry was called, tentative date and place being 1000 hours, June 8, 1942, in the Ottawa area.
It was deemed, after a coroner's inquest, that the verdict was accidental death. "Not on duty and not to blame." June 6, 1944. Additional comments: "On the 3 June 1944, at approximately 0815 hours, W3440 Sgt McBride of No. 103 Depot Coy, CWAC, Kingston, Ontario, was struck by a westbound passenger CNR train approximately two miles east of Carp Station while walking along the railway track. Injuries she sustained proved fatal."
Sgt. Mona McBride was accorded full military honours "at an impressive funeral held Monday, June 5...The funeral took place from the late residence at 2 pm to St. Paul's Church, Carp, where the service was conducted by Rev. Johnson of Carp and Rev. LaGros, Fitzroy Harbour. Burial was made at Arnprior cemetery where Major B. D. Armstrong, chaplain for No. 3 District Depot, officiated at the graveside...The procession included an escort party of 24 members of the CWAC, led by CSM Muriel Brownlee, pipe band and drummers, and a firing party...daughter of Mr and Mrs T. J. McBride of Carp, Sgt. McBride had resided for the greater part of her life at Fitzroy Harbor where she was active in young people's organizations. She was the former district representative of the Ottawa Presbytery for the YPS."
The Department of National Defence had an Order of Military Funeral, with a map drawn showing directions and locations of church and cemetery. *See photos above.
LINKS: