Patricia Jane Cooney W11145
March 18, 1920 - June 26, 1942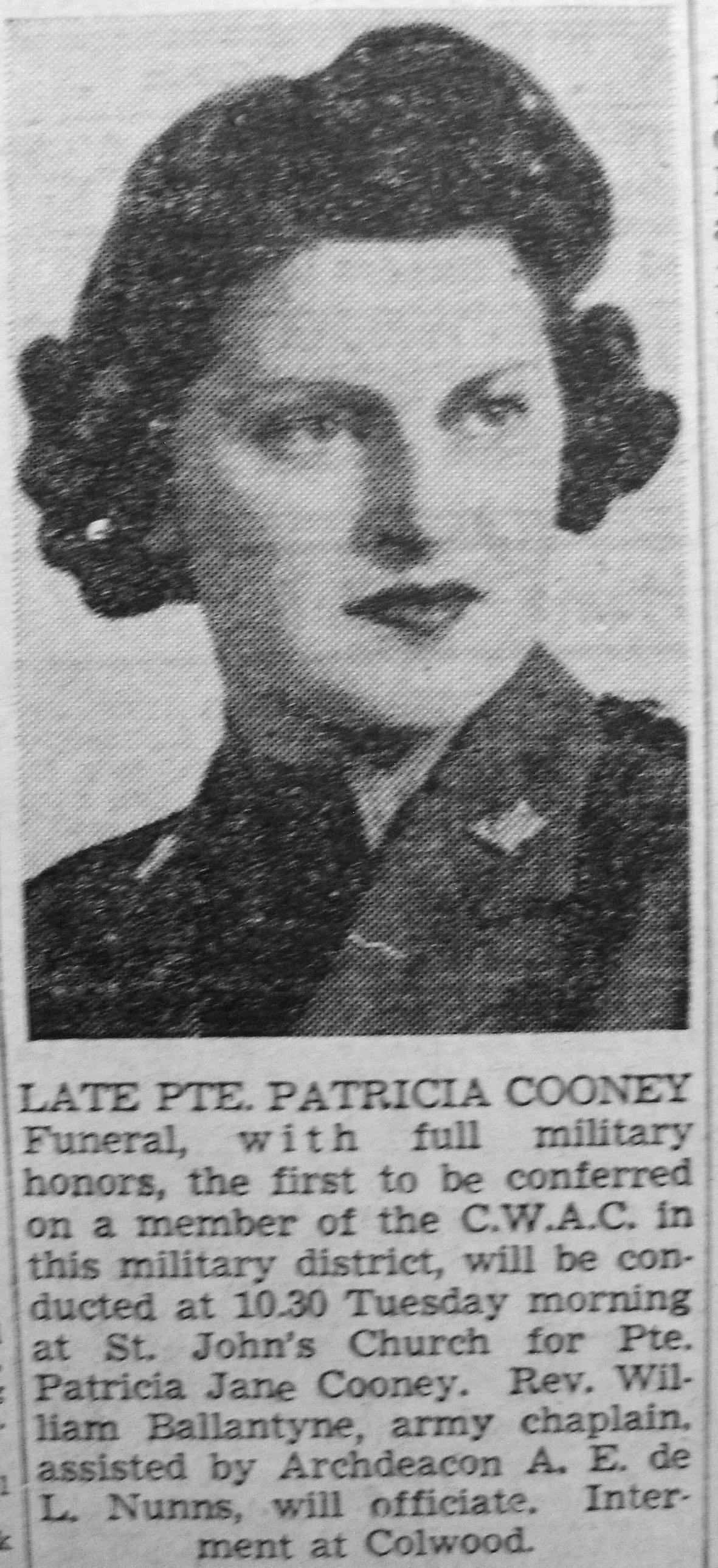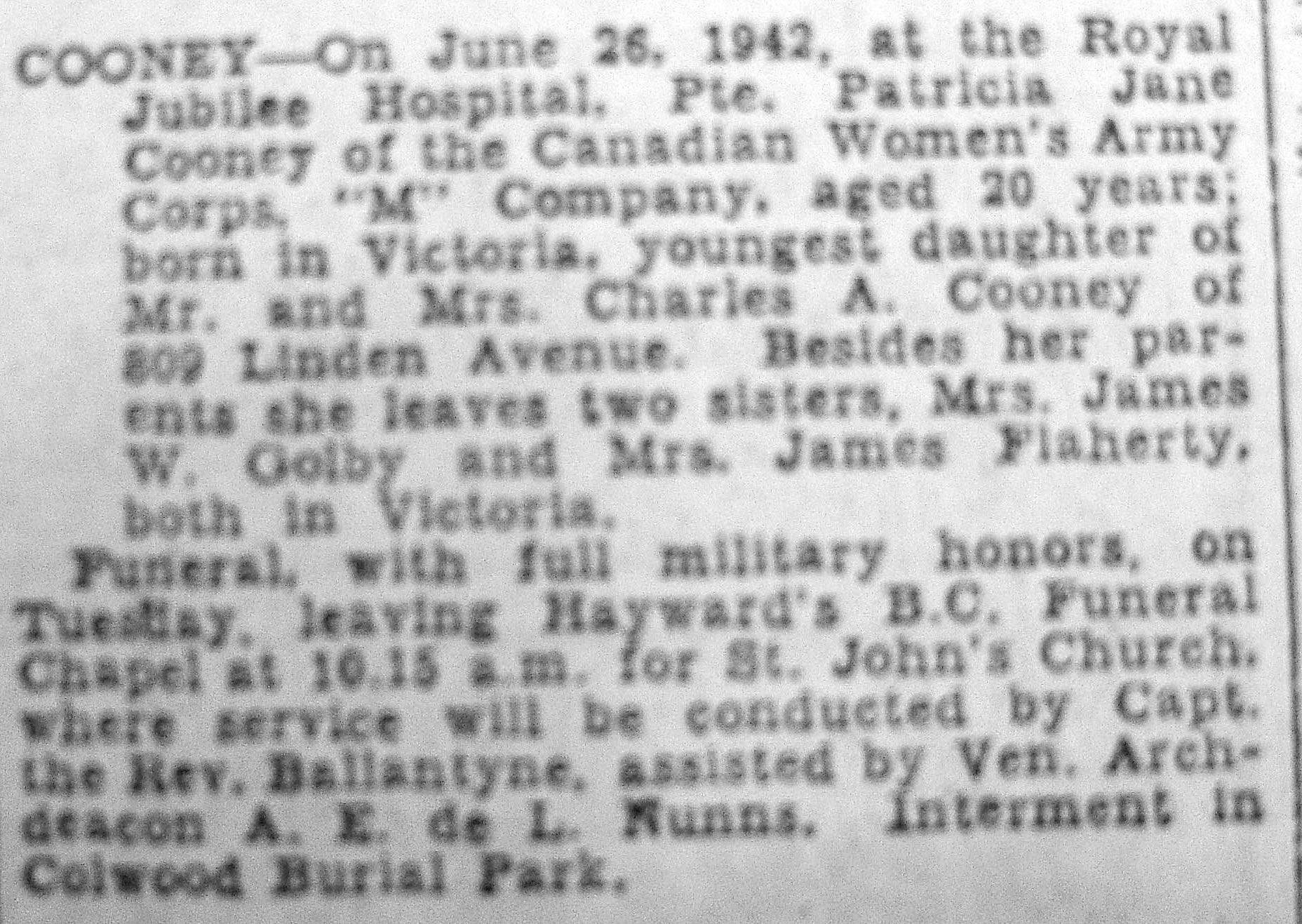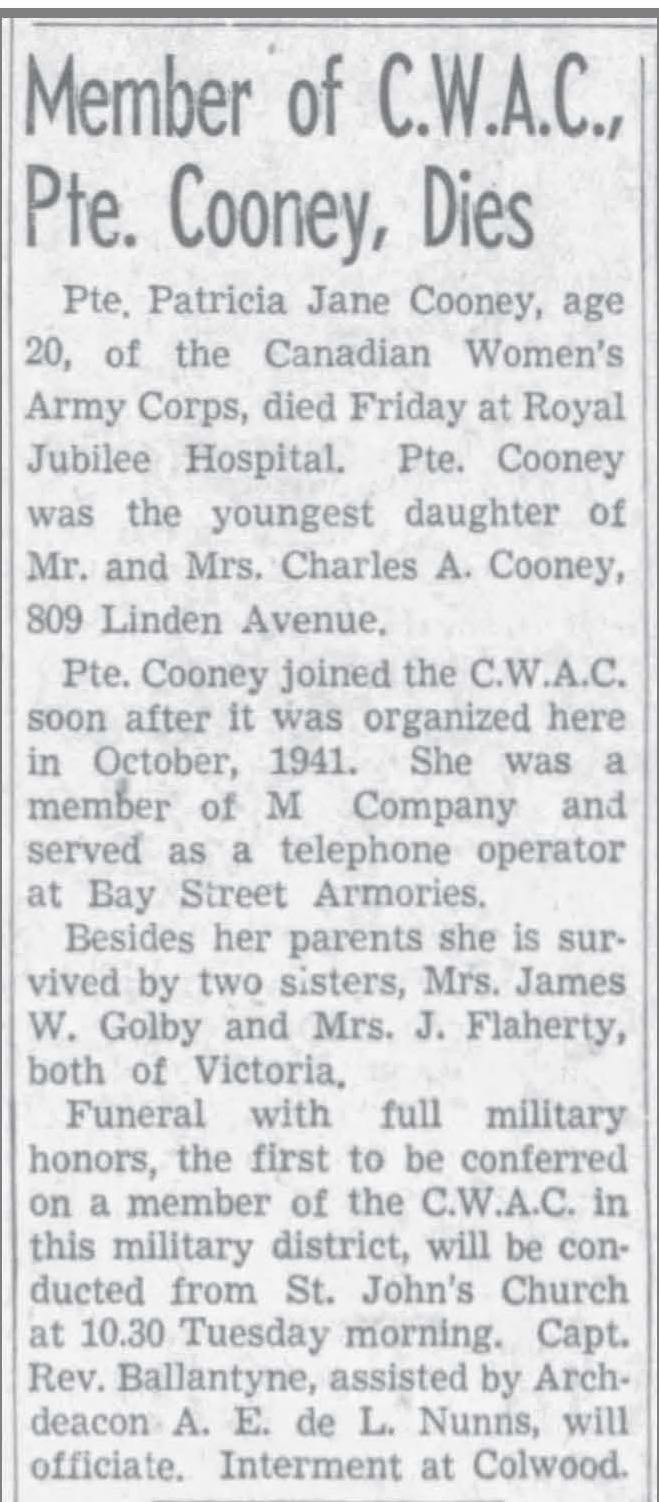 Canadian Women's Army Corps
Patricia 'Pat' Jane Cooney was born in Victoria, British Columbia to parents of Irish heritage: George and Jane Ann Cooney of 809 Linden Avenue. Patricia had two sisters: Laura and Catherine.
Patricia stood 5' 4" tall, had hazel or blue eyes (depending upon the source), brown hair, a fair complexion, and weighed 136 pounds. She had her tonsils removed at the age of 8. It was noted in her medical file that she had many cavities and it was recommended she seek treatment, but overall, she was healthy. The last time she had visited a doctor was in 1936 prior to her medical examination for enlisting in September 1941. She was living at home and had worked as a typist.
She was attached to No. 3 Platoon M Coy as of September 22, 1941 as a recruit. On December 11, 1941, she was a volunteer. By June 25, 1942, she was a Private, earning $0.95/day.
On June 25, 1942 at 9 pm, Pte Cooney was admitted to the Jubilee Hospital, Victoria with severe headaches "for about 18 hours, becoming increasingly worse since noon. With the headaches there set in neck stiffness. On the 20th of June, 1942, she was wrestling and playing in her yard at home, jumped into a wagon and fell out of it." She had said, 'And just hurt myself." On Wednesday, June 24, she became cranky and irritable but went to a dance and on returning home at 3 am, complained of a headache which has steadily grown worse. No history of previous headaches, head injuries, or specific infection. On admission: neck stiffness marked, spine piker-like rigidity. Eyes: difficult in convergence. Right pupil dilated...speech slurred, mumbling, irrelevant at times. Gritting teeth, more on the right...soon after admission, patient remarked she could not speak, tongue when protruded deviated to the left. Respiration becoming laboured. Special nurse employed." Dr. W. W. Stewart. Patricia Cooney slipped into a coma and died June 26, 1942 of a pituitary tumour with interventricular haemorrhage. It was determined her death was not due to service.
Pte Patricia Cooney was buried at the Colwood Cemetery on June 30, 1942. It cost $10 to open and close the grave, $50 for the grave and $75 to bury her. She died without making a will. Her estate was equally divided between her parents. The amount was $29.50 which represented the balance of pay and allowance at the time of her death. Her parents also received $67.50 as a War Service Gratuity in October 1945.
Patricia Cooney did not live in barracks, so all of her personal possessions were found at her family home. "Public clothing and equipment were secured, inventories, and returned to Quartermasters Stores. There were no deficiencies."
LINKS: