Phyllis Elizabeth More W13800
March 28, 1920 - July 21, 1943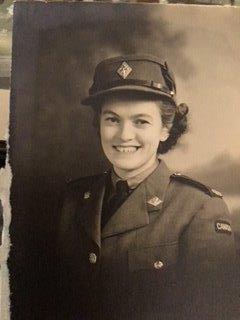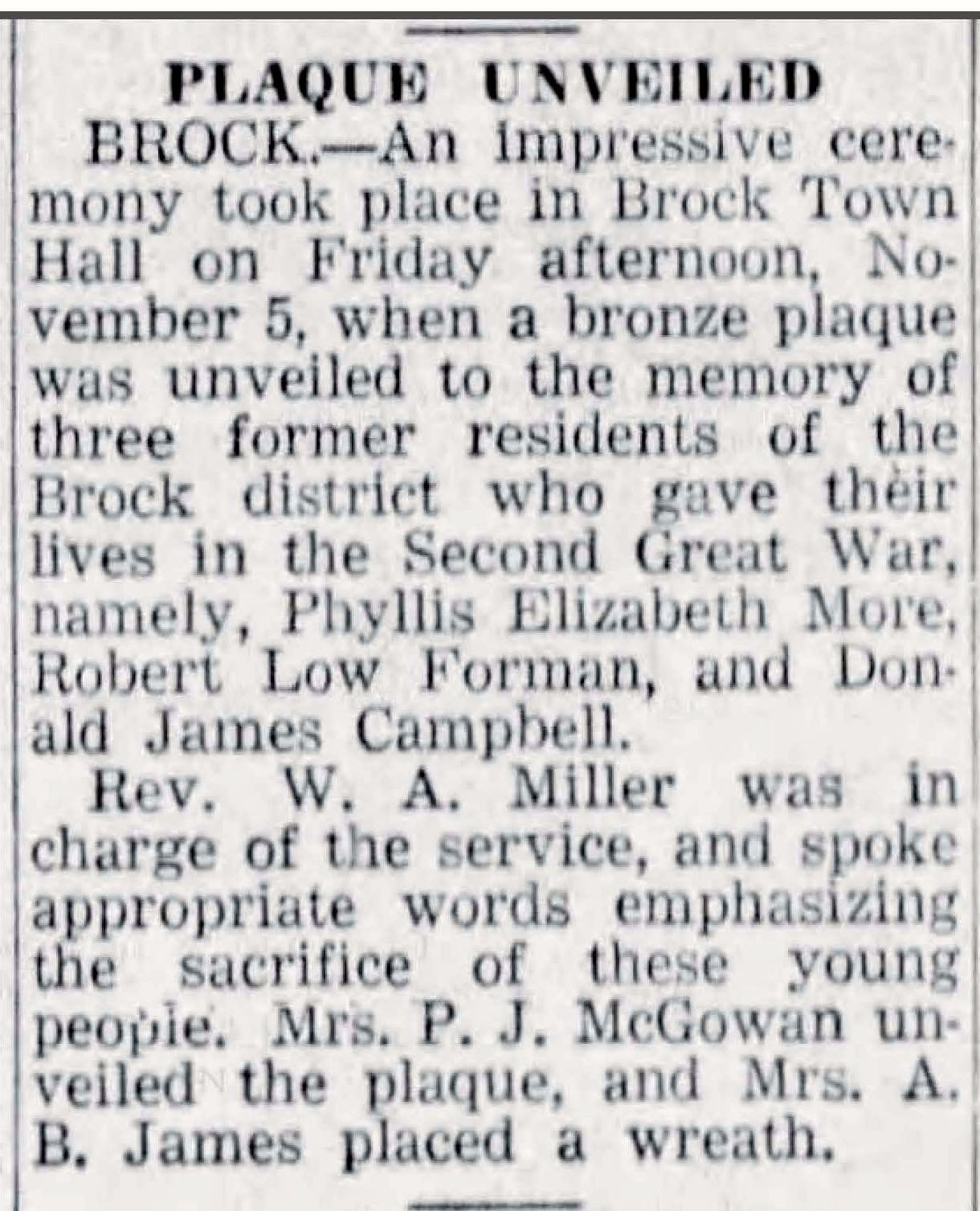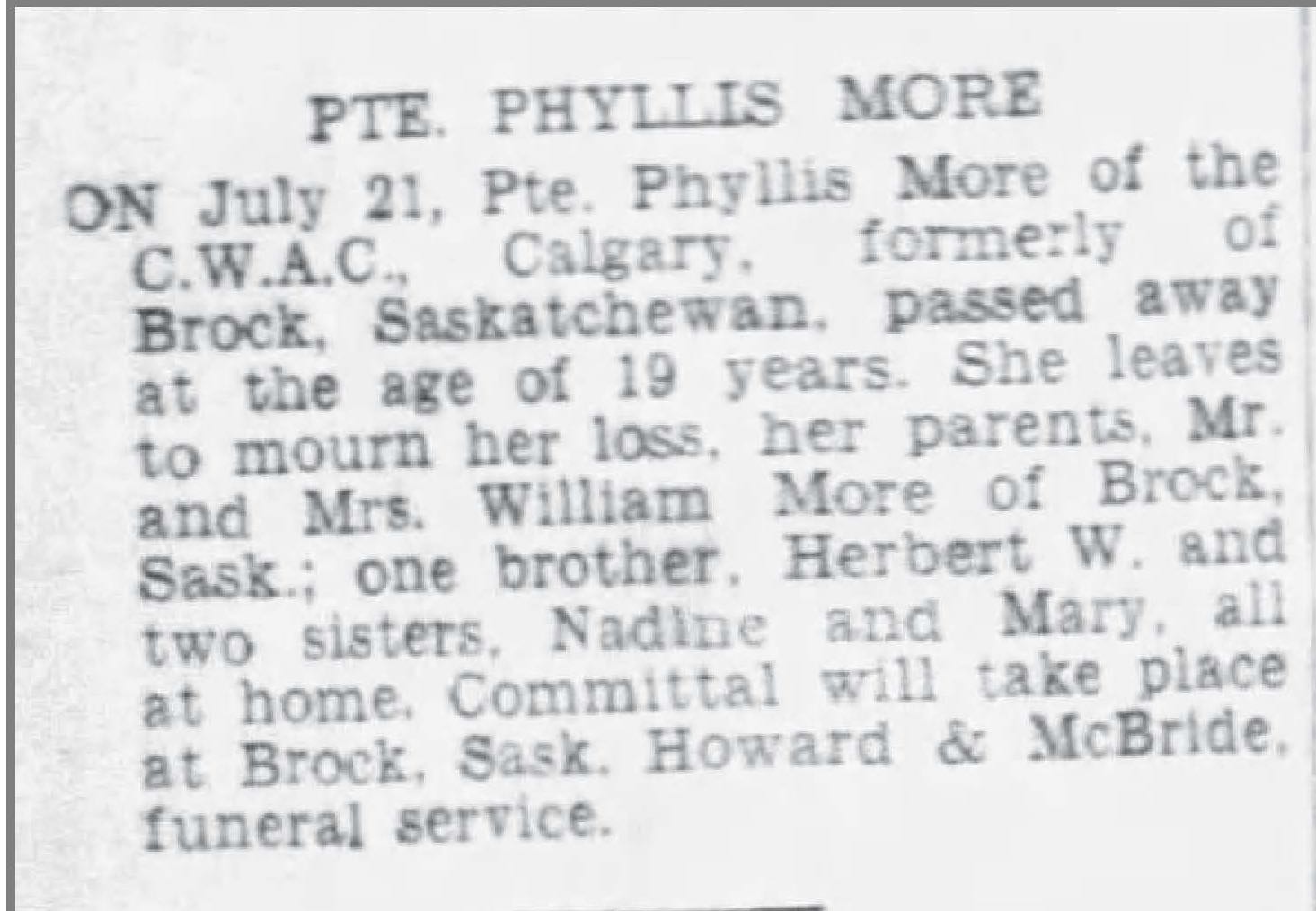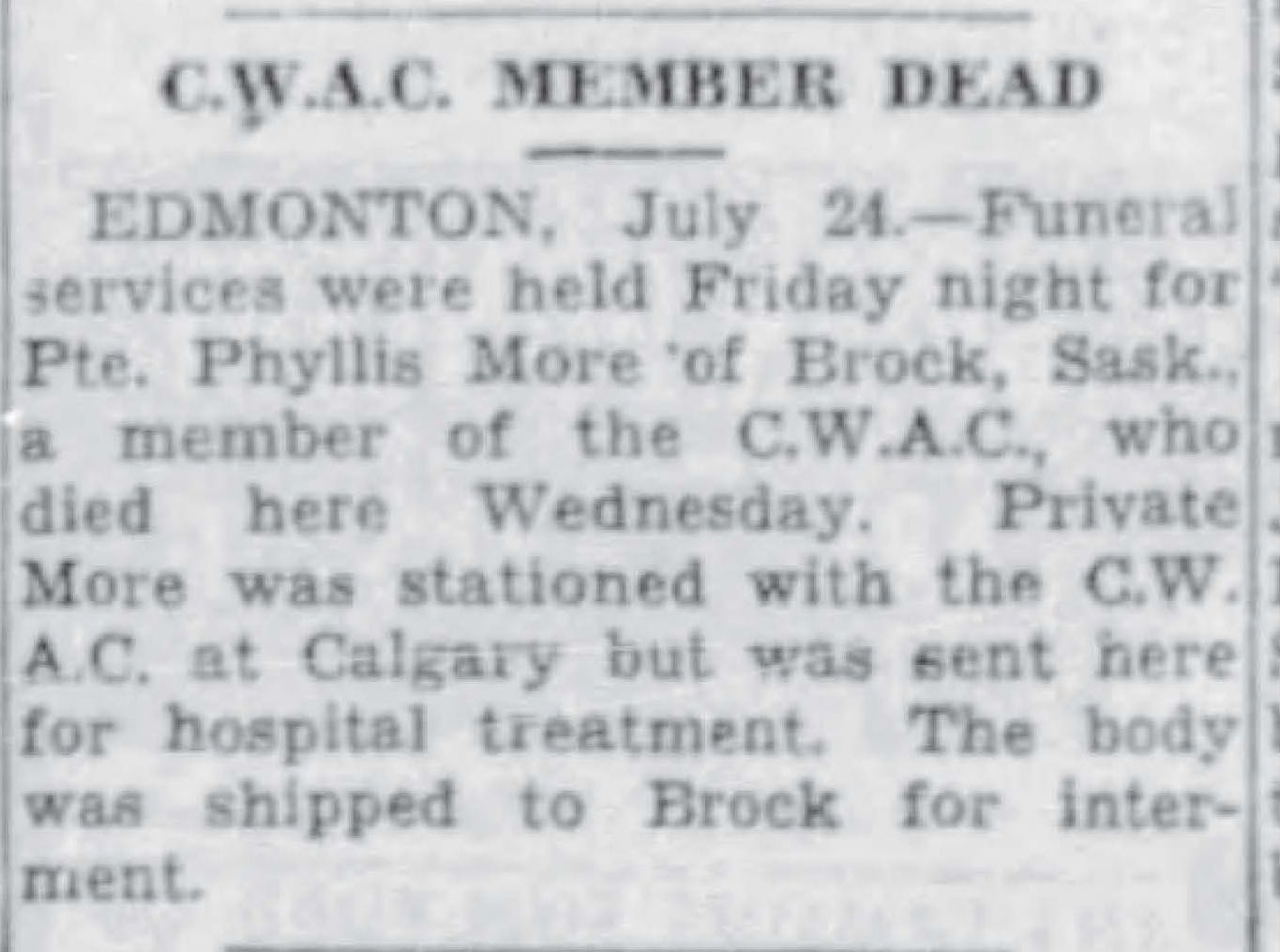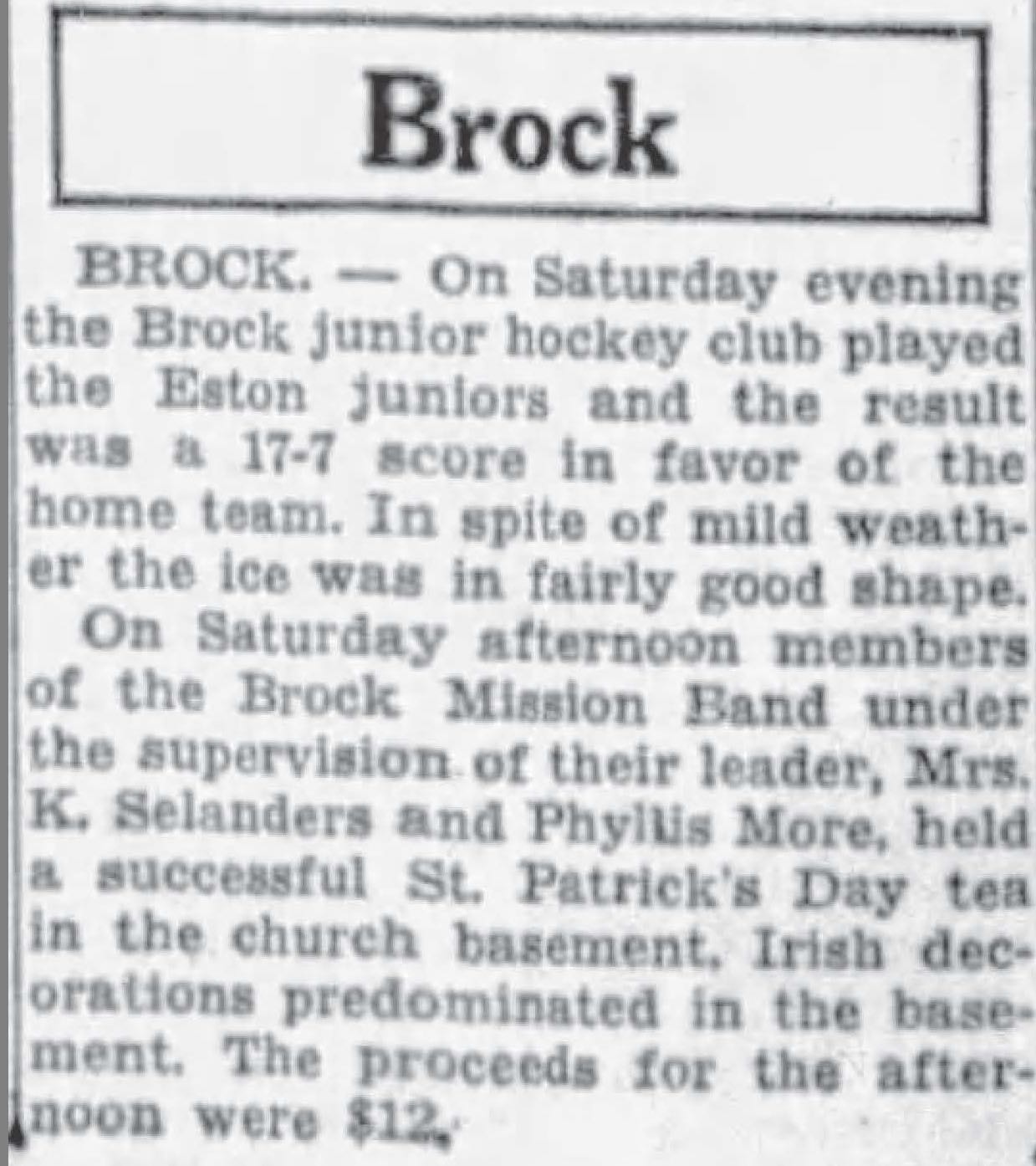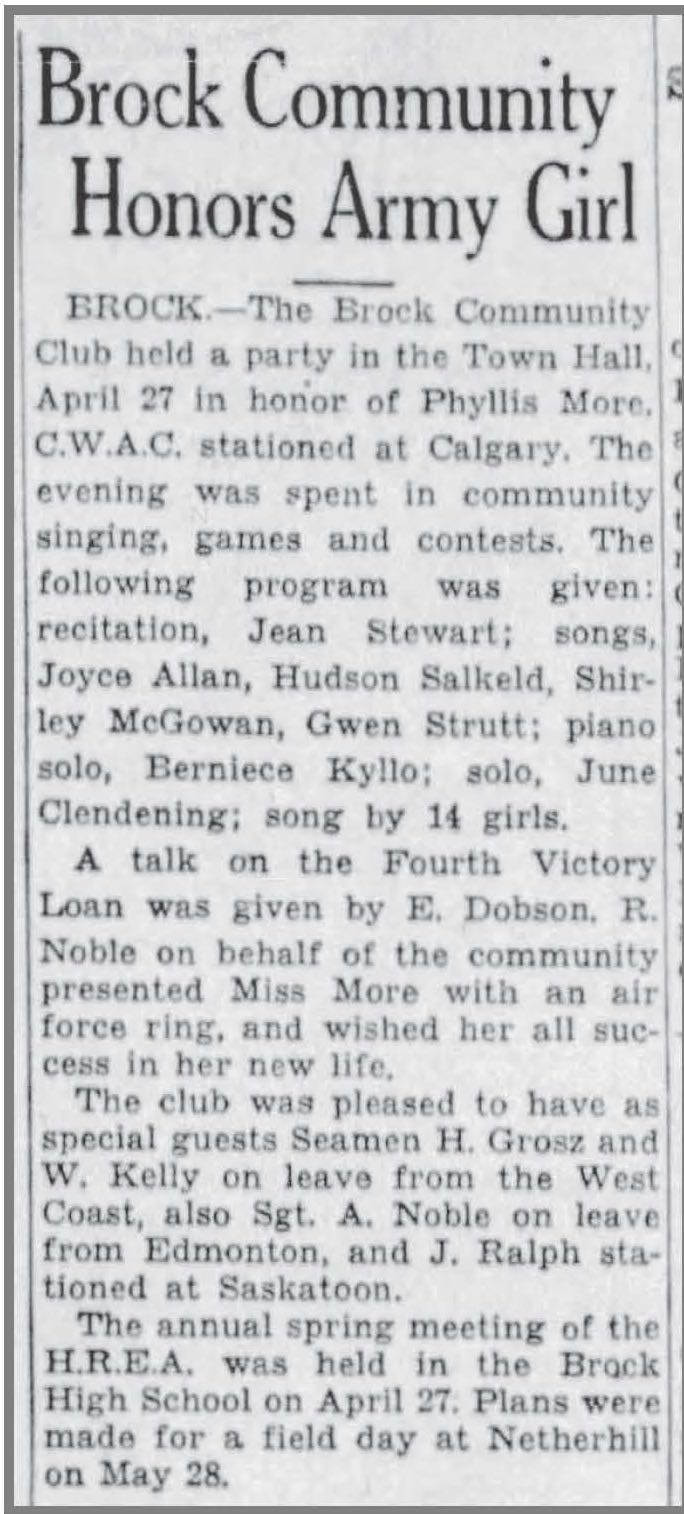 Canadian Women's Army Corps
Phyllis Elizabeth More was born on March 28, 1920 in Brock, Saskatchewan. She was the youngest child of William and Lalibel More. Mr. More was a farmer and cement worker, and later drove a school van. When she three years old, Phyllis struck her head on the ice, knocking herself unconscious. Phyllis had one brother, Herbert, and two sisters, Jessie and Marybel, who was a graduate nurse. Herbert "was somewhat crippled" with poliomyelitis, but could run his own farm. The family attended the United Church.
Phyllis stood 5'4" tall and weighed 114 pounds. From her PERSONNEL SELECTION RECORD dated January 20, 1943, Vermilion, Alberta: "Passed Grade 11 and all of Grade 12 but Composition and French at Brock, Saskatchewan. Started school when 10 -- was sick previously. Preferred trigonometry and algebra to all other high school subjects. Studied typing by herself. Part-time salesclerk at Red and White Store in Brock for one year. Hospital assistant at the Scottish Convalescent Hospital for three months. More has shown better than average progress in Basic Training. (She had attested in Calgary on December 16, 1942.) Her Platoon Commander remarks that she is a thorough, conscientious worker and is most co-operative. More was born and raised on a farm. Poor health in her childhood seems to have caused an inferiority complex as she was so far behind in school. Evidence of this was noticed during the interview. If her performance is compatible with her high "M" score, her education and the interview, More should be quick to learn and efficient in her work. Recommendations: 1. Train as General Office Clerk 2. Train as Dental Assistant 3. Hospital Assistant." Lt. Betty Lough. (For more information about Betty Lough, please visit the Facebook page for this website.)
On June 28, 1943, Pte More was at the Colonel Belcher Hospital, Calgary for a Psychiatric Report. "Present complaints, almost constant attacks of dizziness, unsteadiness in walking, especially last few weeks....on turning, suddenly everything seems to go around and around. She is unable to say in which direction. For several weeks, she has been wakening about 5 am with severe headache...increasing ringing in ears and slight but increasing deafness in the right ear almost a year...she adds that about two years ago she developed a feeling of numbness on the right side of her face. This she attributed to wisdom teeth. The dentist, however, told her there was nothing the matter. This has persisted and she outlines very accurately the anatomical distribution of the Fifth nerve." FAMILY HISTORY: "Father has always had a bad stomach, but is otherwise in fair health. Mother, formerly a healthy woman, has had high blood pressure for five or six years, and suffers from headaches and dizziness. The patient is aged 23, said to have been healthy as a child, but at nine had sun-stroke and was ill for about two months. Had frequent sore throats until tonsillectomy and adenoidectomy at 8 years of age. EDUCATIONAL AND ECONOMIC: Was considered a good student, completed Grade 12. Was prominent in school activities and athletics." (See newspaper clippings above.) "Intended going to Normal School but the family doctor refused to sign her certificate, saying if she kept on the way she was going, she would probably have a nervous breakdown. As a result, she did housework and worked in a store, and for a few months prior to enlistment, has done practical nursing in an old folks home. The latter work she found too heavy. MILITARY: She joined the CWAC about six months ago. Said she enjoyed Basic Training, but it was while at Vermilion the morning headache which she ascribed to stomach trouble. While there, she also developed haemorrhoids, which were bleeding a good deal and which have since been operated on. On completion of her Basic Training, took a typist's course. Says she likes this, but is finding it pretty hard work. PSYCHIATRIC: She is a rather slight girl, obviously a bit nervous and high strung, but describes her symptoms in a very straight-forward manner. She is not particularly emotional. Ordinary life appears to have been quite normal. She is engaged to a young man whom she has known since they were children, and they intend to get married as soon as possible. At present, and for some time past, he has been stationed at Kingston. Her attitude toward this appears to be quite healthy. NEUROLOGICAL: She is unable to balance on one foot...muscle tone in both lower extremities appears to be somewhat diminished...IMPRESSION: While there is no doubt that this girl's background and general make-up is of such nature that Psychoneurosis might develop, there are sufficient physical findings to make one suspect very strongly the possibility of a lesion in the right cerebello-pontine angle, and before making a diagnosis of purely functional disorder, this will have to be ruled out. X-rays have been requested and if spinal puncture has not already been done, this should be performed." Major W. Leslie, Psychiatrist
On July 9, 1943, Pte More was admitted to the U of A Hospital. "Increasing numbness of right side of face, 2 years. Frontal headache, localized over right eye, severe followed by nausea and vomiting - 6 months. Dizziness and faulty vision - 2 months." Phyllis had been admitted the the hospital in Calgary two months prior for a 'stomach condition.' About that time, she noticed dizzy spells and that she was unable to walk in a straight line although she was better if she could watch each step closely." It was noted her sister was being treated for a peptic ulcer and her other sister for gall stones.
On August 3, 1943, a Court of Inquiry was struck at the Prince of Wales Armoury, Edmonton, inquiring into the circumstances surrounding the death of W13800 Pte Phyllis More, at Edmonton, on July 21, 1943. The first witness, A/Cpl Kendell, MD stated, "At approximately 0545 hours on the morning of the 21st July 1943, I answered a telephone call from the University Hospital stating that Pte More had just passed away. I immediately notified Captain M. Dorothy Bouchard, Officer Commanding No. 15 Coy CWAC Edmonton by telephone at approximately 0550 hours...and relayed the information." The second witness, Captain Bouchard stated that she received the information, plus that an inquest would not be necessary. The third witness, Dr. Robert Snow, MD, Intern, stated, "Pte More died sixteen hours after removal of cerobello-pontine angle tumour, on the right side. Clinically death was due to respiratory failure as explained by cerebral cedema following operation." It was estimated that the cost of Pte More's hospitalization was 13 days at $3.65 per day = $47.45. She had entered the hospital on July 8 and died on July 21, 1943.
Pte Phyllis Elizabeth More was buried in the Brock Cemetery.
In the list of her personal effects, Private Phyllis More had clothes, toiletries, a pair of glasses with case, a pair of dark glasses, and pictures.
LINKS: