Rita Labbe W5105
September 15, 1922 - July 4, 1943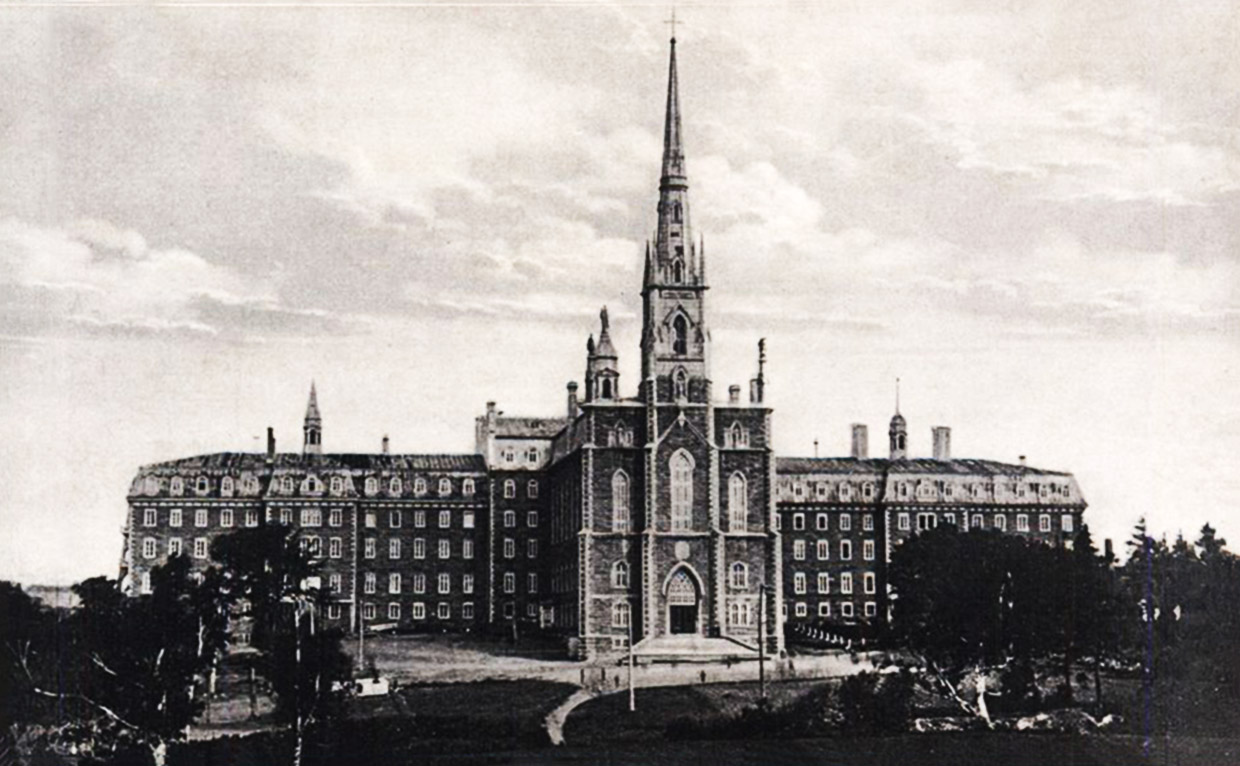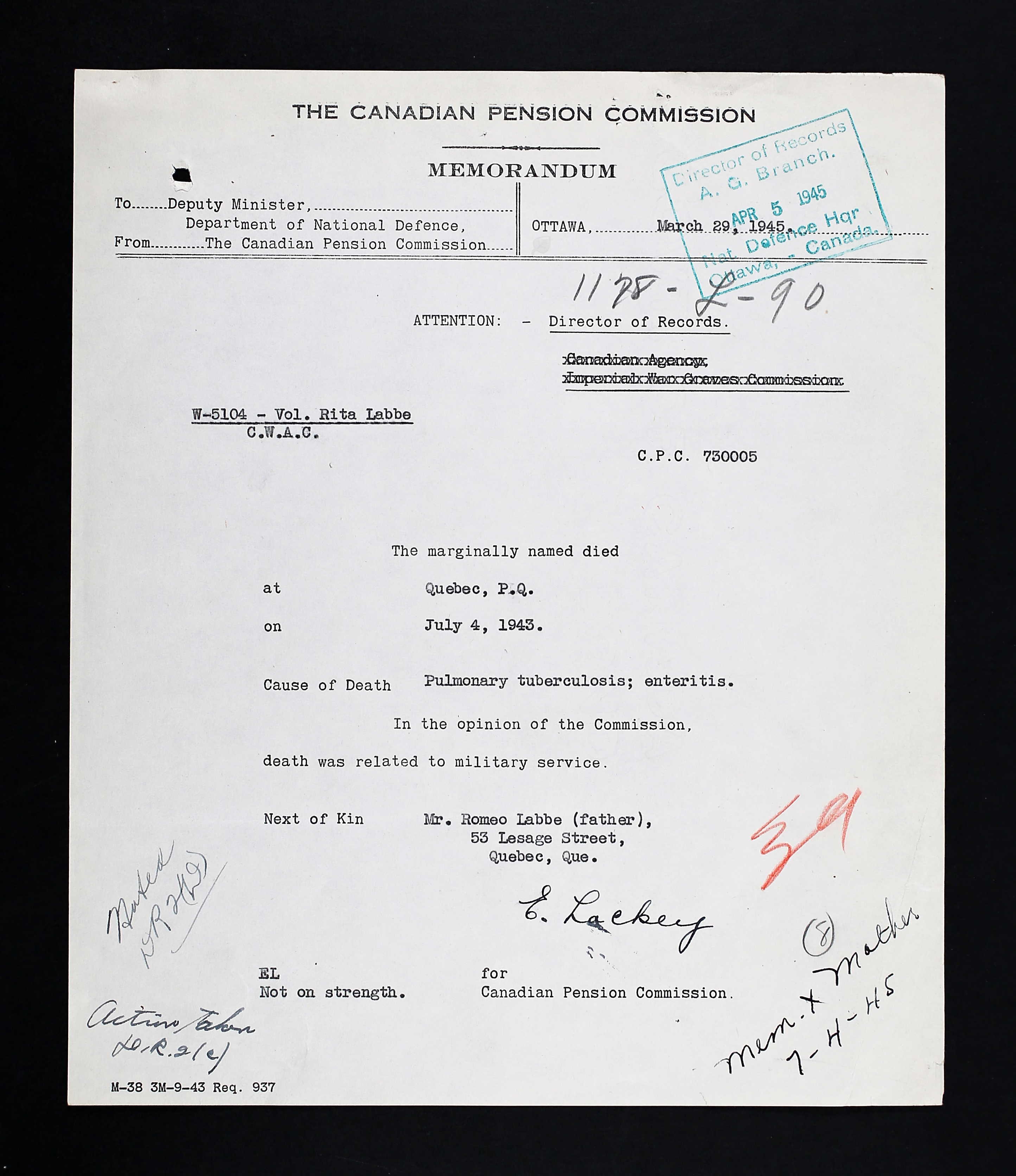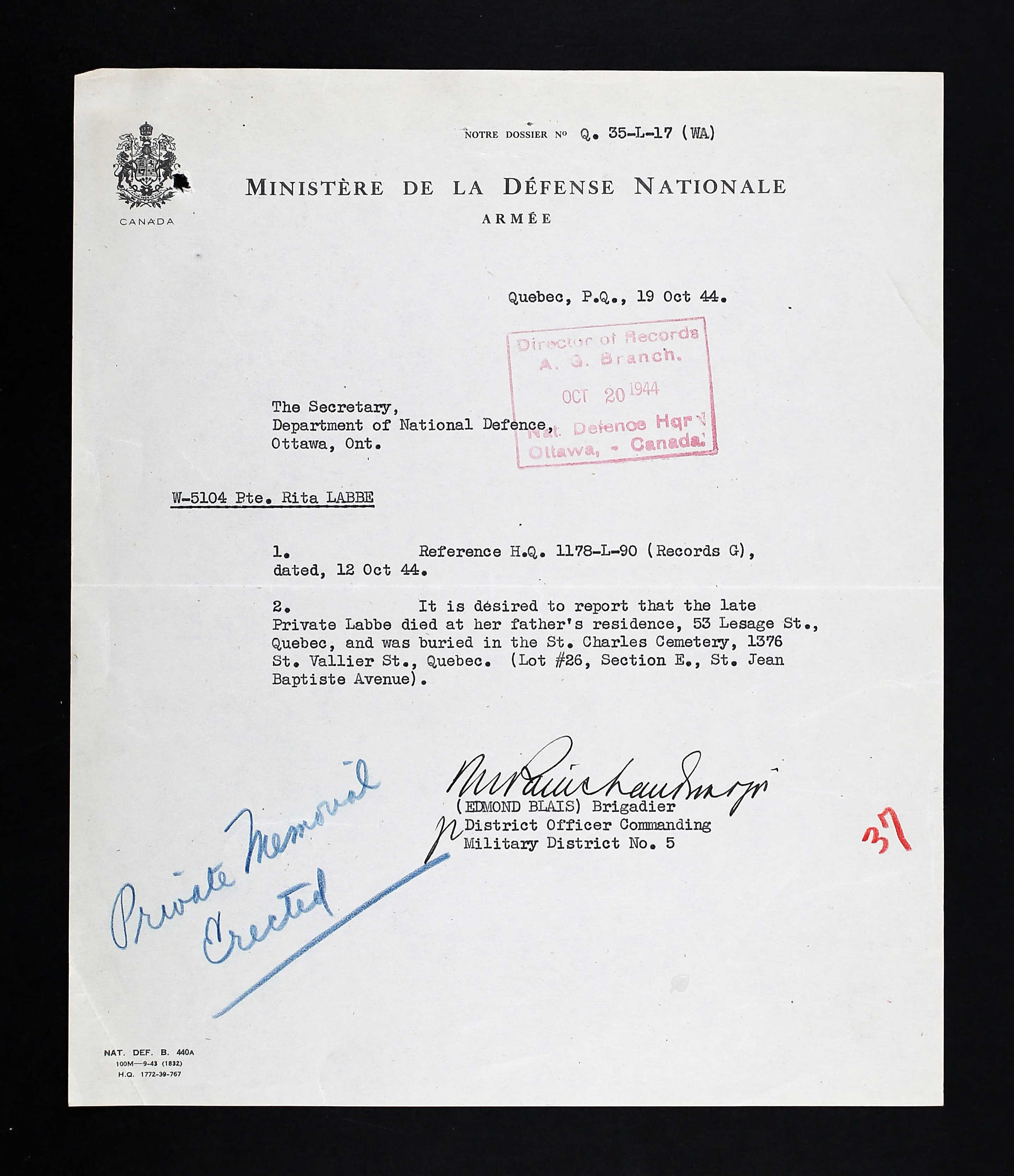 Canadian Women's Army Corps
Rita Labbe was the daughter of Romeo and Julia (nee Bilodeau) Labbe. Rita had four brothers and five sisters: Rene, Roger, Raymond, Romeo, Rolande, Annette, Jeannine, Noele and Sise. One sibling died in infancy. The family was Roman Catholic.
Rita attended Couvent de Limoilou, Quebec City and received a Grade 5 education. She was bilingual, speaking French and English. She worked as a hairdresser for one year and a server for two years prior to enlistment, living at home.
Rita enlisted with the CWAC in Sainte-Anne-de-Bellevue, Quebec on September 15, 1922. She stood 5' 4" tall, and weighed 131 pounds. She had brown hair and brown eyes, with a medium complexion. She was noted to have a set of dentures, plus cavities in her remaining teeth. She smoked cigarettes. She felt best qualified to work as a storekeeper, but hoped to be a driver with the Canadian Army or work in a canteen.
She was in the hospital with pyleo-cystis, a kidney and bladder infection in April 11, 1942, remaining in the hospital for 11 days.
Rita was taken on strength with No. 1 Platoon, H Coy on probation on April 25, 1942, then taken on strength as a volunteer on April 26, 1942. She was then taken on strength with No. 9 Coy for all purposes, based in Quebec City. She became a waitress at Cove Fields Mess.
Rita had a medical examination, in June 1942, admitted to Jeffrey Hale's Hospital in Quebec City. "This girl is 19 and she looks age given. Appears to be healthy, well developed and well nourished. Her only complaint is pain in right upper quadrant."
In September 1942, Private Labbe was admitted to St. Sacrament Hospital, Quebec City. Since June, she was losing weight, plus had thoracic pain and a cough, feeling fatigued. At the beginning of July, her cough reappeared accompanied by a high fever. She was perspiring profusely and again was very tired. She was transferred to Laval Hospital on September 22, 1942.
In October 1942, she had another medical examination where she was diagnosed with pneumonia, plus there was evidence of active tuberculosis.
As of November 11, 1942, Rita was authorized to draw a civilian clothing allowance amounting to $35, if she completed six months' service. Not having completed less that 183 days' continuous service, she was awarded a rehabilitation grant of $28.50. She was discharged from the CWAC with an additional payment of $32.37. Her discharge certificate was signed by Lt. Jeanne Normandeau. "Medically unfit for military services." The form, dated November 2, 1942, was signed, "Rita Labbe."
On July 4, 1943, Rita Labbe died of pulmonary tuberculosis and enteritis at her parents' residence in Quebec City. She was buried at the St. Charles Cemetery in Quebec City on July 8, 1943. A private memorial was erected. On the burial form, Rita was known as Diane, daughter of Romeo Labbe and Julia Bilodeau, "who died on the 5th of July, 1943." Her mother was reimbursed $45 for funeral expenses in February 1946.
Mr. Labbe died at the age of 43 in November 1944. Mrs. Labbe then moved to Montreal from Quebec City, later returning to Quebec City by April 1945.
On the form Mrs. Labbe filled out on February 5, 1946, she stated that her daughter, Rita, was born on June 15, 1925 at St. Sauveur, Quebec, almost three years later than Rita indicated on her attestation forms, making her only 17 when she enlisted with the CWAC. It was noted that Rita's first name was Diane. The family lived in St. Sauveur for two years and then at St. Milo for another two years before moving to Quebec City.
In February 1946, her brothers, Rene, 22, and Roger, 19, were both living in Port Arthur, Ontario. The four youngest, Raymond, 10, Romeo, 13, Noele, 8, and Sise, 6, were at Hospice St-Joseph de la Delivrance, Levis, Quebec. (Hospice St-Joseph de la Delivrance was operated by the Sisters of Charity of Quebec. Children who were orphans, neglected, abandoned, abused or vagrants were taken in.) Jeannine, 16, lived at Ste. Therese, Quebec. Annette, 23, lived in Montreal, but only Rolande, 24, lived with their mother.
LINKS: