Violet Marion Southwell W1237
September 16, 1906 - November 6, 1944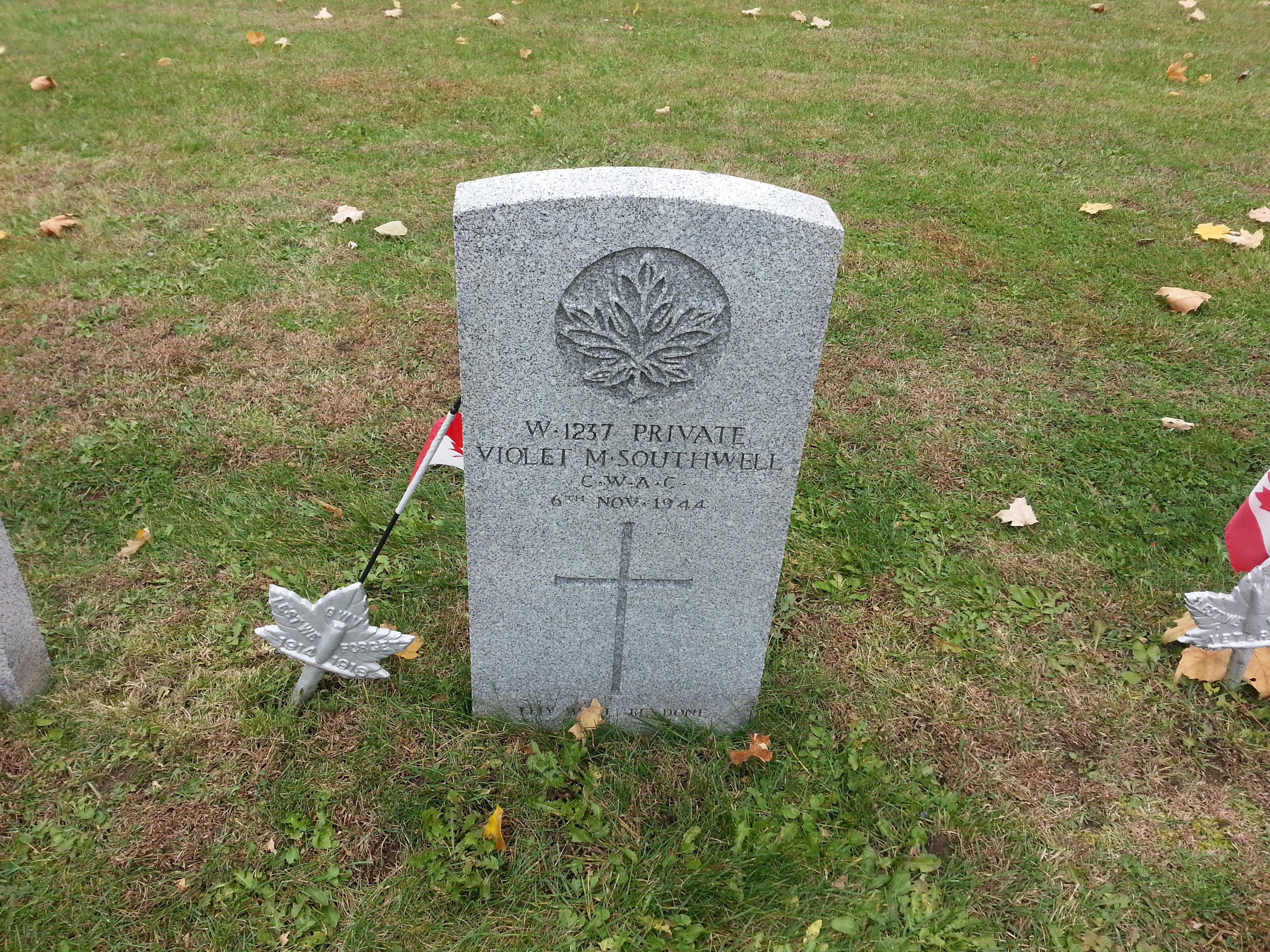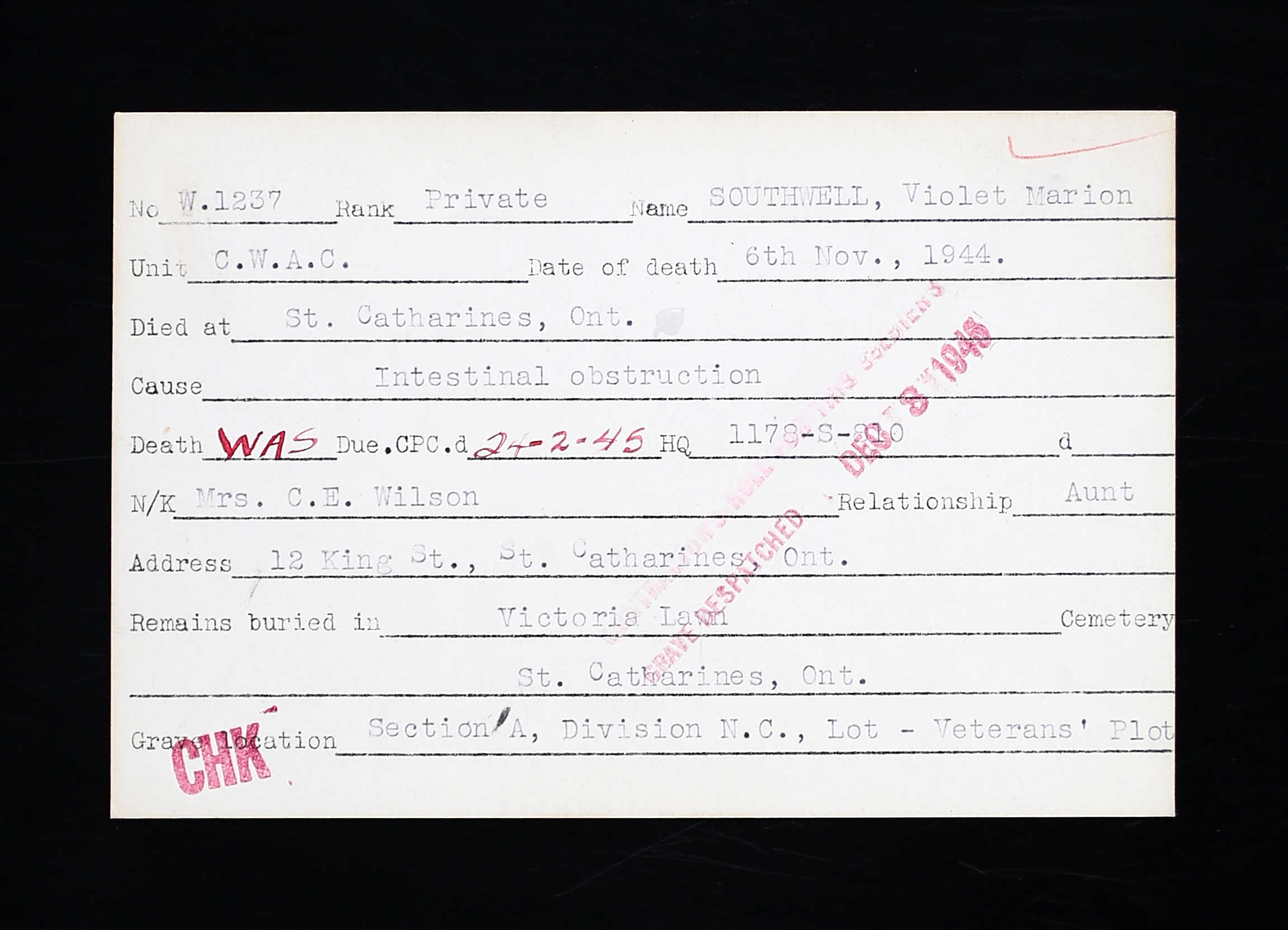 Canadian Women's Army Corps
Violet Marion Southwell was the daughter of Mr. and Mrs. Frank and Lillian Southwell of Hastings, Sussex, England and the niece of Mrs. C. E. Wilson of St. Catharines, Ontario. (Mr. Southwell died in November 1943.) She had two brothers, Frank William Southwell and Herbert Joseph Southwell, and two sisters, Louisa Charlotte Jones and Lillian Florence Willett. Violet was Baptist. There was some debate as to her birth date. Different sources have it as September 16, 1903 and others September 16, 1913.
On June 29, 1942, Violet had her medical examination in London, Ontario. She had been living at 118 Main Street, Galt, Ontario pre-war. Her birthdate on this form was September 16, 1906. "Measles in childhood and smallpox, 14 years. Bronchitis. Two tubes and ovary for inflamation 5 years ago. Flu. Solprugictomy (removal of fallopian tubes) and left ovarectomy; touch of laryngitis six weeks ago; blue eyes, brown hair; mole left out angle of eye." She wore glasses. Violet felt she was qualified to be a fabric worker or driver. "The reason I have chosen a driver is because I have had some experience in driving a car. I do not know an awful lot the way of the mechanical part of it, but seeing I have worked among machinery for 12 years, I feel I would like to take the above up." She also had two months hairdressing. She liked knitting and sports.
From her PERSONNEL SELECTION RECORD, dated August 23, 1944 at No. 101 Depot Coy, London, Ontario, Capt. M. L. Entwistle wrote: "EDUCATIONAL BACKGROUND: Completed Grade X at the age of 15 years at St. Andrews School, Hastings, England. Night course in typing at St. Catharines, Ontario. OCCUPATIONAL BACKGROUND: Unemployed after coming to Canada at the age of 16 years. 3 months: book binding -- Commercial Press, St. Catharines, Ontario. 8 years -- weaver -- became supervisor [Grouts Silk Mills]. Earned $15 - $20 a week. MILITARY BACKGROUND: Enlisted June 29, 1942. Completed basic training at Ste. Anne's. Served 5 months as a storewoman in Quartermasters Stores at No. 1 DD. Overseas from December 1942 to April 1944 and worked as postal clerk in the UK. Perfect conduct sheet. OTHER PERSONAL HISTORY AND APPRAISAL: 5' 4"; weight 158 pounds. Single. Lived with an aunt in St. Catharines after coming to Canada at the age of 16 years. Her parents remained in England, the father deceased in 1943 while this girl was overseas. The father was a brick layer. One brother is a prisoner of war in Japan and the other serving in Italy with the British Forces. The one sister is married and living in England and this girl was very pleased to revisit her family. This CWAC says she is not 'very giddy' and is quite satisfied to remain at home evenings. Occasionally, she attended dances and joined in games, did bowl regularly in a shop league. While overseas, she became engaged to a Canadian soldier, but their plans for marriage were interrupted when he was sent to Italy -- she says that she gets 5 or 6 letters a week from him. This woman declares her correct age is 31 and although she knew that her age was recorded incorrectly in her documents, she did not bother to have it corrected. Southwell has a good complexion, is friendly and speaks with assurance. She has the ability to learn new things fairly readily. She is much interested in Postal Work and after 16 months experience as Postal Clerk in the UK, she would like to obtain a civil service appointment. Her second choice for civilian employment is hairdressing."
Training and Postings:
"A" Coy, CWAC, London, Ontario: June 19, 1942
CWAC Training Centre, Ste. Anne's: July 5, 1942
No. 6 Coy, CWAC, London, Ontario: October 1, 1942
Ottawa: November 15, 1942
No. 42 Coy, Overseas: December 19, 1942
No. 1 Det. P. S., Overseas: December 27, 1943
No. 43 Coy, Overseas: January 26, 1944
Canadian Military HQ, while in No. 10 CGH: January 28, 1944
No. 1 NETD, Canada: April 10, 1944
Pte Southwell was in the No. 8 Cdn General Hospital May 7 - 31, 1943. On August 30, 1943, she was sick in quarters. On January 27, 1944, she was in the hospital again, transferred to the Alderbrook Park Convalescent Hospital in the UK February 29, 1944, then repatriated to Canada. She worked at CMHQ (P&S) while at the hospital. She was granted disembarkation leave from April 19 to May 12, 1944 with pay and ration allowances. She was then admitted to Westminster Hospital, London, Ontario, May 22, 1944. She was granted 16 days convalescent leave from July 26 to August 10, 1944, then readmitted to Westminster August 23, 1944.
She was discharged from the CWAC on August 28, 1944. "Being unable to meet the military physical military standards." Her age was noted as 37 years, 11 months. "Served overseas for 16 months from December 1942 until April 1944." Her address was 290 Borden Street, Toronto, Ontario upon discharge.
On November 6, 1944, Pte Violet Marion Southwell died at St. Catharines, Ontario from an intestinal obstruction. She was buried at the Victoria Lawn Cemetery, St. Catharines, Ontario.
LINKS: