Winifred Lilian Brewster W15189
August 8, 1925 - April 15, 1946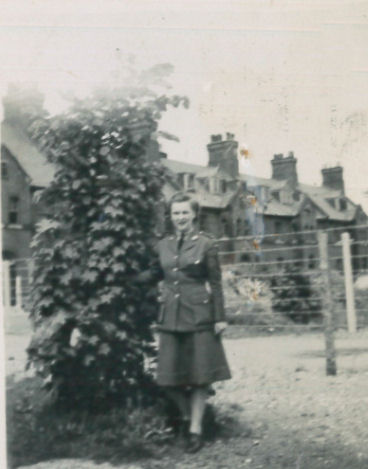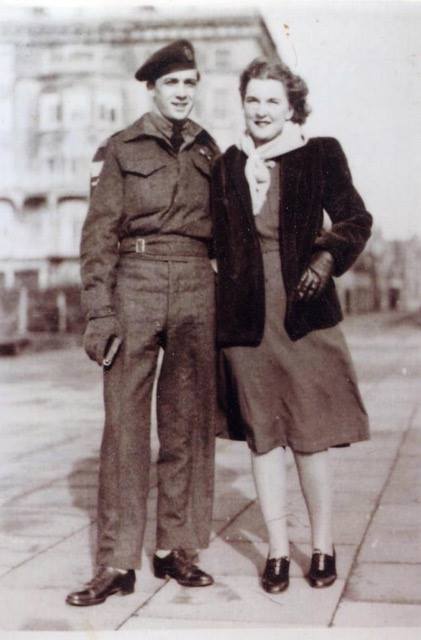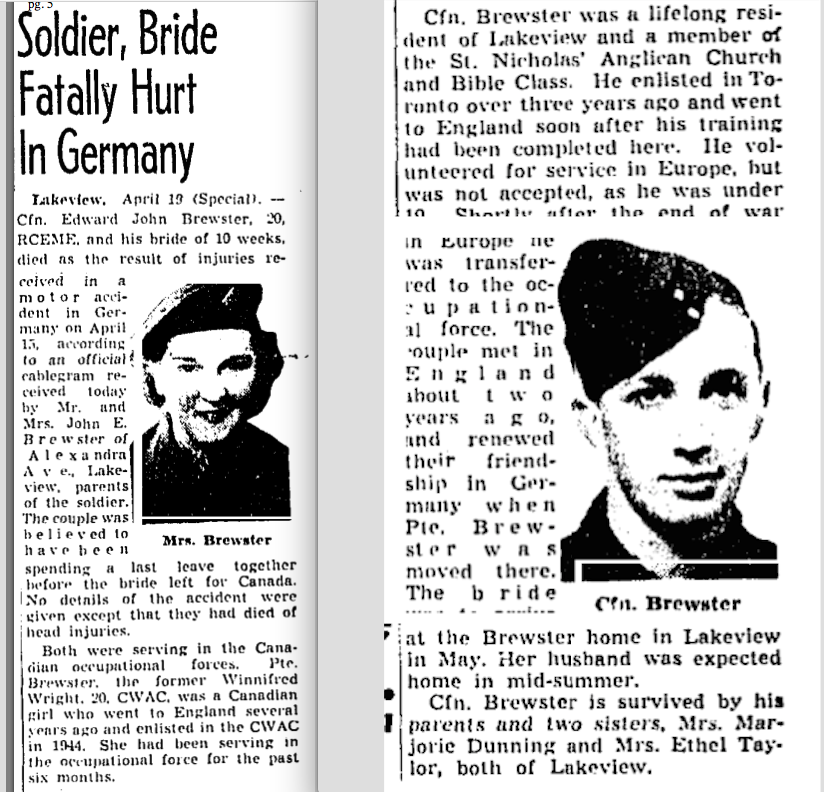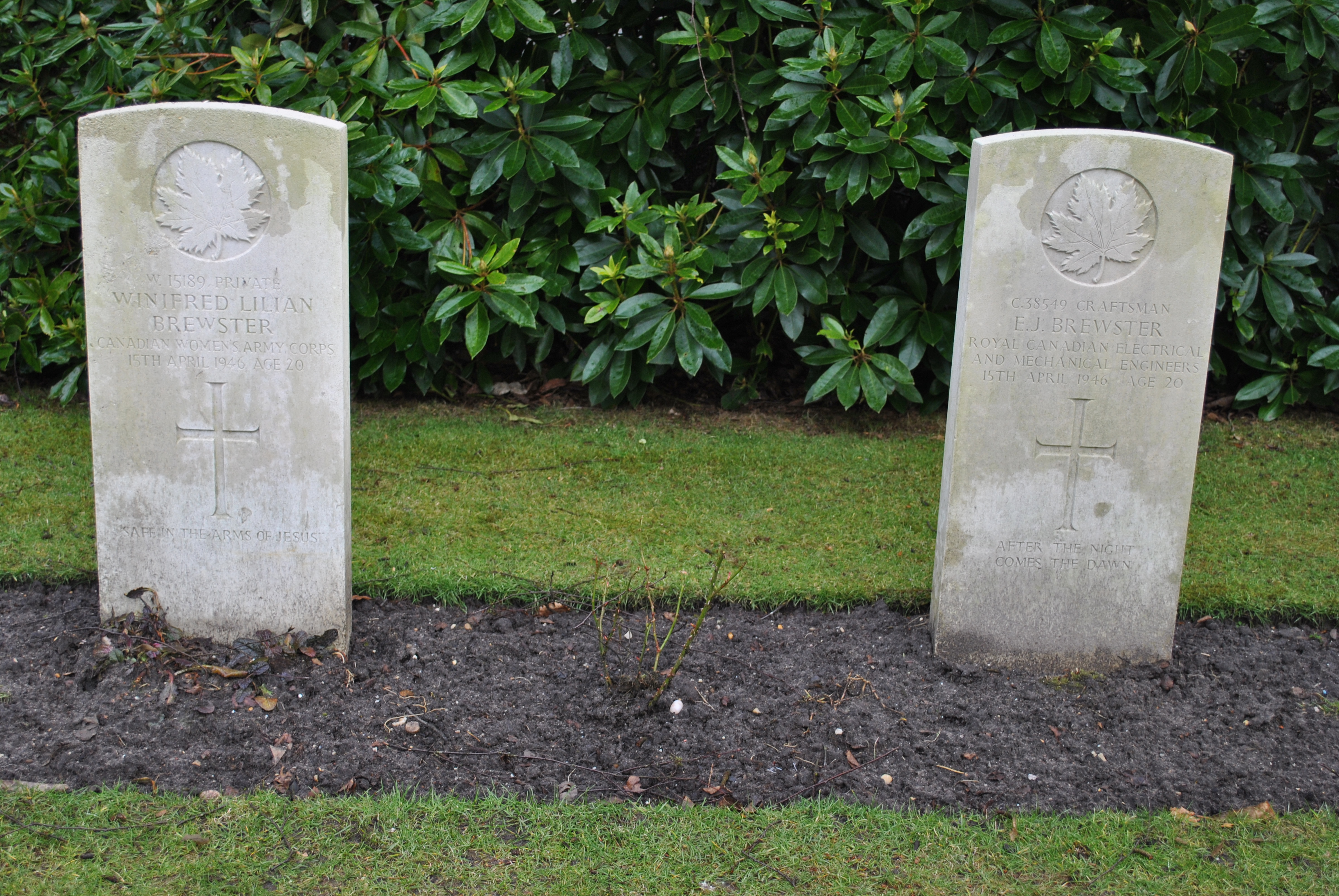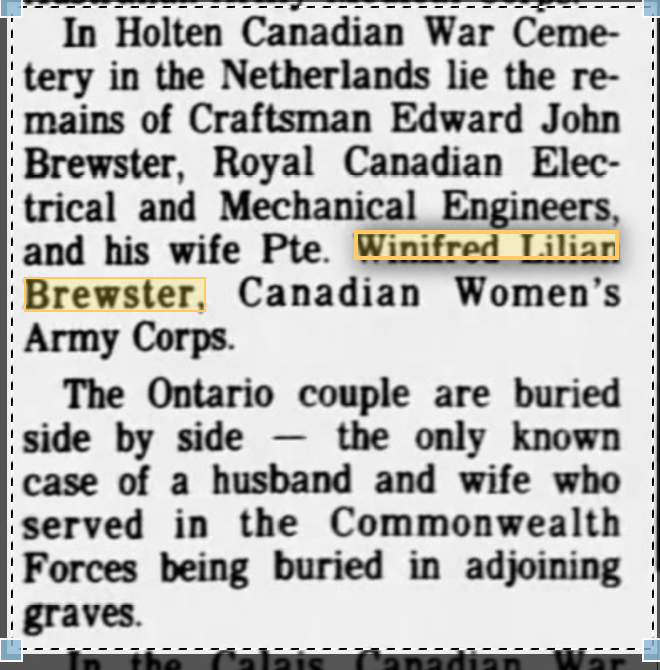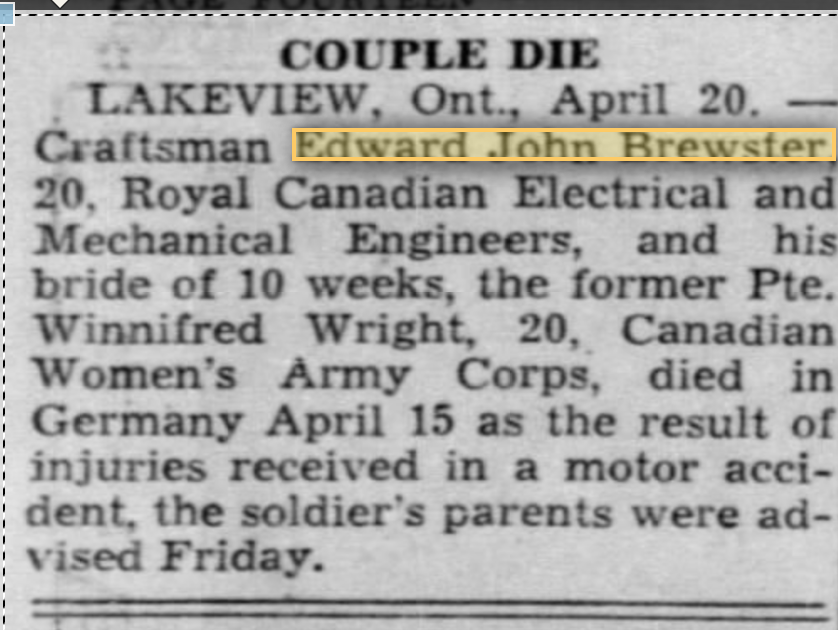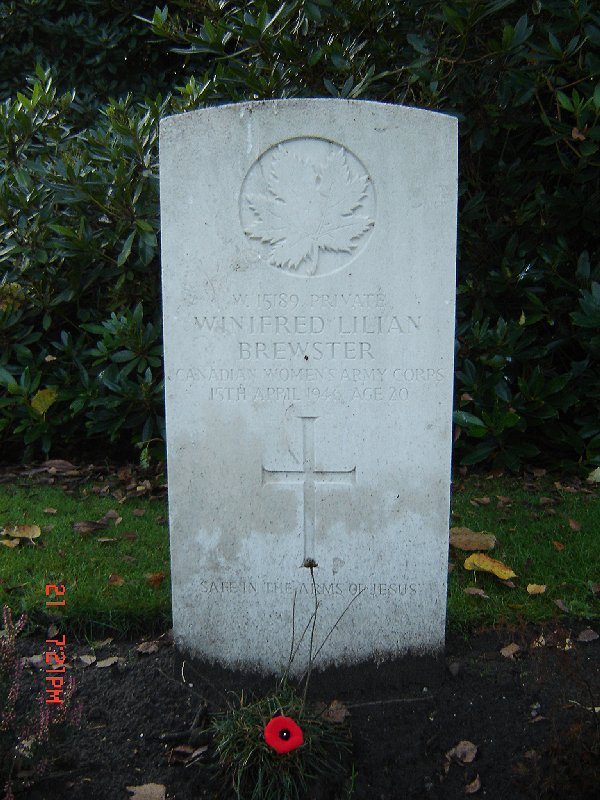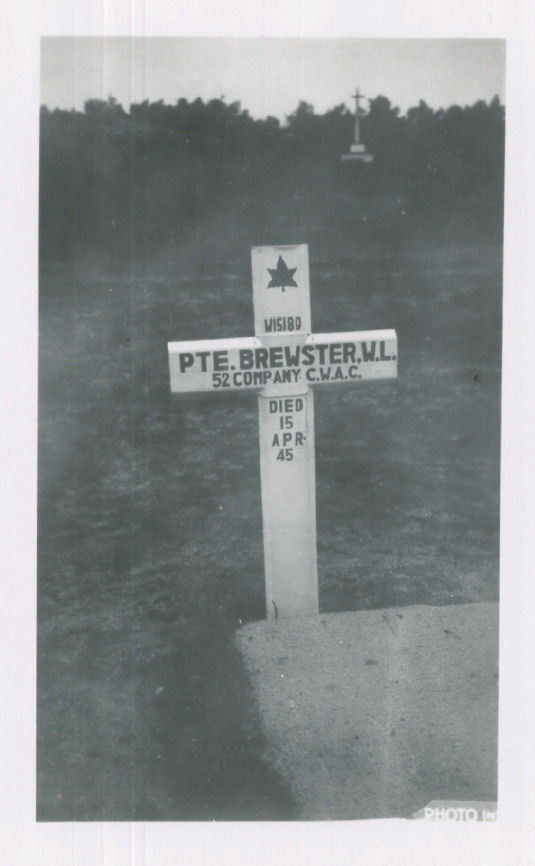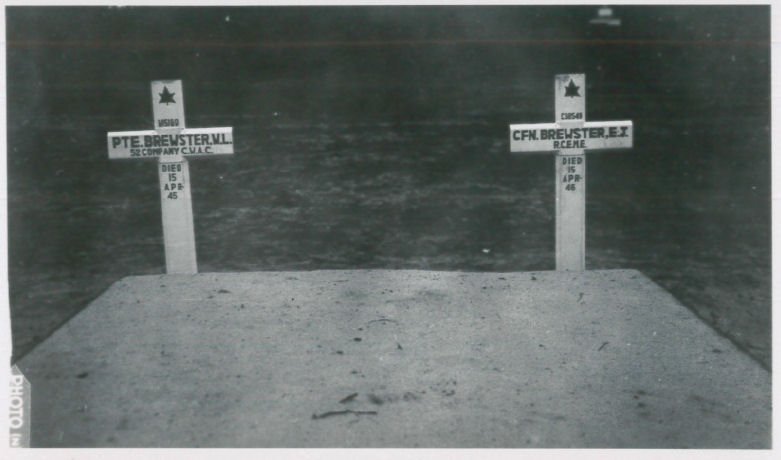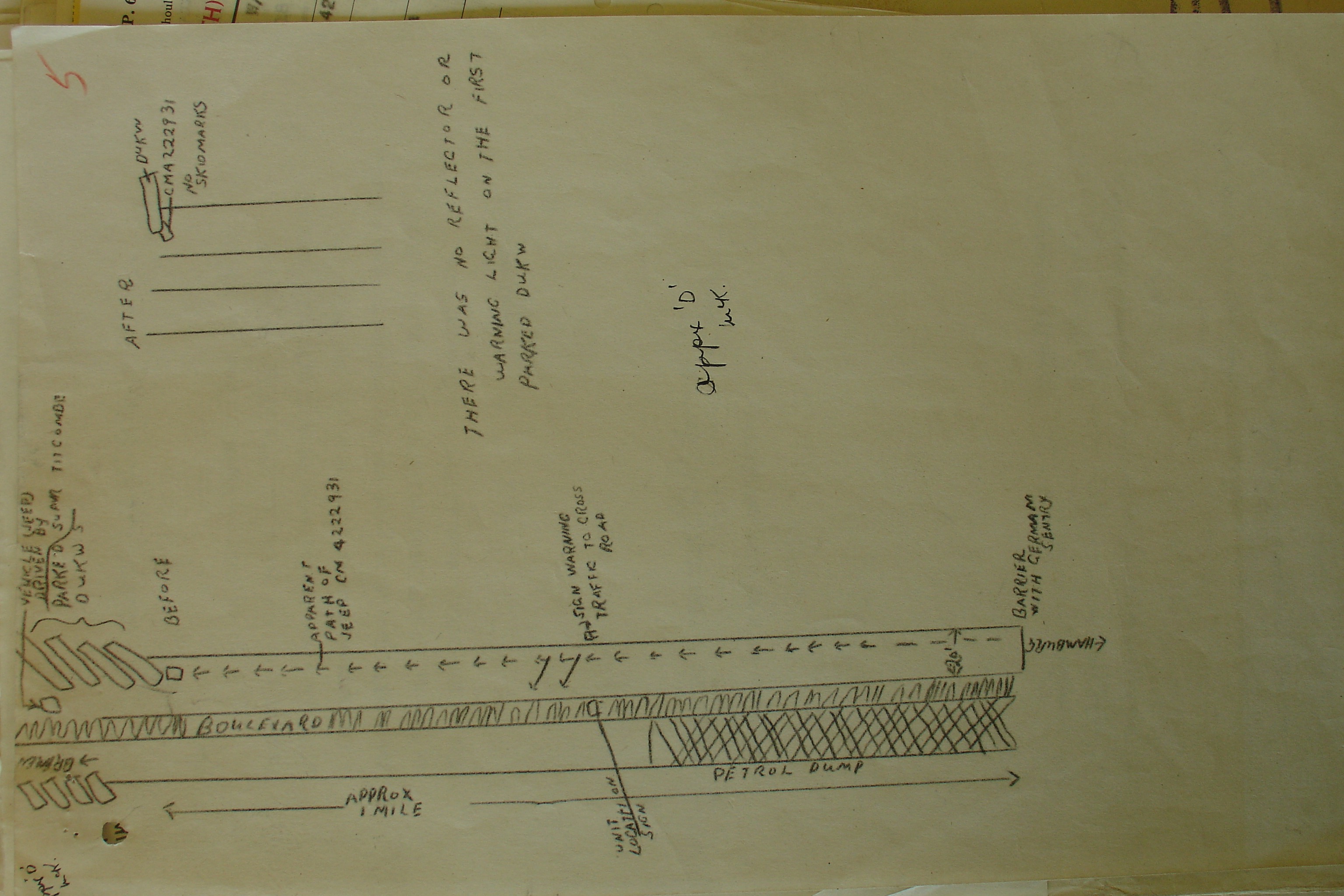 Canadian Women's Army Corps
Winifred Lilian Wright was the daughter of Harcourt James William Wright and his wife Lillian, of Lower Edmonton, Middlesex, England. Winifred was born in Windsor, Ontario. She had a brother, Felix Wright, an engineer for Dominion Forge and Stamping Co. Limited, of Walkerville, Ontario. He was 14 years older than she was. A second brother died November 23, 1928. Winifred moved to England with her parents in 1932. Her father was an engineer. The family was Anglican.
Winifred enlisted in London, England, with the CWAC, November 25, 1943. She had a Grade XI education and worked as a clerk prior, earning 3 British Pounds per week. She stood 5'8" tall, weighing 150 pounds. "Excellent health." She wore glasses for close work, but needed a new prescription. She had a partial upper denture. She enjoyed baseball and was learning how to ride a bicyle. She enjoyed reading historical novels. "She likes fun and goes in for the usual young people's activities: dancing, shows, etc. Gets on well with people. A tall neat girl. Well spoken. Pleasing manner. Good intelligence and learning ability and should do well."
She was a clerk with the Canadian Army, with service in the United Kingdom for 20 months and four months in Holland. She had taken her Basic Training at 43 Coy and was posted to No. 47 Coy in December 1943 employed at CRU as a clerk (general duty) typist. She took at course in January 1944 that "consisted of lectures only. It is recommended this volunteer be given the opportunity of working and qualifying at this trade." She received good and suitable evaluations in her training. "This volunteer did well on course and to retain her present standard of efficiency. It is essential that she be employed at her trade." May 6, 1944
Winifred married Craftsman Edward John Brewster, C38539, RCEME on January 26, 1946. They both worked at the Headquarters of No. 3 Canadian Infantry Division. They were engaged possibly in September 1945. Before they married, they had to have a premarital blood test for venereal disease, which came back negative. They also had to receive permission to marry. "Permission is hereby granted for the marriage referred to herein and to take place on or after 28 Nov 1945."
Edward John Brewster was born on January 27, 1926, the son of John Edward Brewster and his wife Beatrice, of Lakeview, Peel County, Ontario. He had two sisters. He started school at age 5 and left at 16, completing Grade XI. He took a six month course as a wireless operator. He listed cloth cutter, 5 months, messenger for the CPR, 7 months, a biller for the CNR, 3 months, and an office boy for 6 months, as his occupational background. He was employed by Small Arms Limited (a manufacturer of armaments) of Longbranch, Ontario as a mail clerk for three months prior to his enlistment in April 1942, taking basic training at Lansdowne Park in Ottawa. He was employed as a fitter then as a driver/mechanic. He was assured a job in a transport company after the war. "Active in outdoor games, skating, cycling, can swim. No musical ability. Single. Lived with parents at Lakeview, Toronto. 5'11", 152 pounds, normal physique. (When he enlisted, he weighed 121 pounds.) Social: Scouts; patrol leader. Leadership: nil. This soldier has a good education with high average learning ability. He enlisted in the Army on April 20, 1942 and completed Basic Training. To date he has not had Advanced Training. He was employed as a driver/mechanic in Petawawa and has Class II Standard Orders. He also attended a course at Woodstock, Ontario. He is a well cut youth, alert, and should continue in Automotive Group." Capt. W. Sykes, August 18, 1943.
Craftsman Brewster was sent overseas in the fall of 1943 as a qualified driver.
Brewster's mother wrote a letter to her son, October 27, 1943: "Dad took your cable and went to MD 2 in Toronto on Sunday and I went with him. Dad had to go back Monday, but they can't do anything. However, Dad wrote to the Minister of National Defence and told them the facts as far as he knew them, and asked him to use his influence now that you were trained to remain there seeing your birthday is in January. Dad thought that this was what you wanted." A memo dated October 26, 1943 from the Office of the Minister of National Defence: "Information has been received from the father of the marginally noted that he is being returned to Canada on account of age. Mr. Brewster states that his son will be 18 years in January next, is 6' tall, weights 170 pounds and is fully trained having passed his Motor Transport Driving and Motor Mechanics. The father feels that while he would like to have his son in Canada, Private Brewster himself would be very dissatisfied at being returned. In view of this fact that this soldier is over 17 years of age, could he not be retained overseas?" A SECRET CIPHER TELEGRAM: "Representations received. C38549 Pte Brewster, 17 years old. Reported returning Canada because of age. Information requested. Verification of age being obtained." On November 19, 1943, a letter was received noting that Edward Brewster's birth date was January 27, 1926, but had put 1924 on his enlistment papers. "This soldier's father has been informed that the necessary steps are being taken to employ his son on less onerous and dangerous duties until he reaches his nineteenth birthday." Brewster's birth date was changed in his personnel files. Pte Brewster was anxious to remain overseas, according to a memo from No. 1 Canadian Ordnance Reinforecement Unit.
On April 9, 1943, Craftsman Brewster stated, "While I was fooling around with Pte Fletcher in our hut, L-51, at about 2230 hours, I did a back roll and was taken with a severe headache which I believed to be due to an old injury sustained four years ago to my head."
From July 26 to August 1, 1944, he was admitted to the No. 19 Cdn General Hospital with the diagnosis of alcoholic gastritis. "Claims heavy consumption of alcohol in the last two years. Patient in No. 10 CGH January 1944 for seven days with abdominal pain following a drinking bout. Admitted to No. 4 CCS July 24, 1944, complaining of intermittent crampy abdominal pain for two weeks. Pain disappeared after 36 hours. On transfer here physical exam, negative and patient has no complaints."
Craftsman Brewster was involved in an accident on December 1, 1944 at approximately 1600 hours while on an M/C course. "I missed as turning, went over a 20 ft embankment, injuring myself and the machine. Helmet, D.R. was worn at time of injury." he stated.
From December 4 - 30, 1944, he took a Motorcyclists CMHQ Course #239. He was graded as suitable and good, with theoretical knowledge as fair. He became a despatch rider.
On March 19, 1946, Craftsman Brewster was admitted to No. 7 CGH. "Motorcycle accident 1730 hours. Taken to 7 PDS where he complained of being confused and unable to remember events leading up to the accident. Patient unconscious for approximately 15 minutes. Transferred to hospital for observation. At present, patient still complains he can't remember. Remembers nothing about accident or even activities today or last night. Knows name, age, married to a CWAC. Lots of missing information. Has a headache and some nausea." He had a moderately severe concussion with complete amnesia for days, "but most of this has recovered. Patient had a disability at the time of discharge. x-ray negative for fracture. This patient should not return to despatch riding for a month." April 1, 1946
On April 16, 1946, Mr. John Edward Brewster received a Canadian National Telegraph. "Deeply regret to inform you...Edward John Brewster and wife...Winifred Lilian Brewster have both been officially reported to have died on the fifteenth of April 1946 as result of head injuries believed to have been suffered in road accident...overseas military authorities investigating circumstances...further information to follow when received.
On April 18, 1946, a Court of Inquiry was struck.
The first witness, Supervisor L. Titcombe, 4 Cdn Transit Camp, stated: "At approximately 2200 hours, 15 April 1946, I was driving a van....on route 200 UP, approximately three miles north of Hollenstedt, the following incident took place. A....jeep was travelling SW on the wrong lane allocated to vehicles travelling SOUTH at that particular point reached a section supposedly cleared of parked vehicles. My supposition would be that the driver was unaware of the parked amphibious DUKW which he struck without slackening speed. My vehicle was to the best of my knowledge, approximately a hundred yards ffrom the actual scene of the collision. Passing the wreckage, I turned my vehicle and shone my headlights to ascertain if possible the extent of the damage and injuries. It was apparent that without help, I could not extricate the personnel from the jeep. I drove to the nearest barrier and telephoned the location of the accident to the nearest vehicle park office, then I returned to the accident. In twenty minutes, an ambulance and three British officers arrived. We placed the two personnel from the wrecked jeep in the ambulance which proceeded to HAMBURG 94th British General Hospital. We then went to the vehicle park office and contacted, via telephone, Capt Kanoff, who was duty officer. My headlights were on at the time of the accident."
The second witness, Capt J Yarrow, OC 176 Returned Vehicle Park RAOC stated, "The jeep was completely wrecked and the offside front wheel torn off by the force of the impact and wedged under the front wheel of the DUKW...this vehicle park has a left hand circuit which is clearly marked at the entrance and at intervals throughout the park. The speed limit for vehicles passing through is also clearly marked at 20 mph." He was asked if many vehicles come down the wrong side of the road. "A surprising number."
The third witness, Capt R. F. Surry, HQ 3 Cdn Inf Div, CAOH stated: "On approximately 8 April 46, Pte. W Brewster stated that she had a day off on 14 April at which time she wished to go and see her aunt who lived in Meldorf near Hamburg. I said that I would send her up in my jeep and that her husband could drive. At approximately 2000 hours, 14 April 46, Pte Brewster and her husband came to my house at 'C' Mess...and after receiving an assurance from Cfn Brewster that he was a qualified driver, I signed the work ticket authorizing Cfn Brewster to drive the vehicle to Meldorf and return.
The President of the Court then proceeded to the scene of the accident to examine the scene and prepare a diagram of it.
Major F. Leaman, MBE, Camp Commander stated, "I concur with the findings of the court. It is my opinion that there was some degree of negligence on the part of ...Cfn Brewster in that he was driving in the wrong traffic lane...it would appear that the traffic direction is badly marked on this road. In addition to the fact that the first vehicle parked on the auto-bahn was not illuminated or equipped with reflectors, it was approximately 1 mile distant from the entrance of the vehicle park to the first vehicle on a straight auto-bahn and that Cfn Brewster's vision was undoubtedly impaired by the headlights of the oncoming H.U.P. It is my opinion that a combintation of all the above mentioned circumstances resulted in the accident."
Major A. H. Smedor, DAAG 3 Cdn Inf Div CAOF: "There is NO evidence of improper conduct on the part of Pte Brewster or Cfn Brewster within the meaning of Para 6 Overseas RO 4633."
The Court's findings were sent to Mr. Brewster in a letter dated May 27, 1946: "The Court finds that Craftsman Edward John Brewster and Private Winifred Lilian Brewster died between 10 and 11:30 pm on the 15th day of April, 1946; that death resulted from injuries sustained by them when the Jeep driven by Craftsman Brewster and, in which Private Brewster was a passenger, ran into a parked vehicle at No. 176 Returned Vehicle Park between Bremen and Hamburg, Germany. Craftsman Brewster was on duty at the time driving on an authorized trip and his wife, Private Brewster, was on duty at the time being on authorized short leave."
A letter dated May 30, 1946, written by Mona L. Davis, a good friend and colleague of Pte. W. L. Brewster requested details "as to how, where and when she died or if this was not possible, would you give me the address of her next-of-kin. I can hardly believe that she is dead and have no way of verifying if it's true. Would you mind returning the enclosed letter."
After the couple's death, their estates needed to be settled. May 1946: "As apparently, the Court of Inquiry cannot say who died first, it will be necessary to presume one survived the other...until this information is forthcoming, we cannot advise re: disposal of personal effects." On 19 June 1946: "I have looked up the Pathologist's report on the above mentioned and injuries were so severe that in both cases, death must have been instantaneous." Capt N. P. Sherlock, British Military Hospital, Hamburg. "Each had executed a Will prior to marriage, that of the wife being dated 14 Dec 43 in favour of her mother and father who reside in the UK and that of the husband, dated 18 May 45 in favour of Miss Winnifred Wright, whom he subsequently married." Mr. and Mrs. Wright had in their possession wedding presents. On May 7, 1948, Winifred's brother, Felix, received a letter: "This Office has for distribution the War Service Gratuity of your late sister...amounting to $533.62 as part of her Service Estate. As your sister and her husband were both killed in the same accident and there is no evidence as to which survived, the result was that in law, her husband being the younger, was presumed to have survived her and his heirs were entitled to one-half of her estate under the Intestacy Law of Ontario. However, her husband's family released their claim to her estate in favour of your parents. A previous distribution of $582.64 was accordingly made to them by this Office. However, at that time, we apparently overlooked that you, as her brother, were entitled to one-sixth interest in her estate and it will be necessary for us to adjust the present distribution accordingly, unless you wish to assign your share in the estate to your parents." Felix Wright filled in a form, assigning his share of the estate to his parents in England. Edward John Brewster's personal effects were sent to his parents in Ontario and Winifred's belongings were sent to her parents in England.
In the Estates Branch Inventory of Pte. Winifred Brewster's belongings: clothes, photos, a PARA wristwatch, a gold wedding ring, her gold with diamond engagement ring, souvenier bank notes, letters and greeting cards, plus a diary. In the list of Edward Brewster's personal belongings, a flashlight, cigarette case, a souvenir German badge, a Civitas wrist watch, his driver's license, some German Reichmarks, photos, and clothing were listed.
A letter written to the Director of Records in Ottawa, dated December 4, 1946 from L.C. Hartel: "Dear Sir, Enclosed are several snaps and a letter which I very much wish the next of kin of the late E. J. Brewster and W. L Brewster to have. A Dutch family (friends of mine) sent these to me in hopes that I could forward them to their family if at all possible."
A letter written on January 24, 1949 from Mr. Brewster: "Dear Sir, I intend going to England about Easter of this year and to visit Holland. My son, Edward Brewster, RCEME and his wife, Lillian, CWAC, were killed in a jeep accident about 15 1946 and were buried in Holten Cemetery, Holland. Would you please inform me if the memorial stones have been erected? It will be the only opportunity that I ever will have going there and I would very much appreciate it if this has been done." He received a letter back, dated February 5, 1949: "As far as is known, no permanent headstones have yet been erected in this cemetery...there should be no difficulty locating the grave once the cemetery has been reached because as you will see, it is plainly marked and the plots and rows are clearly indicated."
LINKS: