Margaret Airlie McGill W4572
January 10, 1912 - May 24, 1945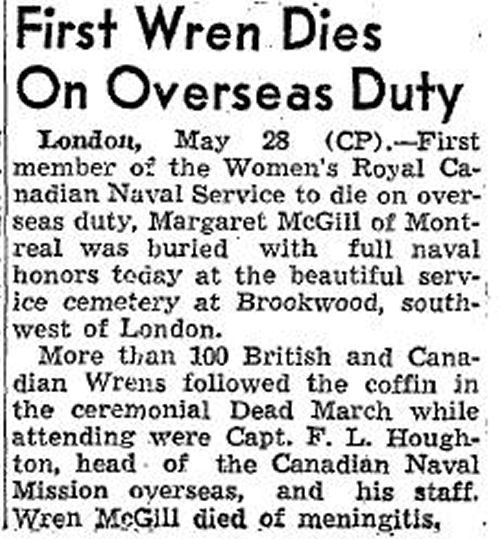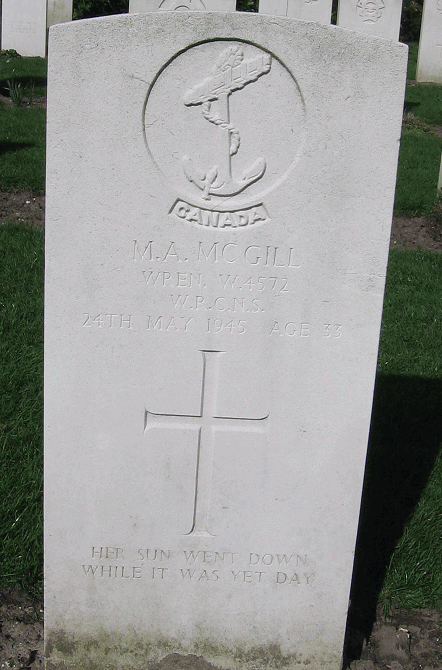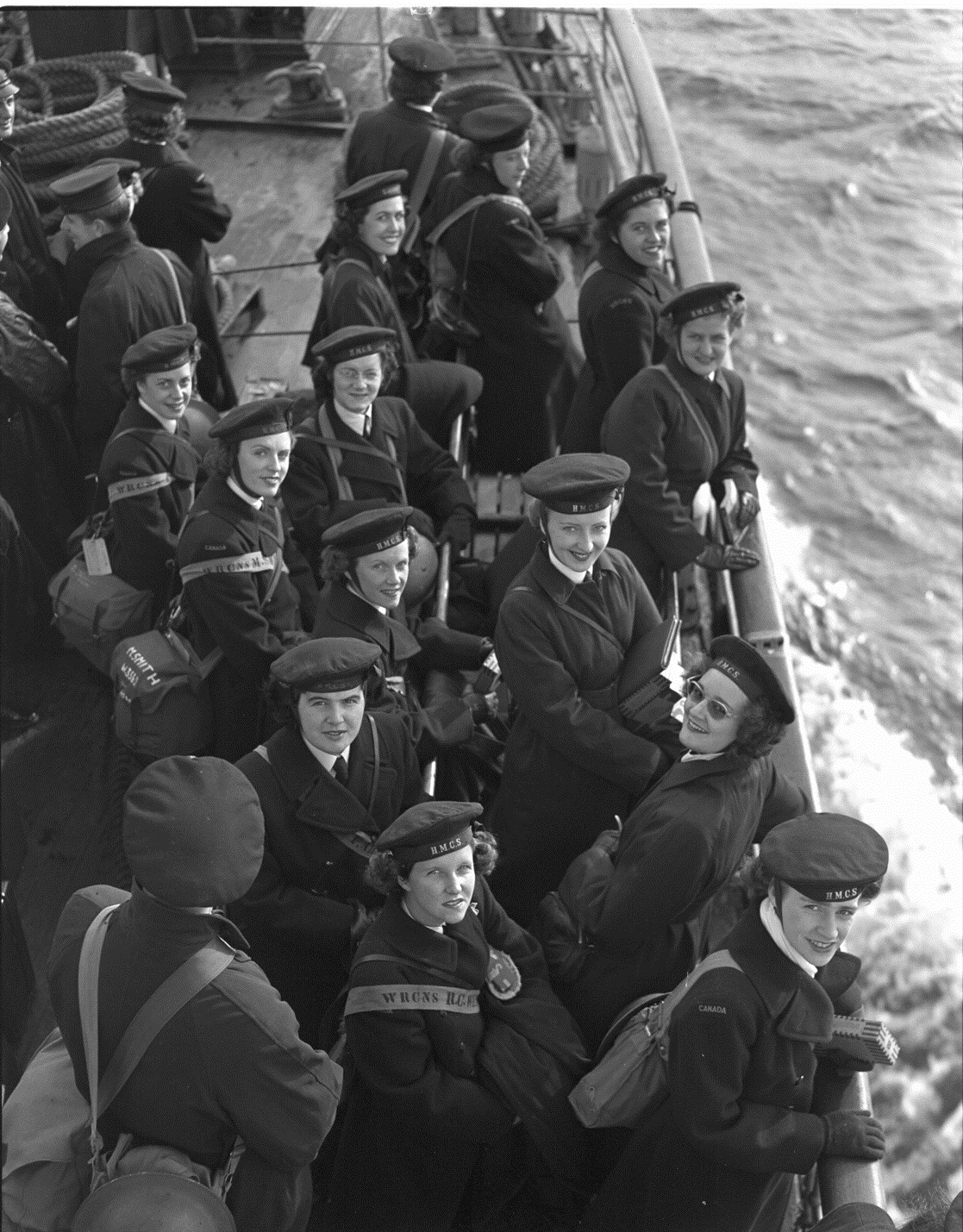 Women's Royal Canadian Naval Service
Margaret Airlie McGill was the daughter of Edward and Louisa Airlie McGill of Montreal. Margaret was an only child. Her mother died, date unknown, and her father remarried Annie Cheeseman. Mr. McGill died in December 1940. Annie lived at 384 Bourgeois Street in Montreal. The family attended the United Church.
Margaret stood 4' 6" tall, had brown hair, blue eyes, and a medium complexion. She left school at age 16 with a Grade 7 education. She only spoke English. She had a job as a storekeeper at the Alexandra Hospital in Montreal for nine years prior to enlistment. After the war, Margaret wanted to own her own store.
Margaret's step-mother encouraged her to enlist in the WRCNS, which she did. Margaret was requested, by Sub Lt. Marjorie Hazlewood, to come in for an interview on November 1, 1943 at 2 pm, WRCNS Recruiting Office, 1448 Mountain Street. [Marjorie Hazlewood became the head of recruiting for the WRCNS in Quebec. See articles above.] Margaret's three references were A. Smith, elevator starter ("trustworthy"), her supervisor, Agnes S. Fulton, Dietitian, Alexandra Hospital ("reacts well to responsibility") and Rev. D. A. MacVicar, Minister ("favourable").
Sub Lt Hazlewood's Report: "CAPABILITY AND RELIABILITY: Good. APPEARANCE: Very small but wiry, clean and neat. SPEECH: Good. SUITABLE: Laundress. RECOMMENDED BY INTERVIEWER: Yes, as such. REMARKS: Living with stepmother, father dead. Her stepmother wants her to join. Likes the Navy best and will be willing to do anything to come in. Has lived with a group of women when in Hospital and always got along well with them -- very short." Margaret noted that she liked to swim, but was "too busy for sports," she enjoyed reading and music. "Sings a little."
Margaret was sent to HMCS Conestoga for training, commencing pay as of November 11, 1943. She remained there until July 28, 1944 in the capacity of Wren Messenger. She earned $1.45/day. She was then sent to HMCS Niobe in Greenock, Scotland, from July 19, 1944 with an additional $1.25 subsistence/lodging/provision pay, until her death in the morning of May 24, 1945.
In April 1945, Wren McGill was admitted to hospital with the flu, combined with a persistent cough and headache. She continued to have a high swinging fever, with no response to penicillin and sulfathiazol. On May 17, she became confused and began to slip into coma.
On May 18, 1945, Wren Margaret Airlie McGill was placed on the dangerous case list. She died in the Basingstoke Neurological and Plastic Surgery Hospital, Basingstoke, Hampshire, England due to tuberculosis meningitis.
She had a large inventory of personal effects, including clothes, make up, books, photographs, a map of London, knitting needles, a flashlight, an autograph book, a copy of London Silent Traveller, four Pounds, five Shillings and eight Pence, her kit bag and a black suitcase.
On May 30, 1945, a letter was sent to Mrs. McGill. "Please accept my deep and sincere sympathy in the sad loss of your step-daughter, Margaret. She was a very popular member of our Staff [Canadian Naval Mission Overseas, London], not only amongst her sister-wrens, but with all of us, and we feel her absence keenly. On the afternoon of the 26th May, in one of England's most beautiful cemeteries, I attended the funeral in company with a great many of our wrens, ratings, and several officers from the Staff. The funeral procession was most impressive, as you may see from the photographs which I enclose. The last ceremonies were simple and touching. The many tributes of flowers were beautiful. If there is anything more I can do for you, or any further information that I can provide, I hope you will not hesistate to write and ask me."
In November 1945, Mrs. McGill made a request for an application for the War Services Gratuity "for my late daughter." In January 1946, she wrote the Director of Estates. "I cannot remember whether [the Sixth Victory Bond] came in Margaret's name or mine, as she gave me that bond in payment of a debt that she owed me. I therefore did not list it, as it really belonged to me."
Wren Margaret McGill was noted as the first Wren who died on overseas duty.
LINKS: