Margaret Lorraine Bouffard W6621
October 22, 1926 - June 29, 1946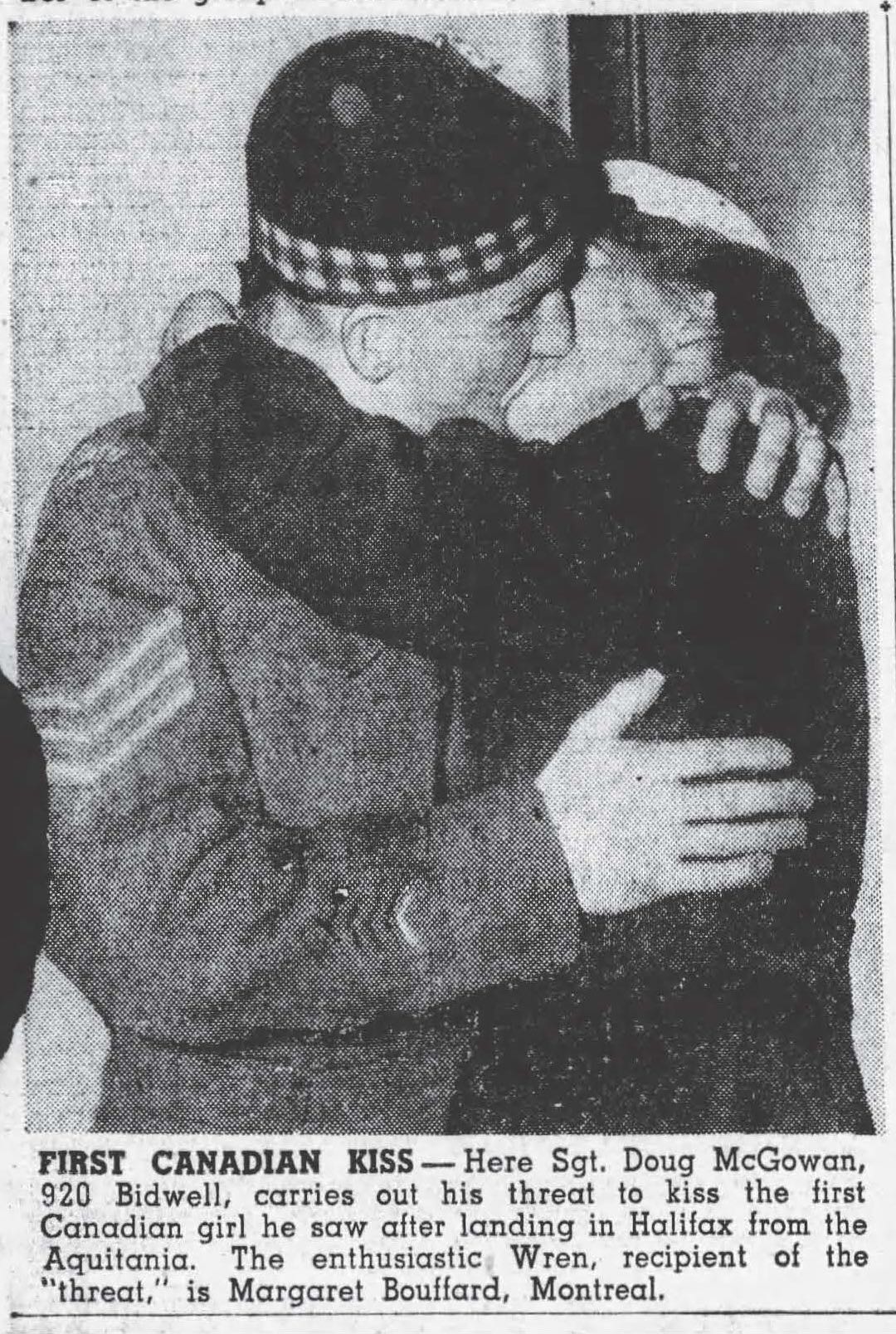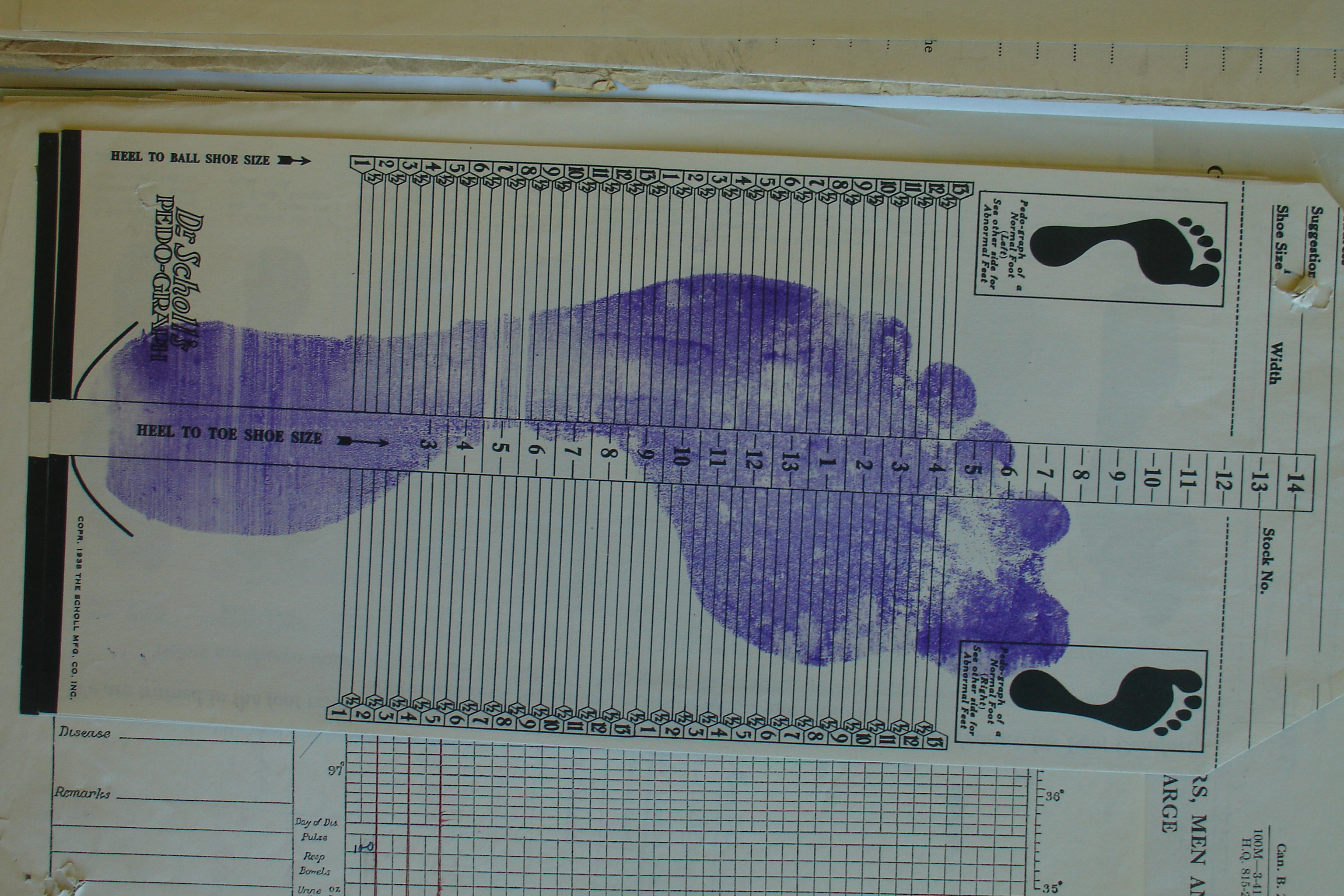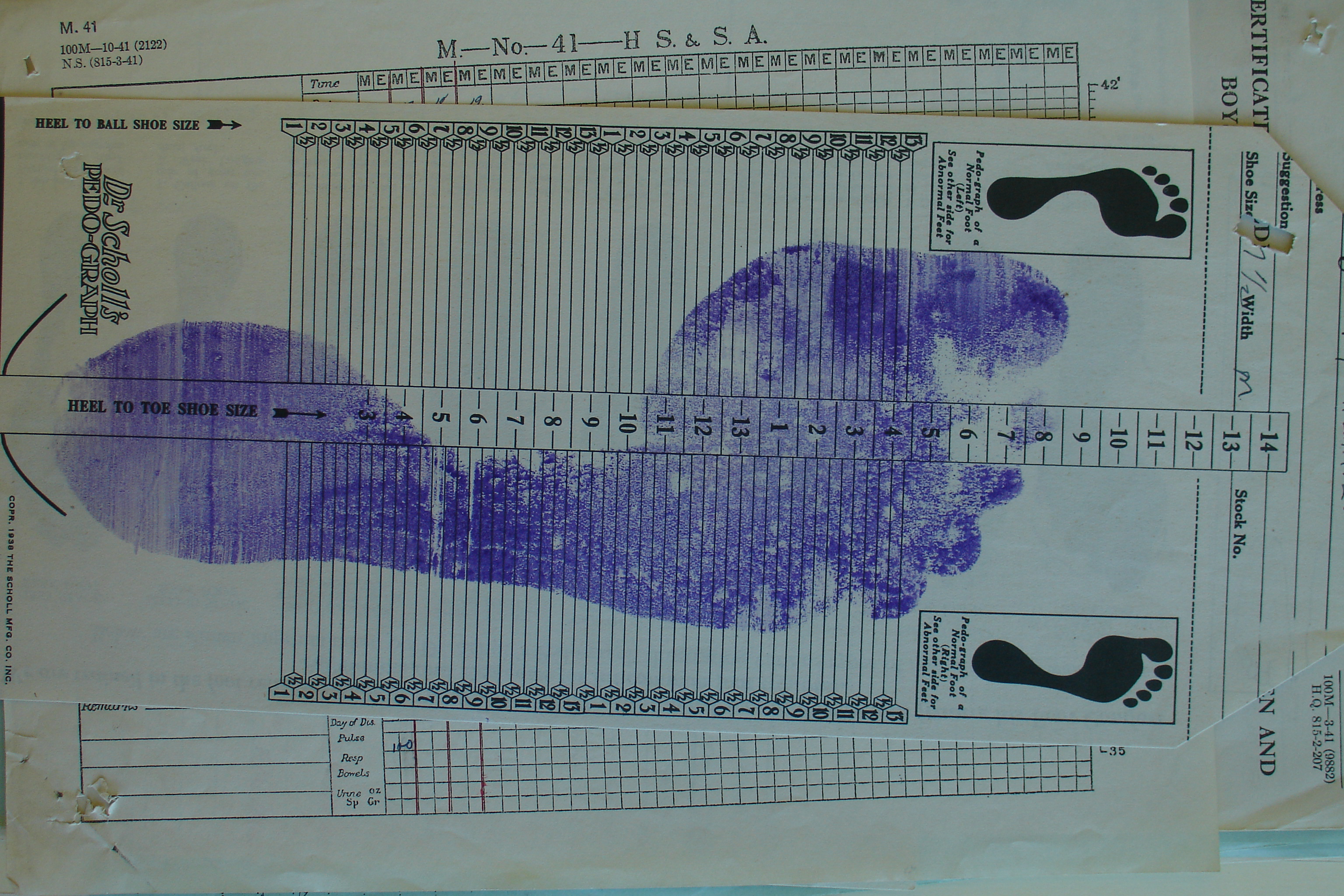 Women's Royal Canadian Naval Service
Margaret Lorraine Bouffard was the daughter of Mrs. Annie Manuel of Montreal, Quebec. She was born in Calgary on October 22, 1926. Margaret's father was deceased and her mother remarried in about 1943 or 1944, her new husband an employee of the CPR. (Annie was an orphan and brought up in an institution. She had had her first marriage annulled.) Margaret had an older sister, Florence, 23, a stenographer, with the CNR.
Margaret had a Grade 8 education from a boarding school repeating Grade 2. She took typing at night. She left school at age 15 or 16. She had brown hair and brown eyes, with an olive complexion. She had mild acne. "Untidy hair. Dark, bright sparkling eyes." She was bilingual. "Poor grammar." She claimed to have sung with "Thumbs Up Review". She indicated she would go out to Ste. Anne's Hospital (Military) twice a week to entertain patients, and had been doing this for about six months. She was in the Girl Guides for three years (Salvation Army Corps). She played baseball and liked to swim and play tennis. She said her best friend was a Wren, posted in Newfoundland. She said she needed discipline. "Likes to travel...family approves....father died when she was 4 or 5 years old...wants to be a singer and is still sure she can be...knows what the job of Messwoman entails and is willing to put her best into it. This girl has a rather strange outlook on life and am not at all sure how she would fit in to service life....travelling, liked Cleveland best. Did part time work -- lived at YWCA. Very keen to go to California. Has a friend in the Army Air Corps at Dorval who lives in Los Angeles. Thinks she would like to drive out with him in January when he is going home. Rather 'flip' manner." Lt. Margaret L. Kidder, WRCNS. The date of her attestation was January 23, 1945 and she commenced with pay on February 8, 1945. She had some references, but two of them did not know her well enough to form an opinion. She did her basic training in Galt, Ontario.
She was then travelled to Nova Scotia for her posting at HMCS STADACON. On May 5, 1945, Wren Bouffard strained her left ankle while walking one evening in Halifax and was admitted to the Royal Canadian Naval Hospital. She was given three days excuse duty.
On September 6, 1945, another report was filed. "A complete assessment of this girl's personal history and mental examination at the present time would indicate some psychopathic deviation. It is difficult to make a diagnosis of this nature without having information from a second or third party. She has a long history of delinquency in civilian life and I somehow find it hard to imagine that she could be brought before a Juvenile Court on the minor charges she describes [not doing dishes for her mother when she was 11]. More adequate history of her civilian behaviour would be of interest. Her home has been one productive of marked insecurity and her family history would also appear to be contributory to her behaviours. A psychiatric opinion of this nature will not merit recategorization of the individual on medical grounds...I would highly recommend that she be referred to the Personnel Selection Officer and consideration be given for her discharge 'Services No Longer Required.'" J. D. Atcheson, Surg. Lt. VR
On her PERSONNEL SELECTION SPECIAL REPORT FORM dated September 20, 1945: OCCUPATIONAL HISTORY: She had numerous positions chiefly as waitresses - unable to recall some of her jobs...salesclerk for a few weeks [but said she had to leave because she was needed at home]...modelled dresses for few weeks...waitress for two months...waitress for three weeks. SERVICE HISTORY: Feb 8 - March 25, 1945: CONESTOGA, basic training and messwoman duties. March 26,1945 - to date: STADACON, messwoman duties in Wren Galley. OTHER RELEVANT INFORMATION: Rating referred to Personnel Selection Office by Psychiatry Clinic for consideration of discharge on executive grounds. A dark, rather attractive girl. Good build: 5' 6 1/2", 125 pounds. Bright, almost flip, manner. Loquacious, chatters incessantly and not always coherently. Family background has been disorganized. Father died some years ago, mother worked at a variety of jobs and married again recently. There have been serious financial difficulties and rating states that she and her sister were in Juvenile Court 'just to see if they were being looked after alright.' Sister now a teletypist with CNR in Ottawa. Bouffard's occupational background is difficult to determine exactly. It appears that her mother was anxious for her to work after she left school, but this didn't appeal too much. She skimmed through numerous waitress jobs and when not working begged money from her sister or an aunt. Did some singing with amateur troop shows and made several hitch-hiking tours through Ontario and the US. Since joining the Service, has been to New York twice on leave, alone. Another of her interests is writing letters all over the world to men she doesn't know and whose addresses she finds 'in books.' Likes to board troopships when they come into harbour and sing for the men. Other interests are sports and movies, which she prefers to attend on Officers' Nights -- she says she sneaks in without paying. Has recently developed an overwhelming interest in singing and wants to get out of the Service so that she can study. Also she expresses a desire to hitch-hike through the Southern States. A highly unusual girl. Appears to have drives and compulsions which are not entirely normal. Complains of nervousness and frightful nightmares which often prevent her from sleeping. States her mother frightened her with the devil when she was five years old. Is afraid to be alone in a room. Says that her hitch-hiking tours terrify her but 'make her feel better.' "M" test suggests low average learning ability. While her Conduct Sheet gives little information, the Head of her Department reports her work to be poor and her incessant chatter and fanciful ideas to be disrupting her fellow workers. The Psychiatrist reports some 'psychopathic deviations' and states that 'this type of case does not adjust well to Service.' It is felt that Bouffard is of little value to the Service as a messwoman and it is possible that she may develop into a more serious trouble maker. It is recommended that a discharge 'unsuitable' be favourably considered.' Recommend that this Wren be considered for discharge.
Mid-October, 1945, Wren Bouffard was admitted to hospital. She noted that she had pneumonia in 1944, hospitalized for two weeks that spring at the Royal Victoria in Montreal after which she had a nervous breakdown; her tonsils were removed in 1935 and measles when she was a child. She said, "I am easily hurt at the least little thing. I never sleep well at night. If I work too hard, I get headaches and sharp pains all over my body, then they go. I am easily frightened." The report stated: "October 16, 1945: "Up, got dressed, was going to get breakfast with tray in hand, fell, got up, then was told she had almost fallen out of window. Was carried to Sick Bay, lay down four hours. Got up and started for dinner. Fell again, and carried into Wrens parlor, to elevator, went black again, recovering when down in Sick Bay. During afternoon, got up, felt black again and grabbed girl next to her and started being nauseated about 1703. Admitted to RCNH, retching...headaches. Ate something, feeling thirsty. Cannot raise head without headache and pain in back. Says she has been having many pimples. Gave a short dissertation on how hard she has been working, that as soon as she finishes a hard job, she is given a harder one to do, that she is not strong enough for this -- if they keep it up, all the other girls in the Wrens galley will be in the hospital. Starts work at 6:15 - 6:30 am. Does dishes to 8:30 am, puts up chairs, sweeps, washes tables, or windows -- "no girls jobs, I don't care what anybody cares -- and used to scrub showers." Rapid flow of talk. "On our feet constantly, wet. It's really no fun. I will never go into the cabin by myself. I am afraid of the dark. Saw Psychiatrist two months ago -- want my discharge -- no luck as yet." She was then discharged on October 22, 1945 with a diagnosis of anxiety Hysteria and mental retardation. Borderline intelligence -- mental age is about 10 or 11. Category C, recommend on discharge. She is nervous, easily frightened, has frequent headaches and sharp shooting pains about the trunk."
At one point, Wren Bouffard was checked to see if she was having gallstones. Negative results. Bouffard continued to complain about her work load. "It is dirty and a man's job." She was getting every second afternoon off from work. She told the doctor that her mother tried to toughen her up and laughed at her fears. She also said there was a family history of psychosis, but it was noted "judging from her account of the way she has been raised, one would probably be safe in saying her mother's intelligence was not higher than the dull normal level." Bouffard mentioned the physical and mental abuse she experienced by her mother. She also mentioned that she was "practically engaged to a man in Fort Benning, Georgia whom she met on her last leave."
On October 26, 1945: Lt. W. Grace Lyons WRCNS wrote: "Has carried out her duties to the best of her ability, not considered outstanding in any respect. Bouffard has not been very happy in the Service, has found it difficult to adjust to Service life." HMCS STADACONA, Halifax, NS. Her duties were washing dishes, keeping galley and mess clean. She required "constant supervision."
"If she has sufficient talent along these lines of singing, with training, it may prove the solution to her problem," stated another evaluation. "She has recently made arrangements for employment selling magazines." This was with National Home Monthly. She was receiving vocational training in singing. She also needed to consult with the DVA medical officer for treatment.
On June 29, 1946, at Ste. Anne de Bellevue Hospital, Wren Margaret Lorraine Bouffard died of a degenerative brain lesion (diseminated sclerosis) leading to respiratory paralysis.
No will was found. Her mother received her service medals in January 1950.
In a letter dated March 3, 1947, Mrs.Annie Manuel, Margaret's mother, wished to have "Safe in the arms of Jesus" on her daughter's headstone. Margaret is buried in Mount Royal Cemetery, in Montreal, Quebec.
LINKS: