Mary Rech W3431
October 26, 1924 - July 24, 1944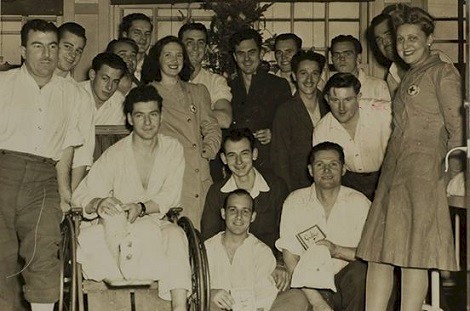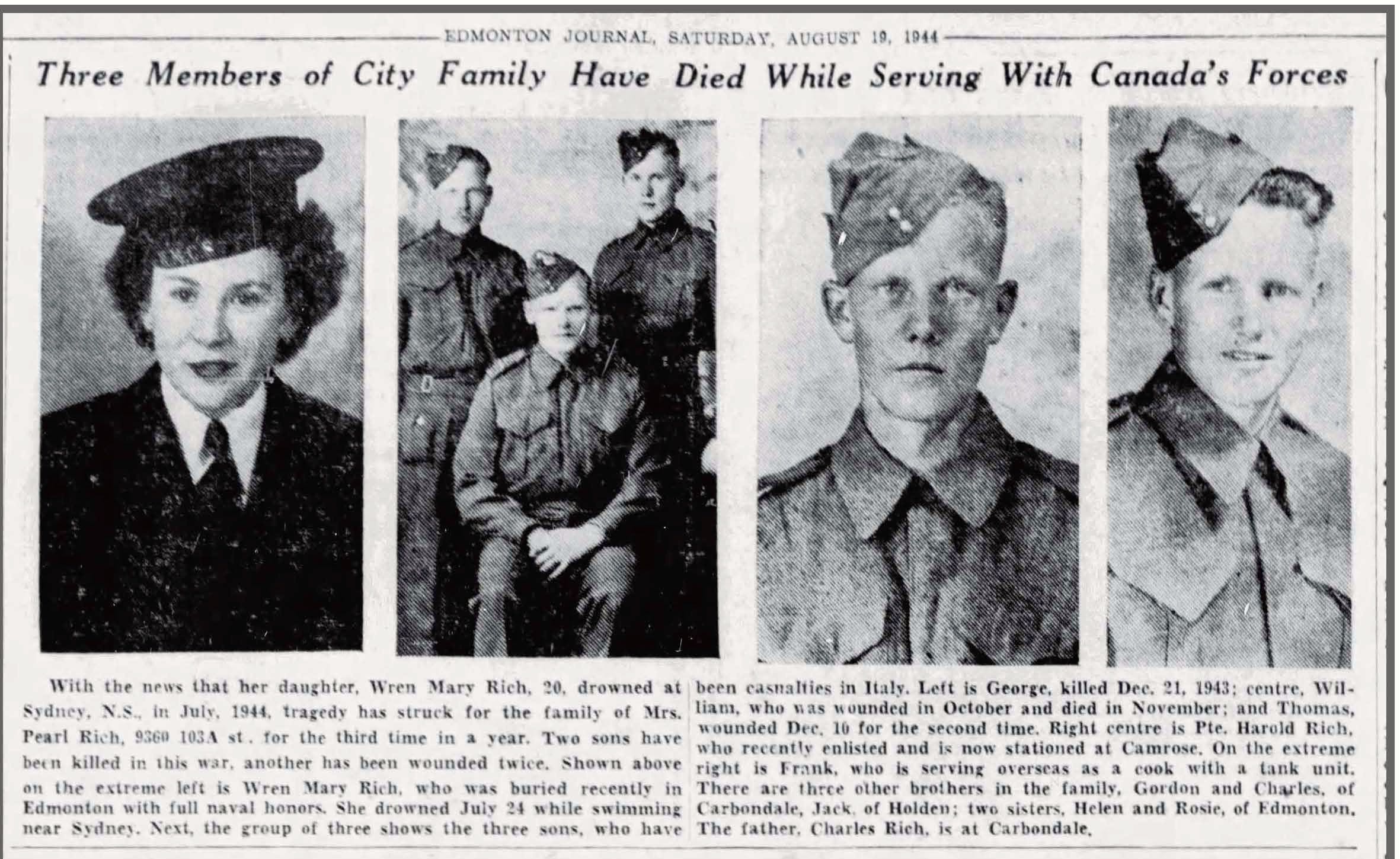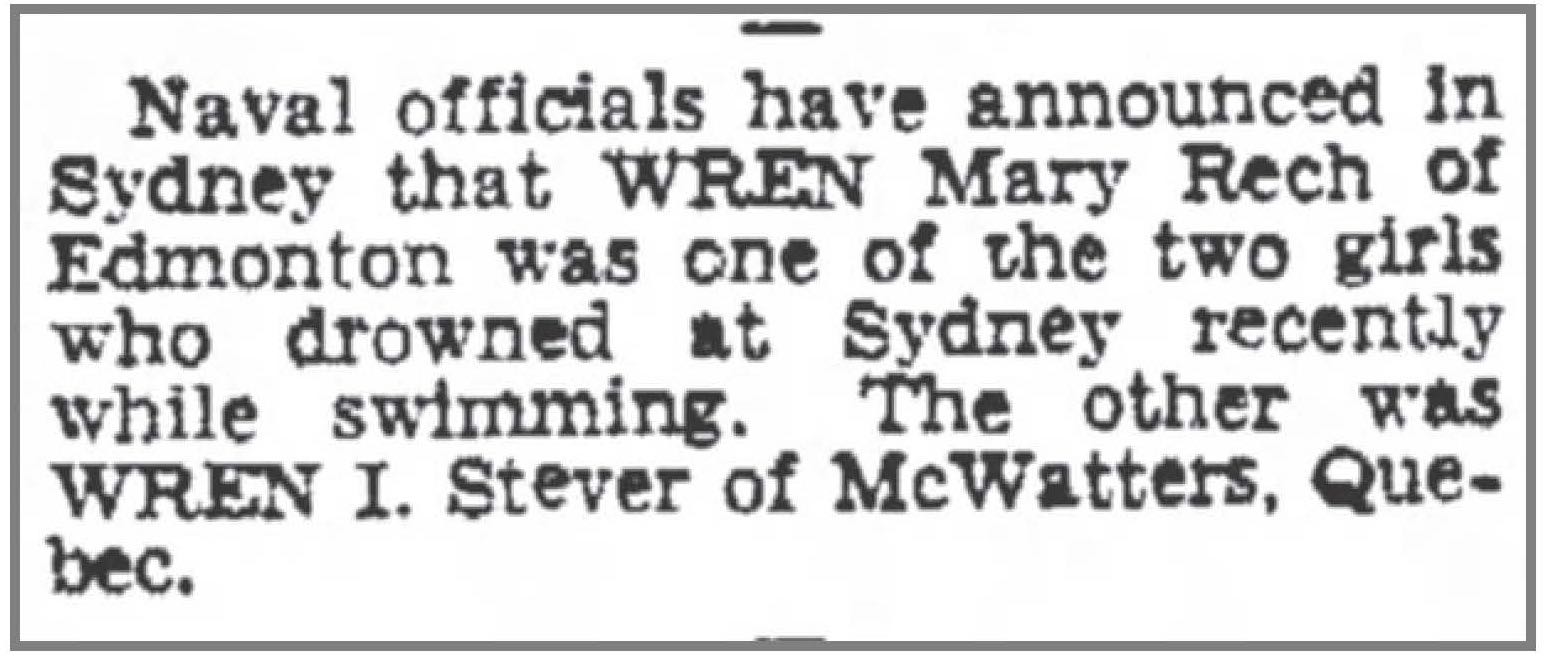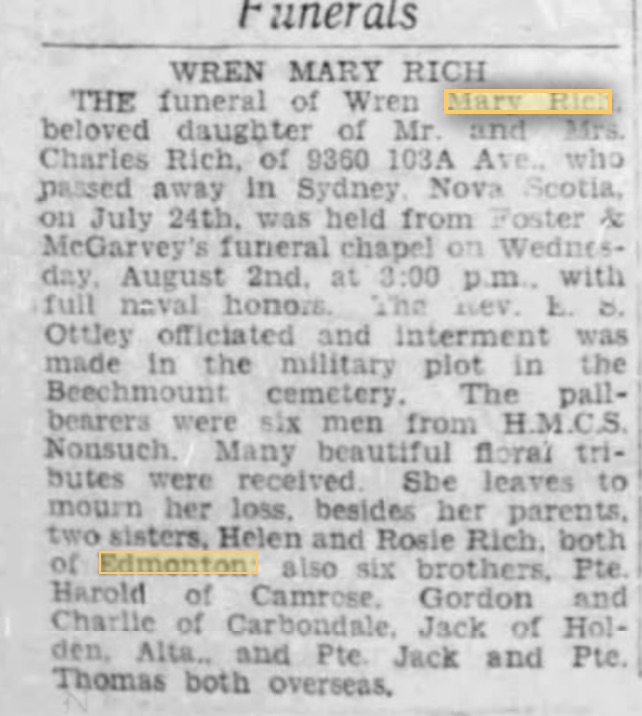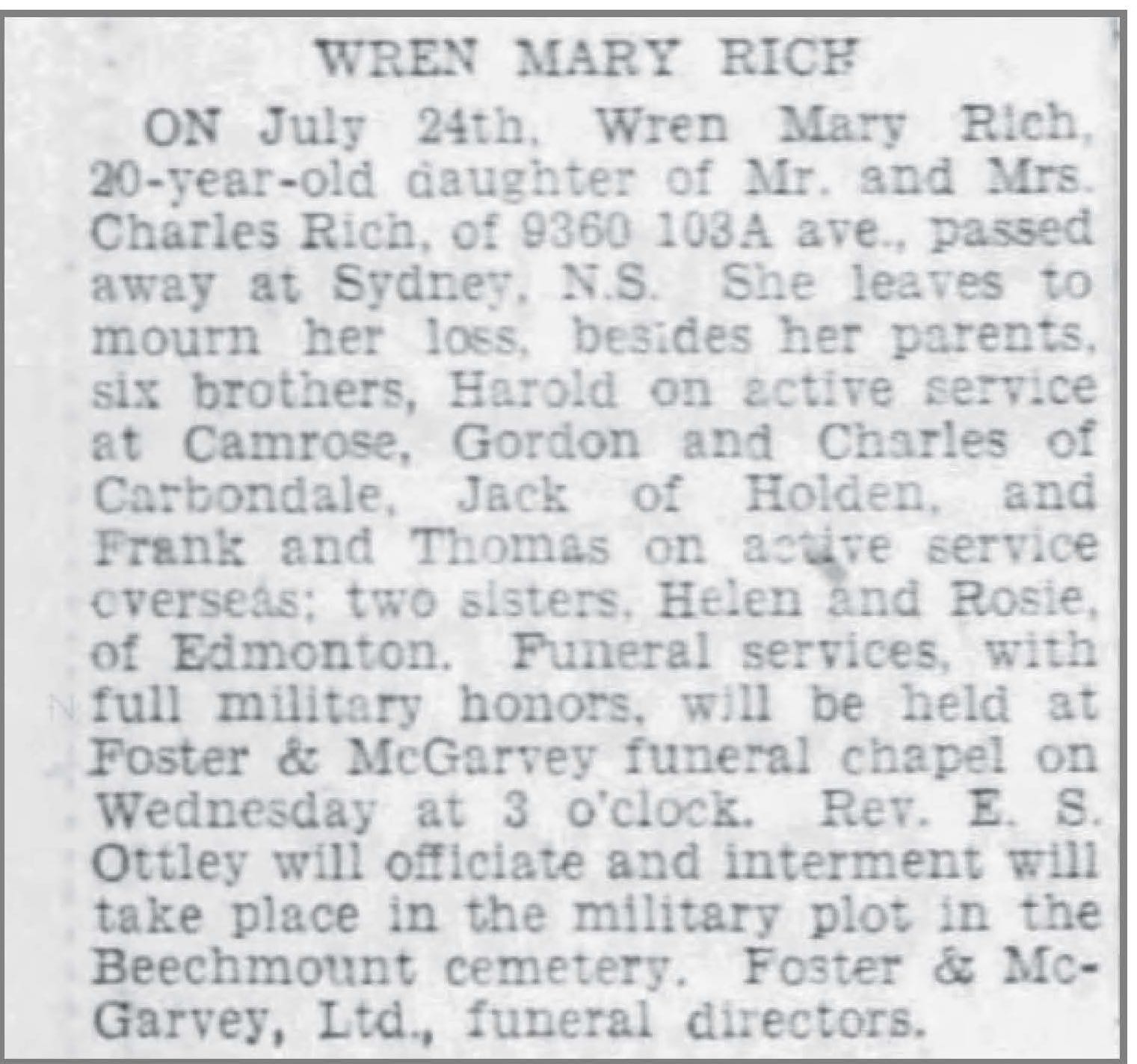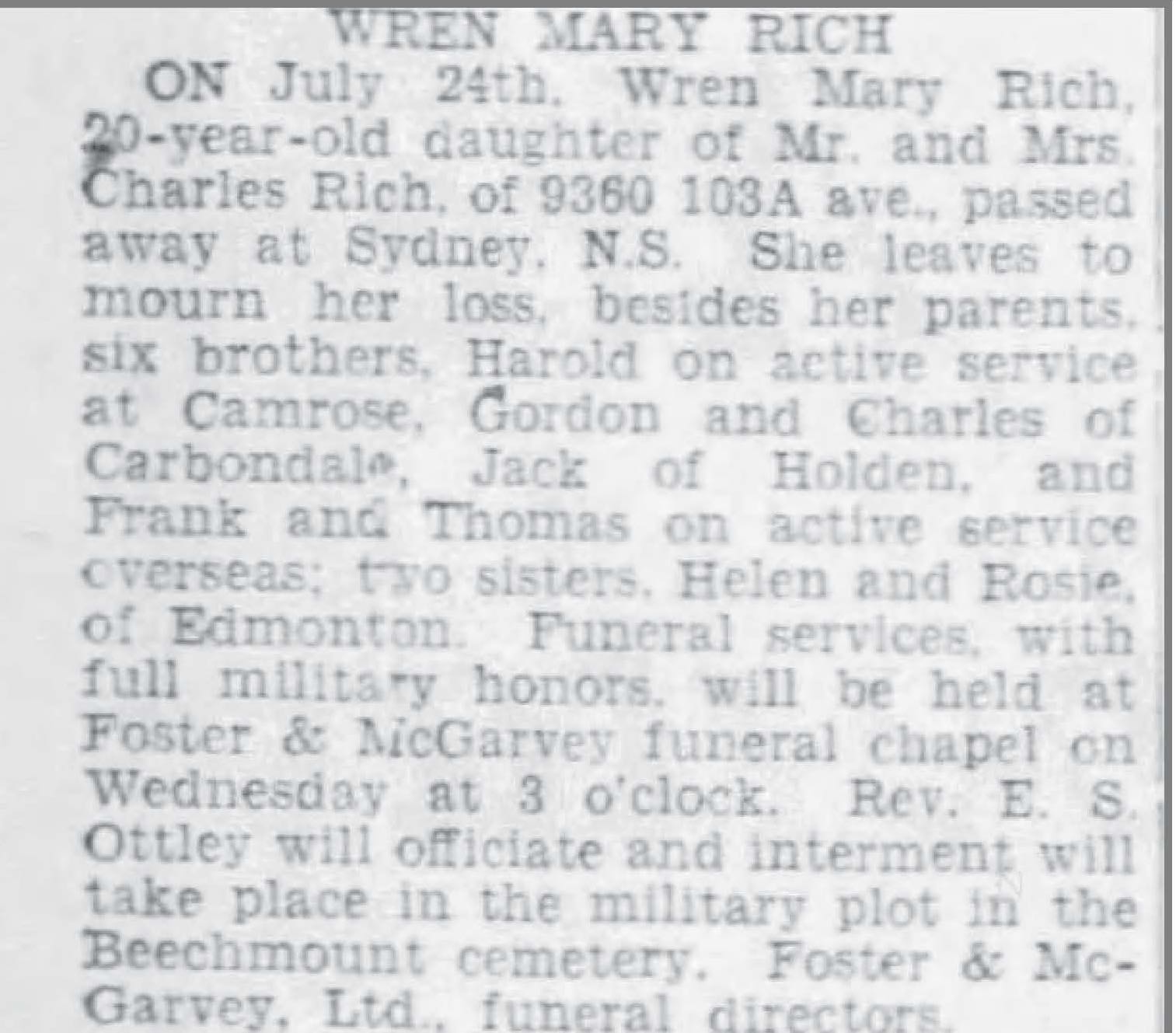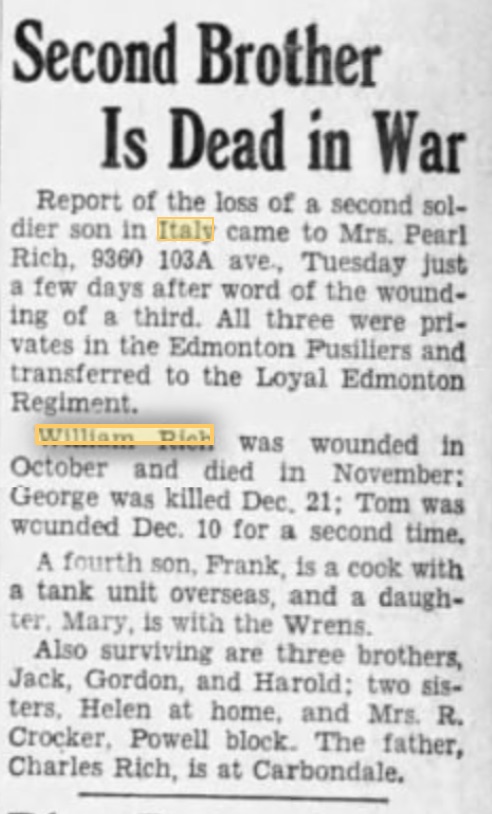 Women's Royal Canadian Naval Service
Mary Rech was born in Carbondale, Alberta, 26 km north of Edmonton, the daughter of Charles and Pearl (nee Smith) Rech, of Carbondale, then of Edmonton by 1942. Her father was a farmer and miner, born in Germany, who immigrated to the United States before coming to Canada. He became a naturalized Canadian in September 1914. Her mother was born in Namao, Alberta to parents of German heritage. There was a 27 year age difference between Charles and Pearl. Mary had eight brothers: William, George, Charles, Frank, Tom, Jack, Harold, and Gordon and two sisters: Mrs. Rosie Crocker and Helen. Mary attended the Christian Alliance Missionary Church.
The family's name changed to RICH, possibly to anglicize their German name. Mary enlisted in Edmonton on July 3, 1943, using RICH and then it was modified on her application for entry to RECH.
She stood 5'1 1/2" tall, had light brown hair, brown eyes and a medium complexion. She had a scar on the back of her right hand and a small birth mark on the left side of her chest. She finished Grade VII. She had poor spelling skills. She was a housekeeper in a private residence for seven months, then again, at a boarding house for four months in Edmonton prior to enlistment. She had applied to the CWAC, but rejected due to her blood pressure being too high in June 1943. However, the WRCNS accepted her, even though it was noted she had a mitral systolic heart murmur. Mary felt she was qualified as a cook or steward. One of her references stated, "I think that she will do very well if given the chance."
On her INTERVIEW FORM in March 1943: "CAPABILITY: Fair to poor. RELIABILITY: Fair. APPEARANCE: She looks younger than 18. SPEECH: Only fair. SUITABLE CATEGORY: I'm not sure. It depends on how much need there is for Stewards. If the need is great enough, I would recommend her. Mrs Prior (reference) says she is absolutely reliable. She only has her Grade VI. This may be partly because her school was four miles from home. However, her age in Grade VI was 14. Miss Rech is very quiet and seemed not too bright. When asked about her cooking, her remark was, 'Well, you don't have to be very bright for that do you?' She lacks confidence in herself. Certainly, I don't think she could manage the cooking. It would be appreciated if Headquarters would pass an opinion as to whether Miss Rech should be accepted into the Service." Act. Ldg. Wren, M. Holmes, WRCNS. The RCMP sent a letter to the Commanding Officer ot HMCS NONSUCH in Edmonton. "Please be advised that our investigation reveals that MARY RECH to be loyal and worthy of enlistment in the Naval Services. We have no subversive record of her in Alberta."
On her INTERVIEW FORM in July 1943: "CAPABILITY: Fair. RELIABILITY: Fairly good. APPEARANCE: Good. Bright little face, figure neat. SPEECH: Fair. SUITABLE CATEGORY: Perhaps cook or steward. Intelligence not of high order, but a very pleasant, willing looking little girl. Very keen to be trained in cooking and would like to see her get a chance at it. (Not the type of Dorothy Stewart who had to be discharged.) Think she will be no trouble in discipline or in willingness to work. Quiet, shy manner." S/Lt Grace A. Rich
Mary was sent to Galt, Ontario for her basic training from August 9, 1943 until October 7, 1943. She was then sent to HMCS Protector in Sydney, Nova Scotia, by November 9, 1943, General Duties, until her death on July 24, 1944.
In Sydney, Nova Scotia, on July 24, 1944, at Point Edward area, near Sydney, Wren Rech drowned "whilst on shore leave in abandoned quarry, used for swimming purposes. Accidental drowning. Body shipped to "NONSUCH" -- Edmonton for services. Burial July 27, 1944. Christian Missionary Alliance."
The Royal Canadian Mounted Police investigated Wren Rech's drowning. Wren Imelda Stever W3419 also drowned that day. "At 9:15 am, of 25-7-44, a call was received by Lt. Bernard, Naval Shore Patrol, HMC Dockyard, Sydney, NS to the effect that two members of the WRCNS had been drowned in the Stone Quarry at Point Edward and only one body had been recovered. A few minutes later, Coroner Arthur McDonald called from the Hospital at HMCS Protector, Pt. Edward and stated that he would await the arrival of the writer there. The writer accompanied by Cst. Dearing patrolled at once to HMCS Protector where it was learned that the Coroner had gone to the Stone Quarry. Patrol immediately proceeded there and it was found that dragging operations were commenced. Coroner Arthur McDonald was interviewed, and it was learned that two girls had been drowned, and the body of one Imelda STEVER, age 20 years, had been recovered immediately (5:30 pm 24-7-44). This body had been examined by Surg/Lt A. Johnston of HMCS Protector, and pronounced dead at 7 pm of 24-7-44. Examination had shown no signs of foul play, and from the circumstances, death was presumed due to accidental drowning. The body of Mary RECH, age 20 years, had not been recovered at that time. It was also learned that in all six Wrens and three Naval ratings had been in the original swimming party and were all at HMCS Protector."
Statement of V84238, O.D. Frederick James HAMPSON RCNVR: "I am 18 years of age and am station at HMCS Protector, Point Edward, NS. At about 4:30 pm of 24-7-44, I left Protector with the intention of swimming at the Quarry at Point Edward, which is about 1 1/2 miles from the base. I was accopanied by O.D.s B.T. GOFF and C. PHILLIPS, and also six Wrens: G.K. WILSON, B. E. DAVEY, E. M. SMITH, M. RECH, I. STEVER amd L. PENTELIUK. The three last mentioned girls went on ahead and reached the quarry about 10 minutes ahead of the rest of us. When we reached the edge of the Quarry, we heard a scream for help. There were three heaps of clothing on the bank. We saw a white bathing cap just under the water and ran down the bank. I swam out immediately and brought the two girls in; they were clinging together and I could not separate them. I had to swim about fifteen feet to reach the girls. They were floating about one foot below the surface. From a distane of about 5 feet from the shore, the water was so deep that I could not find bottom. Both girls were unconscious but PENTELIUK revived after about five minutes. We performed artificial respiration on STEVER but she never revived. The Doctor of the Naval Base was called by PHILLIPS and he arrived in about ten minutes' time. We did not see any sign of the third girl RECH. We thought she had gone somewhere for help until PENTELIUK revived about five minutes later and told us she was still in the water. By that time, help had arrived and someone went for a boat and diver."
Statement of W3624, WRCNS, Eleanor Mary SMITH: "I am 19 years of age and am stationed at HMCS Protector...At 4:30 pm of 24-7-44 I left Protector with the intention of swimming in the Quarry at Pt. Edward." She listed the same people as HAMPSON. "We walked to the quarry and arrived there at about 5:20 pm. RECH, STEVER, and PENTELIUK went ahead of the rest of us. They seemed to be in a hurry, and must have reached the Quarry before we did." She noted seeing the white bathing cap in the water and hearing the scream for help. "The boys ran down to the water and we followed. HAMPSON swam out about ten feet and brought two of the girls in. They were clinging together and he could not separate them until he got them out of the water. PENTELIUK was still alive but STEVER showed no signs of life. We performed artificial respiration on her until the Naval Doctor arrived about ten minutes later....HAMPSON told us that he felt himself sinking into a hole before he reached the girls in the water."
It was noted that Wren Penteliuk W3792, was still suffering from shock and the doctor advised that no attempt be made to interview her until later. "I am 19 years of age and am stationed at HMCS Protector...at about 4 pm of 24-7-44, I left Protector with the intention of swimming in the Quarry." She listed the people she went with. "There were two Naval ratings with the other girls; I do not know their names. RECH, STEVER and myself went on ahead of the others and I imagine we reached the Quarry about 15 minutes ahead of them. STEVER was the first to go into the water; she forgot her bathing cap and came back for it. Then the three of us went in together; we were all holding hands. When we were about four feet from shore, STEVER said, "Mary, there is a hole." Then the two of us went in to try to help her. All I can remember after that is that we were struggling for awhile in the water, and I called for help. None of us could swim. We had not had any supper before leaving the base. That was the first time I had ever been to the Quarry."
The RCMP report continued. "Patrol again returned to the Quarry and a few minutes after arrival, Bosun Charles Wm Wilmot, RCN Diving Officer found the body of Mary RECH wedged between rocks at the bottom of the Quarry in approximately 33 feet of water at 12:40 pm. This body was brought to the surface and taken to HMCS Protector where it was examined by S/Lt Burros, and superficial examination showed no marks of violence and death was presumed due to accidental drowning.....the body was to be released to Lowden's Funeral Home...no Inquest would be necessary as the Coroner was satisfied the death was due to accidental drowning."
"From the above, it appears that the two deceased were accidentally drowned when they walked into a deep hole at the Stone Quarry at Point Edward. None of the three girls were able to swim...there were others in the party whom could swim. The bodies and personal belongings of the two deceased are being attended to by Naval Authorities."
Noted: "This is an abandoned stone quarry, practically filled with fresh water. The side that the girls entered sloped gradually toward the centre for a short distance and then dropped off sharply to a depth of apprximately 60 feet. The girls were not familiar with construction of the quarry and were unable to swim."
In the list of her personal belongings, Wren Rech had clothes, slippers, toiletries, letters and snapshots, two Canada (gold) badges, a man's watch, writing tablets, and her beret.
Wren Mary Rech was buried in the Edmonton (Beechmount) Cemetery. Her mother wrote a letter to the Department of National Defence in January 1945. "I received a letter a few days ago about Wren Mary Rech. The Cross will meet my approval for Wren Rech. I, myself, spell the name Rich. But my daughter always spells it Rech. Which would be the write [sic] way for Naval Service to spell it. You will notice my new address, in case of further questions to be asked." She had moved to Vancouver, BC.
Two brothers, William and George, were killed during WWII, serving with the Loyal Edmonton Regiment in Italy. They are buried at Moro Canadian War Cemetery. in 1968, Mrs. Pearl Rich was the Silver Cross Mother. See photos at the Canadian Virtual War Memorial link below.
LINKS: