Ruth Floyd W4023
March 30, 1925 - July 28, 1945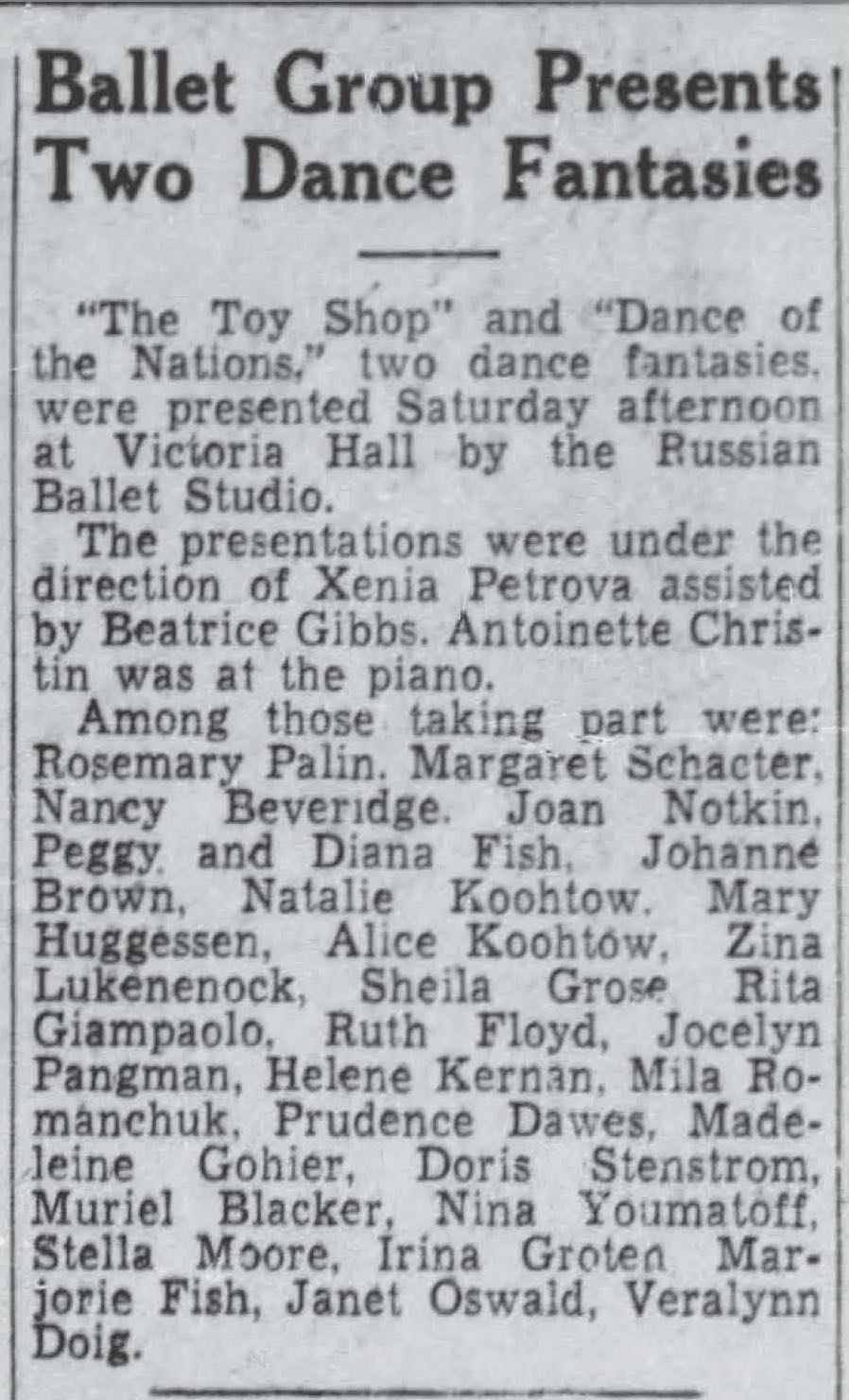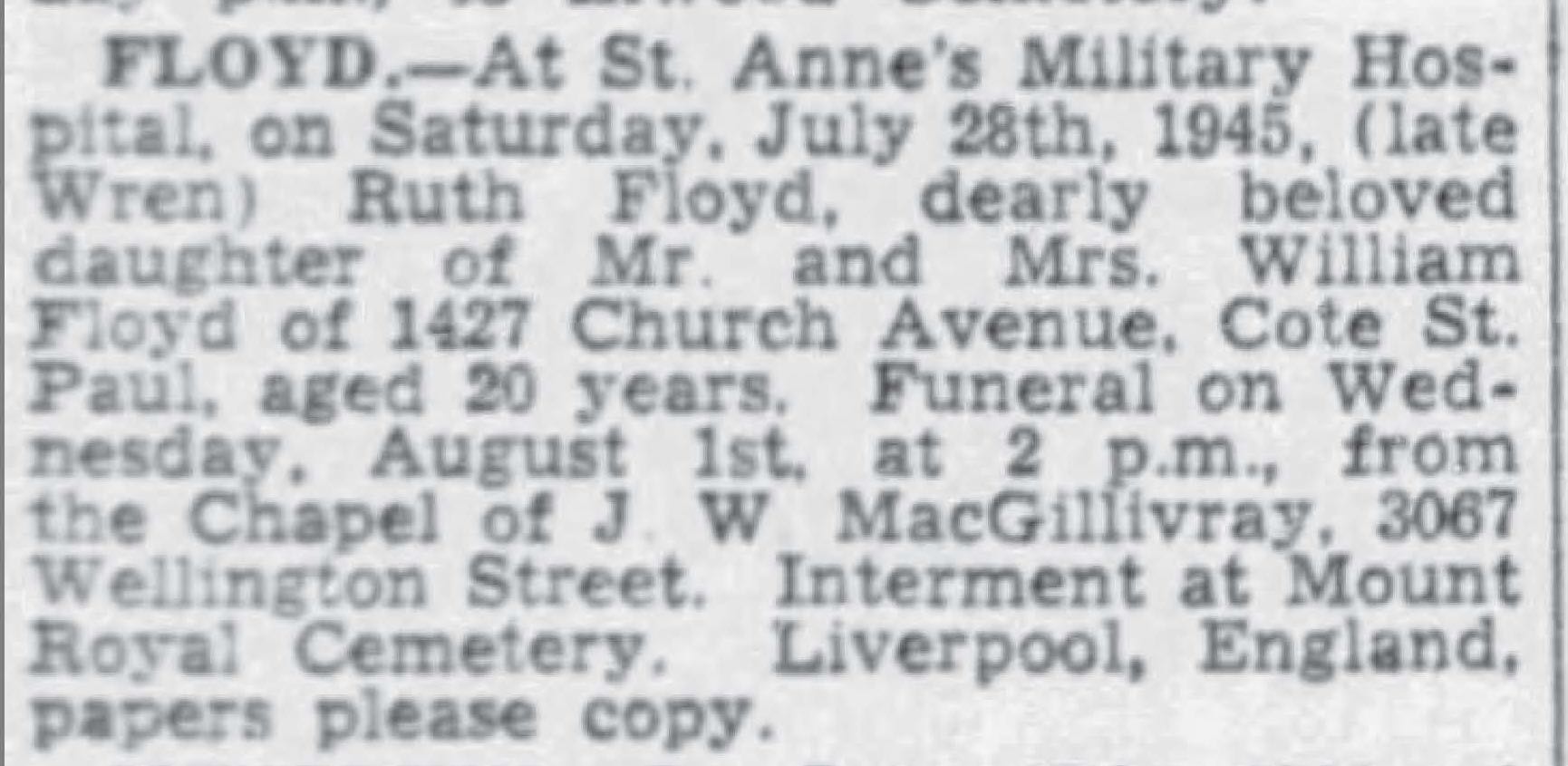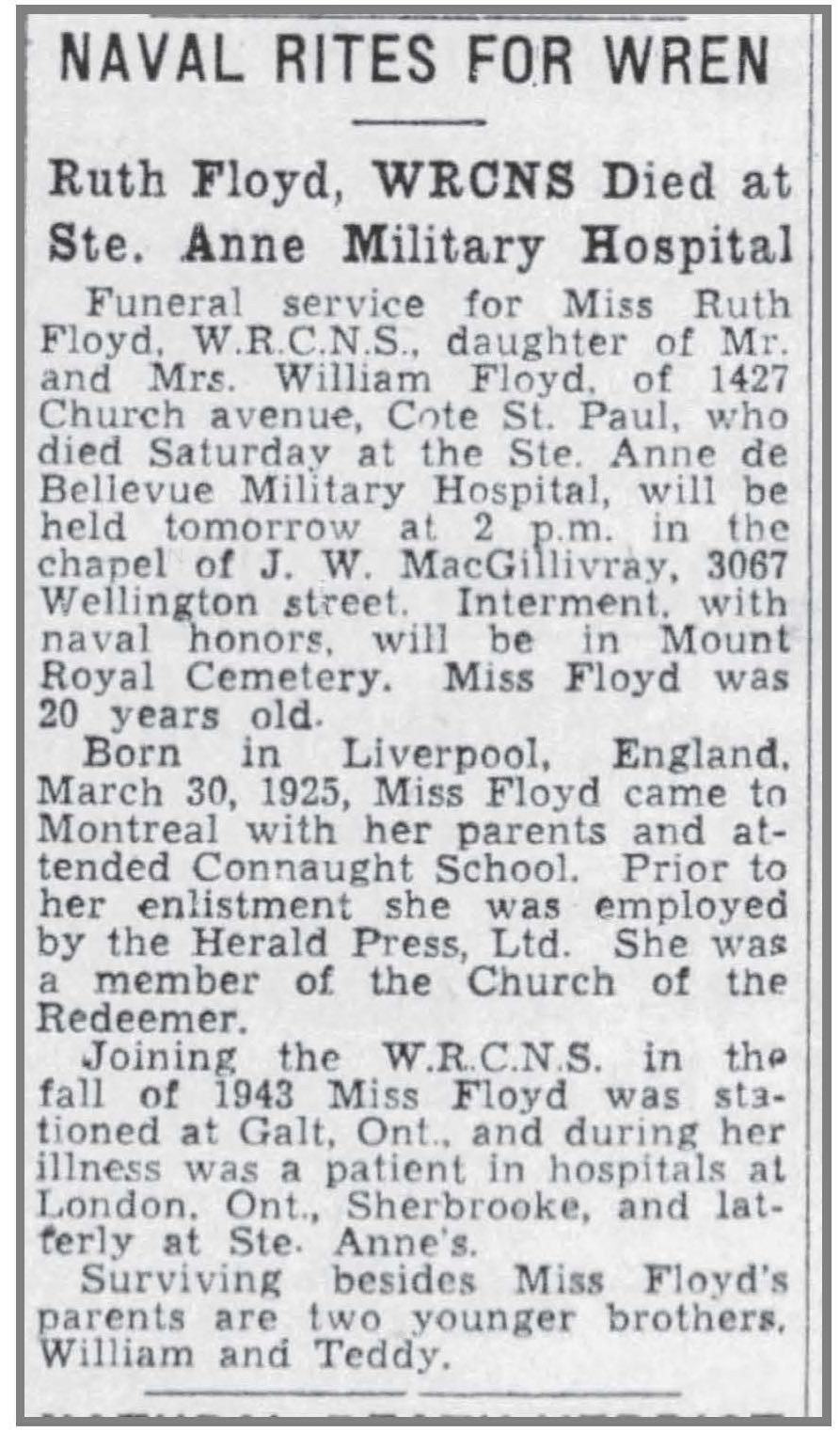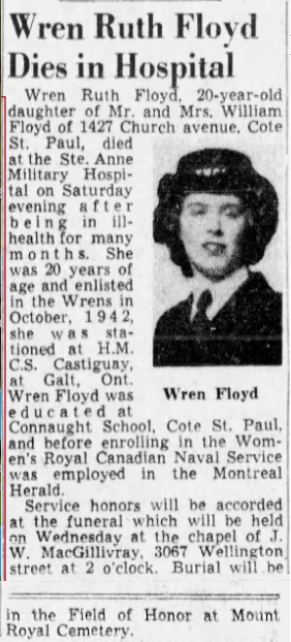 Women's Royal Canadian Naval Service
Ruth Floyd was the daughter of William and Isabella Floyd of Montreal, Quebec. She had two younger brothers, William and Teddy. Ruth was born in Liverpool, England on March 30, 1925.
Ruth attended Connaught School. She stopped going to school at the age of 13, after seven years of public education. She was involved in a ballet presentation in 1938. She had a variety of jobs, including domestic service for 3 1/2 years, was a ward room attendant and maid for 18 months at Children's Memorial Hospital, worked as an aid in a tuberculosis ward for nine months in 1942, then was employed by the Herald Press Ltd. -- Montreal Daily Herald, as a wrapping, stamping, and mail clerk for seven months. She was a member of the Church of the Redeemer. She wanted to be a children's nurse after the war. Mrs. H. Brightwell, housewife, was one of Ruth's references. "I have known her eight years. She has looked after my children. I am sure you will find her satisfactory."
She joined the WRCNS in September 1943, noting she wanted to be a Wardroom Attendant. Ruth noted she was bilingual. She stood 5' 1/2" tall, weighed 108 1/2 pounds, had bushy dark brown hair, graphite green (grey/green) eyes, a fair complexion, and was assessed "quite common, ordinary type; she seems to be a nice little thing, small features, she is neat." She had three moles on her back, plus one on her shoulder and one on her chest. She had poor dental health, with many cavities in her lower teeth. It was recommended she have her upper teeth removed in December 1943. She was prescribed to used mouthwash four to five times a day. "Teeth unhealthy, considerable fillings and extraction required. Thought that the dental work could be accomplished gradually and would suggest without a general anaesthetic. Tonsils enlarged, are not healthy, but thought that these should be left in until after completion of dental treatment.
She was posted to Conestoga, Galt, Ontario, from September 1943 until November 1943, then to the Donnacona, Montreal, on February 12, 1944. She was discharged March 27, 1944.
In December 1943, she was admitted to Galt General Hospital then transferred to Westminster Hospital in London, Ontario. When admitted to hospital, she commented, "I feel fine. I do not feel any different now than when I first entered the service. I have no cough now. I do get the occasional pains in the left side of chest, but they do not bother me very much." She was to be sent to a sanatorium in her home district for observation and treatment. It was noted she worked with Rachel Murphy, W4067 in the same mess in November 1943, and had tuberculosis of left ankle joint. The mess at HMCS Conestoga was on the ground floor and the ventilation was rated as good.
Mrs. Floyd wrote a letter in August 1945 about her daughter's possessions. "I am writing to ask you if you could please release my daughter's clothes also her money which she had coming to her. She died 28th July. Her clothes are at St. Anne's Hospital, St. Anne's de Bellevue, Quebec. I was under much expense during my girl's illness traveling to St. Anne's and Sherbrook as she was sick so long. I have a copy of her will here as I think the original copy must be with her personal belongings at St. Anne's."
Many of Ruth's clothes may have been collected and burned due to her contracting tuberculosis. In her list of personal items: toiletries, a flower jar, picture album, pyjama pants, coats, jackets, night gowns, envelopes of letters, slippers, and an envelope of ribbons and one ring.
Wren Ruth Floyd received naval honours at her funeral. She is buried at the Mount Royal Cemetery in Montreal.
LINKS: