Winifred Lilian Neal W4657
December 26, 1893 - May 3, 1946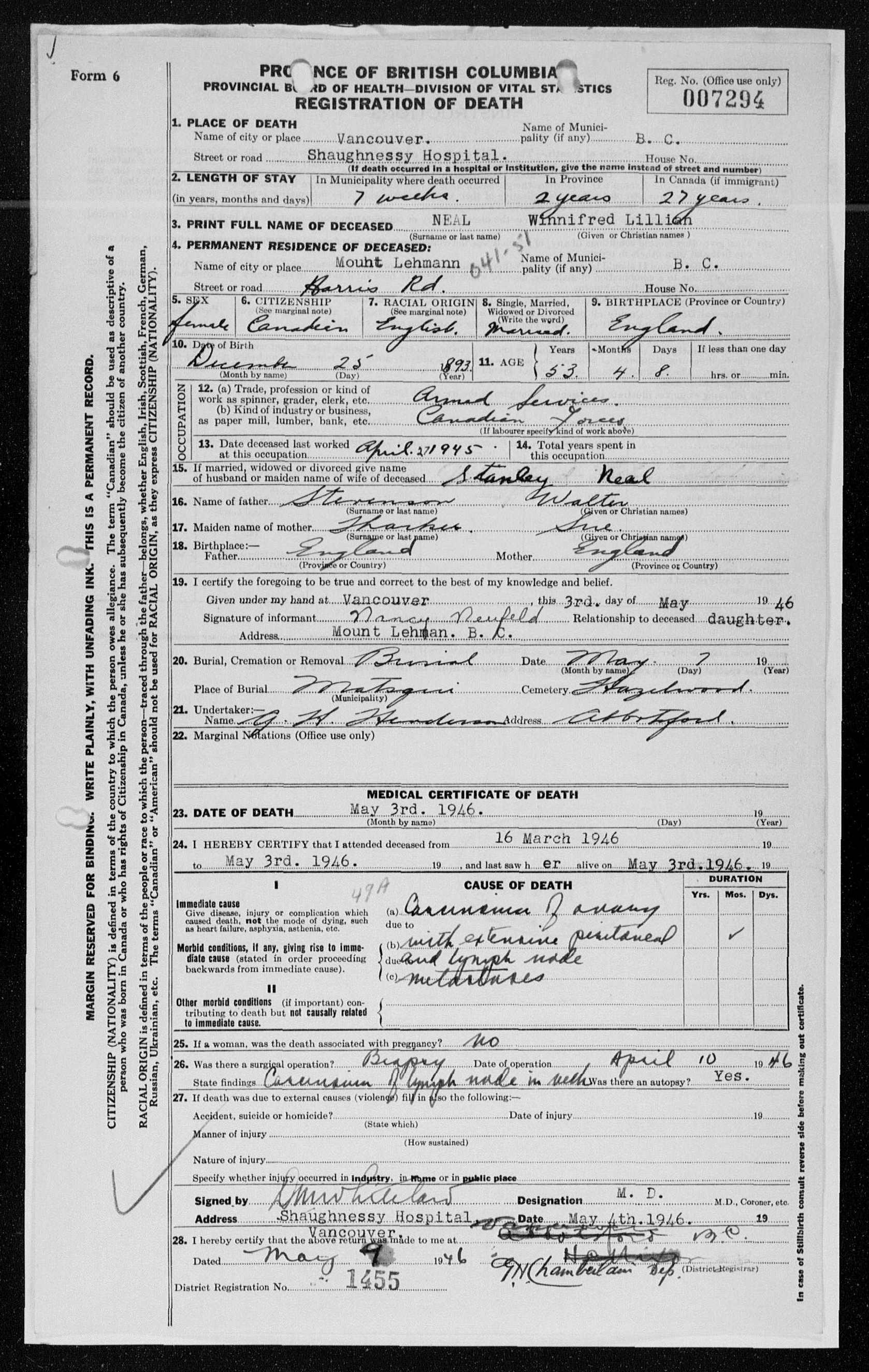 Women's Royal Canadian Naval Service
Winifred Lilian Stevenson was the daughter of Walter Stevenson and his wife Sue (nee Thacker) Stevenson of Burton-on-Trent, England. She was born on December 26, 1893 in Matlock, Derbyshire, England. She married Stanley Neal and they had a daughter, Nancy "Annie" Elizabeth Nuefeld/Neufeld of Mount Lehman, BC, near Abbotsford. The family was Anglican.
Winifred had the equivalent to two years high school education taken in England.
During the First World War, Winifred was a nurse. She later worked as a nurse and cook, "15 years of each," but how much time in England before moving to Canada. She lived in the Medicine Hat, Alberta area for quite a few years, then moved to Abbotsford sometime in 1943.
At some point, Winifred was widowed. If Stanley was her husband, the only Stanley Neal found was: Private Stanley Arthur Neal who was killed in World War II. Service Number 5049277. He died 01/06/1941, as a member of 1st Regt. Reconnaissance Corps. He was the son of Sydney Arthur and Florence Harriet Neal, of Burton-on-Trent. On his headstone: "R.I.P."
When Winifred enlisted in Vancouver, BC on December 1, 1943, she stood 5' 2 1/2" tall, weighed 135 pounds, had dark brown, graying hair, hazel eyes and wore glasses. She had a medium complexion. She had complete dentures, and a 6" appendectomy scar was noted as a distinguishing mark. She wanted to set up a "little store for herself" after the war.
Her reference: J. D. Newton, Professor, Department of Soils, University of Alberta. ""I have known Mrs. Neal since 1937 as housekeeper one winter and as camp cook for Canadian Land and Irrigation Company at Vauxhall when I was doing soil survey work during summers. I believe that she is extremely honest and trustworthy. She is an excellent cook and is used to cooking for a gang of hungry men. Mrs. Neal is very intelligent and a hard worker." Another reference: Rev. John J. Evans, Clergyman, Church of England: "I have known Mrs. Neal since I came to this parish in June 1942. [Taber, Alberta] She has been a member of our Church in this Parish for fourteen years. I would recommend she be a cook or auxiliary nurse or stewardess. Mrs. Neal is a lady possessing a sterling character. Her integrity and diligence are outstanding qualifications. I have no hesitation to recommend her as a most fit and proper person."
On her interview form: "Can go anytime," indicating no notice was required to start basic training. "Cooked three meals daily for from 20-40 personnel, made the bread, etc. for seven months out of a year, then kept house during winter. Hobbies: knitting, fixing radios, etc. Has mechanical turn of mind. Reading: all the latest books. Music: has musical appreciation. Plays piano by ear. Studies: 2 years mental nurse's training in England at time of last war. VAD during last war. Features slightly lined, but well-preserved. English accent. Good conversationalist. Very likeable woman who would be an asset in a galley as she has a nice manner and is the type of person who would 'mother' others. Claims she is strong and healthy (has passed menopause) and able for any type of work. In spite of the fact that this applicant is over-age, I would be willing to take a chance on her. Seems to have a natural intelligence and has had good experience." The Medical Officer stated that Winifred Neal was in remarkably good condition.
She was sent to HMCS Conestoga for basic training in January 1944 and started to experience arthritic symptoms. At first she was posted to General Duty, then was a cook. From the Conestoga, she was posted to Cornwallis in February 1944 and remained there until May 1, 1944. From there, she was at Chatham and then Naden. On December 31, 1944, her character was assessed as "very good" and her efficiency: satisfactory as a Wren Cook. She was earning between $1.25 and $1.45/day.
In February 1944, at the Galt Hospital, Galt, Ontario, she had x-rays done of both her knees. The results showed osteo-arthritis. At the end of the month, H. M. Holden, Surg Lt wrote, "...swelling of her feet which was due to poorly fitting shoes. Consequently, she was advised to wear her civilian shoes and has had no further trouble with her feet. The knees have also given little trouble since stopping drill. In view of the fact that this Wren is very eager and willing, and has had much previous experience as a cook in large institutions, I feel that she should be allowed to continue in the Service now that she is in, but she should be assigned to a small galley."
On December 7, 1944, she was admitted from HMCS Chatham, Prince Rupert, BC to HMCS Naden Hospital at Esquimalt, near Victoria, BC. "Patient in usual health til Dec 7 when she developed aching in right groin and in right flank. She had breakfast and carried on when pain became severe. She became shocked and weak and pain was excruciating, radiating to the right flank and lasted three minutes. Since this time, she had had vague aching...admit for observation. Ten years ago, had similar aching and subsequently passed a stone. In 1927, appendectomy, ovarian cyst removed and uterus position fixed by repair of uterine ligaments...a ruptured stomach ulcer in 1939, gall bladder removed in 1940...smokes rarely, no drinks, always active physically, occasional arthritic pain in knees last year. Has not felt well in last few months. Back ached and she felt tired. Usually a good sleeper. Has not slept well in last three weeks. Swelling of ankles and wrists in last five weeks. Aching of ankles at nights in last few weeks." She was diagnosed with urethral calculus. On January 13, 1945, she was admitted to the x-ray department at Esquimalt. "Well nourished middle aged female in no acute distress. General physical examination essentially negative. Fingers show fusiform deformitis....knees somewhat deformed. X-ray reveals arthritic changes both knee joints. Treatment: bed rest, high vitamin diet." She was discharged on February 19, 1945. She had been in hospital for 43 days.
By March 1945: "Medically boarded last month and has just returned from convalescent leave. Unable to carry on dormatory routine and admitted awaiting approval from Ottawa of Cat. E. Limited range of movement in lower back." Wren Neal stated, "I feel that I cannot stand around and work as I used to because of the pain in my knees, ankles and hips." This was relieved by heat and bed rest. April 1945: "The knees ache some in wet weather or if she walks much, but otherwise is getting along quite well. She is doing house-keeping work and she finds she can do that alright. No further treatment indicated at present." Dr. J. W. Clark, Shaughnessy, BC.
On April 26, 1945, Wren Neal was deemed medically unfit due to villous arthritis.
Wren Winifred Lilian Neal died on May 3, 1946 at the Shaughnessy Hospital in Vancouver, British Columbia at the age of 53 years, 4 months, and 8 days. She had a biopsy on April 10, 1946, and it was determined she had ovarian cancer that had spread to her lymph nodes, with secondary carcinomatosis of abdomen.
On her death certificate, her last day of work with the WRCNS was noted as April 27, 1945. She had been in British Columbia for two years and in the municipality of Abbotsford, BC for seven weeks. She had lived in Canada for 27 years.
In September 1946, Winifred Neal's daughter wrote a letter. "We do not want to give you the address of her mother as she has not yet been informed of the death of her daughter. She lives in England and if you wish to communicate with a relative other than myself, her sister's address is: Mrs. A. Hukerby....Burton-on-Trent, Staffordshire, England."
On her headstone, it reads, "In loving memory, Mother. The Lord is my shepherd." Her medals were returned, noted "undeliverable" dated November 20, 1951.
LINKS: