Agnes Wightman Wilkie
September 5, 1904 - October 14, 1942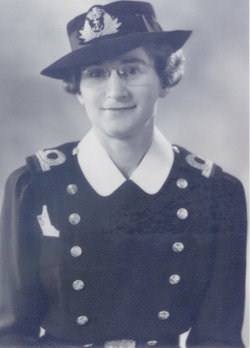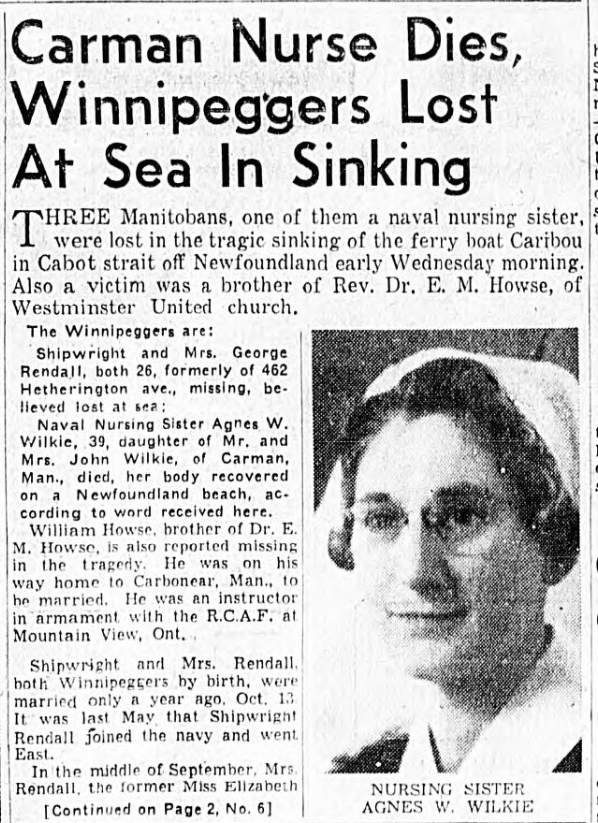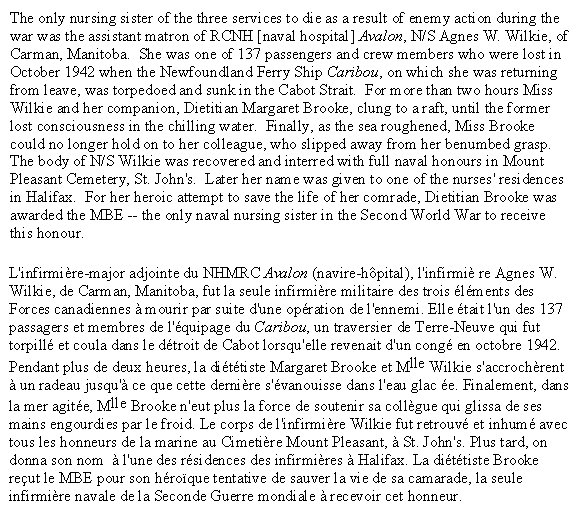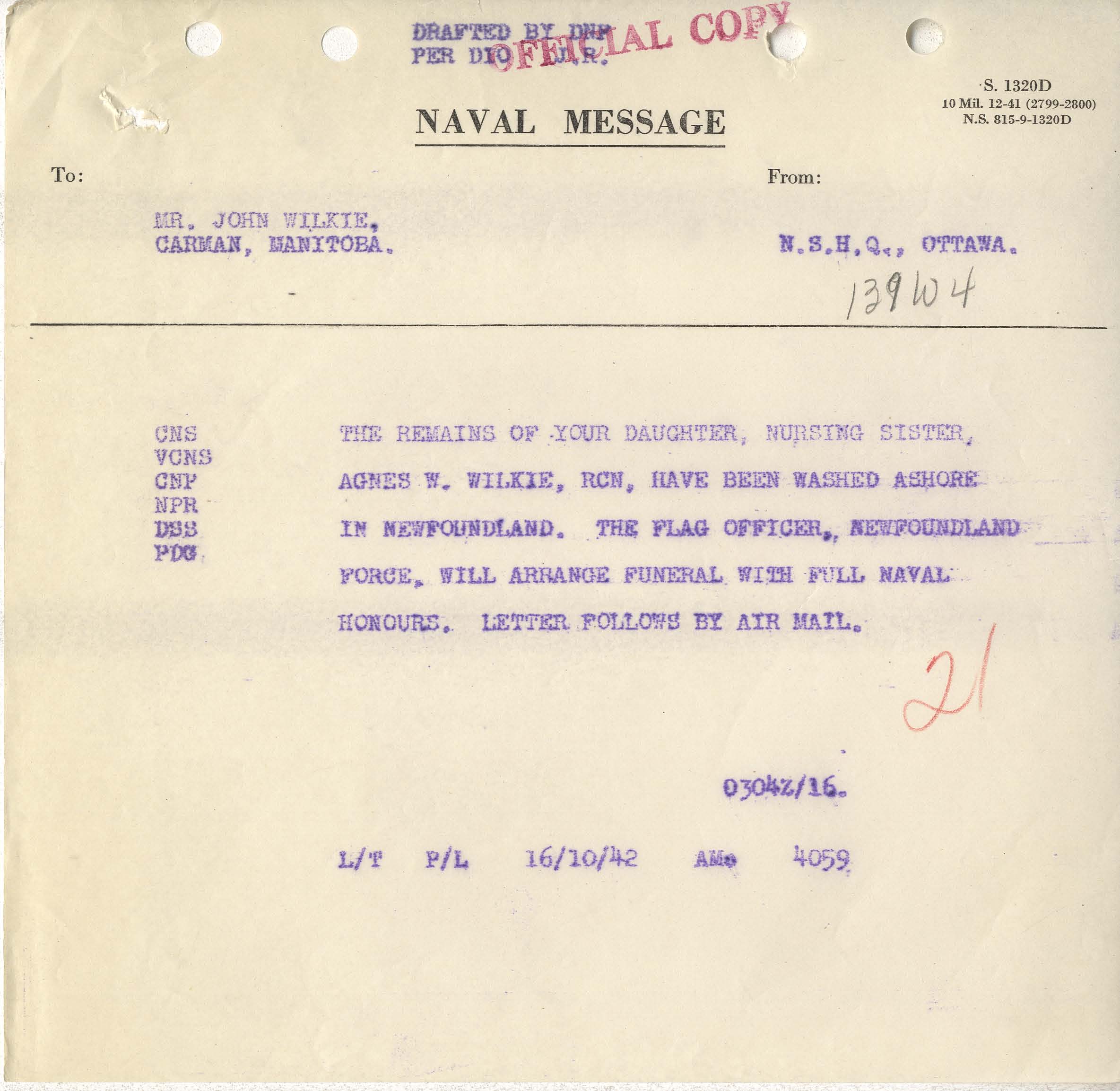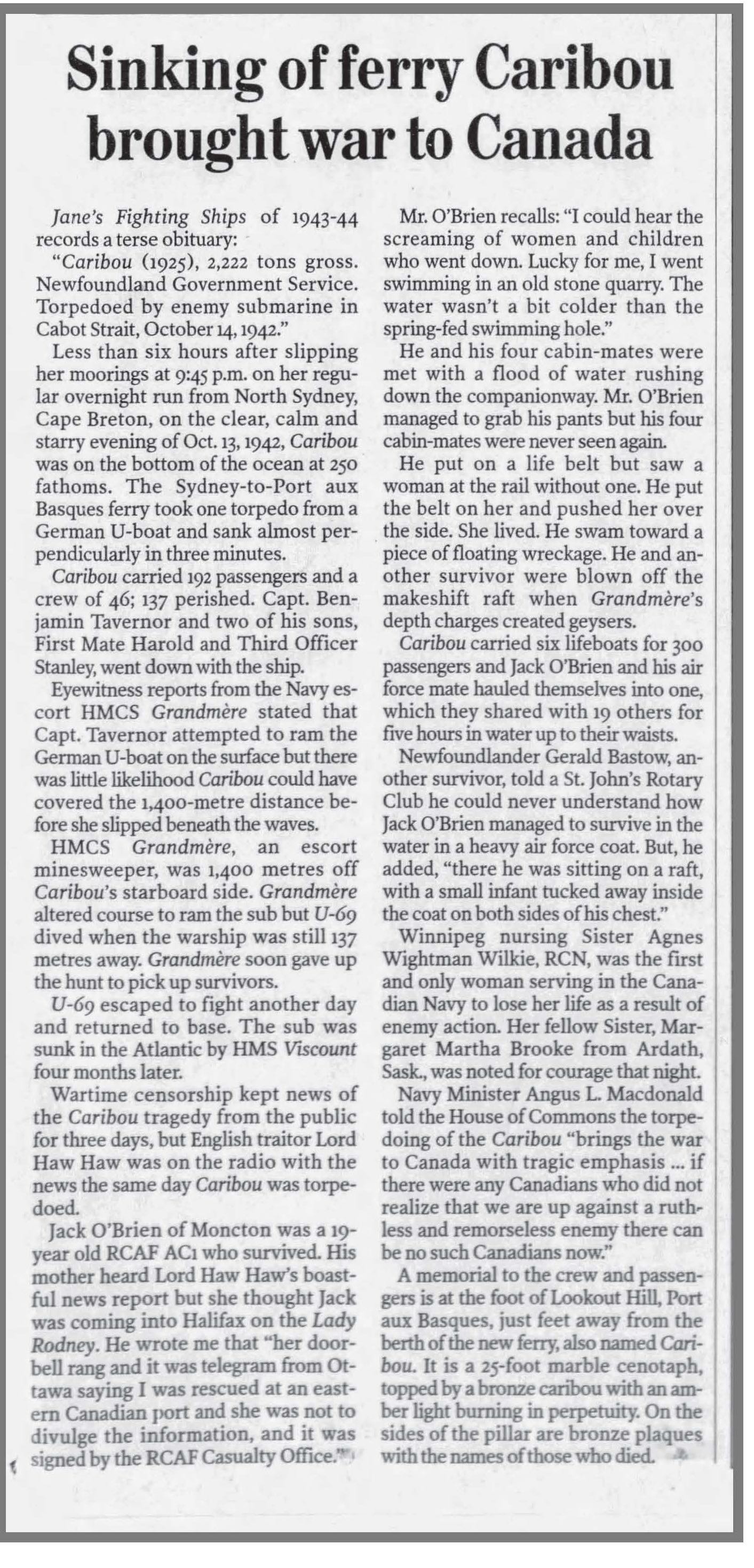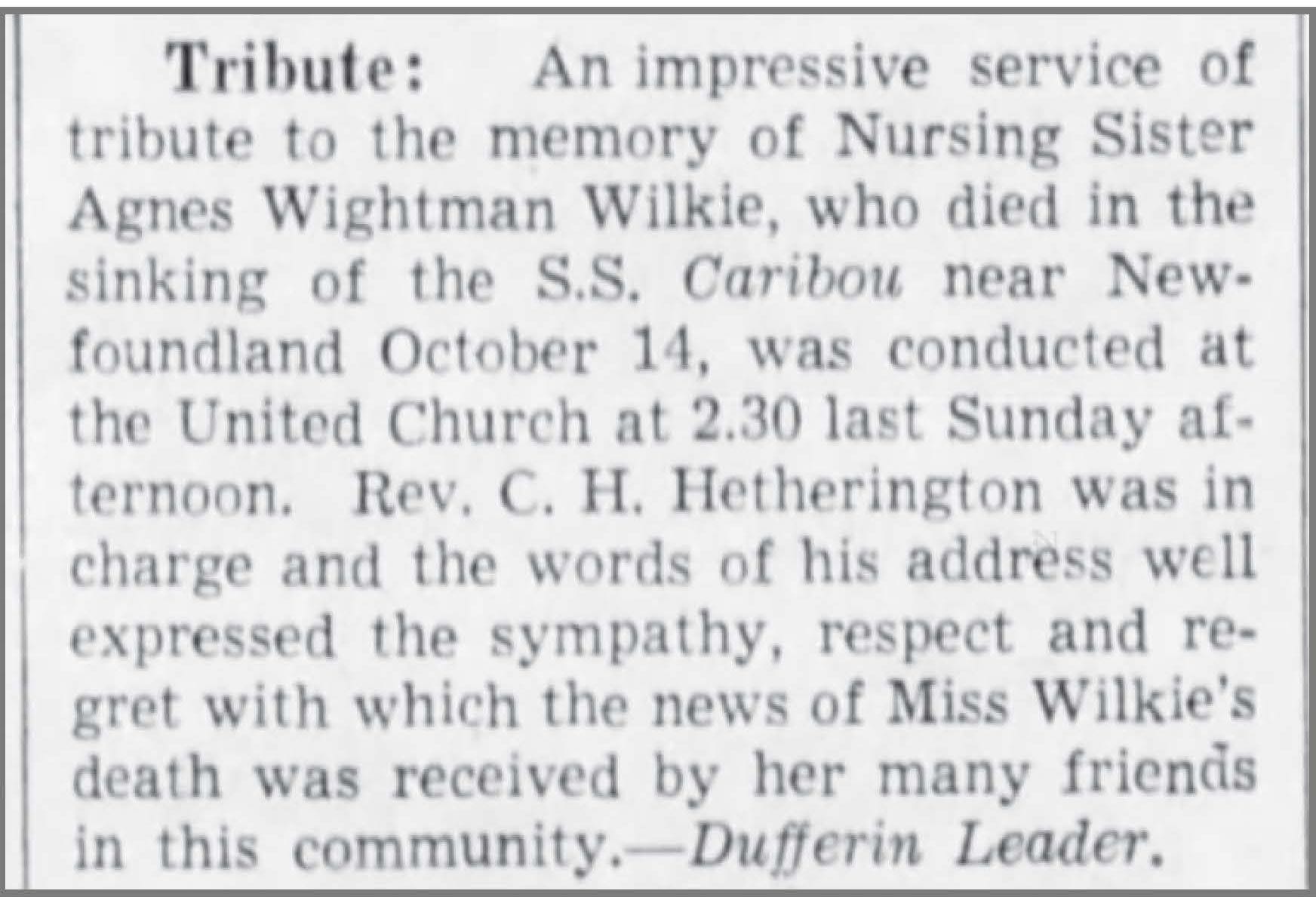 Nursing Sister
Royal Canadian Navy Nursing Service
Agnes Wightman Wilkie was born in Oak Bluff, Manitoba on September 5, 1904, daughter of John and Helen Wilkie of Carman, Manitoba, retired farmers, originally from Scotland. She had two older brothers, Thomas Alexander and William Usher, plus one older sister, Mrs. Fred Vanstone. She had another sister, Alison, who passed away in 1918. They attended the United Church.
In January 1942, she wrote a letter to the Commander of the RCNVR in Winnipeg. "Dear Sir, I wish to make application as a Nursing Sister in the Royal Canadian Navy Nursing Service. My academic standing is Grade XI and my education was received at Carman Public and Carman High School at Carman, Manitoba. In February 1924, I was admitted as a pupil nurse to the Misericordia General Hospital, Winnipeg, Manitoba, from which institution I was graduated in March 1927. Having been awarded the...gold medal for highest standing in theory, I passed my registered nurse's examinations in June 1927. After completing my training, I acted as operating room supervisor for one year in Misericordia Hospital, Winnipeg, Manitoba. Since that time, have been doing private duty nursing in the City of Winnipeg...I am a Canadian citizen, 27 years of age, of Scotch racial origin. My health has always been excellent. Am a member of the United Church of Canada." She provided four references.
She was eagerly accepted into the Royal Canadian Naval Volunteer Reserve as a Naval Nursing Sister. "She is outstanding amoungst the nurses in Winnipeg and was asked by the Manitoba Nurse's Association to place her application with us. As one would expect, she has developed a keen sense of her responsibiities and her tact, personality, and ability, leave nothing to be desired, and she would not doubt fit in any important supervisor's capacity. I have no hesitation in strongly recommending that her application be accepted." -- Commander E. T. C. Orde, RCNVR
She stood 5' 1/2" tall, with brown hair, blue eyes and a fair complexion. She came into Active Service on Wednesday, March 11, 1942, entrained for Halifax via Toronto for one day's uniform fitting and arrived in Halifax, Sunday, the 15th of March in the afternoon.
On October 13, 1942, the S. S. Caribou on which Nursing Sister Agnes Wilkie was a passenger, was torpedoed off the coast of Newfoundland by a German U-Boat. The ship sank in three minutes. 137 of the 192 passengers and 46 crew perished, Nursing Sister Wilkie one of them. (See articles and links below for more detailed information.)
Her remains washed ashore in Newfoundland, according to a Naval Message to Mr. Wilkie. "The flag officer, Newfoundland Force, will arrange funeral with full naval honours. Letter follows by air mail." Her wrist watch, one gold identification bracelet and one blue purse were removed from her body.
There is a lake named in Wilkie's honour in Manitoba. In January 1948, a memorial was erected at Port-aux-Basques, Newfoundland, in memory of those who died in the torpedoeing of the S. S. Caribou. She is buried at St. John's (Mount Pleasant) Cemetery, in Newfoundland.
Nursing Sister Agnes Wightman Wilkie's military files have been digitized and are available through the Library and Archives Canada website, under Service Files for Second World War. See link below.
LINKS: