Frances Eileen Gannon
September 24, 1903 - March 15, 1946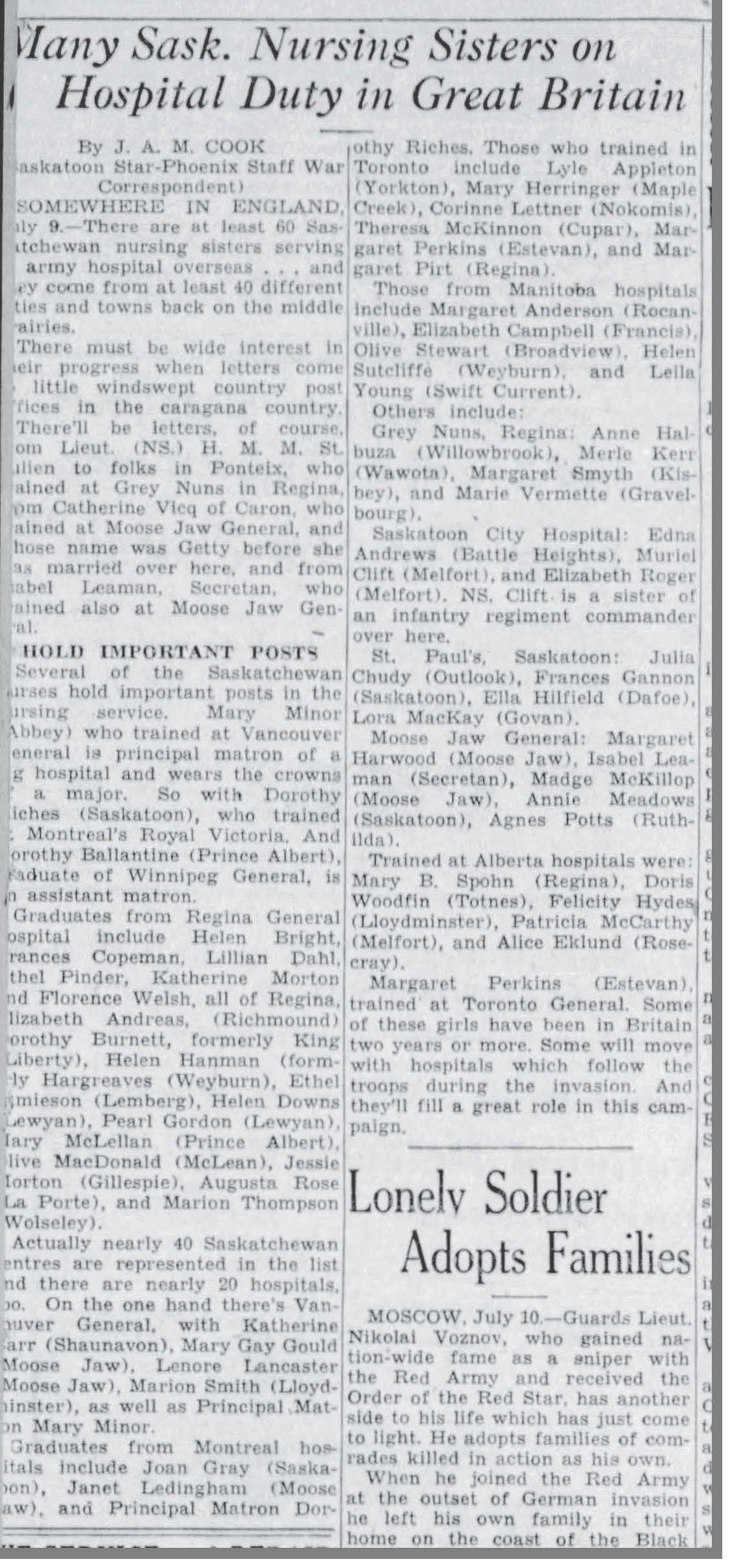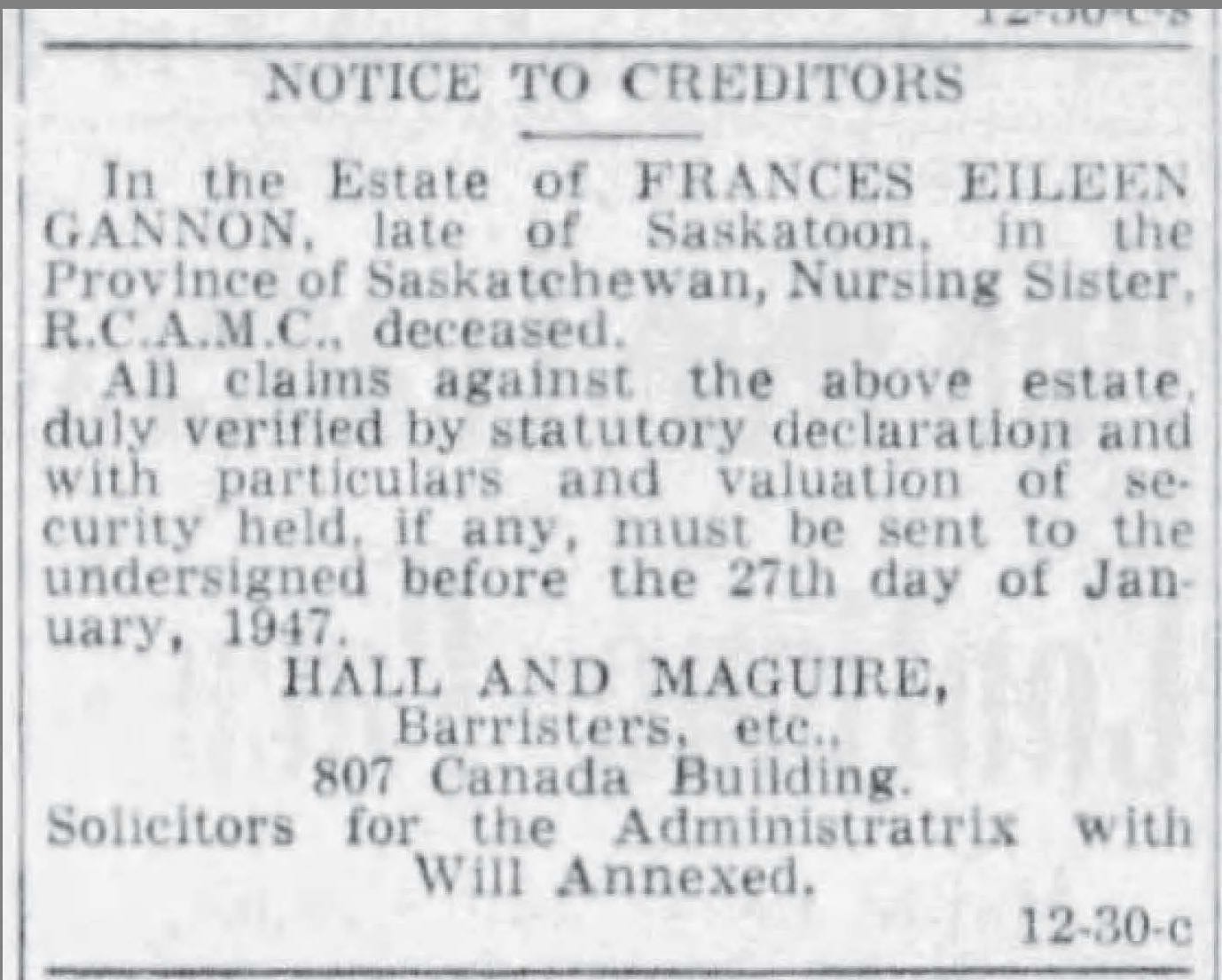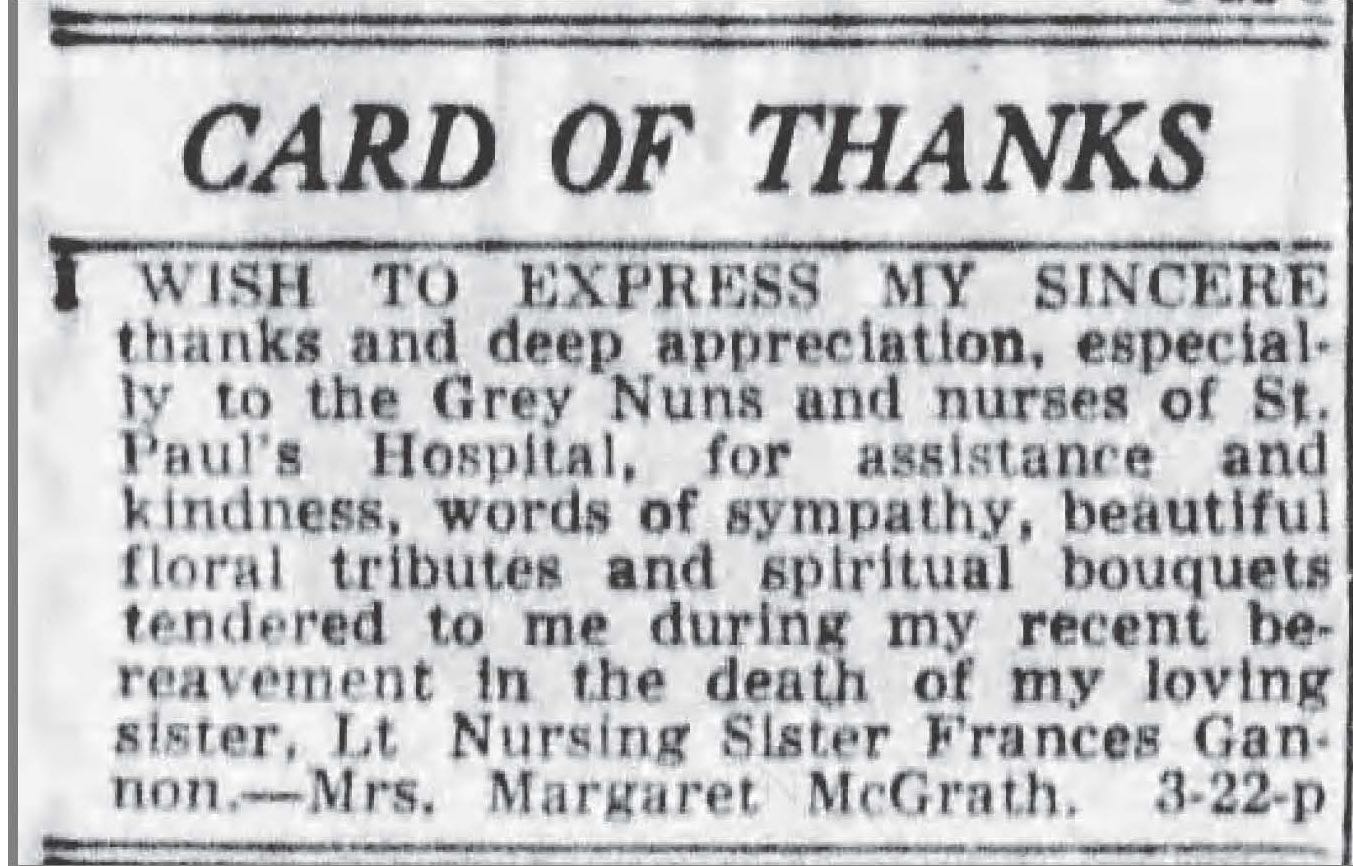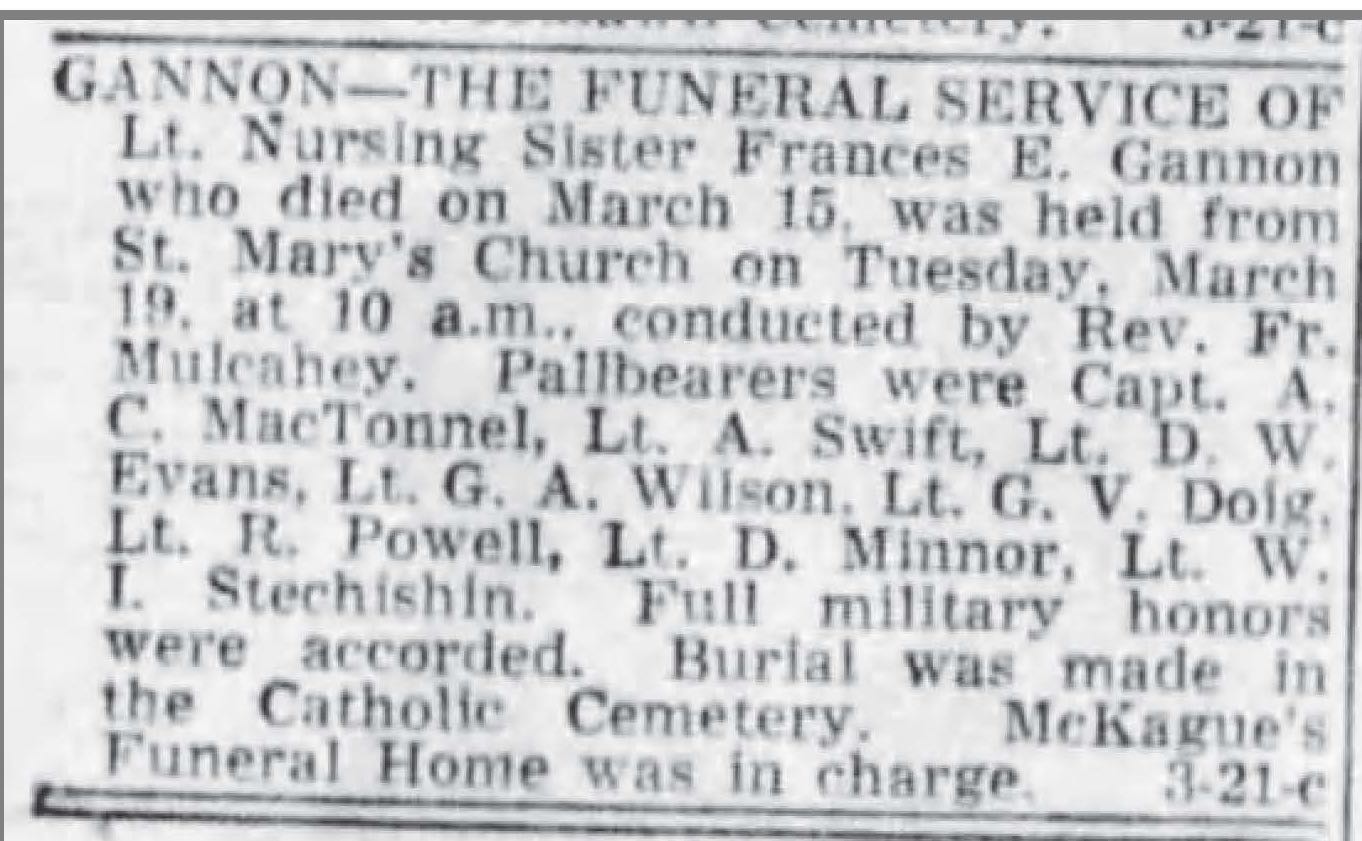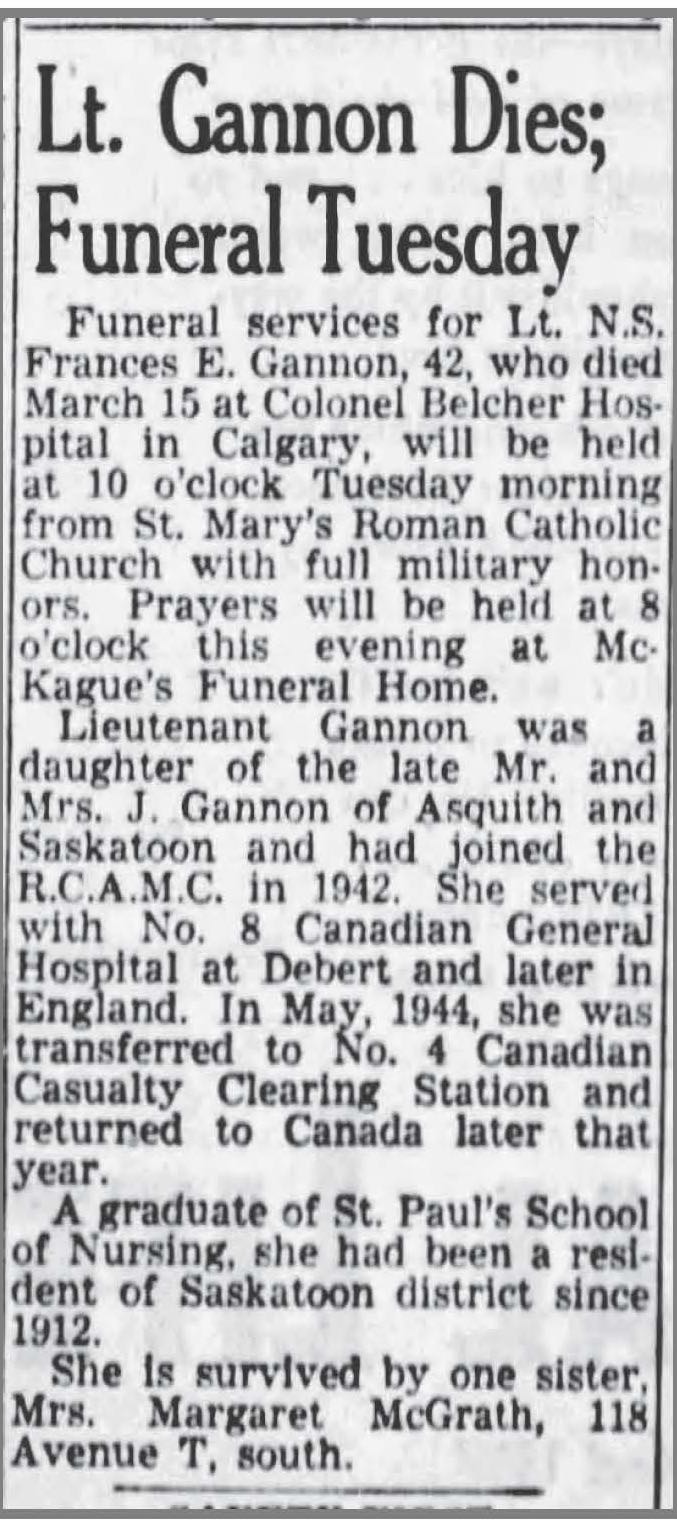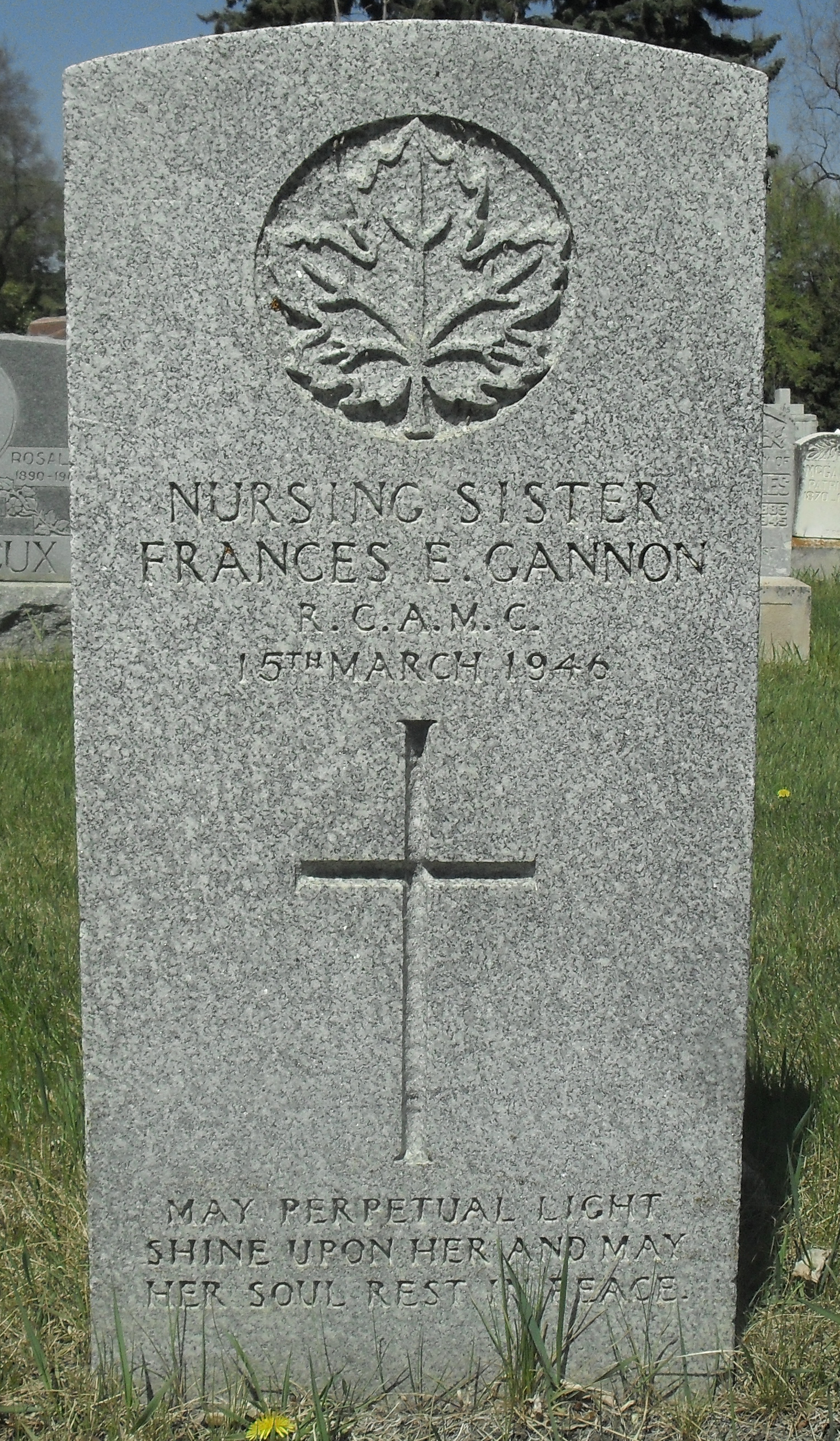 Nursing Sister
Royal Canadian Army Medical Corps
Frances Eileen Gannon was born in Renfrew, Ontario to Michael Joseph Gannon, originally from Ireland, and his wife Mary (nee McAdam) Gannon. Mrs. Gannon passed away in 1915, just three years after they moved to Asquith, Saskatchewan. Mr. Gannon passed away in 1936, after moving to Saskatoon in 1931. Frances had one sister: Mrs. Margaret McGrath, of Saskatoon.
Frances Gannon was a graduate of St. Paul's School of Nursing (Saskatoon) in 1924 and had been a resident of Saskatoon area since 1912.
On her Occupational History Form, she said she was a member of the Saskatchewan Registered Nurses Association and the State of Minnesota Registered Nurses Association. She noted that she had worked for Canada Packers (Emergency Hospital) in Winnipeg, Manitoba as a nurse for 16 years. She had also been a floor supervisor (surgical and medical) at the Mayo Foundation Hospital in Rochester, Minnesota, for six years.
When she enlisted in October 1941, she was living in Camrose, Alberta. She was a nursing sister there, as part of the general staff, working in surgery as well as having regular medical duties. She indicated she wanted to continue nursing after the war.
She stood 5'4" tall, weighed 120 pounds, had a fair complexion, had brown eyes and grey hair. She had a partial upper plate. She had had her appendix removed in 1921. She wore glasses for reading. There was a white scar on her upper lip. She said she could read and speak in French.
Gannon joined the RCAMC in 1942 and served with the No. 8 Canadian General Hospital at Debert, Nova Scotia. She went overseas to England soon afterwards and in May 1944, she was transferred to No. 4 Canadian Casualty Clearing Station, returning to Canada in September to the Valcartier Military Hospital.
She became a member of the RCAMC Hospital Train Staff upon her return from overseas. By December 1944, she was heading to Dundurn Military Hospital, in Saskatchewan, then travelled to Halifax. From there, she travelled back across the country to Calgary by April 1945, earning $1.70/day. In May 1945, she was in Winnipeg, then Toronto, then Vancouver by the end of June 1945. From there, she was in Regina on July 9th, then Toronto July 16th.
She volunteered for the Pacific Theatre on June 5, 1945.
She was back traveling across the country throughout the remainder of 1945: Winnipeg, Regina, Toronto, back to Winnipeg, then to Toronto by December of 1945. She had leaves during this time. By January 16, 1945, she was in Calgary. January 20, 1946, she was admitted to hospital.
Almost three months later, Lt. Frances Eileen Gannon died at the Colonel Belcher Hospital in Calgary, Alberta on March 15, 1946 at 1817 hours, of a cerebral haemorrhage due to essential hypertension (high blood pressure). She is buried in the Roman Catholic Cemetery (Woodlawn) in Saskatoon, Saskatchewan.
She was awarded the Defence Medal, May 18, 1945.
LINKS: