Frances Ellen Cooper
August 7, 1910 - October 26, 1945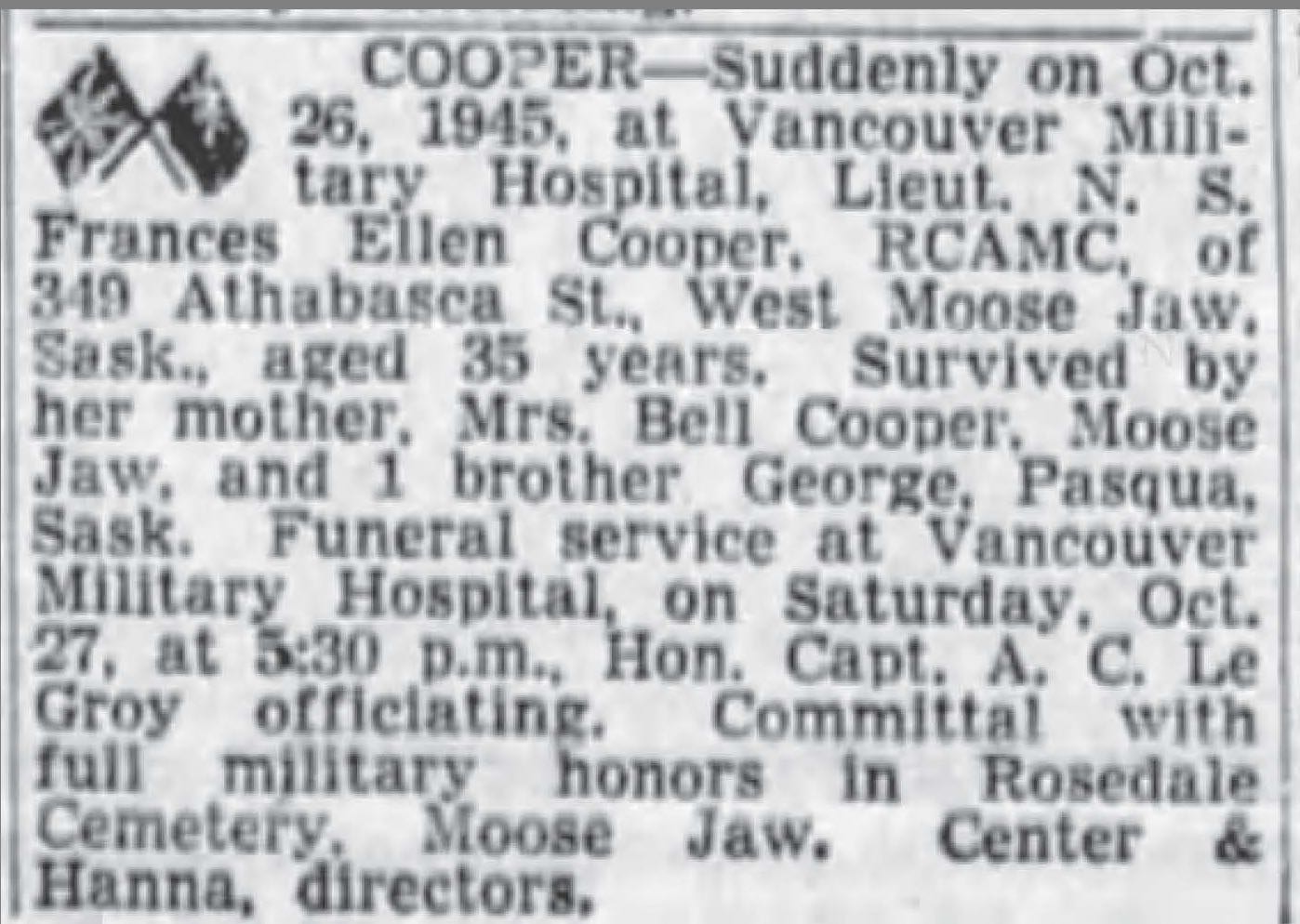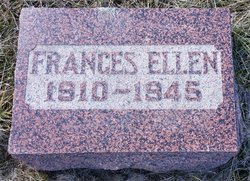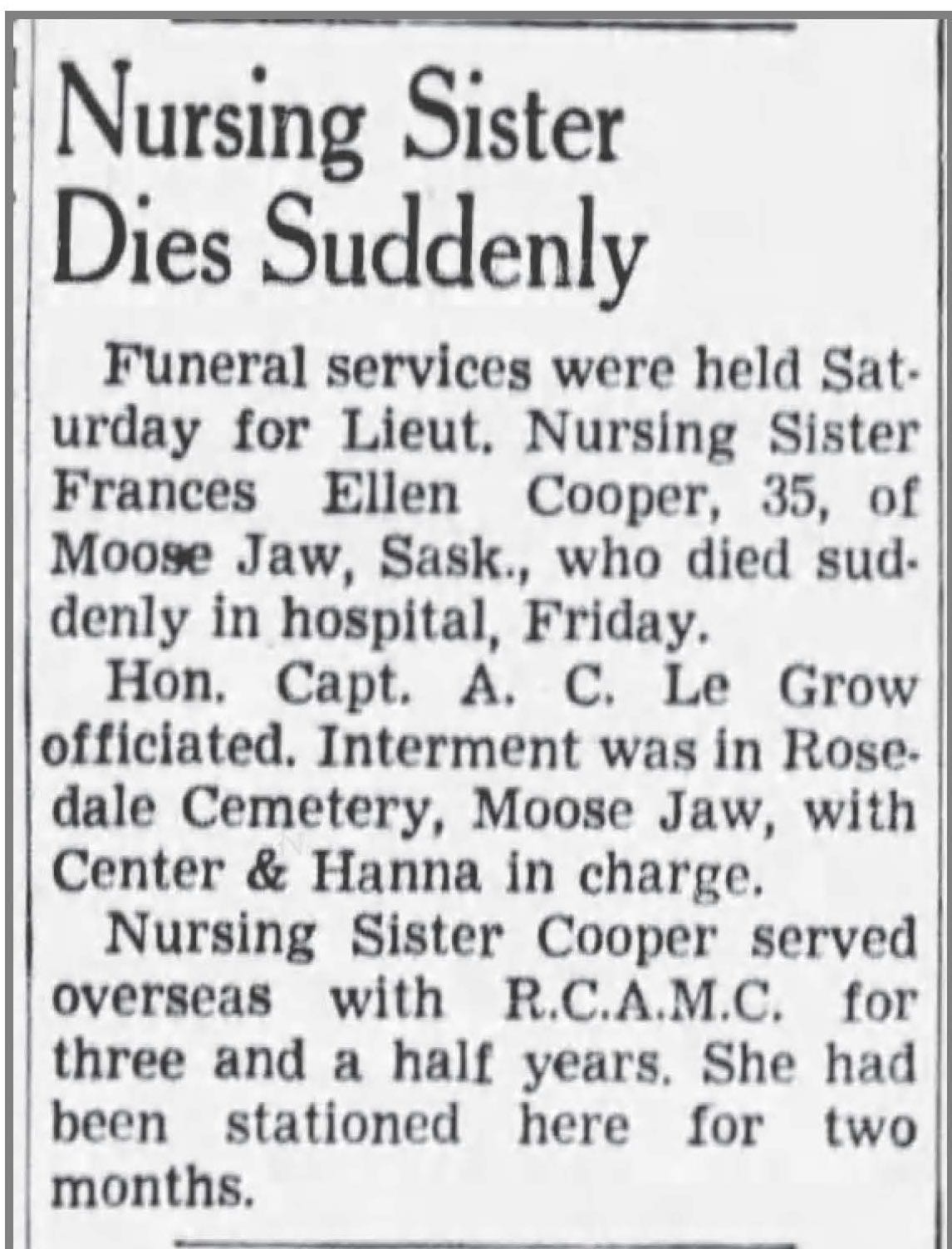 Nursing Sister
Frances Ellen Cooper was the daughter of Isaac W. Cooper, farmer, and his wife, Belle Cooper, Moose Jaw, Saskatchewan. She had a sister, Mabel, nine years older, and a brother, George, eight years older. Frances was born in Saskatchewan; her parents and siblings were born in the USA. The Coopers arrived in Canada in 1908; prior, Mr. Cooper had been a grain buyer in Illinois. They were Presbyterian.
Frances stood 5' 7 1/2" tall, weighed 160 pounds, had grey eyes and dark brown hair. When she was 12, she had double mastoid ear surgery.
She became a Registered Nurse in 1932, and in private nursing for seven years before enlistment. Frances wanted to be an x-ray technician after the war. More information may come to light about Frances Cooper as research deepens.
She enlisted in July 1941 to become a Nursing Sister with the RCAC in Halifax, Nova Scotia.
TRAINING AND POSTINGS:
Halifax Military Hospital, October 1941
No. 1 Canadian General Hospital, November 1941
No. 5 C. C. S., No. 7 General Hospital, February 23, 1942
No. 7 Canadian General Hospital, June 27, 1942
No. 7 Canadian General Hospital, October 15, 1943
Italy: March 8, 1945
France: March 10, 1945
No. 1 Canadian Repatriation Depot, June 21, 1945
Vancouver Military Hospital, September 1945
On October 12, 1941, she returned from a leave of absence.
Lt N/S Cooper went overseas in November 1941, arriving in Liverpool on the 24th. She was attached to No. 1 Canadian General Hospital. She was granted a landing leave from November 25 - 30, 1941.
On January 23, 1943, Lt. Cooper was admitted to No. 7 Canadian General Hospital until Feburary 1, 1943, in the UK.
She was again admitted to Unit Wards, April 4 - 7, 1944.
At some point, she was given a blood transfusion of incompatible blood.
Lt. N/S Cooper was granted a disembarkation leave July 30 to August 28, 1945 in Vancouver.
On August 31, 1945, she was admitted to the Vancouver Military Hospital.
On October 15, 1945, she was admitted to Vancouver Military Hospital. At 1135 hours on October 26, Nursing Sister, Lt. Frances Ellen Cooper died at the age of 35 in Vancouver, British Columbia.
An autopsy was performed two and a half hours after Frances died, with report published on October 26, 1945. "The body was still warm. It was that of a well developed and slightly obese young white female of apparent age of about 30 years...a recently healed median incision was present in the lower abdomen....both pleural cavities contained a large amount of clear straw-coloured fluid. Numerous fibrous adhesions which could readily be broekn down by hand were present on the left side. The lungs were very edematous, especially in the left lung...the spleen was quite large and moderately firm. It was red in colour....both kidneys were considerably enlarged and surrounded by very edematous perirenal tissue. They were quite tense. Their capsules stripped readily to reveal smooth surfaces which showed slight persistent fetal lobulation....the uterus small and appeared normal. The cervix showed no lacerations and was smooth in outline. The endometrium appeared to be slightly thicker than normal. The right fallopian tube had been ligated at a point close to the uterus and was excised just beyond this ligation. A firm blood clot was present at the cut end of the right fallopian tube. The left fallopian tube appeared to be normal. A small cyst containing clear fluid was present on the surface of the left ovary. On section of the left ovary, an old corpus luteum was seen. It was quite small in size. A much larger corpus luteum occupied the largest portion of the right ovary...masses of granular brown material are present within many of the collectioni tubules of the kidneys....the outer layer of the endometrium is necrotic and haemorrhagic. SUMMARY: Tubal gestation. Laparotomy and removal of right fallopian tube. Transfusion of incompatible blood. Hemoglobin casts in renal tubules. Oliguria and uremia. Generalized edema. Hydropericardium. Hydrothorax. Pleural adhesions. Old hemorrhage into abdominal cavity. Meckel's diverticulum. Corpora lutea of ovaries. Toxic myocarditis. CAUSE OF DEATH: Transfusion of incompatible blood." Capt. P. S. Rutherford, RCAMC, Pathologist
On the Province of British Columbia Registration of Death: "Cause of Death: Uraemia, Nephritis following a Salpingectomy for an ectopic gestation." She had had surgery on October 15, 1945 due to a ruptured ectopic in right tube.
She was awarded the 1939-45 Star, Italy Star, France-Germany Star, Defence Medal, War Medal and the CVSM & Clasp.
LINKS: