Marion Mercedes Westgate
February 27, 1917 - October 27, 1943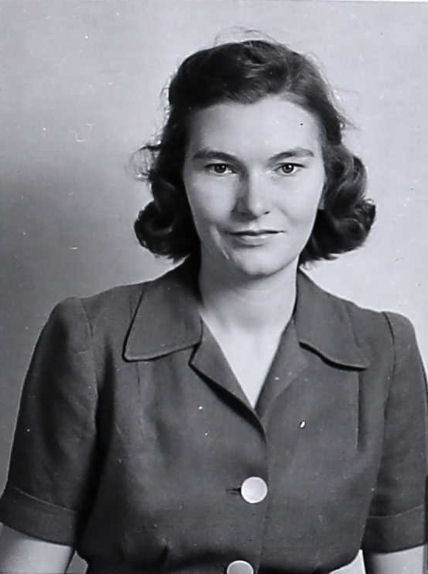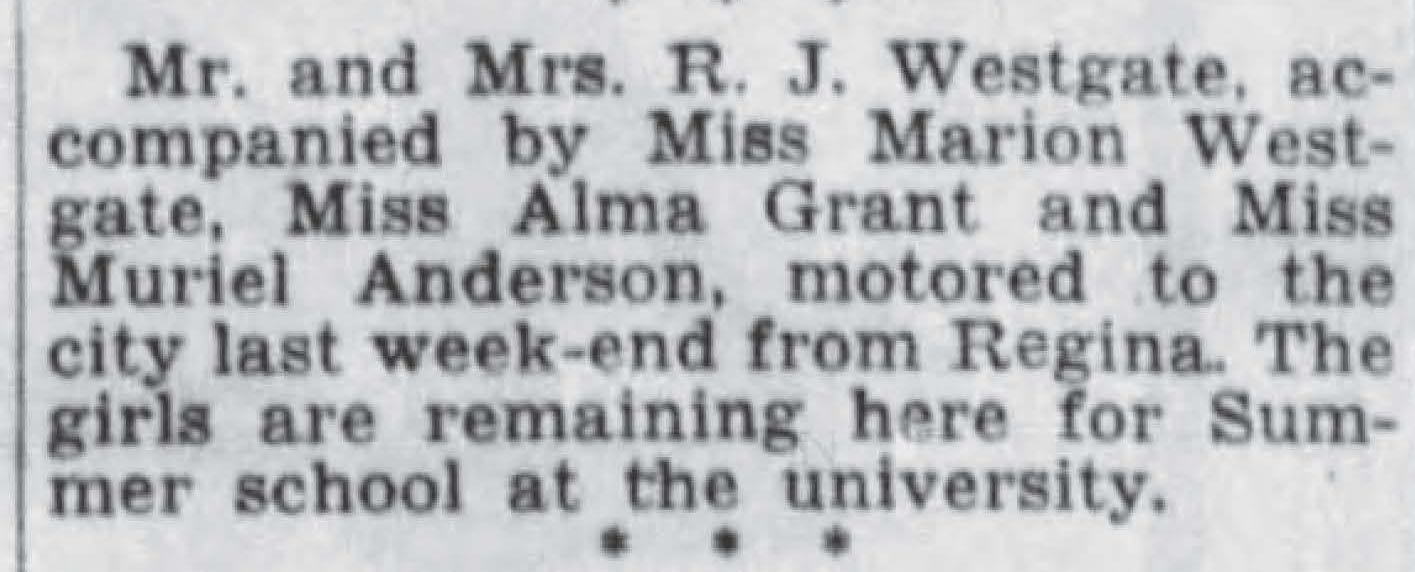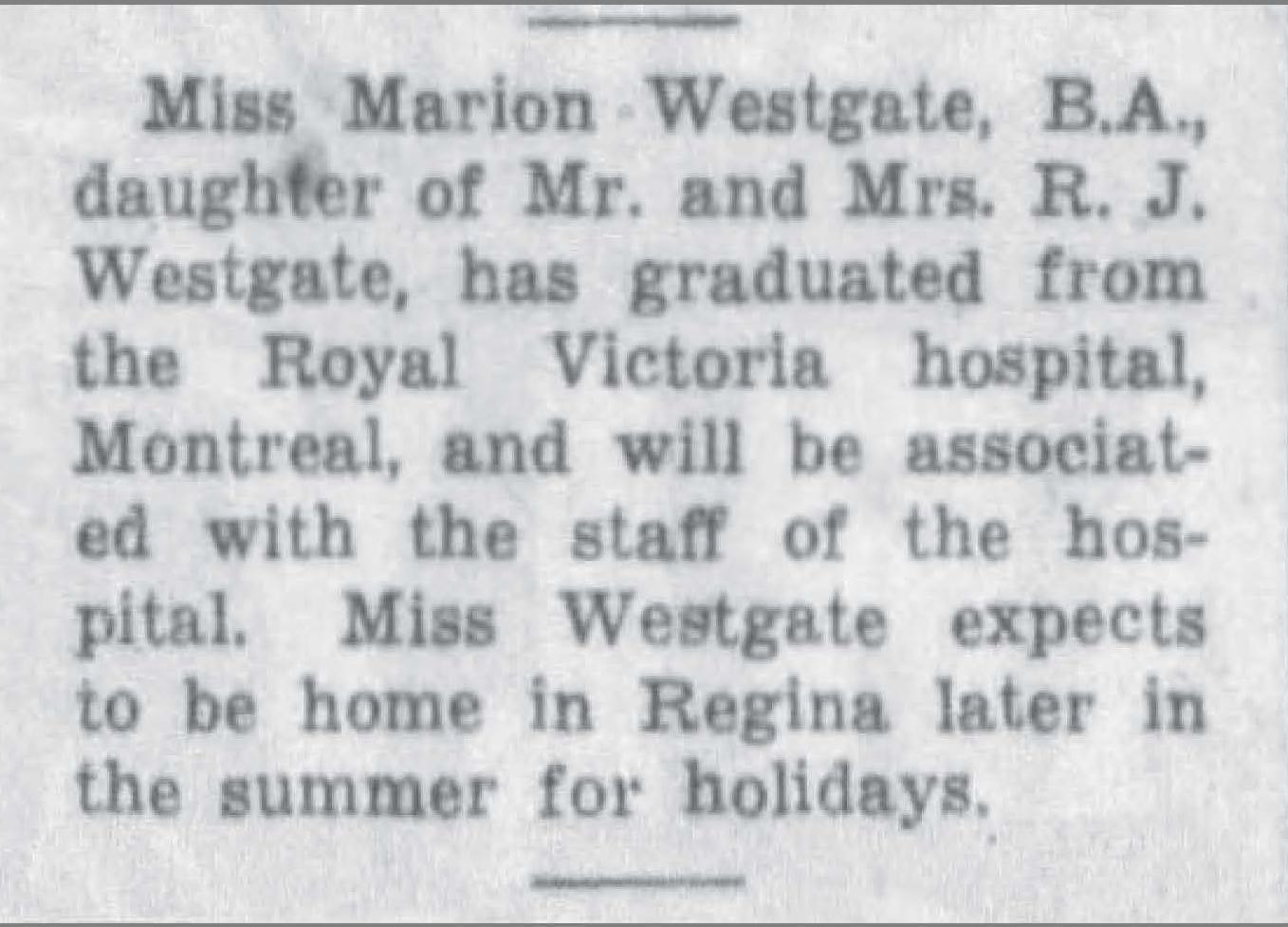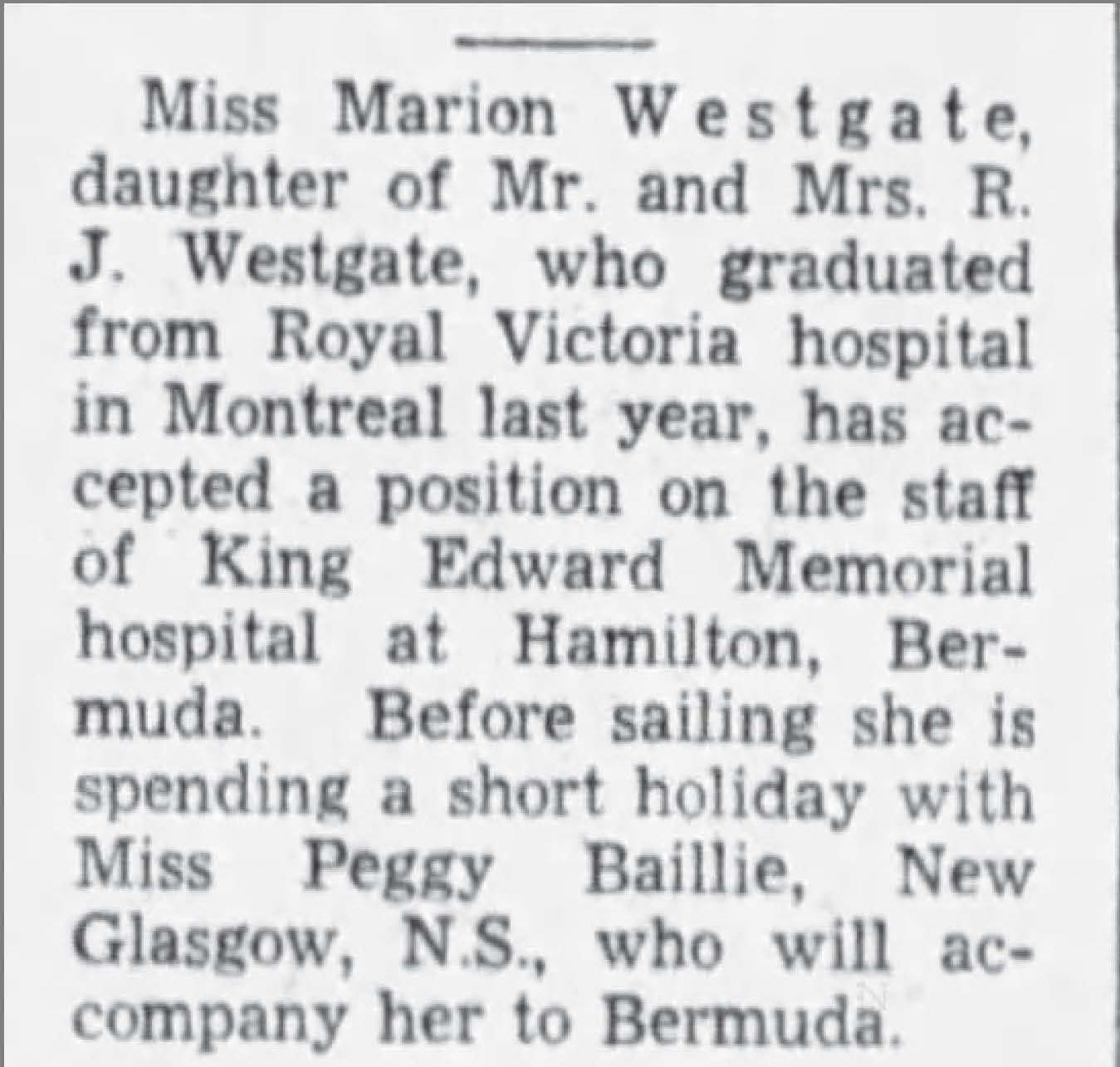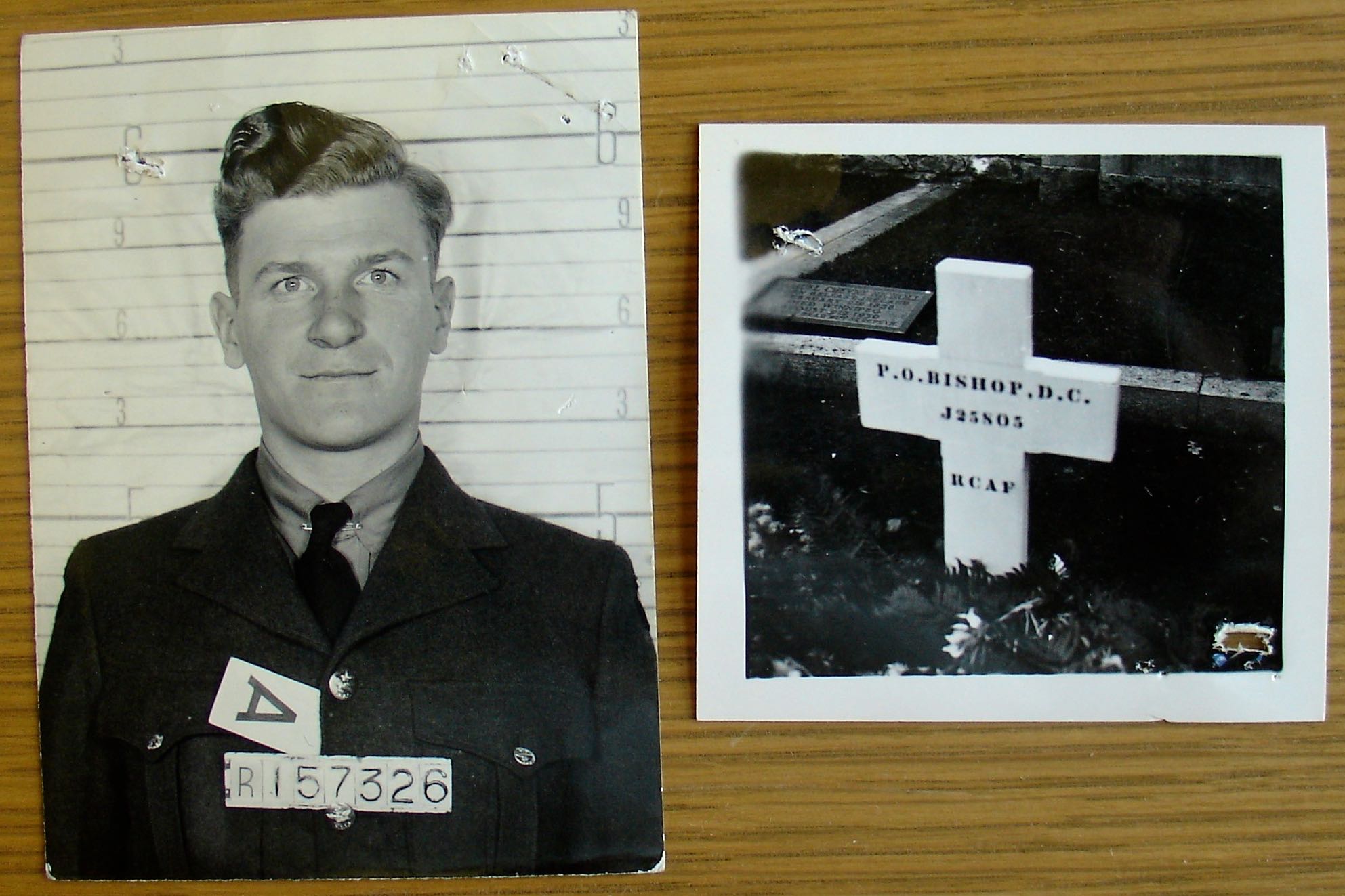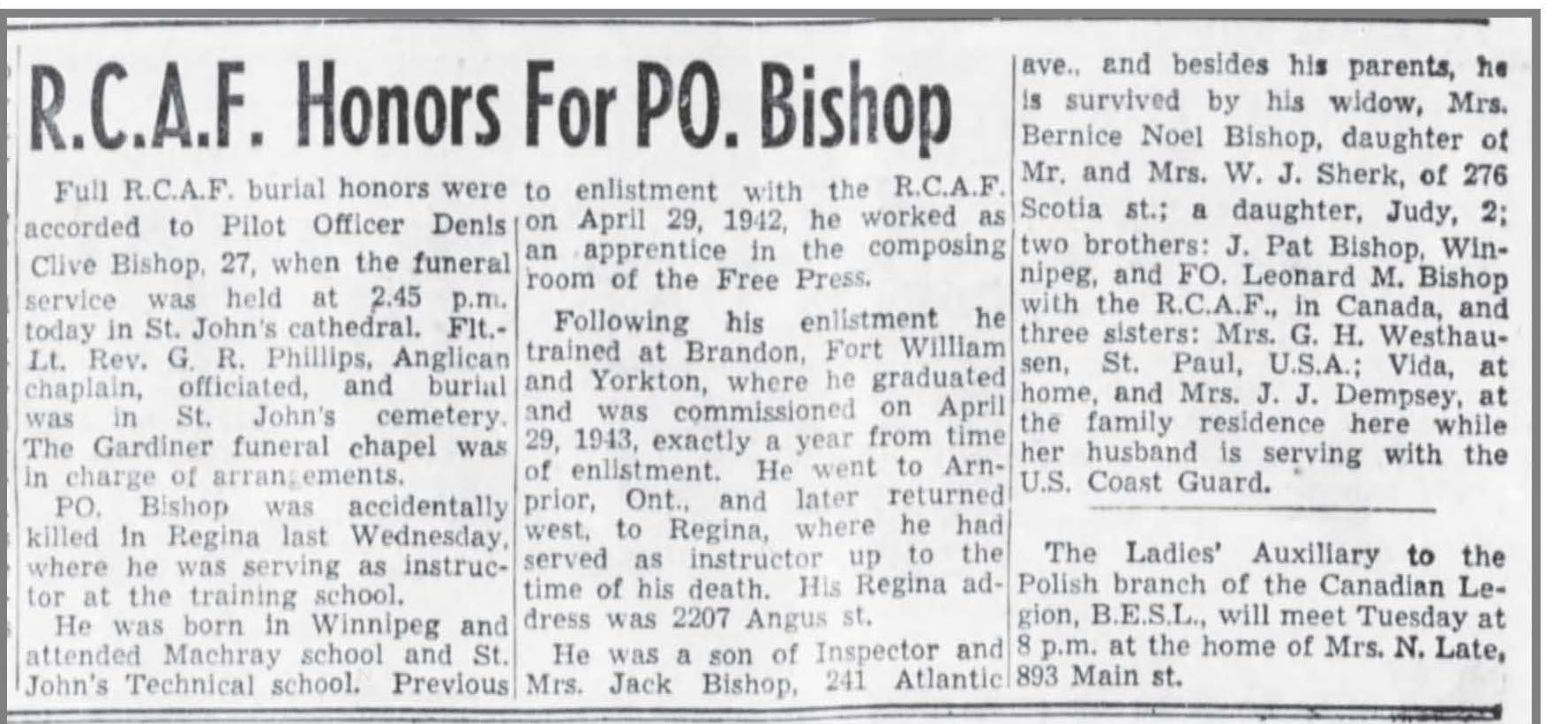 Nursing Sister
Royal Canadian Air Force
Marion Mercedes Westgate was born in Regina, Saskatchewan on February 27, 1917, daughter of City Commissioner Robert James Westgate and his wife, Christie Mercedes Westgate, who were both originally from Ontario. (They moved to Victoria, British Columbia by July 1944.) Marion had three brothers: Robert, Fred, and James. The family attended the Church of England.
Marion Westgate was well-traveled and well-educated. Her trips made the local newspapers in Regina, as did her education.
She attended Victoria Public School from 1923 to 1928, then went to Qu'appelle Diocesan School for one year, returning to Victoria Public School until 1930. Then she went to Central Collegiate for high school, graduating in 1934. She attended Regina College for one year, then transferred to the University of Saskatchewan for a Bachelor of Arts degree, graduating in 1937. She continued on to the Royal Victoria Hospital in Montreal to study nursing, where she graduated in 1940. She was a member of the Saskatchewan Registered Nurses Association and St. John's Ambulance.
She began working on general nursing duty at the Royal Victoria from April 1940 for one year, then transferred as an assistant to the King Edward VII Memorial Hospital, 'to better' herself, she indicated on her attestation papers. She then went to Bermuda for five months to nurse, then returned to Canada to the Grey Nuns Hospital in Regina from September 1942 to January 1943.
She applied to the RCAF as a nursing sister in early January 1943. She wrote a letter explaining why she wished to become a member of the Air Force in preference to the other services. "I must say this is rather a difficult question for me to answer. In this war, each one of the forces is necessary and each is doing an essential work in the struggle for Victory. However, I feel that the realization of the vast commonwealth air training plan is just the beginning of development in a new sphere which will develop even more after the war. I am proud of the part Canada is playing it it and I would be very proud to be a member myself."
On the NARRATIVE PERSONAL HISTORY REPORT for WAR INDUSTRIES, she was assessed thoroughly on her identity, education, employment, former employers, citizenship, loyalty, criminal record, and personal character. "Miss Marion Mercedes Westgate is 25 years of age, of Anglo-Saxon descent....better than average student...interested in student associations, played basketball. Income is $1080 and she is well regarded by employer. She is native-born, parents native-born and for several generations. They are a highly respected family. Only trip made abroad was to Bermuda...she is a loyal Canadian, believed to have returned here primarily to enlist. There is no known criminal record. Miss Westgate is single, net worth $500. She lives at home and has no debts. Raised in a cultured home, three brothers, all well regarded. Live in older residential district. Anglo-Saxon is the predominant race. Has spent little time there in recent years, but in school days, associates with fine type of young people. She is very steady, honest, has no ill health, and is not known to drink. Father is R. J. Westgate, City Commissioner, born in Ontario, war sympathies are pro-British, and associates are highly respectable citizens."
On February 24, 1943, Marion Westgate received a letter from the RCAF telling her that she had been selected for appointment as a Medical (Nursing Sister) Officer with the rank of Pilot Officer. She had a probationary period of six months. At the end of the six months, her Commanding Officer would submit a report of her ability and conduct, recommending her either for continued employment or immediate retirement. She was to report for duty to No. 4 Training Command Headquarters, Hudson Bay Building on 1st Street W, Calgary. She was to arrange her transportation with the RCAF Recruiting Centre in Regina. Uniforms and equipment were obtainable through reliable tailors and had to conform to Air Force Dress Regulations. She was to arrive in uniform when she presented for duty.
P/O Westgate replied February 27, 1943, pleased to accept the appointment offered. She had personal matters to settle which would take her about two weeks. She asked if she could report to No. 4 TCH, Calgary, on March 15, 1943, instead of March 5th.
At the time of enlistment, Marion Westgate stood 5' 8 1/2" tall, weighed 138 pounds, had hazel eyes and brown hair. She liked basketball, tennis and swimming. Her medical assessment included having hay fever, 'running ears' and later, boils.
She was posted to 4 TC in Calgary on March 15, 1943. She was then with No. 10 Repair Depot, Calgary the next day until May 31. She was sent to No. 15 Elementary Flying Training School (EFTS), Regina until her death on October 27, 1943.
May 25 to Jun 1, 1943, she was treated at No. 10 Repair Depot, Calgary, for suppurative adenitis after having some swelling in her right axilla. She had a minor surgery where the abcess was opened and drained, given heat and sulfathiazole (an antibiotic).
Evaluation on June 1, 1943: Has been in service a short time only but has done very faithful work." July 29, 1943: This officer was employed as a nursing sister only. This officer, though new to the service, is gradually improving in Service knowledge and successful in performing her duties. This nursing sister has a cheerful disposition, being both pleasant and efficient and an asset to this station. Recommend for retention in the service and promotion to Flying Officer."
On October 22, 1943, she was receiving treatment for an infection on her right index finger. Ten days earlier, she had lacerated her finger, which became swollen and painful. After an incision and drainage of infection, she was discharged to duty by October 25, 1943.
On October 27, 1943, F/O Nursing Sister Marion Westgate was a passenger on a familiarization flight with Pilot Officer Denis Clive Bishop (J25805) in Cornell II 15148. Westgate was in the front cockpit, with Bishop in the rear cockpit. While attempting to make a landing during a heavy fog one mile southwest of the aerodrome at No. 15 EFTS, Regina, both N/S Westgate and P/O Bishop were killed.
On February 2, 1944, a Court of Inquiry was struck to investigate the familiarization night flight. Twenty witnesses were called.
Denis Clive Bishop was born on August 4, 1916. He was married to Bernice Noel [nee Sherk] in June 1940. They had one daughter, Judy, aged 2 in 1943. He had two brothers and three sisters. They were from Winnipeg, Manitoba. When Bishop enlisted in August 1942, P/O Bishop was evaluated. "Average education, brother (Leonard, 23) recently got his wings at Uplands. Father is a detective inspector. Physical: fit, out of training...fairly level-headed, no story of nervous instability. Mature. Was a lino typist [Winnipeg Free Press], then no work. Took a job as guard with CPR, Wife reconciled to A/C. I don't think this lad is very enthusiastic about flying. May have joined up to get work and emulate younger brother. Could do very well though. Choice: pilot." At No. 2 ITS: "This lad is assertive, methodical, and persistent. He is a hard worker and should prove a satisfactory member of aircrew. He is an exceptionally good student. Recommendation: Navigator. At No. 2 EFTS: "Made only average progress but is a good type of student. He uses his head well so should do quite well at service school. Deportment very good, Recommend for medium bombers." At No. 11 SFTS: "A good high average pilot, rather rough on instruments. Exceptionally quick to understand and adapt himself, but has a slight ended to over control. His attitude and deportment are good and he is always willing and keen to assist in all flight matters. Recommend for a commission." J. D. Somerville, S/L He earned his wings on April 30, 1943. By June 18, 1943, he was rated as an average pilot: "A conscientious type who should develop into a sound instructor. Must strive for clarity in presentation." Awarded C (Elem) Average. at No. 3 FIS, Arnprior, Ontario. He became an instructor.
From the Investigation: "OBJECT OF FLIGHT: Not shown on the F.17 but was arranged by P/O Bishop as a night familiarization flight for Nursing Sister Westgate. WEATHER: At take off, clear over the aerodrome but dense fog moving in from SE at 2235 hours, the ceiling and visibility zero. PILOT: P/O Bishop, flying instructor...He received his pilot's badge on 30th April 1943 at No. 11 SFTS, Yorkton, and was assessed 'average, airmanship weak'. On 18th June 1943, was graduated from No. 3 FIS, Arnprior as a category "C" (Elem) average with the observation that he should become a capable instructor." DESCRIPTION OF FLIGHT: Early in October, F/L Pace, MO who had the COs standing permission to fly at any time, subject to the Flight Commander's approval, requested P/O Bishop take his night flying some time. On the afternoon of 26th October, P/O Bishop called Pace on the telephone and informed him that he could take him up on the 27th of October as well as any other member of the hospital staff who wished to go. F/L Pace turned to Nursing Sister Westgate and asked her if she would like to go night flying. [She had flown a familiarization flight on July 13th, 1943.] She said she would and P/O Bishop then directed that they be at the flight office at 2300 hours on 27th October. F/O Meyers was Officer in charge of Night Flying on the 27th of October and prior to commencement of night flying, he had at 1703 hours telephone to the Department of Transport Control Tower to ascertain the wind speed and direction and future weather prospects. He was informed that the weather would be alright but he did not obtain a weather forecast from the meteorological office, nor did he fly a weather check before flying commenced. At 2100 hours, F/O Meyers visited the control tower to observe the progress of flying and was informed that it was proceeding satisfactorily. It was carried out without incident until 2230 hours. At 2330, F/L Pace reported to the flight office for his promised flight. There were several instructors including P/O Bishop and a discussion took place whether Nursing Sister Westgate could go on the flight. P/O Bishop inquired whether the CO had left the Unit and being informed that he had, said, 'Good! Then I guess it will be alright to take Nursing Sister Westgate up!' P/O Bishop said that he would fly Nursing Sister Westgate and another instructor, F/L Pace. Nursing Sister Westgate arrived at the flight office about 2200 hours. Indication that the weather was deteriorating was first observed by the Department of Transport Control Operator at 2220 hours. Visibility was decreasing and he informed ACP requesting the latter to hold all his traffic to the ground. The ACP recalled all solo aircraft at 2230 hours and at the same time, P/O Bishop, with Nursing Sister Westgate as passenger, took off in Cornell 15148. The time of the take off was established by the F.17 which showed the flight to have been authorized by P/O Bishop. F/P Meyers in his evidence, stated that he had given permission for Nursing Sister Westgate to go on the flight." The RCAF Form F.17 covering the flight was not fully filled out. There was no evidence whether the aircraft had been DI's and test flown prior to night flying as required by CAP100, Section 1, para. 43.
"Starboard wing struck the ground first apparently in fairly steep starboard bank. Aircraft completely demolished...zero visibility. The primary cause was the starboard wing tip striking the ground. Thick fog was a contributory factor." Recommendations and Observations: "The Court recommends closer co-operation betwen EFTS and the Department of Transport Meteorological Section. Officer Commanding Night Flying handed over his duties to an instructor who was not properly authorized to take over duties. The aircraft involved had exceeded the safe endurance without refueling, although the Court has satisfied themselves that there was ample fuel in the tanks and that fuel shortage was not a contributing factor. P/O Bishop...probably took off before 2230 hours." Findings of the Court included, "Error of judgment on the part of the pilot due to very poor visibility caused by heavy fog at night. Contributory Causes: The pilot appears to have left the circuit without permission. The Office-in-charge of night flying failed to obtain adequate weather reports." The Court found that the flight was not properly authorized, nor in accordance with regulation. "There is no evidence concerning the method of distribution of weather information at the unit, and whether F/O Meyers or someone detailed by him had flown a weather check flight prior to commencement of night flying." More information: "At 2230 hours, F/O Meyers headed over to WOII Hooper, flying instructor, and proceeded into the air on a routine flight with a pupil. The object of this flight, according to F/O Meyers, was for familiarization of the pupil and also to check the glide path indicator. After take-off he saw one mile up, wind moving in on the aerodrome and he did a quick circuit, landed 15 minutes later with the student and washed out flying. F/L Pace's flight with F/O Sexsmith was cancelled.
The fog moved in over the aerodrome and all the aircraft in the circuit at the time got down safely although with some difficulty. Cornell 15148 was still unaccounted for and under the instruction of F/O Meyers, flares were fired continually from the control tender as an aide to Cornell 15148 in landing. About 2250 hours, an aircraft was heard and then seen passing over the intersection of the runways at low altitude flying in a southerly direction. It flew away and the sound of its motor died out. At the same time, three CPR employees had their attention drawn by the sound of an aircraft and they stepped outside to listen to it. The sound of the aircraft increased and was followed by a thud which indicated to them that it had crashed. This information was passed to the control tower and the Unit personnel there not having heard the noise took no action up it." The Findings of the Investigation: ""error of judgment on the part of the pilot due to very poor visibility caused by heavy fog at night. " The Court also found that the pilot appeared to have left the circuit without permission and the Officer in charge of night flying failed to obtain adequate weather reports; and that the flight was not properly authorized and was not in accordance to regulations." F/S Wilkins, head of the Accident Investigation Branch noted, "Other aircraft from the school were flying at the time and all got back safely. The CI of the school did not know the flight had been authorized until after the accident had happened as he was not on duty that evening."
Air Marshall L. S. Breadner, Chief of Air Staff wrote a memo to "All Air Officers Commanding" about discipline regarding unauthorized flights. "In the accidents which were not fatal, it was found that the disciplinary section which was taken against the persons involved was neither appropriate nor adequate....it would appear that the practice of both flying and non-flying personnel making unauthorized flights is far too prevalent and that flying regulations are not being generally observed. It is the responsibility of the Air Officers Commanding to ensure that officers in their Commands having authority to authorize individual flights exercise that authority within the regulations and for duty flights only and that the officers concerned do not abuse the authority whcih is given to them...non-flying personnel are not permitted to make unauthorized flights and that all flights made by them are properly authorized in accordance with the regulations laid down respecting the same...all future cases of unauthorized flights within your Command, immediate, appropriate and severe discplinary action is taken."
Flying Officer P. D. Meyers, J14008, the officer in charge of night flying, for failure to properly perform his duties, was to be retired immediately. He failed to comply with regulations and instructions issued by RCAF HQ with respect to unauthorized flights. "This is a very bad accident which reflects on the disciplinary conditions of the school," stated Group Captain F. S. Wilkins, head of the Accident Investigations Branch of the RCAF. Notes on a letter dated November 17, 1943: "...we would be better off without the services of F/O Meyers. Proceed accordingly." F/O Meyers was implicated in another fatal crash in January 1943, Cessna Crane 8739, involving Section Officer Rose Jette Goodman, RCAF, of Montreal. He was only slightly injured in the accident in southern Alberta. Please see Section Officer Goodman's story for more details.
P/O P. D. Meyers was a member of the Supporting Party at Nursing Sister Westgate's funeral. She is buried in the Regina Cemetery.
P/O Bishop was buried in St. John's Cathedral Cemetery, Winnipeg.
P/O Bishop's wife, Bernice, requested her husband's logbook be returned to her, as well as his wallet. She received his wrist watch. The Estates Branch told her that Regulations prohibited the return of his logbook as they often contained information of possible military value to the enemy. At the end of hostilities, she was to contact the Records Branch and request the logbook then.Broken and damaged items of her husband's were sent to her; she was not pleased. The Estates Branch in Ottawa said that it was due to 'inadvertence on the part of the shipping clerk' who packed them.
The personal effects of P/O Nursing Sister Marion Mercedes Westgate were listed. They included jewellery, a purse, toiletries, makeup, bus tickets, personal letters, a diamond wrist watch, her driver's license, a Bermuda Police permit, clothes, and a Kodak camera. Her father wrote a letter dated December 28, 1943, indicating he and his wife were anxious that their daughter's belongings, including the camera, watch, rings, purse, be forwarded to them as soon as possible.
LINKS: