Mary Susannah McLaren
May 24, 1917 - August 28, 1944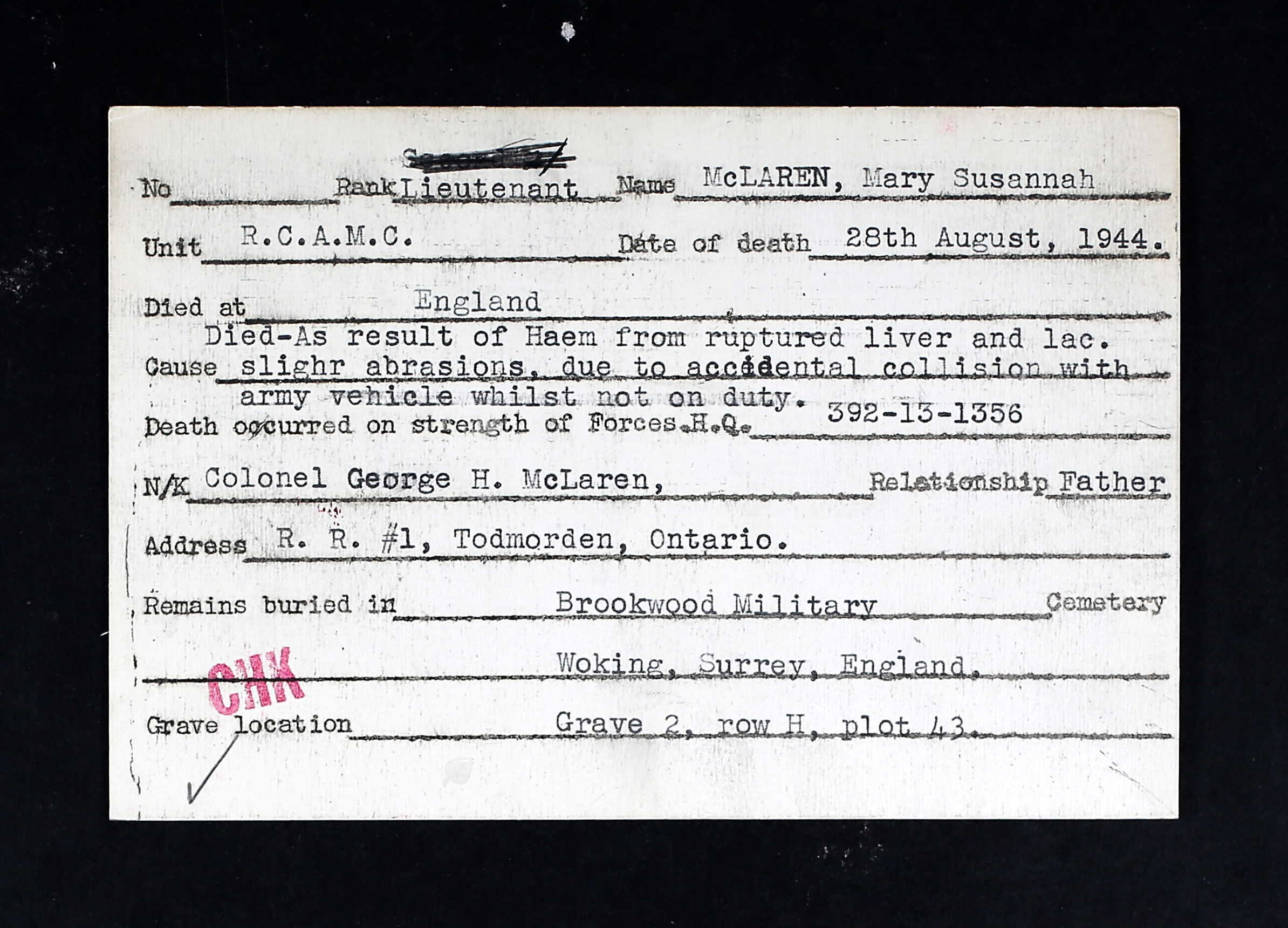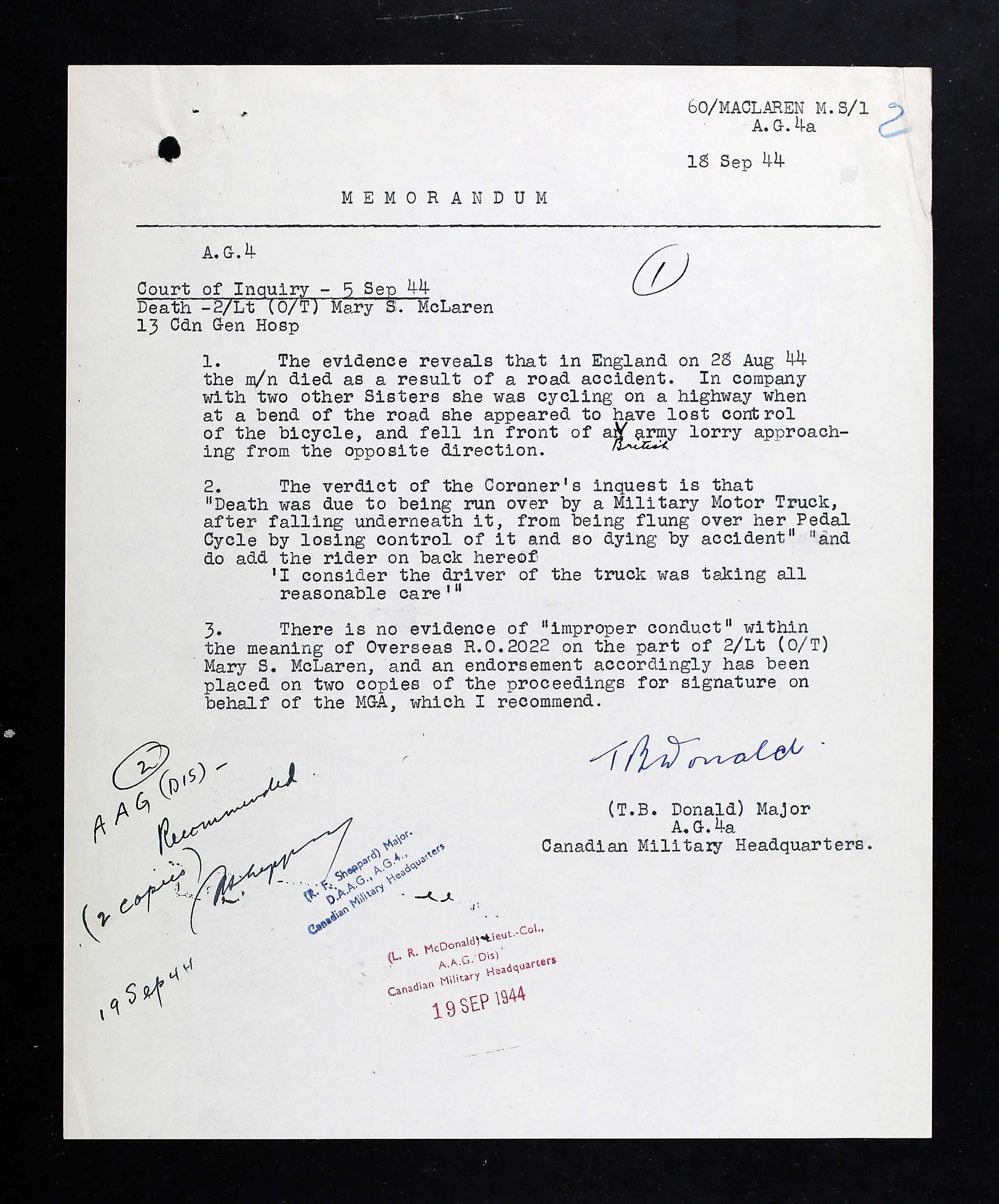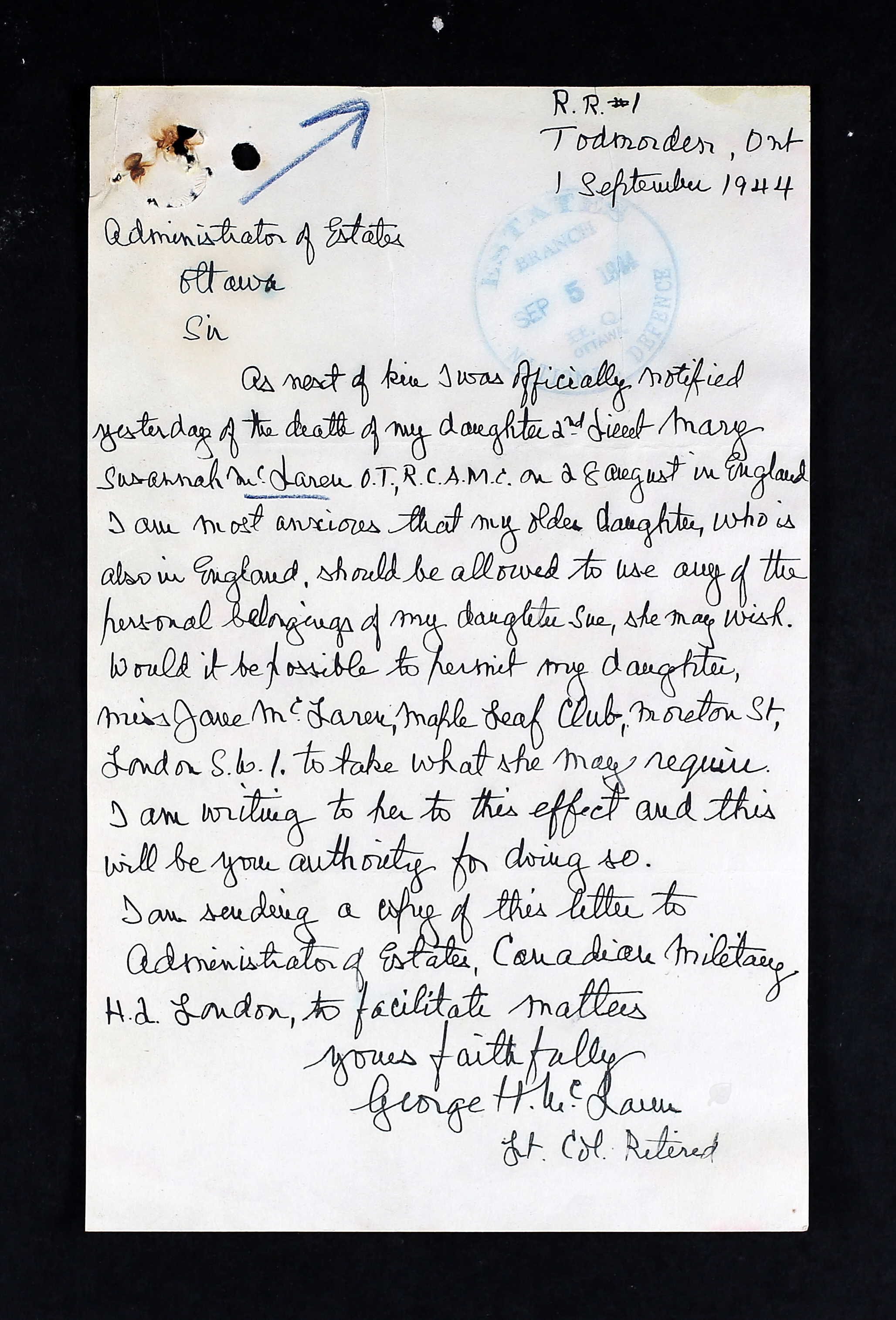 Nursing Sister
Royal Canadian Army Medical Corps
Mary Susannah McLaren was the daughter of Lt. Col. (Ret'd) George Hagarty McLaren and his wife, Sarah (nee Shoenberger) Hamilton McLaren of Todmorden, Ontario. Mr. McLaren was a veteran of the First World War. Mary McLaren was born in Hythe, Kent, United Kingdom. She had one brother, Frederick George, a Major in the 48th Highlanders, serving in Italy, plus two sisters: Jane and Sarah. Jane worked at the Maple Leaf Club in London, England. Sarah was a WD in the RCAF, stationed in Victoria, BC. The family attended the Church of England.
McLaren stood 5' 4 3/4" tall, weighed 122 pounds, had brown hair and brown eyes, with a dark complexion.
She attended Ovenden College in Barrie, Ontario in 1935 for her junior matriculation, then went to North Toronto Collegiate for her senior matriculation in 1937. She attended the University of Toronto from 1938 to 1940, studying Occupational Therapy.
She was appointed to the General List, RCAMC and posted to Oakville Casualty Retraining Centre November 29, 1943, earning $1.70/day. She was admitted to Chorley Park Military Hospital on April 5, 1944 until April 17, 1944. She was reposted to No. 21 General Hospital. She was granted embarkation leave April 21-22, 1944 and arrived in Whitby, England in June 1944, reporting for duty on June 11, 1944 to No. 13 and No. 24 Canadian General Hospitals.
On August 28, 1944, late in the evening, she was admitted to No. 13 Canadian General Hospital after she suffered fatal injuries. She was knocked from her bicycle when she collided with an army vehicle. The truck's driver, Fus. A. Thompson, had honked the horn as the truck was going around a corner, startling 2nd Lt. McLaren. She lost her balance, fell, and the truck ran over her. A Court of Inquiry was struck. They deemed she died as the result of an accident while not on duty. She was 27 years old.
Her father, Lt. Col. (Ret'd) McLaren wrote two letters to the Administration of Estates about his daughter's belongings. He hoped that his oldest daughter, Jane, who was also in England would be able to use some of Mary's personal items. 2nd Lt. McLaren had an extensive list of personal effects including clothes, towels, books, a camera, a handbag, a writing case, a blue silk umbrella, toiletries, photos, and jewellery. She also had an eiderdown bed roll.
2nd Lt. McLaren is buried in Surrey, UK, at the Brookwood Military Cemetery. Her brother, Major Frederick George McLaren, died from wounds and is buried in Italy.
LINKS: