Nellie Josephine Enright
September 14, 1884 - April 23, 1947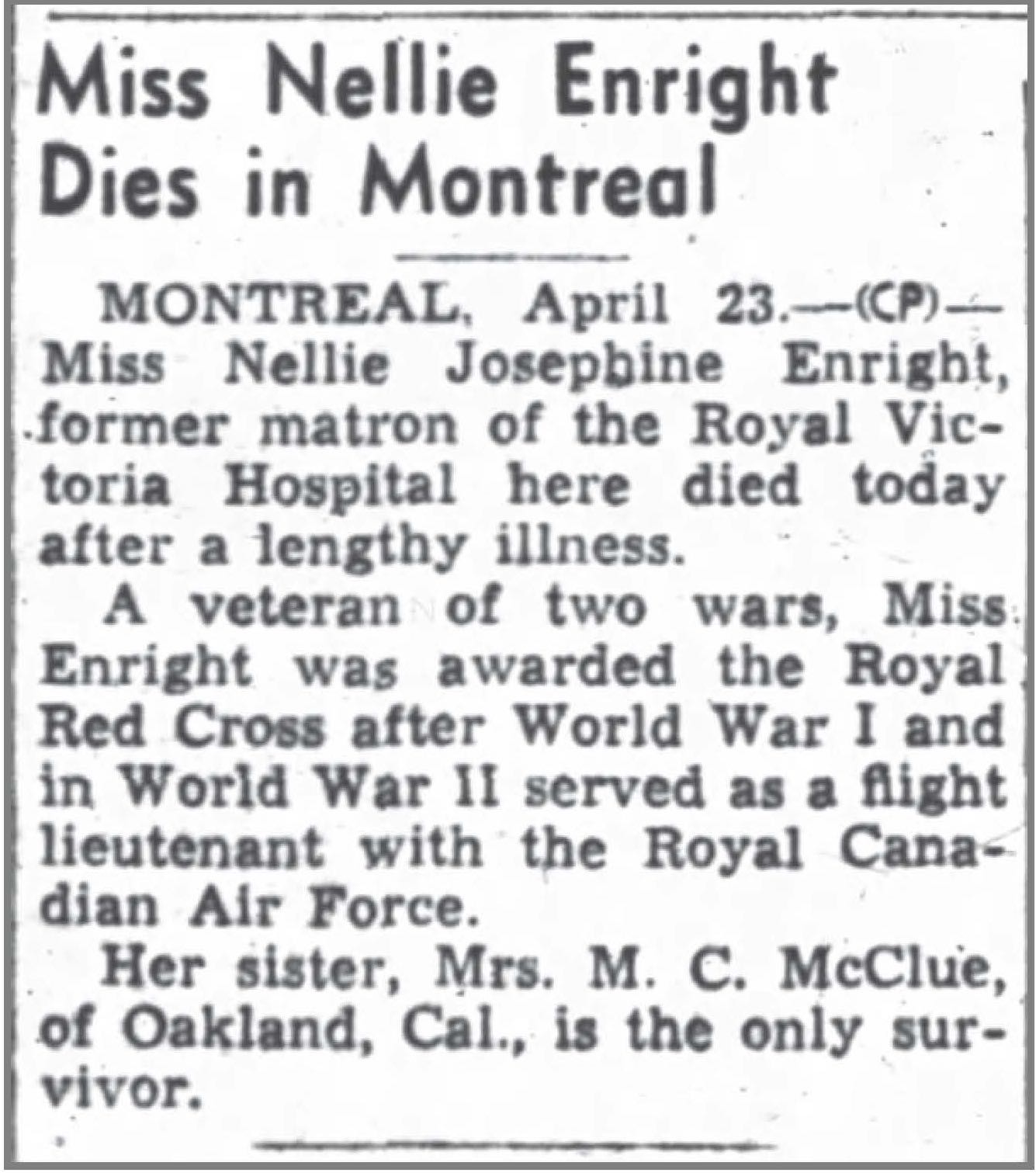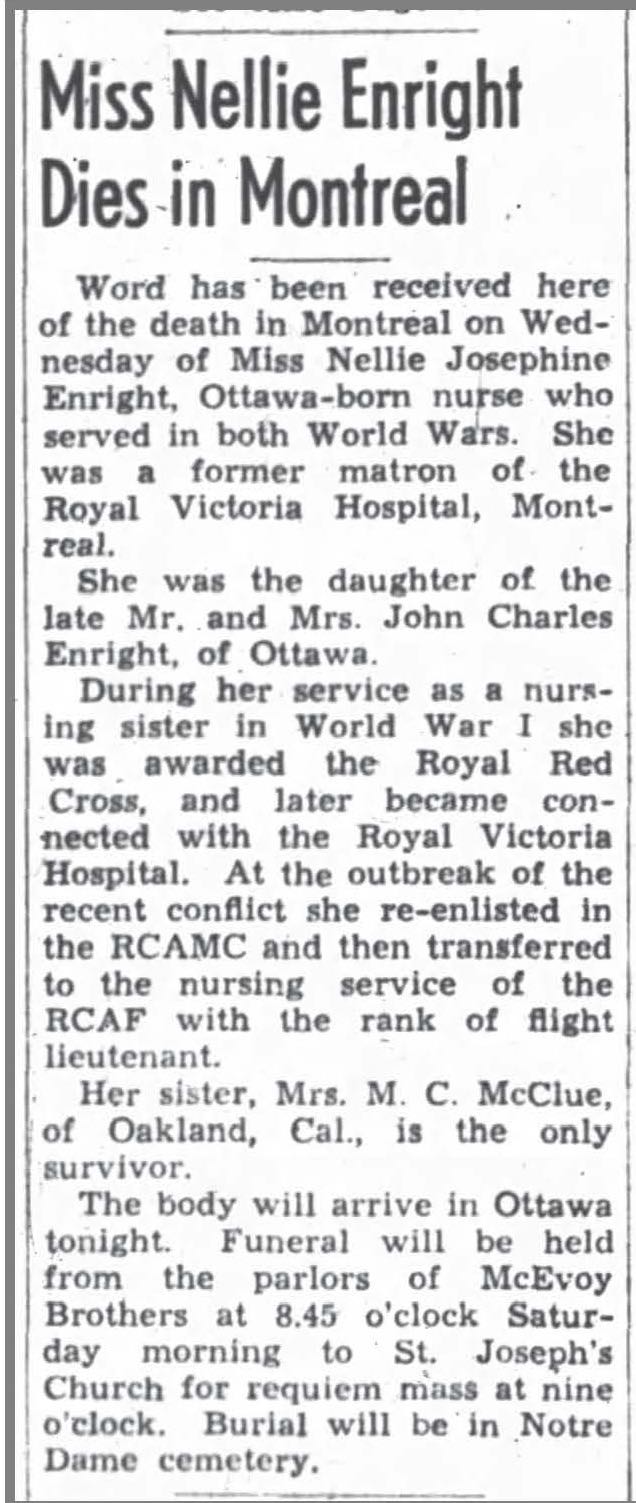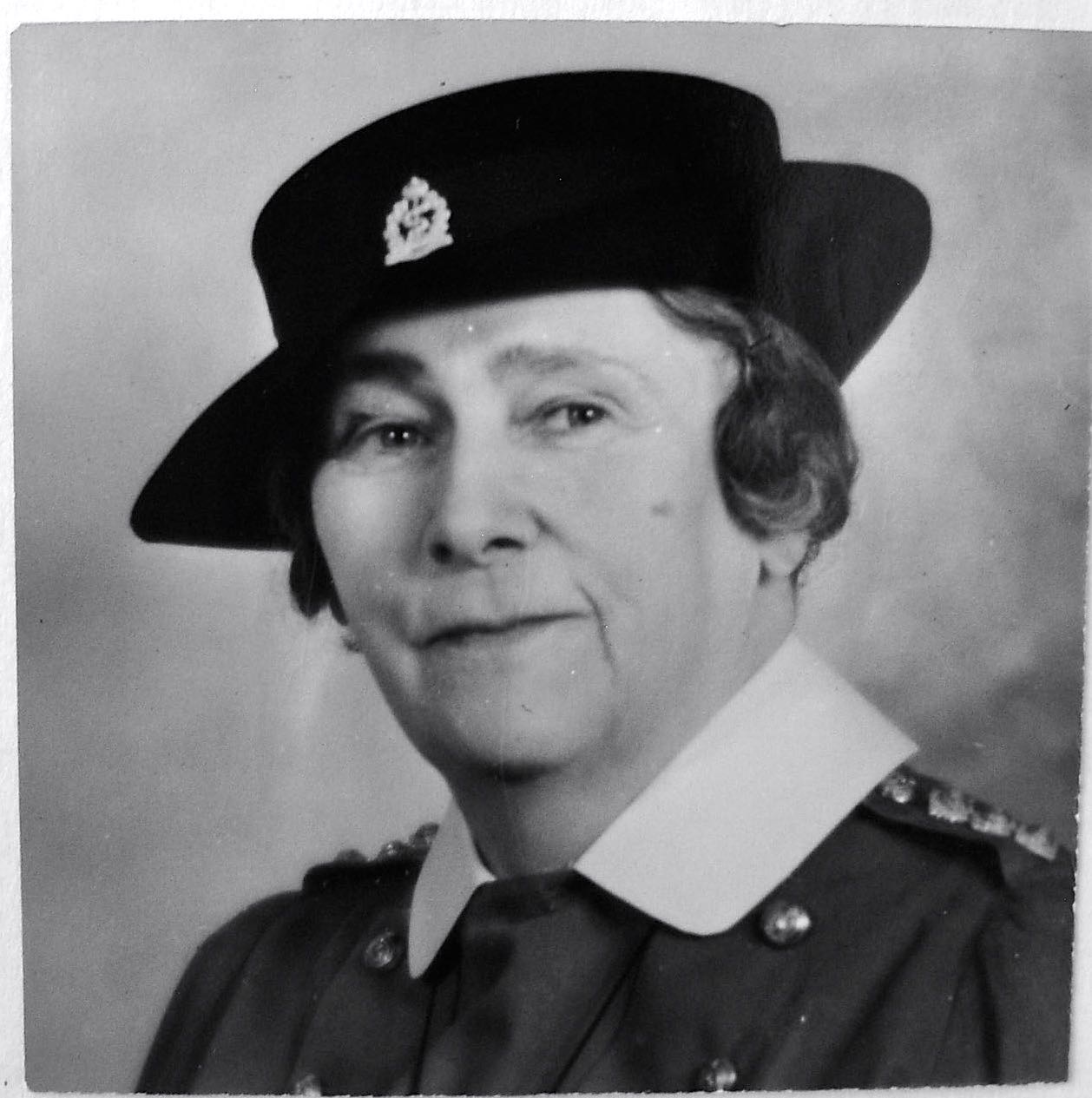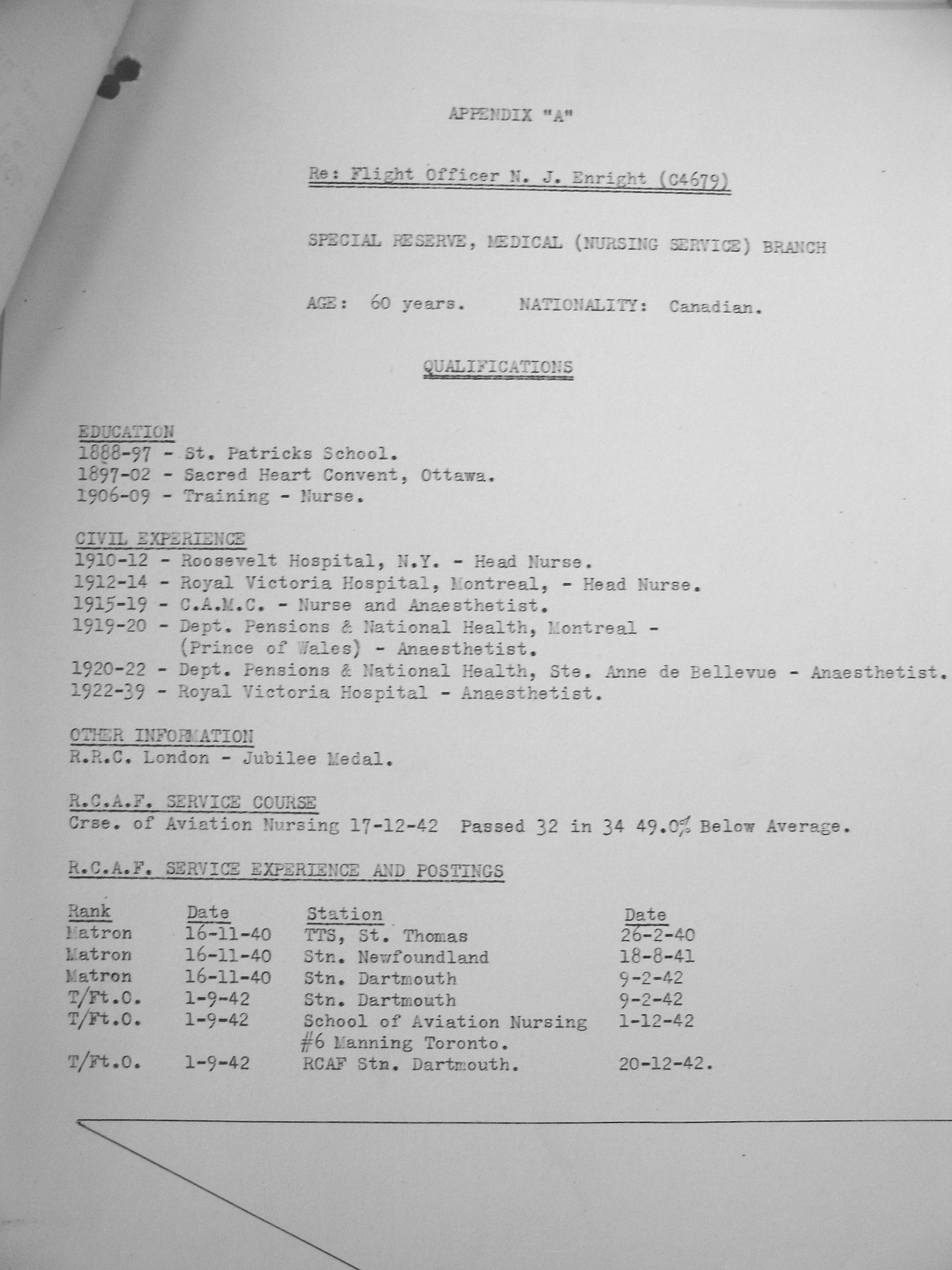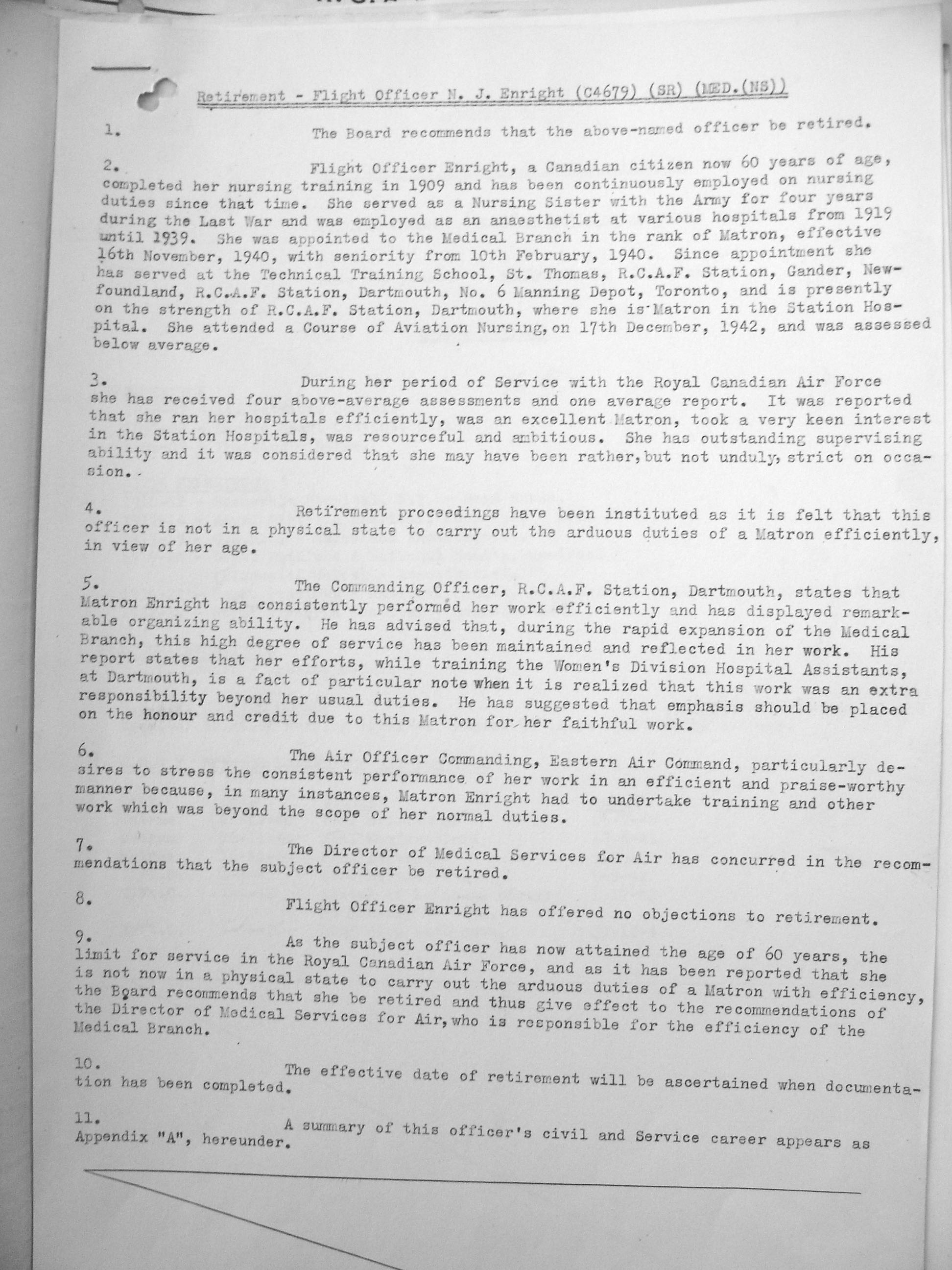 Nursing Sister
Royal Canadian Air Force
Nellie Josephine Enright was the daughter of John Charles Enright and his wife, Alice (nee McCurley) Enright in Ottawa, Ontario. She had one sister, Mrs. E. J. McCluen, of San Leandro, California. On one form her birth date was noted as September 14, 1882 and another: 1884.
She attended St. Patrick's School from 1888-1897, then Sacred Heart Convent in Ottawa from 1897 to 1902.
She took her nurse's training from 1906 to 1909, and was a head nurse at the Royal Victoria Hospital in Montreal from 1912-1914. Prior to that she was the head nurse at the Roosevelt Hospital in New York from 1910-1912. In 1919-1920, she was an anaesthetist at DPNH, Montreal, Prince of Wales, then at DPNH, Ste. Anne de Bellevue, 1920-1922. She returned to Royal Victoria Hospital from 1922 to 1939, again as an anaethetist.
She was a member of the Registered Nurses Association Montreal, Alumni Association of the Royal Victoria Hospital, and Business of Professional Women's Club, Montreal.
She was a veteran nurse of the First World War from February 1915 to May 1919, involved in nursing and anaesthetics. She had written a letter from New York in October 1914 offerin her services. She was in England by May 6, 1915 with the CAMC Draft and then proceeded to France a week later, attached to No. 1 Canadian General Hospital. She also worked at No. 3 Canadian General Hospital and No. 3 Casualty Clearning Station, plus Nos. 7 and 8 Canadian General Hospitals. She returned to England on March 29, 1919. On May 14, 1919, she returned to Canada and demobilized on May 25, 1919.
Her Second World War Service was with the Royal Canadian Air Force. She wrote a letter to the Department of National Defence in September 7, 1939, offering her services. On her attestation papers, she was noted as overweight and over-age, but had satisfactory mouth and teeth. She had blue eyes, grey hair and a medium complexion.
She enlisted on February 26, 1940 at St. Thomas, Ontario. She was Matron in February 1940 and taken on strength at St. Thomas on November 16, 1940 until August 18, 1941. She was sent to Gander, Newfoundland until February 9, 1942, then to Dartmouth, Nova Scotia until December 1, 1942. She was sent to the School of Aviation Nursing at No. 6 Manning Depot, Toronto December 2, 1942 until December 20, 1942. She failed Aviation Nursing, RCAF Administration and Organization, but passed Personal Assessements. Matron Enright returned to Dartmouth, Nova Scotia until February 21, 1943. It was from here she retired from her service for non-medical reasons: her age.
In a confidential report dated August 14, 1941: "Has run an efficient hospital, may have been rather strict at times, but not unduly. Can rise to any occasion. Has fitted in well with the various Women's Organizations. A serious loss to this station."
October 30, 1941: "Professionally, she is an excellent Matron who takes a very keen interest in the Station Hospital. [Gander]. Severity of the Newfoundland winter may necessitate a change about January 1942."
In a SECRET AND PERSONAL memo dated November 1941, Gander, Nfld: "In my opinion, Matron Enright has done everything possible to defeat policy. I think Matron Enright should be retired and would appreciate steps to this end."
December 5, 1941: W/C Leggett, Dartmouth, NS reported "The first month that Matron Enright was here, she had a very severe cold but has recovered and is in apparent good health. Some three weeks ago, she had a severe fall through a trap door with minor injuries but could possibly have had very severe injuries considering the extent of the fall. She is doing very efficient work here and seems quite satisfied although there is practically no opportunity for leaving the hospital at any time." W/C Corbett wrote, "The Matron has been giving very efficient service but it is easy to understand that the winter season in Gander will be a difficult one and if there is a suitable replacement who is younger, it might be well to consider a reposting."
November 1941, W/C R. W. Ryan: "Matron Miss Enright has never been very co-operative in the matter of the RCAF nursing service uniform. It is understood that she was particularly responsible for a round robin letter which came to this [RCAF] headquarters some months ago, wherein it was stated that the nurses did not consider the uniform satisfactory and demanded several modifications. This letter resulted in a severe censure from the Air Member for Personnel. Miss Enright is not regarded as a strong character and is not fully capable of accepting the responsibilities of the senior member of the nursing service. It would be in the interests of the nursing service to ask her to resign her appointment."
December 15, 1941: "Very efficient Matron. Has had a great deal of experience in similar capacity. Very exacting and has outstanding supervising ability. I would recommend a posting to another station about January 1942." In another memo, she was referred to be a 'fuss-budget'.
January 30, 1942: "During the 5 months here, she has improved and maintained the routine, discipline, and general conditions at this hospital. Resourceful and ambitious, but inclined to keep a little too strict supervision over the Nursing Sisters and this has caused considerable dissatisfaction. This condition would only exist on a Station such as Gander where the Matron is obliged to live in close contact with the other Nursing Sisters and this is also greatly due to the vast differences in their ages. Recommend she has completed over 6 months service in Gander, she be posted to another Station."
In a memo dated February 13, 1942, from the Air Commodore, Director of Medical Services (Air), R. W. Ryan, he noted, "It is understood that Miss Enright's posting away from Newfoundland became effective 9/2/42. The remarks relative to Miss Enright's too strict supervision, over the nursing sisters do not apply only to Newfoundland. She causes a certain amount of friction wherever she goes. From hearsay, it would appear that she has an irritating habit of stressing very minor details to the point of upsetting what should be an even atmosphere amongst the nursing staff. Strict supervision, however, can always act in two directions."
A note written by the Wing Commander of RCAF Station Dartmouth, NS, dated November 28, 1942: "Due to Matron's age, her services would be much better value in a teaching capacity such as in a school of aviation nursing or teaching nursing procedure and service necessary as ive to Women's Division Hospital Assistants. Has a great tendancy to 'fuss.' Causes a great deal of ill feeling and dissatisfaction amount nurses and women's division due to a rather overbearing and nagging attitude. It is therefore very difficult to 'keep peace'. One cannot but state that Matron seems to be slipping as regarding hospital administration. At present, her viewpoint is that the molehill obscures the mountain." Her trade proficiency was noted as SUPERIOR and her loyalty could be definitely be counted on.
In a memo from the Wing Commander, Eastern Air Command, A. A. G. Corbet, dated December 22, 1942: "Matron N. Enright has consistently carried out supervisory work of high calibre....to be commended on her work while in this Command...the PMO feels that Matron Enright has now reached an age where [supervision and responsibility] is not within her physical powers. Following at least four conversations with her in the past two months, I feel that in a few more months, her physical and mental health will suffer if she continues to undergo the strain of service. Consequently, I would recommend that the retirement proceedings be instituted while her services are still so highly considered. The retirement would then be carried out in such a way that Matron Enright would receive all honour and credit which is due her for her faithful service."
Matron Enright wrote a letter to Air Marshall Breadner dated February 18, 1943 requesting to continue her association with the RCAF 'in some manner, and if this could be arranged, would very much like to be made an Honorary Member of the Service and to be extended the permission to wear' her Air Force uniform at Service functions. She noted that she was the only Matron appointed as to that date with the RCAF Hospitals.
"This officer has carrried out her duties as Matron very efficiently but having now reached the age of 60, the limit for service in the RCAF, it is reported that she is not in a physical state to carry out the arduous duties of a Matron with efficiency." Memo: February 21, 1943.
Air Marshall Breadner replied to her letter April 27, 1943: "I regret that arbitrary age regulations have necessitate the termination of your services with the RCAF...Your faithfulness, efficiency, industry and excellent administration as a Matron have been of great value to the RCAF. The retirement of officers of your character and capabilities results in a serious loss to the Service...your application for appointment to Honourary Rank has received every consideration...I regret that the granting of an Honourary Rank would contravene present policy."
On April 23, 1947, Matron Nellie Josephine Enright died of cancer of the breast, metastasizing in her bones and skin. She is buried at the Ottawa (Notre Dame) Roman Catholic Cemetery in Ottawa, Ontario.
Matron Nellie Enright received the RRC London Jubilee Medal as well as the Royal Red Cross, 2nd Class Award/Honour for her service in WWI. She was gazetted in General Order 143 of 1914, dated August 13, 1914 as part of the Canadian Army Medical Corps.
LINKS: