Nora Hendry Peters
September 7, 1910 - August 12, 1944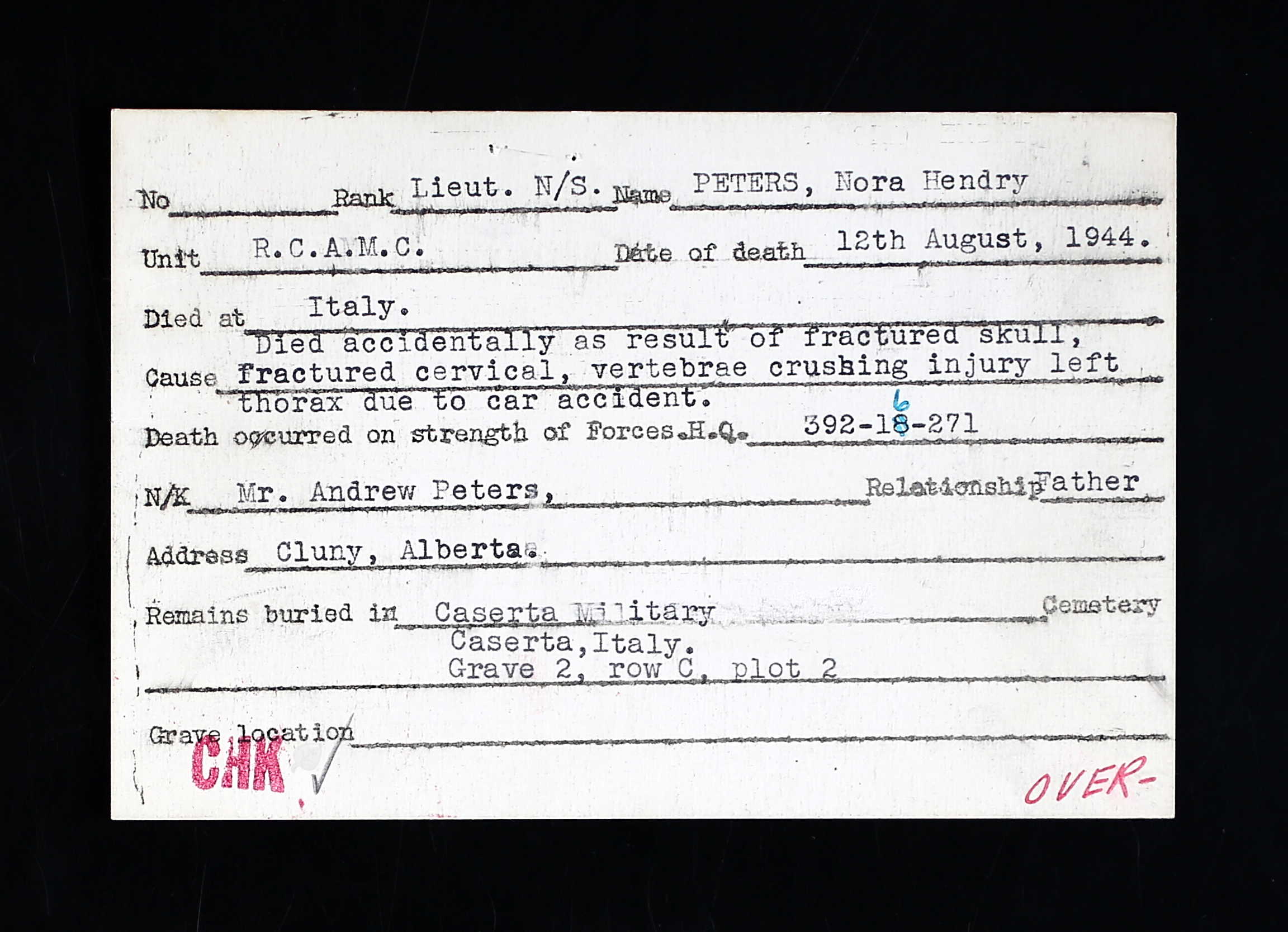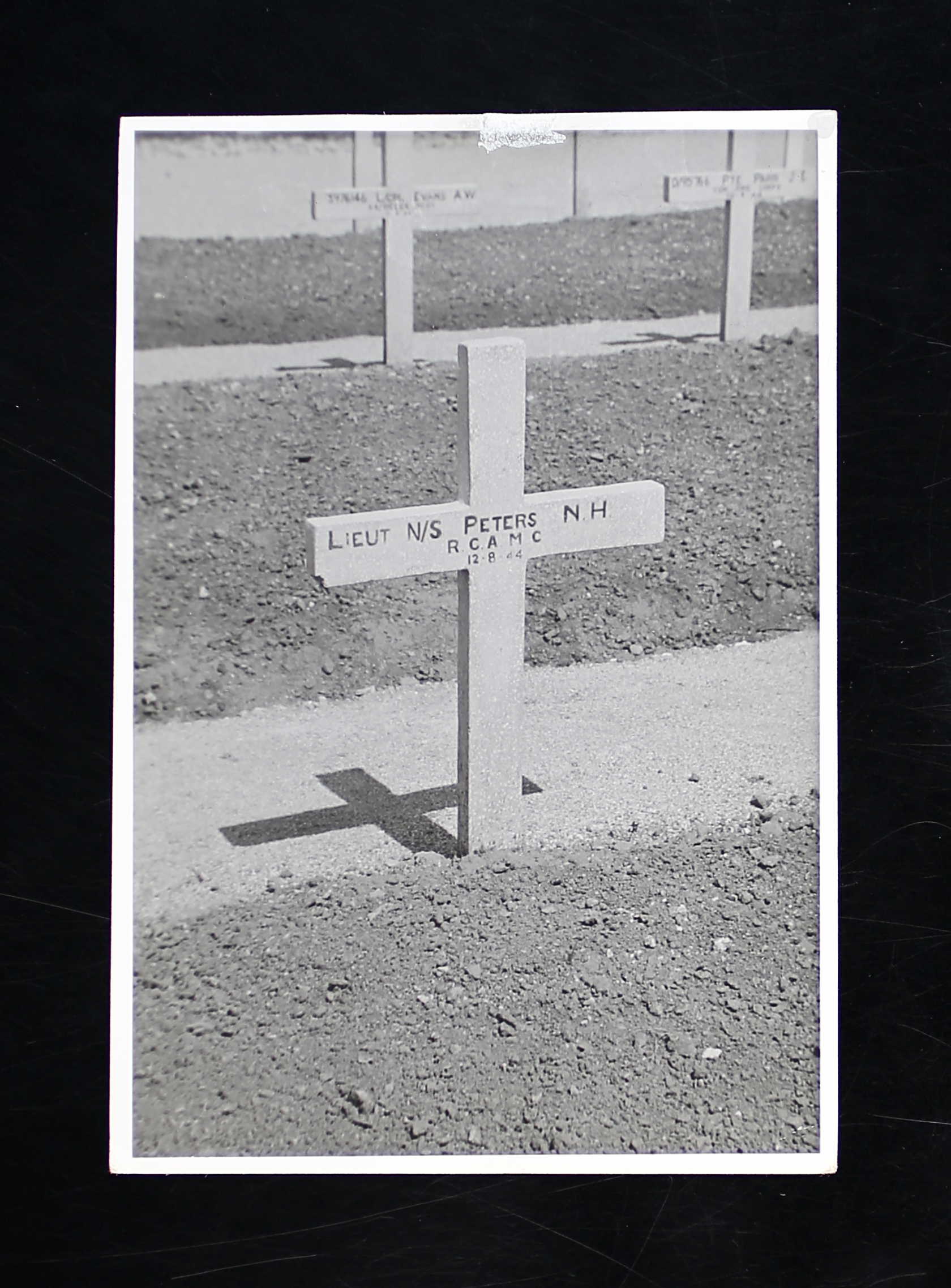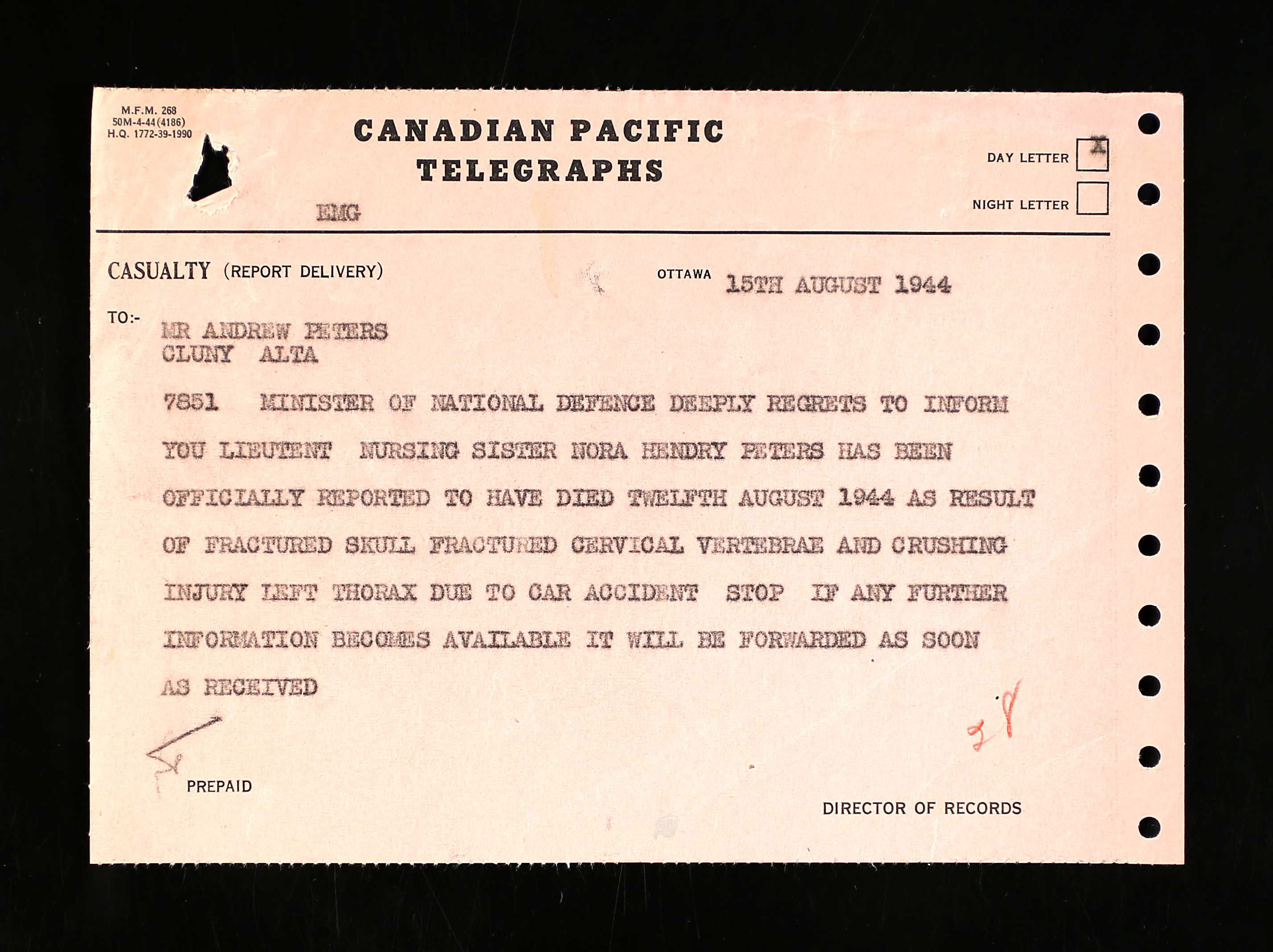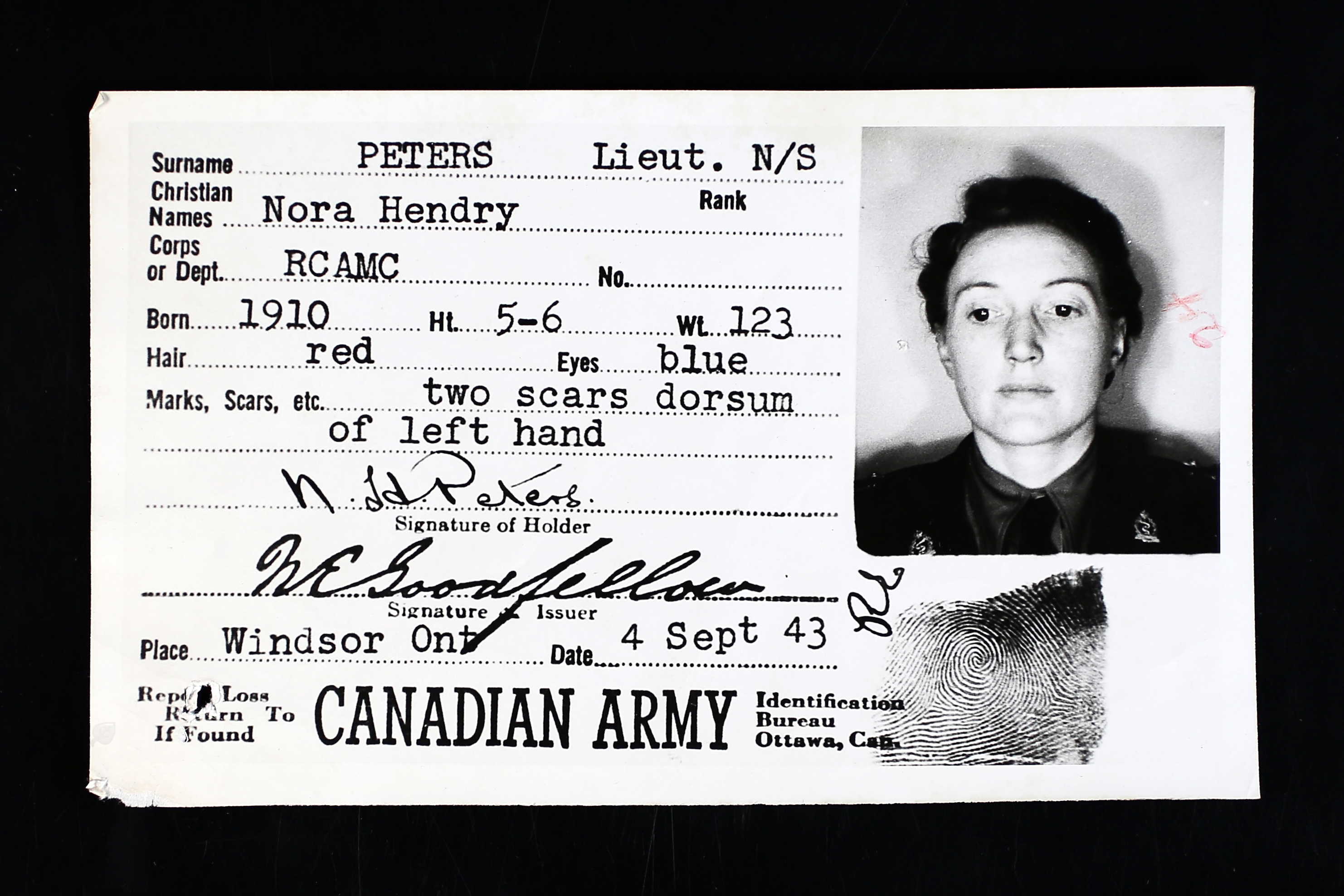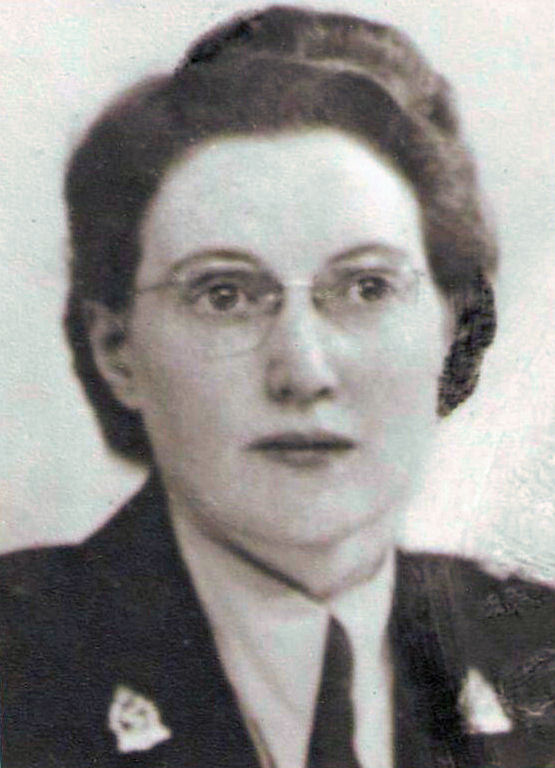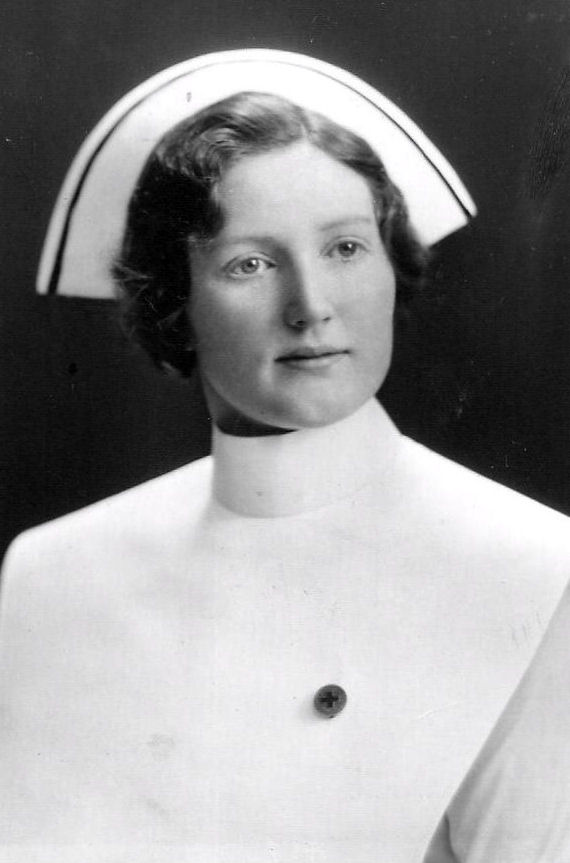 Nursing Sister
Royal Canadian Army Medical Corps
Nora Hendry Peters was born in Westmuir, Forfarshire, Scotland, on September 7, 1910. She was the daughter of Andrew and Joan Hendry Peters of Cluny, Alberta. She had one sister: Mrs. Rita B. Prowse, born in Scotland in 1907, passed away in 2000. Mrs. Peters passed away in May 1935 and Mr. Peters, a blacksmith, died in 1965. The family attended the United Church.
She was a member of the Calgary Group Nursing Society (1935/36), after training at the Calgary General Hospital. She was a member of the Alberta Association of Registered Nurses as of January 8, 1942. She had been doing private duty nursing from 1936 to 1942, plus worked at St. Michael's and Galt Hospitals in Lethbridge.
She enlisted in Calgary on October 7, 1942 but was living in Macleod, Alberta at the time. She stood 5' 5 3/4" tall, weighed 122 1/2 pounds, had blue eyes and red hair. She had two scars on the top of her left hand.
On September 15, 1942, Nora Peters signed her name on a piece of paper entitled "UNDERTAKING" that stated, "I, NORA HENDRY PETERS, the undersigned, in consideration of my having been on the 15th day of September 1942, appointed to an Active Unit or Formation of the Royal Canadian Army Medical Corps of the Canadian Army, do hereby undertake not to seek permission to retire for the purpose of marrying until I have completed not less than one year's service in the Active Unit or Formation of the said Royal Canadian Army Medical Corps to which I have been appointed, or with which I may be serving, and I do further undertake that, should my retirement, for which permission is sought as aforesaid, be granted, I will relinquish all claims, if any, which I may have to be returned to Canada at the public expense, and undertake to make no claim for transportation pertaining to such return."
She was posted to Currie Barracks Military Hospital (Calgary) in October 1942. In November 1942, she was posted to No. 133 Internment Camp Hospital, Lethbridge. A month later, she was sent to Ozada, a POW/internment camp at the confluence of the Kananaskis and Bow Valleys in Alberta, to their hospital. (See links below.) She returned to Lethbridge by March 1943. Here she was promoted to the rank of Lieutenant.
Lt. Peters was granted leave of absence from June 16, 1943 to June 29, 1943. Afterwards she was attached to Unit No. 2 General Hospital, then to Windsor, Ontario."
By September 1943, she was on Sailing List 3151 for overseas duty. By January 1944, she was traveling again, attached to No. 2 Canadian General Hospital. She was then attached to the No. 3 General Hospital at Caserta, Italy, 27 km north of Naples.
On August 12, 1944, Lt. Nora Hendry Peters was involved in a car accident that claimed her life. A Court of Inquiry was struck on August 19, 1944. "On the 12 Aug 44 at approx 2230 hours, Captain W. Dick, Cdn Provist Corps was driving along the Ospedaletto-Avellino road in the direction of Ospadelleto with Lt. N/S N. H. Peters and Lt. N/S L. P. Irwin, C41960 A/S/Sgt Pooley, C.J.F. and C42008 Cpl J. W. E. Hayes in a jeep out on a recreational drive in the mountains, stopped at a farm house and had a small quantity of wine. They left the farm house at about 2330 hours with Pooley and Hayes in the backseat and Irwin was in the rt front seat, Peters in the middle and Dick driving. They were proceeding at approx 25 mph around a curve when the jeep ran off the right side of the road. N/S Peters was killed....After due deliberation the court considers that 1. Lt. N/S Peters was instantly killed in a motor accident at approximately 2330 hours, 12 Aug 44....2. Lt N/S Peters was one of a party on a recreational trip, not on duty at the time of the accident. 3. Although the party had been drinking moderately, no one was intoxicated. 4. The accident was not caused by mechanical defect in the vehicle. 5. The road is of such a nature that a speed of 20-30 mph is quite reasonable except for the one bend at which the accident occurred, and before which there is not warning sign and at which there is no guard rail. 6. The accident was not due to negligence."
A map was drawn of the location of the accident scene.
On August 15, 1944, Mr. Peters received a brutally frank telegram from the Director of Records about his daughter's death. "Minister of National Defence deeply regrest to inform you Lieutent (sic) Nursing Sister Nora Hendry Peters has been officially reported to have died twelfh August 1944 as a result of fractured skull cervical vertebrae and crushing injury left thorax due to car accident STOP If any further information becomes available it will be forwarded as soon as received."
Her sister wrote a letter to the Administrator of Estates, Ottawa, in April 1945, regarding Nora's personal belongings. "She had one trunk in Italy, also one in store in England and up to this date, I have not received either of them. As eight months has elapsed since the time of her death, I would like to know why her belongings have not been forwarded to me." The Estates Branch Inventory listed personal effects received by Casualty Section, No. 1, CKDS, dated October 27, 1944. She had clothes, jewellery, cards, a diary, a cigarette case, banking information, a mauve eiderdown, a toy dog, a hot water bottle, a flashlight, a tennis racquet, postcards, toiletries, and an Italian souvernir basket. Consumable articles that were removed included an automobile first aid kit, a box of Max Factor powder, rouge, eyebrow mascara, lipsticks, and eyebrown pencil and a pal razor blade.
Lt. Nora Hendry Peters is buried at the Caserta Military Cemetery in Italy.
LINKS: